CHURCH NEWS - February 2007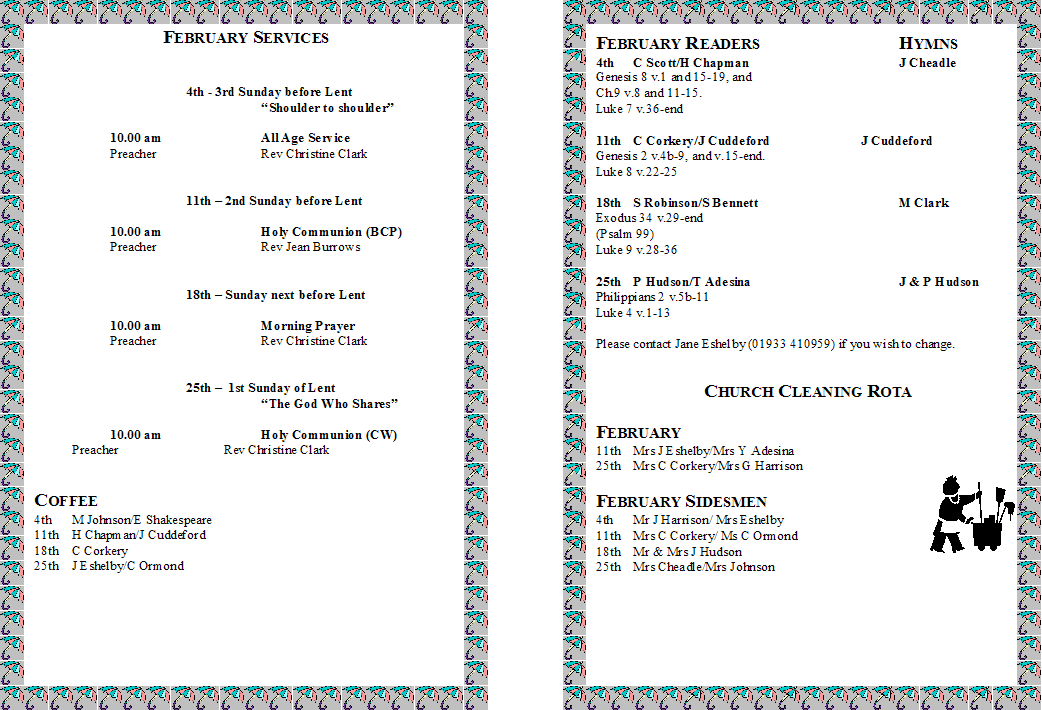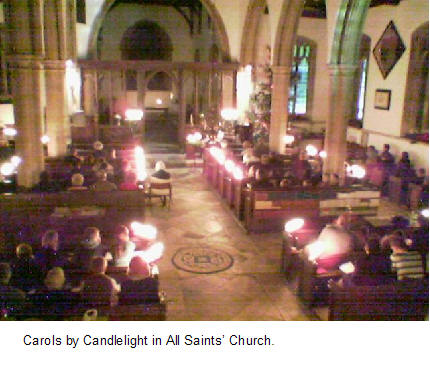 February 2007

Dear Friends,

Amongst the programmes we watched over Christmas was one presented by Robert Beckford, about the family of Jesus – Mary, Joseph and Jesus' brothers and sisters. It is known that Jesus had at least four brothers, and possibly sisters too, although some Christians believe that these were actually step-brothers and sisters, ie. children of Joseph by a previous marriage.

Whichever the case, it seems clear that Jesus grew up in a normal family context, having to learn to give and take, to share, and to join in the general family banter. This is wholly consistent with the Christmas message, that God – Emmanuel – became one of us, fully human, sharing our experience of life.

Even in the best of families relationships can be strained at times, calling for a great deal of understanding, tolerance and forgiveness. Sadly, in too many families, relationships can break down completely, often leaving us feeling isolated and misunderstood. Jesus too experienced this. In St. John's Gospel we read that his brothers did not understand his mission or believe in him – indeed the implication is they are taunting and goading him. At some point later on their attitudes were to change, and James the brother of Jesus would become one of the church's earliest leaders.

Looking at my own relationship with my two brothers, we have not always understood one another, and have spent many years separated from one another. The relationships are better now, and we are able to enjoy the times when we are able to get together. If you have relationships that are strained within your own family, perhaps now is as good a time as any to begin to work towards a better understanding and acceptance; to offer (or accept) forgiveness if needed.

Working towards building better relationships is not always easy, it takes hard work, commitment and a willingness to face possible rejection – but the results can be so worthwhile. It is good to underpin our efforts with prayer, trusting that Jesus, who came to seek and save us, and to heal our broken relationship with the Father, will motivate and enable us through his unending love.

Christine

The Prayer Group

What is the Prayer Group? It is made up of members of All Saints Church who undertake to pray regularly, on an individual basis, for people who ask us for prayer support.

Who do we pray for? Anyone whom we are asked to remember; these might be people from our church, from our local community or others known to us.

What will we pray about? Anything which you would like brought before God; maybe anxiety due to illness, stress or loneliness. You can also tell us of a special day you wish to be remembered – perhaps for an interview or an exam. Any information will be treated in strictest confidence.

How can you let us know if you would like us to pray for you? You can either telephone Christine (720234), or drop a note through the Rectory door, or complete a card (anonymously if you wish) and place it in a box kept near the church door. Prayer requests will be collected from the box each Sunday morning after the 10.00am service.

There was a keen churchman who spied

Help was needed with books so he cried

From high on the tower

For almost an hour

To bring sidesmen inside from outside.

Roger Jackson

Churches Together in Harrold and Carlton with All Saints' Odell.

Shared Lent groups

will begin during the week beginning Monday 26 February.

We're hoping to be able to offer the following:

Morning Group: Carlton

Afternoon Group: Harrold

Evening Groups: Harrold and Carlton

This year's course:

'Can we build a better world?

learning from William Wilberforce'




The course celebrates the work and faith of William Wilberforce, paying tribute to his achievements in combating slavery 200 years ago and drawing inspiration from his life - but it's not a history lesson.

Like Wilberforce we live in a divided and hurting world and with a burning question. As Christians in the 21st century can we - together with others of goodwill - build a better world?

The course uses a CD which includes an introduction by Dr David Hope (former Archbishop of York), input from Archbishop John Sentamu, Leslie Griffiths and Wendy Craig. Each session ends with a reflection by a 'Poor Clare' Nun from the BBC television series 'The Convent.'

We need to order books for each participant in advance, so if you would like to do the course, please sign up on the clipboard in church, or contact Rev'd Jean Burrows (720262) or Rev'd Christine Clark (720234).

All Saints' Amblers

All Saints Amblers

ventured out on New Year's Day to enjoy a walk led by Richard & Lynette Hall, starting and finishing in Yardley Hastings. Taking in the attractive village of Easton Maudit, the walk gave us extensive views of the Nene valley bathed in winter sunshine. After an invigorating wind on the higher ground, and some mud in places underfoot, a leisurely lunch at the excellent Red Lion Inn rounded things off nicely, and sent us home in mellow mood. Why not join us on the next walk – Saturday February 17th – meeting outside The Bell at 9.45am. Transport available if needed.

Our Giving in February is to the Leprosy Mission.

Contrary to popular belief leprosy is not a disease of the past but is a serious health threat right now in many developing countries. However, leprosy can be cured through multi-drug therapy. We can do our bit to help by giving generously in the special plate at the back of the church.
Thank You
Amanda, Stewart and I would like to thank all those who have kept us in their thoughts and prayers since October. Everything has gone so well and Amanda is doing absolutely brilliantly: five weeks of radiotherapy, driving herself to Oxford every day, a week away in the sun en-famille, Christmas, and now she's back to work and organising a house move from Hertfordshire to Norfolk. She has felt surrounded by love and goodwill all along – the power of prayer.
Thank you all so very much.
Jen (Cuddeford)
Meeting Point
February
Wed 7th 10.30am at Jill's, Rectory Farm, Odell.
Wed 21st Venue TBA
Thank You!
We would like to say a big "Thank You" to Gary Williams, the Proprietor of the 'Cottage Bakery' shops in Ampthill, Kempston and Bedford, for providing the delicious mince pies for the All Saints' Carol Service. They were much appreciated.
A Blaze for God.
'Spirit-filled souls are ablaze for God. They love with a love that glows; they serve with a faith that kindles and a devotion that consumes; they hate sin with a ferocity that burns; they rejoice with a joy that radiates. Love is perfected in the fire of God.'
This was written by Samuel Chadwick. He was a fine Christian man who was on fire for souls to be won for God's Kingdom.
Alas, we are individuals who live a fairly ordinary, humble life and think that's o.k. for him and perhaps not for you and me.
But, as the persecution of each one of us in a Christian country is becoming more and more evident it is a reality that it is our duty to stand up and be counted in the army of God's service. However great or small our contribution, it will all count to awaken our sense of duty to others and ourselves to pray, asking God for a direction to aid the love of Jesus in our humble lives and to show unity in our service.
Of course, victory at all times is our aim, but when we do fail and falter we have an advocate with the Father, Jesus Christ the sinless one, who intercedes for us continually. So, we press on with victory in sight for us – those that love Jesus.
Sarah Bennett
Petitioning Downing Street on Church
Buildings
Thanks to the initiative of a parishioner in Bristol diocese, an on-line petition is now available on the Downing Street website, encouraging the Government to provide more financial help for repair of Church of England church buildings.
The challenge of funding repairs to church buildings goes much wider than the C.of E. alone, and the Church's documents have made the case for all listed places of worship. However, this valuable local initiative is broadly in line with the motion passed at last February's General Synod calling for greater government support, and with discussions currently taking place with government departments.
The petition reads:
"We the undersigned petition the Prime Minister to arrange for the cost of repairs to C of E church buildings to be reimbursed to help preserve our archeological & historic heritage for the future.
"Churches are a valuable part of our heritage and a major tourist attraction, yet the funding of repairs is left to the parish in which the building is situated. Thus the cost of maintaining a national asset is left to the minority. This is grossly unfair and should be rectified."
Anyone wishing to sign up simply has to go to:
http://petitions.pm.gov.uk/Preservation/
Birthdays in February
Happy birthday to:
Jack Holden Postles who will be 6 on the 10th
Victoria Beardow who will be 11 on the 22nd
And to everyone else with a birthday in February.
Diary
7th 10.30am Meeting Point at Jill's, Rectory Farm, Odell.
13th 7.30pm W.I., Village Hall.
17th 9.45am All Saints Amblers Walk, starting at The Bell.
21st 10.30am Meeting Point, venue TBA.
24th 10 – 2pm Otter Surveyors training session.
From 26th Shared Lent Groups, held in Harrold and Carlton.
26th 10am HOCP Conservation Tasks.
Magazine Deadline
Please send all entries for the March 2007 magazine to Tricia Hudson (mag1 at odellbeds.net) or Catherine Corkery by February 12th 2007 at the latest. May we remind you that the editorial team exercises the right to edit, shorten or alter any items that are submitted. Also, the opinions expressed in the articles are those of the contributors and are not the responsibility of the editorial team.
Electronic mail address
email is mag1 at odellbeds.net
---
Last revised: January 28, 2007.