CHURCH NEWS - December 2007 - January 2008
Celebrating Christmas at All Saints'
Saturday 15th December

:

Church Decorating will take place from 10.00 am.

All welcome to help clean and decorate the church for Christmas, put up the Christmas tree etc. Hot drinks & mince pies supplied!

Sunday 23rd:

10.00am Readings, prayers, music and meditation on a Christmas theme, with communion.

Sunday 23rd:

6.30pm Carols by Candlelight: Service of Nine Lessons and Carols.

Christmas Day

:

An All Age Service of Worship and Holy Communion at 10.00 am.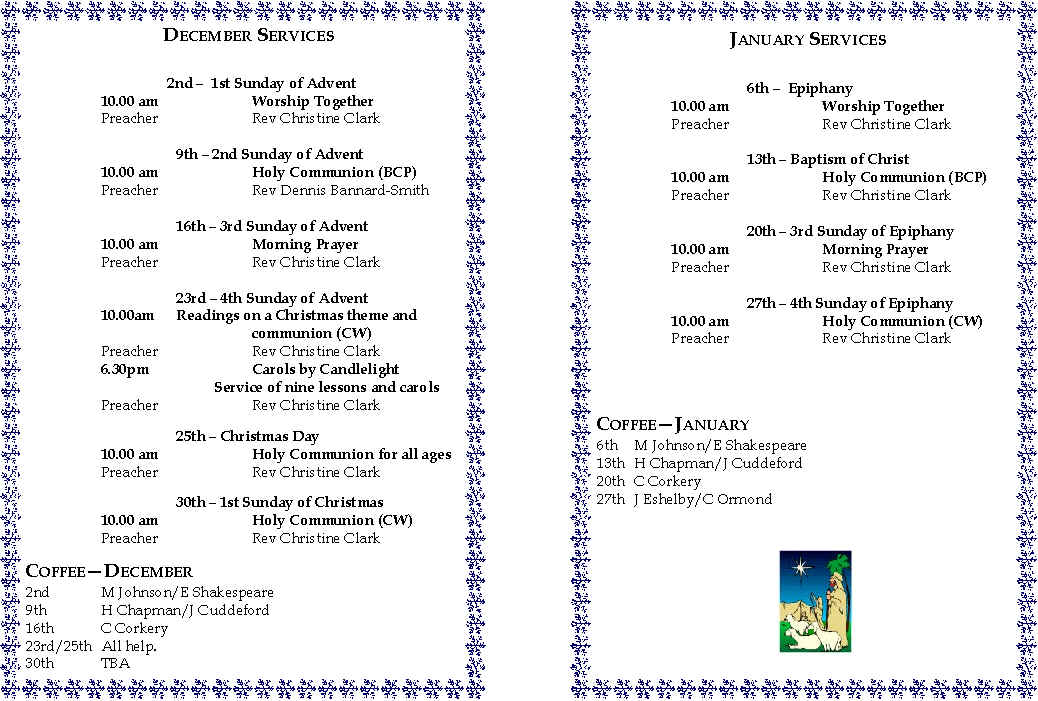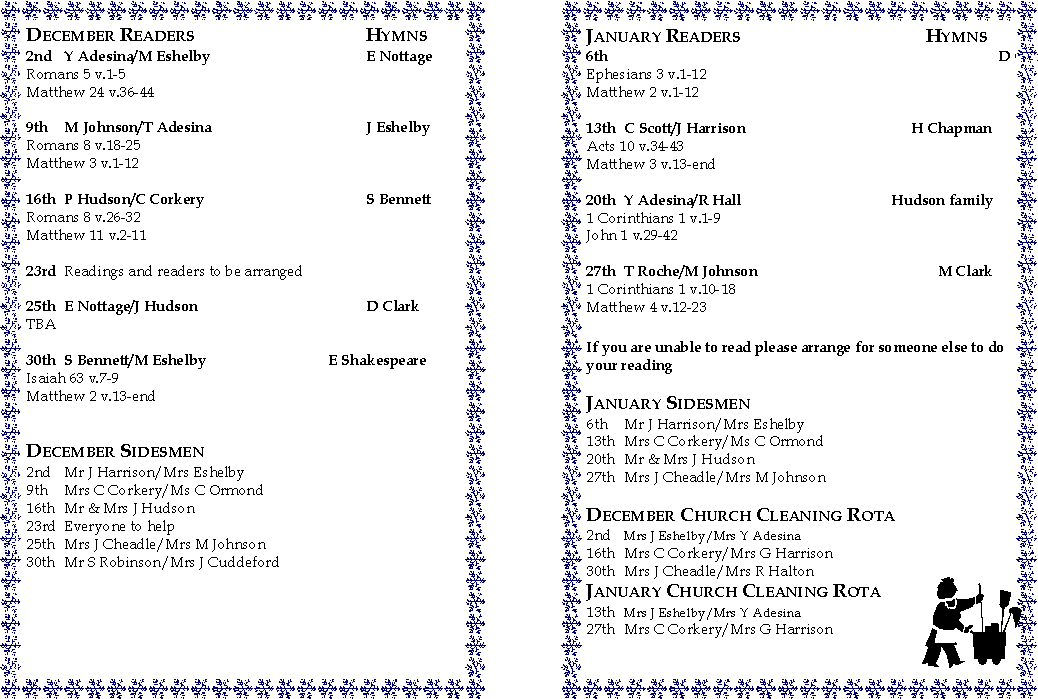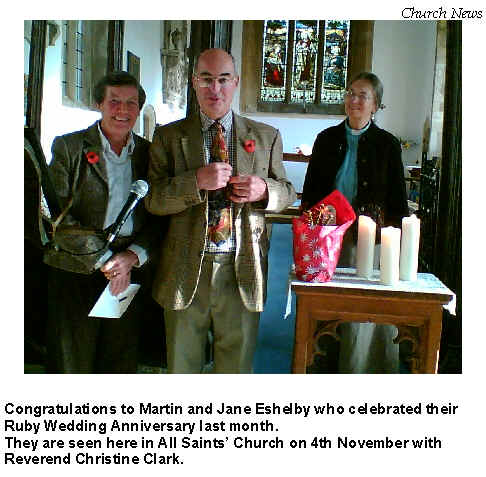 December 2007
Dear Friends,
As I start to prepare for our Christmas services, I've been re-reading the Gospel accounts of the Nativity - a story that is familiar to most of us. Angels and shepherds, wise men following a star, Mary and Joseph and the child born in a stable - a child who will change the course of history. "The holy one to be born" says the angel to Mary, "will be called the Son of God".
This emphasis on Jesus as God's Son almost eclipses completely the role that Joseph played in his life, and it is only from Matthew's account that we catch a fleeting glimpse of the man who would be Jesus' earthly father throughout his formative years. In his home town of Nazareth (roughly the size of Carlton) Jesus was known simply as 'the carpenter's son'.
By any measure, Joseph must have been a kind and generous man.
Betrothed to Mary, in a time and culture when betrothal was akin to marriage, he has to face the fact that she is carrying a baby that is not his – a matter which would bring disgrace upon his family as well as hers, with apparently no way out of the shame and embarrassment. He has every right to publicly divorce her and try to limit the damage to himself, but out of consideration for the young Mary (probably not much more than 13 years old) he decides to divorce her quietly, with the minimum of fuss.
Of course, God intervenes, and Joseph is faced with a new dilemma – firstly does he have the faith to believe what the angel tells him, and secondly, if this is true, how do you begin to be a father to a child who is the Son of God?
With characteristic kindness he does all he can to protect the child, and to support and care for Mary. He disrupts his whole life to flee to Egypt to escape Herod's wrath, and on returning to his own country, he takes the family far into the north to settle in Nazareth, far from scheming kings, far from his own kith and kin. There he works to establish himself as a local carpenter, providing for and protecting the child, bringing him up as his own, teaching him the family trade, taking him into the business.
The Gospels tell us very little of Jesus' early years - the Nativity stories are only a small part and largely focus on Mary and the child. Joseph is never mentioned again, yet how crucial he was to this child's well-being and safety, to his growing up in a secure and loving family.
A surface reading of the Christmas stories may give the impression that Joseph was superfluous. In our own time, fatherhood has been downplayed and there is no need for the father's name on a child's birth certificate. New legislation proposes that if the mother is living with another woman, that person's name can go on the birth certificate as the second mother. This totally discounts the God-ordained complementary roles that mother and father both play in the nurturing and bringing up of children.
As this Christmas approaches, let's give a little more thought to Joseph, the man chosen by God for a very special task, and to the special task given to all fathers.
With love and prayers,
Christine
Christine & David

would like to thank you for your continuing friendship and support, and to wish you all a joy-filled, blessed Christmas, and a fresh awareness of God's love and presence in the coming year.

Recycle

your old inkjet and laser toner cartridges

Your used printer cartridges could help provide education for children in the Dominican Republic, through Christian Aid's inkjet cartridge recycling project.

And that's not all….

Cartridge recycling helps to reduce carbon emissions, a major cause of global warming, conserves resources and reduces waste.

Recycling bags and a cartridge collection point are available in Church or from The Rectory, 3 Church Lane (Tel: 720234).

Found!

Has anyone lost a brown oval dish which came to the Harvest Supper filled with a delicious fruit crumble?! It's currently sitting in The Rectory, waiting to be claimed - ring Christine on 720234 if it's yours.

The Prayer Group

What is the Prayer Group?

It is made up of members of All Saints' Church who undertake to pray regularly, on an individual basis, for people who ask us for prayer support.

Who do we pray for? Anyone whom we are asked to remember; these might be people from our church, from our local community or others known to us.

What will you pray about? Anything which you would like brought before God; maybe anxiety due to illness, stress or loneliness. You can also tell us of a special day you wish to be remembered – perhaps for an interview or an exam. Any information will be treated in strictest confidence.

How can I let you know if I would like you to pray for me? You can either telephone Christine (720234), or drop a note through the Rectory door, or complete a card (anonymously if you wish) and place it in a box kept near the church door. Prayer requests will be collected from the box each Sunday morning after the 10.00am service.

All Saints Amblers

–- many thanks to Richard and Lynnette Hall who organised the November walk from Stevington. Taking in part of the new wood at Pictshill, we encountered Highland cattle, two llamas, sheep, a pheasant shoot and some great views across this lovely part of North Bedfordshire. We were well catered for at The Royal George and enjoyed having a room all to ourselves with a cosy fire.

Our next walk: get some healthy exercise in after the Christmas excesses, and enjoy the company of others at the same time. Join us on New Year's Day for a walk in the country followed by a pub lunch. Meet outside The Bell at 9.45am – transport provided to start of walk if needed. Everyone welcome,

including children and dogs on leads!

Running Water for All Saints'

Discussions have been taking place for some time about installing to a water supply and toilet facilities in the church. Recently the church architect has been consulted and advises that a toilet and tea point could be situated within the partitioned area in the northwest corner with very little alteration to the appearance. The new work would be designed to blend happily with the rest of the interior.

Fireworks at All Saints'

Many thanks to Tundi and Yinka Adesina who provided magnificent fireworks for the bonfire party at All Saints' on Saturday 3rd November. A large crowd gathered to enjoy the warmth of the bonfire and the spectacular firework display which would not have been possible without the generosity of Tundi and Yinka. Afterwards a lovely supper was provided by Christine and David at the Rectory.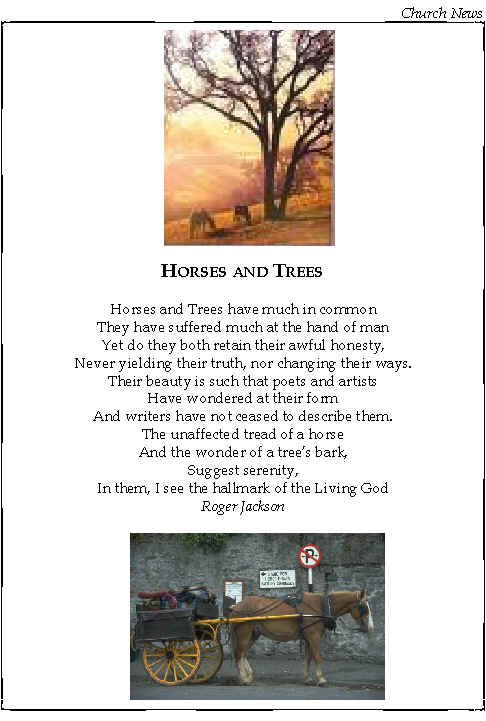 Christmas Hamper Coffee Morning

In support of Christian Family Care

Friday 7th December

Hobbs Green Farm

Church Lane, Odell

From 10.00am to noon.

Admission Free

Meeting Point

January 2008

Wed 9th 10.30am at Jane's, Newton House, Avenue Rd.,

Newton Bromswold.

Our Giving in December

will be to the following Charities:

The National Society for the Prevention of Cruelty to Children

Christian Family Care

The Bedford Area Schools Christian Support Trust (SU)

In January

our giving will be to Mission Aviation Fellowship.

This is an airborne mission, which takes the Word and much-needed help to many remote and inaccessible places – a very worthy cause.
The Alpha Course

which was due to begin at The Rectory in September had to be postponed. This will now run on Monday evenings from January 7th through to March 17th with a break for half-term on February 11th.

Is Christianity dangerous? Are all Christians as deluded as Richard Dawkins would have us believe? If you would like the opportunity to explore these and other questions in an informal setting, which begins with supper at 7.30pm followed by a talk and group discussion, then please call Christine on 720234.

"Many claim Alpha has changed their lives and appear genuinely happier for the experience." Time Magazine

"Alpha makes Christianity relevant to modern life." The Express, London

"You did not choose me, but I chose you.."
John 15 v.16 NIV
Jesus knows your past failings and present defects of character. God chose you anyway – that is an example of mind-blowing grace. It is a truth that is hard to hold on to when you are having a bad day and under-performing spiritually. So what does it mean to be chosen?
To be chosen is to be seen as unique! We all cry out to be noticed. With God everybody is somebody. In His eyes there are no misfits, rejects or second class citizens.
To be recognised as having something to give means chosen people are significant, their stories, their biographies get read. This enables God's kingdom to be established on earth because each one of us has something to give that no-one else can give.
To be wanted by God! Even though some have empty hearts and wounded pasts, the only true basis for self worth is God's unchanging opinion of us revealed in His Word.
God does not choose in the way man does. His plan is to give to others what enhances them. For we who are chosen there is a plan; the reason being is - to serve.
This gives us a new insight; we are able to see others through the eyes of love and respect – a way we've never seen before. That will profoundly change every relationship we have.
Sarah Bennett
Odell Church Flower Rota
2nd Catherine Corkery
9th Caroline Scott
15th Church decorating for Christmas.
Uganda Choir at Hobbs Green Farm
Members of the Uganda Choir will be at Hobbs Green Farm on Saturday December 1st. Come and meet them at a 'Bring and Share Supper' from 7pm at The Barn, Hobbs Green.
Diary December
1st 7pm Bring and Share Supper with Ugandan Choir, Hobbs Green Farm.
7th 10-12 Christmas Hamper Coffee Morning, Hobbs Green Farm
11th 7.30pm W.I. Village Hall
12th 12.30pm Senior Citizens' Christmas Lunch, Village Hall.
15th 10.00am Church decorating for Christmas.
17th from 10am HOCP Conservation Tasks Day
20th 6-7.30pm Children's Party Village Hall.
23rd 10.00am Communion and readings, prayers and meditation on Christmas.
23rd 6.30pm Carols by Candlelight.
25th 10.00am All Age Service and Holy Communion.
January
1st 9.45am All Saints' Amblers meet at The Bell.
7th 7.30pm Alpha course at the Rectory.
8th W.I. New Year's Meal at Greystones.
9th 10.30am Meeting Point at Jane's, Newton House.
14th 7.30pm Alpha course at the Rectory.
21st " " " " " "
26th 7.30pm Burns Night celebration, Village Hall.
27th 12-3.00pm Making bat and bird boxes, HOCP.
28th 7.30pm Alpha Course, at the Rectory.
Magazine Deadline
Please send all entries for the Feb 2008 magazine to Tricia Hudson (mag1@odellbeds.net) or Catherine Corkery by January 12th 2008 at the latest. May we remind you that the editorial team exercises the right to edit, shorten or alter any items that are submitted. Also, the opinions expressed in the articles are those of the contributors and are not the
responsibility of the editorial team.
The magazine team would like to wish all our readers a very Happy Christmas and New Year!
---
Last revised: December 09, 2007.