CHURCH NEWS - October 2006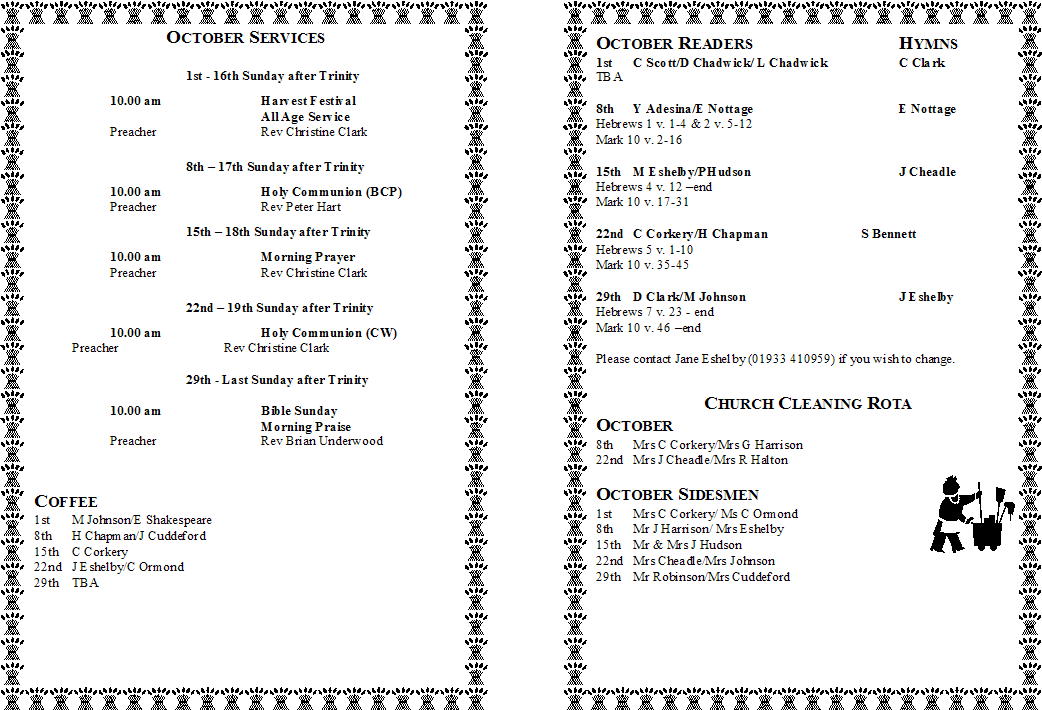 4 September Weddings in Odell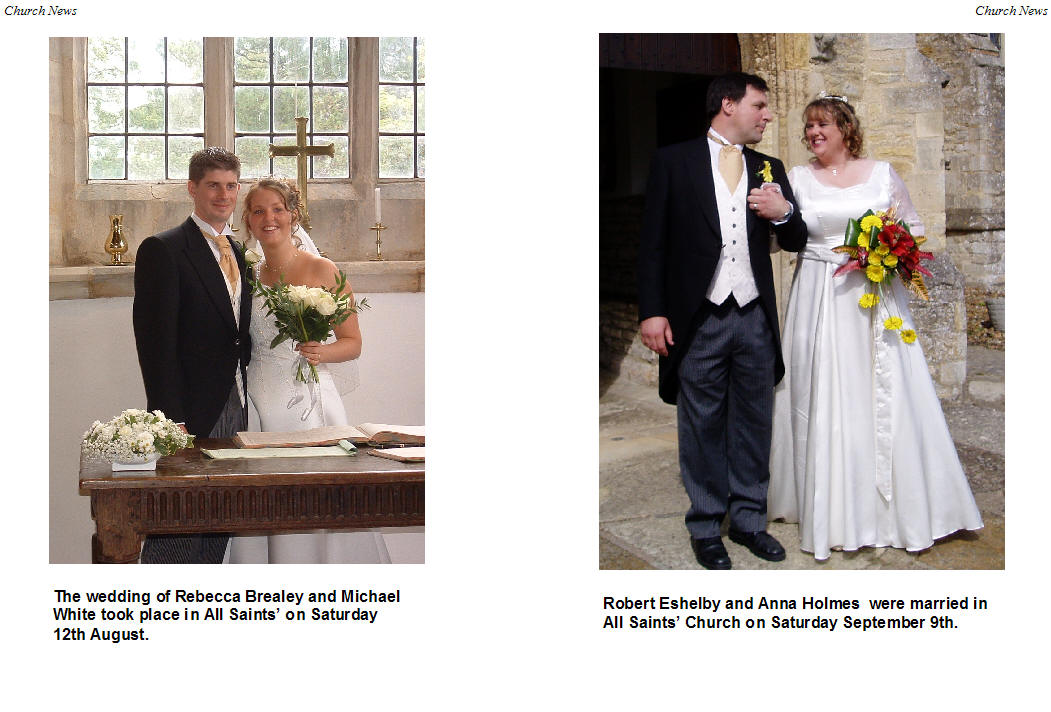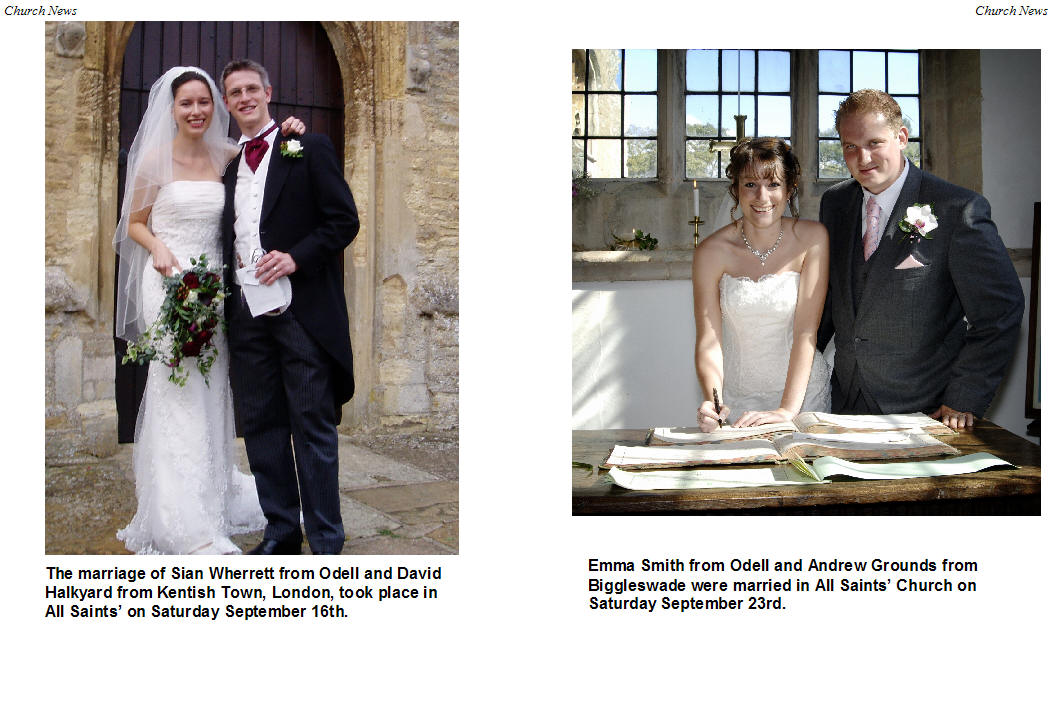 October 2006

Dear Friends,

This week (in mid-September as I write this) listening to the 7.00 o'clock news, I heard something which pulled me up with a start. The newsreader was reporting on the amount of carbon consumption in the UK, stating that if we in this country continue to consume power and energy at current levels, the national allowance that the Government has set for 2050 will in fact be all used up by 2029! If this chronic shortfall is to be avoided, we MUST significantly reduce consumption in the next four years.

Four years is not very long – even the 23 years to take us up to 2029 is not that far away – and the changes we need to make will need to be fairly drastic if the impending and disastrous effects of climate change are to be minimised. If electricity, or petrol were rationed – what would you have to give up? What would your priorities be? How do we begin to come to terms with the fact that there may not be enough power, enough oil, to meet those priorities?

It may be inconvenient for us to make the necessary life-style changes, but for people living in Africa, Asia and Latin America, the stakes are far higher. Communities in the third world are already facing more frequent floods and droughts, unpredictable rainfall, declining crop yields and water scarcity. 150,000 people already die every year from the health impacts of climate change.1 The uncomfortable truth is that those who contribute the least towards global warming are paying a heavy price for the thoughtless excesses of the developed world - or put another way, it is the poor and the powerless who are paying for the sins of the rich and the powerful, and paying dearly.

Both Old and New Testaments record God's passion for justice, and have a great deal to say about those who look after their own interests but neglect the poor – and what their reward will be! In fact, the earth and it's precious resources are not ours to consume at will, they belong to God who has called us to care for his creation as good stewards – and to care for one another.

I find it both disturbing and challenging to think that my actions make the lives of people struggling to survive in developing countries harder, or even impossible. Disturbing because I know that I must take action, now, to live more responsibly despite the inconvenience – and challenging because individually and collectively it is possible to do something about it.

Come to our Harvest Festival service at 10.00am on Sunday 1st October, and we'll give you a free booklet on how to live more responsibly in a world of climate change. Are you up for the challenge?

With love and prayers, Christine

[1

World Health Organisation]
The Prayer Chain
The Prayer Chain is there if you need prayer for yourself, for others or for members of your family. Please don't ask for prayer outside your own family without people's permission. To have a number of people pray just telephone Christine (720234).
Alpha Course
Interested in learning more about Christianity?
Want to brush up on basics?
The Alpha course may be just the thing to help you. It is now run in churches all over the world and many have found it led to a life-changing experience. Each evening consists of a meal, a talk and discussion.
Locally arranged by Churches Together in Harrold and Carlton this is a 10 week course which started in September. To find out more contact Rev'd Jean Burrows (720262).
Monthly Evening Service of Prayer & Reflection
On the first Sunday of every month, at 6.30pm, an informal evening service will be held, initially for the next six months. This is partly in response to those who would like more time for quiet reflection, and partly in response to another request for opportunity to pray together for the ongoing ministry of All Saints' and the needs of others. During the colder months the service will be held at the Rectory.
Matters arising from PCC Meeting, 6th September.
Churchyard visit
Judith Evans, conservation adviser to St.Albans Diocese came to look at the churchyard on 7 August. She identified a number of wildflowers that we could encourage through an environmental management plan, and thought the site may be suitable for barn owl nesting boxes. Parts of the churchyard where we might delay mowing until July to encourage spring flowers, (or cut in April and again in October to encourage summer flowers) are the triangular patch at the back of the church (north side) and the unused burial area north of the Garden of Remembrance. Judith recommended a further visit by Beds Wildlife Trust who could help us develop a proper management plan, and may be able to supply nesting boxes free of charge. Fay Williams BWT is coming on 8 September at 10.00am to have an initial look.
Shoebox Appeal
Following the distribution of leaflets in last month's magazine about the annual shoe-box appeal in aid of orphaned children in Belarus, you are invited to bring your filled boxes to our Harvest Service on 1st October (or to the Rectory). A lorry will collect the boxes from Carlton in mid-October and transport them directly to the designated orphanages.
Date of Next Two Meetings
Wednesday, 25th October and Wednesday, 6th December
Special report on PCC Away-Day
Seven of us met at Hobbs Green Barn on 29th July – After initial worship and reflection we spent a very useful time discussing "The Seven Marks of a Healthy Church" based on 10 years research by Robert Warren. He has identified that where churches of all types and denominations are growing, these seven 'marks' are generally present. In assessing how All Saints' measured up, opinions were varied, but the general consensus appeared to be that we are a welcoming church and faith is certainly present.
As a result of the discussion, a number of events will be initiated, including the 'Time to Remember' service, the Weekend Walks and the Fairtrade Café, all mentioned in more detail in this magazine. Further events planned include musical concerts in the church - watch out in the magazine in future months.
Weekend Walks
Would you like to join us for a 4 to 5 mile walk in the countryside on Saturday, 14th October? The aim is to explore a little further afield than Odell, probably going over the border into Northamptonshire with a pub lunch and refreshment at the end. The walk will be fully researched by members of the All Saints' Amblers beforehand and the beer vetted. We are proposing to meet outside the Bell at 9.45am and transport will be available if required so please join us and discover unknown territory !Any enquiries, contact Helen Chapman 720131.
Fete Profit
The final profit figure for the 2006 Fete was £2,054.76. This is a little down on previous years but considering we were competing with England's first match in the World Cup I don't think we did too badly!
Our Giving in October is to C.M.S.
This month we are giving to our mission partners in the Church Missionary Society, to aid them in the very worthwhile projects they undertake for C.M.S. C.M.S. is committed to proclaiming the gospel
through a wide range of ministries. Their fundamental motivation for proclaiming the gospel is to bring glory to God.
Meeting Point
Wednesday 11th 10.30am at Doris's, Goodly Heritage, The Bury, Pavenham
Wednesday 25th 10.30am at The Rectory.
Churchyard tidy-up
Saturday 28th October 10.00am-12 noon. Everyone welcome! Many people remark on the peace and beauty of our churchyard, but to keep it that way takes quite a bit of work - but not too much if many people pitch in to help.
If you can help out it would be much appreciated. Hot drinks & cookies available for willing helpers! If you would like to help but can't come on that particular day, please contact Christine (720234) or Tony Roche (720196) to offer to do a small task in your own time.
Fairtrade Cafe
Advance Notice - Saturday 4th November 10.00am-12 noon - FAIRTRADE CAFE - with delicious drinks and eats, lots of Christmas goodies and gifts for sale. Book the date in your diary now and watch this space!
Birthday Greetings to
Lottie Robinson on the 18thand to everyone with a birthday in October.
All Saints' Flowers for
October
7th All help to clear after Harvest.
15th Doreen Wheeler
22nd Rachel Halton
29th Kathy Dunn
A poem for the newly weds, not forgetting the older ones too.
We Will Not Wish You Joy
We will not wish you joy on this great day,
For joy is in your hearts and goes with you
Along the fragrant, mystic, sun-lit ways:
We will not wish you joy while love is new.
But this is our wish – may you be strong enough
To shelter love, and keep it safe from harm,
When winds blow high, and roads are steep and rough,
May you protect your love, preserve its charm.
When days are dark, may love be your sure light.
When days are cold, may love be your bright fire,
Your guiding star when hope is out of sight,
The essence and sun of your desire.
May love be with you through the flight of years,
Then after the storms, there will always be calm.
Though you have cause for heartache and for tears,
Despair lasts not, where love is there for balm.
This be the prayer we breathe for you today:
When you have reached the summit of life's hill,
May it be possible for you to say,
'Married long years, but we are lovers still.'
Author unknown
Diary
Sun 1st 6.30pm Evening Service, All Saints' Church.
Tues 10th 7.30pm WI in Village Hall
Wed 11th 10.30am Meeting Point at Doris's, Goodly Heritage, The
Bury, Pavenham
Sat 14th 9.45am All Saints' Amblers Walk, meet at The Bell.
Sun 22nd 12pm The Parklife Big Draw, HOCP.
Wed 25th 10.30am Meeting Point at the Rectory.
Wed 25th 7.45pm PCC Meeting, the Rectory.
Thurs 26th Ad Hoc Presents 'Lucky Sods', Harrold Centre.
Fri 27th, Sat 28th " " " "
Sat 28th 10am Churchyard tidy.
Sun 29th 12pm Halloween Extravaganza, HOCP.
Mon 30th 2-3pm Vaccination Clinic, Sharnbrook Surgery.
to Fri 3rd Nov " " " "
Mon 30th 10am HOCP Conservation tasks day
Magazine Deadline
Please send all entries for the November magazine to Tricia Hudson (mag1@odellbeds.net) or Catherine Corkery by October 12th 2006 at the latest. May we remind you that the editorial team exercises the right to edit, shorten or alter any items that are submitted. Also, the opinions expressed in the articles are those of the contributors and are not the responsibility of the editorial team.
Electronic mail address
email is web@odellbeds.net
FAX number
01234-721004

Back to the Odell Home Page
---
Last revised: October 08, 2006.