CHURCH NEWS - May 2006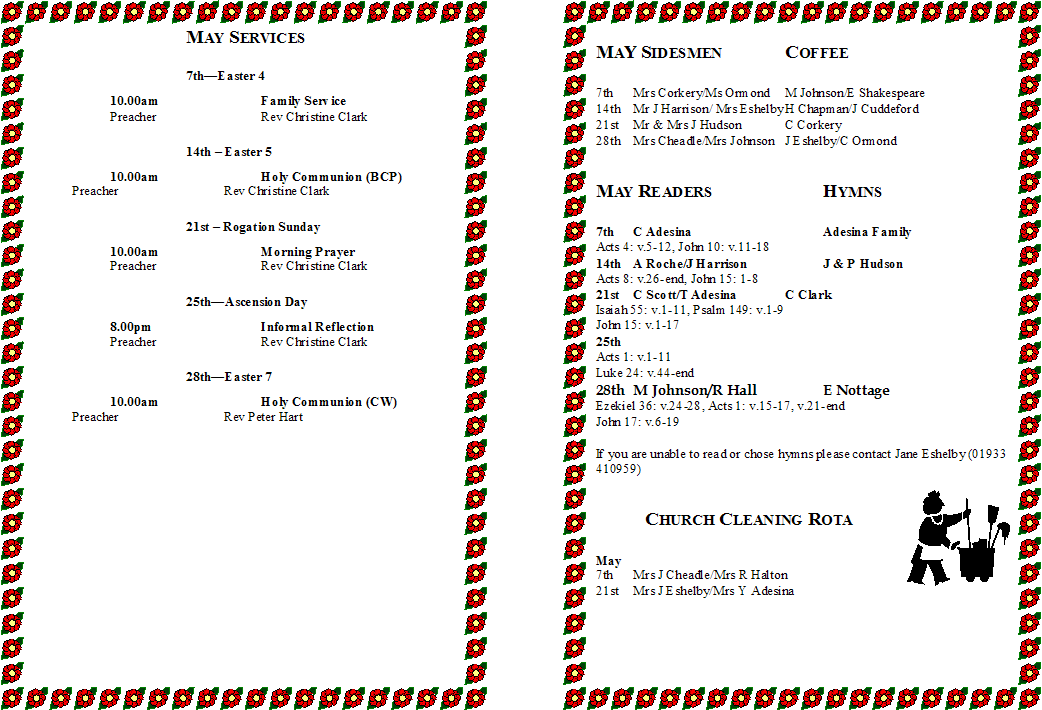 May 2006
Dear Friends,
What a great joy and privilege to be here to celebrate Easter with you. The church was filled with the scent and beauty of spring flowers, the notes of the now restored organ rang out to lead us in our praise while, outside, the churchyard was bursting with primroses, daffodils and violets of every hue.
But Easter is about far more than beautifying our worship with music and spring flowers, and certainly about more than eggs and bunnies, fun though they are. Easter celebrates Christ's resurrection – that amazing victory by which he overcame death and opened the gate of life to all who believe. And that's where it gets difficult, for what an incredible thing to believe! The Gospels tells us that even some of the disciples doubted, for they were expecting no such thing. Certainly since the 1st century, there have been many attempts to reinterpret the events, most recently Dan Brown's popular book 'The Da Vinci Code', and the 'newly discovered' 4th century 'Gospel of Judas'. For our rational minds find it hard to take it in – how could a person defeat death and rise to new life, surely there must be some other explanation? But of all the alternative theories and speculations, not one satisfactorily fits all the available evidence. And, in considering a question of such crucial importance to the whole human race, we must examine all the evidence.
Although the various biblical accounts differ in their detail, they are unanimous on two main points – the grave of Jesus was found empty, and the risen Jesus was seen by different people on several occasions. The Gospel accounts, written during the first century are not elaborately manufactured stories, but simple eye witness accounts that make no attempt to theologise or interpret the events. Additionally we have very early testimonies in the book of Acts (see ch.10 v.34-43), written between 50 and 70AD and in several of Paul's letters to the early church (have a look at 1 Corinthians ch.15), some of which were written within 30 years of the crucifixion.
However, the most compelling evidence of all is the dramatic transformation of the disciples – from disillusioned, scattered individuals living in fear and hiding, to witnesses compelled to speak with boldness and joy, openly proclaiming Jesus, crucified and risen from the dead as both Jewish Messiah and Saviour of the world. The dangers of doing so were real, and most of the disciples were martyred – further evidence of the resurrection truth, for who would willingly give up their life for a lie?
As we continue to celebrate the forty days of Easter, may Christ fill you with all joy and peace in believing, and may our hearts and lives be transformed by the resurrection hope that he holds out to each one of us.
With love and prayers,
Christine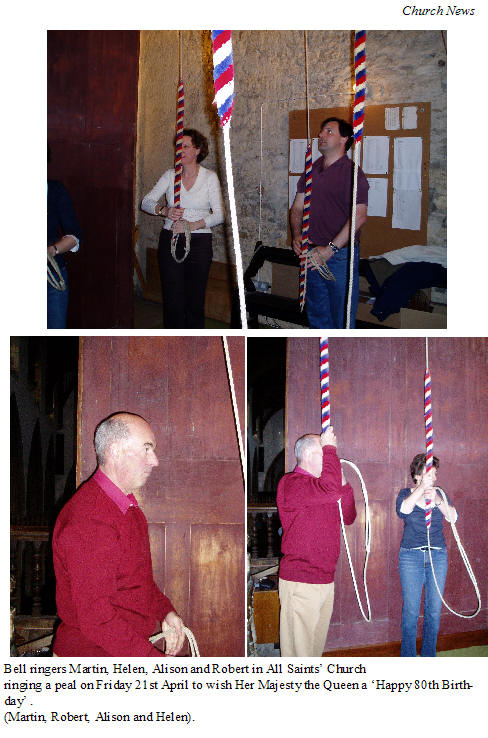 The Prayer Chain
The Prayer Chain is there if you need prayer for yourself, for others or for members of your family. Please don't ask for prayer outside your own family without people's permission. To have a number of people pray just telephone Christine (720234).
Meeting Point
May
Wednesday 3rd 10.30am at Jane's, Newton House, Avenue Rd.,
NewtonBromswold, Rushden.
Wednesday 17th 10.30am at Catherine's, Manor Cottage, Harrold.
Wednesday 31st 10.30am at Doris's, Goodly Heritage, The Bury,
Pavenham.
What Being a Christian Really Means to Me.
A Christian is a person who has a living relationship with the Lord Jesus Christ.
There are as many different definitions of a Christian as there are Christians themselves. To me, the hardest thing you will ever do is to decide to become a Christian. In my opinion, living in this Benefice as a Christian requires some active service for the Lord Jesus Christ in the Parish of All Saints' and all that it includes; Horsefair Lane, Mill Lane, the High Street and all the houses that receive the parish magazine have a part to play in being a Christian in this Benefice, like attending and
supporting All Saints' Church with the new Vicar Christine. You will be rewarded with a rich blessing and joy, and above all God's richest
blessing will be yours and your household's. Who wouldn't want this worthy gift?!
I challenge you today to become a Christian. Give it a try – you will not regret it. It will give you a new outlook on life and will certainly give you everything that is missing in your own life. It is not just something that you can physically feel or see – it is much more than that. It is a deep sense of peace that is flowing steadfastly into our lives with each breath we take.
That, to me, is what being a Christian is! Once you have found this peace you'll want the joy of having more and sharing it with others.
Sarah Bennett
In memory of Anne Turner

Those who kindly made donations to The Addenbrookes Ovarian

Cancer Research Fund at the funeral of Anne Turner will be pleased to know that a sum of £376 was raised.

Christian Aid Week, May 2006

Last year Odell supported Christian Aid week most generously, and it is hoped that we will do so again this year. If anyone would be willing to collect in the village for this charity please would you contact Jill Cheadle on 720261. Thank you.

The Children's Society Collection

Thank you to everyone who holds a 'Children's

Society' box. Having emptied them all, I have been able to pay £210.89.

If there is anyone else who would like to have a box, please let me know.

Catherine Corkery 720348

Our Giving in May is to

The Church Army.

The Church Army is an International

Evangelical Movement, based on Biblical teaching, with a mission to meet human needs, without discrimination, in the name of Christ. Their far-reaching work includes preaching the Gospel, working in hospitals, prisons, eventide homes, hostels and counselling, to name but a few

examples. Wherever there is poverty or need, the Church Army is there. Please give generously to this movement which is very generous with its time and love.

A Privilege

A week before Easter I had the lovely privilege to hold a very tiny four month old baby boy in my arms. As I sat in my armchair looking at his very tiny face and his little smile, I wondered what the future held for him.

My life has been very good with the help of friends and my Lord; ups and downs, laughter and tears, joy and love.

I pray that this baby boy will receive the same as he grows.

Florence Shellard

Odell Fete and Dog Show, Saturday 10th June 2006, 2.00pm

This year the Odell fete will take place on Saturday 10th June in the Scout Field, Horsefair Lane. The fete will be opened at 2.00pm by the new minister of All Saints', Rev. Christine Clark.

There will be all the usual stalls:

Boys Brigade, Jazz Band, Family Dog Show, Cash Raffle, Tombola,

Children's Sports, Children's Stalls, Ice Creams, Refreshments, many Sideshows, Gifts, White Elephant, Bottle Stall, Books, Cakes, Plants and Produce.

Entrance to the fete will cost £1.50; children free.

Wodehill One-Steppers Jazz Band

Once again, the Wodehill One-Steppers Jazz Band will entertain fete-goers in the fete grounds. The Band plays regularly in local events and has been spotted in the garden of The Bell in Odell in summer months!

'A Birthday card for the Queen' competition.

This year the fete will mark the 80th birthday of Her Majesty the Queen with a birthday card competition for children. The finished cards should be brought along to the fete for judging – more details in next month's magazine.

Fete Committee Painting Day

Painting of signs etc. for the fete will take place at Jim and Doreen Wheeler's, Linden House, High Street, Odell, on Monday 1st May from 10.00am.

There will be a lunch-time bar-b-q for helpers - please let Doreen know (720358) if you wish to stay for this. Bring your own meat, salad provided.

AID FOR ROMANIA

Further to our letter in the last magazine, we thought you might be

interested in an update.

Thanks to the help of Kevin Cantwell from Carlton, and the loan of the Emmaus van, our considerable load of wheelchairs, ramping material, bedding and toys was collected at Renhold and has now been shipped off to Holland and thence to Romania. We were thrilled to hear that it has safely arrived in Buzau in plenty of time for our team's visit.

In May a wheelchair expert, four occupational therapists and a speech therapist will spend three frantic days allocating and fitting wheelchairs, as well as working with and checking out all the people and institutions who already have had equipment from us.

Thank you to everyone for your continued support and interest. We'd be very grateful for prayer for that team during their visit from May 18th to 21st.

Liz and Tim Dodwell

All Saints' Flowers for May

7th Caroline Scott

14th Rachel Halton

21st Jill Cheadle

28th Carol Ormond



Diary

May

Mon 1st 10.00am Fete sign painting at the Wheelers'.

Wed 3rd 10.30am Meeting Point at Jane's, Newton House, Avenue Rd., Newton Bromswold, Rushden.

Tues 9th 7.30pm W.I. AGM, Village Hall.

Sat 13th

7.30pm Quiz, Village Hall

Mon 15th

8.00pm Odell Parish Council AGM, Village Hall.

Wed 17th 10-2pm Charcoal making, Harrold/Odell Country Park.

Wed 17th 10.30am Meeting Point, Catherine's, Manor Cottage, Harrold.

Fri 19th 6.30pm Wodehill Jazz Band, The Bell.

Mon 22nd 10.00am Conservation tasks in Harrold/Odell Country Park.

Wed 31st 10.30am Meeting Point at Doris's, Goodly Heritage, The Bury, Pavenham.

Wed 31st 1-2pm Mini beasts, Harrold/Odell Country Park.

Magazine Deadline

Please send all entries for the June magazine to Tricia Hudson (mag1@odellbeds.net) or Catherine Corkery by May 12th 2006 at the

latest. May we remind you that the editorial team exercises the right to edit, shorten or alter any items that are submitted. Also, the opinions expressed in the articles are those of the contributors and are not the

responsibility of the editorial team.

Electronic mail address

email is web@odellbeds.net

FAX number
01234-721004

Back to the Odell Home Page
---
Last revised: May 01, 2006.