CHURCH NEWS - February 2006
The Licensing Service of Reverend Christine Clark
The licensing service for the Reverend Christine Clark, our new minister, will take place on Monday March 20th at 7.30pm in All Saints' Church. Everyone is welcome.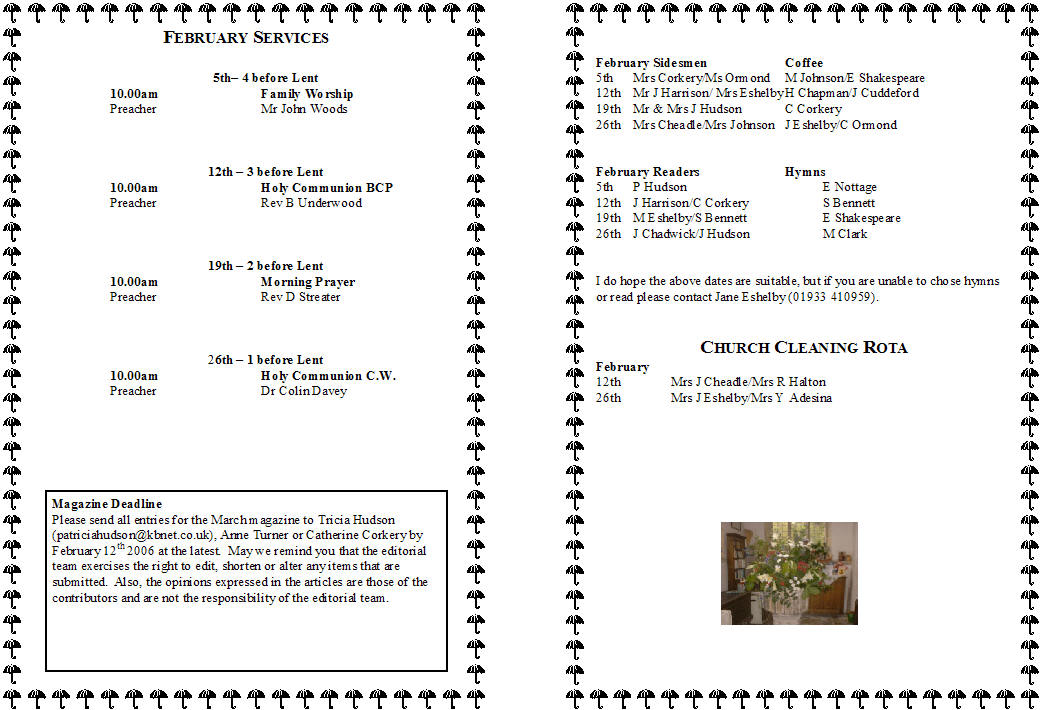 February 2006 – The Mystery of Christmas

Dear Friends,
You may, like me, enjoy the mystery plays at Christmas, the 'whodunits' of Conan Doyle's Sherlock Holmes and Agatha Christie's Hercule Poirot. Opening predictably with the main characters being developed, the crime occurs and the detectives arrive to reach a rational deduction from the evidence as to the guilty party. Fun in its own way but when we use the term mystery with Christmas it has an entirely different meaning. Instead of being a riddle which has to be resolved, it is in fact something which is revealed by God and which could not have been understood or deduced by human logic.

Christmas has passed once more: an event prophesied by the prophet Micah hundreds of years before it happened. This event has no parallel in any of the other world religions or philosophies. The events around the first Christmas make a wonderful story for children and for us all, but we need to realise that there is much more to it than simply the birth of a baby. In the gospel of John, the apostle reveals the greatest mystery of all time. He is not so concerned with the details of the birth but looks at the background linking time and eternity.
In the first chapter we learn that God who is spirit actually came to earth to live as a man among men and women. How can this happen and why was it necessary? We read in Genesis that God made men and women in his own image and likeness. He made them like himself in order to have fellowship with them. Though man turned away from God, God has not left man without hope. God himself came into the world which He had made and which was disordered by sin and rebellion. The second Person of the Trinity comes as man because of all the creatures only man is made in the image of God. He came to stand in the place of us all to take the punishment due to all sin and rebellion. He takes our sins upon himself and carries them away on the cross and in exchange gives us eternal life. In the words of the Good Friday hymn
'There was no other good enough
To pay the price of sin.
He only could unlock the gate
Of heaven and let us in.'
There is only one way, the way of justice, of holiness and righteousness. Man had caused the problem and therefore man must put it right. But man severely fallen and very far from any righteousness that could be accepted by God is disqualified. There is one answer; the second person of the Trinity must humble himself and come in the flesh being born as a human baby.

So John tells us that this babe of Bethlehem is nothing less than equal with God. He would become bone of our bone and flesh of our flesh. He would be obedient to God's law and die as an evildoer although completely innocent, so bearing the sins of all those who would believe on Him and receive His perfect righteousness through faith. Those who believe are those who are born of God and accepted into the family of God as adopted sons. All this is confirmed by the resurrection of Jesus Christ from the dead. The Son of God is born as a man that men, women and children might be reborn of God. That is the mystery of Christmas.
Sincerely, David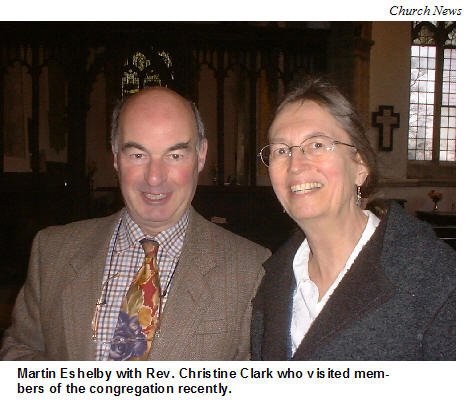 The Prayer Chain

The Prayer Chain is there if you need prayer for yourself, for others or for members of your family. Please don't ask for prayer outside your own family without people's permission. To have a number of people pray just telephone Dennis (822992).

e-Round News from the Diocese of St. Albans

Asylum Seekers

deserve dignity not destitution. This was the message sounded by the newly inaugurated Archbishop of York, Dr John Sentamu and a group of over 45 church leaders, including the Bishop of St Albans in a statement urging Government to stop the inhumane treatment of asylum seekers who either have failed their asylum claim or are made to live in poverty while they await a decision. The statement was issued in support of Church Action on Poverty's (CAP) Living Ghosts Campaign. If you would like to support the campaign, please visit <http://www.church-poverty.org.uk/campaigns.htm> or call Church Action on Poverty on 0161 2369321. If you would like to support local projects working with asylum seekers please contact Kemi Akinruli on 01727 851748.

Featured Parish Event.

Lenten Art Exhibition - Stations of the Cross - A selection of poignant and emotive paintings and studies by artist Ghislaine Howard on display in All Saints, Leighton Buzzard, Wed 8th March - Sat 15th April 2006. A series of addresses to accompany the exhibition will be offered each Wednesday evening during Lent at 8pm in church (excluding Ash Wednesday). Guest speakers to include The Very Rev'd Dr Jeffrey John; Ms Susanna Ainsworth; the Rev'd Dr Joan Crossley; the Rev'd Canon Iain Lane; Miss Fran Godfrey. For more information: www.allsaintslb.org.uk

Archdeacon of St Albans' report on the Inauguration of her friend, Archbishop Sentamu (an extract).

When I signed a neighbouring clergyman's nomination form to General Synod on a London street - we were leaving a meeting as he asked me - something like fifteen years ago, I didn't think that one day I'd be attending his Inauguration Service as Archbishop of York! John and Margaret Sentamu came to this country as refugees from Amin's Uganda. I met them when they came to a parish in the Brixton and Clapham deanery, where I was a Vicar and where John quickly became Rural Dean. He was such fun to be around - enthusiastic, energetic, bringing a new perspective. Over the years that energy has remained undiminished, brought to the service of everything he's undertaken, from daily parish duties to the chairing of national commissions. Those of us lucky enough to be in York Minster were an amazing mix of people, bearing testimony to John and Margaret's gift for friendship and inclusion. A Priest from Reading was there, who had grown up in John's home village; the mother of Damilola Taylor was there; children were included at every point of the service; he signed his blessing for the deaf.

His Inaugural Service was indeed very different from the usual great Cathedral occasion. There were dancers, the fierce beat of African drumming and the astonishing power of African voices. The new Archbishop bridged the gaps for us, grinning at the children of the choir as the ululations increased in volume, playing the drums himself -'translating' what was unfamiliar, and leading us on into new experiences with great sureness. This is a man who knows how to celebrate, but who has reached that point of letting go into God through much personal suffering and at considerable cost. This is the sort of person it feels good to follow. I look forward enormously to his new ministry, and to what it will mean for us all. Helen Cunliffe

Events

Elstow Abbey, February 4th, 5pm, a performance of Cinderella, followed by bring and share supper in the hall. All welcome, no cost, just turn up. 01234 261477.

Services

Women's World Day of Prayer, Friday March 3rd, is prepared this year by women of South Africa and the theme is Signs of the Times. Local services at: St Leonard's, Sandridge, 10.30am; St Raphael's, Avenue Road, St Albans, 10.30am; Bricket Wood URC, 2pm, speaker the Revd Meryl Court; St Albans Abbey, 2.30pm, speaker Margaret Addicott; St Stephens, St Albans, 8pm

Anna McCrum, Communications Officer, Diocese of St. Albans.

Meeting Point
February
Wednesday 8th
10.30am at Eileen's house, Corner House, Wymington Park, Rushden.
Wednesday 22nd

10.30am at Jill's, Rectory Farm, Odell.

March
Wednesday 8th
10.30am at Doris's, Goodly Heritage, The Bury, Pavenham.
Wednesday 22nd

10.30am at Catherine's, Manor Cottage, Harrold.
A Letter from Sarah and Bill Bennett:

Since moving into Odell and attending All Saints' my husband and I have been thoroughly blessed. The love, inspiration and fellowship from God's faithful people have refreshed our hearts like a dew from Heaven.

The Bible study with all the ladies is a pleasant time. Sarah Bennett

Odell PCC News

Odell Parochial Church Council continue to hold monthly meetings during the interregnum. Arrangements are underway for the arrival of Christine Clark our new minister. Her licensing service will take place on Monday 20th March at 7.30pm and everyone is encouraged to attend to give her a good welcome. We plan to have a buffet reception in the Village Hall following the service. Jill Cheadle would welcome volunteers to help provide the buffet. Christine and her husband David will move into the Rectory during February. The PCC thanks all those who have led services for us during the interregnum.

The organ has been removed for renovation; for the next few weeks we will be using a temporary keyboard or the piano for music during services. The PCC has requested permission for both the installation of a new sound system and the work to repair the damp void under the removed seating to the north side of the church. The latter requires 'limecrete' to be used which takes some weeks to harden.

Date of next meeting - Febuary 15th at Rectory Farm, 7.45pm

The Licensing Service of Reverend Christine Clark

The licensing service for the Reverend Christine Clark will take place on Monday March 20th at 7.30pm in All Saints' Church. Everyone is

welcome.

Christian Aid Week, 14 – 20 May 2006

Last year Odell supported Christian Aid week most generously, and it is hoped that we will do so again this year. If anyone would be willing to collect in the village for this charity please would you contact Jill Cheadle on 720261. Thank you.

Our Giving in February

is to the Leprosy Mission.

Contrary to popular belief leprosy is not a disease of the past but is a serious health threat right now in many developing countries. However, leprosy can be cured through multi-drug therapy. We can do our bit to help by giving generously in the special plate at the back of the church.

A Letter from Anne Turner

This month Anne has been unable to send us her usual contributions for the magazine as she is not feeling quite well enough. She has now returned home from Addenbrookes where she wrote this letter but is suffering from laryngitis right now. Please remember Anne in your prayers at this difficult time for her.

Dear Friends,

Thank you so very much those dear souls who have been lifting me up in prayer over the Christmas /New Year time. Addenbrookes was a very peaceful place to be, albeit on the 9th floor, looking out at the various weather conditions that the Lord chose to provide.

I especially loved the Philippine young children (children of the nurses) who came in to sing their Christmas Carols, looking like 'little angels' dressed specially for the occasion. Christmas is His time of year - 'Christ-mas' time.

Prayer changes things, places, any situations.

I pray for you. As this year 2006 progresses may you all receive every blessing that such a wonderful Lord has for you

With love in His Name,
Anne (Turner)
Obituaries
Maurice Thompson
It is with sadness that we learned of the death of Maurice Thompson on December 16th 2005. Maurice and Joan joined the congregation at All Saints' soon after moving to Sharnbrook in the early 1980s. Through the following twenty years his faithful Christian witness was unwavering. Always among the first to assist with any task that needed doing he was once found, at the age of about eighty, standing on a church windowsill cleaning the windows! A task that many a younger person would find daunting.
Following his retirement as a civil engineer specialising in concrete, Maurice developed an extensive collection of slides of the Bible lands and created Slide Tours with taped and written commentaries. These have been used throughout the country for many years. Many of the pictures are now available on CDROM.
Maurice began to be unwell in the summer and was admitted to hospital in October. He will long be remembered for his sympathy, thoughtful kindheartedness and generous help to those in need or trouble. We send love to Joan and to her family.
Andrew Lawson Johnston
Andrew Lawson Johnston was taken ill at his home near Aberdeen and died shortly afterwards on 16th January. He was the third son of the second Lord Luke of Pavenham. Andrew was a strong Christian and a much loved member of the church congregation when he lived in Odell at Hobbs Green after his marriage to Sylvia. He was a skilled glass engraver with international commissions and a talented landscape painter. His friends remember his gentle and enthusiastic involvement with church and village affairs. We mourn his loss and pray for his wife and family at this sad time.
Thoughts for the Year Ahead, taken from 'Daily Light' January 1st
The Lord, He it is that goeth before thee; He will be with thee, He will not fail thee.
Deut. 31:8
If thy presence go not with me, carry us not up hence.
O Lord I know that the way of a man is not in himself: it is not in man that walketh to direct his steps.
The steps of a good man are ordered by the Lord: and he delighteth in his way. Though he fall, he will not be utterly cast down: for the Lord upholdeth him with his hand.
I am continually with thee: thou hast holden me by my right hand. Thou shalt guide me with thy counsel, and afterward reward me in glory.
I am persuaded that neither death, nor life, nor angels, nor principalities, nor powers, nor things present, nor things to come, nor height, nor depth, nor any other creature, shall be able to separate us from the love of God, which is in Christ Jesus our Lord.
Exodus 33: 15; Jeremiah 10: 23; Psalm 37: 23, 24; Psalm 73: 23, 24; Romans 8: 38, 39.
With thanks to 'Daily Light', and to Sarah Bennett for this contribution.
Birthdays in February
Happy birthday to:
Jack Holden Postles who will be 5 on the 10th
Victoria Beardow who will be 10 on the 22nd
And to Anne Turner on the 24th!
Profits from the Harvest Supper and the Alison Neil Performance
The last Harvest Supper made a profit of £155.29, while the Alison Neil performance of 'The Shakespeare Ladies' in the Village Hall in October made a profit of £618.56. Both events were in aid of All Saints' Church.
Diary
February
8th 10.30am Meeting Point at Eileen's, Corner House,
Wymington Park, Rushden.
14th 7.30pm W.I. Village Hall.
22nd 10.30am Meeting Point at Jill's, Rectory Farm, Odell.
27th 10.00am Friends of Harrold/Odell Country Park
Conservation morning.
28th 7.30pm Stations of N. Bedford public meeting,
Sharnbrook Village Hall.
March
8th 10.30am Meeting Point at Doris's, The Bury, Pavenham.
13th 8.00pm Parish Council Meeting, Village Hall.
15th 12.30pm Senior Citizens Fish and Chip lunch, Village Hall.
20th 7.30pm Licensing Service for Rev. Christine Clark, All Saints'.
22nd 10.30am Meeting Point at Catherine's, Manor Cottage, Harrold.
27th 10.00am Friends of Harrold/Odell Country Park
Conservation morning.
Electronic mail address
email is web@odellbeds.net

FAX number
01234-721004

Back to the Odell Home Page
---
Last revised: October 17, 2017.