CHURCH NEWS - October 2005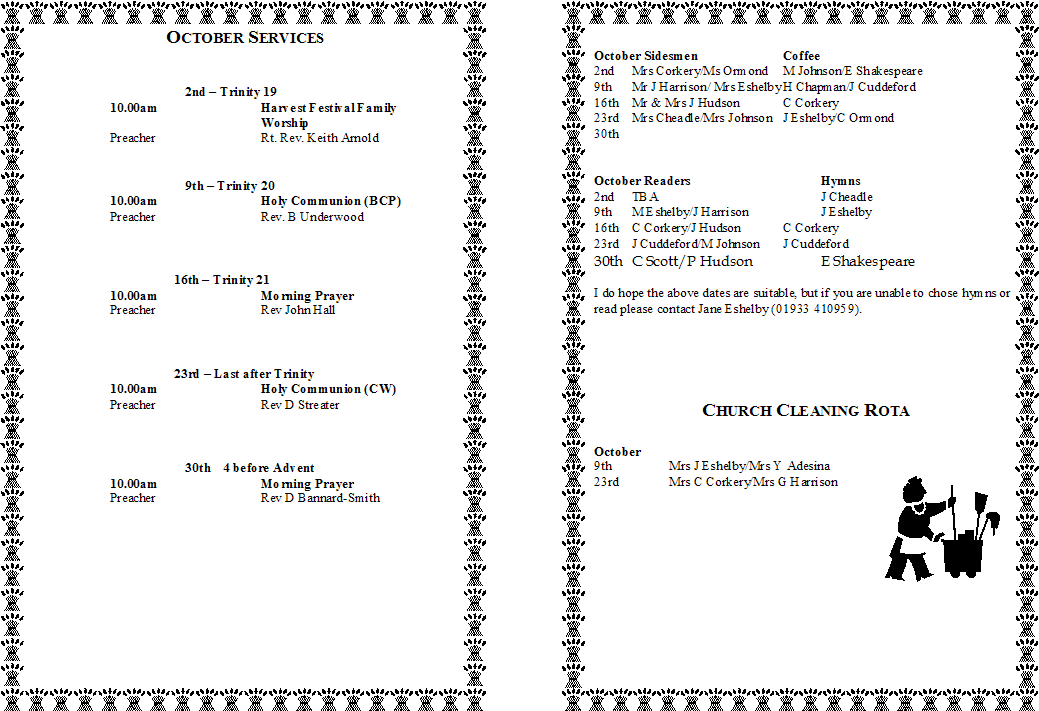 October 2005
Most of us must fail to understand why young men who have been educated for free in this country and have employment should decide to blow themselves and innocent bystanders on the tube or buses. They no doubt thought they had their reasons, but we can only look upon them as traitors to our country and as murderers. What is our attitude to such people?
In the last week of Jesus' life he took water and a towel and washed His disciples' feet. I wonder what He was thinking of as He washed the feet of Judas Iscariot, knowing that he would shortly betray Him? It was customary at the Passover meal to give the first morsel of bread and lamb, dipped in a sauce of bitter herbs, to the most highly esteemed person present. Jesus had said, 'I tell you the truth, one of you is going to betray me' and then He gave the morsel to Judas and later said, 'What you are about to do, do quickly'. As soon as Judas had taken the bread, he went out. And it was night. I wonder what were the last instructions to the suicide bombers?
Judas was a man who was motivated by political aims. He had a practical outlook on life and thought he could save his own skin even if Jesus and the rest of the disciples were taken prisoner. He took no thought for the possible consequences of his actions. Yet we know that Jesus must have loved him.
I am at present reading 'Islam in Conflict' by P G Riddell and P Cotterill. One verse quoted from the Qur'an says that the Jews are condemned because they uttered against Mary a grave false charge, that they said 'We have killed Christ Jesus, the son of Mary, the messenger of Allah – but they killed him not, nor crucified him, but so it was made to appear to them….for of a surety they killed him not.'
If it was not Jesus who was crucified, who was it? The Qur'an offers no answer, but the Italian father Moreno, a Christian turned Muslim, in the apocryphal gospel of Barnabas tells us that angels took Jesus to heaven while the disciples were asleep and substituted Judas Iscariot for him and made Judas to look like Jesus. It was therefore Judas who was crucified!
It is clear that Islam can never be made compatible with Christianity while they believe that Jesus did not die on the cross, that he did not rise from the dead and that he did not bear the sins of the world in his body on the cross. What fellowship can light have with darkness?
Could it be that the same spiritual powers that prompted Judas' action were also behind the actions of the bombers? Jesus, in His teaching said, 'Love your enemies and pray for those who persecute you.'(Matt.5:44). He lived this out as he showed such grace and compassion towards Judas.
May we be enabled to see the tragedies of this world in the light of eternity.
Revd. D. R. Bannard-Smith
The Prayer Chain
The Prayer Chain is there if you need prayer for yourself, for others or for members of your family. Please don't ask for prayer outside your own family without people's permission. To have a number of people pray just telephone Dennis (822992).
e-Round News from the Diocese of St. Albans
The Queen Says 'Thank You' To Bedford's Unsung Heroes. Volunteers from Bedford have been chosen as winners of this year's prestigious Queen's Award for Voluntary Service. Yarl's Wood Befrienders (YWB) are a local volunteering group, including residents of Bedford, which provides visitors to lonely, vulnerable and desperate detainees at the Immigration Removal Centre near Clapham. The award gives recognition to the unsung heroes in our communities that play an essential role in our daily lives. The voluntary group is one of only 92 organisations to win an Award across the UK this year. Members of the public who have either benefited from their work, or seen the positive effect on their community have nominated all winners. The Bishop of St Albans nominated the YWB, which is supported by the Diocese.
Talks & courses
'First Friday in the Month', a series of talks at St Peter's Chapter House, De Parys Avenue, Bedford, 7.30pm. October 7th: 'From the Inside Looking Out - reflections from HMP Bedford; November 11th (not 4th!) 'Brahms and his German Requiem'; December 2nd 'Movie Magic'.
Details: 01234 211499.
Anna McCrum, Communications Officer, Diocese of St. Albans.
Meeting Point
October
Wednesday 19th 10.30am at Jane's, Newton House, Avenue Rd., Rushden.

November

Wednesday 2nd 10.30am at Jill's, Rectory Farm, Odell.

Our Giving in October is to C.M.S.

This month we are giving to our mission partners in the Church Missionary Society, to aid them in the very worthwhile projects they undertake for C.M.S. C.M.S. is committed to proclaiming the gospel

through a wide range of ministries. Their fundamental motivation for proclaiming the gospel is to bring glory to God.

Looking to Jesus

Verse for the month

: 'Signs of the end of the age'.

"You will hear of wars and rumours of wars, but see to it that you are not alarmed. Such things must happen, but the end is still to come. Nation will rise again nation, and kingdom against kingdom. There will be famines and earthquakes in various places. All these are the beginning of birth pains". Matthew 24. 6-8.

I SMILE Read Psalm 118:14-21

If anyone is in Christ, he is a new creation; old things have passed away; behold, all things have become new. 2 Corinthians 5:17

A few years ago, singer Russ Lee came out with a song titled "I Smile." When you discover how his life was changed by Jesus Christ, you'll know why he sings a song that says, "I smile when I think about the way You turned my life around. I smile when I think about the happiness in You I've found."

When Russ was 17, his days were wasted on drugs, alcohol, boredom, and pain. his life was full of self-inflicted trouble and hopelessness. One day, while listening to an old rock song called " I Can't Get No Satisfaction" he realized that this described his life. Two days later, a friend invited him to church. There Russ heard that real satisfaction comes from knowing Jesus Christ, so he reached out in faith to Him.

So, what was the first thing Russ did after trusting Christ? According to the book 'Touched by The Saviour' by Mike Yorkey, Russ said, " I walked back out to my car. In the trunk was a garbage bag filled with drugs I had been selling. I won't be needing these again, I thought. I was right. I threw the bag away. From that day forward, God transformed my life from the inside out. I became a new creation."

No wonder Russ Lee can sing with exuberance, "I smile."

Can you?? Dave Branon.

Becoming a new creation

Admit that you are a sinner and ask for God's forgiveness (Romans 3:23). Accept the free gift of eternal life, paid for by the death of Jesus Christ (Romans 6:23)

"A song in the heart puts a smile on the face"

Taken from "Our Daily Bread" with kind permission of Radio Bible Class. PO Box 1 Carnforth Lancs. LA5 9ES

Amongst Ourselves

Heavenly Father, we come to you in praise and adoration for the beautiful sunshine that we have been enjoying enabling the children to be outside during their school holidays. We thank You too for the way that You have blessed the farmers with fields of rich golden grain. They must all be praising You for this wonderful bumper harvest. Although You kept the rain away, we know only too well how much we need water in the grounds and reservoirs so are pleased to welcome it. Thank You Father that we are blessed with ample water when some poorer countries either do not have any or it is dirty!

Many people have been taking their yearly holidays either in our country or abroad. Wherever we go, Your world is a beautiful place. Thank You for the beauty in all parts of the world.

We think of all the children having started back to school and other places of education and we ask you to bless them and take care of them all.

Father God we also bring before you the sad things that have been happening in America: the Hurricane Katrina that hit Florida and has now devastated other parts including Louisiana and Mississippi. So many lives lost! People and animals trapped in their homes, standing on rooftops to be seen and rescued. Such filth and heat has come out of it. Oh Lord please help these poor souls so devastated in their sadness; the loss of lives and homes and also personal belongings. We really do pray and lift these dear

people up to you. We pray especially for all those in the rescue operations, and although this is horrific we do know that it will also bring in an abundance of prayer across the world and blessings will come out of this sadness.

Locally the sick and elderly need a comforting hand upon them. Amongst these are: Florence Shellard, Edie Surridge, Jim Wheeler and Hilda Wright. Personally Lord, I thank you for all those people upholding me in prayer as I experience more chemotherapy and its side effects!

We are so grateful for all emergency services, fire, police and ambulance - jobs that are tedious, courageous and needing lots of stamina and compassion - and for all doctors and medical staff also under lots of stress.

Thank You Lord for all these people and we give our praise and thanks through Jesus Your Son, Our Lord. Amen.

We say a very sad goodbye to Pam Wildman who has left 9 Horsefair Lane to go and live in Rushden with son Martin and family. Pam has lived in Odell for 78 years, being born in one of the cottages at North End, then moving down with her parents to 32 Horsefair Lane, and later in 1952 moving into the newly built number 9 Horsefair Lane. Pam saw many changes in the village in those years. We pray that she will be very happy in her new surroundings and be blessed with peace and good health as she settles into the new situation. God bless you Pam.

Congratulations to Lorrie Wright on her successful G.C.S.E. results and to others who have received their results. Well done to you all. We think too of those just starting a new life at University and we think of Rachel Hudson as she commences drama school in Edinburgh. God Bless all these youngsters

.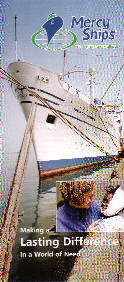 Many of our readers and certainly All Saints' Members will have heard of and supported the charity "Mercy Ships". I am one of those and am always happy to hear about Katie Corkery to see what amazing things have happened in her time on the
Anastasis. With kind permission of the charity I would like to share with you a section of their latest news letter.
'Abla lives in Togo, West Africa. Born with a cleft lip, this 23 year-old has never known anything different. She said, "People used to laugh at me. I hoped one day I would be healed."
In 2003 Abla heard that a Mercy Ship was in her country. While pregnant, she discovered when she arrived that all the surgical slots had been filled. However, a Mercy Ships health care worker personally promised to help Abla get surgery the following year.
Sure enough, at the end of last year, the Anastasis sailed to Benin. The Mercy ships health care worker contacted a pastor in Toto who made the travel arrangements to bring Abla, along with her seven-month old son, to the hospital ship. Following her successful onboard operation, Abla exulted, "People won't recognise me when I return home. And no one will laugh at me anymore!"
These are the kind of miracles happening because of God's greatness and kind-hearted voluntary workers such as Katie who incidentally is a teacher on board. All contributions can go to Mercy Ships, The Lighthouse, 12 Meadway Court, Stevenage SG1 2 EF
"Exercise daily - Walk with The Lord"
Lord! Help us!
What has happened to our youth today?
So very content in going harm's way.
Binge drinking and falling about,
Too drunk really to raise a shout.
Legs in the air, everything showing!
Knickers, the lot – really mind blowing!
Handbags left to steal, they're not even aware
How foolish they are. No! Not even a care.
Respect has all gone. Were they ever taught?
If so, parents must look on, feeling really fraught.
Police arrive – to try and move them on their way.
Oh Lord, please help the youth of today!
Anne Turner
The Shakespeare Ladies Club
On Saturday 22nd October Alison Neil ('The Just William Lady') is returning to Odell with her new one-man show, "The Shakespeare Ladies Club". The performance, in the Village Hall, is on October 22nd starting 7.00pm. Ticket: £18.00, £12.50 students, to include glass of sparkling wine and hot supper. See Caroline Scott for tickets.
A Tribute to Friends
We have friends with hearts of gold.
The help they give us is never seen
As our daily life unfolds.
We sometimes wonder where we would be
Without their hands and their hearts of gold.
Ken and Florrie Shellard
Church Flowers for October
1st Decorate for Harvest Festival
9th All help to clear
16th Faith Hartwell
23rd Jane Eshelby
30th Nikki Freeman
Birthdays
Happy birthday to:
Lottie Robinson whose birthday is on the 18th October
and to anyone else who has a birthday in October.
Diary
1st 10.00am Church decorating, All Saints'.
7.00pm Harvest Supper, Village Hall.

2nd 10.00am Harvest Festival Family Service, All Saints'.
5th 7.00pm Line dancing Odell Village Hall.
8th Barn Dance, Odell Village Hall.
11th 7.30pm W.I. Odell Village Hall,
12th 12 noon Senior Citizens' Harvest Lunch, Village Hall.
14th 4.00pm Alistair Burt Advice Centre, Sharnbrook.
16th 10 am Walk in Harrold/Odell Country Park.
16th 11 am National Apple Day, Bromham Mill.
19th 10.30am Meeting Point at Jane's, Newton House, Avenue
Rd., Rushden.
22nd 7.00pm "Shakespeare Ladies Club", Odell Village Hall.
26th 2pm Learn about our mammals, Harrold/Odell
Country Park.
28th 7.30pm Spooky walk in the dark, H/O Country Park.
29th 10am Big Draw, H/O Country Park.
30th 1.00am Clocks change.
30th 10am Big Draw, H/O Country Park.
31st 10am "Friends Group" working day, H/O Country
Park.
Magazine Deadline
Please send all entries for the November 2005 magazine to Tricia Hudson (patriciahudson@kbnet.co.uk), Anne Turner or Catherine Corkery by October 12th 2005 at the latest. May we remind you that the editorial team exercises the right to edit, shorten or alter any items that are submitted. Also, the opinions expressed in the articles are those of the contributors and are not the responsibility of the editorial team.
http://www.jonhudson.net/

FAX number
01234-721004

Back to the Odell Home Page
---
Last revised: October 06, 2005.