CHURCH NEWS - May 2004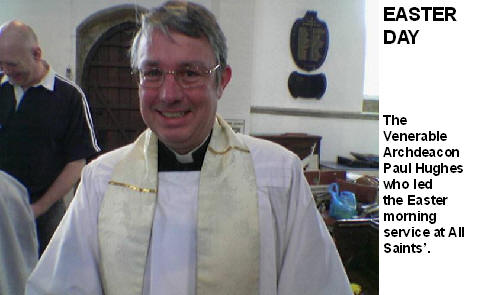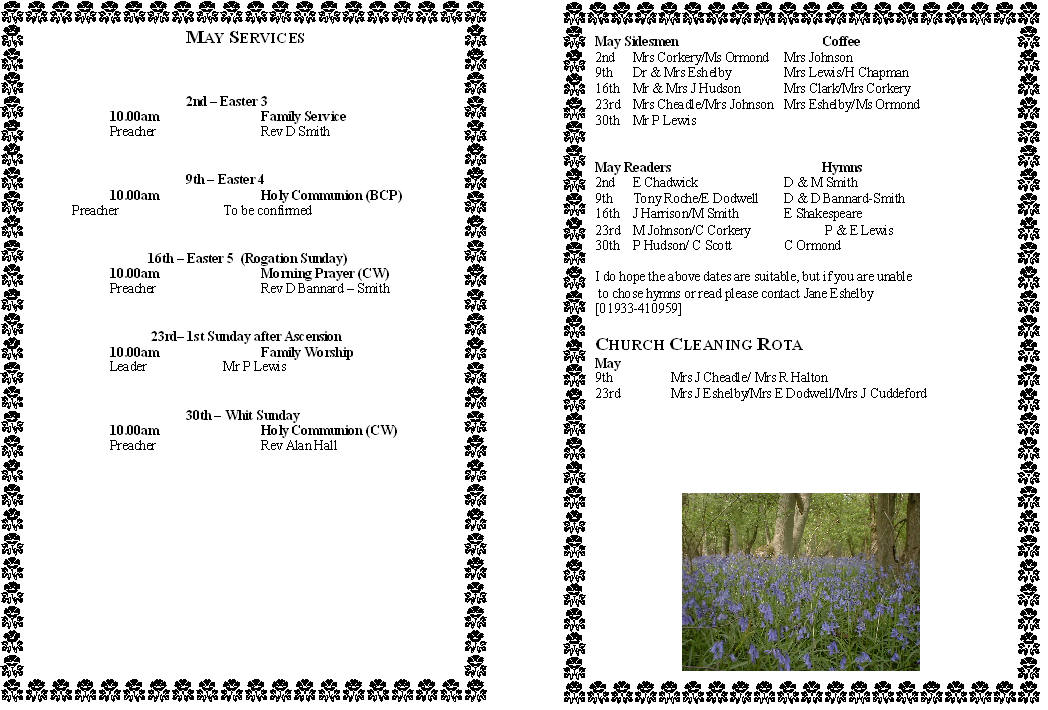 May 2004
During this month (on Thursday 20th to be precise) the Christian Church remembers the Ascension of Jesus Christ. Put in the simplest terms this means that He has returned to His home in heaven and is now there with His Father. The Bible is very clear on this point :-
"After the Lord Jesus had spoken to them, He was taken up into heaven and sat at the right hand of God". (Mark:16:19).
"While He was blessing them, He left them and was taken up into heaven." (Luke 24:51).
"After He had provided purification for sins, He sat down at the right hand of the Majesty in heaven." (Hebrews 1:3).
These are the facts we believe about Jesus' Ascension and on this basis we confess in the Creed: "He ascended into heaven and is seated at the right hand of the Father." What does it all mean?
The fact that God the Father has received and welcomed back His only Son into heaven surely means that He has pleased the Father by what He had done here on earth. The work God sent Him to do had been accomplished perfectly. This we sometimes call "The finished work of Christ" – the work of the Saviour; the work of redemption, dying on the cross and rising again. Jesus had given himself as a once-for-all sacrifice for sins, the righteous for the unrighteous, to bring us to God. He had been crucified, had died and was buried. The third day He rose again from the dead. Therefore God has highly exalted Him.
'Hail the day that sees Him rise
To His throne above the skies;
Christ the lamb for sinners given
Enters now the highest heaven.' (C. Wesley).
The Ascension, then, is a testimony to the finished work of Christ. And it is in that finished work that we believe and trust for our own salvation. He ascended into heaven as the one and only Saviour of the World.
Douglas Smith
The Prayer Chain

The Prayer Chain is there if you need prayer for yourself, for others or for members of your family. Please don't ask for prayer outside your own family without people's permission. To have a number of people pray just telephone Dennis (822992).

Church Opening

Many of you will know that because of the problems of vandalism and theft from Churches generally, the Parish Church is kept locked. Unless there is a specific reason for opening it earlier, it will be opened for Sunday and occasional services half an hour before the Service is due to start.

News from St. Albans Diocese

Celebrate Saint Alban at the Cathedral

St Albans Cathedral is inviting people from across the diocese to the annual Festival of Saint Alban celebrations on Saturday June 19th. The theme of this year's festival is 'Faith against Torture.' The day includes at 11.00 am a Pilgrimage Procession 'in the steps of St Alban', setting off from St Columba's College, King Harry Lane. The Festival Eucharist is at 11.30 am in the Abbey. The preacher is the Rt Revd David Stancliffe, Bishop of Salisbury. During the afternoon pilgrims picnic on the orchard while there is music and other activities in and around the Abbey. The preacher at the 4.00 pm Festival Evensong is the Revd Frank Wade, Rector of St Alban's, Washington DC, followed by tea on the Deanery lawn.

On course for healing

All those interested in healing are invited to an evening course being run on Wednesdays by the diocese's Group for the Ministry of Healing. The course at St Swithun, Sandy, Beds, includes sessions on: June 2nd The Mandate, June 9th Channels of Grace, June 16th A Definite Touch, June 23rd Going Deeper, June 30th Guided by God, and July 7th Putting it together. The sessions begin at 7.45pm in the Church Hall. The cost is £25 including booklet. More information: the Revd Dr Anne Shaw,. 37 Sandy Lodge Road, Rickmansworth, Herts, WD3 1LP, 01923 827663 or e-mail

anneshaw@doctors.org.uk

Befrienders needed

Befrienders are needed for Yarl's Wood Immigration Removal Centre, near Bedford. The befrienders - of all faiths and none - make a commitment to visit the same detainee once a week for as long as they are detained. They also help them assess the legal representation they are being given, be there for them in an emergency, find out information for them that they cannot access from the detention centre and, most essential of all, listen to them. All applicants have to go through a formal approval process and receive training. More information from Crystal Dickinson on 01234 330836 or send for an application form to the Yarl's Wood Befrienders, c/o 26 St Peter's Street, Bedford, MK40 2NN.

May SeeRound

Parishes are turning to basketball to help connect with local children and young people, reports the May edition of SeeRound, the diocesan magazine. There's also a chance to win 'Travelling Well,' a guide to living the Christian life; a letter from the Bishop of Hertford; the results of the competition to find the most 'church-friendly' local newspaper; news of three new Christian bookshops in the diocese; young people fasting in Hertford, and more on many of the e-Round items. There is also lots of parish news and events.

A farewell...

Peter Crumpler, Communications Officer for St Albans diocese since August 2001 - and editor of e-Round and SeeRound - leaves at the end of April to become Director of Communications for the Archbishops' Council and General Synod of the Church of England. "I'd like to thank everyone in the diocese for their support and encouragement over the past years," he said.
Peter Crumpler
Communications Officer Diocese of St. Albans,

New Dean of St Albans appointed
It has been announced from 10 Downing Street today (Monday, April 19th) that the Queen has approved the nomination of The Revd Canon Dr Jeffrey John as the next Dean of St Albans.
Canon Jeffery John, who is also to be Rector of the Cathedral and Abbey Church of St Alban, is currently Chancellor and Canon Theologian of Southwark Cathedral. He succeeds the Very Revd Christopher Lewis, who became Dean of Christ Church, Oxford, last October, after nine years as Dean of St Albans.
The Bishop of St Albans will be writing to all clergy in the diocese today. The text of the letter will be placed on the diocesan website.
More information on the diocesan website: www.stalbans.anglican.org
Meeting Point
May.
Wednesday 5th 10.30am at Eileen Shakespeare's, Corner House, 38 Wymington Park, Rushden.

Tuesday 18th 10.30am at Jane Eshelby's, Newton House, Avenue Rd., Newton Bromswold.

June.

Wednesday 2nd 10.30am at Catherine Corkery's, Manor Cottege, High St., Harrold.
All Saints' Appeal Fund
No more funds have come in since the last update in February, but work is steadily progressing. In the April Magazine it was reported that the interior redecoration of the church was in hand, and this is now almost complete with just a few jobs left to be finished. Another window in the north aisle has been removed for re-leading, and we are due to meet shortly with heating experts from the Diocese and English Heritage to agree on how best to improve the heating system.
In the meantime work on the medieval stained glass is continuing down in Canterbury. In the next month or so we hope to see the new plain external protective glazing installed in the tracery of the boarded-up windows on the south side of the church. At the same time some further small fragments of medieval glass will be removed for conservation.
We look forward to your support for our next two fundraising events – the Concert on Sunday 16 May and the Richmal Crompton 'Just William' evening in June. We still need to raise a further £5,700 to reach our target of £50,000.
Tim Dodwell
The Alston Connection
It's fascinating what links have turned up in the course of our fundraising. The Glaziers' Trust is one of those that have promised a contribution towards the conservation of our stained glass. When we first approached them the then Secretary lived in Biddenham, but now the current Secretary lives in Suffolk – and his name is Timothy Alston! An enquiry as to whether there was any connection with the Alstons of Odell and Harrold has now produced confirmation that this is the case and further fascinating information on the Alston family before they came to Odell. We look forward to welcoming Timothy Alston to Odell when the glass has been reinstalled.
Sir Thomas Alston, who was responsible for installing the carved wooden screen at the back of the church before the baronetcy was created, was High Sheriff of Bedfordshire in 1642. John Alston, who farms at Besthorpe in Norfolk, is the present High Sheriff of that county!
All Saints' Church Appeal Fund
A Spring Concert
Elizabeth Lewis and Kathleen Dickson
Piano duets and readings of poetry and prose
Sunday 16th May 6.30pm
Tickets: £8.50 (£6.00) to include glass of white wine or fruit juice and nibbles.
Tickets available from Philip Lewis 01234 781796 or
Jill Cheadle 01234 720261
Odell Village Fete 2004
The date for this year's village fete is Saturday 12th June. It will be held in the field in Horsefair Lane as in previous years. Help is desperately needed both on the committee and on the day. Please ring Jill Cheadle (720261) if you are interested.
The Fete will be opened by Gerald Robinson, a veteran "Boys Brigader".
As well as the 'Boys Brigade' tent there will be all the usual attractions
Family Dog Show Pony Rides Cash Raffle
Tombola Children's Sports
Lucky Programme Draw Children's Stalls Ice Creams
Refreshments Many Sideshows
Gifts White Elephant Bottle Stall
Books Cakes Plants Produce
Fete Working Party on 8th May, from 10.00am, at Doreen Wheeler's.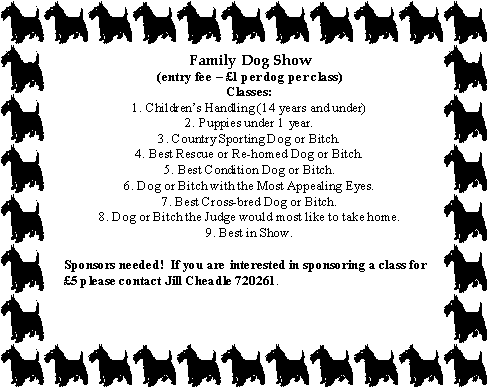 All Saints' Annual General Meeting
This was held in the Village Hall on Tuesday 20th April at 8.00pm following the Annual Vestry Meeting.
Mr. T. Dodwell was in the chair and 17 members were present.
Reports were given by various committee members and Miss Helen Chapman gave a detailed account of the Church's finances.
Mrs. Cheadle in her report expressed the sadness of the loss of fellow Churchwarden Keith Merret last autumn. Also, after losing David and Valerie, a huge vacuum was felt in the running of the church. Mr. T. Dodwell stood down as Lay Vice-Chairman and Mr. M. Eshelby was elected in his place. Mrs. Cheadle thanked Tim and Liz Dodwell and Phil and Liz Lewis, who will be leaving later in the year, for all their hard work done over the years. Some uncertainty for the future was expressed, but we must pray that now the Parish Profile has been sent to the Bishop and Archdeacon we will in time be allowed to have a new minister in the Rectory.
Mr. Dodwell gave an account of the fabric of the Church. The interior painting was finished. The cleaning of the windows would be complete shortly and we are well on our way to restoring the stained glass windows.
Election of Officers:
Mrs. Cheadle – Churchwarden.
Mr. M. Eshelby – Lay Vice-Chairman.
Treasurer – Miss. Helen Chapman.
Secretary – Mr. P. Lewis, until a replacement can be found.
Deanery Synod Representative – Mrs. J. Eshelby.
No-one came forward to stand as Co. Charchwarden and Mrs. Cheadle expressed some concern that this would have some effect on allowing us to have our own minister.
Before the end of the meeting the members stood in silence in respect for Mr. Keith Merret.
A short PCC meeting followed the A.G.M. to elect officers and confirm the date of the next PCC meeting.
Jill Cheadle, Churchwarden
Aid for Romania
A hasty note to bring you up to date!
Thanks to the hospitality of Marion and Andrew, the Posh Supper at the Barn, Hobbs Green, was a great success and we made a profit of more than £850 to go towards the fund for our two special youngsters, Alexandru and Mihaela. The appeal has so far reached over £7,500 before we started spending it!
The group that went to Buzau to help sort out the electric wheelchair and other aids for Mihaela had a very successful visit. Mihaela is using her new chair with confidence around the house as well as using the new ramp to get into her tiny garden and into town. She now is spending her time at home more profitably, working at the laptop computer she has been given as well as many other hobbies. This has given her a new interest in life and she is really enjoying the wonderful freedom. Her mother is slowly mastering the electric hoist whilst her brother and sister are experts and have both become much more involved in improving her lifestyle. Unfortunately the road and pavement surfaces in Buzau are just too bad, plus the problem of no good ramps, for her to be able to take herself (with an attendant) to school in her electric wheelchair, so her mother is still pushing her there and back. We can only hope that improvements will be made with time and that the family and helpers will accompany her out shopping or elsewhere in town. The group came back delighted, especially after helping two other housebound ladies, one of whom was very pleased to receive the wheelchair that once belonged to Keith Merret's mother. Having now seriously caught the Romania 'bug', Julie Day, the occupational therapist who led the operation, has now agreed to join our committee and become a trustee!
Alex Buga, our little friend who is partially sighted, and his father have been back for their second consultation with Mr Daya in East Grinstead. He was very pleased with progress made and we could all witness that Alex's sight has improved. Robert and Anthony Merret can certainly tell you that Alex is becoming quite a wild lad these days, especially on their scooter!
The Bugas will return again in July. These visits for check-ups are proving essential especially as great care must be taken to watch for harmful side-effects from the steroid treatment, and it seems there is no adequate treatment or follow-up available in Buzau or even Bucharest. Each visit costs about £600 and the medication costs about £80 for three months, so you can see that even £4,000 will not take care of this for very long even if visits should become only two or three times a year. We are therefore looking for people prepared to give regular donations, perhaps on a yearly basis, towards this ongoing expense. Please contact us or Roy Dobb if you think you could help with even a small sum.
As many of you know we are planning to move to Hampshire this month, but Aid for Romania from North Bedfordshire will continue, thanks to IT and other communication wonders. At present Tim will carry on as treasurer, and we hope to go out to Buzau in the autumn as usual for our annual audit etc. Many thanks to those who once again are supporting us in the Pit Run, and indeed to everyone for doing so much to make this enterprise work over the last 14 years. Mail forwarding arrangements will be set-up with us, but if you need someone local, please contact our chairman Roy Dobb (720548 or
e-mail roydobb@littleodell.freeserve.co.uk).
Tim and Liz Dodwell
Parish Magazines
Before we throw them out does anybody want old parish magazines for Odell or Harrold for the last 19 years, from November 1985?
Tim and Liz Dodwell (720640)
Church Flowers for May
2nd E Lewis
9th Jen Cuddeford
16th J Roche
23rd R Halton
30th C Ormond
Our Giving in May is to The Church Army.
The Church Army is an International Evangelical Movement, based on Biblical teaching, with a mission to meet human needs, without discrimination, in the name of Christ. Their far-reaching work includes preaching the Gospel, working in hospitals, prisons, eventide homes, hostels and counselling, to name but a few examples. Wherever there is poverty or need, the Church Army is there. Please give generously to this movement which is very generous with its time and love.
Looking to Jesus
Rejoice in who you are
"Thank you for making me so wonderfully complex." Psalm 139:14
Stop despising the things that make you unique. You were born at just the right time, in just the right place, with just the right gifts, to fulfil a plan that nobody but you can fulfil. Open your Bible and see what God thinks of you. After all, His opinion is the only one that really matters.
Listen to David the Psalmist. "You saw me before I was born and scheduled each day of my life before I began to breathe. Every day was recorded in your Book! How precious it is, Lord, to realize that you are thinking about me constantly" (Ps 139:16-17 TLB). If you want to work on your self-image, here's a prayer to help you today.
"Lord, it's taken me a long time to figure out that I'm different by divine design, that You've made me with abilities, traits, and a genetic combination that nobody else has. Nobody in all the ages of time has ever been me - and nobody ever will be.
Deliver me, Father, from feeling weird; from wishing I were someone else. Deliver me from envy and jealousy towards others.
Help me to discover the unique person You created me to be; to enjoy the little things that make me so special, so `one-of-a-kind.' Help me to realise that I can give the world something that no one else can give.
Thank you, Lord, for the awesome creative work You've done - and continue to do - in making me who I am. Amen".
Printed with kind permission of United Christian Broadcasters and taken from "Word for Today".PO Box 255 Stoke on Trent ST4 8YY
Amongst Ourselves
We are sorry to hear of the death of Joel (Joe) Smith who was our friendly paper man for so many years. Joe always had time for a chat and was a familiar figure in our villages delivering our paper bright and early. We are thankful for the service he gave to us here in Odell.
Our prayers are also with the family of Betty Dodkins who died recently. Betty and husband John lived in Horsefair Lane for a few years and upon his death Betty moved to Sharnbrook to be nearer to her family.
We send our love and prayers to both families.
Our good wishes go to Martin Bridgman and family who have moved to Harrold. We wish them much happiness in their new home.
A Sad Farewell.
We are sorry to say goodbye to Tim and Liz Dodwell who are leaving us to go to Brockenhurst in May. Tim and Liz have been such a valuable asset to so many people and especially to All Saints' throughout their time of worship here. The help that they have given to so many functions and especially to services within the church has been tremendous. Liz's love of God's healing in her own life, especially on the healing of her back, gave her great inspiration to support and participate in the healing services at our church and within the diocese. At the times of interregnum, at functions in St.Alban's Cathedral and around the diocese, at the fete - you name it - their help was there. I know Liz was a tremendous spiritual help to me when many years ago we worked on the magazine together. No one knew that Liz worked up into the night to get the magazine finished on time, getting it just right, as was her way, being a mathematician. She has taken me to Addenbrookes, and is always ready to listen at the end of a 'phone. We shall miss you both. But in Liz's own words "You still have the memories". We certainly have. God bless you in your new home and surroundings and wherever you worship. Thank you dear friends. Thank you Lord for the Dodwells and all they have given to everyone.
Anne Turner
The Children's Society
Thank you to all box holders and donors. £194.54 has been sent to The Children's Society for which they are very grateful. If there is anyone who would like to have a collection box please let me know.
Catherine Corkery 720348
Diary

May

5th 10.30am Meeting Point at Eileen Shakespeare's, Corner House, 38 Wymington Park, Rushden.

7th & 8th Exhibition of paintings, Rose Cottage, Felmersham

11th 7.30pm W.I. Village Hall.

15th 12.30 Trad Jazz in The Bell.

16th 6.30pm A Spring Concert, All Saints' Church.

18th 10.30am Meeting Point, at Jane Eshelby's, Newton House, Avenue Rd., Newton Bromswold

June

2nd 10.30am Meeting Point at Catherine's, Manor Cottage, Harrold.
Magazine Deadline

Please send all entries for the June 2004 magazine to Tricia Hudson (patriciahudson at kbnet.co.uk), Anne Turner or Catherine Corkery by May 12th 2004 at the latest. May we remind you that the editorial team exercises the right to edit, shorten or alter any items that are submitted. Also, the opinions expressed in the articles are those of the contributors and are not the responsibility of the editorial team.

electronic mail address is <jh at kbnet.net>



FAX number
01234-721004

Back to the Odell Home Page
---
Last revised: May 04, 2004.