CHURCH NEWS - March 2004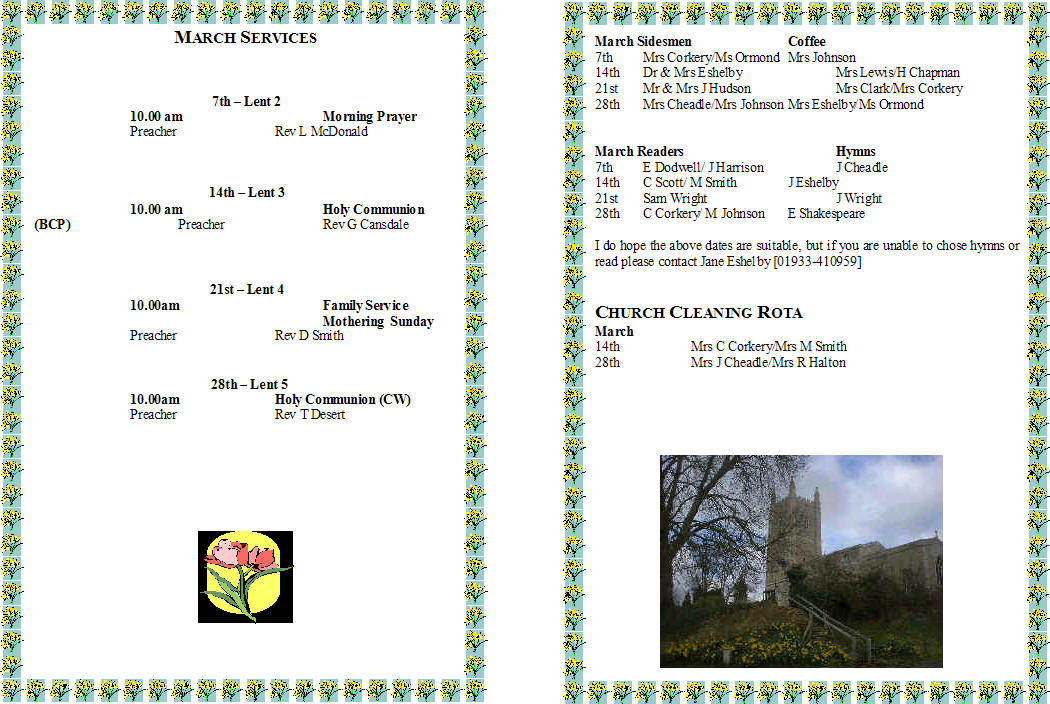 March 2004
Future Ministry In Odell
On 16 February the Bishop of Bedford and the Archdeacon met with the Parochial Church Council and other members of the church congregation to discuss the finding of 'a concrete way forward' for future ministry in Odell. The Bishop explained that, with fewer people coming forward for ordination, it was necessary to spread the available number of full-time paid clergy more thinly than in the past. Therefore many parishes were linking up, and a 'deployment factor' based on the congregation numbers/inhabitants was used as a guideline. A rating of 120 was the usual figure for full-time paid clergy, and against this Odell was rated at 27.
The essential need was to maintain a proper ministry, and some planning had taken place in the Sharnbrook Deanery to link Odell to other parishes with a paid minister to ensure full-time cover if a part-time unpaid minister was resident in the rectory looking after Odell's needs, in particular for Sunday services.
The meeting felt strongly that there was no reason why the 'house for duty' situation, under which Rev David Streater had been appointed unpaid priest-in-charge of Odell as an independent parish, could not continue. Although the Bishop was concerned that it might be difficult to find anyone willing to take such a post in today's climate, he agreed that we should advertise and pursue other contacts to try and find the right person to do this.
The next step is for the PCC to prepare a profile (or brochure) giving details of the parish and its hopes and aspirations to 'sell' the position to potential applicants. This is now in hand, and we hope that the post will be advertised shortly after Easter.
Please pray for those charged with preparing the profile and for the right person to come forward to lead the parish over the coming years.
Tim Dodwell
The Prayer Chain
The Prayer Chain is there if you need prayer for yourself, for others or for members of your family. Please don't ask for prayer outside your own family without people's permission. To have a number of people pray just telephone Dennis (822992).
Church Opening
Many of you will know that because of the problems of vandalism and theft from Churches generally, the Parish Church is kept locked. Unless there is a specific reason for opening it earlier, it will be opened for Sunday and occasional services half an hour before the Service is due to start.
News from St. Albans Diocese
Pilgrims set to shine
The theme of this year's Easter Monday Pilgrimage at St Albans Cathedral on April 12th will be 'Shine On!' to celebrate the event's diamond anniversary. Pilgrims are invited to "walk, run, drive or fly" to St Albans to mark the resurrection of Jesus Christ. There will be activities on the Abbey Orchard from 1pm and an act of worship in the Cathedral at 2.30pm. For more information look at www.stalbanspilgrimage2004.com or contact Canon Stephen Lake on 01727 890201 or subdean@stalbanscathedral.org.uk
Parish offers to host post office
Plans to close the post office in Queens Park, Bedford, prompted the parish priest to offer the church as a new location. The Revd Jay MacLeod told local councillors: "Parish churches exist to serve God by serving the communities in which they are set. If All Saints' Church could usefully house a post office, I am certain that our congregation and church council would want to give such a proposal serious consideration."
Marriage guide on the web...
Getting married? Or know someone who is? There's a new guide to getting married in the Church of England available on the diocesan website:
www.stalbans.anglican.org There is information on Christianity and marriage, practicalities and the law, when and where ceremonies may take place and a wedding planner checklist. The section was written by the Revd Giles Legood, co-author of 'The Church Wedding Handbook,' published by SPCK.
...and a new faith section
BBC Three Counties Radio has launched a new Faith section on its website at www.bbc.co.uk/threecounties/faith/index.shtml They are looking for people to give them information on 'My Kind of Heaven.' Ian Pearce, who presents the weekly religious programme 'Melting Pot' every Sunday from 12 noon to 2 pm, has started the ball rolling with one of his own.
March SeeRound
'Let's get to know each other this Lent' is the encouragement from the Bishop of Bedford in the March edition of the diocesan magazine. There's also a chance to win a new book exploring the spiritual message in the movies, a feature on the church-based Ascend project working on an 'invisible' estate near Watford, lots of courses, events and parish news, and more information about many of the eRound items.
Peter Crumpler

Communications Officer Diocese of St. Albans.
PCC AGM Change of Date

The PCC AGM will now take place on Tuesday 20th April, not Wednesday 21st, in the Village Hall at 7.30pm.

All Saints Church Appeal Fund

Although this seems to be the low season for attracting further contributions after last month's bumper rise in the 'thermometer', plans are now moving ahead for fund-raising events in the late spring and summer.

The first of these will be a concert of piano duets by 'Dixon & Dyson' in the Church on Sunday 16 May. (See later item in magazine).

This will be followed

by a sponsored walk on Sunday 4 July, along with other planned events for the summer - details to follow in the next few months. Our grateful thanks to those responsible for organising these.

Book the dates in your diaries now!

All Saints Church Appeal Fund

May event – keep this date free!

Piano Duets and Poetry Readings

May 16th 6.30pm

All Saints' Church Odell

More details to follow next month

AND NOW we have a new initiative. Have YOU got any unwanted jewellery hidden away, maybe a broken gold earring, or the other half of the pair lost long ago? Or maybe a broken gold chain or an odd cuff-link, a locket with a broken hinge not worth repairing, a ring with stones missing or bent and damaged which you will never wear again. All these may seem worthless individually, but put them together and they could be worth a reasonable sum. We have had an offer from a company specialising in the recycling of precious metals to turn such items into cash. If YOU can help, items can be left with Tom and Ann Hudson at Abigail House.
Tim Dodwell
Meeting Point
March

Tuesday 2nd 10.30am at Liz Dodwell's, Watermead, Odell Rd., Harrold.

Wednesday 17th 10.30am at Catherine's, Manor Cottage, High St., Harrold.

Tuesday 30th 10.30am at Jill's, Rectory Farm, Odell.

April

Wednesday 21st 10.30am at Liz Dodwell's, Watermead, Odell Rd., Harrold.
United Christian Conferences
Forthcoming event:
Growing Leaders
With special emphasis on
A. how to keep growing as leaders, and
B. helping others to grow as leaders.
on
Saturday 8th May 2004, 10.00 am to 4.30 pm
At St. Bartholomew's Church
Greens Norton
Special Guest speaker: James Lawrence (Author of "Growing Leaders", "Lost for Words", etc).
£5 per person booking fee. To book your place send fee and stamped addressed envelope to: The Rev. Canon John Knight, The Rectory, Towcester Rd., Greens Norton NN12 8BL.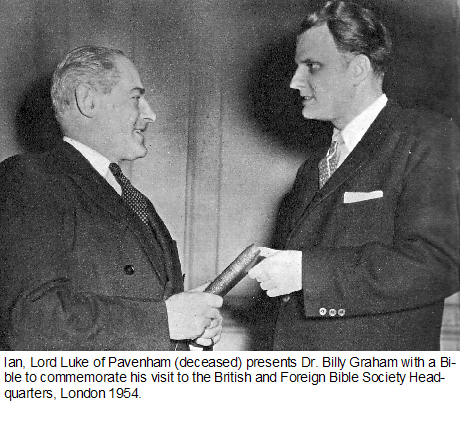 Dr Billy Graham

Fiftieth Anniversary of his visit to Britain

.

Dr. Billy Graham, the American evangelist, held his first evangelistic campaign in Britain fifty years ago. It became known as the Greater London Crusade and took place at the Harringay Arena during March, April and May 1954.

Lord Luke of Pavenham (the present Lord Luke's father) was a staunch supporter of the Crusade and its leader from the beginning. As a vice-president of The Bible Society he presided at an informal reception at Bible House and, on behalf of the committee, presented Dr Graham with a Bible to commemorate his visit. The photograph shows this presentation taking place.

Dr and Mrs Graham spent a weekend in Odell as the guests of Lord and Lady Luke who, at the end of the Crusade, gave a farewell dinner

for the Grahams and the rest of the team at the Dorchester Hotel. On that occasion Dr Graham took the opportunity to speak to the assembled company reminding them of the individual's and the nation's need of God. He bore testimony to the love of Christ who had changed his own life eighteen years before and had recently changed the lives of thousands at Harringay, some of whom were present at the dinner that evening.

The climax of the Crusade came on May 22nd when one hundred and twenty thousand at Wembley Stadium and sixty five thousand at the White City Stadium gathered from all parts of Britain. These gatherings were reported as the largest evangelistic meetings ever held in Britain. Dr Graham spoke first at the White City and then, three hours later, to the immense gathering at Wembley where the authorities had waived the limit of one hundred thousand which they allowed for an F.A. Cup Final and permitted late-comers to gather on the actual turf in front of the platform. Among the distinguished guests accommodated in the Royal Box were Lord and Lady Luke.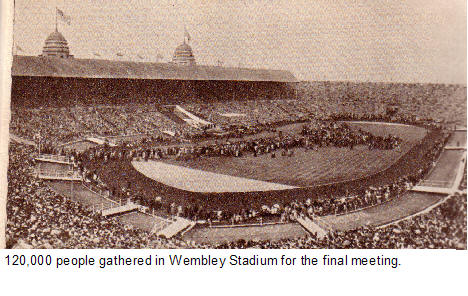 Of course, this is all part of history now but those who had the privilege of being there, and especially those who found Christ during the momentous months of 1954, will be eternally grateful to God for the ministry of his servant Billy Graham.
Now in his mid-eighties, Dr Graham is still active in ministry and has recently celebrated sixty years of marriage with his wife, Ruth.
A fuller account of Dr Graham's ministry can be read in his authorised biography, "The Billy Graham Story", by John Pollock, published by Zondervan at £7.99.
Douglas Smith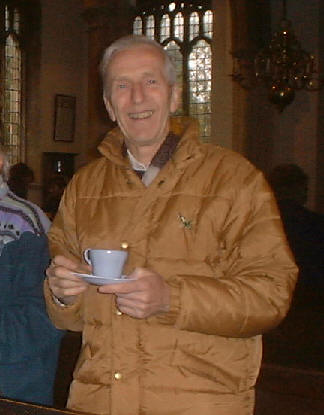 Graham Cansdale to preach in Odell.
Reverend Graham Cansdale, an old friend to many in Odell, is to return to All Saints' to preach on Sunday 14th March. If you remember Graham and would like to see him and hear him preach again please come and join us on the 14th and help us give him a warm welcome.
Our Giving in March is to tear fund
Please give generously to this charity dedicated to helping struggling people in third-world countries.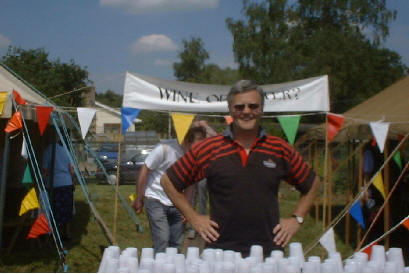 A Date for your Diary – Odell Village Fete 2004
The date for this year's village fete is Saturday 12th June. It will be held in the field in Horsefair Lane as in previous years. Help is desperately needed both on the committee and on the day. Please ring Jill Cheadle (720261) if you are interested.
Aid for Romania
Great News about Alexandru. Some of you will have heard the good news about young Alexandru. He's the eight year old-Romanian boy who is suffering from a rare syndrome following an allergic reaction to some medication. He and his father, Vasile, have just been over here for a week to see Mr Daya, the eye specialist in East Grinstead. The hope now is that it won't be necessary to carry out long and complicated surgical procedures culminating in a corneal transplant, and Mr Daya is optimistic his condition can be treated with steroids to halt deterioration with hopefully improved sight.
They will need to come to England periodically for checks, and the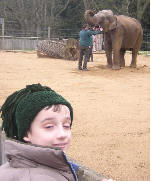 medication is not cheap, so it's a good thing we've had an excellent response to our recent appeal. Alex had a really great time with some of the young people from Odell, plus their suitcases were bulging with gifts of clothes and some great toys. They also enjoyed visiting Odell Church and we fitted in a visit to Windsor Castle and Woburn as well. Alex can't wait for his next visit in April!
Over the same weekend that Alex and his Dad will be here, there's a group of five, mostly from Bromham Baptist Church, going out to Buzau to sort out young Mihaela. We've spent about £3,000 on acquiring and sending out an electric wheelchair, an electric hoist, a keyboard, a donated wheelchair for another needy youngster, plus a lot of therapy gear. The team includes an occupational therapist, a wheelchair specialist and a builder who plans to construct a ramp at Mihaela's house while the specialists are educating Mihaela and her Mum to maximise the benefits of the equipment. We have been very fortunate to have a lot of things donated to us, or supplied at reduced price, and special thanks are due to the Health Trusts for giving members of our team leave, and to Richard Jeeves (one of the founders of Aid for Romania) for helping us with the loan of a vehicle to take everything to the nearest convenient collection depot in Kent.
The next fund-raising events are THE POSH SUPPER, and THE PIT RUN On Saturday April 24th . Sponsors and Runners/Walkers needed
Please do continue to support us.
Liz Dodwell (720640)
Womens World Day of Prayer
In Faith, Women Shape the Future
Interdenominational Service
Harrold Chapel, 10am, Friday March 5th
Speaker: Wendy Hughes
Men also welcome Refreshments
This is a very special annual service, which members of our church like to support. It is friendly and informal, whilst following the format used around the world. This year the Christian women of Panama have prepared the service. Many of us know the speaker, Wendy, who lives in Carlton and has recently become a Lay Reader. In the past some of our ladies have been involved as readers, actors etc, so, if you would like to take part this year, please contact Liz Dodwell (720640).
POSH SUPPER
New Venue – The Barn at Hobbs Green Farm
(with thanks to Marion and Andrew Ingrey-Senn)
Saturday March 6th at 7.30pm
Tickets minimum price £15
Hurry and book now! (720640)
All donations and offers of help with preparations, drink, starters and puddings would be appreciated, so that expenses can be kept to a minimum.
This should be a very enjoyable evening, especially in this new setting. All profits will go to help the special fund for Alexandru and Mihaela so please try to come, or support us in some way.
Tim and Liz Dodwell
Children's Society Collection Boxes
Catherine would be grateful if all Children's Society collection boxes could be returned to her as soon as possible, and by the end of March at the latest.
Hidden titles
Here are the answers to last month's puzzle:
"Can you find sixteen books of the Bible?"
I once made a remark about hidden books of the Bible (merely by fluke). It kept some people looking so hard for the facts, and to others it was a revelation. Some were in a jam, especially since the name of the books was not capitalised. But now the truth finally struck home to the numbers of readers. To others it was a real job. We want it to be a most fascinating few moments for you. Yes, there will be some really difficult ones to spot. Others may require judges to help them. I will quickly admit it usually takes a minister to find one of them. There will be lamentations when it is found. A little lady says she brews a cup of tea so she can concentrate better. See how well you can compete. Relax now, for there really are sixteen books of the Bible hidden in this paragraph. One minister found fifteen books in twenty minutes, but then took three weeks to find the sixteenth one.
Phil Lewis
Looking to Jesus

God Records and Rewards

"You shall be repaid at the Resurrection…" Luke 14:14 NKJ

When Jesus was invited to the home of a prominent religious leader, He offered this unsolicited advice. `When you give a dinner or a supper, do not ask your friends, your brothers, your relatives, nor your rich neighbours, lest they also invite you back, and you be repaid... When you give a feast, invite the poor, the maimed, the lame, the blind. And you will be blessed, because they cannot repay you: for you shall be repaid at the resurrection'. (Luke 14:12-14 NKJ)

Notice the words, `...you shall be repaid at the resurrection...' God will repay you for some things after you're dead. This contradicts what many of us believe - that God rewards us only on earth. No, these words show that when you do a worthy deed for someone who cannot repay you: a) you will be repaid and b) much of your reward will come in the next life.

If you fail to understand this, you'll find yourself saying: `I serve God faithfully, so why am I struggling? Doesn't God notice or care?' Friend, God notices and God cares! But He doesn't promise that work for Him now will always result in a gain from Him now. Many of the rewards God has for us are so great it'll take eternity to appreciate and enjoy them!

Jesus said, `whoever gives you a cup of water to drink in My name... will by no means lose his reward' (Mark 9:41 NKJ). No deed for God will be overlooked or go unrewarded - not even a cup of cold water or a prayer in the middle of the night.

Taken from 'Word for Today' with kind permission of United Christian Broadcasters, P.O. Box 255, Stoke-on-Trent, ST4 8YY.

Amongst Ourselves

We are sorry to learn of the death of Crewe Alston. Crewe lived at The Castle for many years, where he and his sister Temperance spent such happy times as children. Temperance, now living in Australia, is in regular receipt of our magazine. We send our love and prayers to Crewe's son John and wife Valerie and the rest of the family.

We are so sorry to hear of the death of dear Anne Payne, who in quiet trust and faith went to be with The Lord on the 24th January. Anne was a very special friend to many people here in Odell and was a tremendous spiritual strength in times of need. We send our special love and prayers to David, Alison and Richard. A private cremation was held at Swindon and a service of Praise and Thanksgiving for Anne's life was held at South Cerney on 28th February. We give thanks for her love and friendship. Anne Turner

Church Flowers for March

21st Mothering Sunday

Eileen Shakespeare/J Cheadle/J Eshelby

28th Faith Hartwell

Birthdays

Happy birthday to:

Liane Fulford who will be 11 on March 4th.
Diary

March

2nd 10.30am Meeting Point, Liz Dodwell's, Watermead,

Odell Rd., Harrold.
3rd 12.30 Odell Lunch Club, Village Hall.
5th 10.00am Women's World Day of Prayer, Harrold Chapel.
6th 7.30pm Posh Supper, the Barn at Hobbs Green Farm.

9th 7.30pm W.I., Village Hall.

17th 10.30am Meeting Point, Catherine's, Manor Cottage,

High St., Harrold.
19th 7.30pm Time of Our Lives Theatre Company, Village
Hall.
20th 2.00pm W.I. Jumble Sale, Village Hall.
30th 10.30am Meeting Point, Jill's, Rectory Farm, Odell.

April

9th Good Friday – Service details next month.

11th 10.00am Easter Day Service All Saints' Odell

12th Easter Monday Pilgrimage to St. Alban's Abbey.

17th 7.30pm Quiz, Village Hall.

21st 10.30am Meeting Point at Liz Dodwell's, Watermead, Odell Rd., Harrold
Magazine Deadline

Please send all entries for the April 2004 magazine to Tricia Hudson (patriciahudson@kbnet.co.uk), Anne Turner or Catherine Corkery by March 12th 2004 at the latest. May we remind you that the editorial team exercises the right to edit, shorten or alter any items that are submitted. Also, the opinions expressed in the articles are those of the contributors and are not the responsibility of the editorial team.

electronic mail address is <jh@kbnet.net>



FAX number
01234-721004

Back to the Odell Home Page
---
Last revised: February 29, 2004.