CHURCH NEWS - June 2004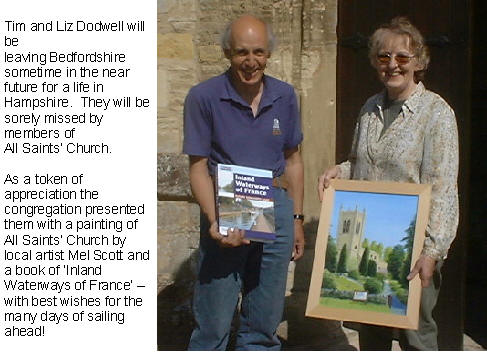 June 2004
At one time Britain and the U.S.A. were looked upon by their inhabitants and by the rest of the world as acting honourably and observing high ethical standards which were basically Christian standards. We were not slave owners any more, we did not exploit children in the workplace, and when we went to war it was for a just cause. It was always the other nations who were the villains - the Communist bullies, the unfair Dictators and the fanatics of non-Christian religions. But is it so now?
Although atrocities have been perpetrated by some muslim leaders and by other corrupt dictators, we have recently heard that violence has been meeted out to Iraqis by the Americans after the style of the previous regime of Sadam Hussein. It seems also likely that some undesirable practices have been used even by Britain whilst interrogating suspects.
On the one hand I read reports recently such as "Muslims in Tagum, Davo del Norte in the Philippines, are planning to liquidate all pastors and Christian Missionaries" and "Pastor Sergei Bessarab was shot dead as he knelt to pray in a chapel in Isfara, Tajikstan."
And yet I read in the Church Times (14/5/04) that
"A Christian militia group went on the rampage in Central Nigeria last week killing hundreds of muslims in a the farming community of Yelwa."
All this shows how true the words written over 2600 years ago by the prophet Jeremiah are, irrespective of our creed or colour: "The heart is deceitful above all things and desperately sick, who can understand it?
"I, the Lord, search the heart and test the mind to give every man according to his ways, according to the fruit of his deeds. (Jer.17:9)"
The Hebrew word translated 'sick' is a modern version of the word 'wicked' in the Authorised version. It is used only here in the Old Testament. It means 'sickly, mortal or incurable'. Nothing, it seems, can change a person's heart, not politics or religion - only God can change a person's inner motives and will. He can do this by giving us a 'new heart'.
Ezekiel described what God is capable of doing in chapter 11 verse 19 of his Old Testament prophecy:
"I will give them an undivided heart and put a new spirit in them. I will remove from them their heart of stone and give them a heart of flesh." (Ezekiel 11:19)
Mankind's only hope is to return to God in repentance and whatever our background, confess that we are all in the same boat: "All have sinned and fall short of the glory of God." If we don't repent, maybe things will get worse, not better.
Revd. D.R.Bannard-Smith
The Prayer Chain
The Prayer Chain is there if you need prayer for yourself, for others or for members of your family. Please don't ask for prayer outside your own family without people's permission. To have a number of people pray just telephone Dennis (822992).
Church Opening
Many of you will know that because of the problems of vandalism and theft from Churches generally, the Parish Church is kept locked. Unless there is a specific reason for opening it earlier, it will be opened for Sunday and occasional services half an hour before the Service is due to start.
Candidates for the Ministry at All Saints', Odell
Interviews for the post of Rector in All Saints' Odell will take place on Friday 25th June. Anyone interested in meeting the candidates is welcome to come to the church to meet them over coffee at 11am
Meeting Point
June.
Wednesday 2nd 10.30am at Catherine Corkery's, Manor Cottage, High St., Harrold.
Wednesday 16th 10.30am at Eileen's, Corner House, 38 Wymington Park, Rushden.
Tuesday 29th 10.30am at Jill's, Rectory Farm, Odell.
Odell Village Fete June 12th 2004
The Fete will be opened at 2.00 pm by Gerald Robinson, a veteran "Boys Brigader".
As well as the 'Boys Brigade' there will be all the usual attractions:
Family Dog Show Pony Rides Cash Raffle
Tombola Children's Sports
Lucky Programme Draw Children's Stalls Ice Creams
Refreshments Many Sideshows
Gifts White Elephant Bottle Stall
Books Cakes Plants Produce
The site is once again the field at the end of Horsefair Lane.
All proceeds go the All Saints' Appeal Fund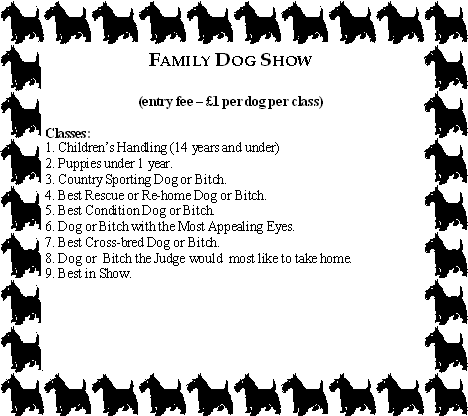 Festival Weekend Church Service 10.30am.
As in previous years, there will be a service of praise and thanksgiving in the tent in the scout field. The service will start at the later time of 10.30am. Once again we are delighted to welcome back the Rev. Dick Seed as our guest speaker. Dick has been involved with teaching and research at the St. Francis of Assissi Theological College in Nigeria for over three years and is very familiar to members of All Saints' as he has shared and led our worship in Odell on many occasions.
After the service, from 12.30 onwards there will be Thank You barbecue lunch in the scout field for all fete helpers and residents of Horsefair Lane, for whom meat will be provided. Please bring your own plates, cutlery, glasses and drink. Other residents of Odell are also very, very welcome but please bring some meat for the barbecue. Any offers of salads or puddings will be most gratefully received.
Please let Mandy Sharpe (720414) or Jill (720261) know if you are coming. If you forget to let them know – don't worry and come
All Saints' Appeal Fund
Sponsored Walk
The proposed Sponsored Walk around the parish will now take place in September, not on 4th July as previously mentioned. The most likely date is Sunday 26th September; more details will appear in the July/August magazine and on the Odell website.
Note: this is quite separate from the Parish Walk taking place on 7th July from outside The Bell.
Spring Concert 16th May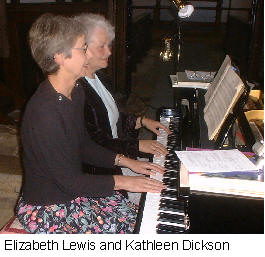 On the evening of Sunday 16th May a full church enjoyed the very many talents of Elizabeth and Philip Lewis, Anna Drayson (Lewis) and Kathleen Dickson as they entertained us with piano duets and poetry and prose readings.
There was a wide range of music, from J.S. Bach's "Wachet Auf" (Sleepers, Wake), to Mike Cornick's "Blues in F," with moods ranging from the dreaminess of Debussy's "En Bateau" to the excitement of Bernstein's "America".
The readings were of rustic scenes, bringing to life the richness of the countryside, from the beauty and brutality of nature in "The Field of the Rose" (J.Poulson) to the truly enchanting vision of natural life as seen through a child's eyes in Longfellow's "Hiawatha's Childhood".
Perhaps the most magical moment of the evening was when Phil read to us "A New Land" from 'The Magician's Nephew', (a moving passage on its own merits), which was followed by Grieg's "Morning" from the 'Peer Gynt Suite' on the piano. There could not have been a dry eye in the audience.
The choice of both music and readings throughout the evening was inspired, while the last rays of the afternoon sun through the church windows provided a mellow, timeless setting for the concert.
Very many thanks to Liz, Phil, Kathleen and Anna for giving us all such a memorable and delightful evening.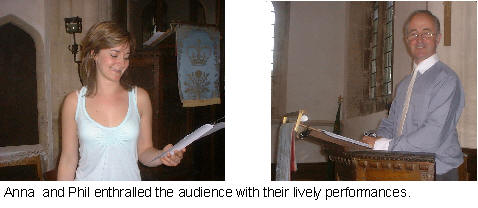 Aid for Romania
Harrold Pit Run
The 2004 Pit Run was a great success with sunny skies and lots of people enjoying all the activity on the Green in Harrold. After starting the race, Tim set off to catch up the runners while Liz and Lucy (dog) plus grandchildren (once we'd dragged the older one out of the bouncy castle) set off well in the rear. That's our excuse for coming in second from last, though Tim was pleased to come in 8 seconds inside his target of 30 minutes. However the important thing was that three Dodwells did finish the course and we are now trying to collect in over £400 of sponsorship to be shared between Harrold Centre and our charity. Even though we split it between three of us, we still managed to win the cup for collecting the most! Thank you everyone who supported us. Thanks too to the Grace Baptist Church who served delicious refreshments all afternoon and helped bring the profit for Aid for Romania to over £400.
Tim, Liz and Lucy Dodwell
Our Giving in
June is to CPAS
(Church Pastoral Aid Society).
The work of C.P.A.S. is to give aid to both churches and individuals in such wide-ranging areas as evangelising, training for clergy and laity, youth work, holiday activities for young people, provision of resources (books, courses etc.), working with older people and specialised ministry to both men and women. However, their primary goal is supporting the mission of the local church in taking the gospel to the poor.
Please give generously to this worthwhile charity.
Looking to Jesus
A sack of potatoes!
'If you forgive someone's sins, they're gone...If you don't...what are you going to do with them?' John 20;23 TM
A seminary professor, who was teaching on the high cost of unforgiveness, asked each of her students to bring a sack of potatoes to class. For each person they refused to forgive, they had to select a potato and write the date on it beside that person's name. Then for a month, without fail, they each had to carry the sack of potatoes with them everywhere they went.
What a drag! After lugging the sacks around for a while each student began to recognise: a) how much weight they were carrying spiritually; b) the amount of energy it took to focus on their bag; c) that they had to be careful not to leave it in the wrong place. Eventually, as the potatoes began to rot and stink, each student realised that getting rid of them was the only smart thing to do.
Listen: '...You can't get forgiveness...without...forgiving others. If you refuse to do your part, you cut yourself off from from God's part'. (Matthew 6:14-15 TM). What a price! Forgiveness isn't just a gift you give somebody else, it's one you give yourself, because when you harbour bitterness, happiness docks elsewhere! Listen again: 'If you forgive someone's sins, they're gone for good. If you don't...what are you going to do with them?' Good question! How would you like God to forgive you the way you forgive others? If that thought makes you uncomfortable, then take action and do something about it before this day is over!
Printed with kind permission of United Christian Broadcasters and taken from "Word for Today".PO Box 255 Stoke on Trent ST4 8YY
Amongst Ourselves
We say goodbye to Margaret (Meg) Clark who has moved from Odell to Harrold to be nearer her daughter and son-in-law. Margaret and Ken Denton came to live here almost 41 years ago and happily raised a family here. As time went on Margaret began to help people in very many different ways, especially caring and helping out with work where the elderly were concerned, and also within the church and various functions within the village. She will be very much missed although we are assured she will still be taking part in village activities and we certainly send our love and prayers to her in her new residence at Harrold. God bless you Margaret with lots of love and happiness in your new home.
We also send our love and prayers to Chris Coffey who recently moved to be nearer her family. We pray that she will be blessed with improving health and happiness as she settles into her new home in Lincolnshire.
.A special thank you.
Thank you to all those on the 'Prayer Chain' who prayed for me on my recent admission to South Wing for my operation which was successful. My stay was short and I certainly felt and appreciated the power of the prayer. Thank you to Rosemary and all those who made it possible. Chris W.
Father God we come to You as June is "busting out all over". The fete committee has been working hard to prepare for the Fete and Brian has been mowing to field to make it look extra smart. All these things are done with a loving heart and we thank the people concerned.
We have heard the cuckoo arriving in April: this little bird knows just when to arrive - always in April, always leaving us in June. All things are Yours Lord, right down to the tiny ants which are already working away hard in our gardens.
As we look around and see Your beauty everywhere we think of those less fortunate than we are: those without fresh clean water, people ill and in hospital. We pray for the ill in our village, especially Hilda Wright and Jim Wheeler, who have been in hospital, and for the sick, the lonely and the housebound. The blind who cannot see Your beauty, the cripples who cannot walk Your beautiful country walks, the poor and the needy, people starving in far away countries, and those rich who are unfulfilled and do not know how to spend their money in a good and meaningful way. Forgive us when we do not appreciate all we see and have, putting material possessions before love for other people. We pray for Your love to become known to all people. We long for the fighting to cease, whether it be in people's homes, or in a foreign land - each prisoner and soldier in Iraq is someone's child. Even in parts of England there is a lot of unrest, and only love can heal anything and everything. Father in Your mercy please give to all these people grace, a heart like Your heart and the spirit of Jesus. Father,in this wonderful part of Your world, we lift up this prayer through Jesus our only mediator. Amen. Anne Turner
Marion Smith 1904 - 2004
As we go to press I have just been told that MARION SMITH (my Auntie Marion) who celebrated her 100th Birthday on 12th January passed away today 19th May 2004. The funeral service is going to be held at All Saints' at 10am on Friday 28th followed by cremation at Kettering Crematorium.
For so many years she worshipped at All Saints' with Uncle Reg, who was Church Warden. They did so much for the Church, holding many bible studies at their house in Odell Road, Harrold and also taking part in many church activities. When he died she lived alone for quite a while, and loved it when someone popped in for a chat. I know her face used to light up when she saw me with my border collie which she too loved, and we would have a cup of tea together. She loved to talk about God and we would chat about hymns etc. and the wonders of Jesus. Taking Church Sunday School was very special to her and I know that my daughters Rosemary and Karen amongst many others loved her for it. In her early years she was also a school teacher, and various pupils have been in touch with her over the years. When ill health took over she became a resident at "Avenue House", Avenue Road, Rushden which was the last place I visited her. Her shortage of words made it almost impossible to hold a conversation with her, but she said one word repeatedly, "Odell, Odell, Odell" which was very much the love of her life, lighting up her face as she said it. God bless you Auntie Marion. We loved you and are so thankful that you taught so very many about the God you so loved and worshipped.
Anne
Annual Historic Churches Sponsored Bike Ride

Advance warning! The annual sponsored bike ride will take place this year on Saturday 11th September – so there's plenty of time to start training!

Last year churches in the Sharnbrook Deanery brought in a record amount of £5730.80 – perhaps we can top that this year?

More details will be given in the July/August magazine.

Church Flowers for June

6th Catherine Corkery and Jane Eshelby

13th Fete Weekend

20th Doreen Wheeler

27th WEDDING

Birthday Greetings To

:

Robert Merret on the 11th June

Eleanor Robinson on the 17th June

Elliott Swift on the 19th June (7 yrs)

And to anyone else with a birthday in June!
Diary

June

2nd 10.30 am Meeting Point at Catherine's, Manor Cottage, Harrold.

12th 2.00 pm Odell Village Fete, Horsefair Lane.

13th 10.30 am Church service in tent in Scout field, Horsefair

Lane.

13th 12.30 Barbecue for fete helpers and Odell residents, Scout field, Horsefair Lane

16th 10.30 am Meeting Point at Eileen's, Corner House, 38 Wymington Park, Rushden.

25th 11.00 am Meet the candidates ministers, for coffee at the Church

27th 1.30 pm Open gardens, Harrold.

29th 10.30 am Meeting Point at Jill's, Rectory Farm, Odell.

July

7th 7.00 pm Parish walk, starting from The Bell.
Magazine Deadline

Please send all entries for the joint July/August 2004 magazine to Tricia Hudson (patriciahudson@kbnet.co.uk), Anne Turner or Catherine Corkery by June 12th 2004 at the latest. May we remind you that the editorial team exercises the right to edit, shorten or alter any items that are submitted. Also, the opinions expressed in the articles are those of the contributors and are not the responsibility of the editorial team.

electronic mail address is <jh at kbnet.net>



FAX number
01234-721004

Back to the Odell Home Page
---
Last revised: May 31, 2004.