CHURCH NEWS - April 2004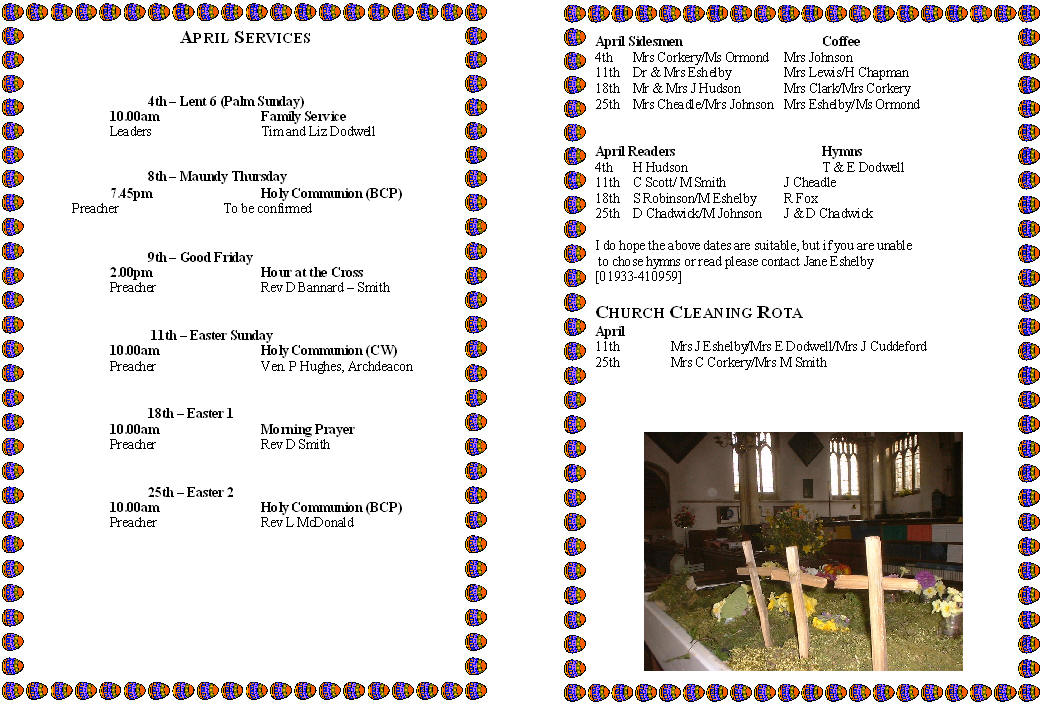 April 2004
Future Ministry In Odell
On 16 February the Bishop of Bedford and the Archdeacon met with the Parochial Church Council and other members of the church congregation to discuss the finding of 'a concrete way forward' for future ministry in Odell. The Bishop explained that, with fewer people coming forward for ordination, it was necessary to spread the available number of full-time paid clergy more thinly than in the past. Therefore many parishes were linking up, and a 'deployment factor' based on the congregation numbers/inhabitants was used as a guideline. A rating of 120 was the usual figure for full-time paid clergy, and against this Odell was rated at 27.
The essential need was to maintain a proper ministry, and some planning had taken place in the Sharnbrook Deanery to link Odell to other parishes with a paid minister to ensure full-time cover if a part-time unpaid minister was resident in the rectory looking after Odell's needs, in particular for Sunday services.
The meeting felt strongly that there was no reason why the 'house for duty' situation, under which Rev David Streater had been appointed unpaid priest-in-charge of Odell as an independent parish, could not continue. Although the Bishop was concerned that it might be difficult to find anyone willing to take such a post in today's climate, he agreed that we should advertise and pursue other contacts to try and find the right person to do this.
The next step is for the PCC to prepare a profile (or brochure) giving details of the parish and its hopes and aspirations to 'sell' the position to potential applicants. This is now in hand, and we hope that the post will be advertised shortly after Easter.
Please pray for those charged with preparing the profile and for the right person to come forward to lead the parish over the coming years.
Tim Dodwell
Easter Week at All Saints' Church
Maundy Thursday 8th April
There will be a service of Holy Communion (Book of Common Prayer) at 7.45pm in the church.
Good Friday 9th April
"An Hour at the Cross" – a service of readings, prayers and
devotional music from 2.00 – 3.00pm.
Easter Saturday 10th April
Church decorating will take place from 10.00am in All Saints' Church. Please come along with or without flowers and greenery to help make the church beautiful for Easter Day. Children are invited to come along and help create the Easter garden in the church.
Easter Sunday 11th April
We will be celebrating Easter Day in All Saints' with a service of Holy Communion (Common Worship) at 10.00am.
The Archdeacon, the Venerable P. Hughes, will preach.
April 2004
Easters We Have Known
Easter services in the U.K. tend to follow a stereotyped pattern but abroad we can be introduced to different ways of celebrating Easter. Both the Roman Catholic and Orthodox churches make Easter much more important than Christmas. In the U.K. it is the reverse.
April 1968 saw us on a 14 day coach tour of Italy, spending Easter week-end in Rome. With thousands of other worshippers we heard and watched the Pope as he gave Holy Communion to a party of Korean ladies clad in colourful dresses. We got the drift of his sermon from our knowledge of schoolday's Latin. Sunday lunch was provided by the owners of our small old fashioned family-run hotel - roast chicken and an elaborate iced Easter cake rather like our Christmas cake. We felt welcomed to their family celebration.
April 1971 found us on a snowy 14 day tour of Greece, spending Easter week-end in a resort south of Lamia and 100 miles north of Athens. We attended a midnight service on the Saturday in a little new concrete Orthodox Church which had olive leaves scattered over the bare stone floor. The whole village came in and stood shoulder to shoulder clutching their unlit candles, waiting for the priest to appear from behind the screen bringing a light from the Pascal candle to pass on to the congregation. The candles were then taken home to make smoke crosses on the ceilings to bring blessings for the coming year. Fireworks were let off dangerously outside the Church and we made our way back speedily to the hotel. We passed several cafes which had whole lambs roasting in their windows for people to feast on after their 40 day fast from meat.
On Easter Day morning we decided to go for a walk through the woods nearby. We saw smoke rising ahead of us and found it to be coming from a wood fire over which was a whole lamb being roasted on a spit. The farmer and his wife made us sit with them on a log and gave us a red painted boiled egg each. These had to be cracked against their eggs as one said 'Christos Aneste' (Christ is risen). We replied 'Alithos Aneste' (He is risen indeed). We were treated to slices of roast lamb (on their only fork) along with home baked bread. We were able to leave with them a Scripture Gift Mission copy of St. John's Gospel in Greek, for which they thanked us. We hoped they could read.
In April 1973 we toured Spain and Morocco and spent Easter in Seville. We were told that the Catholic Cathedral was closed on Maundy Thursday but we went anyway. At about 2 p.m. we noticed 12 very old men sitting on the front row of chairs. We secreted ourselves as the Cathedral emptied of other sightseers. Soon, the Bishop of Seville in magnificent robes came in and after a few prayers knelt in front of each old man, pouring water over his feet from a silver ewer. He dried his feet and then had to be hoisted up by two assistants before repeating the foot-washing to the next one.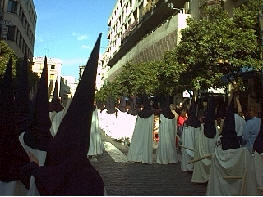 On Good Friday there was a long procession of groups of people from local churches carrying huge crosses. The men wore high pointed black hats and the ladies walking behind them, mantillas. The footways were packed with people and it smacked very much of a carnival atmosphere.
By contrast, in Ibiza during April 1974 we witnessed a similar event on Good Friday, processing from the main Roman Catholic Church to a town square near the harbour. It consisted of men and women clad in the same way as in Seville but all proceeded in total silence. It conveyed a feeling of great solemnity and sincerity. The priest in charge preached as we were all assembled in the square. Again, with our smattering of Latin and Italian we got the gist of his sermon – going through the events of Good Friday as recorded in the Gospels and making an appeal to the congregation at the end.
These Easters abroad have enriched our lives and continue to challenge us as to the way we should celebrate Easter in this country. Should not every one of us begin by reading reverently the accounts in Matthew, Mark, Luke or John, trying to imagine every step of the way our Redeemer went as He 'bore our sins in His own body on the tree'?
P.S. Mastersun now provide Christian tours over Easter to Corfu. They arrange for you to celebrate Easter with the locals in the main town square. Processions go from Good Friday morning to midnight and others on the Saturday end with midnight mass and fireworks in Corfu town.
Happy Easter!
Dennis and Doris Bannard-Smith
The Prayer Chain
The Prayer Chain is there if you need prayer for yourself, for others or for members of your family. Please don't ask for prayer outside your own family without people's permission. To have a number of people pray just telephone Dennis (822992).
Church Opening
Many of you will know that because of the problems of vandalism and theft from Churches generally, the Parish Church is kept locked. Unless there is a specific reason for opening it earlier, it will be opened for Sunday and occasional services half an hour before the Service is due to start.
News from St. Albans Diocese
Bishop speaks on worship
The importance of worship being conducted well was stressed by the Bishop of St Albans, the Rt Revd Christopher Herbert, in his Presidential Address to Diocesan Synod on Saturday, March 6th. He said to those who lead worship: "Under God's grace and mercy may we each be humble and patient enough to ask whether the worship we offer is worthy, worship that may surprise at the deepest quietest levels, by the joy disclosed of our crucified and risen Lord."
Diocesan Synod voted unanimously to adopt the House of Bishops' Child Protection Policy as the policy for the diocese, and strongly urged all parishes to adopt the policy.
Synod also heard and discussed a presentation about hospital chaplaincy in today's health service, from the Revd Susan Hollins, Senior Chaplaincy Co-ordinator for West Herts Hospitals NHS Trust; and a national review of Clergy Terms and Conditions, presented by Canon Bob Baker, a member of the review group.
Time to shine
'Shine On' is the theme of this year's Easter Monday Pilgrimage at St Albans Cathedral on April 12th, to celebrate the event's diamond anniversary. Hundreds of pilgrims from parishes across the diocese are expected to attend. There will be activities on the Abbey Orchard from 1pm and an act of worship in the Cathedral at 2.30pm. For more information look at www.stalbanspilgrimage2004.com or contact Canon Stephen Lake on 01727 890201.

Sharing the Journey
Applications are invited for a daytime course in spiritual direction, beginning in September. Membership is ecumenical and open to clergy and laity. The course will take place at Ashwell Rectory, Herts, 10.30 am - 3.30 pm on the third Thursday every month, over two years. Fees for the course have been set at £99 per year to include a residential Myers Briggs Course. Further enquiries to The Revd. Jacquie Birdseye, Tel. 01462 742277.
Bishop leads return to the Holy Land
The Bishop of St Albans, the Rt Revd Christopher Herbert and Mrs Jan Herbert will be leading a pilgrimage to the Holy Land in April 2005. The programme, from Tuesday April 5th to Thursday April 14th, takes in many of the major New Testament and historical locations. For a brochure and booking form, contact Andy Crooks on 01727 853305, or email chaplain@stalbans.anglican.org Visit www.stalbans.anglican.org./pilgrim2005.htm for further details and to download a booking form
A chance to visit the Norwegian Church
A visit to Norway is being planned for February 2005. A group from St Albans diocese will link up with the Diocese of Oslo from February 1st to 7th 2005. Organiser, the Revd Peter Budgell, Vicar of St Anne's, Luton, said: "People taking part will have the chance to learn of Oslo's 'God in the City' project, as Norway celebrates its 100 years of separate nationhood. They will also be able to discuss inter-faith work with them, a relatively new issue for the Oslo diocese." Further details from Peter Budgell on 01582 720052 or pcbudgell@aol.com
April SeeRound
Prayer calmed a burglar and prevented him from becoming violent towards his victim. Mike Pearce, a member of St Mary the Virgin, East Barnet, prayed for intruders who broke into his home to pay for their drug addiction. Read the full story in April's SeeRound. There is also a profile of Herts-based evangelist J.John, a chance to win 'The Bible from Scratch,' a letter from the Bishop of St Albans, a report from Mothers' Union members visiting the Caribbean and more on many of the e-Round items. There is also lots of parish news and events.
Peter Crumpler

Communications Officer Diocese of St. Albans.
PCC APCM
The PCC APCM will take place on Tuesday 20th April, in the Village Hall. Please be there at 7.30pm for :
7.45pm Vestry Meeting
8.00pm APCM.
PCC Meeting Wednesday 10th March 2004
Matters arising:
1. The ironwork from the churchyard pillars has been removed and will be stored in the Rectory garage.

2. Redecoration of the church has begun.

3. Improvements are to be made to the heating system, including a fan heater and under-pew heating.

4. The possible installation of a loop system in the church is under examination.

5. A quotation for the cleaning of roof and gutters by Tim Freeman has been accepted.

6. Interserve have been in touch requesting a date for the Hudsons to visit to give a final report on their work in Nepal.

7. Regarding the forthcoming appointment of both a churchwarden and church secretary, prayers are requested and people asked to encourage those suitable for the roles.

8. Parish Profile: a draft has been drawn up by Mr and Mrs T Dodwell with the help of comments from members of the PCC and church. Mr J Hudson will make it into a booklet including pictures and send it on to the Bishop.

9. It was agreed by the majority that we would accept a minister who was either male or female.

10. Date of next meetings:

Extra-ordinary PCC on April 4th 11.15am in the church.

APCM April 20th at 7.30pm in the Village Hall.

Next PCC May 12th 8.00pm at Rectory Farm.
All Saints Church Appeal Fund
A Spring Concert
Elizabeth Lewis and Kathleen Dickson
Piano duets and readings of poetry and prose
Sunday 16th May 6.30pm
Tickets: £8.50 (£6.00) to include glass of white wine or fruit juice and nibbles.
Tickets available from Philip Lewis 01234 781796 or
Jill Cheadle 01234 720261
All Saints' Church Garden of Remembrance Rota
We give our thanks to all the volunteers who have cared for and attended to the flowers, shrubs etc. in the Garden of Remembrance, where everyone can sit a while to enjoy the colourful surroundings in peace and quietness.
Ken and Florrie Shellard
Meeting Point
April

Wednesday 21st 10.30am at Liz Dodwell's, Watermead, Odell Rd., Harrold.

A Date for your Diary

Odell Village Fete 2004

The date for this year's village fete is Saturday 12th June. It will be held in the field in Horsefair Lane as in previous years. Help is desperately needed both on the committee and on the day. Please ring Jill Cheadle (720261) if you are interested.

Our Giving in April is to Feba Radio

.

FEBA continues to broadcast the good news of Jesus Christ in many parts of Asia and Africa where it is against the law to preach the Christian faith. The programmes are designed to speak to the particular needs of people who are only too aware that they are involved in a spiritual battle. As a result of the broadcasts many come to a true faith in Jesus and are given strength to witness to their families and neighbours. Sometimes it means exile or death but there are also many stories of whole families coming to faith and seeking to take the gospel to neighbouring states.

The non-threatening medium of radio provides a unique opportunity for hundreds to learn of the way of life which can free them from the shackles of a religion which offers no hope.

Making and broadcasting programmes in dozens of different languages is time consuming and costly. Please give what you can so more people can hear the Good News.

A very special thank-you

to Graham Cansdale for taking our service on 14th March. It was a pleasure to see both Graham and Daphne in our midst, both looking so terribly well. Thank you to you both and for your words to us Graham. Come back soon. Anne

Someone Prayed

A very sincere thank you to those of you who are praying for me. I am sure the prayers are being answered. Many thanks too for the flowers individually and from All Saints' members, cards, phone calls and visitors. The operation was according to the surgeon 'extra long', four and a half hours in all - I lost 6 litres of blood which made it especially hard for him, in fact he said " If I had many like yours I think I would give up". But thank God he didn't , and he got all of the twenty centimetres of cancer out except for one centimetre. He deserves a medal. I really am so grateful to Addenbrookes and the whole team of people that have seen me and will continue for the next three months at least to supervise me and give me expert nursing care. I really could not be in better hands. It is all God given - the best possible care anyone could wish for and it really is an excellent hospital, worthy of all praise. So please continue to pray for my recovery, the prayers prayed are the ones answered. And praise the Lord for Addenbrookes, and my surgeon Mr Latimer and all doctors and nursing staff everywhere and for all the people in All Saints' continuing to provide transport for my chemotherapy (an all day job). God is good He really does provide the best. Thank you everyone. Thank you Lord. May God bless you as you continue to help me out and lift me up in prayer.

With love and thanks. Anne

All things are possible because prayer changes things and situations.

Anne Turner

Looking to Jesus

God honours faithfulness!

'An Angel rolled the stone away!' Matthew 28:3NCV

When the two Marys went to the tomb that first Easter morning, the last thing they expected was to find it empty. After all, they'd just witnessed Jesus crucified, along with most of their dreams. Now, duty-bound, they came to prepare His body for burial.

That day they didn't come to receive, they came to give. And there's no nobler human aspiration. Service prompted by duty is the hallmark of true discipleship. That's why God calls us to love, expecting nothing in return: to give to those who'll never thank us; to forgive those who refuse to reciprocate.

As God watched these two women climbing the mountain that morning, He'd a surprise in store for them. The Bible says that the angel who, 'Went to the tomb, and rolled the stone away,' said, 'Come…see the place where his body was' (vs. 6). The angel didn't move the stone so that Jesus could get out. The One who conquered death can certainly move a rock! No, he moved it so that the women could look in and rejoice. Why? Because God honours faithfulness: a) When she was long past child bearing, Sarah believed God and became the mother of nations. b) When his failure was overwhelming and public, David repented and was pardoned and restored. c) When the road was darkest for the two Marys an angel showed up and resurrected their hopes.

Today if your road's been long and dark - don't get discouraged and don't quit! The answer is on the way. God always honours faithfulness, and when necessary He even sends angels.

Taken from 'Word for Today' with kind permission of United Christian Broadcasters, P.O. Box 255, Stoke-on-Trent, ST4 8YY. 01782 642000

Amongst Ourselves

We continue to remember those elderly, sick and in nursing homes and those mourning the death of a loved one.

We congratulate Phil Lewis on his new post as Assistant Chaplain at King's School, Canterbury, starting this new venture in September. We shall be very sorry to see Phil and Liz leave All Saints' as they have both been such valuable assets to us. We wish them well.

We thank you dear God for the beautiful flowers showing us that spring is well on the way, daffodils displaying their blooms, the birds beginning to fill the gardens and hedgerows with their colours and songs and of course for the children playing so happily in our midst. We are so blessed. It is a safe haven for them, and we thank the Lord for that. The rain and the odd flake of snow remind us again and again that God is in charge. We thank you Lord for all things, great and small. You made them all.

Thank you too for neighbours and friends, for the laughter of the children, and the beauty of All Saints' lit up by floodlights. You are here as a friend, waiting for your people to lift up their prayers to you.

The terrorists are again trying to upset your world; we place our worries and fears in your hands for we know that we can trust you to listen; everything is subject to your control and to your plan. God of all things thank you for everything. Amen.

Anne Turner

News from Nepal

Dear Friends,

This is the last one from the Hudsons in Nepal (as far as we know at present....). We plan to leave Nepalgunj on 3rd April, and Nepal on 10th April. It is all getting pretty close now. Sorting and packing seems to be taking up a lot of Lorraine's time.

There has been a lot of disruption on the roads lately, with many roads being blocked by the Maoists, and with threats of a three day ban on using motorised transport in our last week; a crucial time for getting our unaccompanied luggage through customs. Life continues to be very unsettled and uncertain for many people in Nepal. TAP handover is going ahead, that is I am handing over to my colleagues who have the task of closing it down. Today I was writing a general report on how the programme has gone, for internal use. Not piles of figures, but a more general "How It Has Gone" kind of report this time. It has been good to write this, a kind of focussing on what has been done, rather than a worrying about what the future holds (or doesn't hold). Please remember Kum, Pramod, Walter and Andrew, who will be carrying the programme forward into its last few months before closure in July.

Bishnu, who works for us in our house, has at least secured a part-time job with a new member to the Nepalgunj team. Rosanna is a physiotherapist from Canada. She will work in the town's Government hospital. She arrives just after we leave, and as well as taking on Bishnu she has bought all our household goods which has been great for both parties.

Many thanks for your interest and prayers. They have always been an encouragement to us.

Regards,
Richard and Lorraine
Church Flowers For April
4th C. Scott
10th Decorate the church for Easter.
11th Easter Sunday
18th Liz Dodwell
25th Liz Dodwell
Diary

8th 7.45pm Maundy Thursday Service of Holy Communion (BCP), All Saints'.

9th 2.00pm Good Friday service of devotion: "An Hour at the Cross", All Saints'.
10th 10.00am Church Decorating.

11th 10.00am Easter Day Service of Holy Communion (CW).

13th 7.30pm W.I. Village Hall.

17th 7.30pm Quiz in Village Hall.

20th 7.45pm Vestry Meeting, Village Hall.

20th 8.00pm PCC APCM, Village Hall.

21st 10.30am Meeting Point, Liz Dodwell's, Watermead, Odell Rd., Harrold.

26th 8.00pm Village Hall AGM, in the Village Hall.

Magazine Deadline

Please send all entries for the May 2004 magazine to Tricia Hudson (patriciahudson@kbnet.co.uk), Anne Turner or Catherine Corkery by April 12th 2004 at the latest. May we remind you that the editorial team exercises the right to edit, shorten or alter any items that are submitted. Also, the opinions expressed in the articles are those of the contributors and are not the responsibility of the editorial team.

electronic mail address is <jh at kbnet.net>



FAX number
01234-721004

Back to the Odell Home Page
---
Last revised: April 09, 2004.