CHURCH NEWS - September 2003
Our minister, David Streater will retire in September and the Odell PCC tends to favour a continuing part-time minister dedicated just to Odell on a 'house for duty' basis. While this isn't the final decision and there is no certainty this will be approved by the CofE, we stand a good chance if we find the right person who is enthusiastic to work in this way. If you are or know of an energetic minister with an interest in spreading the gospel and being a spiritual leader in our small village, please contact churchwarden Keith Merret us on <km@firstalert.fsbusiness.co.uk> copying me on <jh@ti.com> or phone Keith on 01234 721514.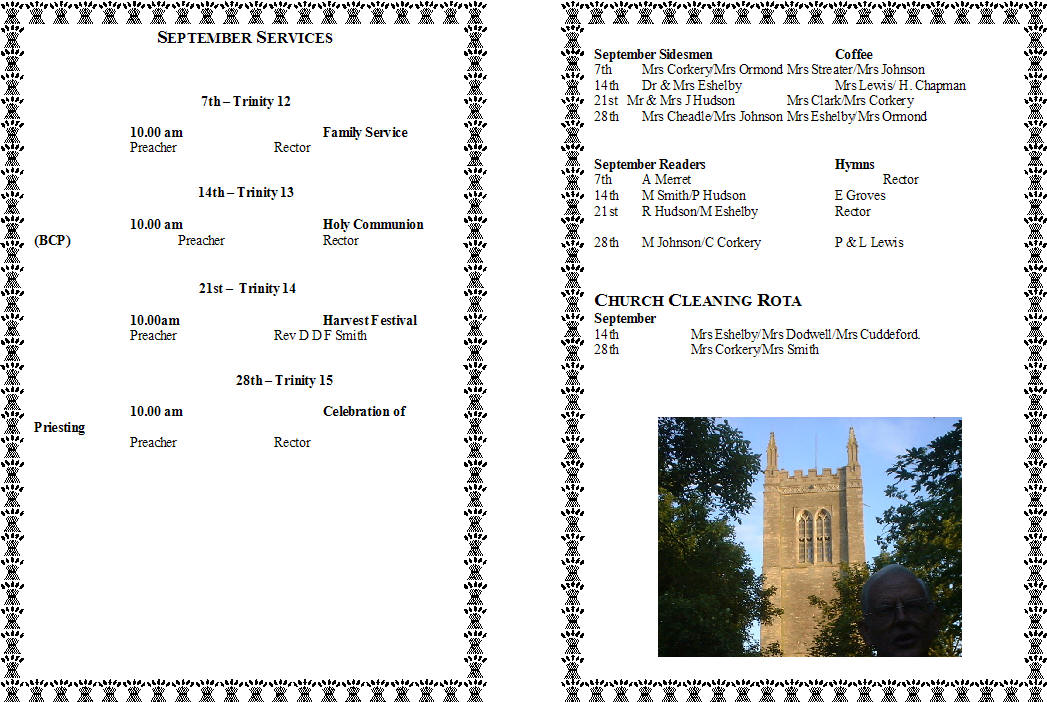 THE FLOWER FESTIVAL WEEKEND - AUGUST 23RD/24TH

Beauty in abundance has been shown at the flower festival in All Saints' in the wonderful colours of red, white and blue. A really magnificent display of beautiful floral arrangements, old photos and paintings of Odell, and various paintings by local and unknown artists made wonderful viewing time in the most peaceful setting of All Saints'.

Floral arrangements were by Mrs. Cheadle, Mrs. Dodwell, Mrs Freeman and Mrs. Robinson, Mrs. Garon, Mrs Halton, Mrs Harrison, Mrs. Jones, Mrs. Lewis, Lady Luke, Mrs. Ormond, Mrs. Shakespeare, Mrs. Sturridge, Mrs. Swift, Mrs. Wheeler and Mrs. Zaradin. The many activities of both the village of Odell and the church of All Saints' were represented: the Parish Council, the Village Hall Committee, the Fete Committee, the Womens Institute, Yelnow Farm, Aid For Romania, Meeting Point, Sunday School and the Church Musicians.

The organ was played by organists: Anne Turner, Liz Lewis, Kath Cameron, Len Bora, Prof. John Crookhall, Dorothy Yusava and Toby Hudson, with Tim Lewis on trumpet, Anna Lewis and Carolyn Pugh oboe and vocals and Helen Butler and Rachel Hudson on violin.

A stream of visitors seemed to enjoy the beautiful creations and the ambience. It was a pleasurable two days and enjoyed by visitors

and helpers alike, making the extremely hard work very much appreciated.

Thank you to one and all.

Anne Turner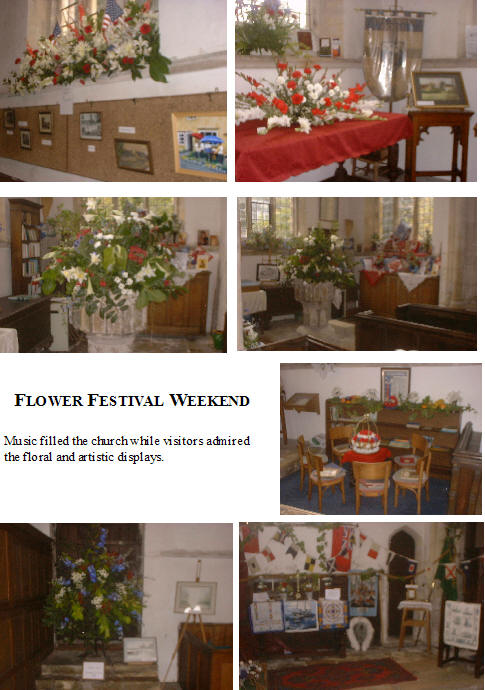 From the Rectory
September 2003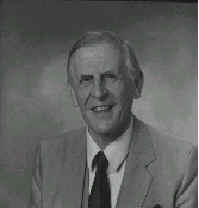 Dear Friends,
This is the last letter that I shall be writing to you as the minister in charge in Odell. My licence expires at midnight on September 22nd when I reach three score years and ten. It is thirty five years since I was ordained in Chichester Cathedral by Bishop Roger Wilson. If it had been predicted then that in thirty five years the Anglican Communion would stand on the brink of breaking in two I think that few of us ordained at that Michaelmas time would have believed it to be possible.
However, as this letter is written the Episcopal Church of the United States of America, by a relatively small minority, has chosen to defy the decision of the majority of the bishops at the Lambeth Conference of 1998 and challenged the Scriptural and traditional teaching of the Church of Jesus Christ over nearly two thousand years by electing and confirming Canon Gene Robinson as the Bishop of New Hampshire. Canon Robinson is in an openly same sex relationship, having divorced his wife and left his family, I understand from the press. That alone should have been enough to disqualify him as a leader in the Church.
We are assured by those in favour that we need to be quiet and reflect upon these things. Essentially, that is short hand for saying give it time and you will get tired of opposing and come to accept this accomplished fact. Alternatively, we are asked to reflect upon this and realise that those of a same sex persuasion are an oppressed minority and need to be liberated. That 'theology' was conceived in the matrix of Marxism.
The world wide Anglican Communion is asked to reflect upon this because, according to those in favour, God is saying something new. Herein lies the key to the understanding of what is happening. If Christianity is a religion which is developing and always in a state of flux then exploring this matter might well be a way forward. The consequence of that is that there would be a lack of continuity and one generation could adopt one position which a succeeding generation would change only to be reversed by the third generation. That would hardly be a prescription for growth as no one would really know where anyone else was at any given time.
The theology of exploration means that mankind is in a quest for God. God has not spoken and therefore it is up to us to try to find out what is best for the Church. All matters can be explored. All things can be changed. The alternative to exploration is revelation. It proceeds from the principle that there is a God. He is not silent but has spoken by the prophets and apostles and finally by His Son, the Lord Jesus Christ. The record of His speaking is found in the Holy Scriptures. God confirms that He is the Creator and has brought all things in to being. He sustains all things and He is the Redeemer of those who will put their trust in the Lord Jesus Christ who as the spotless sacrifice died for our sins and rose again. He will return again and usher in the Kingdom of God.
The question of qualifications for a bishop is dealt with in the pastoral Epistles. There the apostle Paul states , 'A bishop must be blameless, the husband of one wife... one that ruleth his house well, having his children in subjection with all gravity. For if a man does not know how to rule his own house, how can he take care of the Church of God?' 1 Timothy 3,verses 1-5. The word for wife is 'gunaikeios'.and has the meaning of womanly and distinctly cannot be not a male partner.
The Kingdom of God is where God's will is done according to His laws and where His will is obeyed. When God has spoken there is no room for exploration or debate. The matter is closed. To be in line with that law is to be righteous and under grace. To be outside that law is to sin and to be under judgment. The great folly of mankind has been to cast doubt on God's promises of grace and mercy and to ignore God's warning of judgments.
In this area the two forces in the Anglican Communion oppose each other over the question of revelation versus exploration. If any candidate to be a bishop falls outside the inspired words of the apostle Paul then that Church that consecrates such a one stands in opposition to God.
There is also the rather strange argument that the Lord Jesus did not speak on the subject of homosexuality so therefore as He moved among the publicans and sinners such expression of sexuality must be right. This is not correct. The point of Jesus' incarnation is stated that He came to fulfil the law and the prophets, not to destroy the teaching. (Matthew 5,17).
Obviously, in a ministry of three years some thinking must be taken as read. That is not an argument from silence because the non-acceptability of this behaviour is made clear by the apostles in many other sections of the New Testament. (Look up Romans Chapter 1,26/27). If that theory is correct then the apostle Paul is not inspired and the greater part of the New Testament falls to the ground and the argument proves too much.
It is too early to see whether this can be resolved. It would be, in effect, an attempt to square the circle. There may be a way of co-existing but when the basic human building block in creation, (male and female made in the image of God, Genesis 1), is challenged as it is in this election of this bishop, then it is diificult to see any long term relationship between the exploration versus revelation groups being sustained. There is a storm brewing for the Anglican Communion and it is certainly not in a tea cup.
All good wishes and may the Lord richly bless you as you seek to serve him.
Sincerely, David Streater
I am always ready to discuss any matters arising over what I have written.
A thank you to all those who have commented upon these letters over the last five years. Thank you for the encouragements and thank you for the positive criticisms and especially thank you for your prayers.
The Prayer Chain
The Prayer Chain is there if you need prayer for yourself, for others or for members of your family. Please don't ask for prayer outside your own family without people's permission. To have a number of people pray just telephone David (720234) or Dennis (822992).
Church Opening
Many of you will know that because of the problems of vandalism and theft from Churches generally, the Parish Church is kept locked. Unless there is a specific reason for opening it earlier, it will be opened for Sunday and occasional services half an hour before the Service is due to start.
News from St. Albans Diocese
Service marks Racial Justice Sunday
Racial Justice Sunday is being marked by a special diocesan service at St Albans Abbey on Sunday September 14th at 6.30 pm. Churches across the diocese are being encouraged to focus their Sunday worship that day on the theme of Racial Justice.
Open Door thanks the Sleep Out
'Open Door,' the St Albans centre for single homeless people, has thanked more than 300 people who raised more than £16,700 by sleeping out in the grounds of St Albans Abbey last December. This year's Sleep Out will be held on Friday December 5th.
Songs of Praise from Letchworth
BBC TV's 'Songs of Praise' will be coming from St Paul's, Letchworth, Herts, on Sunday September 21st to celebrate the Centenary of the Garden City.
Psalter now on the web
The beautiful St Albans Psalter, a manuscript made for Christina of Markyate in the 1130s, is now available on the web, thanks to work done by a team from the University of Aberdeen. To view the pages, follow the link at http://www.stalbans.anglican.org
September SeeRound
The September edition of SeeRound features: an interview with popular crime writer Kate Charles, who is 'passionate' about the Church of England; an outdoor baptism for 15 young people in St Albans; the return of the 'befrienders' into the Yarl's Wood detention centre, near Bedford; a Herts vicar's first-hand experience of South Africa's Aids crisis; a letter from the Bishop of Hertford about how we all share the mission of the gospel; and a competition to win a book that asks 'Why suffering?', plus lots of parish news and events.
Peter Crumpler

Communications Officer, Diocese of St. Albans.
Meeting Point

September

Wednesday 10th 10.30am at Liz Dodwell's, Watermead, Odell Rd., Harrold.

Tuesday 23rd 10.30am at Jill's, Rectory Farm, Odell..

Harvest Festival in All Saints' Church, Odell

Saturday September 20th

10.00am.

Please come and help decorate the church from 10.00 am. Flowers, fruit and greenery are always needed but most of all we need extra hands and enthusiastic helpers!

7.00 for 7.30pm. Harvest Supper in the Village Hall – everyone welcome. Tickets from Jill Cheadle 720261. £3.50, £2.00 concessions.

Sunday 21st

10.00am Harvest Thanksgiving Family Service. Any produce donated by the congregation will be distributed among the elderly of the village.

Our Giving in September is to St. Luke's hospital.

St. Luke's was originally a hospital dedicated to serving the clergy and their families, but has now expanded and welcomes anybody who wishes to join their medical scheme. However, their first priority is still with the clergy so that they can be treated and return to work in their parishes as quickly as possible. For more information you can write to: St. Luke's Hospital, 14 Fitzroy Square, London W1P 6AH.

Do please give generously in our collection or in the plate at the back of the church.

All Saints' Appeal Fund

We have made good progress since the last update of the 'thermometer'.

With the Fete proceeds still to be finalised, but at least £2,500, further grants from outside trusts totalling £4,950, and some more individual donations, the amount so far given or promised is just over £33,500 – with the proceeds of the Flower Festival and John Zaradin's concert in August (approximately £1200) still to come.

So we are two-thirds of the way to the overall target - but don't let up. The last part of any fundraising is always the hardest. Please support the concerts being organised in the Church over the coming months and any other fundraising ventures.

The good news is that we have been able to instruct the contractors to start work on the windows. Already the lower panels of the window on the south side of the chancel, which will eventually have part of the medieval stained glass in the tracery, has had the leading rebuilt and is back in place.

Tim Dodwell

All Saints' Appeal Fund

Programme of events,

September – October

With an appeal well under way to raise money this short series of concerts and special services is designed to draw people into the Church to see what we are trying to do and to allow as many as possible to join us in these exciting projects

September

Date Venue Event

20th Village Hall Harvest Supper, 7.30 pm.

21st All Saints' Harvest Festival, 10.00 am.

28th All Saints' Celebration of Priesting, 10.00 am.

October

5th All Saints' Mozart Requiem performed by The Eagle Choir.

19th To be confirmed Dixon and Drayson: Piano Duets and readings.

Tickets.

Harvest Supper available from Jill Cheadle, 720261, price £3.50, concessions £2.00.

Mozart Requiem: Phil Lewis 781796, Charles Martin 362274,

Price £8.00 including drink.

Look out for more information about October, November and December events in the October magazine.

Phil Lewis

United Christian Conferences.

Share Your Faith Conference

.

Saturday 27th September, St. Bartholomew's Church, Greens Norton.

Guest Speaker: Peter Crook of "Evangelism Explosion"

A one-day, Biblically based practical workshop to help Christians learn how to share their faith.

The workshop runs from 10.00am to 4.30pm with a one hour lunch break. Tea, coffee and cold drinks provided – please bring a packed lunch.

Price: £10 per person (to cover costs of Evangelism Explosion organisation). Cheques payable to 'United Christian Conferences'.

Reserve your place by contacting Canon John Knight, 01327 359508.

The Feast of Tabernacles.

Sunday 5th October, St. Bartholomew's Church, Green's Norton.

Did you know that The Feast of Tabernacles 'is one of the three festivals the Bible tells us to keep for all time'? Come and find out about the Feast of Tabernacles and its significance in the Church today. A traditional Jewish feast of lamb, with rice, fruit and nuts will follow the conference - an exotic experience not to be missed!

Time: 6.30pm. Price of tickets: £3.00. Book no later than 27th September

by contacting Canon John Knight, The Rectory, Towcester Rd., Greens Norton NN12 8BL. (01327 359508).

Amongst Ourselves

Congratulations

to Laura Wallbank on achieving a 2.i. BA.Hons degree in 'American Studies' at Leicester University. Well done.

Sadly the month of September is here already, and at the end of the month it will be time to say farewell to David and Valerie as they leave us to move on to pastures new in Buckingham. These last five years seem to have flown by, and we have come to know and love them so very much. We are grateful for their friendship and also for David's capacity for teaching us the scriptures. We have shared with them too in many aspects of their lives, and we will continue to give God praise and glory for them and for their family as they start their new life over the border in Buckinghamshire. We shall miss them, but we know as they do that they hold a very special place in our heart. Thank you David and Valerie for your love which you have shared with us here. May our wonderful God continue to bless and uphold you in your new venture. Lots of love and blessings from us all.

Anne Turner

Looking to Jesus

"Peace I leave with you; My peace I give you"

A sense of peace

Look at what Jesus left you in His will. Peace. He called it "My peace." It's a sense of well-being that transcends anything you've ever experienced before. The wonderful thing is that He didn't just die and leave it to you. He rose again to make sure you got it. This peace kept Paul through the worst storm of his life. Listen. ".... there stood by me this night the Angel of God, whose I am, and whom I serve, saying, Fear not Paul...."(Acts 27:23,24). With Him on board, nothing - absolutely nothing - can happen to you.

And you can never overuse His peace or run out of it. It's like the loaves and fishes that Jesus multiplied. The more you use it, the more it increases. Isaiah said, "Thou wilt keep Him in perfect peace, whose mind is stayed on Thee: because He trusteth in Thee." (Isa 26:3) He will become your peace only when He becomes your constant focus.

Jewish people greet one another with the word 'shalom.' It means peace, well-being and wholeness. And your Heavenly

Father is actually called Jehovah Shalom - "The Lord is (my) Peace." (Judge 6:24) What a promise - and it's yours today! Isaiah says "If only you had paid attention to My commands, your peace would have been like a river...." (Isa 48:18) If you've lost your sense of peace today, get back into God's presence immediately and ask Him what you need to do to put things right.

He'll show you.

Taken from "Word for Today". with grateful thanks for permission to print from United Christian Broadcasters. Tel: 01782:642000.

Father God: We pray for peace, for our homes and families, for our villages, towns and cities - for our world. We ask too that you bless and take care of our village children, they are a blessing to us, and they will also be 'our tomorrow.'

We pray about the misuse of drugs. Bless all those who work to help the drug abusers, also those working in the soup kitchens and the day shelters in Bedford. Help us not to walk by the homeless but remember that it is by your grace that we have a roof over our head and food in our houses.

We think especially of those in our midst who are sick, those in hospital, the elderly and lonely, those having treatment for a life threatening illness, and those in nursing homes with such fond memories of Odell.

We are sorry to see Derek and Doreen leaving 'The Bell' after so many years here in our midst, and trust that their new venture will bring them much happiness. We pray for them with David and Valerie, Jackie and her family as they leave Odell; also for Mike and Sheila Southern who moved some weeks ago to East Hatley (Cambs) and for the PCC and the All Saints' congregation during the interregnum. Bless those who will be responsible for keeping the Church running. Amen

Anne Turner

All Saints Odell Flower Rota

September

7th Jeanette Roche

14th Tricia Hudson

21st Jen Cuddeford & Anne Turner – Harvest Festival

28th Faith Hartwell

Everybody welcome to bring Flowers. Fruit and Vegetables and to help decorate the Church for Harvest Festival at 10.00 am on Saturday 20th September

The key for the church is at The Rectory and if you have any problems please contact Jane Eshelby on 01933 410959. The only flowers that need attention are the two vases up by the altar and the large vase behind the lectern.

Harrold United Reformed Church Flower Festival, 13th – 14th September.

Harrold United Reformed Church is holding an Autumn Flowers Festival on Saturday 13th and Sunday 14th September with the theme 'God's Bountiful World', celebrating the spirit of harvest.

Refreshments will be served.
September Diary

7th 11.00am Companion Dog Show, Sharnbrook Mill.

9th 7.30pm W.I. Village Hall.

10th 10.30am Meeting Point, Liz Dodwell's, Watermead, Harrold.

11th 7.30pm Yoga, Village Hall.

13th/14th Harrold United Reformed Church Flower Festival.

15th Parish Council Meeting, Village Hall.

20th 7.30pm Harvest Supper, Village Hall.

21st 10.00am Harvest Festival, All Saints' Church.

23rd 10.30am Meeting Point, Jill's, Rectory Farm, Odell.

28th 10.00am Celebration of Priesting, All Saints' Church.
Magazine Deadline

Please send all entries for the October magazine to Tricia Hudson (patriciahudson@kbnet.co.uk), Anne Turner or Catherine Corkery by September 12th at the latest. May we remind you that the editorial team exercises the right to edit, shorten or alter any items that are submitted. Also, the opinions expressed in the articles are those of the contributors and are not the responsibility of the editorial team.

electronic mail address is <jh@ti.com>



FAX number
01234-721004

Back to the Odell Home Page
---
Last revised: August 30, 2003.