CHURCH NEWS - October 2003
Our minister, David Streater retired in September and the Odell PCC tends to favour a continuing part-time minister dedicated just to Odell on a 'house for duty' basis. While this isn't the final decision and there is no certainty this will be approved by the CofE, we stand a good chance if we find the right person who is enthusiastic to work in this way. If you are or know of an energetic minister with an interest in spreading the gospel and being a spiritual leader in our small village, please contact <jh@ti.com>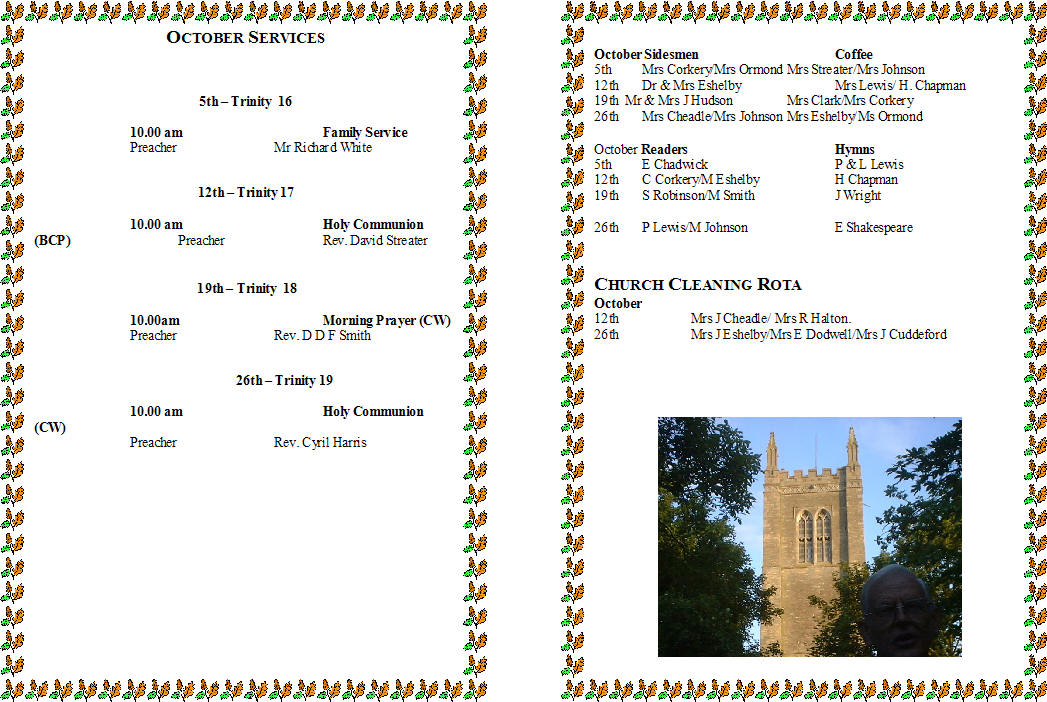 October 2003
Dear Friends
It is with sadness that we come to the time when once more the Rectory will be unoccupied as David and Valerie's time with us in Odell draws to an end. We have been fortunate as a church and as a parish to have had a minister who has not had parochial duties elsewhere and has given unstintingly of his time throughout the five years he has served in his 'house for duty' role. His strong evangelical ministry has drawn people into church in Odell and a number of visitors from abroad have been encouraged by the preaching of the word and by conversations with David while looking round the church.
Valerie's outreach in the village has forged new bonds between church and village, her famous lunches in the Rectory providing the opportunity for people to get to know one other; the millennium lunch perhaps standing out as a particularly successful event. The Odell Lunch Club will continue to be a reminder of these happy times and our thanks go to Valerie for her unstinting work.
Her work with the Sunday School in church each week has made it possible for families to worship together more regularly and we thank her for the interest she has taken in the young members of the congregation.
We understand that David is willing to take services for us on a regular basis until a replacement minister comes to us, and also to visit the elderly from time to time, and that Valerie will continue to be active in the Lunch Club.
While regretting their departure we realise their need to live a somewhat simpler life where they are not constantly on call. We give thanks for all they have contributed over the past five years and wish them every happiness in their home in Buckingham.
From All Saints PCC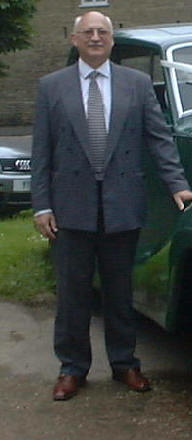 Keith Merret
It is with very great sadness that we have to report the death of Keith on 8th September after he was suddenly taken ill. Keith, Carolyn, Robert and Anthony came to Odell from South Africa a few years ago since when the family as a whole has taken a very active part in our village life. Keith became a churchwarden and gave invaluable help and advice to the church and also became an active member of the Fete Committee. Whenever there was an event in Odell Keith was there lending a helping hand. He will be especially remembered for his constant good humour and cheery smile, as well as for his interest in vintage cars, which certainly added a bit of interest to the streets of Odell! The church of All Saints' in Odell was packed for Keith's funeral on 16th September; a fitting tribute to a very popular man. We shall all miss Keith very much.
A fuller tribute to Keith will appear in the November Parish Magazine.
The Prayer Chain
The Prayer Chain is there if you need prayer for yourself, for others or for members of your family. Please don't ask for prayer outside your own family without people's permission. To have a number of people pray just telephone Dennis (822992).
Church Opening
Many of you will know that because of the problems of vandalism and theft from churches generally, the Parish Church is kept locked. Unless there is a specific reason for opening it earlier, it will be opened for Sunday and occasional services half an hour before the service is due to start. Please contact Jill Cheadle 720261/Tricia Hudson 721112 if you need the Church key.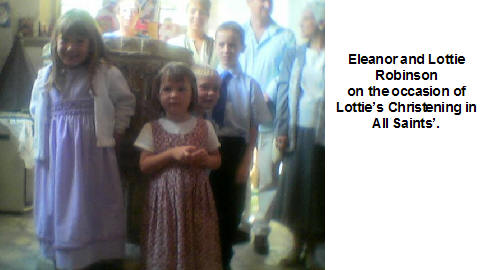 News from St. Albans Diocese
Join the pilgrim trail
There's still time to join the pilgrim trail to Spain and Turkey next year. There are places on the two diocesan pilgrimages: April 27th - May 6th Santiago de Compostela, Spain; September 16th - 27th, Cappadocia and parts of Southern Turkey visited by St Paul. More information 01727 830802 or see http://www.stalbans.anglican.org/pilgrim2004.htm
Day event explores the scriptures
Speakers from the Muslim, Jewish and Christian faiths will be taking part in 'People of the Book,' a study day at St Albans Abbey on Thursday October 23rd, from 10 am to 4 pm. The day will explore the ways the Abrahamic faiths use their scriptures. More information: Canon Dennis Stamps on 01727 830802 or
dstamps@stalbans.anglican.org
Last Goodbye
'The Last Goodbye' an exhibition for primary schools about the rescue of children from Nazi Europe, will be at St Albans Abbey from October 31st to November 10th. The event, organised by the Diocesan Education Service and the Cathedral Education team, tells the story of 10,000 unaccompanied children who came to Britain on the 'Kinder Transport',
highlighting issues relating to prejudice, racism and indifference. There will be workshops and speakers running sessions for children and a special session for teachers. The exhibition will also be open to members of the public. Admission free.
More information from Eileen Shaw on 01707 386011.
Chellington fun day
The Friends of Chellington are holding a 'Relive the Memories' fun day on Sunday Sept 28th at Chellington, Beds, 2 - 8pm. More than £300,000 has been raised towards the £750,000 needed for the extensive upgrading of the centre at the redundant church of St Nicholas, near Carlton, Beds. More information:
Peter Holt 01707 386023 or admin@chellington.org.uk
Call to Prayer: The Primates Meeting 2003 London
The Secretary General of the Anglican Communion, the Revd Canon John L. Peterson, is encouraging churches of the Communion to use this prayer in the days coming up to the October 15/16th Primates Meeting:
Heavenly Father,
you have called us
in the Body of your Son Jesus Christ
to continue his work of reconciliation
and reveal you to humankind.
Forgive us the sins which tear us apart;
give us the courage to overcome our fears
and to seek that unity
which is your gift and your will;
through Jesus Christ our Lord. Amen.
Ian stirs the Melting Pot
Ian Pearce is the new presenter of BBC Three Counties Radio's weekly religious programme, 'Melting Pot.' Ian - one of the station's most well-known presenters - has invited listeners to join him for "an entertaining and thought-provoking three hours of radio for people of all faiths and none" each Sunday between 3 pm and 6 pm.
Send your news for 'Melting Pot' to BBC Three Counties Radio, 1 Hastings Street, Luton, LU1 5XL or e-mail lucy.newman@bbc.co.uk Three Counties can be heard on 103.8 FM (Herts) and 95.5FM (Beds).
October SeeRound
The October edition of SeeRound features more on the e-Round items: the new vicar that descended from the clouds, a message from the Bishop of St Albans, the hunt to find a church that played a key role in British film history, a chance to win a book about the life of Christ and courses and conferences and numerous parish events.
Peter Crumpler

Communications Officer Diocese of St. Albans.
Meeting Point
October
Tuesday 14th 10.30am at Jane's, Newton House, Avenue Rd., Newton Bromswold.
Wednesday 29th 10.30am at Eileen Shakespeare's, Corner House Wymington Park, Rushden.
November
Tuesday 11th TBA
Wednesday 26th 10.30am at Catherine's, Manor Cottage,
High St., Harrold.
Senior Citizens Lunch Wednesday 15th October.
There will be a lunch for Senior Citizens in the Village Hall on Wednesday 15th October. Time: 12.00 for 12.30. All Senior Citizens invited – please accept this as the only invitation.
Please let Roma know if you can come by Wednesday 8th October, tel.:720431.
Harvest Supper, Saturday September 20th.
The Harvest Supper was well attended this year, and as usual the feast was delicious. It was lovely that so many villagers of all ages attended, which created a very warm and friendly atmosphere.
After the meal Jon Hudson compered a quiz which was very kindly provided for us by Rob Lee and which, as usual, was very entertaining.
The Supper gave us an opportunity to thank David and Valerie for all they have done in the Church and Village over the last five years and to give them some tokens of our appreciation.
The evening was rounded off with a few rousing choruses of harvest hymns.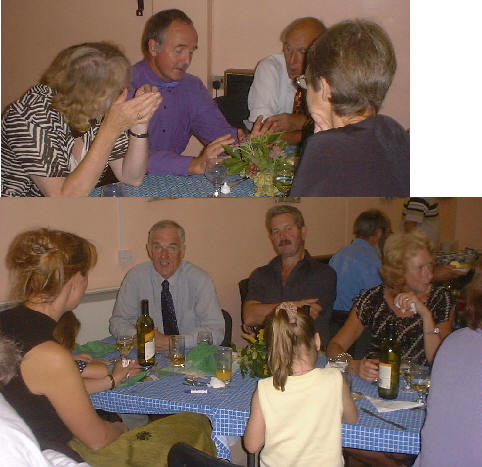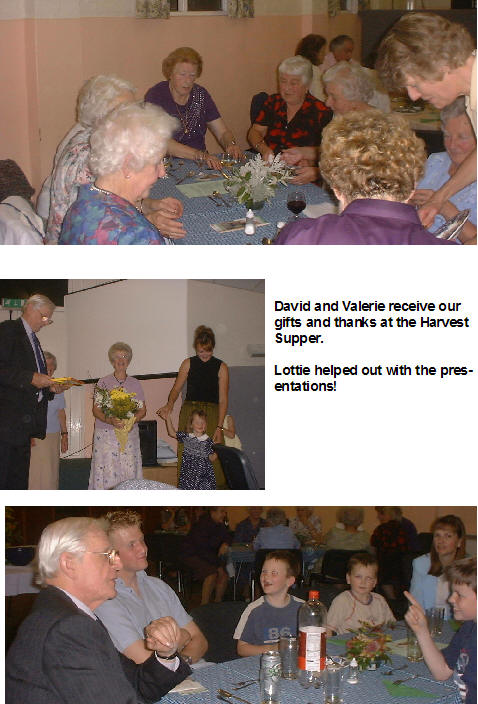 Celebrating 5o years in the ministry!

Douglas David Frederick Smith was ordained Deacon on 29th September 1953 in St. Paul's Cathedral, London. He had attended Christ Church, Beckenham and as a young person was called by God to the Ministry under Canon Guy King. He trained at the London College of Divinity and his first curacy was at Christ Church, Fulham, under the Vicar, W.F.Paddock. He was priested at St. Paul's exactly a year later, 29th September 1954.

In October 1957 he married Molly and went to Parkstone, Dorset, to serve his second curacy. The Vicar of St. John's was the Rev. R.P.P. Johnston and Douglas was in charge of the daughter church, The Good Shepherd, Rossmore.

In January 1961 he became Vicar of St. Paul's, Hyson Green, Nottingham. During his time there two sons, Mark and David, were born. The next move, in 1966, was to York where Douglas was area secretary for the Church Pastural Aid Society in the North-East. A third son, Paul, was born in York and the family worshipped at St. Cuthbert's during this period.

The next move was a return to parish work in 1969 when Douglas became Rector of St. Clement's, Higher Openshaw, Manchester. At one time he had two curates to assist in this inner city parish but for most of the time he worked single-handedly. A different ministry then began when, in October 1980, Douglas became Rector at Church Brampton (St. Botolph's) with St. Andrew's, Harlestone, also in the benfice. These are village communities on the outskirts of Northampton.

In 1986, the opportunity came for early retirement from Parish Ministry and so came a move to Newton Longville. After a break of a few months Douglas began to assist at churches in the benfice and in the deanery. There were interregnums round and about and holidays to cover so his preaching ministry continued.

In 1992 the house in Newton Longville seemed too large and a bungalow in Olney became home. The ministry continued and since retirement Douglas has preached and taken services in over forty churches and chapels. It has been a privilege in the last few years to be an honorary assistant minister at All Saints', Odell.

We thank God for His strength over the last fifty years, praise Him for all that is past and trust Him for all that's to come!

Molly Smith

On behalf of the congregation of All Saints' Church, Odell, we would like to thank Douglas for all the time he has given us and especially for his inspiring sermons. Douglas has the gift of making the Word come alive, captivating his listeners whatever their ages, and making us want to hear and read more. What a lot of minds and hearts he must have touched over fifty years, and always with such warmth and sincerity. We all thank God for Douglas and Molly – and for sending them to Odell!

Our Giving in October is to C.M.S.

This month we are giving to our mission partners in the Church Missionary Society, to aid them in the very worthwhile projects they undertake for C.M.S.

C.M.S. is committed to proclaiming the gospel through a wide range of ministries. Their fundamental motivation for proclaiming the gospel is to bring glory to God.

Please give generously.

All Saints' Appeal Fund

Programme of events, October - November.

These concerts are part of the church's appeal to raise money required initially to repair some medieval glass. But we also want to introduce a loop hearing system, to upgrade the heating, to redecorate the interior and eventually to bring the building up to standard with kitchen and toilet facilities as well as areas in which different groups can meet.

October 5th

Mozart Requiem performed by The Eagle Choir. Drawn from staff, parents and friends of Bedford Preparatory School and led by Charles Martin. 6.00pm in All Saints' Church, Odell.

Tickets: £8.00 and £5.00 concessions. To include a glass of wine.

Available from Philip Lewis 01234 781796.

November 2nd

The Lost Art of Wooing.

A selection largely of English songs sung by Jenny Melia, accompanied on the lute by Chris Goodwin. Jenny and Chris delighted a packed Harrold Church in 2002 and have been singing together widely, but Jenny admits to being glad to be back on home territory - she lives in Harrold and was brought up in Sharnbrook.

Tickets: £10.00 and £7.00 concessions. To include a glass of mulled wine.

Available from Philip Lewis 01234 781796 or Jill Cheadle 01234 720261

6.00pm in All Saints' Church, Odell.

November 16th

Songs of Praise. A chance to come and sing. 4.00pm, All Saints' Church, Odell.

Look out for more information about November and December events in the November magazine.

Phil Lewis

United Christian Conferences.

The Feast of Tabernacles

.

Sunday 5th October.

St. Bartholomew's Church, Greens Norton.

Did you know that The Feast of Tabernacles 'is one of the three festivals the Bible tells us to keep for all time'? Come and find out about the Feast of Tabernacles and its significance in the Church today. A Traditional Jewish Feast of lamb, with rice, fruit and nuts will follow the conference - an exotic experience not to be missed!

Time: 6.30pm.

Price of tickets: £3.00 (book no later than 27th September).

Book your ticket by contacting Canon John Knight, The Rectory, Towcester Rd., Greens Norton NN12 8BL. (01327 359508).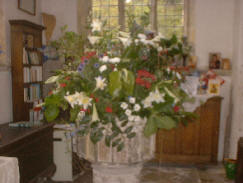 THE FLOWER FESTIVAL apologies for omissions!
It has been brought to our attention that a number of people who contributed to the Flower Festival in All Saints' Church were not mentioned by name in last month's magazine account of the event. In particular we should like to thank Avril Saunders for her lovely flower arrangement and Doris Bannard-Smith for her organ playing. Many others were also not mentioned, partly because of the overwhelming number of people involved and partly because many people contributed under the banner of the organisation they were representing. As we do not have the names of all those who were omitted from our list we can only say a huge thank you to everyone who was involved in any way in the Festival. I think we all agree that the weekend was a great success and we are grateful to all contributors who made it such a wonderful event by giving their talents and time so graciously.
All Saints Odell Flower Rota
October 5th Ann Hudson
12th Georgina Harrison
19th Jill Cheadle
26th Liz Dodwell
Please contact Jill Cheadle, 720261, regarding the key for the church and if you have any problems please contact Jane Eshelby on 01933 410959. The only flowers that need attention are the two vases up by the altar and the large vase behind the lectern.
October Diary

5th 6.00pm Mozart Requiem, All Saints'.

14th 10.30am Meeting Point at Jane's, Newton House, Avenue Rd., Newton Bromswold.

14th 7.30pm W.I. Meeting. Odell Village Hall.

15th 12.00 Senior Citizens' Lunch, Odell Village Hall.

29th 10.30am Meeting Point at Eileen's, Corner House, Wymington Park, Rushden.

Magazine Deadline

Please send all entries for the November magazine to Tricia Hudson (patriciahudson@kbnet.co.uk), Anne Turner or Catherine Corkery by October 12th at the latest. May we remind you that the editorial team exercises the right to edit, shorten or alter any items that are submitted. Also, the opinions expressed in the articles are those of the contributors and are not the responsibility of the editorial team.

electronic mail address is <jh@ti.com>



FAX number
01234-721004

Back to the Odell Home Page
---
Last revised: September 27, 2003.