CHURCH NEWS - June 2003
Our minister, David Streater will retire in September and the Odell PCC tends to favour a continuing part-time minister dedicated just to Odell on a 'house for duty' basis. While this isn't the final decision and there is no certainty this will be approved by the CofE, we stand a good chance if we find the right person who is enthusiastic to work in this way. If you are or know of an energetic minister with an interest in spreading the gospel and being a spiritual leader in our small village, please contact churchwarden Keith Merret us on <km@firstalert.fsbusiness.co.uk> copying me on <jh@ti.com> or phone Keith on 01234 721514.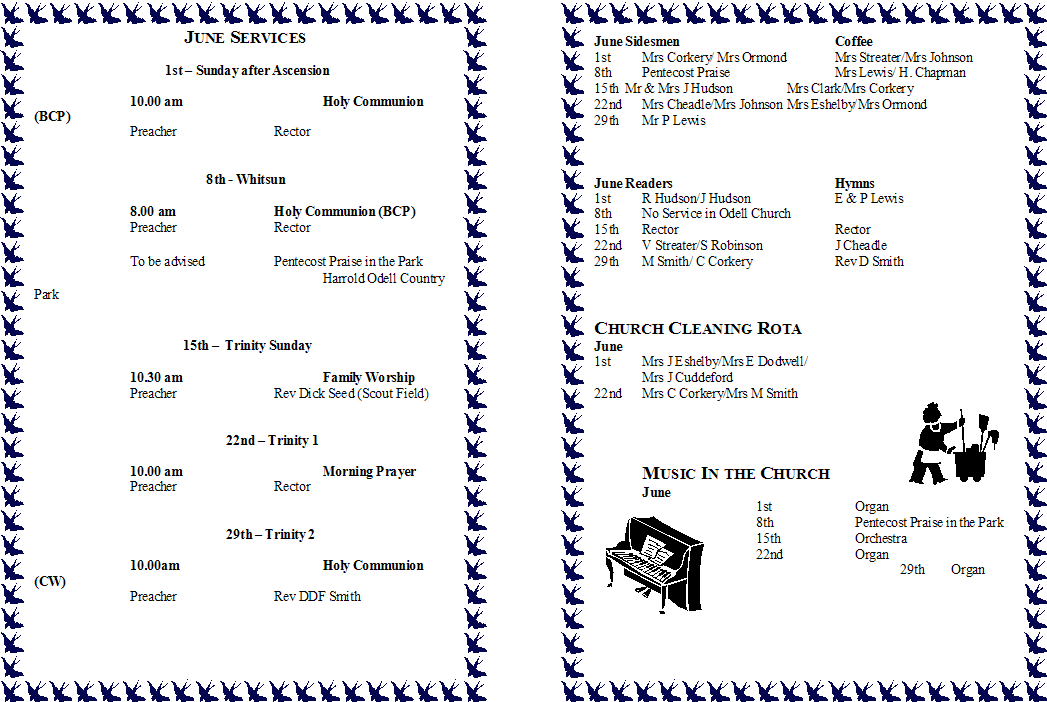 From the Rectory
June 2003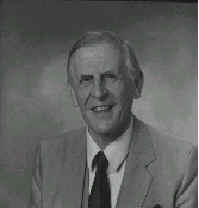 Dear Friends,

One of the most misunderstood doctrines of the Christian Church is to do with the ascension of Christ into heaven forty days after his resurrection. The resurrection and the ascension are closely related. On the third day after the crucifixion Christ rose bodily from the grave and was seen by a number of his disciples. The fact that he rose bodily and the body was essentially the same does not account for the fact that on several occasions his disciples did not immediately recognise him.

It would appear that the risen body is entirely human. Jesus invited the disciples to touch him and to observe his scars. He also ate with them. He appeared to them although the doors were locked. So the body is obviously now possessing abilities that the ordinary human does not possess. When this is taken into account then the fact of the ascension begins to be more understandable.

After Christ had gone to Bethany he blessed the disciples and was parted from them, being carried up into heaven. In the first place, this means that in heaven there is a true man, the God-man, having both body and soul. Secondly, he was seen to be ascending and finally to disappear from their sight as a cloud received him. Christ therefore transferred his place of existence from earth to heaven.

What does this mean? It means that in the creation of God there is a place called heaven where God manifests himself to his servants. In a sense, it is a Ďparallel universeí. The comfort in this is that Jesus told his disciples that he was going to prepare a place for them that where he was they would be brought also. It means that when our loved ones have died, fallen asleep in Christ, that they are with him and that we shall see them again if we are trusting in Christ.

If we are wise we shall learn that all the doctrines from Scripture are important. The incarnation precedes the obedience and suffering of the innocent Christ as a substitute for our sins. The death and burial is followed by the ascension into heaven. The resurrection is succeeded by the ascension which leads to Christís exaltation to the right hand of God and from there he intercedes for his people whom he knows and who know him personally. At the end time he returns this time in glory to judge all people.

Some modern theologians ignore the ascension as if it is of no account. In fact, it is an integral part of Godís great plan of redemption to have a people of his own possession. To sum up, Christ Jesus has a true body that has overcome death. As a true body it must occupy some part of space. That space is called heaven where God himself is. And if we are trusting in Christ our sure and certain hope is that eventually we shall be with him for where Christ is there is the Christianís heaven.

With all good wishes,

Sincerely

David Streater.

I am always ready to discuss any issue arising out of what I have written

The Prayer Chain

The Prayer Chain is there if you need prayer for yourself, for others or for members of your family. Please donít ask for prayer outside your own family without peopleís permission. To have a number of people pray just telephone David (720234) or Dennis (822992).

Church Opening

Many of you will know that because of the problems of vandalism and theft from Churches generally, the Parish Church is kept locked. Unless there is a specific reason for opening it earlier, it will be opened for Sunday and occasional services half an hour before the Service is due to start.

Confirmation

If there is anyone considering confirmation please would they contact David.

News from St. Albans Diocese

New Archdeacon of Bedford

Paul Hughes, Vicar of Boxmoor, Hemel Hempstead, is to be the new Archdeacon of Bedford. He succeeds Malcolm Lesiter, who retires in June after 37 years' ministry in Bedfordshire and Hertfordshire. The Revd Paul Hughes will move to Luton to take up the new role in September. He will have a responsibility for 155 parishes in Luton and Bedfordshire, working with the Bishops of St Albans and Bedford.

Paul, Vicar of Boxmoor since 1993, was previously Team Vicar in Dunstable from 1986 to 1993, and Curate in Chipping Barnet with Arkley from his ordination in 1982 to 1986. He has been Rural Dean of Hemel Hempstead since 1996.

A farewell service for The Ven Malcolm Lesiter, who has been Archdeacon of Bedford for the past 10 years, will be held at St Albans Abbey on Saturday June 14th at 4 pm. All are welcome. Before becoming Archdeacon, Malcolm served in Hemel Hempstead, Leavesden and Radlett.

More information and photographs on the diocesan website http://www.stalbans.anglican.org

Pilgrims flock to Abbey

Around 1,000 pilgrims exchanged a sign of peace during this year's Easter Monday Pilgrimage at St Albans Abbey. The pilgrims from 100 parishes joined processions into the Abbey, with the Bishops of St Albans, Hertford and Bedford. Many of the pilgrims had walked from their parishes and were carrying colourful parish banners. They then took part in an informal service that included the sharing of Christ's peace.

The Bishop of St Albans, the Rt Revd Christopher Herbert, told the pilgrims: "It is so important that each of us works for peace where we are. It takes a lot of courage and a lot of strength. It takes each one of us to give it all we can."

More information and a photograph on the diocesan website

http://www.stalbans.anglican.org

Gospel musical plays to packed audiences

A new musical could be staged in London, after playing to packed audiences at St Francis of Assisi, Welwyn Garden City, over Easter. 'Resurrection,' written by the church's musical director Andrew Crookall, was performed by a cast of professional actors and local young people looking to a career in the performing arts.

The professionally-staged musical, which includes 38 new songs, traces the experience of the disciples from despair following the crucifixion to jubilation as the reality of the resurrection takes root in their lives. Andrew is now looking to stage 'Resurrection' at a London venue. Further enquiries to a.crookall@ntlworld.com

Sleep Out - advance notice

This year's 'Sleep Out' at St Albans Abbey will take place on Friday December 5th. Money raised will go to projects helping homeless people in Watford; Hemel Hempstead, Berkhamsted and Tring; and St Albans. More than 300 people slept out last December, raising more than £15,400 for the Open Door project in St Albans.

June SeeRound

The June edition of the diocesan magazine will feature photographs of the Easter Monday Pilgrimage, the testimonies of two people who attended a Bedford Alpha course, an abseiling vicar from Watford, a competition to win a new book, courses and conferences, and lots of parish events and activities.
Peter Crumpler

Communications Officer Diocese of St. Albans.
Meeting Point

June

Wednesday 11th 10.30am at Catherineís, Manor Cottage, High St, Harrold.

Tuesday 24th 10.30am at Jillís, Rectory Farm, Odell.

July 9th To be arranged.

Our Giving in June is to CPAS

(Church Pastoral Aid Society).

The work of C.P.A.S. is to give aid to both churches and individuals in such wide-ranging areas as evangelising, training for clergy and laity, youth work, holiday activities for young people, provision of resources (books, courses etc.), working with older people and specialised ministry to both men and women. However, their primary goal is supporting the mission of the local church in taking the gospel to the poor.

Please give generously to this worthwhile charity.

All Saintsí Appeal Fund

The next 'big push' is the Odell Village Fete on 14 June, which we hope will give us a substantial boost towards our target. There will be a display of stained glass by Karen Hall (who is the tutor for the stained glass classes being attended by Doreen Wheeler and Jen Cuddeford), alongside information on our appeal. The 'outline' of the church which was used at the WI Coffee Morning in March was 'coloured up' at the Fete working party, and we hope to 'fill the window' with yet more coins.

In August, on Saturday 23rd, John Zaradin will be giving a guitar concert in the Church in aid of the appeal - more details next issue, but anyone who has heard John before will know that we shall be in for a scintillating musical evening. Book the date in your diary now!

John Zaradin Concert for Appeal fund

: Saturday 23rd August in

All Saintsí Church, Odell.

Tickets £10 to include glass of wine and light refreshments.

Looking to Jesus

Ground Rules

Pursue Righteousness..." 1 Timothy 6:11 NIV

If you want to run the race and finish strong, here are some ground rules from 1 Timothy, chapter 6:v.6 "Godliness with contentment is great gain." Be content with what you've got, not green-with-envy over what others have. There'll always be something that looks bigger and better. Always! Contentment comes from understanding that God knows the "whens", the "wheres" and the "hows" of blessing you.

v.7. "We brought nothing into the world, and we can take nothing out of it." Enjoy what you've got, but never forget, nothing tangible is eternal. No matter what you've acquired, you can't take it with you.

v.8. "But if we have food and clothing we will be content with that." Start thanking God for where you are and what you have right now. Ingratitude clogs the pipeline for future blessings.

v.9-10. "People who want to get rich fall into temptation...For the love of money is a root of all kinds of evil. Some people, eager for money, have wandered from the faith..." God 's not against you having money; He's just against money having you. Money's neither good nor evil. It simply takes on your personality, and makes you more of what you already are. If you were a giver before you had it, you'll be more generous when you get it. If not, you'll spend your life clinging to it.

v.11 "Man of God, flee from all this, and pursue righteousness..." The bottom line is - pursue God! And not just His hand, but His face. Pursue a deeper relationship with Him today!

Printed with kind permission of UCB and taken from "Word for Today. (Free issues can be obtained by writing to UCB Europe, PO Box 255 Stoke-on-Trent. ST4 8YY)

Amongst Ourselves

The month of June is already upon us, and we think about the Fete and the Service of Praise on Sunday 15th June. We know a lot of hard work goes into both of these and so we pray:

Father God, we place into your hands the Fete and the team effort that is so needed to make it all work out to perfection. Bless all those involved. Those preparing the field: erecting the tents and marquees, all those working at each stall and sideshow. Please would you bless too all those who support the day, and those coming from far away because they love Odell so very much. Everywhere looks so green and pleasant at the moment and the field is in such a pretty situation we truly are so fortunate to be living in such a favourable part of your wonderful and awesome world. Father we also ask you to look upon the Sunday service held in the field which reminds us of the times Jesus walked the earth and held services in the open air. We know that it is so loved and we praise You for this Special Weekend.

The other unique Sunday Service is the one held in the Country Park on Pentecost Sunday 8th June which usually turns out to be a very special time with our churches meeting together for the Pentecostal blessing.

There are still people in our community who need your healing hand upon them, the sick, the housebound, and those further afield in nursing homes. Come to them all in their loneliness and place your angels around them.

We continue to pray for World Peace, peace in our communities and within our homes. There is still trouble in Iraq and we pray that you would give all our world leaders your wisdom as they strive to come together for a peaceful outcome, not only in Iraq but farther afield too.

As we look at your beautiful world around us, we think of the words of that favourite hymn "Then sings my soul, my Saviour God to thee, How great thou art, How great thou art!"

We come to you in our humility, and thank you for your love to each and every one of us. Thank you Father, for loving us "just as we are"; we can come to you no other way!

Please accept this prayer through the love of your son Jesus Christ Our Lord. Amen.

Anne Turner

All Saints Odell Flower Rota

The key for the church is at The Rectory and if you have any problems please contact Jane Eshelby on 01933 410959. The only flowers that need attention are the two vases up by the altar and the large vase behind the lectern.

1st Helen Chapman

8th Faith Hartwell

15th Fete Weekend

22nd Doreen Wheeler

29th Carol Ormond

Odell Village Fete Ė Saturday June 14th 2003

Grand Opening at 2.00pm

by our Member of Parliament Alistair Burt.

Attractions include:

Family Dog Show Pony Rides Cash Raffle

Childrenís Collage Competition Tombola

Fire Brigade Childrenís Sports

The Wode-Hill One-Steppers Jazz Band

Lucky Programme Draw Childrenís Stalls Ice Creams

Refreshments Many Sideshows

Gifts White Elephant Bottle Stall

Books Cakes Plants Produce

The site is once again the field at the end of Horsefair Lane.

All proceeds go the ĎAll Saintsí Appeal Fund'

Festival Weekend Church Service 10.30am.

As in previous years, there will be a service of praise and thanksgiving in the tent in the scout field. The service will start at the later time of 10.30am. This year our guest speaker will be the Rev. Dick Seed, who has been involved with teaching and research at the St. Francis of Assissi Theological College in Nigeria for over two years. Dick is very familiar to members of All Saintsí as he has shared and led our worship in Odell on many occasions.

After the service, from 12.30 onwards there will be Thank You barbecue lunch in the scout field for all fete helpers and residents of Horsefair Lane. Meat will be provided; please bring your own plates, cutlery, glasses and drink and any offers of salads or puddings will be most gratefully received! Please let Mandy Sharpe (720414) or Jill (720261) know if you are coming. If you forget to let them know Ė donít worry and come anyway! We all hope to have an informal, relaxing and fun afternoon!

Request for help

If anyone can help with the fete, particularly on the day, would he or she please contact Jill Cheadle, tel. 720261.

Family dog Show programme, Odell Fete, 14th June 2003, 2.00pm.

Class 1: Childrenís Handling (14 years and under).

Class 2: Puppies under 1 year.

Class 3: Country Sporting Dog or Bitch.

Class 4: Best Rescue or Re-home Dog or Bitch.

Class 5: Best Condition Dog or Bitch.

Class 6: Dog or Bitch with the most Appealing Eyes.

Class 7: Best Cross-bred Dog or Bitch.

Class 8: Dog or Bitch the Judge would most like to take home.

Best in Show.

The sponsors for this show are:

Mr. & Mrs. Hughes Anne Turner Molly Wallinger J. Harrison M. Clark Julie Pete Rev. D. Streater J. Eshelby Jacky Ward

The organizers of this show would like to thank them for their support
Diary

June

8th 10.30am Pentecost Praise in The Park.

11th 10.30am Meeting point at Catherine Corkeryís, Manor

Cottage, High St., Harrold.

14th 2.00pm Odell Fete, Horsefair Lane.

15th 10.30am Service in Scout Field, Horsefair Lane.

24th 10.30am Meeting Point, Jillís, Rectory Farm.
Magazine Deadline

Please send all entries for the joint July/August magazine to Tricia Hudson (patriciahudson@kbnet.co.uk), Anne Turner or Catherine Corkery by June 12th at the latest. May we remind you that the editorial team exercises the right to edit, shorten or alter any items that are submitted. Also, the opinions expressed in the articles are those of the contributors and are not the responsibility of the editorial team.

electronic mail address is <jh@ti.com>



FAX number
01234-721004

Back to the Odell Home Page
---
Last revised: May 29, 2003.