CHURCH NEWS - April 2003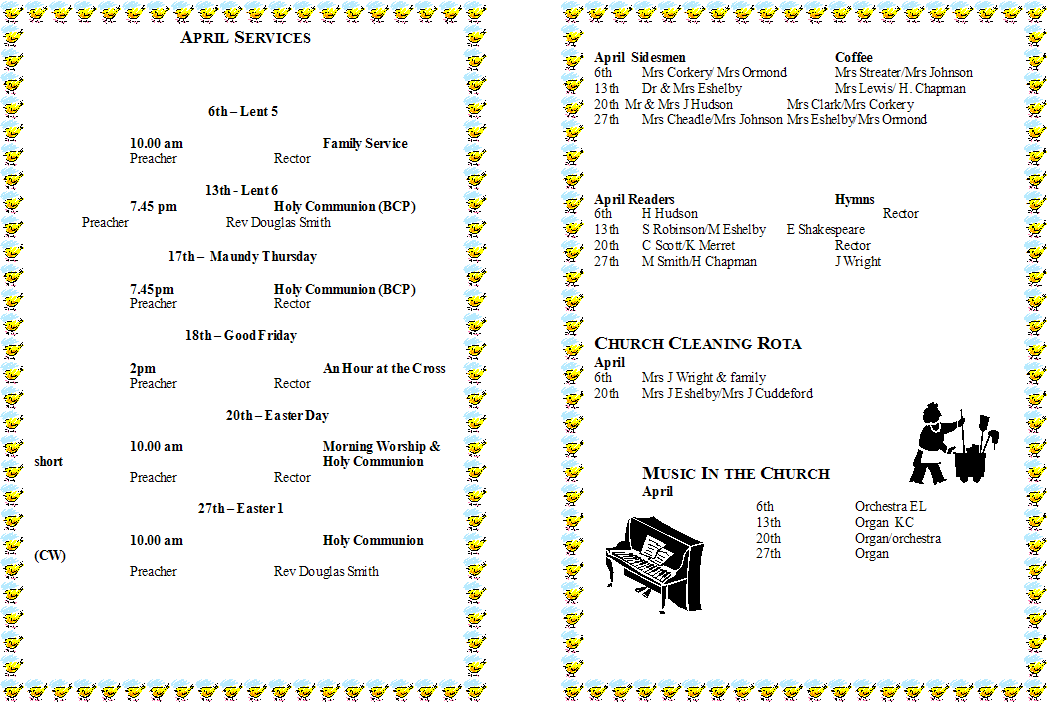 From the Rectory
April 2003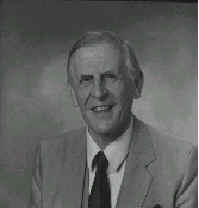 Dear Friends,

By the time that this magazine reaches you Easter will almost be upon us. The clouds of war, which have been hanging threateningly over us, may well have broken into a full conflict. The times are out of joint is an old fashioned expression but nonetheless speaks the truth. Over the last one hundred years there have been 'wars and rumours of wars' with all the distress, death and destruction that such events bring.

The question that the thoughtful person will ask is, 'Where is there any ground of hope or comfort in the midst of all this trouble? Of course, this must bring us to the resurrection of Jesus Christ. The fact is that we not only believe, we know that Jesus Christ died for our sins on the Cross of Calvary and rose again for our justification that we may be made right with God. This is what the Scriptures teach outwardly and we have also the inward witness of the Holy Spirit.

The bodily resurrection of Christ is unique and exclusive among the world religions. It has far reaching implications because it sets Christianity in the history of the world and the story of man. It happened in Palestine in the first century under Roman rule. It deals with the real world that we all know and experience daily in its joys and sorrows.

It also means that God's creation is to be bought back. Firstly, it is bought back in the resurrected body of Christ. Then it will be bought back through the resurrection of believers. Finally, it will be bought back by the recreation of the Universe. Distress, death and destruction is not the final story. So how does this create hope and comfort?

There is a lovely old catechism known as the Heidelberger that is still much in use today in some circles. A catechism is a method of instruction by means of questions and answers. The first question is particularly important.

It asks the Christian:

"

What is your only comfort in life and death?"

It answers:

"That I, with my body and soul, both in life and in death, am not my own but belong to my faithful Saviour Jesus Christ; who with his precious blood has fully satisfied for all my sins and delivered me from the power of the devil and so preserves me that without the the will of my heavenly Father not a hair can fall from my head; that all things must be subservient to my salvation, wherefore by his Holy Spirit He also assures me of eternal life and makes me heartily willing and ready...to live to Him."

In that answer lies the heart of the Christian faith. It speaks of God the Father, of Jesus Christ the Son and of the Holy Spirit. It refers to the power of the devil and assures the faithful Christian that because of the Father's purpose and Jesus Christ's sacrifice that through faith in Christ we are united to Him and kept safe through time and eternity.

Briefly, that means that whatever happens to us nothing can tear us away from our Saviour who is rightly called faithful. All this is confirmed by the bodily resurrection of Jesus Christ. Other comforts may come and go but this comfort remains. Have you realised the importance of Easter? Have you grasped the gracious and kindly promise of Christ that whoever you are and whatever you have done there is a place for you. The resurrected Saviour still says by His Word and Spirit, "Take my yoke upon you and learn of me: for I am meek and lowly in heart and you shall find rest for your souls."

All good wishes for a happy Easter.

Sincerely,

David Streater

I am always ready to discuss any matter about which I have written.

The Prayer Chain

The Prayer Chain is there if you need prayer for yourself, for others or for members of your family. Please don't ask for prayer outside your own family without people's permission. To have a number of people pray just telephone David (720234) or Dennis (822992).

Church Opening

Many of you will know that because of the problems of vandalism and theft from Churches generally, the Parish Church is kept locked. Unless there is a specific reason for opening it earlier, it will be opened for Sunday and occasional services half an hour before the Service is due to start.

Confirmation

If there is anyone considering confirmation please would they contact David.

News from St. Albans Diocese

Diocesan Synod: The Synod, held at Biggleswade, Beds, on Saturday March 8th, was given a presentation on research that showed the effectiveness of the Emmaus Course in preparing adults for confirmation and deepening their faith. Synod also received a report on the work of the Verulam House Fund Trust; supported the re-establishment of St Nicholas, Chellington, Beds, as a residential youth centre; and welcomed the Ven. Helen Cunliffe, the new Archdeacon of St Albans. Full report at http://www.stalbans.anglican.org

New Bishop consecrated - and welcomed. The Rt Revd Richard Inwood, the new Bishop of Bedford, became the first bishop to be consecrated by Dr Rowan Williams, in his new role as Archbishop of Canterbury, on Friday March 7th. The service at Southwark Cathedral came just eight days after the new Archbishop was enthroned in a service watched by millions. Richard Inwood and his wife, Liz, were then welcomed to the diocese at a special service at St Paul's Church, Bedford, the following day. Richard Inwood will have oversight of around 150 parishes in Luton and Bedfordshire, under the direction of the Bishop of St Albans. He succeeds the Rt Revd John Richardson, who retired last July after more than eight years as Bishop. More information at http://www.stalbans.anglican.org

Station stresses commitment. BBC Three Counties Radio has stressed its commitment to religious broadcasting, following the move of 'Melting Pot,' its weekly religious programme to Sunday afternoons. Station editor Mark Norman said: "I remain committed to providing discrete religious programming which serves a wide range of faiths and beliefs. "The station was responding to concerns expressed by religious leaders, including the Bishops of St Albans and Hertford, that the programme's rescheduling from an early morning slot could lead to smaller audiences. The station is to review the programme's move after six months.

Easter Monday Pilgrimage. Pilgrims from across the diocese will be making their way to St Albans Abbey for the annual Easter Monday Pilgrimage. This year, an extended exchange of the sign of Christ's peace will form a central part of the pilgrimage on Monday April 21st. The theme is 'My peace I give to you.' Once at the Abbey, the day will consist of activities from 1.30 pm on the Abbey Orchard. Pilgrims are asked to bring their lunch. Processions into the Abbey will begin at 2.30 pm. Details of the day can be obtained from parish clergy or from Canon Stephen Lake on 01727 890201 or subdean@stalbanscathedral.org.uk

Invitation to Maundy Thursday service. Members of congregations across the diocese have been invited to join clergy and lay ministers at the annual 'Blessing of Oils' service at St Albans Abbey on Maundy Thursday, April 17th at 11 am. During the service, oil is blessed for use at baptisms, at confirmation and in healing, and a recommitment to ministry is made. Canon Michael Sansom said: "It is an excellent thing that the congregation should include members of the local congregations in which the oils will be used and in which clergy and lay ministers exercise their ministry."
Peter Crumpler

Communications Officer Diocese of St. Albans.
Meeting Point

April

Wednesday 9th 10.30 am at Liz Dodwell's, Watermead, Odell Rd., Harrold.

Tuesday 29th 10.30 am at Jill's, Rectory Farm, Odell.

May

Wednesday 14th 10.30am at Eileen's, Corner House, 38 Wymington Park Rd., Rushden.

North Beds Healing Group - Wholeness and Healing

An evening of Fellowship, Comfort and Encouragement

at Wellspings near Leighton Buzzard, Friday April 11th.

Ann Bowes cooks wonderful suppers and offers her home for Christian meetings (see recent See Round). She will also give us a short talk. Group size limited but all welcome, not just those involved in the Healing Ministry.

Please contact Liz Dodwell if you are interested in coming (price £10 each).

Pit Run Saturday April 26th

This year's Pit Run will take place as usual from Harrold Green, round the Lakes and back to the Green. There will be refreshments, sideshows and stalls and it is usually a good fun villagey event. Several groups supported by members of our village are taking part including Aid for Romania and Corner Club and this year we hope there will be volunteers to run or walk to raise money for our Church Appeal.

United Christian Conferences

John Knight looks at

"The Significance of Habakkuk for Today" – looking at issues facing the 'End Time' Church and its role in a world that is falling apart.

Saturday 17th May

10am – 4pm

St. Bartholomew's Church, Greens Norton

Please bring packed lunch – coffee and soft drinks provided.

Booking Essential. £2 per person (cheques to United Christian Conferences). Send to Revd. John Knight, The Rectory, Towcester Rd., Greens Norton NN12 8BL. Tel: 01327 359508.

Our Giving in April is to Feba Radio.

FEBA continues to broadcast the good news of Jesus Christ in many parts of Asia and Africa where it is against the law to preach the Christian faith. The programmes are designed to speak to the particular needs of people who are only too aware that they are involved in a spiritual battle. As a result of the broadcasts many come to a true faith in Jesus and are given strength to witness to their families and neighbours. Sometimes it means exile or death but there are also many stories of whole families coming to faith and seeking to take the gospel to neighbouring states.

The non-threatening medium of radio provides a unique opportunity for hundreds to learn of the way of life which can free them from the shackles of a religion which offers no hope.

Making and broadcasting programmes in dozens of different languages is time consuming and costly. Please give what you can so more people can hear the Good News.

Birthdays

. Happy birthday to

Tania Fulford who will be 7 on April 5th.

And Liz Dodwell, 60 on the 6th!

Looking to Jesus

Looking to Jesus on Good Friday. I Belong There.

Read:Mark 15:22-39

Christ also suffered once for sins, the just for the unjust, that He might bring us to God 1Peter 3:18.

A missionary was speaking to a remote tribe of people who had never heard about the life and ministry of Jesus. Seated in the front row, listening intently to all the missionary had to say, was the chief of the tribe.

As the story of Jesus came to its climax and the chief heard how Christ was cruelly crucified, he could restrain himself no longer. He jumped up and cried, "Stop! Take Him down from the cross! I belong there, not Him!" He had grasped the meaning of the gospel; he understood that he was a sinner, and that Christ was the sinless One.

As you consider that scene of the Son of God hanging on the cross in agony, with blood flowing from His wounds, can you say from your heart, "I belong there!" Then go one step further and put your trust in Him as your Saviour, so that you can say with Paul, "I have been crucified with Christ; it is no longer I who live, but Christ lives in me" (Gal.2:20). Jesus took our place and died in our stead. Because He bore our sins, He has opened the way for us to be brought into fellowship with the Father. If you indentify yourself with Christ and believe that He died for you, God will indentify you with Christ and give you His righteousness.

Can you say, "I belong there!" ---- HGb

When Jesus died upon the cross,

He took our sin and shame;

He offers us His righteousness,

A gift for us to claim. ---Sper

Jesus took my place on the cross to give me a place in Heaven.

Praising and Glorifying Jesus on Easter Sunday.

Incredible? Read Acts 26: 1-8

Why should it be thought incredible by you that God raises the dead? (Acts 26:8)

If Jesus did not rise from the dead and there is no future day of resurrection for us, then life loses all its meaning. If this life is all there is - just a few years of alternate crying and laughing (mostly crying) and then darkness - with Paul we can say, "If in this life only we have hope in Christ, we are of all men the most pitiable". (1 Cor.15:19).

Resurrection, however, is not an incredible, irrational idea. We can see illustrations of resurrection all around us in nature. For example, Egyptian garden peas that had been buried for 3,000 years were brought out and planted on June 4, 1844. Within a few days they had germinated and broken the ground. Buried for 3,000 years - then resurrected. That's amazing!

Why then should it be though incredible that God should raise the dead? That was the surprised question of Paul to King Agrippa (Acts 26:8). If God could take some dust and breathe life into it to create a man (Gen 2:7), why would anyone think it incredible for this same God to raise someone from the dead?

Yes, it is most credible that Jesus would arise. It would be incredible, if after the miraculous life He lived He had remained in the grave. Hallelujah! Christ arose! - MRD

Up from the grave He arose,

With a mighty triumph o'er His foes:

He arose a Victor from the dark domain,

And He lives forever with His saints to reign -Lowry

Only a living saviour could rescue a dying world.

Printed with permission of RBC Ministries and taken from 'Our Daily Bread', obtainable from:

RBC Ministries PO Box 1 Carnforth Lancs. LA5 9ES

Amongst Ourselves

Father we thank you that you gave your son to die on the cross in our place, we thank you to for forgiveness of sins and that we remember so well the nail marks in his hands. The wonderful thing is Father that we celebrate the Risen Lord, who is alive by His Spirit. May the Spirit continue to be our guide and stay in these times of trial and of wars and whatever problems we are facing.

We praise you for this wonderful time of year, spring flowers in bloom, birds chirping merrily away, and the sunshine reminds us of your wonderful love; the dove in the garden reminds us of peace.

We think too of those less fortunate - the blind who cannot see your awesome world, the deaf who cannot hear the wonders of the birds and music. There are social outcasts all needing to be filled with a love like yours, and to have people around them to feel that same love. We ask your forgiveness when we look at them and yet do nothing to help, and forget to see that we have a roof over our heads and love and provisions in our homes and families.

Help us not to turn our backs on those less fortunate than ourselves - but to share the love we have with them. Just a friendly word can turn someone's day into a day of love and miracles.

We still continue to ask you to bring peace to all our countries, that all fighting will cease and pray that man will learn to live alongside his brother and that neighbours will respect and love their neighbours. You love each and every one of us the same - that is how you tell us to love each other.

We pray for Christian unity in the schools and the workplace and that it will spread and spread around the villages and towns and cities.

Nothing is impossible with you or through you, and we need so desperately to follow you so that we can be en-route for Heaven.

Thank you Lord for your wonderful awesome world. Amen.

So I'll cling to the old rugged cross

Till my trophies at last I lay down

I will cling to the old rugged cross

And exchange it some day for a crown

We send our love and sympathy to Larry O'Hara whose wife Dorothy (Mrs. Frater's mother) died recently.

Dorothy was such a friendly and pleasant person to talk to and will be missed for those special chats. We hold Larry and the family in our heart and prayers and pray for God to be a comfort to them.

We do continue to remember Joe Smith who is undergoing treatment and pray that he will soon be feeling much improved and I am sure we all enjoyed reading last month of the wonderful things he did in times of war for his beloved country. God Bless you Joe.

Anne Turner

All Saints Appeal Fund

Since the last update in the February magazine we have received a promise of a further £2,000 from the Manifold Trust, which is based at Shottesbrooke in Buckinghamshire. There happen to be Dodwell graves in the church there, but I doubt if this affected the trustees' decision, as none of us have been living there for over 200 years! We have also received further gifts of US $1,200 from members of the Bulkeley family in the USA, for which we are very grateful.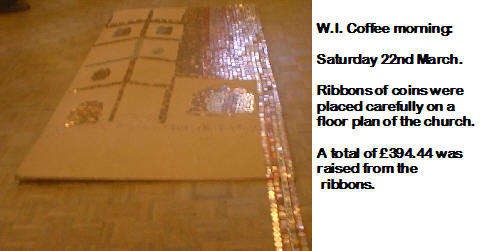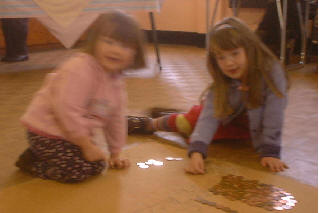 This brings the total raised/promised to £24, 580, without taking the WI Coffee Morning on 22nd March into account. A fantastic total of £739.21 was raised at the Coffee Morning, £394.44 from the "ribbon pennies" and £344.77 from other sales. Thank you very much to everyone who contributed.
Very many thanks to the W.I. for organising this, and the 'design a stained glass window' competition at Harrold Lower School. The Coffee Morning was a very friendly and well-attended event. The competition entries are now on display in the Church.
We are hoping to arrange a series of fundraising concerts in the Church during the later part of the summer, and a 'safari supper' visiting various homes in and around the village is being planned. Watch this space for more details.
In the meantime the Church is one of the organisations on the sponsorship list for the Harrold Pit Run on 26th April. Why not join in or sponsor a runner or walker? 50% of sponsor money goes to the nominated organisation, with the rest going to the organisers, Harrold Centre. Sponsorship forms are available from Jill Cheadle, who hopes to take part.
Tim Dodwell
PCC Meeting Wednesday 12th March
Floodlighting. It is hoped that a subsidiary light can eventually be installed to lighten the Eastern window at Christmas time.
Resurfacing. We await a further estimate before the resurfacing of the church path can go ahead.

Deanery Synod. The Anglican/Methodist Union was examined in the last meeting but little interest was shown for the proposals.

Vacancy on the synod has not yet been filled.

Organ. There are plans to move organ to the North wall on a moveable platform, also to repaint pipes in keeping with its period. Work carried out will be paid for by insurance claim.

Disability. Once the organ has been moved a simple hearing loop system can be installed. – we await a quote for this.

Fete. Saturday 10th May is proposed as working day for fete preparations.

Fabric and Churchyard. More effort is needed to raise the money required. Proposals include a series of concerts later in the year, a safari supper, coffee morning and flower or craft festival. Heating: an experiment with under seat heaters will be made.

Future of the Parish. There is an ongoing discussion regarding what will happen after Rev. David Streater retires. We ask for prayers concerning this matter.

Pentecost Praise. The service is booked for 10.30am on Sunday 25th May in Odell/Harrold Country Park, and will be followed by a shared lunch.

Date of next meeting: 29th April, 7.30pm in Village Hall.

Easter Week In Odell

Maundy Thursday 17th April

There will be a service of Holy Communion

(Book of Common Prayer) at 7.45pm in the church.

Good Friday 18th April

"An Hour at the Cross" – a service of readings, prayers and

devotional music from 2.00 – 3.00pm.

Easter Saturday 19th April

Church decorating will take place from 10.00am in All Saints' Church. Please come along with or without flowers and greenery to help make the church beautiful for Easter day. Children welcome to come and help create the Easter garden in the church.

Easter Sunday 20th April

We will be celebrating Easter Day in All Saints' with a short service of Morning Prayer at 10.00am, followed by a shortened Holy Communion (BCP).

All Saints Odell Flower Rota

The key for the church is at The Rectory and if you have any problems please contact Jane Eshelby on 01933 410959. The only flowers that need attention are the two vases up by the altar and the large vase behind the lectern.

April

6th Liz Lewis

13th Liz Dodwell

19th Church Decorating for Easter

27th Jen Cuddeford and Ann Turner

Odell Village Fete – Saturday June 14th 2003

Family Dog Show Pony Rides Cash Raffle

Children's Collage Competition Tombola

Fire Brigade Children's Sports Local Band

Lucky Programme Draw Children's Stalls Ice Creams

Make Your Own Crown and Join the Parade Refreshments

Many Side shows

Gifts White Elephant Bottle Stall

Books Cakes Plants Produce

Please everyone, make a note of the date of the fete now and put it in your diaries! We will once again hold the Dog Show that was such a success last year. Don't forget to invite all your family and friends for the day.

The site is once again the field at the end of Horsefair Lane.

Request for help

If anyone can help with the fete, particularly on the day, would he or she please contact Jill Cheadle, tel. 720261.
April Diary
4th 7.30pm Time of Our Lives Theatre Co., Village Hall.

5th 7.30pm Save The Children Quiz night, Sharnbrook Upper School.

8th 7.30pm W.I. Village Hall.

9th 10.30am Meeting Point, Liz Dodwell's, Watermead.

11th Evening of Fellowship, Wellsprings, near Leighton Buzzard.

17th 7.45pm Service of Holy Communion, (BCP), All Saints'.

18th 2.00pm Hour of Devotion, All Saints'.

19th 10.00am Church decorating.

20th 10.00am Short Morning Prayer followed by shortened Holy Communion (BCP).

21st Pilgrimage to St. Alban's Abbey.

26th Pit Run.

28th 8.00pm Village Hall Committee AGM. All welcome.

29th 10.30am Meeting Point, Jill's, Rectory Farm.

29th 7.30pm PCC Meeting, Village Hall.

Magazine Deadline

Please send all entries for the May 2003 magazine to Tricia Hudson (patriciahudson@kbnet.co.uk), Anne Turner or Catherine Corkery by April 12th at the latest. May we remind you that the editorial team exercises the right to edit, shorten or alter any items that are submitted. Also, the opinions expressed in the articles are those of the contributors and are not the responsibility of the editorial team.

electronic mail address


jh@ti.com

FAX number
01234-721004

Back to the Odell Home Page
---
Last revised: April 06, 2003.