CHURCH NEWS - September 2002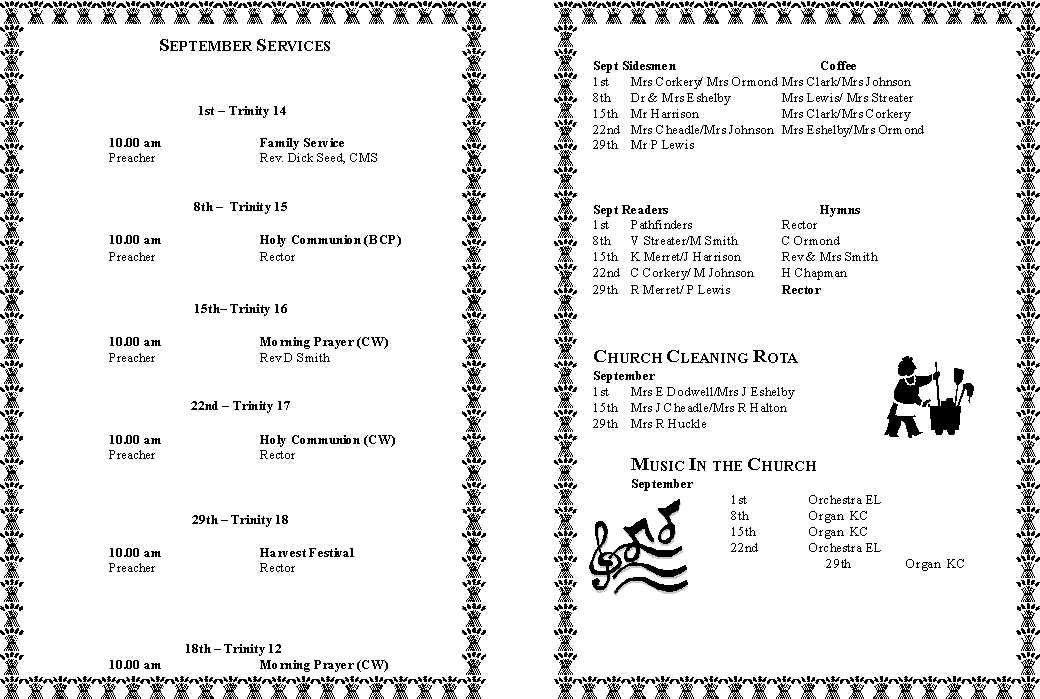 From the Rectory
September 2002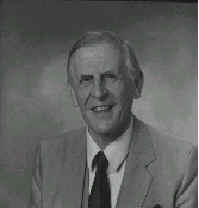 Dear Friends,

We have been looking at some important Christian doctrines. These all come from the Scriptures. They work on the basis that there is a God who has revealed himself through His Word. A great part of that Word has to do with the moral commandments. We call them the Ten Commandments. God has given them for the benefit of mankind as a whole in that they protect God's position in relation to man and also man's in relation to God and his neighbour.

Until the early part of the twentieth century, this was the position held generally across Christian Europe before and after the Reformation of the sixteenth century by Protestants and Catholics alike. There were many departures from the law, many variations and a lot of laxity but with all the failures the principle was maintained.

With the rise of secular humanism, which is what we labour under today, the rich heritage of the Christian faith has been in many areas either wiped out or reduced so that it has become negligible in its impact in our society. We hear much of human rights but very little of God's rights. This may seem to many to be of little consequence as to whether we live under one or the other. However, it has surprising and serious consequences.

If we take the sixth commandment, 'Thou shalt do no murder', it is clear from the Book of Exodus that abortion, which is the destruction of the unborn child, is a serious transgression of God's Law Word. That same Book describes what shall be the penalty for the destruction of an unborn child by accident. If an accidental death, that is one that is not premeditated, is so serious, how much more serious is a premeditated death? I understand that there is somewhere in the region of fifty thousand deaths of unborn children each year.

One of the consequences of this is that the population of the United Kingdom is ageing. That fact throws a great strain on the social infrastructures. It also encourages the question of immigration. How do we handle so many old people? There is a possibility of euthanasia. The sad case of Mrs Diane Pretty, suffering from Motor Neurone disease, a dreadful illness, was strongly promoted by the media as the case went through the British courts to Europe and failed in both.

Euthanasia is normally the active method of promoting death. It is known as death by commission. However, although this has temporarily failed, it will return. It is being actively promoted by the Voluntary Euthanasia Society. Now the Lord Chancellor's Office has published a Consultation Document and I quote, " 'Making Decisions; Helping People Who Have Difficulty Deciding For Themselves' – part of (this) promotes as ethical practice the medical killing of patients by the omission of food and fluid, thus causing death by dehydration and starvation." This practice is defined somewhat strangely as treatment and unbelievably states that such treatment could be imposed against the wishes of the families and the express wishes of the patients themselves. This is death by omission.

Under Biblical Law both abortion and euthanasia are condemned as murder. The rights of the unborn and the elderly are protected by God's Law and disregarded by secular law on the basis of economic convenience in one form or another. With secular human rights all are equal but some are more equal than others. At the moment little can be done about abortion on demand which is what has developed from the relaxation of the law.

However, the question of euthanasia is a very live issue. Part of the Voluntary Euthanasia Society's programme is to obtain a petition with thousands of signatures to overturn the Diane Pretty judgment. The Right to Life Campaign is running a counter petition opposing both the Lord Chancellor's Departmental proposals and the work of the Voluntary Euthanasia Society.

How important is this? It is extremely important because secular humanism eventually denies human rights and becomes involved in social engineering. In denying the existence of God, it denies both God and man. God still remains as the moral Governor of the Universe and all people must stand before the judgment seat of Christ to render an account of what they have done in this life.

We need to remember the words of the Lord Jesus from the Sermon on the Mount; ' Do not think that I have come to abolish the Law or the Prophets; I have not come to abolish them but to fulfil them. I tell you the truth, until heaven and earth disappear, not the smallest letter, not the least stroke of a pen, will by any means disappear from the Law until everything is accomplished.'

Sincerely in Christ David Streater

I am always ready to discuss any topic about which I have written.

Right To Life National Petition Opposing Euthanasia

There is a strong campaign being conducted by the Voluntary Euthanasia Society and by the Department of Health to legalise passive euthanasia through the withdrawal of treatment (including assisted food and fluid – thus causing death by starvation and dehydration). It is vital that we show our opposition to this by signing the Right to Life petition opposing euthanasia. N.B.: it is fully backed by the All Party Parliamentary Pro-Life Group. The Petition may be signed at the back of the Church and the petition may be photocopied to be signed by family and friends.

The Prayer Chain

The Prayer Chain is there if you need prayer for yourself, for others or for members of your family. Please don't ask for prayer outside your own family without people's permission. To have a number of people pray just telephone David (720234) or Dennis (822992).

Church Opening

Many of you will know that because of the problems of vandalism and theft from Churches generally, the Parish Church is kept locked. Unless there is a specific reason for opening it earlier, it will be opened for Sunday and occasional services half an hour before the Service is due to start.

Confirmation

If there is anyone considering confirmation please would they contact David.

News from St. Albans Diocese

'Communities of Hope'

- this year's 'Harvest for the Hungry' Appeal - has been launched by the Bishop of St Albans. Parishes, church schools and other community groups are being encouraged to make the appeal a focus for their Harvest Festival giving. The appeal supports a hospital in rural Zambia, as it faces the growing challenge of HIV/AIDS. Full details are available on the diocesan website http://www.stalbans.anglican.org

The Diocese's Assisted Self Appraisal Scheme, which offers ministers the chance to talk through the joys and pressures of their calling, and to receive encouragement and support from a trained assistant, is seeking to grow. The Scheme currently helps more than 100 clergy and 25 Readers and is encouraging more to take part. It is also keen to hear from people willing to join the team of 48 voluntary assistants, trained to carry out the confidential work. More information from the scheme's co-ordinator, the Revd Pat Quint on 01462 730218 or revquint@freeuk.com

Planning for next year's Easter Monday Pilgrimage has begun. The planning group holds its next meeting on September 8th and is seeking new members. More information from the group's chairman, Canon Stephen Lake, Sub-Dean at the Abbey on 01727 890201 or subdean@stalbanscathedral.org.uk

Five new deacons and 11 new priests will be ordained at St Albans Abbey on Sunday September 29th at 11.15 am. Full details in September's SeeRound.

A training day, organised jointly by the diocese's Liturgical Committee and the Royal Society of Church Musicians on 'Music for Common Worship' is being held at St Andrew's, Bedford, on Saturday November 16th from 9.30 am to 4.30 pm. The day is primarily aimed at clergy, organists, choirs and those involved in leading music in Bedfordshire. More information from Jenni Blaxland on 01727 854532 or jblaxland@stalbans.anglican.org

Asylum, AIDS, inter-faith relations and ecumenism were among topics discussed at the first meeting of the diocese's new Board for Church and Society in July. The Board covers activities ranging from world mission to workplace ministry, inter-faith and ecumenical initiatives, community care, renewal and evangelism. It brings together the former boards of Mission & Unity, and Social Responsibility. Full report at http://www.stalbans.anglican.org

Young people interested in a career in the media - or in using improved communications in their church - are invited to a 25-hour training event. The residential workshop in St Albans on Friday evening November 22nd and Saturday November 23rd is being organised by the Beds & Herts Churches Media Trust and supported by SONY, who are providing cameras and editing facilities. Training will be led by experienced professionals. More information from Dave Green, Diocesan Youth Officer on 01707 386016 or dave.green@voicemail.org.uk or Julie Lloyd of the Media Trust on 01727 868882 or julieloyd@commskit.org.uk

Former lawyer the Revd Sharon Grenham becomes the diocese's United Society for the Propagation of the Gospel Mission Adviser in September. Sharon's role involves sharing news from USPG and overseas churches with congregations in the diocese, supporting USPG projects and helping to keep mission on the church agenda. She may be contacted on 01234 740423.

School governors and those considering taking on the role are invited to an evening organised by Christian charity 'Care for Education' on September 24th at St. Hugh's, Lewsey, Luton from 7 - 9 p.m. Further details from 01582 664433 or jeffwitts@sthughslewsey.fsnet.co.uk or contact cfe@care.org.uk to reserve a place.

SeeRound's September edition features this year's 'Harvest for the Hungry' appeal ; a profile of a Reader at a Luton church who cycled nearly 1,000 miles for charity this summer; celebrations to mark a Bedford centenary; the farewell to Bishop John Richardson; and numerous events, conferences and courses.

Archdeacon Richard to be Bishop of Kingston

The Queen has appointed the Ven Dr Richard Cheetham, Archdeacon of St Albans, to the Suffragan See of Kingston. He will succeed the Rt Revd Peter Price as the Area Bishop of Kingston in the Diocese of Southwark assisting the Diocesan Bishop in the oversight and pastoral care of parishes in south-west London.

Richard Cheetham, 46, has been the Archdeacon of St Albans since February 1999. He was a science teacher and then an investments analyst before he was ordained deacon in 1987. Priested in 1988, he served his title at Holy Cross Church, Newcastle. He then moved to be Vicar of St Augustine of Canterbury, Limbury, Luton, in the Diocese of St Albans where he was involved in the early stages of the Luton Council of Faiths and a member of the first Luton SACRE (Standing Advisory Council on Religious Education). Richard grew up in Surbiton and was educated at Kingston Grammar School and was, at that stage, a member of Emmanuel Tolworth. He was confirmed at Christ Church, Surbiton. He is married to Felicity and they have a daughter and a son. He still plays hockey and squash regularly. His other interests include cinema and walking. On the announcement of his appointment, Richard said: "In some respects this move is, for me, a homecoming. My secondary education was in Kingston, and I was sponsored for ordination by Southwark diocese. I have served in my ministry very happily firstly in the Diocese of Newcastle, and for the last twelve years in the Diocese of St Albans. I shall be very sorry to leave St Albans and many friends and colleagues there, but equally I am looking forward enormously to the fresh opportunities and challenges which this new role will bring."

Richard Cheetham will be consecrated Bishop in Southwark Cathedral on Thursday 17 October 2002.

Peter Crumpler Communications Officer Diocese of St. Albans.

Meeting Point
Wednesday 11th 10.30am at Catherine Corkery's, Manor Cottage, High St., Harrold.

Tuesday 24th 10.30am at Jane Eshelby's, Newton House, Avenue Rd., Rushden.
Coffee Morning
A coffee morning in aid of Guide Dogs for the Blind will be held at Rectory Farm on Saturday 12th October from 10.30am.
Everyone invited.
Romanian Visitors
We are very pleased to be welcoming Romanian visitors to Odell and Harrold. Doina and her daughter Mihaela are here as guests of Aid for Romania and are hoping to see and learn something about England and the English in their four week visit. Doina helps our charity as secretary/administrator for the Romanian Foundation in Buzau and has a lot to do with all members of our Sponsored Families. She also works in the children and family psychiatric unit. Mihaela is a medical student and they both are hoping to see plenty that will interest them professionally. We were pleased to welcome them in Odell church at the beginning of their trip, and similar visits are planned to the URC chapel in Harrold, Sharnbrook Evangelical and Bromham Baptists. A special farewell BBQ is planned at 'Watermead' on Saturday September 14th so please contact me (720640) if you would like to come along and meet them.
Liz Dodwell
North Beds Healing Group - Wholeness and Healing
Further enquiries to Liz Dodwell (720640) or Carol Ormond (720409)
Our Giving in September is to St. Luke's hospital
St. Luke's was originally a hospital dedicated to serving the clergy and their families, but has now expanded and welcomes anybody who wishes to join their medical scheme. However, their first priority is still with the clergy so that they can be treated and return to work in their parishes as quickly as possible. For more information you can write to: St. Luke's Hospital, 14 Fitzroy Square, London W1P 6AH.
Do please give generously in our collection or in the plate at the back of the church.
Harvest Festival in All Saints' Church, Odell
Saturday September 28th
10.00am. Please come and help decorate the church from 10.00 am. Flowers, fruit and greenery are always needed but most of all we need extra hands and enthusiastic helpers!
7.00pm. Jubilee Harvest Supper in the Village Hall – everyone welcome, no charge. (See below)
Sunday 29th.
10.00am Harvest Thanksgiving Family Service. Any produce donated by the congregation will be distributed among the elderly of the village.
Jubilee Harvest Supper
Everyone is warmly invited to a special Jubilee Harvest Supper on Saturday September 28th, 7.00pm for 7.30pm in the Village Hall.
No ticket or payment required, but please let either Jill Cheadle (720261) or Valerie Streater (720234) know if you are coming ASAP.
Your place at the supper can only be guaranteed if you have replied to Jill or Valerie in advance.
Prayer Partner Letter from Geoffrey and Helen Ochana, Kenya
Dear Prayer Partner,
I always pray with joy because of your partnership in the gospel from the first day until now. (Phil 1: 4-5)
We greet you in Our Lord's name! Again we apologise about the delay in writing to you. This has been an eventful few months as you will see as you read on! Although the going has been tough in the past months, the Lord has remained faithful to us. We also thank you sincerely, from the bottom of our hearts for supporting us. Your prayers have made it possible for us to preach the Good News in churches, market places and streets across Kenya.
News From the Field
We continue to receive invitations to run missions from other Dioceses. We need discernment in knowing which to accept. We were thrilled to see over two hundred individuals giving their lives to Christ during the mission at Kapsonkwony (in the Mount Elgon area). The following mission at Kimili ended with torrential rain and one of the PA speakers was damaged. Our time at Kimili was encouraging but very difficult due to the presence of a local cult known locally as "dini ya msabwa" or the religion of demons. Some new converts have joined local congregations, so please pray for them to be rooted in the Word of God.
Family Update
We thank God for Helen's improvement in health. After suffering a severe malaria attack which we reported in a prayer letter last year, we received a kind donation to pay for treatment. Helen is helping a local church with adult literacy classes and joins in all the missions. We also have some good news from America that our son (Charles) and his wife Maureen expect their first baby in September. David returned to us earlier this year and is now looking for a job in Nairobi.
Anne and Peter are well, their little boy Gideon is a healthy, handsome child. George is still struggling to find work. Recently we lost Geoffrey's nephew whose widow is now having to look after 6 children.
We are very busy in our ministry. We ask that you pray that we would be provided with someone in the team who can drive, so that Geoffrey can share this task and will not get so tired.
Items for prayer
We ask you to bring the following items for specific prayer to the Lord:
Hannington Ambale, our spiritual son who was ordained in July 2002.

Future missions and evangelistic meetings, especially for our trip to Zambia.

Our role in teaching others how to share the Gospel.

For our ministry to HIV/AIDS sufferers and their families.

That we will have all the necessary helpers and resources to continue preaching the gospel.

Health, protection from typhoid and malaria.

Funds for the repair and replacement of tyres for the Land Cruiser.
Items for praise
For all those whose help has kept us spreading the Good News of Jesus.

For all those who came to faith in Christ during recent missions and for their ongoing growth.

For the generous donation of the PA system and the 4 wheel drive Land Cruiser.

Our Steering Committee in Kitale.

Protection from danger and disease.

For our excellent working relationship with the Bishop of Kitale.
God Bless you and keep you. With our love and prayers
Geoffrey and Helen Ochana
Kuwa heri ( bye for now!)
Looking to Jesus
Intimacy with Christ - why knock?
"Behold I stand at the door and knock…" Revelation 3:20
The picture is compelling - Christ aggressively pursuing us. So why don't we open the door to Him? Two reasons:
1 Fear. Thomas Keating writes, "Because trust is so important, our spiritual journey may be blocked if we carry negative attitudes toward God from early childhood. If we're afraid of God or see Him as an angry father-figure, a suspicious policeman or a harsh judge, it will be hard to develop enthusiasm or an interest in building a relationship with Him! What's the answer? Pray: "Lord I believe; help Thou mine unbelief." (Mark 9:24). Grasp this: God will never use or abuse you. No one who ever trusted Him has been disappointed!
2 Self-sufficiency. Listen: "I am rich, and have become wealthy, and have need of nothing." (Revelations 3:17 NAS). The church at Laodicea thought that because they had no material needs, they didn't need God. They relied on what they 'consumed' to satisfy, sustain and secure themselves. Sound familiar? Today many of us believe we don't need a purpose. The mechanism doesn't require it. Consumption keeps the workers working, the pay cheques coming, the people spending, the inventors inventing and the investors investing, which means there is even more to consume. The system is independent of values and needs no philosophy to prop it up. It's a perfect circle, complete in itself - and empty in the middle.
Don't go a step further without Jesus. Open the door of your heart and invite Him in. When you do, everything in your life will change for the better - everything!
Printed with kind permission of United Christian Broadcasters and taken from " Word for today"
Telephone No. 01782 642000.
Who is Jesus?
He is the Prince of Peace (Isaiah); He is the Faithful Husband, married to the backslider (Hosea); He is the Baptizer with the Holy Ghost and Fire (Joel). He is the friend that sticks closer than a Brother (Hebrews); He is the Son of God (John & Luke); He is the God who supplies all of our needs according to His riches in Glory (Philippians).
He is our link to God – and He is the best friend to have!
We pray:
Father God, we come to you and ask your forgiveness for all of our sins. Make us more like you, to be loving and kind, to give rather than to take, to listen rather then talk, to reach out to the lonely, the hurting and to those who are afraid. Forgive us when we 'run with the world' rather than 'walking with you'. Come into our hearts for we know that without you we are nothing, for we can do all things through and with you. We ask you in the name of Jesus to receive our prayer.
Amen
There are many sick and suffering, lonely, depressed. Those in hospitals and nursing homes, the homeless, the drug addicts and the drunks on the street - all of these are your children - help us not to turn away, but to try in some way or other to show a helping hand in love and kindness. We put all youngsters in your hands, thanking you for our children and that you have helped us to bring them up as best we can, with your help. There are those who are led to steal, maybe because they do not have the love of parents who care. Help us not to judge but to pray for them instead. Yes Lord, please help us to be more like You. In Christ's name we pray. Amen Anne Turner
Flower Rota
September 1st Jill Cheadle
8th Rachel Halton
15th Georgina Harrison
22nd Barbara Corley & Mandy Sharpe
29th HARVEST
Thank you for agreeing to do Church flowers. Please don't spend too much money on flowers. Plenty of greenery and a few flowers can make a pretty display. The two vases near the altar and the large vase behind the lectern are all that are necessary. The vases on the side tables can be done if you have enough time and flowers. It is advisable to check the vases before buying flowers as flowers and foliage from the previous week can stay fairly fresh longer in the cool environment of the church.
The key for the church is at The Rectory and if you have any problems please contact Jane Eshelby on 01933 410959.
London Bridges Walk for the Children's Society
Get involved in The Children's Society's London Bridges Walk on Saturday, September 7th 2002 and help raise funds for the charity's work with disadvantaged children in the UK.
Celebrity walker Troy Titus-Adams (ex of East Enders) is calling on families, individuals and groups keen on walking to join her on the family-friendly trail. To sign up call The Children's Society on 0845 300 1128.
Adult walkers are asked to make a donation of £4 to register. All walkers are encouraged to raise as much sponsorship as possible.
The London Bridges Walk takes in eight of the capital's bridges, including the newly reopened Millennium Bridge. Walkers will set off from the Tate Modern at 10 am and can walk a five or ten mile circuit. Both routes are pushchair and wheelchair friendly.
Free refreshments and entertainment will be provided and walkers can picnic along the way.
Catherine Corkery (720348) is our Children's Society rep., so please ring her if you are interested.
Birthdays
We send birthday greetings to
Bethan Lee who will be 13 on September 16th
Daniel Bridgman who will be 12 on September 25th ….
And to anyone else with a birthday in September!
Village Wedding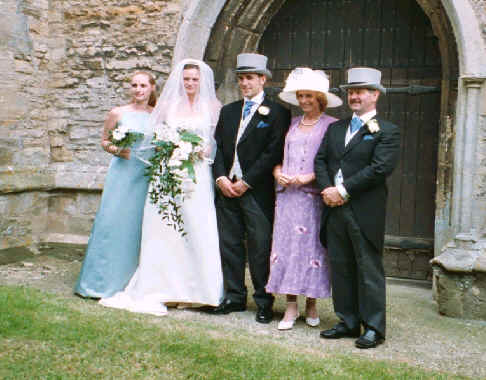 The wedding of Heather and Daniel O'Malley took place on
Saturday June 29th.
Pictured l to r: Elizabeth, Heather, Daniel and Jeanette and
Tony Roche.
September Diary

1st 11.00am Exemption Dog Show, Riverside Grounds,

Sharnbrook Mill.

7th 10.00am Children's Society London Bridges Walk.

10th 7.30pm W.I. Village Hall.

11th 10.30am Meeting Point, Catherine's, Manor Cottage,

Harrold.

14th 10.00am Sponsored Bike Ride.

14th 7.00pm Last Night of the Proms, Village Hall.

14th Farewell to Romanian Visitors BBQ at Liz and

Tim's, Watermead, Harrold.

21st 2.00pm W.I. Jumble Sale, Village Hall.

24th 10.30am Meeting Point, Jane Eshelby's, Newton House,

Avenue Rd., Rushden.

24th 7.00pm Care for Education' evening for school

Governors – see News from the Diocese.

24th 7.30pm "Jeffrey Bernard is Unwell" at 'The Shed'.

25th, 26th " " " "

28th 10.00am Church decorating for Harvest.

28th 7.00pm Jubilee Harvest Supper, Village Hall.

29th 10.00am Service of Harvest Thanksgiving, All Saints'.
Magazine Deadline

Please send all entries for the October magazine to Tricia Hudson (patriciahudson@kbnet.co.uk), Anne Turner or Catherine Corkery by September 12th at the latest. May we remind you that the editorial team exercises the right to edit, shorten or alter any items that are submitted. Also, the opinions expressed in the articles are those of the contributors and are not the responsibility of the editorial team.

electronic mail address


jh@ti.com

FAX number
01234-721004

Back to the Odell Home Page
---
Last revised: September 14, 2002.