CHURCH NEWS - May 2002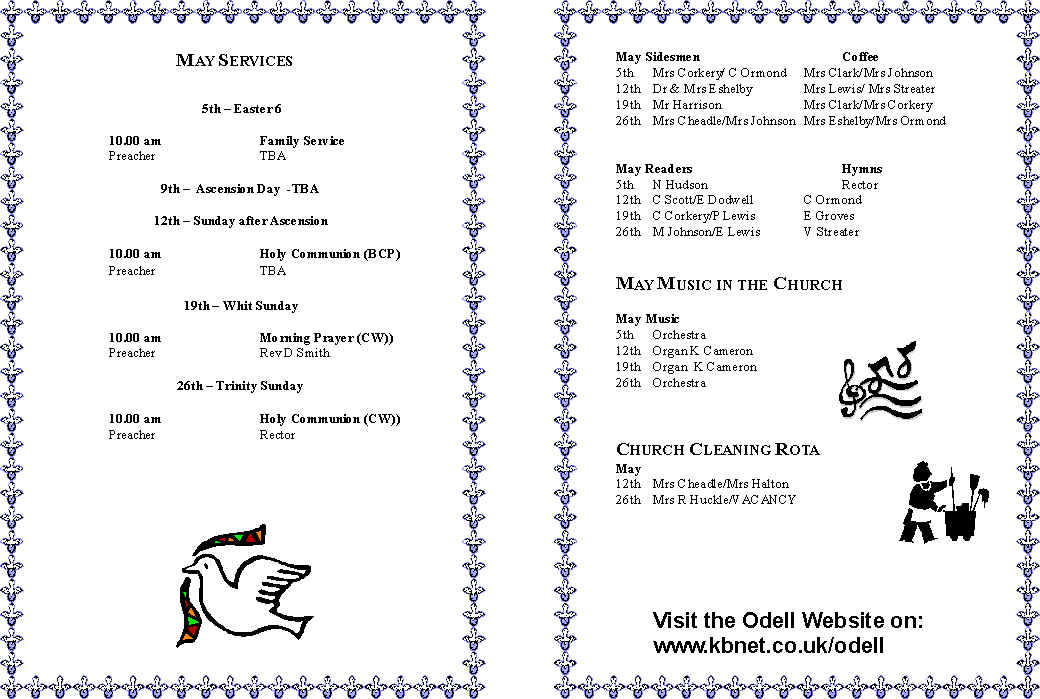 From the Rectory
May 2002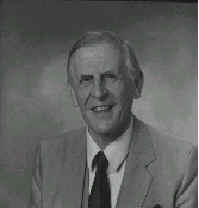 Dear Friends,

We have been looking at Christian doctrines through these last months with occasional excursions into other subjects that may have been of interest and were topical. Probably sufficient ink has been used concerning the Royal funeral and suffice to say, parodying Shakespeare, that if it 'were to be done, then it is well that it should be well done.' It was well done. We return to the major doctrines that are so little understood today.

There is an organic growth of doctrine. Once the Triune nature of God was accepted, the precise doctrine of the two natures of Christ followed, both divine and human. Then logically, what is the nature of man? All these doctrines came to be believed and held by Christians through the centuries.

These were not wild dreams of frenzied academics. They were the cold deliberation of theologians from the evidence of the Bible. It is therefore logical to realise that the next doctrine that needed to be thought through is how can any one be accepted by God, bearing in mind his holiness and man's sinfulness.

It is here that we come into contact with the evidence of St Paul in the New Testament and then trace this doctrine back into the Old Testament from the time of Abraham. Paul is the clearest writer on this subject which is called justification and it means to be declared righteous.

The normal view of how one is accepted by God and was certainly held by me before I understood the doctrine is that we do the best we can and then God will do the rest. That is entirely wrong. We are reckoned to be righteous only for the merits of Jesus Christ and this is received by faith.

It was Martin Luther who in the early part of the sixteenth century came to this understanding of this doctrine that had been held in principle by Christians through the centuries. Luther set this doctrine out and it was one of the reasons for the separation of the Protestant Churches of Europe.

Now while the Protestant Reformers differed among themselves over many details and were quick to express such differences, it is a remarkable fact of history that no two opinions existed among them on this doctrine. This doctrine had a remarkable effect. It put all men, rich or poor, noble or common, good or bad on the same footing of equality before God.

In case this might be thought an obscure doctrine of no relevance to the present, it needs to be remembered that it was this in particular that gave birth to the liberty and democracy of the Western world.

Sincerely in Christ David Streater

I am always happy to discuss any issues that may arise from what I have written.

The Prayer Chain

The Prayer Chain is there if you need prayer for yourself, for others or for members of your family. Please don't ask for prayer outside your own family without people's permission. To have a number of people pray just telephone David (720234) or Dennis (822992).

Church Opening

Many of you will know that because of the problems of vandalism and theft from Churches generally, the Parish Church is kept locked. Unless there is a specific reason for opening it earlier, it will be opened for Sunday and occasional services half an hour before the Service is due to start.

News from St. Albans Diocese

Financial Update

. St Albans diocese balanced the books in 2001, thanks to increased giving by parishes, good returns on investments and three 'sector ministry' posts being left vacant. Some £6.5 million was received from parishes towards the cost of ministry across the diocese. More information from the Diocesan Synod page on the diocesan website http://www.stalbans.anglican.org. Also see Q&As about Finance on the front page of the site.

Easter Pilgrimage. More than 1100 pilgrims from parishes across the diocese celebrated Christ's resurrection by taking part in the Pilgrimage to St Albans Abbey on Easter Monday. (See May 'See Round' for report).

Abbey on air. BBC1 broadcast 'Songs of Praise' from St Albans on Sunday April 21st at 5.15 pm. The hymn-singing for the programme was recorded at the Abbey on Easter Monday with a congregation of 1,000. Pam Rhodes interviewed local Christians on the theme of 'healing.'

Child protection. Guidelines concerning the new provisions for obtaining Child Protection clearance for paid staff and volunteers have recently been circulated to parishes. The notes, together with a flowchart, can be found from a link on the home page of the diocesan website, from the end of this week. For more information contact: ferial.etherington@virgin.net

Children's Work Training Session. Saturday May 18th, at Hoddesdon, Herts, Bible fun for the very young, with Vicki Howie. The session costs £3 and runs from 9.45 am to 12.45 pm. More details on 01707 332321, or e-mail childrenswork@stalbans.anglican.org

Golden Jubilee. Planning a service to mark The Queen's Golden Jubilee? Churches Together in Britain & Ireland has produced a resource booklet to help local groups organising ecumenical services. More information via http://www.ctbi.org.uk/jubilee or by telephoning CTBI on 020 7523 2132.

Renewal site. The new website of the St Albans Diocesan Renewal Group is http://www.stalbansdrg.contactbox.co.uk. See the site for full information about the Pentecost Praise celebration at St Albans Abbey on Saturday May 25th.

Changing Attitude. The next meeting of the 'Changing Attitude' St Albans diocesan supporters' group, will be held at St Augustine's Church Centre, Oakwood Avenue, Dunstable on Saturday May 25th from 10 am to 12 noon. More information from Michael Catty on 01438 350033 or michael@acatty.freeserve.co.uk. The group seeks to encourage the development of a 'more inclusive' church.

Communicate! The next Communications Skills training day, organised by the ecumenical Beds & Herts Churches Media Trust, will be held on Saturday June 29th in Luton. The course offers an introduction to working with the media, church magazines, websites and other forms of publicity. The course costs £10 including lunch. For more information and to book, contact Buzz Coster on buzzcoster@commskit.org.uk or phone 01923 775908.

Alpha Day. An Alpha Course regional training day is being held at the Church of Christ the Cornerstone, Milton Keynes, on Saturday June 29th. More information from Simon Dust on 01582 487327 or simondust@ntlworld.com

Tree Cathedral. This year's Whipsnade Tree Cathedral Service will be held on Sunday June 16th at 3 pm. Further information 01582 872406. More details about the Tree Cathedral at http://nationaltrust.org.uk/whipsnadetreecathedral

May See Round - The edition to be distributed shortly features coverage of the Easter Pilgrimage, churches mourn the Queen Mother, reflections on Japan from the Bishop of St Albans, child protection issues, and pages of parish news and events.

Daily Intercessions. The diocesan prayer diary for May will be made available shortly on the diocesan website http://www.stalbans.anglican.org

Calling all webmasters! Please let Peter Crumpler have details of your parish website, so a link can be built from the diocesan website. A link back to the diocesan site would be much appreciated. Please e-mail: pcrumpler@stalbans.anglican.org. Links to organisations including Christian Aid, Premier Radio, the Alpha Course and Churches Together in Britain & Ireland have recently been added. Other recommendations welcome. Peter Crumpler, Communications Officer

Website: http://www.stalbans.anglican.org

Meeting Point
May

Tuesday 7th 10.30am at Jane Eshelby's, Newton House, Avenue Rd., Rushden.

Wednesday 22nd 10.30am at Liz Dodwell's, Watermead, Harrold.

June

Tuesday 11th TBA

Wednesday 26th 10.30am at Catherine Corkery's, Manor Cottage, Harrold.
North Beds Healing Group - Wholeness and Healing
A reminder that the Basic Course on the Healing Ministry is to be held in Bedford, at St Andrew's Church, on Wednesday evenings May 1st, 8th and 15th, starting at 7.45pm. Run by the St Albans Diocesan Group for the Ministry of Healing, it will use their Forward in Healing course.
This six-part course on the Christian Ministry of Healing aims at broadening understanding, building confidence, and fostering the ability to listen and pray effectively. It is a practical course, involving worship, teaching and working in groups. Small groups of people who expect to work together will be particularly welcome, as will individuals who wish to prepare themselves to join an existing church ministry team. The fee for the whole course is £20, to include a copy of the revised edition of the booklet 'Forward in Healing'.
Please contact Carol Ormond (720409) for further details.
Volunteer needed to clean the church with Rose Huckle for the weekend of May 26th and each six weeks thereafter. Please contact Jill on Bedford 720261.
Our Giving in May is to The Church Army.
The Church Army is an International Evangelical Movement, based on Biblical teaching, with a mission to meet human needs, without discrimination, in the name of Christ. Their far-reaching work includes preaching the Gospel, working in hospitals, prisons, eventide homes, hostels and counselling, to name but a few examples. Wherever there is poverty or need, the Church Army is there. Please give generously to this movement which is very generous with its time and love.
Harrold 20th Pit Run and Golden Jubilee Fayre
April 20th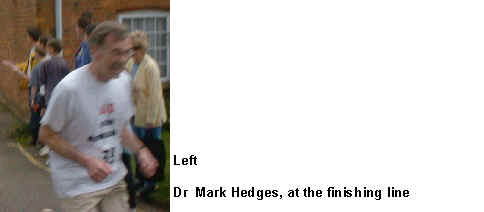 This year the sun shone and a lot of people turned out to watch the races, and spend a few happy hours enjoying all the sideshows and stalls on Harrold Green.
Highlights for us started with Bethan Lee running for Corner Club and winning the Girls' Middle School event, again (see page 26). Then Leslie Knowles was pushing the winner of the wheelchair event, closely followed by Eric Berridge who pushed into third place.
In the main race there were only three ladies admitting to being over 50 so I came first and Ann Hudson second as supervets. Thanks to everyone's generosity, Lucy, the dog, and I won the Rose Bowl for the maximum sponsorship, raising over £350, half of which will go to Aid for Romania. Thank you everyone! Liz Dodwell - see more pictures on the Village news page
Missionary News
Letter from Tim Lewis.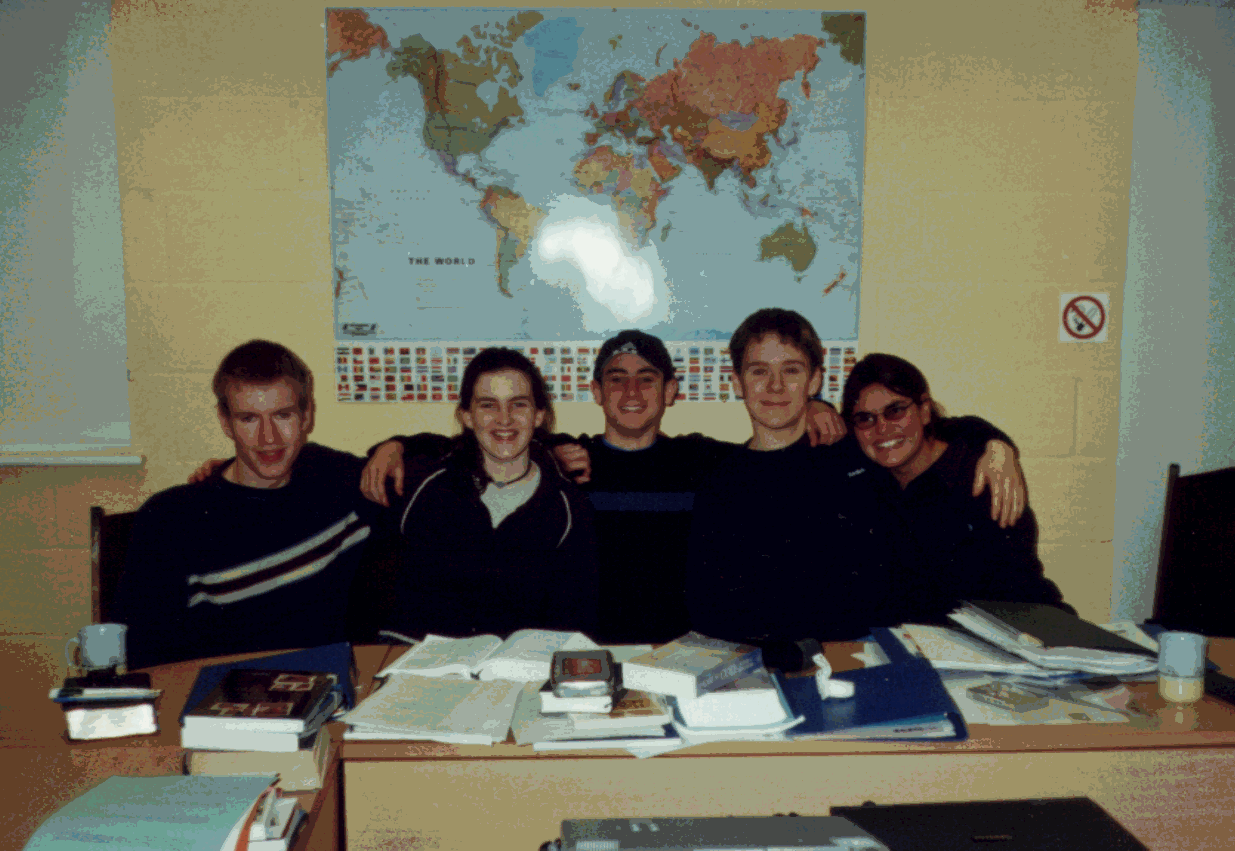 NIGER What will we be doing? Niger is the largest country in West Africa, and simultaneously the second poorest in the world. With a literacy rate of 17%, the needs are endless. Jonathan, Danny and I joined Giles and Carol Knight and family in Zinder (population 120 000), on the 24th March. We are teaching their three children (Ben, Sam and James) in the mornings – enabling Carol to continue further language study (enhancing her future ministry). The Knights run an Urban Youth Centre called 'La Lumiére'. We are helping with English lessons and basic number skills, for the children who live in and visit the centre. This involves us learning the local tribal language, Hausa.
We are here in the three hottest months of the year (45°C in the shade), therefore we are somewhat worried about getting up to lead prayer and Bible study at 6.30 am – in French! However I am looking forward to the challenge, and am sure that God will bring us through it. Tim Lewis
Richard Hudson's Visit.
Richard and Lorraine Hudson are on home leave in England awaiting the arrival of a brother or sister for 2 year old Eleanor. Richard hopes to be in Odell on Saturday, 11th May (baby permitting!). It is a bit too close to the expected date of the baby's arrival for Lorraine to join him. They send greetings to their friends in Odell and Pavenham and look forward to meeting them again.
Do come and hear Richard talk about their life in Nepal, at Abigail House between 7.30 and 9.30 pm 11th May. Everyone welcome.
Jenny Ottewell Visit
In April Jenny Ottewell returned to England to start a new life. She has enjoyed a well-earned holiday in New Zealand, a transition between two very different life styles. For twenty five years she has been very much a part of Ugandan life during which time friends in Pavenham and Odell have supported her prayerfully and financially through CMS.
Jenny has been invited to visit us in June. A bring and share supper is planned for Wednesday June 19th at Hobbs Green when Jenny will share with us some of the memories and experiences of her work as our link missionary in the Lord's service in Uganda. Please contact Ann Hudson (720587) if you wish to come to the bring and share supper at Hobbs Green.
Looking to Jesus
"Every branch in Me that…beareth fruit, He purgeth it that it may bring forth more fruit."
Don't frame it – live it!
God doesn't look at you through the eyes of an observer, He sees you through the eyes of an investor. He's looking for fruit and He'll cut back the 'dead wood,' all our resources will go toward producing wood instead of fruit. The difference between God and you is that He knows what needs to be pruned from your life – you don't. Carefully read these words:
You may bring to your office and put in a frame, a motto as fine as its print;
But if you're dishonest while playing the game, that motto won't make you a saint.
Put up lots of placards and cover your wall, but here is a word I announce:
It isn't the motto that hangs on the wall, it's the motto you live that counts.
If the motto says 'Smile' and you carry a frown, 'do it now' and you linger and wait;
If the motto says, 'Help' and you trample men down,
If the motto says 'love' and you hate,
You'll stand before God and be judged for your deeds,
You'll know as the evidence mounts
It wasn't the motto you hung on your wall, but the motto you lived that counts.
Jesus said, "…For the tree is known and recognised and judged by its fruit". (Matt.12.33)
What kind of fruit are you bearing today?
Taken from "Word for Today" with kind permission of United Christian Broadcasters Tel:(01782 642000)
Amongst ourselves:
As the days are lengthening and the beauty of nature is all around us we thank and praise God for his goodness to us. The flowers are all in bloom, birds are singing and building their nests for their young, a meticulous piece of work, done with such enthusiasm and loving care. How blessed we are to be able to appreciate this wonderful part of God's world. We have a really special corner of it. I'm sure you will agree with me.
Thank you Lord for our sight, hearing and all other gifts that you so freely give to us.
We also praise and thank you for our families and our friends and name before you the sick. Particularly we continue to pray for Jen Cuddeford, John Hancock, Phyllis Ames, Hilda Wright, Edie Surridge, and especially Florrie Shellard and Ken Turner, both of whom had just been admitted to hospital at the time of going to press, and all those who are lonely, afraid, and need a special touch of your healing hand. Father God, you are so good to us, and we are truly thankful for your love and care to us all. Help us all to help others, as the song says:
"If I can help somebody as I pass along – then my living shall not be in vain."
With you we can achieve all things, for you O God are our strength and our shelter in times of trouble. We praise you and pray through Jesus Christ our Saviour and Lord. Amen.
"Breathe on me, breath of God
Fill me with life anew,
That I may love what thou dost love
And do what thou wouldst do".
Odell Village Golden Jubilee Fete June 8th 2002
Hopefully everyone has kept the date free for our special Golden Jubilee Village Fete and Dog Show. Don't forget to invite all your family and friends for the day.
The site is once again the field at the end of Horsefair Lane. Residents have been warned!
The theme, of course, will be all things ROYAL
Family Dog Show Pony Rides Cash Raffle
Children's Collage Competition Tombola
Fire Brigade Children's Sports Local Band
Lucky Programme Draw Children's Stalls Ice Creams
Make Your Own Crown and Join the Parade Refreshments
Many Sideshows
Gifts White Elephant Bottle Stall
Books Cakes Plants Produce
FAMILY DOG SHOW
This year's special new event, organised by Roma Garon.
Classes will be:
Puppy under 12 months
Country Sporting dog or bitch
Best rescue dog or bitch
Dog or bitch with the most appealing eyes
Dog or bitch most like its owner
Dog or bitch in best condition
Veteran dog or bitch over 7 years
Children's handling, 14 years and under
And finally - Best In Show
So, start brushing and beautifying your dogs and yourselves for your debut in the ring! Special arrangements have been made to park cars containing dogs for the show in the field at the Country Park, but only if they arrive before the Fete opens at 2pm.
Once again, there will be all the usual Fun and Games so please start collecting, cooking, and offer your services to Jill Cheadle (720261) and Jane Eshelby (01933 410959) if you aren't already on their lists. Some vital helpers can't be here this year so we desperately need new volunteers.
With our minds thinking of the Queen and Royal Family, there will be a children's collage competition, and the chance to make and decorate your own crown and then join the Grand Parade to find out who is the winner.
Festival Weekend Church Service 10.30am.
On Sunday June 9th at 10.30am (NB later than the usual service) there will be the usual Church Service in the tent on site in Horsefair Lane. All are very welcome.
This will be followed by a Thank You lunch for residents of Horsefair Lane and all helpers. Bring your own plates, cutlery, glasses and drink.
It would greatly help with the organisation if you can please try to let Mandy Sharpe or Jill Cheadle know that you are coming.
Working Party Saturday May 11th 10am There will be a Working Party with a bring and share BBQ lunch at the Wheelers. Please come along to help prepare posters and sideshows. Wear scruffy clothes and bring paint brushes and any pots of bright coloured paints.
May Diary
1st & 8th 7.45pm Basic Course on the Healing Ministry, St. Andrew's Church, Bedford.
7th 10.30am Meeting Point, Jane Eshelby's.
11th 10.00am Fete working party and BBQ Linden House,
11th 3.30pmAbigail House:For young people: 'A Taste of Nepal', .
7.30pm Richard Hudson talks about Nepal, Abigail House.
14th 7.30pm W.I. Village Hall.
15th 7.45pm Basic Course in the Healing Ministry, St. Andrew's Church, Bedford.
18th 9.45 – 12.45pm. Bible Fun for the Very Young, Hoddesdon, Herts,
22nd 10.30am Meeting Point, Liz Dodwell's.
25th Pentecost Praise Celebration, St. Albans Abbey.
25th 10 – 12 noon St. Albans Diocesan Supporters Group meeting, Dunstable.
June Diary

3rd Queen's Jubilee Event

8th 2.00pm Village Fete

9th 10.30am Service of Praise held in tent, Horsefair Lane.

9th 12 – 3pm Skip in village.

19th Jenny Ottewell at Hobbs Green. Bring & Share Supper.

Magazine Deadline

Please send all entries for the June magazine to Tricia Hudson (patriciahudson@kbnet.co.uk), Anne Turner or Catherine Corkery by May 12th at the latest. May we remind you that the editorial team exercises the right to edit, shorten or alter any items that are submitted. Also, the opinions expressed in the articles are those of the contributors and are not the responsibility of the editorial team.

electronic mail address


jh@ti.com

FAX number
01234-721004

Back to the Odell Home Page
---
Last revised: April 28, 2002.