CHURCH NEWS - July/August 2002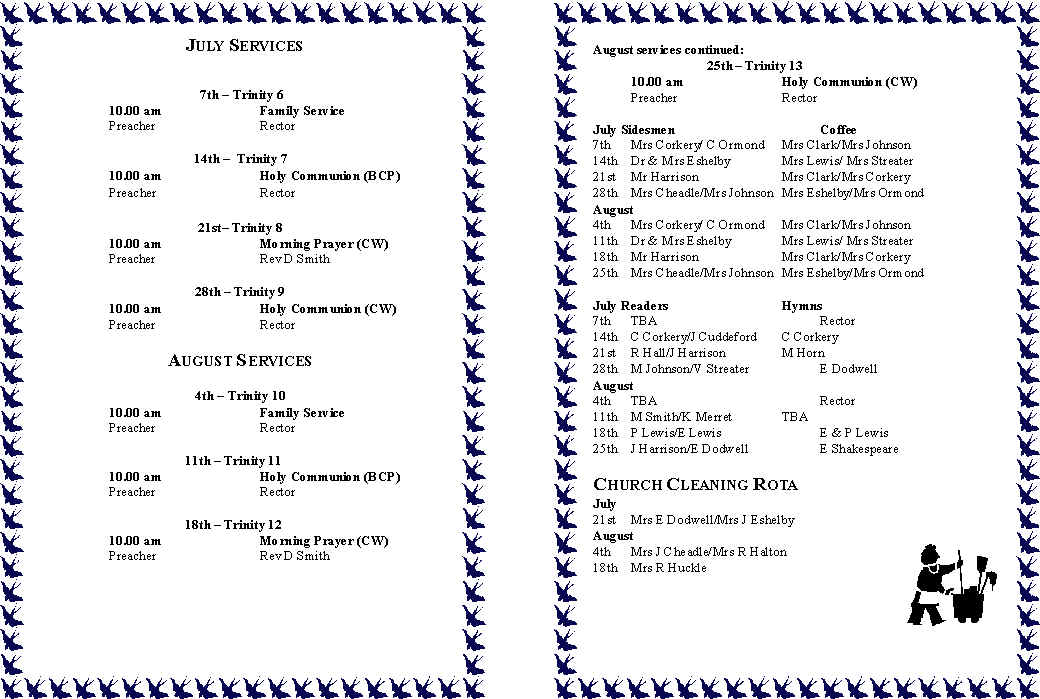 From the Rectory
July 2002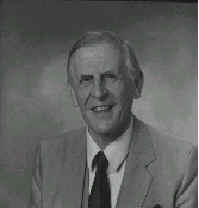 Dear Friends,

I should like to begin this letter by thanking all those who prayed, sent cards and gifts and very especially to all those who helped with the services and administration while I was in hospital. The surgery was successful, and St Luke's a very comfortable and efficient hospital to be in. The staff, doctors, nurses and domestic staff were kindness itself. Although I am happy to be a hospital visitor, I am not a particularly good patient. I am now recovering and hope to be gradually getting back to normal. That means a letter to be written for the magazine!

We have been looking at some critical Christian truths over these last months. The question to be asked is whether it is true. In other words by what authority does one believe? The fact is that the Christian faith is not simply a general belief in some sort of deity. Christians believe in a God who is there and they know he is there because he has spoken through prophets and apostles and finally through his Son the Lord Jesus Christ.

This means that the Scriptures of the Old Testament given to the Jewish prophets are a preparation for the coming of the Son of God into the world. The witness of the New Testament is testimony of the apostles to the person and teaching of Christ. Many people have a general idea about Christianity but are very hazy on the facts. I know for I was one of them until I began to search the Scriptures.

Generally, I believed that the Bible was a flawed document but when I came to examine the facts historically I came in for a great surprise. The Scriptures are so accurate in their predictions that I literally came to the conclusion that as they are so historically accurate in a way that no other ancient writings approach, the balance of probability is that they are accurate spiritually. That was initially a comforting thought but as one considered the teaching it became uncomfortable. If we take the Sermon on the Mount - the teachings of Jesus - it is clear that no one can fully meet such requirements but those are the objective standards.

The question is therefore how does one appropriate the Christian faith subjectively and I mean by that personally. It is here that there is a

joining of the objective and the subjective. By that I mean this is where faith comes in and faith is trust, not just in general principles but in trusting the promises of God in the person and work of Jesus Christ that are set out in the Old and New Testaments. This answered the question how does one meet the requirements. The answer was a major surprise. We cannot, but Christ can and has done so. He was totally obedient to the law of God and in his death on the Cross he has taken our place in God's judgment when we trust in him. His resurrection confirms that God accepts his work and when we trust him we are accepted in him.

Christianity is not just a general belief in being good and doing good but believing in God who is there and who has spoken through apostles and prophets and finally through his Son. There is the objective standard and made personal to us when we appropriate him by trusting in his promises. Added to this as we believe is the inner witness of the Holy Spirit who guides us into the truths of God's Word. On that basis we know whom we have believed and are fully persuaded as to the truth of the Christian faith.

With all good wishes, Sincerely in Christ David Streater

I am always ready to discuss any matters arising from what I have written.

The Prayer Chain

The Prayer Chain is there if you need prayer for yourself, for others or for members of your family. Please don't ask for prayer outside your own family without people's permission. To have a number of people pray just telephone David (720234) or Dennis (822992).

Anthony Wells

Anthony Wells, vicar of Odell in the 1980s, who is currently Chaplain at St Michael's, Paris which he'll continue with, has just been appointed Archdeacon of France for the Anglican Church. We all wish him well in this new assignment.

News from St. Albans Diocese

A farewell service

for the Rt. Revd John Richardson, Bishop of Bedford, will be held at St Paul's Church, St Paul's Square, Bedford on Saturday July 13th at 5 pm. All are welcome. The Bishop of St Albans, the Rt. Revd Christopher Herbert, will give the address. Bishop John retires this summer after eight years as a bishop and 39 years as a priest. More information on this - and an award made to Bishop John for being 'media friendly' - on the diocesan website http://www.stalbans.anglican.org

'Growing together in Christ,' a one-year course enabling adult Christians to learn more about their faith is proving popular in parishes. Several courses are now being run, with more planned in coming months. The course runs over three terms of eight sessions, each lasting up to two hours. More information from Local Ministry Officer Canon Robin Brown on rbrown@stalbans.anglican.org or 01727 830802.

Seeking direction? A diocesan course for people asking the question 'What does God want me to be doing?' is being held this autumn. 'Seeking the Way' begins on Saturday October 12th and includes two Saturdays - October 12th and October 26th - and four Wednesday evenings. The course, led by experienced vocational adviser Claire Pedrick, will be held at the Diocesan Education Centre, Welwyn Garden City. Leaflets are being issued to churches, or more information can be obtained from Jenni Blaxland on 01727 854532 or jblaxland@stalbans.anglican.org

Nine men and seven women will be ordained - eight as deacons, and eight as priests - at the Petertide Ordination service, being held at St Albans Abbey on Sunday June 30th.

A service of thanksgiving for the ministry of women will be held on Sunday November 17th at 6.30 pm at St Albans Abbey, to mark the 10th anniversary of the General Synod vote to admit women to the priesthood. More information from Canon Patience Purchas on addo@stalbans.anglican.org

Parenting courses are to be run in the diocese by the Mothers' Union. Training for course facilitators is being held over three Saturdays in September at London Colney, near St Albans. More information from Eileen Smith on 01767 260583.

The Schools Newsletter distributed to all church schools in the diocese is now available to anyone interested in receiving a copy. The newsletter is published approximately three times a year. The annual subscription is £3. More information from Eileen Bigg on 01707 386020 or education@stalbans.anglican.org

Education courses. Three one-day religious education courses have been organised by the Diocesan Education Service. They are: Collective Worship on Tuesday September 24th; Creative Arts across the Curriculum, on Wednesday September 25th; and Sikh Awareness on Thursday October 10th. The days cost £40 for teachers from church schools, and £45 from other schools. For further information, and booking, contact Eileen Shaw on 01707 386011 or education@stalbans.anglican.org

Seeround's July edition features a farewell Bishop's Letter from Bishop John Richardson; how local churches responded to the Potters Bar rail crash; a report of the diocesan pilgrimage to Turkey; an interview with a mother talking about how giving birth to a still-born daughter had had a profound effect on her life and faith and news of numerous courses and parish events.

Peter Crumpler, Communications Officer Diocese of St. Albans.

Meeting Point

July
Tuesday 9th 10.30am at Jill Cheadle's, Rectory Farm, Odell.
North Beds Healing Group - Wholeness and Healing
Further enquiries to Liz Dodwell (720640) or Carol Ormond (720409)
Our Giving in July is to CMS (Central Funds).
Proclaiming the gospel involves more than you think!

Ask anyone what is the first thing they think of when they hear the words 'proclaiming the gospel', and they will probably imagine a person standing on a street corner preaching loudly with a Bible in hand. Depending on your point of view, it is either a compelling or an amusing image. But the truth is that proclaiming the gospel involves a lot more. 'Gospel' language in Paul's letters covers a whole range of activities. People need to hear the gospel to become Christians at first, but they also need to hold on firmly to the gospel to grow in their faith and be part of congregations which are ready for the return of Christ.
CMS is committed to proclaiming the gospel through a wide range of ministries. Their fundamental motivation for proclaiming the gospel

is to bring glory to God. It is the divine intention that on the final day 'at the name of Jesus every knee shall bow…and every tongue confess that Jesus Christ is Lord, to the glory of God the Father'.

Our Giving in August is to the Tiger Kloof School.

The Tiger Kloof School provides a Christian education and plays an important role in the much needed process of social integration in South Africa.

Missionary News

Jenny Ottewell Visit June 19th Hobbs Green.

Jenny enjoyed the time she spent with old friends on June 19th in the lovely setting of the barn and garden at Hobb's Green. The evening was enhanced by the perfect weather and it was with some reluctance that everyone went indoors to do justice to the delicious meal. Stories from different parts of Africa and memories of friends from abroad were exchanged, then we watched a video showing the work Jenny has been involved in over the last few years, particularly the progress of the Christian Resource Centre at Namirembe, from the provision of a water supply with the money raised by Odell and Pavenham Pathfinders and Explorers to its completion. It is now an impressive building with hostel accommodation for visiting students, lecture rooms and library - a valuable centre for promoting the teaching materials Jenny has developed over the years. We thank her for her faithful service to the work of the church in Uganda and look forward to seeing more of her now she is living not far away.

Looking to Jesus

"Moab is my washbasin.."

The Moabites were Israel's troublesome neighbours who lived next door. When God's people got 'dirty', He used the Moabites to clean them up. You say, "What does this have to do with me?" A lot!

A pastor I know prayed earnestly for his son who was on drugs. This man had a very successful church and was in great demand as a speaker all across the nation. But having an 'addict' for a son was an embarrassment to him. So every day he prayed for God to change his boy. One day, in prayer God told him He would not only change his boy, but through this situation He would radically change some things in him, too: things like pride, insecurity and self-centredness. He was more concerned with how his son's behaviour affected his career than in what it was doing to his own life and future. David cried, "How can I ever know what sins are lurking in my heart? Cleanse me from these hidden faults." (Psalm 19:12)

Who is your wash pot? Who brings you to your knees? Who stretches your faith? Who develops in you a new level of compassion? Be encouraged today, for God is working on both ends of the line. Before He's through, you'll rejoice not only in what God's done for them, but even more because of what He's done in you. That's God's way!!

Taken from "Word for Today" with kind permission of United Christian Broadcasters. Tel: 01782.642000

Amongst ourselves:

Thanks be to God

What a superb day the fete turned out to be despite the rain beforehand. So many people seemed to be taking part in the dog show and various sideshows. It was a pleasure to see so many present. Friends of ours from the 58th London Boys Brigade, who forty years ago camped in the 'scout field', came from Essex, Hereford, and London, and Kenny from Hawes, North Yorks, to somewhere they hold so dear to their hearts. Odell is such a special place to so many, near and far, and to the 'BB' this has proved itself over and over again during the years. Love and friendship, peace and beauty are some of the things people love about Odell. Even if we 'yocals' think that it has changed somewhat, these visitors still see it as the 'olde Odell' - and in these times that surely is something we can be so proud of.

We pray: Father God we thank you for all that you give to us and our families and our friends. As the holiday season approaches we ask you to bless all the children of our village, all those who are sick, the lonely, the downhearted and those who mourn. Help us to be a friend to all people, to laugh with those who are happy and to cry with those who are sad. Show us where we are needed, where we can say a word or two to make someone's day extra special. Help us to smile and to give someone else one of our smiles - to show we care! We ask your forgiveness Lord when we grumble for there is always someone in a more needy state.

We see the beauty of the fields and flowers all around, and hear the birds singing. Oh how blessed we are to have our sight and our hearing. Bless those who cannot appreciate the sights and sounds of your beautiful world.

We pray for peace in all the troubled countries, and ask you to bless and protect those who work for peace - not afraid to give others a better chance of life, and not counting the cost.

Today in the news there is so much sadness - we pray against drugs, violence, alcohol abuse and all those things that are tearing the youngsters of our country apart.

Father we place this prayer before you in the name of our Saviour, Jesus Christ. Amen

Goodbye

We sadly say Goodbye to Roger and Avril Saunders who have moved to Kempston to be nearer to their family. Avril will be kindly remembered for the many beautiful flower arrangements that made our Altar and other places in the church look so beautiful and we look forward and trust that we shall occasionally see her back with us in the congregation.

Welcome –

We welcome and say Hello to Steve, Sue, Eleanor and Lottie Robinson who have moved into 32 Horsefair Lane and we welcome them into All Saints as part or our congregation.

Our love and prayers are with both families for their happiness in their new homes.
Anne Turner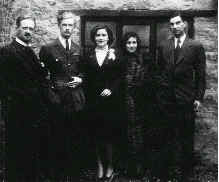 Who is the Person in the Photograph?
I have received a letter from Temperance ( nee Alston) in reply as follows:
Queensland, Australia.
Dear Anne, A friend in Bedford sends me all the Odell Church magazines and I enjoy them so much, read them from end to end, including the advertisements, so am kept well up to date with what is happening in Odell.
Imagine my surprise when on page 23 I saw a picture of a group of five people, three of whom I knew very well. And the caption was: "can you help solve this mystery". It states that the picture was taken in 1940 and shows Flt Off. Newton, nephew of Pat Warren, who crashed his plane in Odell. Who are the other people, etc.?
This is a wartime wedding photo; the bride was Valerie Harper who lived in Carlton, where the wedding took place. The young airman in the picture, the bridegroom was not Flt. Off. Newton, but was a Pilot Officer and I am almost sure his name was Peter Walker. I only met him a few times before the wedding, but I had known Valerie for years. The other girl is Valerie's cousin Peggy Clarke, who also lived in Carlton, and the young man on the right is Jack Harper,Valerie's brother. I think the other man on the left of the picture must be the clergyman - he appears to be wearing a dog collar! My mother and I were there!!
Valerie was a beautiful and charming girl; she and Peter had a short honeymoon, and then Peter was sent to Sth. Africa to help to train young South African pilots for the RAF.
Not very long after, he and a student pilot crashed, and they were killed. So Valerie was a widow not long after her marriage. After the war, I cannot remember the exact date she married Pat Warren, who we all knew was devoted to her, but he was very much older, at least by twenty years.
My brother Crewe and I attended this wedding, it was in Harrold, the reception held in the lovely garden of the house Pat had inherited from his Aunt, Mrs Somerville. I think it was called Harrold House. Pat Warren was a very nice man, and I believe he and Valerie were very happy, and had one child, a son. I lost touch with them when I emigrated to Australia in 1960 - except for Peggy, we corresponded for many years, and then silence, and I have been unable to find out what happened to her. I met Flt Off. Newton only a few times, I think his name was Terry, and he came over from Australia to join the RAF when war began. He was one of Valerie's most devoted admirers, she had many, she was a lovely girl but evidently Flt.Off. Newton was not the one for her.
It was such a tragedy when his plane crashed and he was killed, we were all in shock.
It was wonderful to see you in the summer of 1999. I would have loved to have stayed in Odell longer, and to have tried to find other people who may have remembered me, but I was not at all well, and without a car was finding it difficult to get about. I came to Bedford last year, but made the mistake of arriving in February - it was so cold! I would love one more visit, but fear I am too feeble. Old age is a nuisance, as my father used to say!!
I remember your father, and Reggie and Dorothy and their parents so well.
With best wishes from Temperance.
NB: Temperance and her family lived in the Castle where she had a very happy time and has, as you see, never forgotten Odell.
Anne Turner
A Special 'Thank You'.
Dear Neighbours and Friends,
I would like to say a big 'thank you' for the lovely flowers you sent for John's funeral, and for the many cards and messages sent to me. Everyone has been so kind and friendly to us since we moved to Odell barely two years ago. I cannot believe how lucky I am to be living in such a lovely village amongst such caring people.
I would especially like to thank Roma for arranging the flowers, and Mandy Sharpe and Ann Hudson for coming to John's 'Service of Thanksgiving' at Elstow Abbey. I know John would have been very appreciative, as I was.
Thank you once again for all your help and support which has helped me to get through this difficult time.
Betty Dodkins
Flower Rota
More volunteers are needed to help with the church flowers. The two vases near the altar and the large vase behind the lectern are all that are necessary. The vases on the side tables can be done if you have enough time and flowers. It is advisable to check the vases before buying flowers as flowers and foliage from the previous week may still be fresh in the cool church environment. If you can spare the energy and time, even once a year, please contact Jane Eshelby on 01933 410959.
London Bridges Walk for the Children's Society
Get involved in The Children's Society's London Bridges Walk on Saturday, September 7th 2002 and help raise funds for the charity's work with disadvantaged children in the UK.
Celebrity walker Troy Titus-Adams (ex of East Enders) is calling on families, individuals and groups keen on walking to join her on the family-friendly trail.
Adult walkers are asked to make a donation of £4 to register. All walkers are encouraged to raise as much sponsorship as possible.
The London Bridges Walk takes in eight of the capital's bridges, including the newly reopened Millennium Bridge. Walkers will set off from the Tate Modern at 10 am and can walk a five or ten mile circuit. Both routes are pushchair and wheelchair friendly.
Free refreshments and entertainment will be provided and walkers can picnic along the way.
Catherine Corkery (720348) is our Children's Society rep., so please ring her if you are interested.
Odell Village Golden Jubilee Fete June 8th 2002
See Village news and seperate picture page
July Diary
9th Meeting Point, 10.30 am, Jill Cheadle's.
9th W.I. Meeting, 7.30 pm, Odell Village Hall.
10th PCC Meeting
20th Garden Party, 2.30 pm, in aid of Corner Club and Sparkle Club, Linden House, Odell.

31st Morris Dancers on Odell Village Green, 7.30 pm. – TBC
August Diary

13th W.I. Barbecue, Rachel Halton's, at 7.00 pm.

Magazine Deadline

Please send all entries for the September magazine to Tricia Hudson (patriciahudson@kbnet.co.uk), Anne Turner or Catherine Corkery by August 12th at the latest. May we remind you that the editorial team exercises the right to edit, shorten or alter any items that are submitted. Also, the opinions expressed in the articles are those of the contributors and are not the responsibility of the editorial team.

electronic mail address


jh@ti.com

FAX number
01234-721004

Back to the Odell Home Page
---
Last revised: July 04, 2002.