CHURCH NEWS - December 2002/ January 2003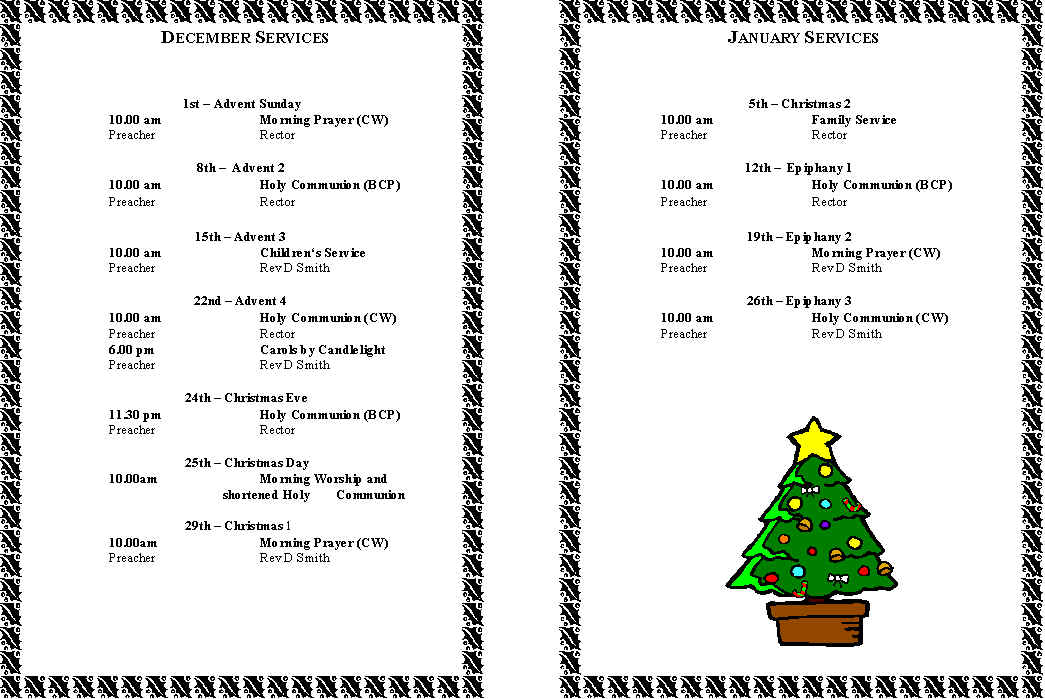 From the Rectory
December 2002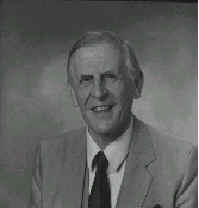 Dear Friends,
I was encouraged by the number of comments that came back to me concerning last month's article. Most were favourable and this indicates that many people are taking seriously the appointment of the new Archbishop. The underlying question that the appointment raises is can God speak?
The question is framed in this way as it appears from the Archbishop elect's writings that he does not believe so. In one place, he likens God's ability to speak to that of a newly born child whose existence raises questions but gives no answers; in another to the struugles of a nine year old spastic child to make himself understood. While this may appear to be bold and clever in seeking to explain the silences of God, it nevertheless verges on the shocking, not to say blasphemous!
There are times in the life of a believer when it appears that God does not answer prayer. That may be so for a number of reasons. It may be that our sin and disobedience cause God to restrain from answering our prayers. Then we need to repent and put right those things that are wrong. It may be that we go through a period of testing, remembering that we walk by faith and not by sight. However, it is not so much the temporary silences of God but his eternal silence that is the problem.
The opening declaration of the Apostles' Creed states, 'I believe in God the Father Almighty, maker of heaven and earth'. In other words if God is the Maker of all things then that includes the ability to reason and both to speak and hear. Man can do those things so essentially this makes man greater than God and turns the teaching of creation on its head. How then does God speak?
The Writer to the Hebrews deals with this in the opening verses of the Epistle. He writes, "In the past God spoke to our forefathers through the prophets at many times and in various ways, but in these last days he has spoken to us by his Son, whom he appointed heir of all things and through whom he made the universe".
In that short statement, the Writer affirms that God speaks through the agency of the prophets and then through the apostles as witnesses to Jesus and his life, death and resurrection. The writings of the prophets and apostles are recorded for us in the pages of the Bible. If we wish to hear the voice of God then it is not our imaginations, dreams or visions, not even the ability of our own mind but to the words of Scripture that we turn.
Can we understand the Scriptures? Again the answer is yes. The Holy Spirit is promised to lead us into all truth and the Holy Spirit comes to us as we believe in Jesus Christ who died for our sins and rose again for our justification. Are the Scriptures trustworthy? Again the answer is yes. The statement by the Archbishop that it is wrong to be convinced of the truth of God's Word because it leads to bigotry is quite wrong. Bigotry is one thing, belief is quite another. Of course, there have always been religious bigots who have done a great deal of damage and bigotry is not restricted to Christianity. All the world faiths have them and they are particularly virulent at the moment. For the Christian,
1 Corinthians 13 and Romans 14 are an excellent antidote to bigotry.
What is the attitude of the Church of England to the Bible? Those who hold office must affirm and declare their allegiance to the Scriptures as part of their faith. The Church of England as a national Church was founded on the translation of the Bible into English from the original languages by William Tyndale and others in the sixteenth century. It remains a foundation stone today.
Most of all, it is the attitude of the Lord Jesus that should count for us. There are many sayings of Jesus about the Scriptures. He said, they cannot be broken and search the Scriptures for they speak of me. We cannot deny the Scriptures without denying Christ. If we deny Christ we are no longer Christian.
The hope of the Christian for the land and our people is that as the Bible is taught that the secularisation of our land will depart and that as a nation we return to being the people of the Book.
Sincerely, David Streater

I am always ready to discuss any point arising from my letters.
The Prayer Chain

The Prayer Chain is there if you need prayer for yourself, for others or for members of your family. Please don't ask for prayer outside your own family without people's permission. To have a number of people pray just telephone David (720234) or Dennis (822992).

Church Opening

Many of you will know that because of the problems of vandalism and theft from Churches generally, the Parish Church is kept locked. Unless there is a specific reason for opening it earlier, it will be opened for Sunday and occasional services half an hour before the Service is due to start.

Confirmation

If there is anyone considering confirmation please would they contact David.

News from St. Albans Diocese

Anglican Methodist Debate

.

An important consultation process is underway to gain views across the diocese on proposals to bring closer together the Church of England and the Methodist Church. It follows overwhelming support at Diocesan Synod for taking forward the proposed national 'Anglican-Methodist Covenant' - a mutual affirmation of the life and ministry of each other's churches. Consultation meetings will be held in each of the diocese's three Archdeaconry areas - St Albans, Hertford and Bedford - in February or March, and Deanery Synods are being encouraged to debate the issue.

Regional Conference. More than 140 delegates from across the East of England's political and business spectrum discussed the future of the region, at a conference chaired by the Bishop of St Albans, the Rt Revd Christopher Herbert. Bishop Christopher said: "It is important that all views are expressed and considered on this issue." Bishop Christopher, who chairs the ecumenical East of England Churches' Network, was invited by politicians from a range of parties to chair the event, held in Cambridge in October. It follows the publication of a White Paper on regional governance.

Schools Sparkle. Around 700 pupils from 35 church schools took part in a dazzling Festival at St Albans Cathedral to celebrate the 125th anniversary of the diocese's founding. The Festival - held on All Saints' Day, November 1st - focused on the theme of Light, and featured a new work by composer Chris Hazell. An art exhibition on the theme 'Light throughout the Bible' accompanied the event.

Welcomes. The installation of the Revd Helen Cunliffe as Archdeacon of St Albans will take place at Evensong in St Albans Cathedral on Saturday January 11th at 4 pm. The commissioning and welcoming service for the new Bishop of Bedford, the Ven. Richard Inwood, will be on Saturday March 8th 2003 at St Paul's Bedford, at

5 pm. His consecration service is at Southwark Cathedral the previous day.

Directory. The 2003 edition of the St Albans Diocesan Directory is now published. It provides a comprehensive listing of all aspects of the diocese. The new edition also includes parish websites and e-mail addresses. The cost is £6, including postage and packing, or £5 per copy for three or more copies ordered together. To purchase, send a cheque payable to 'St Albans Diocesan Board of Finance' to Diocesan Directory, St Albans Diocesan Office, Holywell Lodge, 41 Holywell Hill, St Albans, Herts, AL1 1HE.

Berlin Party. A group is being assembled to go to the Kirchentag - or major church assembly - being held in Berlin from May 28th to June 1st 2003. The Kirchentag, held every other year in a German city, attracts around 120,000 people - many from overseas and half under the age of 26. It provides a lively forum for examining wide-ranging theological, social and political issues. An introductory meeting is planned for January 16th in St Albans.

More information from Adrian Hinksman or Laura Hart on 01727 830802 or ahinksman@stalbans.anglican.org

Bushmead. The congregation at Christchurch, Bushmead, Luton hope to be in their new church for Christmas. Work began in June, and the church - to serve more than 1,000 new homes in the area - is fast taking shape. More than 60 churches have supported the project with financial gifts. The Bishop of St Albans, the Rt Revd Christopher Herbert, is due to open the new church building on Friday January 24th.

Learning Together. Courses on The Psalms, The Old Testament, church history, the 'Enneagram', leading intercessions, and Science and Religion feature in the Spring programme from Leaning Together in Welwyn and Hatfield. Learning Together provides ecumenical Christian adult education for all in reach of the Welwyn-Hatfield area. Courses are run both as one-off days and over a series of weeks, with a core course running over three years. More details from Administrator, John Barnard on 01707-263602 or jp_barnard@hotmail.com

Worship Day. A day on 'Music for Common Worship' for clergy, choir leaders, singers and congregation members is being held at Great St Mary's Church, Sawbridgeworth, Herts, on Saturday February 1st, from 10 am to 4 pm. It will be led by Geoffrey Weaver, RSCM Senior Adviser. The cost is £5. More information from Mrs P Larby on 01279 812468.

SeeRound. In the December issue of the diocese's magazine: The Bishop of St Albans finds angels at a Luton children's hospice; a Brazilian 'missionary' arrives in Hemel Hempstead; a Bedfordshire village church is described as "the liveliest ever visited"; three new deacons talk about their call to ordination; and a Reader explains why she has opened her home as a sacred place for the past six years. Plus more about the e-Round items and lots of parish news and events.

Peter Crumpler,
Communications Officer, Diocese of St. Albans.
Meeting Point
December

Tuesday 3rd 10.30am at Eileen Shakespeare's, Corner House, Wymington Park, Rushden.

Meeting Point will have a break for Christmas and meet again in January. Venue to be arranged.

Senior Citizens Lunches in Village Hall

.

The "Odell Lunch Club" for senior citizens has been formed to provide meals and companionship for the residents of Odell. These will be held in the Village Hall and it is hoped to provide four events during the coming year. The first will be a Traditional Christmas Lunch on 4th December 2002 and personal invitations will be sent. Anyone who would like to help with cooking, serving or transport please contact either Roma – 720431 or Valerie – 720234.

North Beds Healing Group - Wholeness and Healing

Further enquiries to Liz Dodwell (720640) or Carol Ormond (720409)

Aid for Romania

Tim and I are travelling to Romania for our annual trip with Michael O'Rourke and will probably be back by the time you read this. As usual we shall hold the AGM of our Romanian Foundation and hopefully Michael will be elected as Vice-president which seems appropriate at the present time. Tim will be carrying out our annual audit and we shall hope to see most members of our 24 sponsored families as well as many other friends in the different churches and other groups in and around Buzau.

We shall hope to get out a newsletter as soon as we get back. We shall also hope to bring honey to sell so please contact us if you would like some, price about £2 a lb. This year we have decided to offer massive reductions on the prices of our patchwork cushion covers and kettleholders- everything reduced to half price! So, a cushion and cover in lovely log-cabin style patchwork is now only £5, and the kettle holders are just £1. Excellent bargains and we have a large selection of colours. Please contact us if you are interested in some as Christmas Presents.

News for 2003 includes plans for Iulia Mocioc and friend to come to Harrold or Carlton to play and sing for us. Some of you were sorry to miss their last concert so please 'phone and ask for the latest news. Hopefully they might perform at the Posh Supper, probably on Friday 31st January - watch out or contact me for more details .

Liz Dodwell (720640)

Our Giving in December will be to the following Charities:

The National Society for the Prevention of Cruelty to Children

Christian Family Care

The Bedford Area Schools Christian Support Trust (SU)

In January our giving will be to Mission Aviation Fellowship. This is an airborne mission, which takes the Word and much-needed help to many remote and inaccessible places – a very worthy cause.

A Heartfelt Thank You

Thank you to a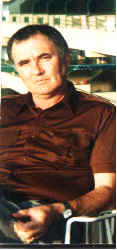 ll those who attended and helped in any way in the Service of Praise and Thanksgiving for Kenny who at 63 years of age was called to be with The Lord on 28th October. In his quietness and humility he would have been so touched to see so many attend (about 80 people) to give thanks for his life.
He was born in London and spent the first six years of his life amidst the bombs dropping - an experience he never did forget. At fourteen he started to study printing and this gave him the expertise and knowledge in a job he came to love so very much. His other two loves were Arsenal and playing and watching cricket. He was able to play cricket for Harrold Cricket Club and was an excellent wicket keeper and hit many 'sixes' until his eyesight made it impossible for him to carry on playing. He won many trophies for his sports - football, cricket darts etc. At eleven he spent his first camp in the field opposite my home, and of course he came to love Odell and the yearly camps here. Having visited Hawes in the Yorkshire Dales so much and loving it so dearly he decided last September to go there and spend his retirement. I was able to go and spend a lot of time with him in this very special part of God's beautiful world. When he was told in June that he had Terminal Cancer he took it all in his stride and was never heard to complain about the pain he certainly had. The last three months were showing that I should be there with him long term - and it certainly gave me a taste of this very special place in Yorkshire. I am so indebted to him for showing me Hawes so many years ago. The dales are picturesque and no matter when and where you look something different is seen each and every time. I likened them to Psalm 121 - "I look to the hills from whence cometh my help, my help cometh from the Lord". It certainly does and having been in such an awesome place I can echo those words "My God how great Thou art!"
Both Kenny and I appreciated the prayer that upheld us, whether it was from the Prayer Chain, individuals or over the telephone. It confirms again and again that prayer works. Thank you to all those people who held us in their prayers, thoughts and in their hearts. My prayer is that God in his infinite love and wisdom will bless you all abundantly.
Special Christmas Greetings and a Healthy and Peaceful New Year to you all. With Love and special thanks
Anne Turner
Looking to Jesus
Come let us adore Him
"For unto you is born this day in the city of David a saviour, which is Christ the Lord." Luke 2:11
Jesus Christ was born in the humblest of settings, yet heaven was filled with the song of the angels. His birthplace was a cattle shed, yet a star brought princes thousands of miles to worship Him.
He was born contrary to the laws of life. His death was contrary to the laws of death. Yet no miracle is as inexplicable as His life and teaching.
He had no cornfields or fisheries, but He spread a table for 5,000 and had bread and fish to spare! He walked on no expensive carpeting, yet He walked on the waters and they supported Him.
His crucifixion was the crime of crimes, yet from God's perspective no less a price could have made possible our redemption. When He died, few men mourned, but God hung black crepe over the sun. Those who crucified Him didn't tremble at what they'd done, yet the earth shook under them.
Sin never touched Him. Corruption could not get hold of His body. The soil that had been reddened with His blood could not claim His dust.
Three years He preached the Gospel. He wrote no book, built no church, had no money to back Him. Yet after 2,000 years He is still the one central character of human history, the perpetual theme of all preaching, the pivot around which the events of the age revolve, and the only Redeemer of the human race. Come let us adore Him - Christ The Lord!
Three reasons why you need Jesus in 2003.
1 Because you have a past. You can't go back, but He can. The Bible says "Jesus Christ the same yesterday, and today, and for ever" (Heb.13:8). He can walk into those places of sin and failure, wipe the slate clean and give you a new beginning.
2 Because you need a friend. Jesus knows the worst about you, yet He believes the best. Why? Because He sees you not as you are, but as you will be when He gets through with you. What a friend!
3 Because He holds the future. Who else are you going to trust? In His hands you are safe and secure - today, tomorrow, and for eternity. His Word says, "For I know the plans I have for you...plans for good and not for evil, to give you a future and a hope. In those days when you pray I will listen." (Jeremiah 29:11 TLB).
If you'd like to begin a personal relationship with Jesus today, please pray this prayer: 'Lord Jesus, I invite you into my life. I believe you died for me and that Your blood pays for my sins and provides me with the gift of eternal life. By faith I receive that gift and I acknowledge You as my Lord and Saviour. Amen'.
Printed with kind permission of United Christian Broadcasters and taken from " Word for today" Telephone No. 01782 642100
I could not have gone through the problems and trials that I have experienced throughout my life without the knowledge and love of someone greater than myself. I call that person that is greater than me 'God' and live through knowing the power of His Risen Son Jesus Christ. Why not trust Him too? May He bring you blessings this Christmas and a blessed and peaceful new year. Anne Turner
Christmas Greetings
Florrie and Ken would like to extend their best wishes for Christmas and the New Year to all their friends and neighbours in Odell and All Saints' Church.
Amongst Ourselves
A Christmas Prayer:
As we think of Christmas we think of all those less fortunate than ourselves: the homeless and children who dare not go home, the drug addicts, the alcoholics, all these people need to know they are loved.
We think locally of those living alone, especially Edie Surridge, Hilda Wright; those in nursing homes: Phillis Ames,Marion Smith, Marge Owen; those unwell at present: Florence Shellard, Barbara Lady Luke, Mary Ditmas and John Hancock, and within the church, Eileen Shakespeare.
Christmas is a sad time for so many people and we remember all those who mourn, those with an empty chair, and those who live alone. With war imminent we remember all those in the forces fighting for someone else to have a better chance to live a life of peace.
We think of all doctors, nurses and hospital staff, ambulance crews, firefighters and police who work through the period of Christmas and hope that accidents and sickness will be down to a minimum.
May we be able to smile and with love remember the reason for which we celebrate Christmas and that because of Jesus Christ we are able to say "Happy, blessed Christ-mas".
Lord in the name of Jesus we ask you to receive this prayer. Amen.
Anne Turner
Christmas Week in Odell

.

Church Decorating will take place on Saturday 14th December from 10.00am onwards. This is always a lot of fun – everyone welcome!

Children's Christmas Service: Sunday 15th December, 10.00am.

Carol Singing round the village: Saturday 21st. Singers please meet at 6.00pm outside The Bell. Gloves, torches and extra warm clothes needed. Everyone welcome.

Carols by Candlelight: Sunday 22nd December, 6.00pm.

Midnight Communion: Tuesday 24th December 11.30pm.

Christmas Day: Morning Worship and shortened Holy Communion, 10.00am.
Flower Rota
The key for the church is at The Rectory and if you have any problems please contact Jane Eshelby on 01933 410959. The only flowers that need attention are the two vases up by the altar and the large vase behind the lectern.
December
1st Nikki Freeman
8th Jen Cuddeford
Saturday 14th Christmas Decorating. Everybody welcome to bring flowers and/or decorate the church for Christmas, meeting at the
Church at 10.00am.
Church Cleaning
Due to lack of volunteers for this very rewarding task as of January 2003 the church will only be cleaned every three weeks. Thank you to the four staunch supporters who do an excellent job.
All Saints Restoration Fund
Thank you to everyone who has donated to the Church Restoration Fund. So far we have a total of £2000 in the fund. Our target is £50,000 so please keep those donations coming in!
Jill.
Christian Family Care Hamper Coffee Morning

You are warmly invited to the

Christian Family Care Hamper Coffee Morning at

Hobbs Green Farm on Friday 6th December

from 10.30 – 12.00. Admission free.

Please come and enjoy a cup of coffee and if you can, please bring with you a gift that would go towards making up a hamper for the mothers and children at Christian Family Care.

Birthdays

Birthday greetings go to

Katherine Sykes 10 on 3rd December

Katherine Freeman 9 on 6th December

John and Elinor Lee 11 on 7th December

Yasmine Novisky 10 on 23rd December

Rhianna Ford 9 on Christmas Day

Evette Allen 13 on 28th December

Hannah Hudson 12 on 17th January

"Happy Birthday" everyone!
Diary

December

3rd 10.30am Meeting Point at Eileen's, Corner House, Wymington Park, Rushden.

4th Tba Senior Citizens Christmas Lunch, Village Hall.

6th 10.30am Christian Family Care Hamper Coffee Morning, Hobbs Green Farm.

7th 7.30pm Christmas Disco, Village Hall.

10th 7.30pm W.I. Bring & Share Christmas Supper, Doreen Wheeler's.

12th 9.30am Bedford Farmers Market, St. Paul's Sq.

14th 10.00am Church decorating.

15th 10.00am Children's service.

21st 6.00pm Carol singing round the village – meet at The Bell.

22nd 6.00pm Carols by Candlelight, All Saints'.

24th 11.30pm Midnight Communion, All Saints'.

25th 10.00am Morning Worship & Holy Communion.

31st New Year's Eve. Celebration, Village Hall.

January.

14th 7.30pm W.I., Village Hall.

20th Parish Council Meeting, Village Hall.

Magazine Deadline

Please send all entries for the February 2003 magazine to Tricia Hudson (patriciahudson@kbnet.co.uk), Anne Turner or Catherine Corkery by January 12th at the latest. May we remind you that the editorial team exercises the right to edit, shorten or alter any items that are submitted. Also, the opinions expressed in the articles are those of the contributors and are not the responsibility of the editorial team.

"Happy Christmas" and best wishes for the New Year from all the editorial team.

electronic mail address


jh@ti.com

FAX number
01234-721004

Back to the Odell Home Page
---
Last revised: December 08, 2002.