CHURCH NEWS - JUNE 2001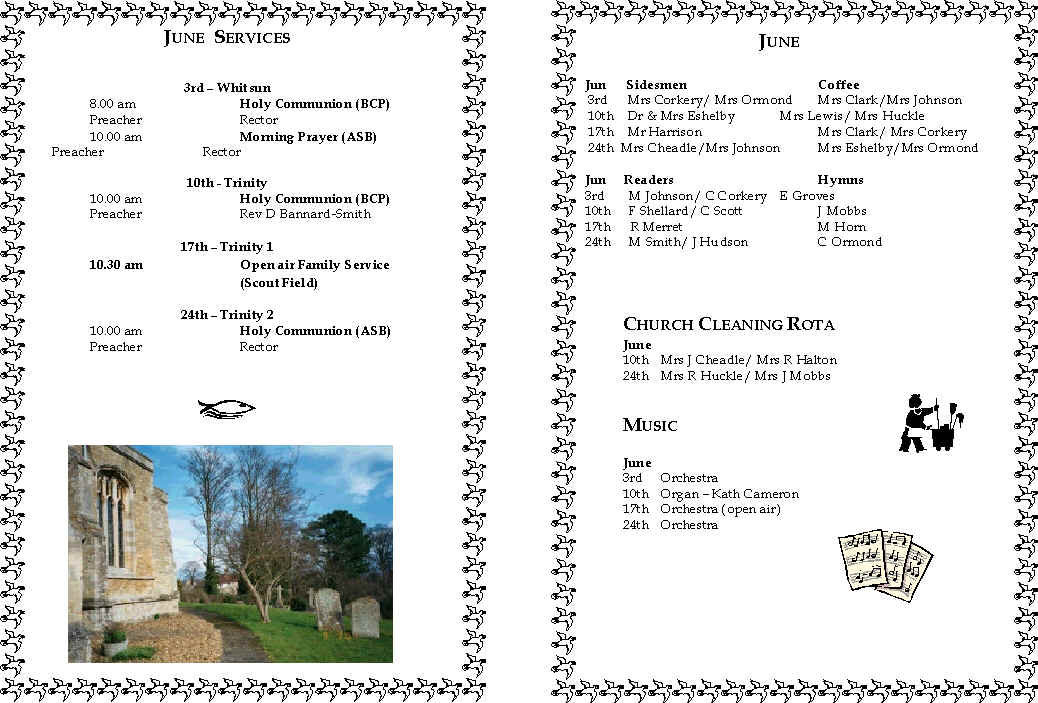 From the Rectory
June 2001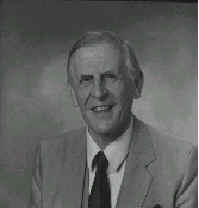 Dear Friends,
I wonder if you are as bored with the present election as I am. I am not bored with politics as such but I am bored with many of the current crop of politicians who seem to be midgets compared to the giants of all parties that I remember from former years. That may simply be a question of getting older but I do not think so as the same sentiments are echoed from various age groups. It is a very unhealthy situation when this happens because a democracy must function around Government and Opposition. Democracy may be a poor form of government but it is the best system of sharing and transferring power peacefully.
The Bible has much to say about rulers and the government of a people. In the Old Testament, it is largely concerned with the people of Israel, who for many centuries were governed by a king, directed by the law word of God, taught by the Temple priests and corrected by the work of the prophets. We call it a theocracy and this simply means government by God.
The great bulk of Old Testament prophecy is concerned with the outworking of the life of the people in relation to God's law rather than the prediction of the future. There is predictive prophecy concerning the Messiah and the future of God's kingdom. Often this is set like a silver lining to the coming clouds of judgment where the rulers and the people have rebelled against God.
In the New Testament the focus changes from the people of Israel, the Jewish community, to a world wide mission agenda, which are all the nations upon earth. Christians are not confined essentially to one national group. This can be seen as people from all races mainly within the Roman Empire in the first century embrace the faith. The question had to be asked and answered as to what the relationship of Christians was to the earthly rulers?
The Lord Jesus Christ had set out the principle when challenged by the Pharisees and Herodians as to the rightness of paying tax to Caesar. His reply indicated that there should be a proper respect for those in authority as the Government, even though Rome was an occupying power; 'Render to Caesar the things that are Caesar's and to God the things that are God's.'
It is this principle that Paul sets out more fully in the Epistle to the Romans, Chapter 13, verses 1-9. It is against the background of crime and vice that bedevil human society that human rulers must be seen. The task of government is to maintain law and order and to punish wickedness and vice in the quaint words of the Book of Common Prayer. Of course, there are many other functions but this task is a primary one.
We should remind ourselves that when this epistle was written the Emperor Nero was on the throne. Nero became a most dissolute ruler but as the Emperor he was entitled to respect. Most governments are better than chaos. God gives rulers their authority, not as a divine right but as a divine responsibility. They will be called into account either in this life or the next. Josef Stalin may die in bed and Adolf Hitler commit suicide to escape human justice but neither they nor any ruler will escape the judgment of God.
It is therefore the duty of rulers to enact wise laws and the wisest laws are those that reflect God's laws. It is the duty of the law to be impartial. The rich and powerful are not to be favoured at the expense of the poor and disadvantaged. The poor and disadvantaged are not to be favoured at the expense of the rich and powerful. Justice is to be done to all of whatever race, creed or colour. Political correctness is a form of discrimination and more often than not unjust.
The duty of Christians is plain from this passage. Put simply, it is to support the peaceable working of society out of reverence for God. The Christian knows that the events of history are not random chance but God's mysterious purposes worked out on the stage of history. In a democratic system it is desirable that Christians should play their full part in the ongoing debate on how matters are to be run. These matters are not for the pulpit, save for the underlying principles; they are for individuals to work out in the democratic processes of society.
It is the duty of Christians to call the Government of the day of whatever persuasion to return to biblical principles. This has been the forgotten factor for at least forty years and we are beginning to reap what has been sown. Abortion has created an ageing population. Ignorance of God's commandments has created a 'yob' culture that is growing more crude and violent. Many unfortunate children are left without any respect for authority and so forth. To sum up, politics are too important to be left to the politicians.
Sincerely in Christ, David Streater
[I am always available to discuss this and any other matter that you might like to raise.]
The Prayer Chain
The Prayer Chain is there if you need prayer for yourself, for others or for members of your family. Please don't ask for prayer outside your own family without people's permission. To have a number of people pray just telephone David (720234) or Dennis (822992).
Meeting Point
June
Tuesday 5th 10.30am Mary Rogers', 2 Hall Close, Sharnbrook.
Wednesday 20th 10.30am Jill Cheadle's, Rectory farm, Odell.
July
Tuesday 3rd July Meeting Point Lunch – venue to be arranged.
United Christian Conferences
Saturday 23rd June, 10am to 4pm at St. Bartholomew's Church, Greens Norton.
Stephen Cottrell will introduce the subject of "Luminous Christianity"
Weaving Prayer into our daily lives – a practical course for all who long to pray more effectively.
Stephen , a Vicar in Huddersfield , is the author of several books including "Praying through Life" and is part of the Springboard Team set up by the Archbishops.. He is known to many as one of the dynamic duo who led the Training Days for Clergy and PCCs at "Daring to Share" in this Diocese in October 2000, and the recent "Tools for the Job" Conference earlier this year.

Booking is essential (Fee of £2.00).

For more information contact Revd. John Knight, The Rectory, Towcester Rd., Greens Norton, or see the poster in porch of All Saints, Odell.

Songs of Praise, Pentecost Sunday.

When

: June 3rd, Pentecost, at 6pm.

Venue: The URC Chapel in Harrold.

Organised by Churches Together in Harrold and Carlton.

North Beds Healing Group - Wholeness and Healing

Service with Laying on of Hands and Prayer for Wholeness and Healing

The Revd David Mason plans to hold this at Felmersham Church at 6pm on Sunday June 10th

Forward in Healing course in Bedford

We still hope there will be a Basic Lay Training Course in the Ministry of Healing run over six weeks, early next year, at St Andrew's Church in Bedford. This will be open to anyone interested from any denomination and deanery. Please contact us if you want to be kept informed or if you can help in any way. Also please tell us what day of the week is best or worst for your church.

A Time to Heal - A study of some topics in the recent General Synod Report

A series of evening meetings to be held at St Nicholas Church, Rectory Lane, Stevenage, on Wednesday evenings. June 6, 13, 20, 27 and July 4 at 7.45

Some Enigmas of Healing. Saturday November 3rd

Discussion Meeting at St Andrew's Church, Kimbolton Road, Bedford

Looking Way Ahead:

Please note the date for next year's service at St. Alban's: Saturday 9 February, 2002

Celebration Of Christian Healing in the context of the Eucharist.

Speaker: Dr Gareth Tuckwell, (until recently Medical Director at Burrswood)

Music by Face 2 Face.

This is a very special service so do try to get there. More details later.

The next meeting of the planning group is planned to take place at Watermead on Thursday July 26th at 7.45 for 8 pm.

Please check with Liz or David before you come.

For more information about the North Beds Healing Group or any of these meetings please contact Liz Dodwell at Watermead, 41 Odell Road, Harrold, Bedford MK 43 7DH (telephone 01234 720640 and e-mail: TimandLizDodwell@compuserve.com) or Revd D Mason, 2A Devon Road, Bedford (telephone 01234 309737 or e-mail david@devon.powernet.co.uk.
Flower Rota
If anyone would like to do the flowers in church for a particular occasion or anniversary please contact Jill (720261).

Our giving in June will be to the Church Pastoral Aid Society – C.P.A.S.

The work of C.P.A.S. is to give aid to both churches and individuals in such wide-ranging areas as evangelising, training for clergy and laity, youth work, holiday activities for young people, provision of resources (books, courses etc.), working with older people and specialised ministry to both men and women.

Please give generously to this worthwhile charity.

All Saints' PCC Meeting

, Wednesday 16th May.

A meeting of All Saints' PCC took place on Wednesday 16th May in The Rectory. The Revd. David Streater was in the chair.
An election of Council Officers took place. Tim Dodwell was elected as Lay Vice Chairman, Helen Chapman as Treasurer, Marion Johnson as Secretary and Philip Lewis as Minutes Secretary.

The Fete was considered to be proceeding in good heart. It was decided that the service on the next day would begin at 10.30am and would be followed by a barbecue for all helpers at the fete, and residents of Horsefair Lane.

Discussion took place regarding the launching of an appeal in the autumn for the restoration of the glass windows and for Church repairs. In the longer term the appeal would be seeking to help cover the introduction of water and sewerage for kitchen and toilet facilities.

The need for the purchase of a strimmer was raised. It was noted that particular care was needed when tending the ground around the Memorial Garden which has been planted up with bulbs by Florrie Shellard. The possibility of making a boundary around the garden is being considered.

The church field is to be let on a 2/5 to 3/5 ratio with the Parish Council.

Other matters discussed included floodlighting, car parking arrangements, the mowing of the churchyard, the maintenance of the church organ and the provision of a wooden ramp for disability access.

The date of the next PCC meeting was set at Wednesday, July 18th, in The Rectory.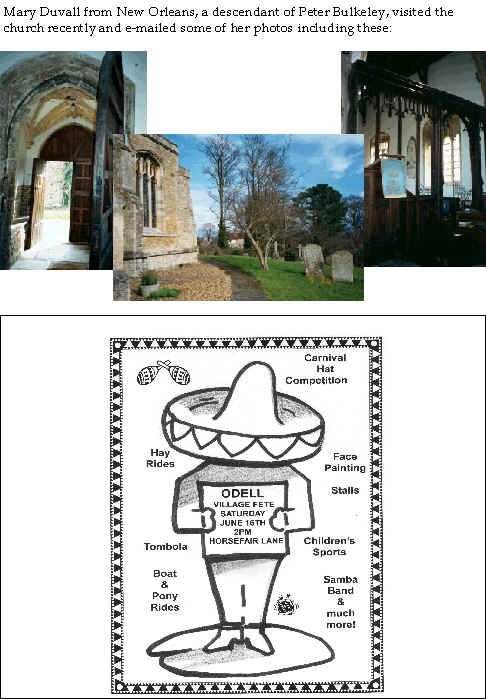 Odell Village Fete 16th June 2001

The Odell Village Fete will begin with entertainment by "Sambanistas", a lively samba band, outside The Bell at 1.00pm! Follow the band down Horsefair Lane for the Grand Opening of the fete in the Scout Field at 2.00pm by Lord Luke.

Come and enjoy the many events and attractions including:

Pony rides, boat rides, Beat the Goalie, children's sports, colouring competition, Quiz: "Who wants to win £50?", Fruity Fun Trail and a Lucky Programme Competition and Raffle.

Don't forget : 1.00pm Sambanistas playing outside The Bell

2.00pm Fete Opened in the Scout Field by Lord Luke

Festival Weekend Family Service

Sunday June 17th

There will be a Family Service in the main tent at the fete ground at 10.30am, taking the place

of the usual service in church.

Note the time is later than usual. Everyone is very welcome.

Barbecue

After the service there will be a lunchtime BBQ for all helpers and residents of Horsefair Lane, with food available from about 12.30pm. Bring your own drinks but everything else should be provided. Please notify Mandy Sharpe or Jill Cheadle if you can come, preferably some time in advance.

Looking To Jesus
Alabaster boxes

"There came a woman having an alabaster box of ointment –very precious –and poured it on His head." Mark 14:3

Don't keep the alabaster box of your love sealed up until your friends are gone! Break it open. Pour it out. Fill their lives with it while you still can. Those words you've thought of saying a thousand times, say them now while their ears can hear them and their hearts can still be touched. Those flowers you've been meaning to send, do it this week and brighten their home before they leave it!

It's amazing! The crowd in the house saw her do it, argued about it and missed the whole point. That night, Judas would set wheels in motion that would lead Jesus to His death. Time and opportunity were running out. She knew that if she was ever going to demonstrate her love to Him, this was it! Listen to what Jesus said, "She is come aforehand to anoint My body" (Mk 14:8). There it is - kindness aforehand. Fortunes are spent to engrave words in granite and marble that should've been spoken earlier by human lips.

Joseph of Arimathea brought 100 pounds of the same ointment to anoint Jesus after He was dead, yet not a word is mentioned about his 'post-mortem' kindness. She brought one pound and poured it on Him while He was still living and Jesus said, "Wherever the gospel is preached…what she has done will also be told, in memory of her" (Mk 14:9 NIV).

If you have an alabaster box you've been thinking of breaking open, today would be a good time to do it. For one act of kindness while they're still here will mean more than 101 when they're gone!

Printed with kind permission of United Christian Broadcasters and taken from 'Word for today'.

Amongst Ourselves

We send our love to Edie Surridge at present in Victoria Ward, South Wing. Edie recently suffered a stroke, and would welcome friends to see her to pass the hours as we know this kind lady misses her garden and the 'new' greenhouse that she had just begun to work in and enjoy.

It is good to know that Joan and Maurice Thompson are enjoying it 'back home' in Yorkshire. They are enjoying their fellowship with the Salvation Army and we send our love and blessings to them.

We still continue to pray for the all the sick, those named and others who we hold dear in our hearts. God is so good to those who know him, and he hears and answers all prayer. The prayer that is prayed is- the one that is heard and answered!

We pray for a successful day at the fete, and ask The Lord to bless all those involved in the hard work. And, of course, we pray for good weather! Whatever, we pray for God's will in all that we do. For after all He knows best – he made us and we know that His greatness and grace are the best things for us. Walking, talking, singing, whilst driving; in quietness – just say those words that you want to 'get off your chest' - the ones that someone greater than you can deal with. What would we do without a Saviour, and it is through Him we offer all this. Through Jesus Christ, Our Lord. Amen.

Anne Turner

Birthday greetings to:

Robert Merret who will be 11 on the 11th

And to anyone else who celebrates a birthday in June!

June Diary

3rd Pentecost Songs of Praise, URC Chapel, Harrold, 6pm.

5th Meeting Point 10.30am Mary Rogers', 2 Hall Close, Sharnbrook.

7th Election day – Polling in the Village Hall

10th Carlton Open Gardens, 2pm –6pm.

10th Service of Healing, Felmersham Church, 6pm.

12th W.I. to the M.S. Therapy Centre, Bedford.

16th Odell Fete, 2pm, Scout Field, Horsefair Lane.

17th Family service 10.30am, Scout Field, followed by barbecue.

16th, 17th Open Days, Yelnow Farm, 11am – 6pm.

20th Meeting Point 10.30am Jill Cheadle's, Rectory farm, Odell.

23rd United Christian Conferences, St. Bartholomew's Church, Green's Norton, 10am – 4pm.

July.

3rd Meeting Point Lunch. Venue TBA.

18th PCC Meeting The Rectory.

26th North Beds Healing Group Meeting, Watermead, 7.45pm.

Magazine Deadline

Please send all entries for the July/August 2001 magazine to Tricia Hudson (triciahudson@kbnet.co.uk), Anne Turner or Catherine Corkery by June 12th at the latest. May we remind you that the editorial team exercises the right to edit, shorten or alter any items that are submitted. Also, the opinions expressed in the articles are those of the contributors and are not the responsibility of the editorial team.

electronic mail address


triciahudson@kbnet.co.uk

FAX number
01234-721004

Back to the Odell Home Page
---
Last revised: May 28, 2001.