CHURCH NEWS - December 2001 - January 2002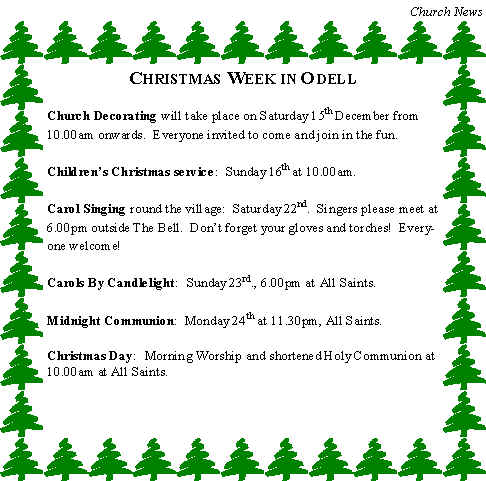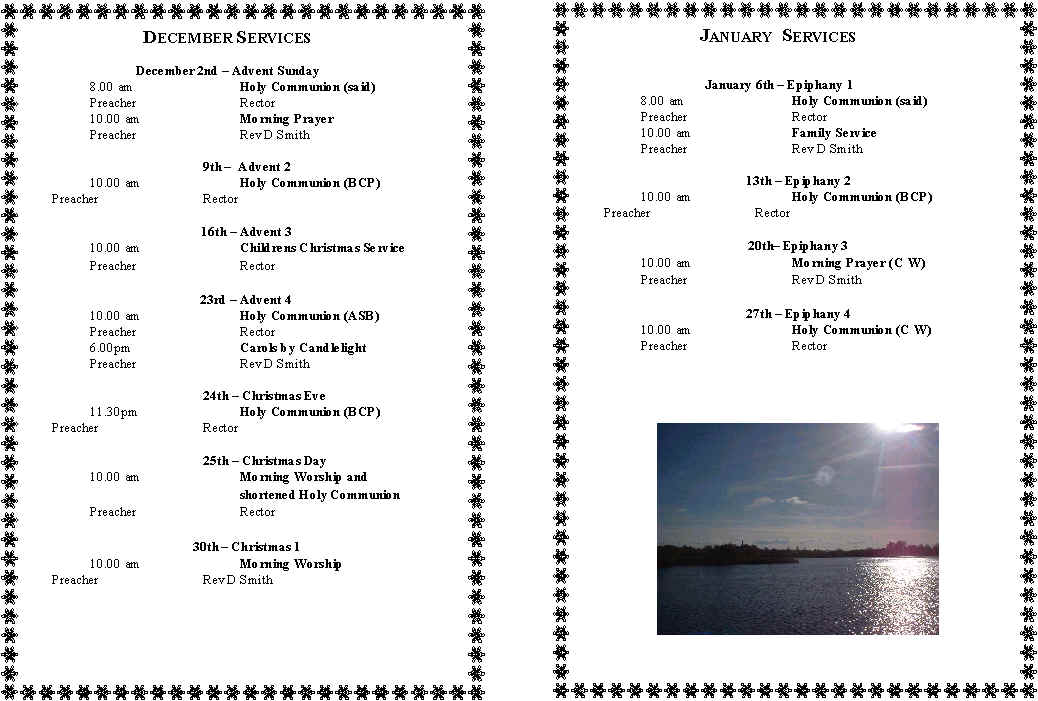 From the Rectory
December 2001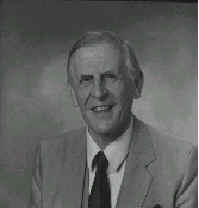 Dear Friends,
At the beginning of September I wrote a short article concerning some very major differences between Christianity and other world religions. I had intended, after thinking about the doctrine of the Trinity, to consider the Person of Jesus Christ. Who is he? The events of September 11th interposed and so now it seems appropriate to return to this subject as we move towards Christmas.
No sooner had the doctrine of the Trinity been accepted than another question arose. The disciples, led by Peter, had confessed at Caesarea Philippi that Jesus is the 'Christ, the Son of the living God.' In so doing, the disciples denied that Jesus was just a special person, or that he was a prophet. In the confession they asserted that he was divine.
This was the core belief of the disciples and it is clear from the records that the deity of Christ made its impact on the early Christians. This thought has never been absent from the orthodox belief of the Church. Such deity involved his pre-existence before he entered the world. He is the one who co-operated with the Father in the work of creation. It is through his Word that the creation is upheld and sustained.
However, it was also clear that Jesus of Nazareth was also man. For some time there was great controversy amongst the Churches as to the precise relationship of the human and divine. Some denied his humanity. Others questioned his divinity. The problem can be stated quite simply in the form of a question. How can one Person have two natures that remain distinct, each retaining its own characteristics, without involving a split personality? That is not an easy problem to solve.
The answer has never been totally agreed but it would appear that the key to the problem lies in the work of the Holy Spirit, the Third Person of the Trinity. We may not be able to understand fully this great mystery but we may glimpse something of the truth that the Holy Spirit sustained the two natures of Christ so that he is truly God and truly man, yet one Lord Jesus Christ.
When we come to Christmas and its celebration, we are in fact celebrating the fact that God has manifested himself in truly human form in the person of his Son. It is not just the fact that a child is born but God in Christ empties himself of the glory that he had with the Father before the foundation of the world. We do not acknowledge a prophet. Nor do we believe that here is a very special man. We celebrate the fact that God himself in Christ has come into this world. That special person had a special work. That special work is a work of obedience culminating in the death on the Cross and confirmed by the resurrection.
May I wish you all a very happy Christmas and every blessing in the New Year. Yours sincerely in Christ,
David Streater
(I am always ready to discuss any matter arising from what I have written.)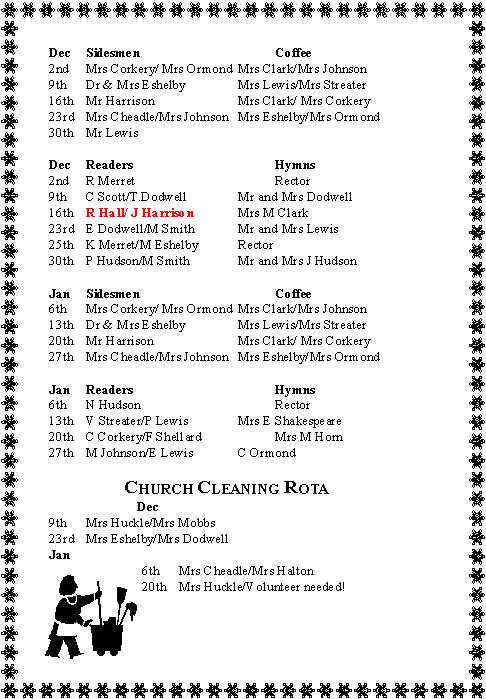 Service changes
From the beginning of January, those services that have been taken from the Alternative Service Book will no longer be used. From January 1st ASB Services will be replaced by Common Worship Services. The new Services will bear a very close relationship to ASB and there are no major surprises planned. The Book of Common Prayer 1662 remains as a statutory Book of Services.
The Prayer Chain
The Prayer Chain is there if you need prayer for yourself, for others or for members of your family. Please don't ask for prayer outside your own family without people's permission. To have a number of people pray just telephone David (720234) or Dennis (822992).
Some time ago a lady rang me to ask for prayer for her father who was experiencing senility. Since then he has had a serious accident but has made a good recovery from the hip operation. The lady writes that she would be grateful if prayers could continue for her father and adds "the magazine, which is how I came to ask you, gives a good impression of a Christian Church." It is encouraging to learn that even those outside the parish find the prayer chain helpful.
Dennis Bannard-Smith
Church Opening
Many of you will know that because of the problems of vandalism and theft from Churches generally, the Parish Church is kept locked. Unless there is a specific reason for opening it earlier, it will be opened for Sunday and occasional services half an hour before the Service is due to start.
Meeting Point
December
Tuesday 11th 12.30pm. Meeting Point Christmas lunch will be combined with Valerie's lunch for the elderly at the Rectory. Please ask Valerie for details.
January 2002
Tuesday 8th 10.30am at Eileen Shakespeare's, Corner House, 38 Wymington Park, Rushden.
Wednesday 23rd 10.30am at Catherine Corkery's, Manor Cottage, Harrold.
North Beds Healing Group - Wholeness and Healing
Forward in Healing course in Bedford April/May 2001.
Plans are progressing to hold a Basic Lay Training Course in the Ministry of Healing run over six weeks, after Easter, next year, at St Andrew's Church in Bedford. This will be open to anyone interested from any denomination and deanery. The dates booked are Wednesdays April 10th, 17th & 24th and May 1st, 8th & 15th, so please make a note now if you are interested.
One of the main objects is to encourage and grow healing groups in our area.
Looking Ahead:
Please note the date for next year's service at St. Alban's: Saturday 9 February, 2002.
Celebration of Christian Healing in the context of the Eucharist.
Speaker: Dr Gareth Tuckwell, (until recently Medical Director at Burrswood) Music by 'Face 2 Face'.
This is a very special service so do try to get there. More details later.
For more information about the North Beds Healing Group or any of these meetings please contact Liz Dodwell at Watermead, 41 Odell Road, Harrold, Bedford MK 43 7DH (telephone 01234 720640 and e-mail: TimandLizDodwell@compuserve.com) or Revd D Mason, 2A Devon Road, Bedford (telephone 01234 309737 or e-mail david@devon.powernet.co.uk )
Christmas Supper and Quiz Saturday 8th December

All Saints' Church members warmly invite you to a Christmas Supper followed by a quiz on Saturday 8th December. Everyone welcome!

Time: 7.00 for 7.30pm.

Venue: Odell Village Hall

Tickets: £4.00, £3.00 concessions.

To purchase tickets please ring 720261/720234

Our Giving in December

will be to the following charities:

The National Society for the Prevention of Cruelty to Children

Christian Family Care

The Bedford Area Schools Christian Support Trust (SU).

In January our giving will be to Mission Aviation Fellowship. This is an airborne mission, which takes the Word and much-needed help to many remote and inaccessible places – a very worthy cause.
Christian Family Care Hamper Coffee Morning

You are warmly invited to the

Christian Family Care Hamper Coffee Morning at

Hobbs Green Farm on Friday 7th December

from 10.30 – 12.00. Admission free.

Please come and enjoy a cup of coffee and if you can, please bring with you a gift that would go towards making up a hamper for the mothers and children at Christian Family Care.

Amongst Ourselves

Special thoughts and prayers for Christmas and the New Year in the words of 'The Lords Prayer'.

Our father, father of all people, who art in heaven, blessed and hallowed be thy name by all those who truly love you. May your kingdom come to all the sad, desperate and homeless people. Your will be done in the troubled spots of the world especially in Afghanistan, Northern Ireland and Jerusalem. On the earth as it is in Heaven where so many of our dear saintly people have gone before us. Give to us this day our daily bread; thank you for supplying our needs, especially for our daily food when so many dear souls are starving. Please forgive us our trespasses, when we hurt other people whether by our thoughts, actions or words. As we should forgive those who trespass us against us, help us please to always forgive other people when they hurt us in any way – just as you forgive us. Lead us not into temptation, so easy in this world that we are living in: a temptation to gossip and bear false witness against our neighbour. Please deliver us from evil, which is rampant in this world. For thine is the kingdom, the power and the glory, for ever and ever. Amen

LOOKING TO JESUS

with UCB

"Peter asked Jesus, What about him, Lord? Jesus replied, What is that to you? Follow me!"

Minding your own business

Any time you share something that tears down or diminishes someone else, it also sends out a message that doesn't compliment you either. Like – if you'll tell me about them, wouldn't you also tell them about me if the circumstances were different?

And what about the harvest law? Don't you believe it applies to you? Listen "Whatsoever a man soweth, that shall he also reap" (Gal.6:7) Did you hear that? "Whatsoever" – that includes criticism, gossip or slander. Even when it's couched in such terms as " I know he's a wonderful 'brother' (person) but….." Since words are seeds, what kind of a harvest will you reap on the words you spoke yesterday? Paul says" Let your conversation be gracious" (Col.4:6).

Recently when I had criticised someone, God said to me, "Have you prayed for them?" I was instantly ashamed, for I was willing to talk to everybody but GOD about them! How about you? Then God's spirit spoke to me again and said something that greatly helped me: "If you could have heard them praying yesterday, pouring our their heart, asking for help in those very areas of weakness that you were talking about, then maybe you could see them through eyes of compassion. Their battle may be different from yours, but their heart-cry is the same! When we're tempted to get into other people's business, we need to hear again the Words of Jesus to Peter, "What is that to thee? Follow thou Me" (John 21:21)

Taken from "Word for Today" with kind permission of United Christian Broadcasters Tel: 01782 642000

Without Jesus there would be no Christ –mas. For Jesus is the real true meaning of Christmas and there would be no Christmas without him.

Yet what can I give you – give you my heart.

Looking to the new year 2002 in love

As we look to the new year, we pray that there will be peace in our land, peace in the village of Odell and within our local communities. God tells us to be kind to our neighbour. Who is our neighbour? Everyone we meet daily. Let's help to make this world a better place, and let us start right here. It is so easy to look at other people's faults rather than our own, don't you agree? Let us start today and bring love and laughter back into this sad world.

We remember and pray for all the sick and those in need in our community. "We bring before you Lord all the sick and suffering, especially Jen Cuddiford and John Hancock still undergoing treatment and pray that there will be healing as they look to you for their help. Still in our prayers are Eileen Shakespeare, awaiting an operation, and Hilda Wright, Mary Ditmas, Phyllis Ames, Edie Surridge, Barbara 'Lady Luke' and Walter Nottage. In nursing homes we remember Marion Smith and Marge Owen. We also bring before you Carol Ormond whose mother died recently and Maureen Kearney upon the sudden death of her father, and all others who find Christmas a very sad and lonely time.

Thank you for being with all of the above named people and also with those whose names we are not aware of. For everything, Father, we thank you. Amen." Anne Turner

For Next Year's Diary

Golden Jubilee Celebrations and Odell Fete.

Plans are going ahead for Odell to celebrate the Queen's Golden Jubilee in the period Monday 3rd and Tuesday 4th June, which are to be public holidays, following the public ceremonies on the previous Saturday. The local celebrations are planned to include a Street Party in Horsefair Lane and an evening entertainment. Rob Lee (720730) is spearheading this, so please contact him with ideas and offers of help.

Odell Fete is planned for Saturday 8th June, and will no doubt have a linked theme. A special attraction will be the Family Dog Show, to be organised by Roma Garron.
December Diary
4th 7.30pm W.I. Christmas dinner at Rachel Halton's,
Greystones, Odell.

5th 7.00pm Meeting for Parents and Friends of Scouts, Odell Village Hall.

7th 9th District Scouts Cycle Camp.

7th 10.30am Christian Family Care Hamper Coffee Morning, Hobbs Green Farm.

8th 7.00pm Christmas Dinner and Quiz, Village Hall.

8th 7.30pm Concord Singers Concert of Christmas Music, St. Peter's, Sharnbrook.

11th 12.30pm Christmas lunch for elderly and Meeting Point members, The Rectory.

12th 7.00pm Scouts, Village Hall.

15th 10.00am Church Decorating.

16th 10.00am Children's Service, All Saints'.

16th 12.00pm Children's Party, Village Hall.

19th 7.00pm Scouts, Cub Hut.

22nd 6.00pm Carol Singing round village, starting at The Bell.

23rd 6.00pm Carols by Candlelight, All Saints'.

24th 11.30pm Midnight Communion

25th 10.00am Morning Worship and short Holy Communion

31st 8.00pm New Year's Eve "get together", Village Hall.
January Diary

8th 10.30am Meeting Point, Eileen Shakespeare's, Corner House, Wymington Park, Rushden.

8th 7.30pm W.I. Meeting Odell Village Hall.

23rd 10.30am Meeting Point, Catherine Corkery's, Manor Cottage, Harrold.

Magazine Deadline

Please send all entries for the February magazine to Tricia Hudson (triciahudson@kbnet.co.uk), Anne Turner or Catherine Corkery by January 12th at the latest. May we remind you that the editorial team exercises the right to edit, shorten or alter any items that are submitted. Also, the opinions expressed in the articles are those of the contributors and are not the responsibility of the editorial team.

A very happy Christmas from the magazine editorial team.

electronic mail address


triciahudson@kbnet.co.uk

FAX number
01234-721004

Back to the Odell Home Page
---
Last revised: December 02, 2001.