Odell Church News - May 2015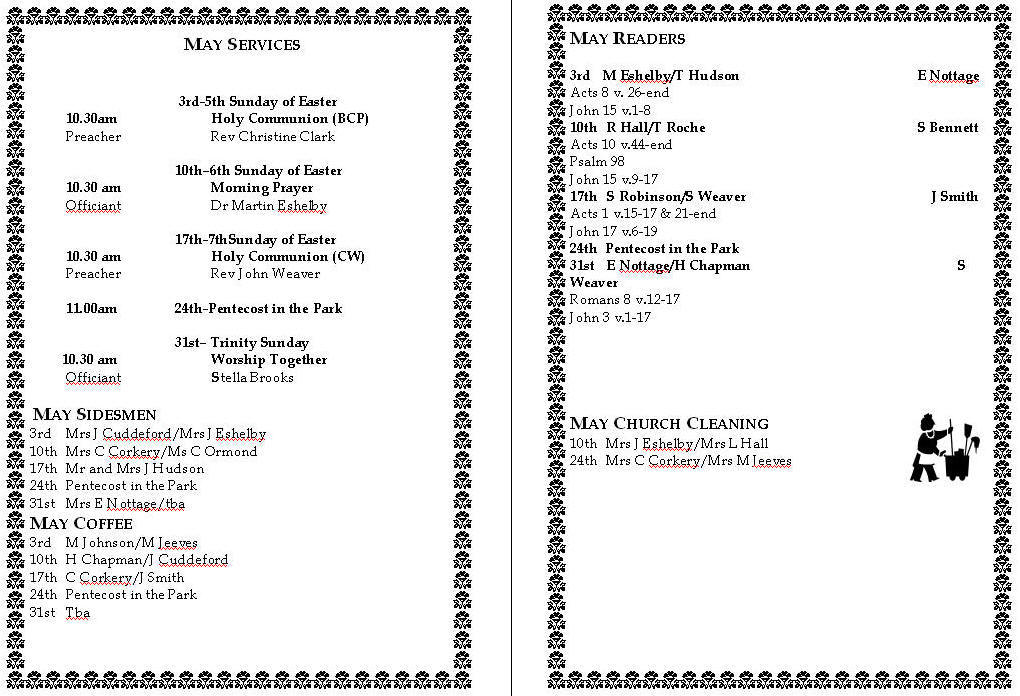 Click here to download John Weaver's talk from May 17th (Witness of the Gospel)
Click here to download John Weaver's talk from April 19th (Being a Christian)
Click here to download John Weaver's talk from March 15th (Mothering Sunday)
Click here to download John Weaver's talk from February 1st (Meditation)
Click here to download John Weaver's talk from January 18th (Simeon)
Notice to Hymn choosers - click here to see available Hymns
Dear Friends,
Although the first of January is regarded as the start of the New Year, it is little more than a date of convenience. The original Julian calendar had alternate months of 30 and 31 days, with only February as the odd one out having 29 days; February being the last month of the Roman year. However, when Augustus became Emperor, his month, August had only 30 days whereas July, the month of Emperor Julius, had 31 days. This was intolerable, and Augustus added a day to his month to be equal to Julius and subtracted a further day from February. But now there were three consecutive summer months of 31 days, which was rather unbalanced, and so the months from September onwards were renumbered to partly restore the balance. Political pomposity and interference had destroyed what had been a very simple system. Further changes were made by Pope Gregory to account for the fact that the year-end was slipping backwards since the leap years were not being accounted for. Hence January the first ended up as an arbitrary start to the year.
Perhaps then, Easter should be regarded as the real start to the New Year since it marks the true beginning of the Christian faith. It is also close to the Spring Equinox that heralds the first day of Spring and the start of new growing season. However, even Easter is not a fixed date, but is determined by a complex formula set by the Popes in the middle ages, and can be anywhere between 22 March and 25 April.
However man might try to manipulate the calendar for his own convenience, the Earth will continue its course round the Sun - and time and the seasons will pass as they always have done. We can have little or no effect on the universe; climate change has been going on since the Earth was created and the thought that we can reverse it is futile. God's creation of the universe is far greater than anything man can achieve. Although we may be beginning to understand the laws of nature, which are God's laws of creation, we should remember that we, too, are part of that creation and to think that we can change the universe is to regard ourselves as equal to God.
Best wishes, Martin Eshelby, Churchwarden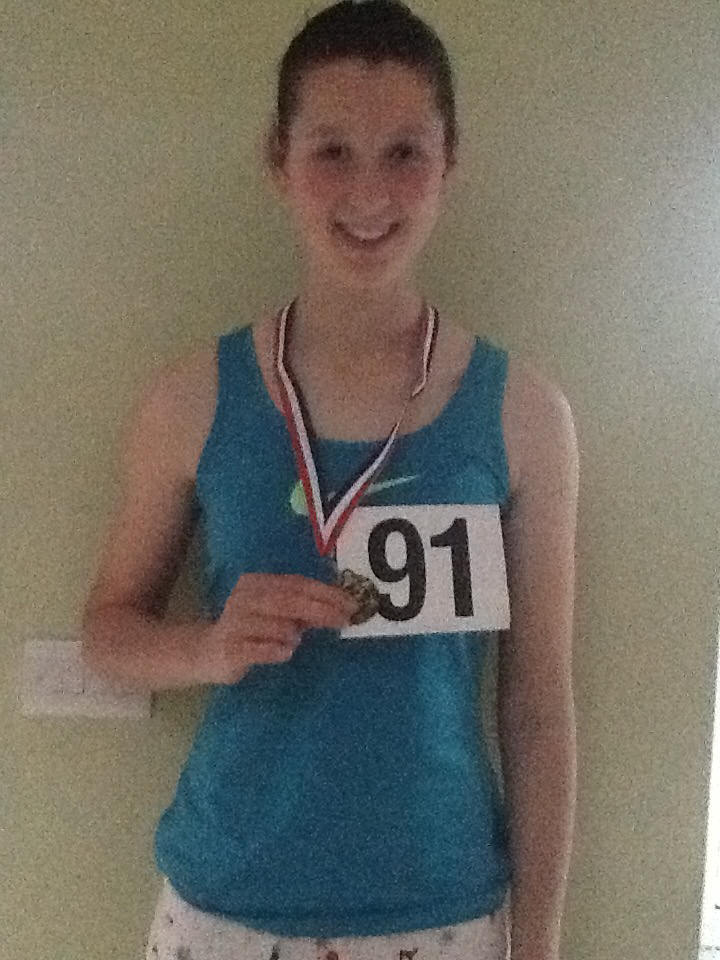 Congrats to Lottie Robinson who was 3rd local female & 2nd junior girl in the Harrold Pit Run, raising over £100 of which half will go to supporting our Church
Vacancy Update
Whilst the church is in vacancy, following Christine's retirement last November, it is very much 'Business as usual'. Our rota of services continues as before; the communion services are being led at present by retired clergy and some of the morning prayers are being led by ourselves. However John Weaver, who is a retired Baptist Minister, and who moved into the village last year has been given permission by the Bishop to officiate at our communion services. We are most grateful to John for giving us so much help and support and starting in April we welcomed Christine back again - she will also be helping out once a month.
There is as yet no news resulting from discussions about the deployment of ministry in this part of the Sharnbrook Deanery. With the retirement of The Revd Robert Evens from Sharnbrook, Felmersham and Souldrop, and also the Revd Peter Mackenzie from Turvey and Stagsden, Jane Fox remains the only priest in the Western group of some 12 parishes. Meanwhile, we ask that you will please pray for all those involved in the plan for the future of the Churches in the Sharnbrook Deanery. Members of Odell PCC
Prayer Group
What is the Prayer Group? It is made up of members of All Saints' Church who undertake to pray regularly, on an individual basis, for people who ask us for prayer support.
Who do we pray for? Anyone whom we are asked to remember; these might be people from our church, from our local community or others known to us.
What do we pray about? Anything which you would like brought before God; maybe anxiety due to illness, stress or loneliness. You can also tell us of a special day you wish to be remembered – perhaps for an interview or an exam. Any information will be treated in strictest confidence.
How can you let us know if you would like us to pray for you? You can telephone Madeline Jeeves (01234 720803) and email mgjeeves at yahoo.com
Annual Vestry Meeting and Annual Parochial Church Meeting
At the Annual Vestry Meeting and APCM on Wednesday 15th April, Dr. Martin Eshelby and Mrs Jill Cheadle were re-elected as Churchwardens of All Saints' Church. All PCC members agreed to remain on the PCC.
The date of the next PCC meeting is Wednesday 13th May, to be held at the home of Eileen Nottage, Heydown, High St.
Meeting Point
May
Wed 6th 10.30am at Eileen Nottage's, Heydown, High St., Odell.
Wed 20th 10.30am at Catherine's, The Stables, Church Walk, Harrold
June
Wed 3rd 10.30am at Jane Smith's, Horsefair Lane, Odell.
Odell Village Fete and Dog Show
Saturday 13th June 2015, 2pm
(In the Scout field, Horsefair Lane, Odell)
Entry: Adults £1.50, Children Free
Programme of Events
2.00 pm Grand Opening
2.00-4.00pm Dog Show
4.00 pm Raffle Draw and Prize Giving
Attractions
Bedford Brass Band, Boys' Brigade, Bouncy Castle, Teas, Pimm's, Children's Sports, Tombola, Ice Creams, Cakes, Books, Refreshments, Bottle Stall, Coconut Shy, White Elephant, Produce, Gifts, Raffle
Family Dog Show (entry fee - £1.50 per dog per class)
Classes:
1. Children's Handling (14 years and under)
2. Puppies under 1 year
3. Country Sporting Dog
4. Country Sporting Bitch
5. Best Condition Dog or Bitch
6. Best Rescue Re-home Dog
7. Best Rescue Re-home Bitch
8. Best Cross Breed Dog
9. Best Cross Breed Bitch
Festival Weekend Family Service Sunday June 14th
11.00 am in the Main Tent at the Fete Field
Everybody Welcome
Getting Involved with the Fete
Last July a meeting was held in the Village Hall to discuss the future of the Fete. This was well attended and generally everyone felt the Fete should continue and hoped to have the support of the younger members of our community not only on the day of the Fete but also by perhaps getting some more involved in the planning. So the PLANNING has already started – the PA system and the loos have been booked!! We do need as much HELP as possible. If you can help NOW please contact Mandy Hinds, 7 Horsefair Lane, Odell, 01234 720414 alodell@plus.com or Christine Clark 01234 918985 cmclark99@uwclub.net
The first date to put in your diary is Fete Preparation Morning at 10.00 am on Bank Holiday Monday 4th MAY hosted by Jim and Doreen at Linden House when we clean and repaint the signs for the stalls and side shows and prepare the roadside boards. We then enjoy a BBQ lunch. Please bring your own meat and nearer the time we shall be asking for contributions of pudding and drinks.
The Big Preparation will be in the afternoon and early evening of Friday, 12th June, when we need muscles, good senses of humour, wheels, trailers and people willing to collect tents, tables, chairs and stall signs, and set these all up in the Scout Field down Horsefair Lane ready for the big day. Tea and Cake supplied to keep you going! The morning of the Fete also requires many hands to help complete the preparation and get the goods to the stalls ready for the Grand Opening at 2.00pm. Don't forget that we also have to clear the field at the end of the afternoon. All helpers are invited to a BBQ on Sunday morning at the field to round off the busy weekend.
All Saints' Church Charitable Giving for the month of May is to The Church Pastoral Aid Society, which offers valuable training and a wide range of resources for clergy and lay people, in evangelism, youth work, mission and ministry, runs Young Peoples' holiday clubs and offers Parish Consultations. See the notice board in the church for more information.
Harrold URC
May Fair
Saturday 9th May
10am -12 noon
Cakes, cards, raffle, Fair Trade stall and more…..
Christian Aid Week
10th – 16th May 2015
Everyone deserves a decent life.
Christian Aid has a vision – an end to poverty – and we believe that vision can become a reality.
Our Purpose:
To expose the scandal of poverty
To help in practical ways to root it out from the world
To challenge and change structures and systems that favour the rich and powerful over the poor and marginalised.
Christian Aid exists to help those in need – regardless of religion, ethnicity or nationality.
In these poor communities Christian Aid invests in projects that provide benefits for years to come.
If you have not received an envelope please see Jill Cheadle at Rectory Farm, Tel. 720261, if you would like one, and return it to her as soon as possible.
Nursery Plant Sale
Saturday 9th May, 10.30am – 2.00pm at the Village Hall, Pavenham,
10 nurseries from 6 counties: Alpines, Clematis, Exotic plants, Herbs, Perennials and Shrubs, Roses, Shade-lovers, Sundries. Save on mileage, buy from the growers; high quality, unusual plants. Keen prices and good advice! Entrance £1.20, Free Parking, Garden Bric-à-brac, Plant Crèche, Refreshments, Tombola, Children's Playground. (in aid of the Friends of St Peter's – keeping our church building in good repair – Charity no 802696) Debby Horsman
Land to Let
By order of the church wardens of St Mary the Virgin, Podington:
13 acres of pasture and approximately 6500 sq. ft. of agricultural buildings.
Suitable for agricultural and business uses (subject to planning) previous uses include pig farm and riding school.
To be let by tender. For full details apply to the secretary of the PCC Mrs Emma Moffat on 01933 271799
Jonathan James Hewetson Harrison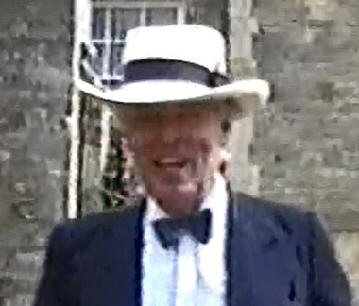 7th January 1931- 28th March 2015
On the afternoon of 9th April 2015 a vast congregation gathered in All Saints' Church to bid farewell to Jonathan Harrison, a much loved resident of Odell village for 35 years. The full church was a visible affirmation of the respect and warmth felt by so many towards Jonathan, as the family were joined by villagers and many friends and acquaintances from far around.
Jonathan Harrison moved to Odell in 1980, with his wife Georgina and children Celeste, Hattie and James. The family had a close affinity with Bedfordshire through the Wells family connection and from the start Jonathan threw himself into village affairs. For many years Jonathan was a member, and also Chairman, of the Parish Council. Many people will also remember him as the "voice" of the village fete, compering events when not driving his tractor and trailer, full of happy fete goers, around the fete ground at considerable speed (no 'health and safety' involved in those days!). Jonathan was a regular member of All Saints' Church congregation and a great support to the ministers over the years. In her address at the funeral, Reverend Christine Clark spoke of how Jonathan had immediately made her feel welcome at her initial interview, and had continued to support her for the entire incumbency, adding how very touched she was at his request that she conduct his funeral. Jonathan had a way of making people feel valued; indeed he was always mindful of others, even when his own life was severely limited by illness.
In a moving tribute to Jonathan given by his son James, the congregation heard of the many facets to Jonathan, or, as James put it, Jonathan was "a man of many hats". We heard of his many interests, not least his love of sailing. Such was his joy of sailing that he built his own 23 foot sailing boat, the Dodona, in which he then took his young family on many sailing holidays. Whilst at home in Odell, he indulged his enjoyment of waterways by organising "Ouse Cruises" involving a motley flotilla of craft navigating the eleven mile stretch of the Great Ouse, between Olney and Odell, under his leadership. Further back in time, in 1954, Jonathan was stroke for the Oxford Eight in the 100th Oxford-Cambridge boat race. And if the water was frozen? Undaunted, Jonathan organised ice skating forays, as when the lake in the Harrold Odell Country Park froze over during a severe winter, or organised ice hockey matches on home-made ice rinks in the garden, equipped with hockey sticks sent over by Canadian cousins.
A picture emerged of a man always ready to embrace fun in life, and to share that fun with others, in particular with his children and grandchildren. Moreover, whatever was needed for that fun to take place – wendy houses, rabbit hutches, skis, even a Peter Pan sword – Jonathan was quick to make it in his workshop. James spoke of his father's eye for any opportunity that afforded fun for them all: if heavy snowfall shut roads, then Jonathan took to the road on skis, or pulled the children along on skis behind the car. A lively recognition of this memory of their grandfather was given by Jonathan's grandchildren during the service, as they recited together a short poem, ending:
"…And think of all the fun we had
When you remember me".
As James recounted past days of fun and enterprising activities with his father – activities which all involved Jonathan's own family as well as children from other families – it became clear that Jonathan was very much a family man, keen to share his joy of life with his children and grandchildren and to teach them many skills that would open up the world to them. His interest in the wellbeing and progress of his own children was echoed in his concern with the young folk in the wider community. Jonathan was proud to be a governor of local Harrold Middle School, a role which he took on wholeheartedly. This interest in nurturing the young – instilled in him as a consequence of a headmaster father, according to James – was apparent throughout his life in Odell. Even during the last few years of his life Jonathan was keen to hear about the progress of young people whose lives he had followed with interest. He was always eager to help, encourage and better their prospects.
Another aspect of Jonathan's life was his love of theatre and poetry, and his especial love of Shakespeare. Jonathan could quote reams of Shakespeare by heart, which, according to his family, could make going to watch a Shakespeare performance quite an uncomfortable experience! For many students in Canada, Jonathan's name will always be associated with Shakespeare, as the 'Jonathan Harrison Prize for Shakespeare' is awarded annually at Ashbury College, Ottawa, the school attended by Jonathan during the War.
Perhaps most importantly, however, Jonathan was a family man, devoted to Georgina, their three children and eight grandchildren. He died peacefully at home, on March 28th, surrounded by his family.
Jonathan will be remembered as a true gentleman, a man who was respected and was held in great regard by everyone. It was a privilege for any village to have as a resident such a man who actively supported and encouraged so many people and so many village activities.
Jonathan's was a life well lived, and lived to the full. He will be greatly missed.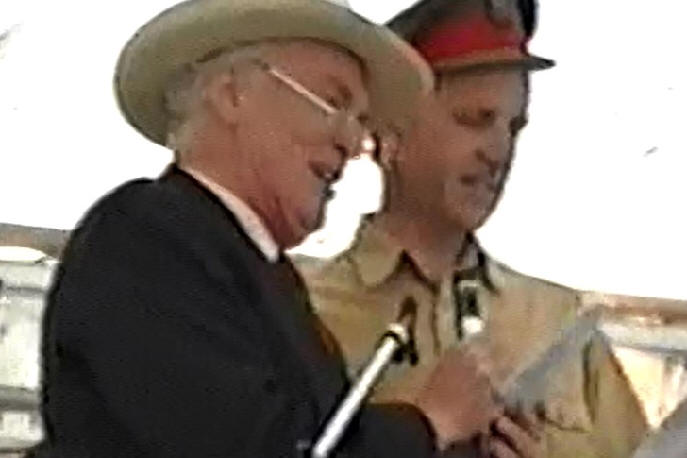 Jonathan enjoying a moment with Richard Hall at VE Day celebrations in Odell, 1995
All Saints' Church Flower Rota
May
2nd Wedding
10th Rachel Halton, Jill Cheadle
24th Pentecost in the Park
31st Ann Hudson, Tricia Hudson
Café in the Tower, April 6th
Thank you to everyone who made cakes, led tower tours or helped in any way with the Café in the Tower event on Bank Holiday Monday, 6th April. The afternoon was a great success, not least because of the wonderful sunshine, and £402.75 was made for the church.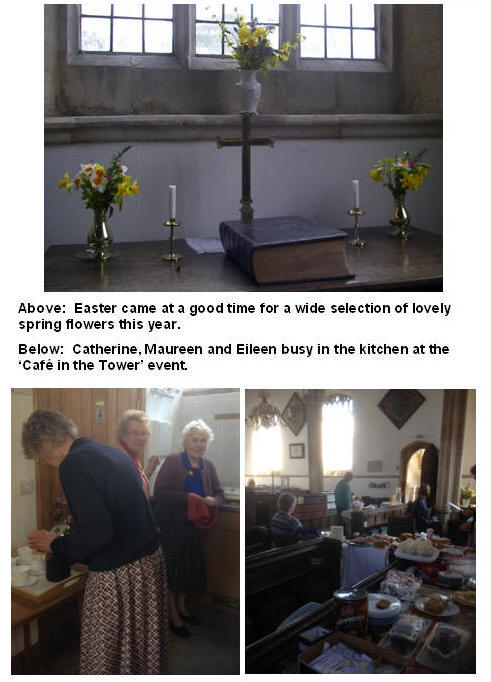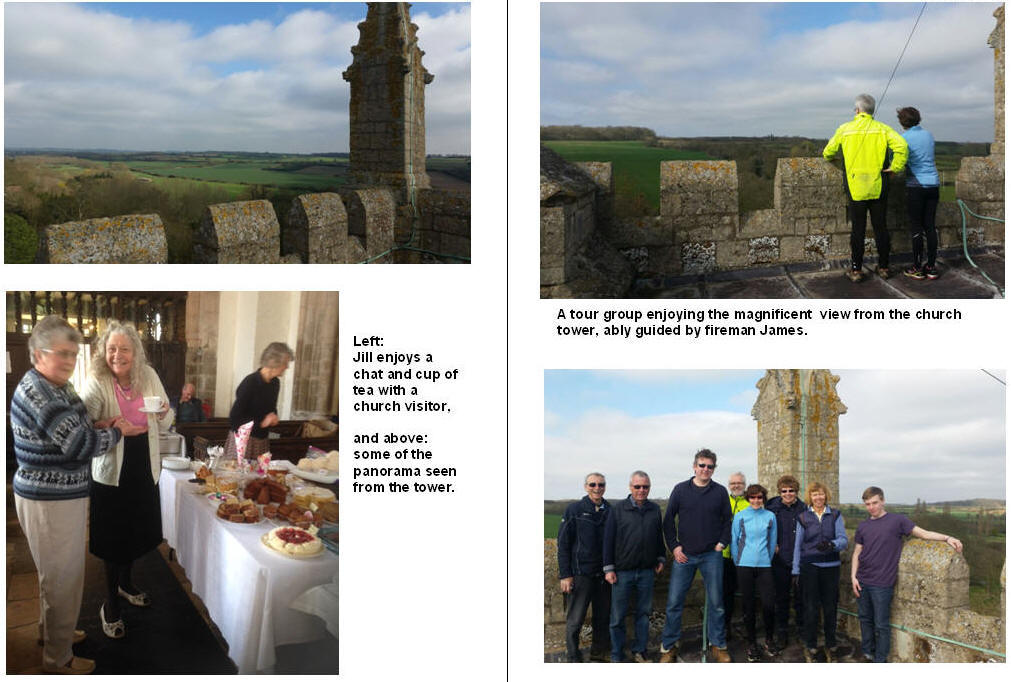 Diary
May
4th 10.00am Fete preparation day, Linden House, Odell
6th 10.30am Meeting Point at Eileen Nottage's, Heydown, High St., Odell
7th 10.30am Health walk HOCP
9th 10.00am Harrold URC May Fair
9th 10.30am Nursery Plant Sale, Pavenham Village Hall
12th 7.30pm W.I. AGM, Village Hall
18th 10.00am Conservation Tasks Day, HOCP
18th 7.30pm Parish Council Meeting, Village Hall
20th 10.30am Meeting Point at Catherine's, The Stables, Church Walk, Harrold
21st 10.30am Health Walk, HOCP
June
3rd 10.30am Meeting point at Jane Smith's, Horsefair Lane, Odell.
4th 10.30am Health Walk HOCP
13th 2.00pm Odell Village Fete
Magazine Deadline
Please send all entries for the June 2015 magazine to Tricia Hudson (ed at odellbeds.net) or Catherine Corkery by May 12th at the latest. May we remind you that the editorial team exercises the right to edit, shorten or alter any items that are submitted. Also, the opinions expressed in the articles are those of the contributors and are not the responsibility of the editorial team.
---
Last revised: May 18, 2015.