Odell Church News - June 2015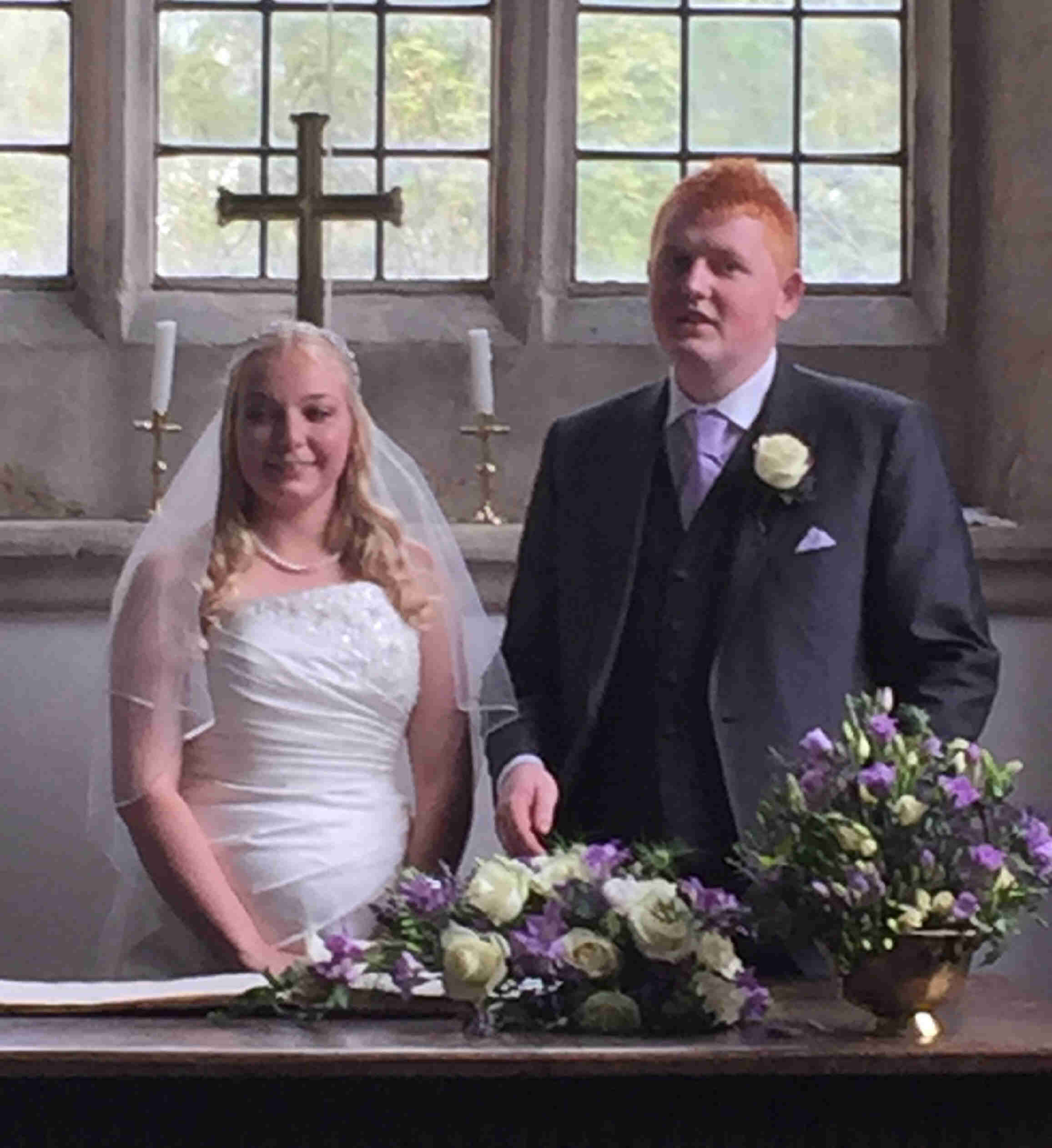 Congratulations to Alex Swift and Sophie Coultard
who were married in All Saints' Church on Saturday 2nd May.
and
Farewell to Meg Clark who passed away peacefully on Friday May 29th.
Click here to download her service of celebration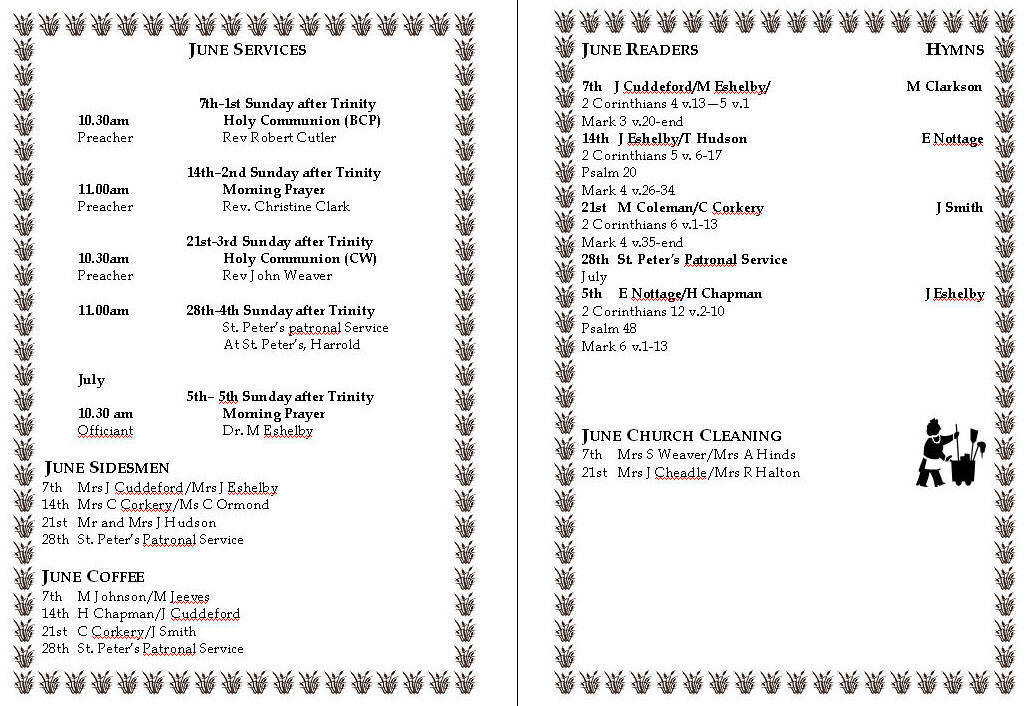 Click here to download John Weaver's talk from June 21st (Freedom from Fear)
Click here to download John Weaver's talk from May 17th (Witness of the Gospel)
Click here to download John Weaver's talk from April 19th (Being a Christian)
Click here to download John Weaver's talk from March 15th (Mothering Sunday)
Click here to download John Weaver's talk from February 1st (Meditation)
Click here to download John Weaver's talk from January 18th (Simeon)
Notice to Hymn choosers - click here to see available Hymns
oooOOOooo
ART EXHIBITION & SALE

All Saints Church – Odell, Beds MK43 7AA

Bank Holiday Weekend

29th, 30th, & 31st August 2015

2.00pm until 5pm

Now is the time to reveal your hidden talents!

If you would like to exhibit your paintings or photographs, please contact Catherine Corkery for an application form.

Tel: 01234 720348 e-mail: catherinelcorkery@yahoo.co.uk.

Closing date for applications: Friday 14th August.

Hanging fee - £2.00 per painting

(fees waived for artwork by children under 16)

Entry for visitors £2 (children under 16 free)

Light refreshments available each day

Proceeds in aid of Church funds.
When we visited Rome recently, I was reminded of studying the Romans in history lessons and as part of the syllabus for 'O' level Latin. It surprised me how much I could remember and led me to reflect on what subjects and extra curricular activities have been of most use or lasting interest. History and art have remained interests over the years. Playing tennis for the school explains my enthusiasm for watching Wimbledon (time permitting!). A school mock election, in which I was given the role of publicity officer for the Labour Party, began the lifelong pattern of always voting in elections, if not party loyalties. Just as importantly, I remember the qualities of the headmistress, who was a member of the Society of Friends (Quakers), who made a lasting impression.
A very old quotation from the twelfth century runs 'learn everything you possibly can, and you will discover later that none of it was superfluous' (Hugh of St Victor). A more recent one: 'What matters most in what we learn from school and home is not the knowledge we accumulate but the kind of person we become' (Rabbi Lord Sacks).
We are fortunate in the villages that children and young people have access to such good schools. The threat of major changes to the education system locally has loomed large, and as a school governor I am relieved that issues and concerns have been resolved for the good of pupils.
This is a time when many are taking tests and examinations that may affect their future and we pray for them, that they will fulfill their potential. We give thanks for all the preparation and hard work of teachers and staff and governors in giving children and young people a good start in life.
Looking back, we don't realize when we are young that education and learning continue throughout life, and how important those early years are in forming lifelong values and patterns of learning, enjoyment and interests, relationships and community involvement. Jane Fox
Prayer Group
What is the Prayer Group? It is made up of members of All Saints' Church who undertake to pray regularly, on an individual basis, for people who ask us for prayer support.
Who do we pray for? Anyone whom we are asked to remember; these might be people from our church, from our local community or others known to us.
What do we pray about? Anything which you would like brought before God; maybe anxiety due to illness, stress or loneliness. You can also tell us of a special day you wish to be remembered – perhaps for an interview or an exam. Any information will be treated in strictest confidence.
How can you let us know if you would like us to pray for you? You can telephone Madeline Jeeves (720803) and email mgjeeves@yahoo.com.
Odell Village Fete and Dog Show
Saturday 13th June 2015, 2pm
(In the Scout field, Horsefair Lane, Odell)
Entry: Adults £1.50, Children Free
The Big Preparation will be on Friday, 12th June, ready for the big day. Ready for the afternoon we plan to get the tents to the field on Friday morning and possibly erected; three or four volunteers would be appreciated. If you can manage to come anytime after 2.00 pm to lend a hand you will be most welcome. We shall need to collect tables, chairs and stall signs to set these up in the Scout Field down Horsefair Lane. Tea and Cake supplied to keep you going! The morning of the Fete also requires many hands to help complete the preparation and get the goods to the stalls ready for the Grand Opening at 2.00pm. Don't forget that we also have to clear the field at the end of the afternoon. All helpers are invited to a BBQ on Sunday morning at the village hall to round off the busy weekend.
If you can help please contact Mandy Hinds, 7 Horsefair Lane, Odell, 01234 720414 alodell@plus.com or Christine Clark 01234 918985 cmclark99@uwclub.net
PROGRAMME OF EVENTS
2.00 pm Grand Opening
2.00-4.00pm Dog Show
4.00 pm Raffle Draw and Prize Giving
ATTRACTIONS
Bedford Brass Band, Boys' Brigade, Bouncy Castle, Teas, Pimm's, Children's Sports, Tombola, Ice Creams, Cakes, Books, Refreshments, Bottle Stall, Coconut Shy, White Elephant, Produce, Gifts, Raffle
FAMILY DOG SHOW
(entry fee - £1 50 per dog per class) Classes:
1. Children's Handling (14 years and under)
2. Puppies under 1 year
3. Country Sporting Dog
4. Country Sporting Bitch
5. Best Condition Dog or Bitch
6. Best Rescue Re-home Dog
7. Best Rescue Re-home Bitch
8. Best Cross Breed Dog
9. Best Cross Breed Bitch
Festival Weekend Family Service and Barbecue Sunday June 14th
There will be an all-age informal church service at All Saints' Church at 11.00am on Sunday 14th June to which everyone is welcome.
Around 12.30pm all helpers and Odell residents are invited to a 'Bring and Share' barbecue in the Village Hall. Meat for the BBQ will be provided - please bring along a salad or similar to share. You also need to bring your own crockery, cutlery and drink. It would be helpful to let Mandy Hinds (720414) or Jane Eshelby (01933 410959) know if you are able to come to the BBQ so we know how many to cater for.
thank you to everyone who helped at the fete preparation day on May 4th, and particular thanks to Doreen for hosting the event and BBQ at her house.
Messy Church
Fusion meets on the third Monday of each month at the URC chapel in Harrold. We meet straight after school and have a biscuit and a drink before we start. Each meeting has a different theme, and we then do some craft, drama, quizzes, or experiments around this theme.
In March, Messy Church was all about hands and the story was about Thomas. We made mosaic fish and we even gave them names. Lola enjoyed making the garden on a plate. It was an Easter garden made with compost and moss with a tomb at the back, with the stone rolled away. Elin enjoyed decorating the cakes – putting a strawberry nose on and then eyes (chocolate buttons and Smarties) and then the mouth using a segment of orange.
In April everyone thought the boat building was the most fun. They were very difficult to float. Freya and Lola liked sailing the boats in the paddling pool. Hannah and Zosiah like planting the cress seeds and Lilly enjoyed making the crispy crackles and decorating them with birds. Our meal was fish fingers and spaghetti and peas, followed by crispy crackles and fruit.
You are very welcome to join us. The next session is Monday 15th June.
Families are welcome to come along to Harrold United Reformed Church from 3.30 to 6.00pm to enjoy the fun and share a hot meal, but please contact Carol Ormond on 720409 to ensure we have catered for you!
On Monday 20th July we shall be at the Country Park and families need to bring a picnic tea.
Seniors' Holiday Club
Don't let children have all the fun! Come to a Holiday Club for adults!
Open to anyone over 50.
August 17th – 21st.
Programme
Date Activity
Monday 17th Outing by coach to the Chiltern Open Air Museum at Chalfont St Giles, Buckinghamshire. Described as a 'hidden gem', there are over 30 rescued historic buildings in parkland, including a 1940's prefab, Victorian Toll house, Iron Age Roundhouse and Victorian Farm. Tour or audio guide available. Café
Cost: £15 including coach and entry to the museum
Tuesday 18th 12.00 - Lunch at the URC, followed by entertainment.
Cost: £6 for 2 courses, £6.75 for 3. 50p for tea and entertainment only.
Wednesday 19th 6.00pm skittles and fish and chip supper at the Harrold Centre.
Cost: £6
Thursday 20th Walk at Paxton Pits Nature Reserve, Little Paxton, Cambs. Lakes, riverside meadow, reed beds and woodland in the Great Ouse Valley north of St. Neots, followed by lunch at The Anchor pub. Lifts by car arranged.
Cost: Pub lunch, varied menu.
Friday 21st 3.00pm: afternoon tea in a village garden.
Cost: £3 per person.
All events must be booked in advance please. Registration forms available from Sally Bailey 368564 or churchestogether@btinternet.com or Church House Office or Churches or Carlton Village Shop.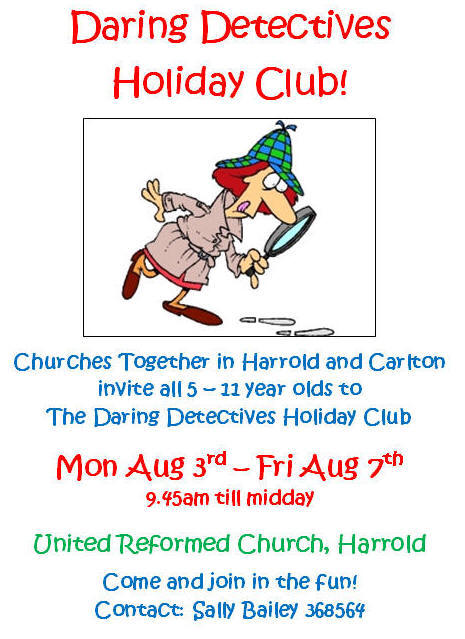 Land to Let
By order of the church wardens of St Mary the Virgin, Podington:
To Let –
13 acres of pasture and approximately 6500 sq. ft. of agricultural buildings.
Suitable for agricultural and business uses (subject to planning) previous uses include pig farm and riding school.
To be let by tender.
For full details apply to the secretary of the PCC Mrs Emma Moffat on 01933 271799
MEETING POINT
June
Wed 3rd 10.30am at Jane Smith's, Horsefair Lane, Odell.
Wed 17th 10.30am at Jane Eshelby's, Newton House, Avenue Rd., Newton Bromswold, Rushden
July
Wed 1st 10.30am at Jane Smith's, Horsefair Lane, Odell.
All Saints' Church Charitable Giving for the month of June is to The Church Pastoral Aid Society, which offers valuable training and a wide range of resources for clergy and lay people, in evangelism, youth work, mission and ministry, runs Young Peoples' holiday clubs and offers Parish Consultations. See the notice board in the church for more information.
All Saints' Church Flower Rota
June
14th Fete Weekend
21st Open Churches
Carol Ormond
28th St. Peter's Patronal Festival
Birthdays
Happy birthday to…
Mia Vyvyan who will be 14 on the 2nd
And Eleanor Robinson whose birthday is on the 17th
..and to anybody with a birthday in June.
Christian Aid Week
Thank you to everyone who donated to Christian Aid. A total of £73 was collected in the village.
Harrold Pit Run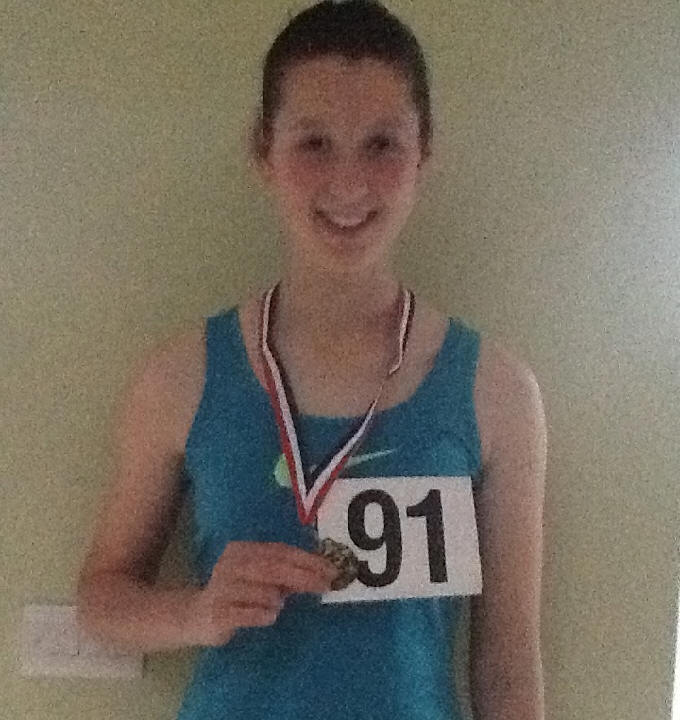 Congratulations to Lottie Robinson who was 3rd local
female and 2nd junior girl in the Harrold Pit run

Diary
June
3rd 10.30am Meeting point at Jane Smith's, Horsefair Lane, Odell
4th 10.30am Health Walk HOCP
12th 2.00pm Fete preparations, scout field, Horsefair Lane
12th – 14th Beer Festival at The Bell
13th 11.00am Mini Woodworks Event, HOCP
13th 2.00pm Odell Village Fete
14th 11.00am Festival weekend service in All Saints' church
14th 11.00am Mini Woodworks event, HOCP
14th 12.30 Bring and share village BBQ in Village Hall
14th 12.00pm Collection of Bulky Waste, village green
15th 3.30pm Messy Church, Harrold URC
16th 2.30pm W.I. outing to Cedar Farm
17th 10.30am Meeting point at Jane Eshelby's, Newton House, Avenue Rd., Newton Bromswold, Rushden
18th 10.30am Health Walk HOCP
29th 10.00am Friends' Task Day HOCP
July
1st 10.30am Meeting point at Jane Smith's, Horsefair Lane, Odell.
Magazine Deadline
Please send all entries for the joint July/August 2015 magazine to Tricia Hudson (ed at odellbeds.net) or Catherine Corkery by June 12th at the latest. May we remind you that the editorial team exercises the right to edit, shorten or alter any items that are submitted. Also, the opinions expressed in the articles are those of the contributors and are not the responsibility of the editorial team.
---
Last revised: June 21, 2015.