Odell Church News - July & August 2015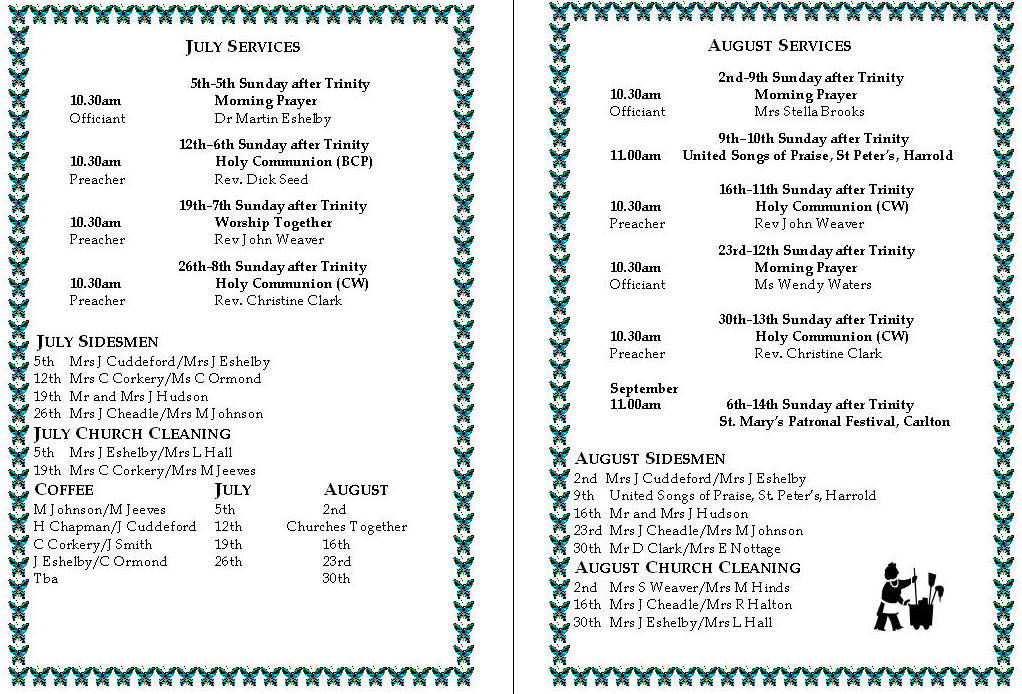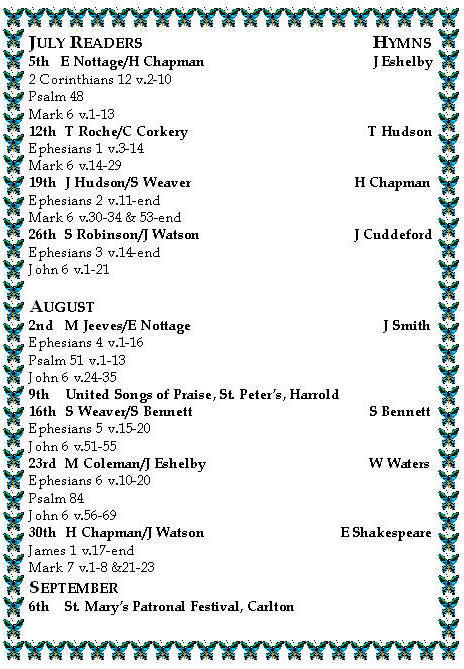 Farewell to Meg Clark who passed away peacefully on Friday May 29th.
Click here to download her service of celebration
Click here to download John Weaver's talk from July 19th (Building and breaking down walls part1)
(Building and breaking down walls part2)
Click here to download John Weaver's talk from June 21st (Freedom from Fear)
Click here to download John Weaver's talk from May 17th (Witness of the Gospel)
Click here to download John Weaver's talk from April 19th (Being a Christian)
Click here to download John Weaver's talk from March 15th (Mothering Sunday)
Click here to download John Weaver's talk from February 1st (Meditation)
Click here to download John Weaver's talk from January 18th (Simeon)
Notice to Hymn choosers - click here to see available Hymns
oooOOOooo
ART EXHIBITION & SALE

All Saints Church – Odell, Beds MK43 7AA

Bank Holiday Weekend

29th, 30th, & 31st August 2015

2.00pm until 5pm

Now is the time to reveal your hidden talents!

If you would like to exhibit your paintings or photographs, please contact Catherine Corkery for an application form.

Tel: 01234 720348 e-mail: catherinelcorkery@yahoo.co.uk.

Closing date for applications: Friday 14th August.

Hanging fee - £2.00 per painting

(fees waived for artwork by children under 16)

Entry for visitors £2 (children under 16 free)

Light refreshments available each day

Proceeds in aid of Church funds.

oooOOOooo
Hi Everyone,
We all like holidays: sunshine; rest; refreshment; getting away from it all; visiting new places; and swimming in warm azure seas. But then there may be rain, traffic jams, caravans, bored children, and inflated package deal prices. Some of my holiday memories as a child are summed up by Welsh comedian Max Boyce's Ode to Barry Island:
I remember Miner's Fortnight when I was just a lad
We'd go to Barry Island, the weather always bad
In a brand new shirt and shoes that hurt,
The ones Mam saved to buy
To go to Barry Island on that last week in July
I'm on the beach, it's Sunday; I've got a friend called Russ
I'll have to buy another bucket, left mine on the bus.
I've cut my foot, it's bleeding
My cousin says, "You'll die, and we'll bury you
in Barry Island" on the last week in July.
But our word 'holiday' comes from holy days, Sabbaths, a time to reflect, and time for God.
In the Catholic Church on Sundays and other holy days of obligation, the faithful are obliged to participate in the Mass, and abstain from those works and affairs which hinder the worship to be rendered to God.
The Feast of Saints Peter and Paul is such a holy day, remembering their martyrdom in Rome, which is observed on 29th June. There is also the Assumption of the Virgin Mary into Heaven, when according to the beliefs of the Catholic Church, Eastern Orthodoxy, and parts of Anglicanism, the bodily taking up of the Virgin Mary into Heaven at the end of her earthly life took place. This is celebrated on August 15th.
The former chief rabbi, Jonathan Sacks observes that on the Sabbath, Jews do not work, nor are they permitted to employ others to work. All relationships of hierarchy and dominance are temporarily suspended, one day in seven. During the six weekdays, we think of ourselves as creators. On the seventh, we become aware that we are also creations - part of the natural world order, whose integrity we are bidden to respect. The Sabbath is thus the most compelling lesson in human dignity, environmental consciousness, and the principle that there are moral limits to economic exchange and commercial exploitation. It is one of the great antidotes to commercialization and materialism.
Therefore to rest on the seventh day is not just to have time off work, it is to remember who we are, what we are, and why we are here. Every aspect of our lives individually and collectively is to be viewed in the light of the Creator's intentions for us. How we spend our time determines the quality of our lives, as well as the quality we can add to the lives of others.
Happy holidays, John Weaver
Prayer Group
What is the Prayer Group? It is made up of members of All Saints' Church who undertake to pray regularly, on an individual basis, for people who ask us for prayer support.
Who do we pray for? Anyone whom we are asked to remember; these might be people from our church, from our local community or others known to us.
What do we pray about? Anything which you would like brought before God; maybe anxiety due to illness, stress or loneliness. You can also tell us of a special day you wish to be remembered – perhaps for an interview or an exam. Any information will be treated in strictest confidence.
How can you let us know if you would like us to pray for you? You can telephone Madeline Jeeves (720803) and email mgjeeves@yahoo.com.
Odell Village Fete and Dog Show
After a week of watching weather forecasts, on the day our worst fears were confirmed – the rain came and stayed for the whole day. The fete ground was saturated, stall holders were wet through and tables, chairs and goods all got a good drenching. However – despite this, a spirit of resolution and determination permeated stall holders and fete-goers alike, and the fete went on! Although numbers were down on other years, people still came from far and wide, many with their dogs, to support and indeed enjoy the event, and fun was had by everyone. Thank you to everyone who helped at or attended the fete and made the afternoon such fun in spite of the rain!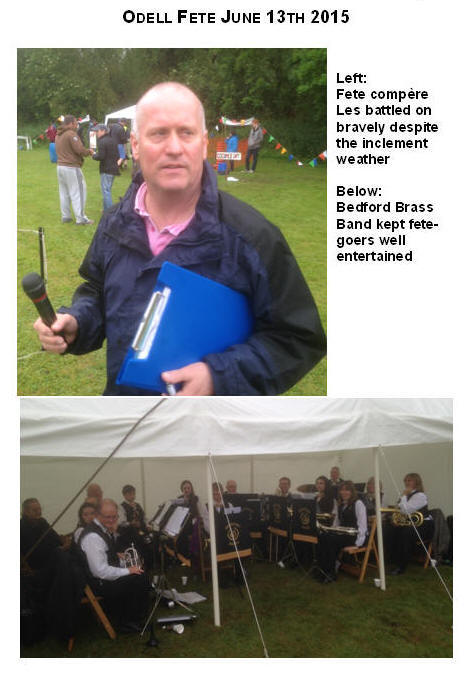 See Village News for more pictures from the fete
Seniors' Holiday Club
Don't let children have all the fun! Come to a Holiday Club for adults!
Open to anyone over 50.
August 17th – 21st.
Programme
Date Activity
Monday 17th Outing by coach to the Chiltern Open Air Museum at Chalfont St Giles, Buckinghamshire. Described as a 'hidden gem', there are over 30 rescued historic buildings in parkland, including a 1940's prefab, Victorian Toll house, Iron Age Roundhouse and Victorian Farm. Tour or audio guide available. Café
Cost: £15 including coach and entry to the museum
Tuesday 18th 12.00 - Lunch at the URC, followed by entertainment.
Cost: £6 for 2 courses, £6.75 for 3. 50p for tea and entertainment only.
Wednesday 19th 6.00pm skittles and fish and chip supper at the Harrold Centre.
Cost: £6
Thursday 20th Walk at Paxton Pits Nature Reserve, Little Paxton, Cambs. Lakes, riverside meadow, reed beds and woodland in the Great Ouse Valley north of St. Neots, followed by lunch at The Anchor pub. Lifts by car arranged.
Cost: Pub lunch, varied menu.
Friday 21st 3.00pm: afternoon tea in a village garden.
Cost: £3 per person.
All events must be booked in advance please. Registration forms available from Sally Bailey 368564 or churchestogether@btinternet.com or Church House Office or Churches or Carlton Village Shop.
Meeting Point
July
1st 10.30am at Jane Smith's, Horsefair Lane
15th 10.30am at Madeline Jeeves's, Rivendell, 15 Horsefair Lane
29th 10.30am at Catherine's, The Stables, Church Walk, Harrold
August
No meetings in August
September
2nd 10.30am at Eileen Nottage's, Heydown, High St.
Meg Clark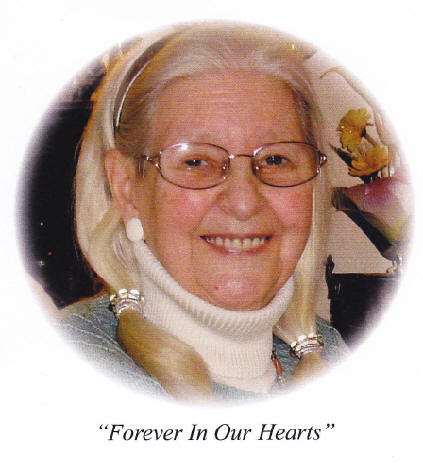 11th January 1934 – 29th May 2015
On the 29th May we lost a dear member of the community and of the church in Odell. Meg Clark gave up her fight with cancer and died peacefully and with dignity in her home in Harrold. At her funeral service in All Saints' Church in Odell on 10th June, the church was packed with members of Meg's large family of children, grandchildren and great grandchildren but also with many people from Odell and surrounding villages, in which Meg had played so active a role for much of her life.
Moving tributes to Meg were read by granddaughter Danielle, on behalf of Meg's daughter Sharon who was unable to attend due to illness, and by Catherine Corkery on behalf of Meg's daughter Julie. Particularly poignant were the poems read by younger members of Meg's family, but it was a poem written by granddaughter Anita that left few eyes dry. The outpouring of love for Meg by her family gave testimony to the warmth and compassion that Meg showed to everyone throughout her life.
Meg's life was far from ordinary. She was born very prematurely, and, not expected to survive, was placed in a wicker basket by the fire and left to pass away quietly. However – Meg astounded everyone by surviving and went on to live for 81 years. With her typical sense of humour, Meg requested that she have a wicker coffin when she died, since, she said, she began life in a basket and so would like to end life in one too!
Meg came to Bedfordshire when she was just five, and lived here ever since. It was during her first marriage that she became a foster mother, giving a home to an astonishing thirty four children (at least) until they were able to go somewhere permanent. Sadly that marriage failed, and Meg was left destitute with sons Stephen, Philip and Paul. However, happier times were to come and Meg met and married her second husband Ken Denton, with whom she had daughters Julie and Sharon. The family purchased land in Odell and built a bungalow, and that was how Meg became part of the community of Odell.
In her tribute, Julie told us how Meg's care for others continued in Odell as she unofficially looked after older folk, and then became a home help. Meg and Ken also ran the Afternoon Club for a few years. Yet Meg's kindness extended beyond any official capacity and was part of her everyday life: her door was always open to others in need, she always had a listening ear and a readiness to help, and that help was to every living creature, including the many stray or injured animals to whom she gave a home.
From the tributes and poems of the family we saw how Meg was so very loved and played such an important part in all their lives, welcoming, encouraging, consoling, supporting. There was always room for each one of them in her sitting room, and always a drink and a piece of cake, and of course, a listening ear.
Meg moved out of Odell eleven years ago, swapping her bungalow for a house in Harrold, but she continued to attend Odell church and was a much loved member of the congregation. Meg had sadness in her life – particularly the loss of son Stephen, daughter Bernadette and her husband Ken. But Meg's faith was deep and of great comfort to her, so that when she learned that she had cancer she took the news stoically, refused the radical and intrusive treatments that were offered to her said quietly that she was at peace in herself and with the Lord and was ready to go to heaven.
Meg's funeral was a sad farewell by all to such a generous and loving lady, but at the same time was an occasion overflowing with love. The love Meg gave out during her life was felt by everyone and repaid in full, symbolised so beautifully by the dropping by each person present of a red stem rose into Meg's grave – a showering of the affection and gratitude that Meg so deserved. Tricia Hudson
Click here to download a recording of her service of celebration
All Saints' Church Charitable Giving for the months of July and August is to Open Doors
This Evangelical organisation supports the persecuted church and Christians worldwide – providing Bibles and teaching materials, training for church leaders, practical and financial help, literacy programmes and community development projects. See the notice board in the church for more information.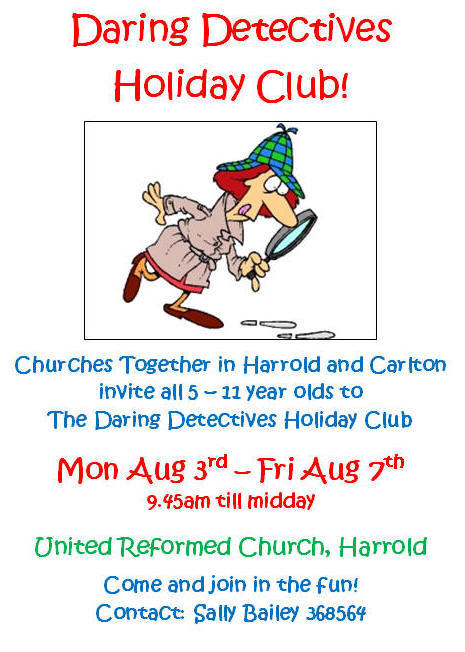 All Saints' Church Flower Rota
July
5th Sheila Weaver
18th Wedding
August
2nd Madeline Jeeves
9th Songs of Praise in Harrold
16th Georgina Harrison
30th Eileen Shakespeare, Jen Cuddeford
Birthdays
Happy birthday to :
Elin Thomas on 30th June and also to
Jasmine Hall on 30th July,
And to anyone with a birthday in July and August.
Diary
July
1st 10.30am Meeting Point at Jane Smith's, Horsefair Lane
2nd 10.30am Health Walk, HOCP
14th 12.30pm W.I. BBQ at Rachel Halton's, Greystones, Odell Rd.
15th 10.30am Meeting Point at Madeline's, 15 Horsefair Lane
16th 10.30am Health walk, HOCP
26th 11.00am Mill Theatre Open Day
27th 10.00am Friends' Task day, HOCP
29th 10.30am Meeting Point at Catherine's, The Stables, Church Walk, Harrold
August
3rd-7th Daring Detectives Holiday Club
13th 10.30am Health Walk, HOCP
17th -21st Seniors' Holiday Club, Carlton
27th 10.30am Health Walk, HOCP
29th 2.00pm Art Exhibition and Sale, All Saints' Church, Odell
30th " " " "
31st " " " "
September
2nd 10.30am Meeting Point at Eileen Nottage's, Heydown, High St.
Magazine Deadline
Please send all entries for the September 2015 magazine to Tricia Hudson (ed at odellbeds.net) or Catherine Corkery by August 12th at the latest. May we remind you that the editorial team exercises the right to edit, shorten or alter any items that are submitted. Also, the opinions expressed in the articles are those of the contributors and are not the responsibility of the editorial team.
---
Last revised: July 22, 2015.