Odell Church News - September 2014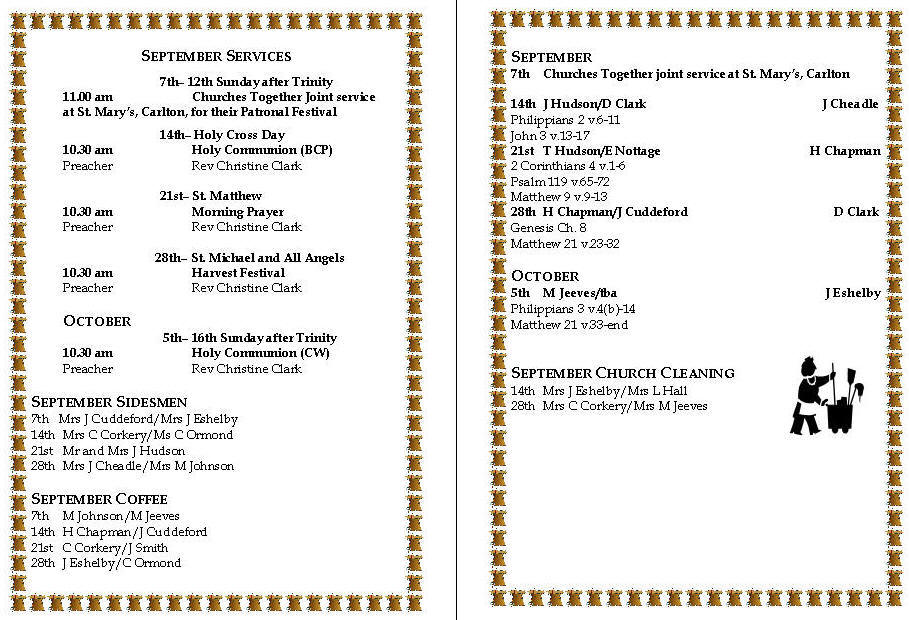 September 2014
Dear Friends,
In August the grandchildren came to stay. Trinity and Jacob were first to arrive. As we joined in the fun of Holiday Week at Harrold Chapel I discovered that Jacob is a superb dancer, and that Trinity, while enjoying everything on offer is beginning to turn into a teenager who takes a more sophisticated view. No sooner had they left than Faith and Molly arrived. Like Trinity, Faith is moving up to senior school now, parents having to fund the jaw-dropping cost of new uniform all round. Molly, aged 7½, was born prematurely and is still underweight, but surprisingly strong and can already swim 7 lengths – so a visit to the Oasis pool was a must.
We followed the children's agenda for those two weeks. Seeing life through their eyes, and becoming aware of their priorities (can we make the longest loom band ever?) rather than our own over-busy agenda, gave us a different perspective on life. It's fascinating to see their different personalities developing, and how they handle their relationships – Molly, very politely, "I don't really want peas, but if I have to eat a vegetable, I'll have them"
Children are supremely precious to God …
Jesus called a little child and had him stand among them. And he said: "I tell you the truth, unless you change and become like little children, you will never enter the kingdom of heaven. Therefore, whoever humbles himself like this child is the greatest in the kingdom of heaven. And whoever welcomes a little child like this in my name welcomes me" [Matt.18 v.2-5]
As we hear the heart-breaking news of many children being slaughtered, abused and robbed of their childhood, let us remember them daily in our prayers. These atrocities will not go unpunished…Jesus' words in Matthew 18 continue:
"But if anyone causes one of these little ones who believe in me to sin, it would be better for him to have a large millstone hung around his neck and to be drowned in the depths of the sea …see that you do not look down on one of these little ones. For I tell you that their angels in heaven always see the face of my Father in heaven" [v.6 & 10]
I often think on the words of a father in Syria, comforting his children as their town was being bombed …
"There may be a lot of blood and some pain, but if we close our eyes here, we shall open them in heaven."
Christine.
Prayer Group
What is the Prayer Group? It is made up of members of All Saints' Church who undertake to pray regularly, on an individual basis, for people who ask us for prayer support.
Who do we pray for? Anyone whom we are asked to remember; these might be people from our church, from our local community or others known to us.
What do we pray about? Anything which you would like brought before God; maybe anxiety due to illness, stress or loneliness. You can also tell us of a special day you wish to be remembered – perhaps for an interview or an exam. Any information will be treated in strictest confidence.
How can you let us know if you would like us to pray for you? You can telephone Christine (720234), drop a note through the Rectory door or send an e-mail to cmclark99@uwclub.net
Meeting Point
September
3rd 10.30am at Eileen Nottage's, Heydown, High St, Odell.
17th 10.30am at Jane Smith's, Horsefair Lane.
October
1st 10.30am at Jill's, Rectory Farm, Odell.
All Saints' Church Charitable Giving for the months of September and October is to Mercy Ships,
an American Christian charity providing free operations, sending teams of dentists to local hospitals, talks for local villages about aids, teaching projects and projects to help women help themselves, building new schools/orphanages, and follow-up nursing for ex-patients. All who work on the ships contribute financially.
See http://www.mercyships.org.uk/ for more info.
Fusion
In May we were learning about the Lord's Prayer. We decorated boxes with jewels and glitter, then we wrote about the things we had done wrong and we got the chance to set them on fire, and say sorry. Then we made sunflowers with the Lord's Prayer on. Then finally we made our own pizza for dinner, the base of the pizza represented the bread which was God's body. Fusion is a lovely place to go and it is only on the third Monday of each month and you only need to give a donation for the food.
I love going to Fusion and doing activities and spending time with my family and all the lovely helpers. Please come to Fusion – we would like some more people to have fun with us.
Katie Wheeler
The next Fusion meeting is
Monday 15th September at Harrold United Reformed Church.
Families are very welcome to come along from 3.30 to 6.00pm.
Just Email John Sunderland john@sundrlnd.freeserve.co.uk or phone 720184 a few days before to let us know you are coming –
so we have enough food!!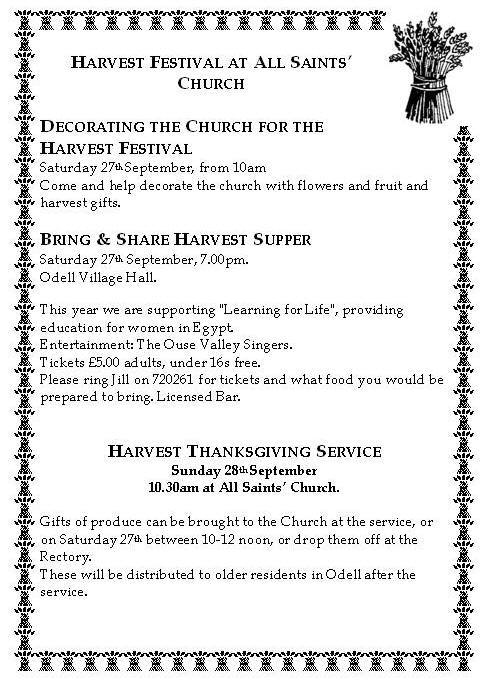 The Bishop's Harvest Appeal 2014: "Learning for Life".
This year, the Bishop's Harvest Appeal is 'Learning for Life' which supports the teaching of literacy to women in Egypt.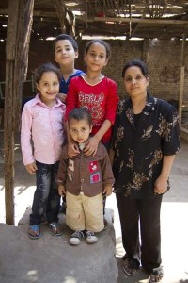 "As many as 4 in 10 women in Egypt are unable to read"
"More than 20 million people live below the poverty line in Egypt"
Sabren Awad, above with her family, is one of the many women who has benefitted from the literacy classes
funded by Christian Aid.
Background information:
Since the 2011 uprising in Egypt which forced President Hosni Mubarak to resign, Egyptians have seen continual political, economic and social instability as the Muslim Brotherhood was elected and then deposed by the military.
For many families this has meant the destruction of their livelihoods, leaving them unable to pay for rent, schooling, medicines or food. Communities have been left without police support and are too afraid to speak out. In this background, Christian Aid partners are working to help communities find ways to rebuild their lives.
One important way is to teach women to read. As a result of beliefs and traditions many women were denied the opportunity to learn, with the outcome that they were unable to help their communities to rebuild. Now, with the help of Coptic Orthodox Church Bless, Christian Aid's partner in Egypt, women are given literacy classes and are able to actively help their children and take part in a whole range of issues that affect their communities.
Literacy classes are just one of the many ways in which COC Bless helps whole communities to address the issues they face such as children's needs, healthcare, finding ways to earn a living, education and learning new skills.
In his Harvest Appeal letter, Bishop Alan speaks of the incredible life-changing gift of literacy:
"Words change the world and transform lives.
My Harvest Appeal this year, Learning for Life, is an opportunity for you to make a difference to some of Egypt's poorest families in the most vulnerable communities. Your gift will help fund vital literacy classes that offer women…the ability to support their families at a time of particular difficulty. The classes also teach skills that open up many opportunities for the future.
It is a special delight that Christian Aid's partner in Egypt is the Coptic Orthodox Church, which has its UK headquarters in our diocese, in Stevenage. Bishop Angaelos is a good friend to us.
…Please support this year's Appeal as generously as you are able.
With my thanks and my prayers."
To find out more go to www.harvestappeal.org
Christian Aid Week Collection
This year 15 Parishes took part in our North Beds area collection which took place in May, raising £5465.14. This figure was slightly up from last year. Many thanks to all who contributed.
Margaret Linggood, Co-ordinator
Senior citizen's tea party at Linden House on
30th July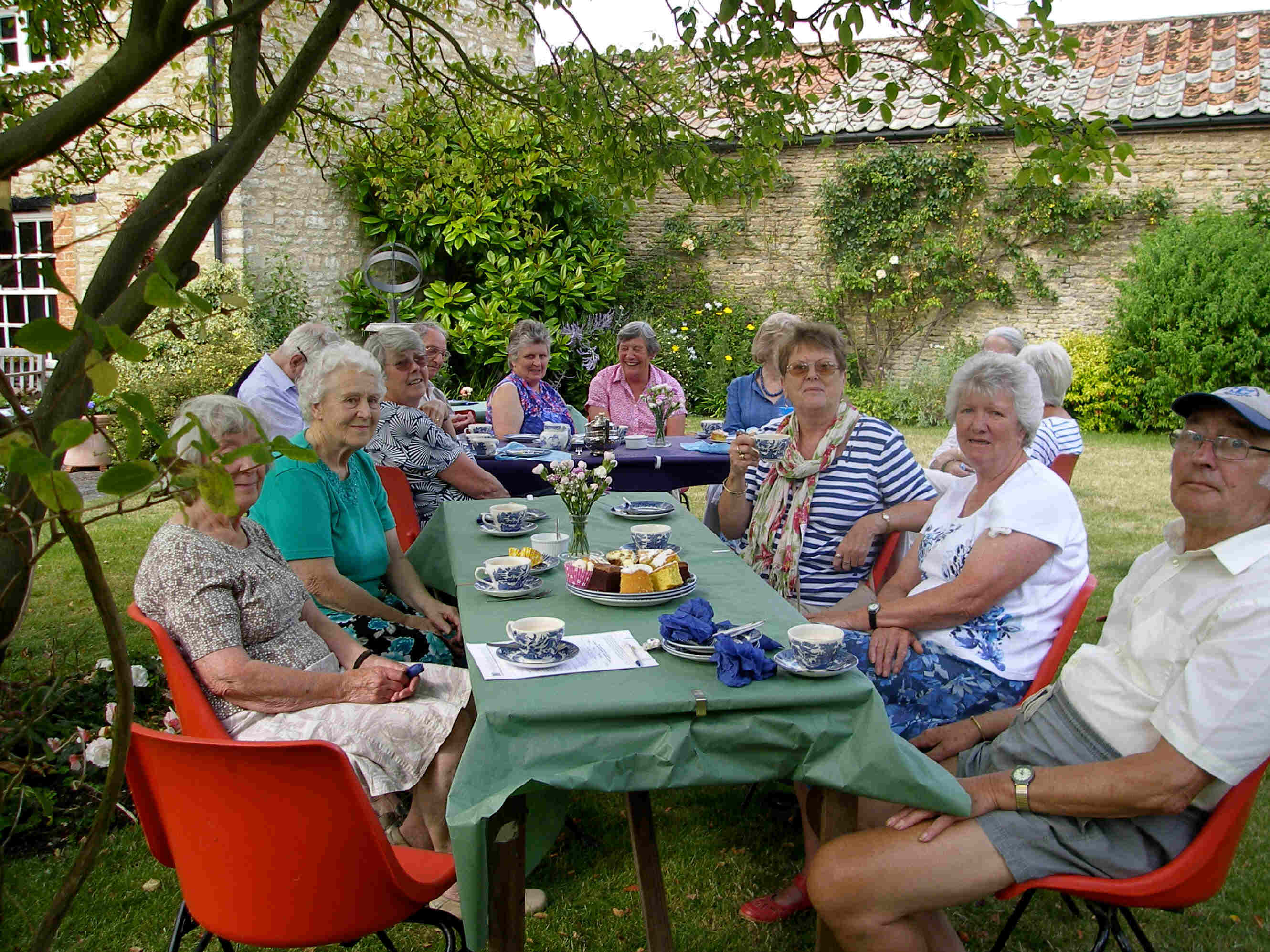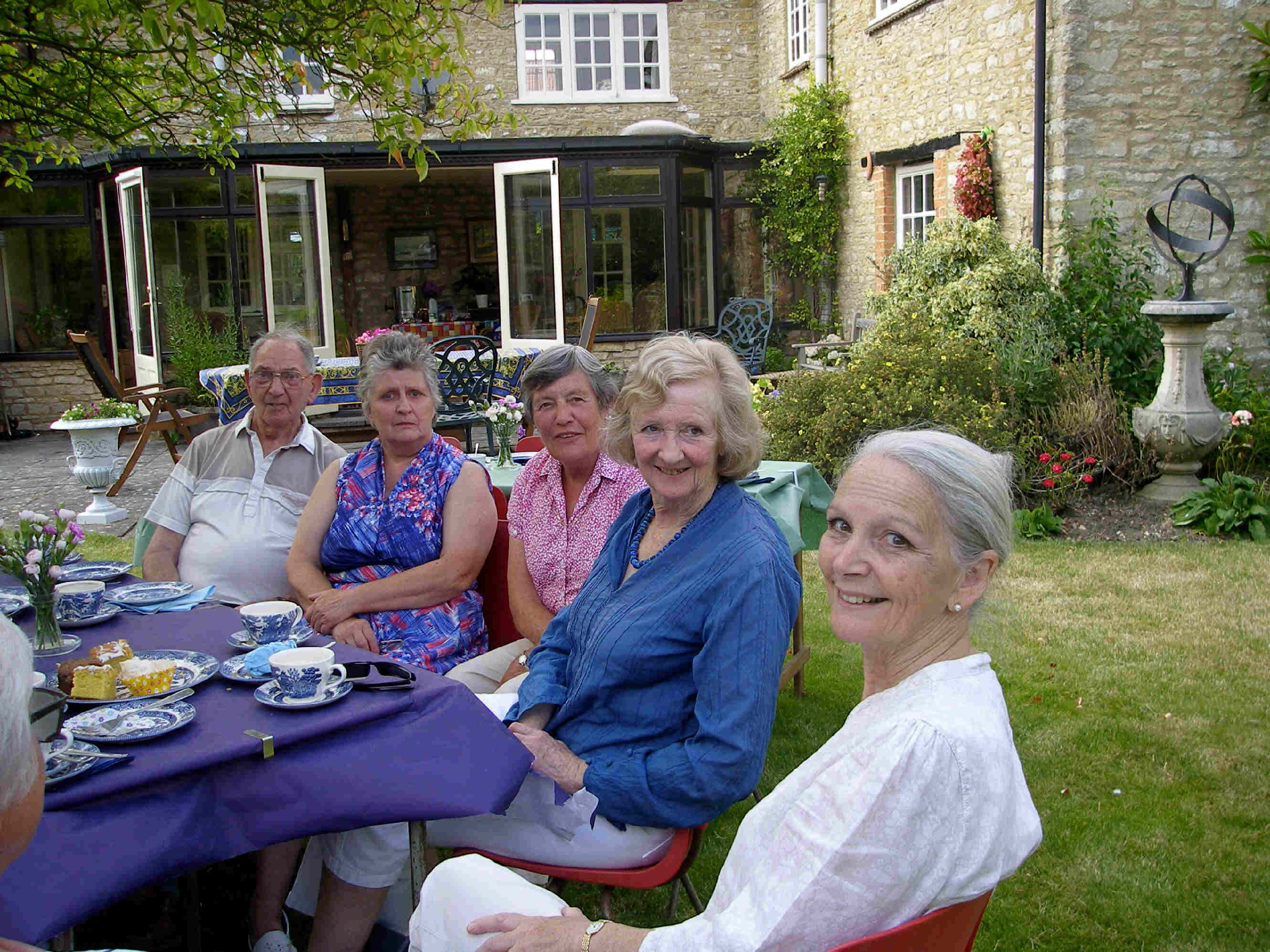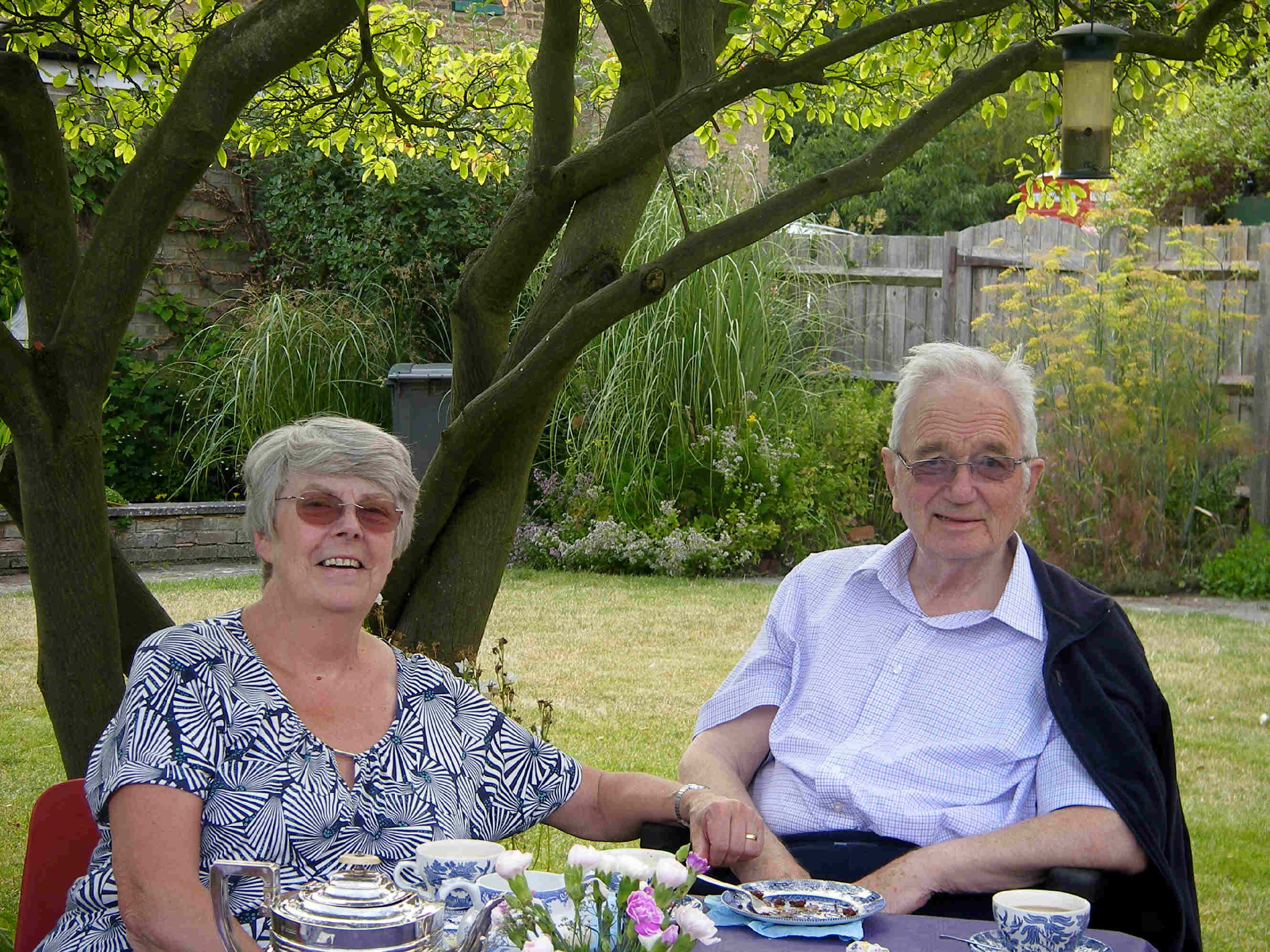 Fete news
In late July a meeting was held in the Village Hall to discuss the future of the fete. This was well attended by an enthusiastic group with lots of ideas.
Generally everyone felt that the fete should continue in broadly the same style. The possibility of allowing commercial stalls such as jewelry makers, coffee sellers, jam and chutney makers, doughnut stall and fairground rides (all of which have approached members of the committee over the last few years) were rejected as it was felt that this would detract from the uniquely old fashioned appeal of Odell fete as well as diluting the income.
It was hoped that we could continue to have the support of the younger members of our community not only on the day of the fete but also by perhaps getting some more involved in the planning. The idea of moving back to having a road closure on the day and possibly having some stalls on the lane was also suggested.
Most thought that a theme for the fete was a good idea as long as it reflected something significant and "not just for the sake of one". Other ideas suggested:
· Resurrect an auction of items and promises
· Put an article about the fete in OVL
· Possibility of having a "Guest Stall" each year, such as ferret racing etc
· An old fashioned competition for adults and children: cup cakes or garden based
· Moving the dog show to the lower part of the field to draw people into the site more
· Putting flyers through the village doors to remind all of the date and the after-fete BBQ
· Country dance demonstration
· More river view to celebrate the scenery
· Tie in with other village event such as scarecrow competition etc
· Real stocks and wet sponges instead of 'feed the face'
· Healthier prizes for children instead of all sweets
Invite local clubs or groups to demonstrate (perhaps part of a guest stall idea).
As you can see, there are lots of things to keep the fete and fete committee busy. Let me know if you have any connections with any club, group or school band who would like to be featured in next year's fete and don't forget the date: 13th June 2015 - looking forward to it as the fete always seems to herald summer. Mandy Hinds 01234720414
New shed in the churchyard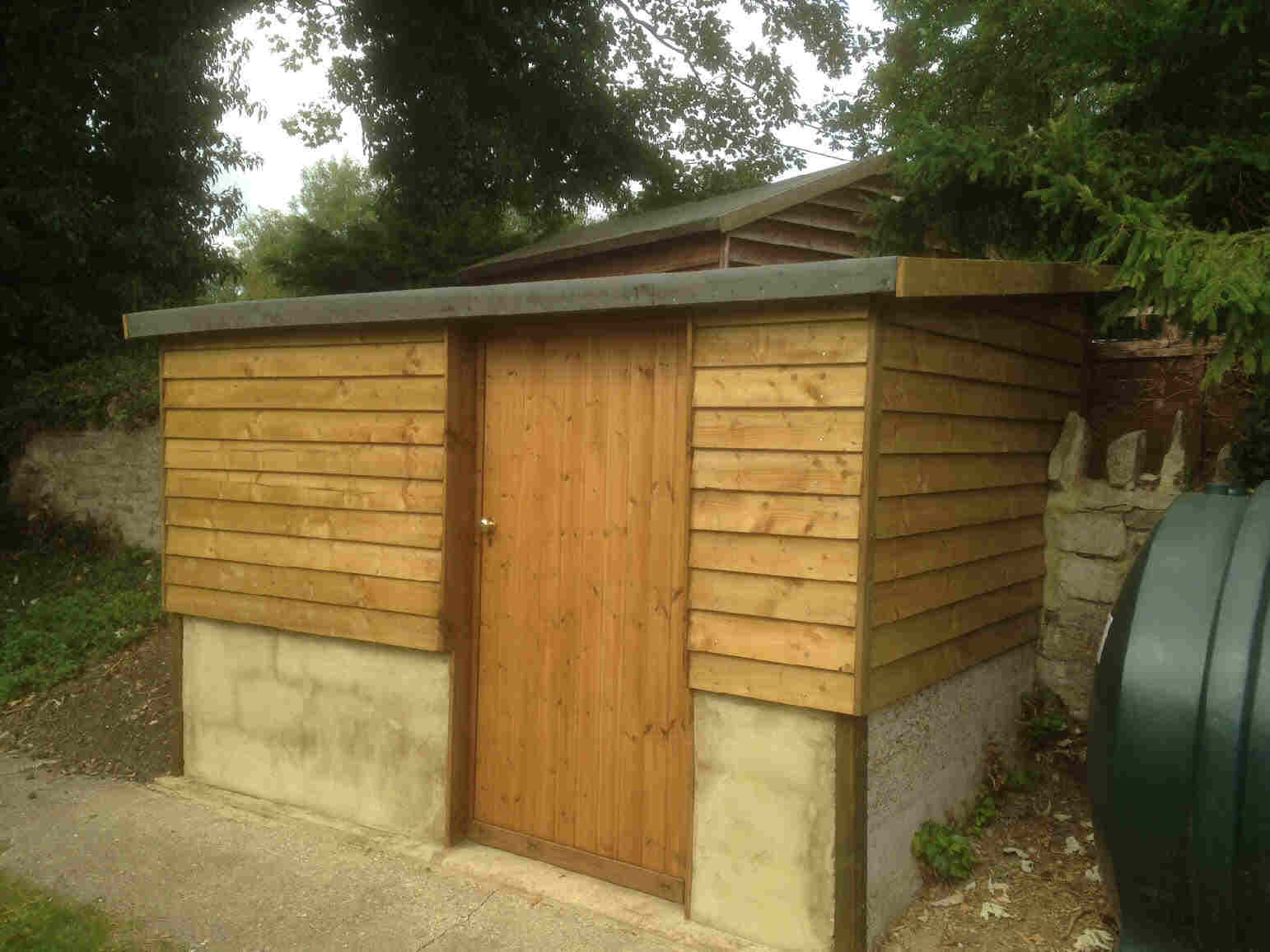 Thanks to Barry, David and Dennis there is now a brand new shed in the Churchyard, replacing the old dilapidated shed.
All Saints' Flower Rota
September
7th St. Mary's Patronal Festival
14th Jane Smith
Sarah Bennett
27th Decorate the Church for Harvest
October
5th All help to clear
Happy Birthday to
Christy Vyvyan – who will be 15 on 13th and
Sarah Jane Holden-Postles who will be 11 on 19th,
And to anyone with a birthday in September!
DIARY
September
3rd 10.30am Meeting Point at Eileen Nottage's, Heydown, High St.9th 7.30pm W.I. in Village Hall.
11th 10.30am HOCP Health Walk.
13th 10am Bike n'Hike/Open Church, All Saints' Church.
15th 3.30pm Fusion meets at Harrold URC.
17th 10.30am Meeting Point at Jane Smith's, Horsefair Lane.
20th 7.30pm Quiz, Village Hall.
22nd 7.30pm Parish Council meets in Village Hall.
25th 10.30am HOCP Health Walk.
27th 10am Decorate Church for Harvest.
7pm Harvest Supper, Village Hall.
28th 10.30am Harvest Festival, All Saints' Church.
29th 10am HOCP Conservation Tasks Day.
October
1st 10.30am Meeting Point at Jill's, Rectory Farm, Odell.
Magazine Deadline
Please send all entries for the October 2014 magazine to Tricia Hudson (ed at odellbeds.net or Catherine Corkery by September 12th at the latest. May we remind you that the editorial team exercises the right to edit, shorten or alter any items that are submitted. Also, the opinions expressed in the articles are those of the contributors and are not the responsibility of the editorial team.
---
Last revised: August 29, 2014.