Odell Church News - November 2014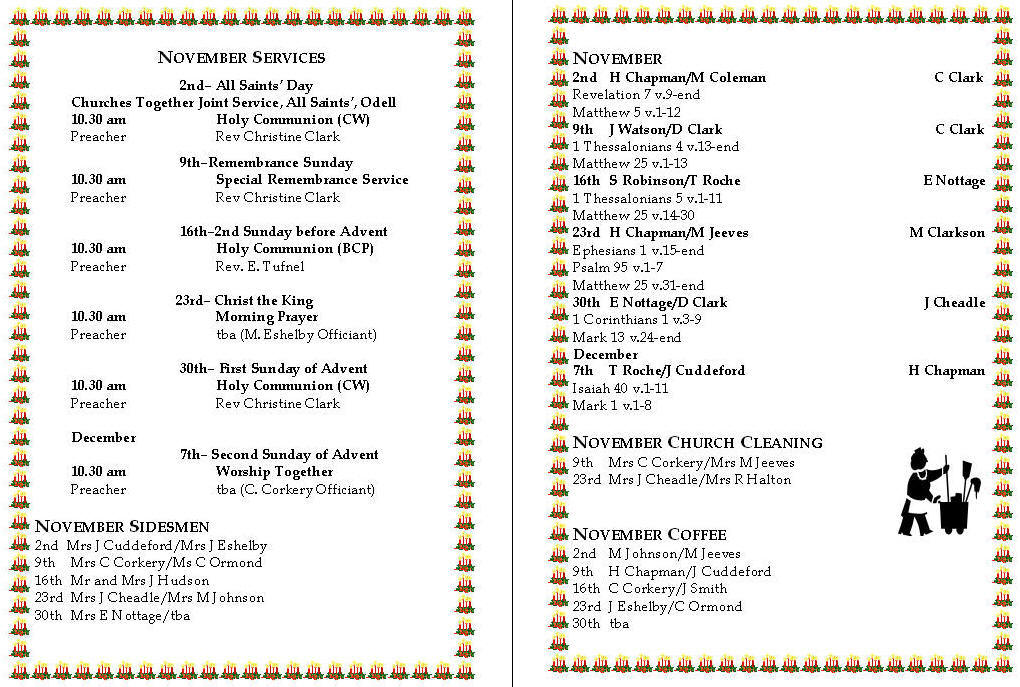 Dear Friends,
A few weeks ago, I had my bi-annual Ministerial Development Review, and part of the process involved meeting with a consultant to discuss the highs and lows of the past 2 years in my ministry as vicar of All Saints' Church, Odell. Only this time, with my retirement rapidly advancing it was also an opportunity to look back over the last 8 years, 8 months.
I was initially drawn to this parish because of a sense that this was a place where people prayed in faith, and trusted God to answer their prayers, even if that answer might be a while in coming. As I prepare to leave, this is still the case, and I shall add my prayers to yours, that the Christian witness and ministry in this place may go from strength to strength now and in the future.
David and I were surprised and delighted to discover the natural beauty of the lovely Ouse Valley, and we are especially pleased that we have a river view at our future home in Clapham. Odell has a reputation for being a friendly and welcoming village, and we have certainly found that to be true. Time and again we have seen the people who live here responding with warmth, sincerity and practical help to a neighbour in need, irrespective of whether he or she is part of their normal circle of friends.
We are pleased to be remaining within the Sharnbrook Deanery, and after taking a break until Easter 2015, I hope to see many of you again as I help out with occasional services in the villages. I am grateful to my fellow clergy for their help and friendship, particularly Rev'd Jane Fox and Rural Dean Rev'd Robert Evens who I know will do what they can to support you through the interregnum..
To be a parish priest is a calling which brings many privileges – thank you for trusting me with your confidences and allowing me to share in the ups and downs of your lives. We've shared so much together, lots of laughter - and tears too, especially as we've said goodbye to friends and loved ones who have departed this life.
As we look back on so many rich experiences, we thank and praise God for his gracious love and mercy, and wait with expectant faith to see what he has in store for us – and for you - in the years to come. Christine.
Thank you and Au Revoir to Christine and David
When Christine first arrived as a new minister for Odell in 2006 she held a supper for members of the PCC. It was a happy and light-hearted occasion but several of us particularly remember it because of a remark made by Christine to the gathering: "This evening we will have fun, but after this the hard work starts". This statement proved to be very prophetic, as from that day on Christine dedicated herself to serving All Saints' Church in Odell with unstinting hard work.
We all quickly became familiar with the reality of an active church in the life of the village as Christine made it her mission to become involved with all aspects of village life. She is a regular member of the W.I., Meeting Point and of course a mainstay of the Village Fete each year. The 'Café in the Tower' has become a twice yearly fixture, as have churchyard clear-ups with lunches round the bonfire, and of course there was the famous book of 'Recipes from Odell', instigated by Christine. Through Christine's influence we have also seen the arrival of Fairtrade Fairs in the Village Hall and Art Exhibitions in the church. Moreover, it is not unusual to see Christine and David in The Bell, enjoying conversations with everyone round the bar. Yet Christine's great gift, and lasting legacy to the village, is in her ability to bring all the villagers together. Where once all the different village interests were disparate and isolated from each other, under Christine's friendly and sincere engagement they and the village folk have been brought together into a sense of warm community feeling. This is no more evident than in the wonderful Christmas Carol Service held in All Saints' Church each year, which so many villagers attend and to which they make memorable contributions.
Of course, all of these village activities involve work of one kind or another, be it baking mince pies for the Carol Service or putting up tents for the fete, and endless time spent organising and attending meetings – but Christine managed all of this on top of all her infinite (and infinitely caring) work in the church and of course the delivery of memorable and inspiring sermons each Sunday.
Well, we are going to miss Christine dreadfully, but we must not forget the selfless work of David, always there in the background actively helping and supporting Christine in all she undertakes. Thank you, David, for all your hard work in the churchyard, for the new shed and wall and for making a suitable area for cars to park outside the church, and not least for always being there to run back to the Rectory for forgotten items during the services!
It will be very strange without having Christine and David to turn to in the village – they will leave a huge gap which we must all do our best to fill. Yet we all wish you both a very happy retirement, and, happily, since you will be living not too far away in Clapham, we look forward very much to seeing you both in Odell whenever you can visit in the future!
From members of All Saints' Church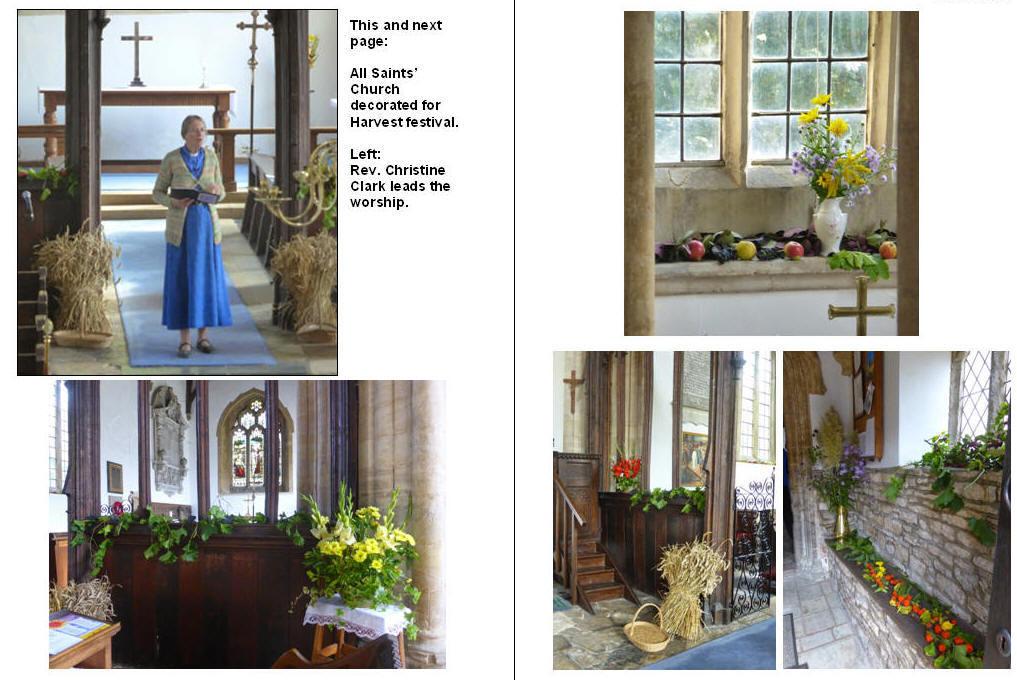 Prayer Group
What is the Prayer Group? It is made up of members of All Saints' Church who undertake to pray regularly, on an individual basis, for people who ask us for prayer support.
Who do we pray for? Anyone whom we are asked to remember; these might be people from our church, from our local community or others known to us.
What do we pray about? Anything which you would like brought before God; maybe anxiety due to illness, stress or loneliness. You can also tell us of a special day you wish to be remembered – perhaps for an interview or an exam. Any information will be treated in strictest confidence.
How can you let us know if you would like us to pray for you? You can telephone Christine (720234), drop a note through the Rectory door or send an e-mail to cmclark99@uwclub.net
Meeting Point
November
12th 10.30am at Jane Eshelby's, Newton House, Newton Bromswold, Rushden.
26th 10.30am at Sarah's, 9 Horsefair Lane.
December
17th 12 o clock, Bring and Share Lunch at Madeline's, Rivendell, Horsefair Lane.
Senior Citizens' Christmas Lunch
The Senior Citizens' Christmas Lunch will take place on Wednesday 10th December at 12.30 in the Village Hall.
Please let Jill know (720261) by 1st December if attending.
All Saints' Church Charitable Giving for the month of November
Our giving in November will be shared between the British Legion Poppy Appeal and Combat Stress
(Ex-Services Mental Welfare Society). Many still depend on these two organisations for all kinds of help including medical care and your generous giving enables continuous support for those damaged in body, mind and spirit by the ravages of war.
St Mary's Church, Carlton, Christmas Bazaar
Carlton Village Hall, Saturday 22nd November
10-1
Grand Draw at 12.30
Entry £1 adults, children free
Churchyard Clear-up and bonfire
Saturday 1st November
10am onwards
Please bring lunch (e.g. sausages, bacon etc to be cooked).
Diocesan pilgrimages – the trip of a lifetime.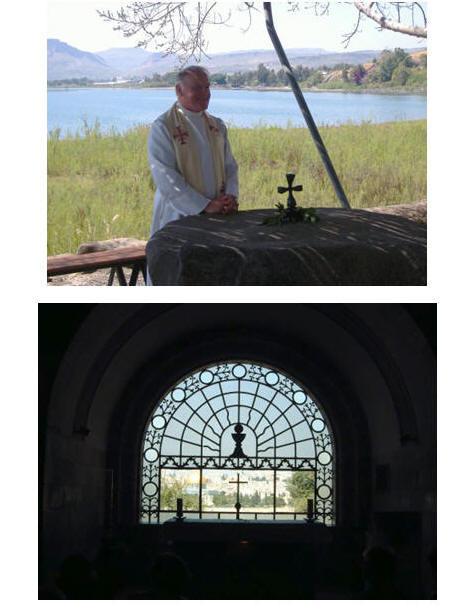 Have you ever considered joining a St Albans Pilgrimage? The Diocese has been running pilgrimages for fifteen years, covering the Holy Land and other destinations of Christian interest such as the Seven Churches of Asia, Jordan & Sinai, New Testament Greece and Santiago de Compostela. The tours are run in association with McCabe Travel, the top Christian Travel agent in the UK.
In 2015 an exciting programme of no less than three pilgrimages has been laid on.
From 23 May - 1 June 2015 Canon Dennis Stamps, Rector of St Nicholas Harpenden, will lead a pilgrimage to New Testament Greece. This will follow the narrative of St Paul's journeys, visiting Philippi, Lydia, Thessalonika and the amazing monasteries at Meteora in the mountains. The pilgrimage will follow a north to south route and will also visit Delphi and Thermopylae before arriving for a three night stay in Athens. The final day will be spent visiting the remarkable ruins of Corinth and Cenchreae, which involved crossing the spectacular Corinth Canal.
In August, from 18 – 27th, the Archdeacon of Hertford the Venerable Dr Trevor Jones and Mrs Sue Jones will be the leaders for a pilgrimage to the Holy Land. With years of experience, we have honed a programme which we are justly proud of. As well as the key sites in Jerusalem such as the Mount of Olives, the Via Dolorosa, the Church of the Holy Sepulchre, visits will be made to Bethlehem, Nazareth and the Dead Sea. The last part of the pilgrimage will be spent at Tiberias on the shores of the Sea of Galilee.
A new destination for St Albans Diocese will be explored from 2 – 11 September when the Bishop of Bedford the Rt Revd Richard Atkinson and Professor Helen Atkinson take a group to Andalusia in southern Spain. This tour will cover the rich history of Christianity, Islam and Judaism in the region, and will visit Granada, Cordoba and Seville.
All of the pilgrimages have the services of a professional English speaking guide and full board accommodation. The cost includes all entrance fees. Daily worship will be led by the pilgrimage leaders, and all the itineraries offer some free time for personal exploration. The tours are an excellent choice for those travelling alone, providing a safe, supportive and friendly setting and an opportunity to see major sites with fellow Christians.
Full details and booking forms can be found at www.stalbanspilgrimages.org.uk, or call 01727 853305
Coffee Morning at Hobbs Green Farm
Christmas Hamper coffee morning
On 5th December
At Hobbs Green Farm
From 10.30am – noon
In aid of Bedford Women's Refuge (Places for People)
Admission free - Please bring Christmas Fayre
Church Cleaner needed
A volunteer is needed to help clean the church one day every 8 weeks. Teams work in pairs on a rota and at the moment there is a volunteer needing one other person to make up her team. Please contact Jill on 720261
Churches Together in Harrold and Odell
Messy Church November meeting:
'Messy Christingle': Monday 17th November, at Harrold United Reformed Church from 3.45 to 6.00pm.
All families welcome.
Ramekin Appeal!
Do you have a white ramekin dish that held a small floral display on a table at the Harvest Supper on 27th September? A number of these dishes with flowers were taken home so that the flowers could go on being appreciated; however, four of the dishes have not been returned and are needed by their owner. If you have a dish please would you return it to Jill Cheadle (720261) or ring Jane on 01933 410959. Thank you!
Christmas at Emmaus Village Carlton
Christmas Craft Fair
Saturday 29 November 10am to 4 pm
Visit a variety of stalls selling quality hand-produced gifts and get in the mood for Christmas!
Christmas themed activities for children in Kids Own area, Lucky Dip
Raffle tickets on sale, proceeds to Kings Arms Nightshelter project
Delicious seasonal refreshments available in the Bistro
*****
Christmas Raffle will be drawn on Friday 12 December at 12.30pm
In the Bric-a-brac Shop
*****
Christmas Lunches now being served in the Bistro
Turkey and all the trimmings!
*****
Come and join us for the Christmas Carol Service
Tuesday 23 December at 3 pm in the Bistro
*****
Christmas period opening hours:
As normal up to Tuesday 23 December, then open on Saturday 27
Open again Tuesday 30 and Wednesday 31
Back to normal Friday 2 January
*****
Look out for new dishes being launched in the Bistro including
Liver and bacon; Beef casserole; Cottage pie
Community news
We bid a fond farewell to Dan and Simon who are moving on to start a new chapter in their lives. Dan was well known in the furniture shop and Simon in Shabby Chic - they will both be missed by customers and the community alike.
A new project – restoring some types of furniture in our expanding workshop – is proving very popular with the buying public.
COME AND SEE FOR YOURSELF
Opening hours are Tuesday – Saturday 10 am – 4.30pm
For further information visit Emmaus.org.uk/village_carlton
All Saints' Flower Rota
November
2nd Odell Patronal Festival
Jane Eshelby
9th Remembrance Sunday
Carol Ormond
23rd Faith Hartwell
December
6th Wedding
Happy Birthday to
Georgina Ardley, whose birthday is on the 29th November,
and to anyone else with a birthday in November.
Diary
1st 10am Churchyard clear-up and bonfire.
6th 10.30am Health Walk, HOCP.
8th 7.30pm Theatrical Niche perform 'Ghost Stories'.
11th 7.30pm W.I. in Village Hall.
17th 3.45pm Messy Church Christingle at Harrold URC.
12th 10.30am Meeting Point at Jane Eshelby's, Newton House, The Avenue, Newton Bromswold, Rushden.
17th 7.30pm Parish Council meeting, Village Hall
18th 3.30pm Public Exhibition of Dungee Rd. proposed solar farm, URC Harrold.
20th 10.30am Health Walk HOCP.
22nd 10am St. Mary's Christmas Bazaar, Carlton Village Hall.
24th 10am Conservation Tasks Day HOCP.
26th 10.30am Meeting Point at Sarah's, 9 Horsefair Lane.
28th 7.30pm Meet Rt. Hon. Alistair Burt MP, The Bell.
29th 10am Emmaus Village Christmas Craft Fair.
December
4th 10.30am Health Walk HOCP.
5th 10.30am Christmas Hamper Coffee Morning, Hobbs Green Farm.
10th 12.30 Senior Citizens' Christmas Lunch, Village Hall.
Magazine Deadline
Please send all entries for the joint December 2014/January 2015 magazine to Tricia Hudson (ed at odellbeds.net) or Catherine Corkery by November 12th at the latest. May we remind you that the editorial team exercises the right to edit, shorten or alter any items that are submitted. Also, the opinions expressed in the articles are those of the contributors and are not the responsibility of the editorial team.
---
Last revised: October 30, 2014.