ALL SAINTS' ODELL CHURCH NEWS - March 2014
Note - last minute change to service on 23rd March - it's now a joint service (Churches together) at 10.45 at the
United Reformed Church, 120 High St., Harrold MK43 7BJ
Click here to see our church brochure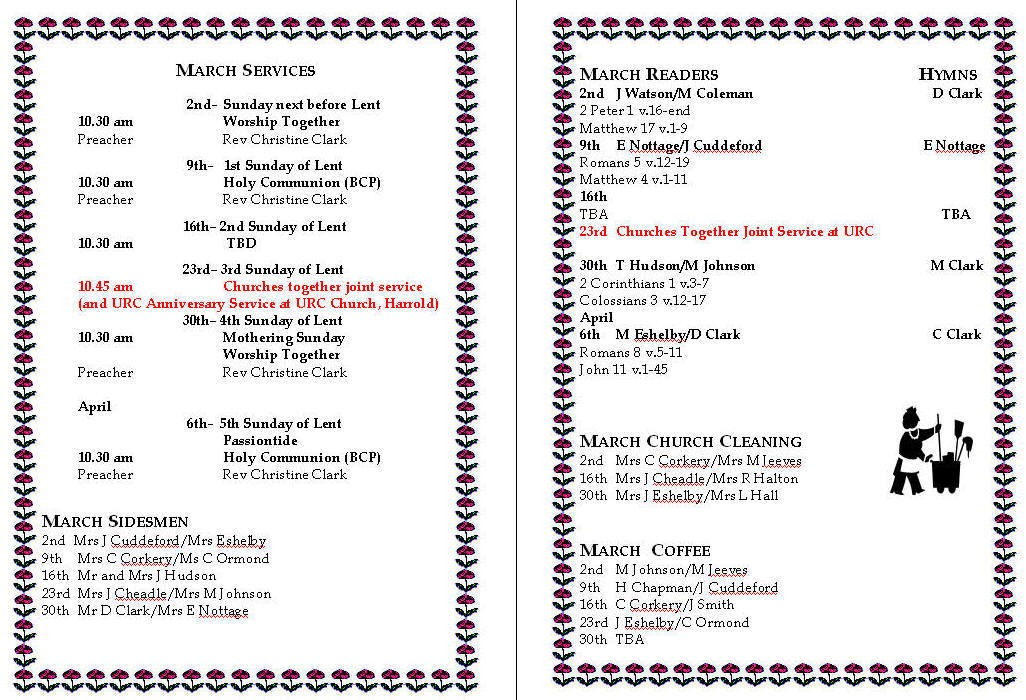 Dear Friends,
It has become customary for many people to observe a 'dry January' – an opportunity to allow our bodies time to recover and revive after the excesses of the Christmas and New Year holidays. The Church's tradition of an annual Lenten fast could be seen as a practice along similar lines, but with a more holistic approach that can benefit us spiritually and mentally as well as physically.
Lent is observed from Ash Wednesday (5th March) when we remember how Jesus was tempted and fasted in the desert before the start of his earthly ministry, through to Easter Day (20th April) when we celebrate his victory over death. Actually there are 46 days between the two dates, but the Sunday of each week is observed as a celebration rather than a day for fasting. In earlier times on the 4th Sunday in Lent, girls in service were allowed to go home to visit their mothers, taking with them a carefully prepared cake, traditionally a Simnel cake.
These days there are many suggestions as to how we might 'keep Lent', with a lot of emphasis on doing something extra as well as (or instead of) giving something up. Christian Aid urges us to 'count your blessings' by offering "bite size reflections (to) inspire you to give thanks for the blessings in your life, and enable you to help change the lives of poor communities around the globe". Find out more at www.christianaid.org.uk/lent or write to Count your Blessings, PO BOX 100, London SE1 7RT.
Or, you can sign up at www.livethechallenge.co.uk, an interactive web-site set up by St. Albans Diocese, for a daily 'Life Signs' e-mail. These include a bible verse, a short reflection, with an image and a challenge for each day. Also provided are some questions/suggestions that families and children can discuss/do together – all linked to sayings of Jesus recorded in St. John's Gospel. You can share in the conversation with others by posting your comments, and/or uploading images and videos published on the website.
In our busy modern lives, the old tradition of keeping Lent offers us a valuable opportunity to STOP and THINK and PRAY and ACT, on our own, or with others – and who knows where that might lead?
Christine.
Prayer Group
What is the Prayer Group? It is made up of members of All Saints' Church who undertake to pray regularly, on an individual basis, for people who ask us for prayer support. Who do we pray for? Anyone whom we are asked to remember; these might be people from our church, from our local community or others known to us.
What do we pray about? Anything which you would like brought before God; maybe anxiety due to illness, stress or loneliness. You can also tell us of a special day you wish to be remembered – perhaps for an interview or an exam. Any information will be treated in strictest confidence.
How can you let us know if you would like us to pray for you? You can telephone Christine (720234), drop a note through the Rectory door or send an e-mail to cmclark99@uwclub.net "
All Saints' Amblers meet outside The Bell, 9.45am on Saturday 15th March, for a walk in the country followed by a pub lunch. Children and dogs on leads welcome to join us.
Meeting Point
March
5th 10.30am at Catherine's, Manor Cottage, High Street, Harrold.
Meeting Point will take a break for Lent, and meet again on
23rd April at Jane Eshelby's.
Churchyard Tidy-up – 29th March
10.00am - 12 noon
Can you help for an hour or two to tidy-up the churchyard after the ravages of the past few months?
We'd love to see you – please bring garden tools,
and we'll provide the coffee and cookies.
Mothering Sunday- 30th March
Could you spare a few spring flowers from your garden and/or come along to the church on Saturday morning 29th March to help make up posies for Sunday's service?
There will be a special service at 10.30am Sunday 30th
Parents and children especially welcome!
Lent Group Meeting Alteration.
Please note that the group meeting at The Rectory on Wednesday mornings will start a week later than previously advertised, and so will start on Wednesday 19th March, with the last session running on Wednesday 16th April.
Ash Wednesday Service, 5th March
There will be a 'Churches Together' 9.30am service of Holy Communion with ashes at St. Peter's Church, Harrold, to mark the beginning of Lent.
All Saints' Church Charitable Giving for the month of March is to FEBA,
(Far Eastern Broadcasting Associates) - a radio station which began in 1959 and makes and broadcasts Christian programmes in dozens of different languages, reaching Christians who would otherwise have little contact with the outside world. Today FEBA broadcasts on FM and medium wave radio, the internet, text messaging and social media – each has its own use and own target audience.
The message FEBA delivers is that "The love of Christ addresses all areas of people's lives: emotional, spiritual and physical…There are programmes on health education and disease-prevention; young believers gain strength through online discipleship courses; locals speak out against corruption…Everywhere people turn to God. Lives are changed; communities transformed. Love in action."
For more information about the work of FEBA see the notice board in All Saints' Church or go to http://www.feba.org.uk/
Women's World Day of Prayer
(Interdenominational)
Friday, 7th March, 10.30am, All Saints' Odell
This service has been prepared by the Christian Women of Egypt
The theme is
"Streams in the Desert"
Speaker - Mrs Stella Brooks
More than 170 countries participate in an annual day of celebration, which bring together people of various races, cultures and traditions sharing together in God's word and worship. Men, women and young people worldwide will be worshipping together on Friday, 7th March. They will be using an order of service prepared by Christian women from Egypt
The world is aware how volatile the situation in Egypt is and, since this service was prepared, President Dr Mohammed Mursi has been deposed but Christians are still being persecuted because of their faith. The country is predominantly Muslim; only 12% of the population being Christian. Women find it difficult to work outside the home and millions of children are born into poverty. Many rural adolescent girls are discouraged from completing school, facing lives of early marriage, illiteracy and domestic abuse. In difficult circumstances the Church of Egypt is doing all it can to counteract this.
For more information please contact Jane Eshelby on 01933 410959
Church Electoral Roll
At this time of year and before we hold our annual meeting on 23rd April we have to update the Church Electoral Roll for All Saints' Church, Odell. If you are on the Electoral Roll of your local church you are a voting member of the Church of England and can nominate and vote for Parochial Church Council members. If you are currently on the roll and wish to stay on it, you do not have to do anything. If however you would like your name added to the roll, you can qualify if you live in the parish of Odell, and regularly attend worship, and are 16 years of age or over, and have been baptised.
You can also qualify if you live elsewhere, but have regularly worshipped at All Saints' Church for at least six months.
If you would like to be on the Electoral Roll please contact me for an application form. Catherine Corkery Tel: 01234 720348
Odell Fete 2014: Saturday 14th June
Do keep the date free for this wonderful chance to celebrate our community.
Theme
This year we are going to remember the Odell of 1914, to commemorate the men who left for war and not just those who gave the ultimate sacrifice, but also those that returned changed for life by the horrendous experiences that they had been through.
If you have any historical details, pictures, photos or paper cuttings of the men who went to war, or anything to do with the village at that time, would you share them with us? The fete committee would like to have a display at this year's fete to show what Odell was like as a village and as a community. We want to tell the story of people living in the village as well as trying to tell the story of the men who left for war.

If you do have anything that you would like included please contact The Rev'd Christine Clark, The Rectory, Church Lane, Odell, 01234 720234 cmclark99@uwclub.net or Mandy Hinds, 7 Horsefair lane, Odell, 01234 720414 alsodell@plus.com

We want to give a view of the village in 1914 using research and village histories as well as personal stories, and to remember the men who left for war and experiences so far from what they had known. We would like to take this opportunity to " Remember" them.
ODELL FETE AND DOG SHOW: getting involved
It is hard to imagine a summer without the annual Fete and Family Dog Show, but if it is to continue we do need HELP with getting it ready.
The first date to put in your diary is Fete Preparation
Morning at 10.00am on Monday, 5th May, hosted by Jill and Doreen at Linden House, when we clean and repaint the signs for the stalls and side shows and prepare the roadside boards. Then we reward ourselves with a tasty BBQ. Please bring your own meat and nearer the time we shall be asking for contributions of puddings, wine etc.
The big preparation will be in the afternoon of Friday, 13th June, when we need muscles, good senses of humour, wheels, trailers and anyone willing to collect tents, tables, chairs and stall signs, and set these all up in the Scout Field down Horsefair Lane ready for the big day.
(Tea and Cake supplied to keep you going!)
ODELL VILLAGE FETE AND DOG SHOW
SATURDAY 14 th JUNE 2014, 2 PM
Remembering the Odell of 1914
(In the Scout field, Horsefair Lane, Odell)
ENTRY Adults £1.50, Children Free
PROGRAMME OF EVENTS
2.00 PM Grand Opening
2.00-4.00PM Dog Show
4.00 pm Raffle Draw and Prize Giving
ATTRACTIONS
Bedford Brass Band, Boys Brigade, Bouncy Castle, Teas, Pimms, Children's Sports, Tombola, Ice Creams, Cakes, Books, Refreshments, Bottle Stall, Coconu
t
Shy, Children's Sports, White Elephant, Produce, Gifts, Raffle
FAMILY DOG SHOW
(entry fee - £1 50 per dog per class)Classes:
Children's Handling (14 years and under)

Puppies under 1 year

Country Sporting Dog

Country Sporting Bitch

Best Condition Dog or Bitch

Best Rescue Re-home Dog

Best Rescue Re-home Bitch

Best Cross Breed Dog

Best Cross Breed Bitch

Dog or Bitch with Most Appealing Eyes

Most Handsome Dog

Most Handsome Bitch

Championship (winners of each classes)
Car park attendants are on duty at the field opposite The Bell public house. Disabled parking next to Scout Field
FESTIVAL WEEKEND FAMILY SERVICE SUNDAY JUNE 15TH
11.00 AM in the Main Tent at the Fete Field
EVERYBODY WELCOME
The Children's Society
March is the month when Children's Society boxes should be emptied. I would therefore be very grateful if box holders could let me have their boxes as soon as possible. Many thanks.
Catherine Corkery, 720348
New Churches Together Reading Group
Following on from last year's ecumenical project when members of St Peter's, St Mary's and the URC read and studied 100 key Bible passages, it has been decided to follow this up with a reading group. This will be based on books inspired by Christian thought or dealing with moral or ethical issues and chosen by participants. To set the ball rolling a small team has selected three books to be read and discussed at 6 week intervals over the summer starting in May. These in order are
The Shack by W.M. Paul Young
The Screwtape Letters by C.S. Lewis
The Vicar of Baghdad by Andrew White
Anybody with an interest in the books will be very welcome to participate. The dates, venues and arrangement for signing up and accessing the books will be announced in the April-May issue of THE BRIDGE.
In the meantime please let me know if you would like to join the group or would be willing to host a discussion.
Revd Jane Fox Tel 720262
FUSION
Messy Church
In November we had great fun finding out about Christmas trees and making an angel, sheep and shepherds to decorate our Christmas tree for the Festival, 'The Angel of the Lord came down.' Children took part in presenting the story of the angels coming to the shepherds and we then enjoyed shepherd's pie and angel delight!
You are very welcome to join us. The next session is:
Monday 17 March.
Families are welcome to come along to Harrold United Reformed Church from 3.30 to 6.00pm.
Just Email John Sunderland john@sundrlnd.freeserve.co.uk or phone 720184 a few days before to let us know you are coming –
so we have enough food!!
Senior Citizens'
Fish and Chip Lunch
Wednesday 12th March
12.30 for 1 o'clock
Village Hall
Let Jill (720261) know by 2nd March
Due to lack of funds there will be a charge of £4 for the fish and chip meal.
If you know of anyone eligible to come to the lunch please tell Jill.
Elizabeth Mary Pettit 1929-2014
There are so many things we will miss about Bett and so very much we admired about the person she was. Elizabeth Mary Byrne was born in Enniscorthy, S Ireland, and worked hard from a very young age. Being the only girl in the family after her mother died she was cooking and cleaning as a 6 year old. Her education wasn't deemed important in those days but the steadfast determination in her character shone through and she left Ireland to begin nursing at the John Radcliffe hospital in Oxford. We always thought how lucky her patients were because of her kindness and compassion to those in need.
She moved to Bedford to work at the Meltis factory and put her roots down here when she married Harry and raised her family, Patricia, Susan, Derek and Linda.
Work and family life defined Bett, the one to make life easier for the other. From the hard physical farm and factory work she finished her working life at Unilever - a job she loved, including the silver service catering. Bett blossomed here as it embodied all her skills in looking after people. Her home was always welcoming and it was rare for a visitor to leave empty handed, be it with one of her delicious sponge cakes or apple pies or a promise to make one.
Bett was sociable, warm and funny, qualities which drew people to her. She was always interested in others and made many friends. Among them was Madge her neighbour who was such a great companion to her and who we thank for that.
Bett took great pride in her children, grandchildren and great grandchildren and her unconditional love has sustained them all. She leaves many happy memories of times shared with the family, among them her visits back to Ireland where her life began.
She was mother, mother-in-law, nan and great grandma. A light in our lives has been extinguished leaving the precious memory of how brightly it burned and warmed us all.
All Saints' Flower Rota
March
2nd Jill Cheadle
16th URC Anniversary Service
23rd Eileen Shakespeare
Jane Eshelby
30th Mothering Sunday
On a Lighter Note: how about the following from
notices in church magazines, church notice boards and pew sheets….!

The Fasting & Prayer Conference includes meals.

The sermon this morning: 'Jesus Walks on the Water. ' The sermon tonight: 'Searching for Jesus.'

Ladies, don't forget the rummage sale. It's a chance to get rid of those things not worth keeping around the house. Bring your husbands.

Don't let worry kill you off - let the Church help.
Miss Charlene Mason sang 'I will not pass this way again,' giving obvious pleasure to the congregation.
And this one just about sums them all up:
The Associate Minister unveiled the church's new campaign slogan last Sunday: 'I Upped My Pledge - Up Yours.'
Diary
March
5th 10.30am Meeting Point at Catherine's, Manor Cottage, High St., Harrold
7th 10.30am Women's World Day of Prayer Service, All Saints' Church
11th 7.30pm W.I. Village Hall
12th 12.30 Senior Citizens' Fish and Chip lunch, Village Hall
13th 10.30am HOCP Health Walk
15th 9.45am All Saints' Amblers meet at The Bell
15th 7.30pm Village Quiz, Village Hall
17th 3.30pm Fusion Harrold URC
17th 7.30pm Odell Parish Council Meeting Village Hall
27th 10.30am HOCP Health Walk
29th 10am Churchyard Tidy-up All Saints' Church
30th 10.30am Mothers' Day Service All Saints' Church
31st 10am HOCP Friends' Tasks Day
Magazine Deadline
Please send all entries for the April 2014 magazine to Tricia Hudson (ed at odellbeds.net) or Catherine Corkery by March 12th at the latest. May we remind you that the editorial team exercises the right to edit, shorten or alter any items that are submitted. Also, the opinions expressed in the articles are those of the contributors and are not the responsibility of the editorial team.
---
Last revised: March 17, 2014.