ALL SAINTS' ODELL CHURCH NEWS - June 2014
Click here to see our church brochure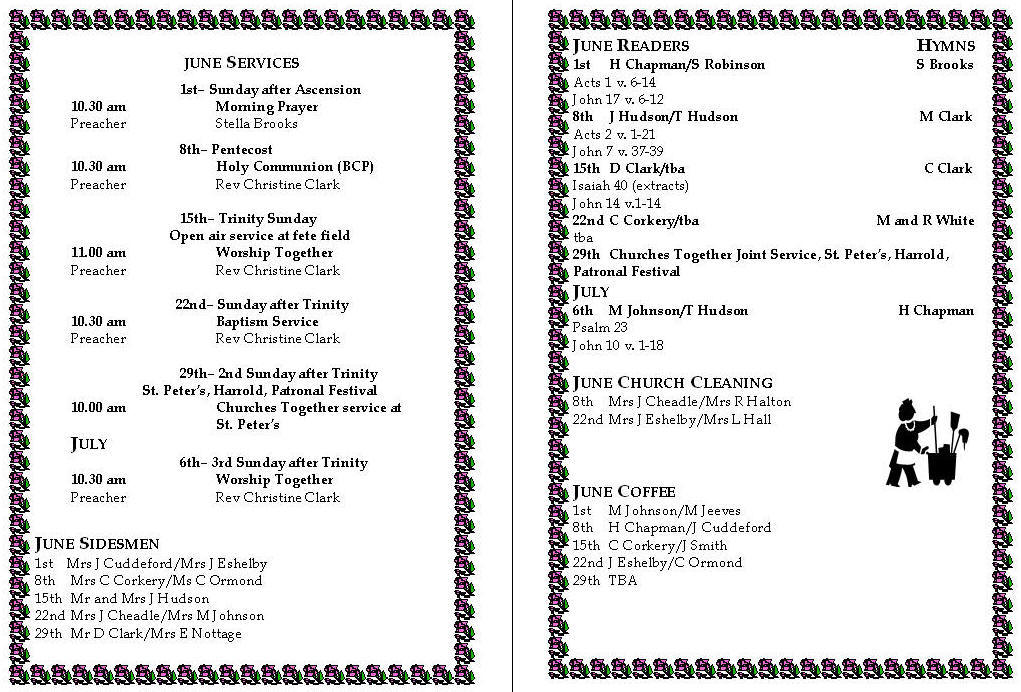 Dear Friends,
This year seems to be one of all kinds of celebrations and commemorations of various anniversaries …. or is it that we are finding more and more reasons to celebrate nationally and locally, perhaps remembering that 'feel good' factor and sense of national identity we shared at the Queen's Jubilee, and the Olympic Games.
2014 is the 450th year since William Shakespeare was born; the 10th year since the launch of Cunard's flagship Queen Mary 2 (possibly the last of the ocean going liners), and in America, the centenary of the American Greyhound Bus. The big one will be the commemoration of WW1 on 4th August. The outbreak of war is not something to be celebrated of course, but remembering this anniversary as a nation will remind us again of the dreadful cost of war, the sacrifice of so many lives, the social changes brought about by the war and why it is so vital for nations to work together in the pursuit of peace. In Odell we shall be holding a vigil service in All Saints' Church at 6.30pm on 3rd August, 100 years since the eve of the outbreak of a war which brought so many changes.
The Church has its own 2014 highlights; 20 years since the ordination of women priests, and 10 years since the launch of 'Messy Church' – worship, crafts, activities, stories etc. for children and their families, with special events happening all over the country. St. Alban's Abbey Church is laying on a special day of 'Messy Church' activities on Saturday 7th June, to which some of our FUSION families are planning to go. (for more details on the Messy Church event and/or FUSION contact Carol Ormond on 720409,or e-mail carol.ormond@btinternet.com).
Bedfordshire has been part of the St. Alban's Diocese for the last 100 years, and yes, another grand celebration for everyone to enjoy is planned for the August Bank Holiday Monday 25th at the Keysoe College Equestrian Centre. The programme for the day includes something for everyone: Holy Kapow Circus, Bouncy Castles, Fairground Rides, Vintage and Classic vehicles of the last 100 years, all kinds of Music (the Fusion Choir from Queens' Park, orchestra, worship bands, opera singer Jonathan Veira), Craft workshops, well-known speakers, Bell-ringing, Sheepdog displays, Worship and prayer point, stalls etc., etc., plus 60 acres to walk around and picnic in – from 10.00am – 5.00pm. And everyone is invited so come and enjoy! Christine.
Prayer Group
What is the Prayer Group? It is made up of members of All Saints' Church who undertake to pray regularly, on an individual basis, for people who ask us for prayer support.
Who do we pray for? Anyone whom we are asked to remember; these might be people from our church, from our local community or others known to us.
What do we pray about? Anything which you would like brought before God; maybe anxiety due to illness, stress or loneliness. You can also tell us of a special day you wish to be remembered – perhaps for an interview or an exam. Any information will be treated in strictest confidence.
How can you let us know if you would like us to pray for you? You can telephone Christine (720234), drop a note through the Rectory door or send an e-mail to cmclark99@uwclub.net
Meeting Point
June
4th 10.30am at Jill Cheadle's, Rectory Farm.
18th 10.30am at Jane Eshelby's, Newton House, Avenue Road,
Rushden.
July
2nd 10.30am at Madeline Jeeves', Rivendell, 15 Horsefair Lane.
HARROLD PIT RUN THANKS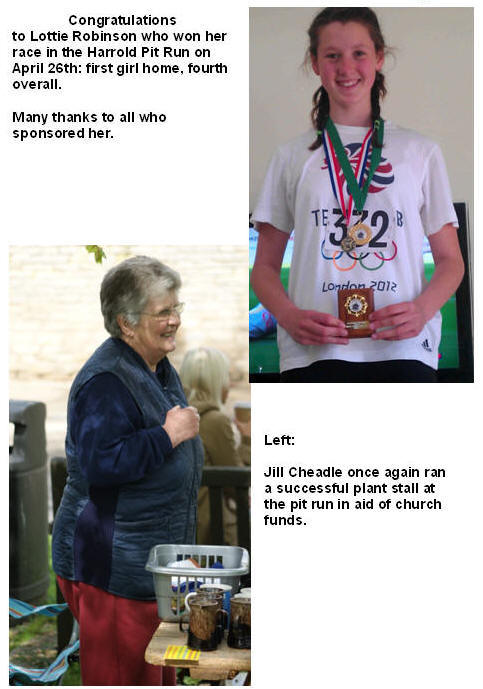 Open Church Sunday
22nd June 2014 – 12 noon until 6.00pm
Along with around 200 other churches in Beds and Herts,
All Saints' Church, Odell, will be open to welcome visitors from near and far. Discover and enjoy!
Light refreshments, church history, photographic displays,
Concord connections etc.
How well do you know your church!
What's the connection between Odell Church and the R101?
Why did a former Rector have to flee for his life?
Why is our East window dedicated to Rev'd Cornish Hunt?
Who described our church as "charmingly atmospheric"?
Which member of royalty once attended a service here?
All Saints Amblers meet outside The Bell, 9.45am on Saturday 21st June for a walk in the country followed by a pub lunch. Children and dogs on leads welcome to join us.
All Saints' Church Charitable Giving for the month of June
is to The Church Pastoral Aid Society, which offers valuable training and a wide range of resources for clergy and lay people, in evangelism, youth work, mission and ministry, runs Young Peoples' holiday clubs and offers Parish Consultations. See the notice board in the church for more information.
Christian Aid Week
The amount collected in Odell for Christian Aid was £125. Thank you to everyone who contributed.

Odell Village Fete and Dog Show
Saturday 14th June 2014, 2pm
Remembering the Odell of 1914
(In the Scout field, Horsefair Lane, Odell)
Entry: Adults £1.50, Children Free
PROGRAMME OF EVENTS
2.00 pm Grand Opening
2.00-4.00pm Dog Show
4.00 pm Raffle Draw and Prize Giving
ATTRACTIONS
Bedford Brass Band, Boys' Brigade, Bouncy Castle, Teas, Pimm's, Children's Sports, Tombola, Ice Creams, Cakes, Books, Refreshments, Bottle Stall, Coconut Shy, Children's Sports, White Elephant, Produce, Gifts, Raffle
FAMILY DOG SHOW
(entry fee - £1 50 per dog per class)
Classes:
1. Children's Handling (14 years and under)
2. Puppies under 1 year
3. Country Sporting Dog
4. Country Sporting Bitch
5. Best Condition Dog or Bitch
6. Best Rescue Re-home Dog
7. Best Rescue Re-home Bitch
8. Best Cross Breed Dog
9. Best Cross Breed Bitch
10. Dog or Bitch with Most Appealing Eyes
11. Most Handsome Dog
12. Most Handsome Bitch
13. Championship (winners of each class)
Car park attendants are on duty at the field opposite The Bell public house. Disabled parking next to Scout Field.
Festival Weekend Family Service and Barbecue Sunday June 15th
There will be an all-age informal church service at the Fete ground at 11.00am on Sunday 15th June to which everyone is welcome.
Around 12.30pm all helpers and Odell residents are invited to a 'Bring and Share' barbecue. Meat for the BBQ will be provided - please bring along a salad or similar to share. You also need to bring your own crockery, cutlery and drink. It would be helpful to let Mandy Hinds (720414) or Jane Eshelby (01933 410959) know if you are able to come to the BBQ so we know how many to cater for.
ODELL FETE AND DOG SHOW: Getting involved
It is nearly here…and, as in other years, we need a lot of help in setting it up.
The big preparation will be in the afternoon of Friday, 13th June. If you can manage to come anytime between 2.00 and 7.30pm to lend a hand, you will be most welcome. We shall need to collect tents, tables, chairs and stall signs and set these all up in the Scout Field down Horsefair Lane ready for the big day. We need muscle, a good sense of humour, wheels and trailers and tea and cake will be provided.
A big 'thank you' to everyone who helped with fete preparations on May 5th – your hard work is really appreciated.
Mandy (720414) or Christine (720234) await your call.
Summer Holiday Club
Advance notice that Summer Holiday Club for 5 – 11 year olds will be held from Monday 4th to Friday 8th August 2014, each morning at the United Reformed Church, Harrold. Details and application forms will be available nearer the time, but do put the dates in your diary so that you are free for this very popular event!
If you would be willing to help as an adult or teenage helper and have not done so before, please contact Church House Office 368564 – we shall be delighted to hear from you.
Seniors' Holiday Club
This will be held from Monday 18th to Friday 22nd August and will be a variety of events for people of retirement age. We shall be grateful to hear from people who would like to help with planning this event – please phone Jane Fox (720262) or Sally Bailey (368564)
Are you a Carer?
The Churches Together Pastoral Group has held several tea parties for carers living in the villages. These have been appreciated by those who came. We plan to hold similar events in future – if you are a carer and would like to come, but have not received an invitation, please let us know by contacting Jean Saul (01234 720407) or Sally Bailey (368564).
Bedding Plants for Sale
Geraniums, begonias, salvias, petunias, lobelias, busy lizzies, tobacco plants and cosmos flower plants for sale along with tomato plants, cucumber plants and other vegetable plants.
Proceeds to All Saints' Church.
Orders welcome
Jill Cheadle 720261
Thank You Message from Sarah Bennett
Bill and I wish to thank everyone from Odell Church and also our very kind neighbours who so thoughtfully comforted us through the worrying time with Bill's health.
We are very thankful and happy to report that the laser treatment at UCHL was successfully accomplished and Bill is now able to walk without pain.
Thank you to Jane Eshelby and Christine Clark for their kind visits.
Many thanks and praise to God for answered prayers. Bill and Sarah Bennett
All Saints' Flower Rota
June
1st Ann Hudson, Tricia Hudson
14th Fete Weekend
29th St Peter's Patronal Festival
Birthdays
Happy Birthday to Mia Vyvyan who will be 13 on the 2nd June
And to Eleanor Robinson whose birthday is on 17th
And to anyone who has a birthday in June
DIARY
Diary
4th 10.30am Meeting Point at Jill's, Rectory Farm
5th 10.30am Health Walk, HOCP
7th St. Alban's Abbey Church, 'Messy Church' Activities day
10th 7.30pm W.I. in Village Hall
13th 7.30pm Ad Hoc presents Blackadder II, Village Hall
14th 2pm Odell Village Fete
15th 11am Festival Weekend Family Service, main tent, Fete field.
18th 10.30am Meeting Point at Jane Eshelby's, Newton House, Avenue Road, Rushden
19th 10.30am Health Walk, HOCP
21st 9.45am All Saints' Amblers meet at The Bell
22nd 12 noon Open Church Sunday, All Saints' Church
30th 10am Conservation Task Day, HOCP
Magazine Deadline
Please send all entries for the joint July/August 2014 magazine to Tricia Hudson (ed@odellbeds.net) or Catherine Corkery by June 12th at the latest. May we remind you that the editorial team exercises the right to edit, shorten or alter any items that are submitted. Also, the opinions expressed in the articles are those of the contributors and are not the responsibility of the editorial team.
---
Last revised: May 30, 2014.