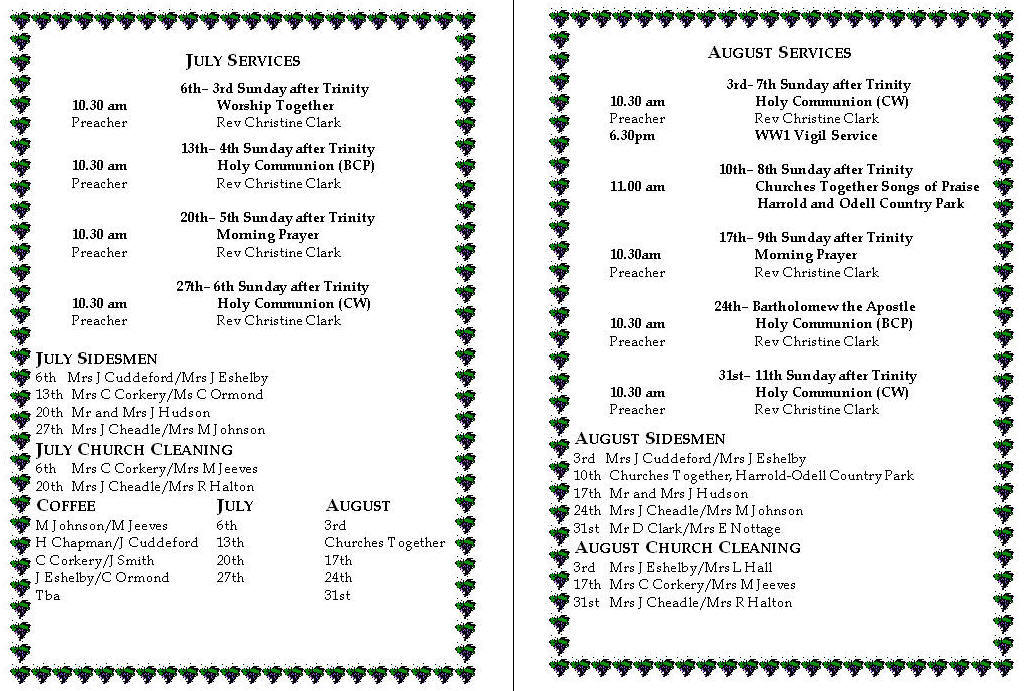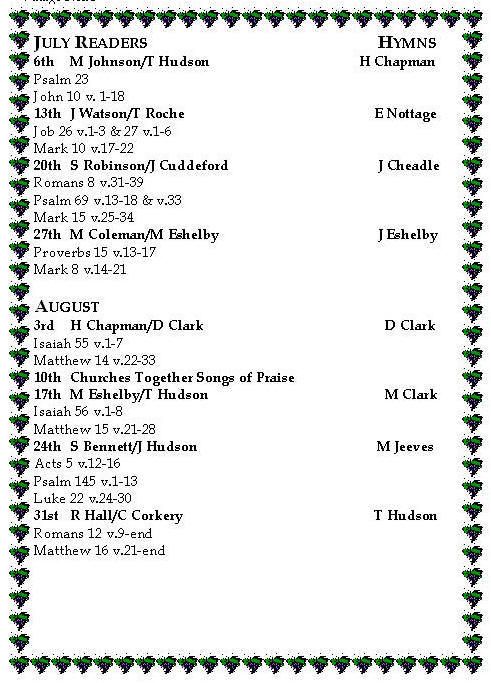 Dear Friends,
A few weeks ago, David and I enjoyed a large family gathering in Gloucestershire. It was warm and sunny enough to be outdoors and we enjoyed meeting up with all the cousins, uncles and aunts, and the children played happily together. We only met up for the day, so we didn't have time to get bored or impatient with each other.
Good family relationships can be a great source of strength and encouragement – not so good ones can be fraught and strained for many different reasons. We choose our friends, but have to take what comes in the way of family members. We may get on well … we may not, and when we don't it can be very painful. July and August are popular times for family holidays, but a longer than usual time spent in one another's company can be difficult to handle because we are out of our usual routine. We can find that we need extra tolerance and patience to cope with conflicting interests and petty quarrels, particularly if the weather turns wet or cold!
Church congregations and village communities can be expressions of family life in the wider sense. Geographical location or a desire to share a life of faith with others draws us together, but how well we relate to one another will depend on the extent to which we are prepared to accept one another for what we are, warts and all, to learn from each other and to grow in understanding and tolerance.
In our church services we are regularly reminded of the 'great commandment' Jesus spoke of - to love God and to love our neighbour as ourselves. Let's aim to do just that, to be more patient, kind and gentle with each other, and to enjoy a great summer together. Christine.
Prayer Group
What is the Prayer Group? It is made up of members of All Saints' Church who undertake to pray regularly, on an individual basis, for people who ask us for prayer support.
Who do we pray for? Anyone whom we are asked to remember; these might be people from our church, from our local community or others known to us.
What do we pray about? Anything which you would like brought before God; maybe anxiety due to illness, stress or loneliness. You can also tell us of a special day you wish to be remembered – perhaps for an interview or an exam. Any information will be treated in strictest confidence.
How can you let us know if you would like us to pray for you? You can telephone Christine (720234), drop a note through the Rectory door or send an e-mail to cmclark99@uwclub.net
All Saints Amblers meet outside The Bell, 9.45am on Saturday 19th July and Saturday 16th August, for a walk in the country followed by a pub lunch. Children and dogs on leads welcome to join us.
Does Odell Fete and Dog Show have a future?
Open Meeting in Odell Village Hall, Friday 25th July
Wine & light refreshments from 7.30pm
Meeting & discussion from 8.00pm
Calling all residents old & new!
Please come along to this meeting to help us decide if and how the Odell Fete and Dog Show can continue in the years ahead.
(organised by the Odell Fete Committee in conjunction with All Saints' Church).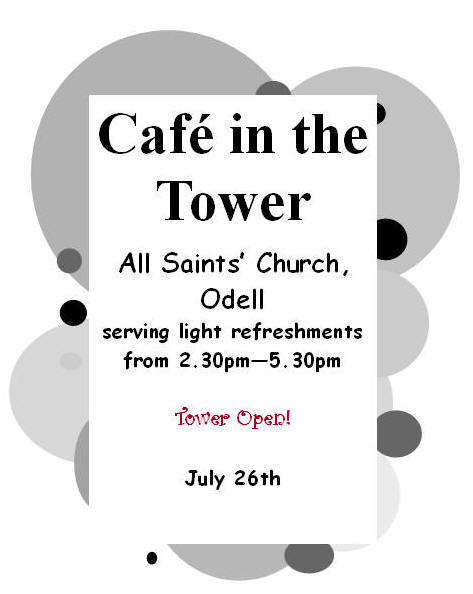 Celebrate 100!
Where can you find – for free – all these things in one place for you to enjoy? -
Craft demonstrations, Essex Dog Display team, Messy Church marquee, Falconry Display, Classic cars, Holy Kapow Circus, challenging seminars, musicians and Christian performers, 'Have-a-Go' bell-ringing tower fairground rides and bouncy castle, 'It's a Knockout' competition, stalls, food outlets, free parking and loads of space for picnics, walks etc. (bring your own chairs, rugs) -
at Keysoe Equestrian Centre on Bank Holiday Monday, 25th August when from 10.00am-5.00pm this unique festival marks the 100 years Bedfordshire has been part of the Diocese of St. Albans. Main outdoor stage event will be a service of worship with Holy Communion at which Bishop Alan will address the Diocese.
Please let Christine know if you plan to come as it will help the organisers in their preparations.
(Tel: 720234: or e-mail: cmclark99@uwclub.net)
Commemorating World War 1
A Vigil Service
3rd August, 6.30pm in All Saints' Church
A Vigil Service is a reflective night service of readings and prayers in which we bring our sorrows, confusion and longings as we pray for the dawning of God's mercy, protection and peace.
We shall recall those in this village who waited, some in fear, others flushed with the excitement of an impending battle, for the news of the declaration of war which was to come on 4th August 1914.
The information Mandy Hinds and others collected and displayed at the Fete, about those from Odell who served in WW1, will be on display in the church.
Meeting Point
July
2nd 10.30am at Madeline's, Rivendell, 15 Horsefair Lane.
16th 10.30am at Eileen Nottage's, Heydown, High Street.
30th 10.30am at Sarah Bennett's, 9 Horsefair Lane.
No meetings in August
September
3rd 10.30am at Jane Smith's, Horsefair Lane.
All Saints' Church Charitable Giving for the months of July and August is to Open Doors
This Evangelical organisation supports the persecuted church and Christians worldwide – providing Bibles and teaching materials, training for church leaders, practical and financial help, literacy programmes and community development projects. See the notice board in the church for more information.
Summer Holiday Club
Advance notice that Summer Holiday Club for 5 – 11 year olds will be held from Monday 4th to Friday 8th August 2014, each morning at the United Reformed Church, Harrold. Details and application forms will be available nearer the time, but do put the dates in your diary so that you are free for this very popular event!
If you would be willing to help as an adult or teenage helper and have not done so before, please contact Church House Office 368564 – we shall be delighted to hear from you.
Seniors' Holiday Club
This will be held from Monday 18th to Friday 22nd August and will be a variety of events for people of retirement age. We shall be grateful to hear from people who would like to help with planning this event – please phone Jane Fox (720262) or Sally Bailey (368564)
Fusion-Messy Church
The next Fusion will be on Monday July 21st.
Families are meeting in the Country Park (near to the café) from 3.45p.m. - 6.00p.m. for games and a picnic.
Richard the ranger has offered to do willow weaving with the children and parents. He has asked that people bring secateurs as the first job will be cutting some willow.
For more details please contact Carol Ormond Tel. 720409
Senior Citizens' Tea
All Senior Citizens are invited to afternoon tea at Doreen Wheeler's, Linden House, Odell, on Wednesday 30th July at 3.00p.m. Please let Jill Cheadle know by Sunday 27th July if you would like to come. Tel 720261.
Odell Fete
Thank you to everybody who helped to set up the stalls, helped on the day and cleared up afterwards, and of course to everyone who came along and supported the fete. In spite of a dull day and a few drops of rain we are pleased to say that the fete made a profit of approximately £2,700 (an estimate until the figure has been finalised).
Click here for pictures of this year's Village Fete
Fete Teas
A huge thank you to everyone who made cakes for the tea tent at the fete. We made the magnificent profit of £517 !! I am always amazed (and grateful ) how they all turn up as if by magic.
Everything was perfect. We sold each and every one of them and received some very complimentary comments from our customers about the quality of the cakes.
Many thanks Doreen Wheeler & the tea team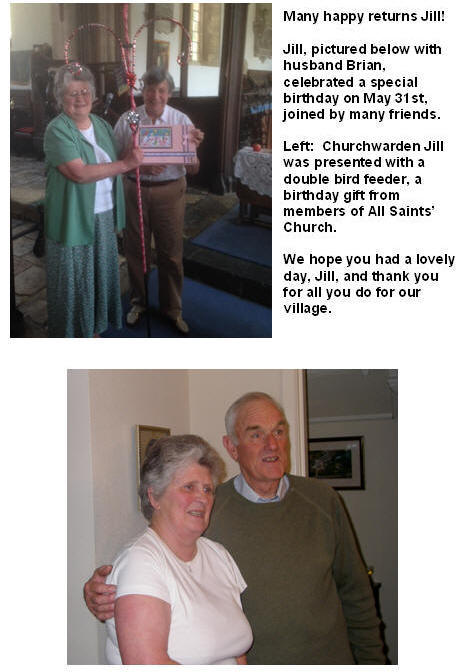 All Saints' Flower Rota
July
13th Jill Cheadle
27th Jilly Watson
August
10th Songs of Praise at HOCP and/or Harrold URC
17th Georgina Harrison
24th Eileen Shakespeare, Jen Cuddeford
DIARYDiary
July
2nd 10.30am Meeting Point at Madeline's, 15 Horsefair Lane.
3rd 10.30am Health Walk, HOCP.
5th 7.30pm Quiz, Village Hall.
8th 7.30pm WI BBQ at Linden House.
16th 10.30am Meeting Point at Eileen Nottage's, Heydown, High Street.
17th 10.30am Health Walk, HOCP.
18th 6.00pm Friends of HOCP Summer Social, Visitors' Centre.
19th 9.45am All Saints' Amblers meet at The Bell.
21st 3.45pm Fusion, HOCP.
21st 7.30pm Parish Council Meeting, Village Hall.
25th 7.30pm The Future of the Fete – meeting in Village Hall.
26th 2.30pm Café in the Tower, All Saints' Church.
28th 10.00am Friends' Conservation Tasks, HOCP.
30th 10.30am Meeting Point at Sarah's, 9 Horsefair Lane.
30th 3.00pm Senior Citizens' Tea, Linden House.
31st 10.30am Health Walk, HOCP.
August
3rd 6.30pm Vigil Service commemorating WW1, All Saints' Church.
5th 6.30pm WI cruise from Priory Marina.
4th -8th Summer Holiday Club for 5s to 11s, Harrold URC.
14th 10.30am Health Walk, HOCP.
14th 9.15pm Bat Walk, HOCP.
16th 9.45am All Saints' Amblers meet at The Bell.
17th Sharnbrook Mill Theatre sponsored walk.
18th 10.00am Friends' Conservation Tasks day, HOCP.
18th-22nd Seniors' Holiday Club, Harrold URC.
25th 10.00am Celebrate 100, Keysoe Equestrian Centre.
29th 10.30am Health Walk, HOCP.
Magazine Deadline
Please send all entries for the September 2014 magazine to Tricia Hudson (ed at odellbeds.net) or Catherine Corkery by August 12th at the latest. May we remind you that the editorial team exercises the right to edit, shorten or alter any items that are submitted. Also, the opinions expressed in the articles are those of the contributors and are not the responsibility of the editorial team.
---
Last revised: June 29, 2014.