ALL SAINTS' ODELL CHURCH NEWS - February 2014
Click here to see our church brochure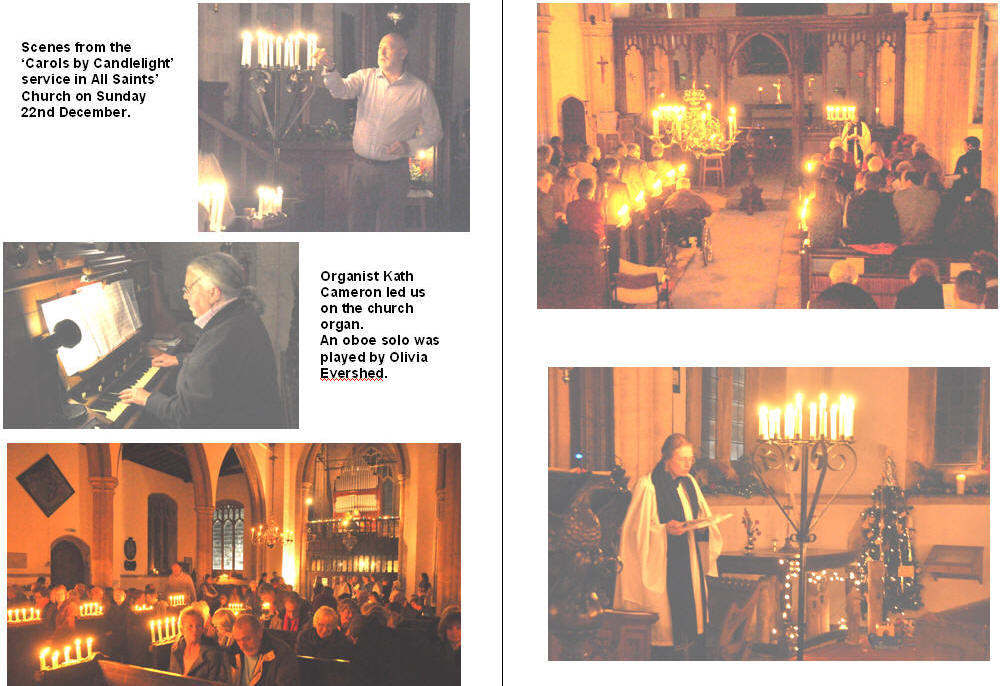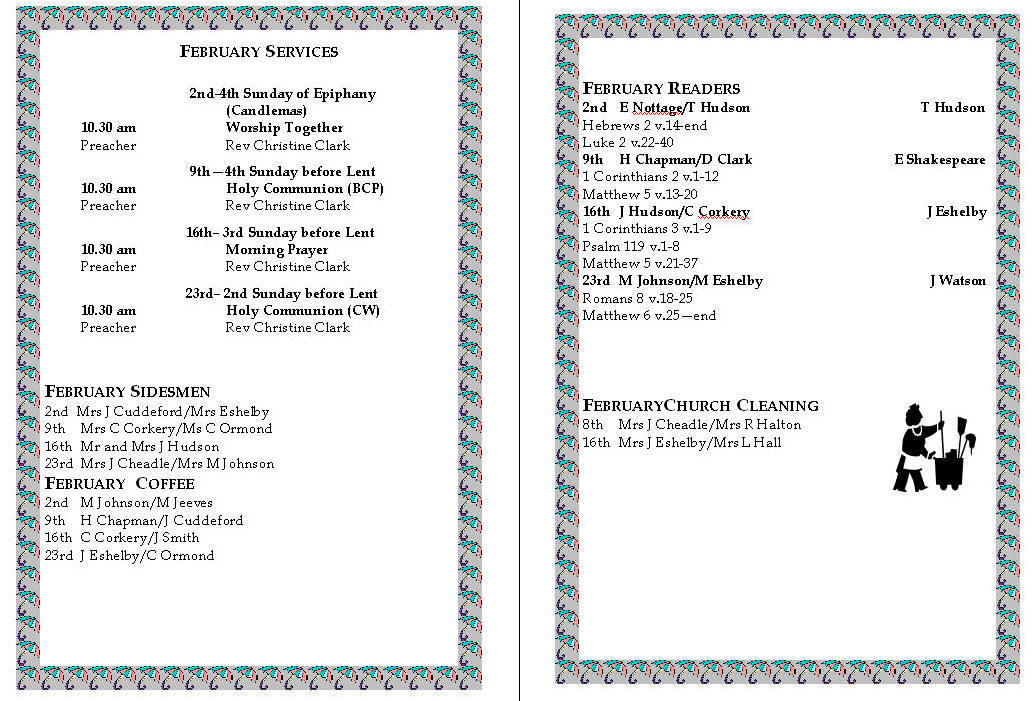 Dear Friends,
By the time you read this, Christmas 2013 will be a fading memory ….the parties and family gatherings, the carols, the presents, all that food (!) and the problem of what to do with the leftovers - ours keep us going well into January. As the days gradually lengthen, the floods (hopefully) abate and the spring bulbs begin to pop up in the garden again, spare a thought for those whose experience this winter has been very different.
If your circumstances were suddenly to change, as they did for many people living in this country, you could be forced into poverty or even homelessness, experiencing a very different kind of Christmas. Poverty or homelessness is something that can affect people of every class and station, very often through circumstances beyond their control. It's shocking to read that 61% of children living in poverty in this country are in families with a working adult i, and that last year at least half a million people in the UK needed emergency help from a food bank or other food aid provider ii. Many incomes are failing to keep pace with inflation, and too many workers fail to receive a fair wage for what they do.
In the lovely, leafy Ouse Valley in which we are privileged to live, poverty is not very apparent. But even in these parts, how many asset-rich, cash-strapped pensioners have to choose between putting food on the table or staying warm? How many others have seen jobs end unexpectedly, or businesses collapse, or illness strike making them unable to work?
God has always been on the side of the poor, and there is much in both Old and New Testaments that speaks of his desire for compassion and justice, freedom from bondage and release from oppression. So it's good to see church leaders speaking up more and more on behalf of the poor, with many churches in towns and cities up and down the land organising food banks, competing with loan sharks to offer people fair credit and advice on managing budgets.
Church Action on Poverty, Housing Justice and Scottish Churches Housing Action have teamed up to designate January 25th – 2nd February as "Poverty and Homelessness Action Week - standing with people in crisis." In our small rural churches it is not easy to know how we can best help, but can I suggest -
· be neighbourly - look out for one another and where you see a need be ready to help, getting additional help from other sources if appropriate
· be informed – see www.churchpoverty.org.uk or Oxfam/Church Urban Fund/Christian Aid websites
· consider volunteering with a local group or organisation who already help the disadvantaged
· give and/or pray as you are able
… and do come along to a bread and soup lunch at The Rectory, 3, Church Lane, Odell, 12.30-2.00pm on Wednesday February 5th where there will be an opportunity to learn more. Any donations received will be forwarded to Church Action on Poverty. Christine
i Source: Church Urban Fund
ii Source: Walking the Breadline joint report of research carried out by Church Action on Poverty & Oxfam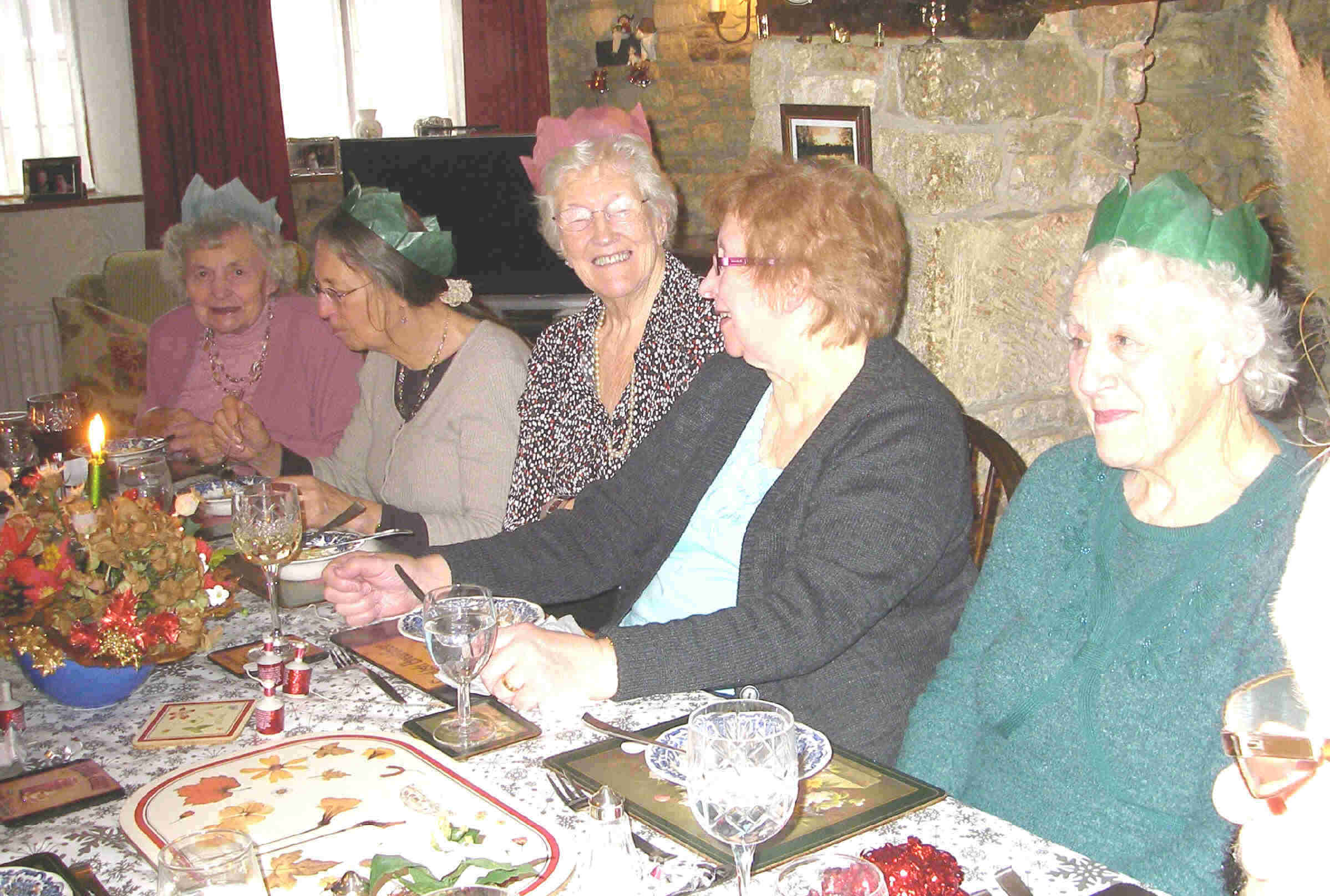 Above: Meeting Point Christmas lunch, 18th December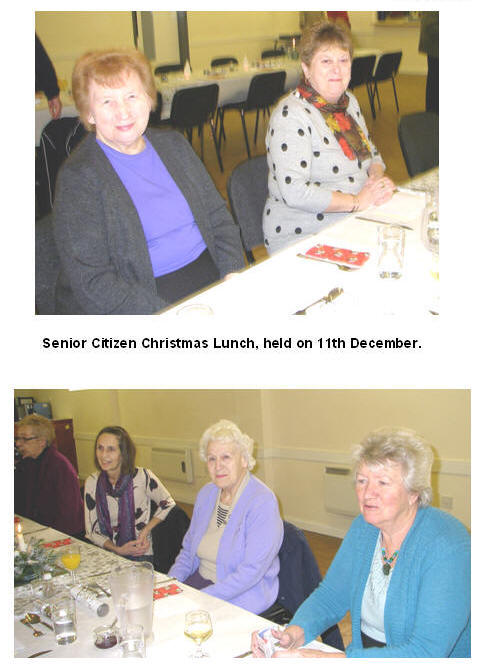 Bread & Soup Lunch
'Poverty and Homelessness Action Week'
Christine invites you to join her for home-made soup with bread and cheese, in return for a donation to Church Action on Poverty.
Wednesday, February 5th
12.30-2.00pm
at The Rectory, 3 Church Lane, Odell.
No need to book, just turn up.
Prayer Group
What is the Prayer Group? It is made up of members of All Saints' Church who undertake to pray regularly, on an individual basis, for people who ask us for prayer support.
Who do we pray for? Anyone whom we are asked to remember; these might be people from our church, from our local community or others known to us.
What do we pray about? Anything which you would like brought before God; maybe anxiety due to illness, stress or loneliness. You can also tell us of a special day you wish to be remembered – perhaps for an interview or an exam. Any information will be treated in strictest confidence.
How can you let us know if you would like us to pray for you? You can telephone Christine (720234), drop a note through the Rectory door or send an e-mail to cmclark9@btconnect.com.
All Saints Amblers meet outside the Bell, 9.45am on Saturday 15th February for a walk in the country followed by a pub lunch. Children and dogs on leads welcome to join us.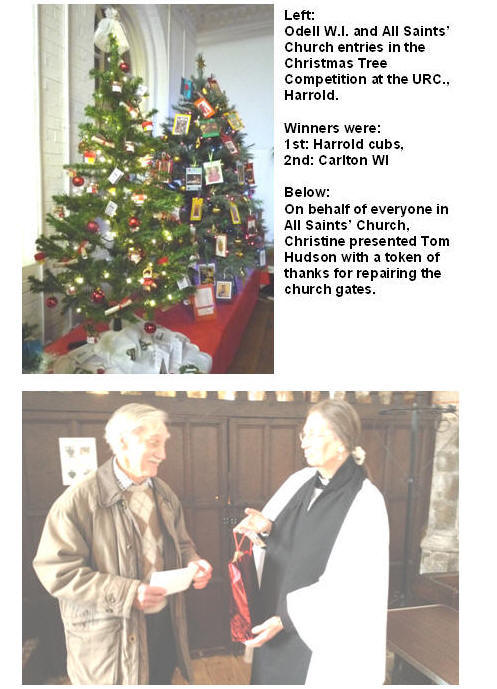 Meeting Point
February
5th 10.30am at Christine's, The Rectory, Church Lane,
19th 10.30am at Eileen Nottage's, Heydown, High Street
March
5th 10.30am at Catherine's, Manor Cottage, High Street, Harrold.
All Saints' Church Charitable Giving for the month of February will be to: Mission Aviation Fellowship – a Christian airborne mission serving remote and inaccessible places, transporting Christian workers and medical supplies. See the church noticeboard for more information.
Lent Course 2014
We are writing to encourage you, and any friends you may wish to invite, to attend the next LENT COURSE which will commence in the week beginning Monday March 10th.
This year's course is called "Tough Talk – Hard sayings of Jesus." It covers some of his unconventional, challenging and difficult to understand statements as to how Christians should conduct their lives…. "For the gate is narrow and the road is hard that leads to life, and there are few who find it." What does this mean for us today?
Course booklets will be available for viewing on Sundays from John Sunderland or Jane Fox, or at the Church House office.
The course will be hosted over 5 weeks in four homes throughout the villages as follows:
Mondays from 7.30pm at 1 High Street , Carlton
Wednesdays from 10.30am at Odell Rectory
Wednesdays from 1.30pm at 32 Rectory Close, Carlton
Thursdays from 3.00 pm at 87 High Street, Harrold
Each session will last 1-1 ½ hours including time for refreshments.
As in previous years there will be a charge of £5 per person covering the cost of the individual course booklets and the shared CD. If you would like to join in, please add your name to the lists in the churches or contact the Churches Together Office on 01234 368564 by Feb 17th.
If you would like to discuss please call me (720184) or Jane (720262)
We do hope you will be able to join us for what promises to be a challenging but enjoyable 5 weeks.
John Sunderland and Jane Fox
Thank you from Margaret Jones
I would like to express my profound thanks to everyone who helped in my move from Yelnow Farm in November. It just wouldn't have been possible to do it at all without all the help I received, both at the farm and at my new address. My time at Odell was amazing, and my regret at leaving was only lessened by the kindness of everyone involved. Receiving a wonderful book on Yelnow Farm, and a beautiful personalised card was a complete surprise, and something I will treasure always.
I know the new owners of Yelnow Farm will feel as welcomed and as happy as Jim, Jeff and I did whilst living there.
Thank you to everyone. Margaret
Women's World Day of Prayer
(Interdenominational)
Friday, 7th March, 10.30am, All Saints' Church Odell
This service has been prepared by the Christian Women of Egypt
The theme is "Streams in the Desert"
Speaker - Mrs Stella Brooks
More than 170 countries participate in an annual day of celebration, which brings together people of various races, cultures and traditions sharing God's word and worship. Men, women and young people worldwide will be worshipping together on Friday, 7th March. They will be using an order of service prepared by Christian women from Egypt.
The world is aware of how volatile the situation in Egypt is and, since this service was prepared, President Dr Mohammed Mursi has been deposed, but Christians are still being persecuted because of their faith. The country is predominantly Muslim; only 12% of the population being Christian. Women find it difficult to work outside the home and millions of children are born into poverty. Many rural adolescent girls are discouraged from completing school, facing lives of early marriage, illiteracy and domestic abuse. In difficult circumstances the Church of Egypt is doing all it can to counteract this.
For more information please contact Jane Eshelby on 01933 410959
Happy birthday to
Jack Holden Postles who will be 13 on the 10th
and Victoria Beardow who celebrates her 18th on the 22nd
…and happy birthday to anyone with a birthday in February!
All Saints' Flower Rota
March
2nd Catherine Corkery; Madeline Jeeves
Happy Birthday Meg!
We send our love and congratulations to Meg Clark, who celebrated her 80th birthday on Saturday January 11th. Many happy returns of the day!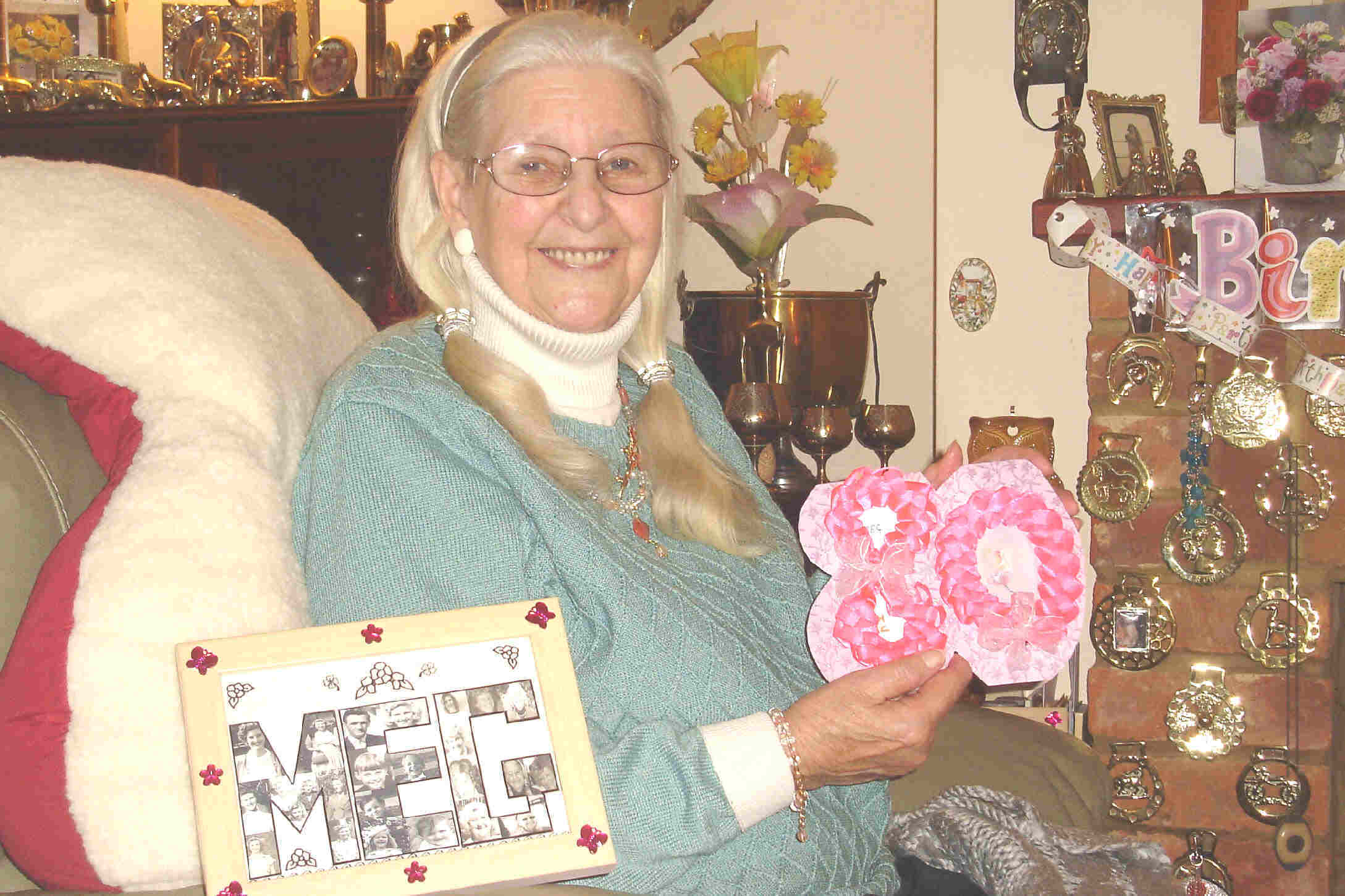 Meg pictured at home with some of her cards from friends and family.
Diary
February
5th 10.30am Meeting Point at Christine's, The Rectory, Church Lane
5th 12.30pm Bread and soup lunch, The Rectory
11th 7.30pm WI in Village Hall
13th 10.30am Health Walk HOCP
15th 9.45am All Saints' Amblers meet at The Bell
19th 10.30am Meeting Point at Eileen Nottage's, Heydown, High St.
24th 10.00am HOCP Friends Task Day
27th 10.30am Health Walk, HOCP
March
5th 10.30am Meeting Point at Catherine's, Manor Cottage, High St., Harrold
7th 10.30am Women's World Day of Prayer Service, All Saints' Church
Magazine Deadline
Please send all entries for the March 2014 magazine to Tricia Hudson (ed at odellbeds.net) or Catherine Corkery by February 12th at the latest. May we remind you that the editorial team exercises the right to edit, shorten or alter any items that are submitted. Also, the opinions expressed in the articles are those of the contributors and are not the responsibility of the editorial team.
---
Last revised: February 01, 2014.