Odell Church News - December 2014 & January 2015
To all our friends in Odell
David and Christine would like to say a BIG THANK YOU! for the wonderful send-off you gave us on 2nd November. We were completely overwhelmed by your support, your very generous gifts, your cards and messages. And what a spread! - we can't remember when we've seen a table so laden with delicious goodies. We have loved being in Odell - these past 8 years or so have been some of our happiest, and it has been a privilege to share in your lives for a while, and to be on the receiving end of so much love and goodwill. We are very glad that our new home is not far away, and look forward to seeing you on various occasions through the year. Christine and David
We are now without a minister here in Odell and are working with the CofE to get a replacement ASAP. Meanwhile however, with the help of many people we are continuing to worship together on Sundays at All Saints, at 10.30pm. We are also very please that Christine will be returning on 21st December for the candlelit Carol Service at 6pm which should be as memorable as ever. The PCC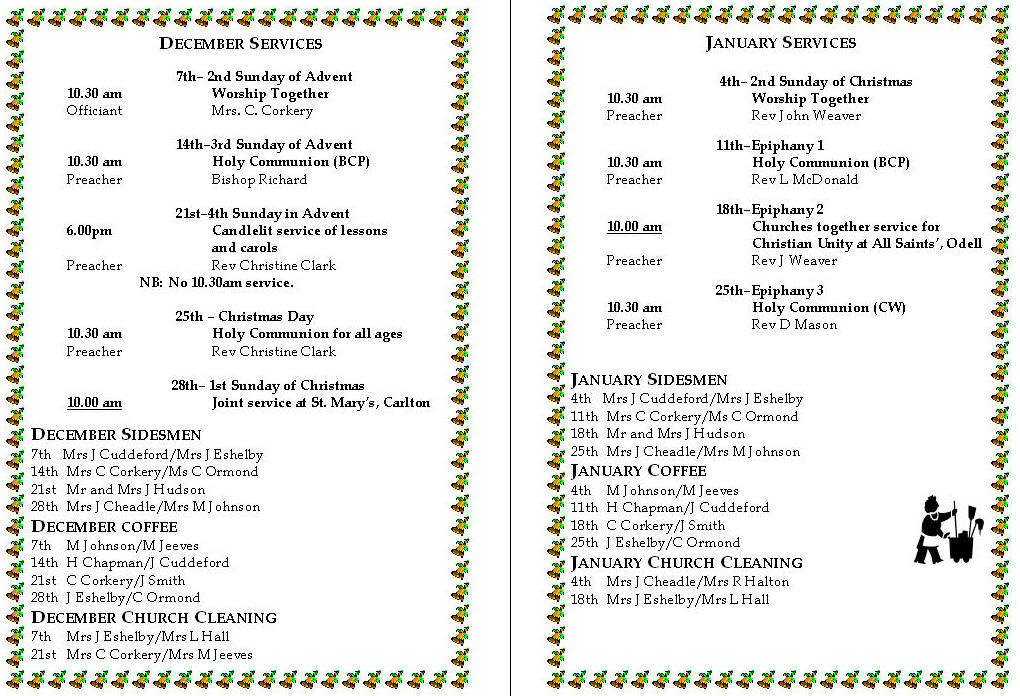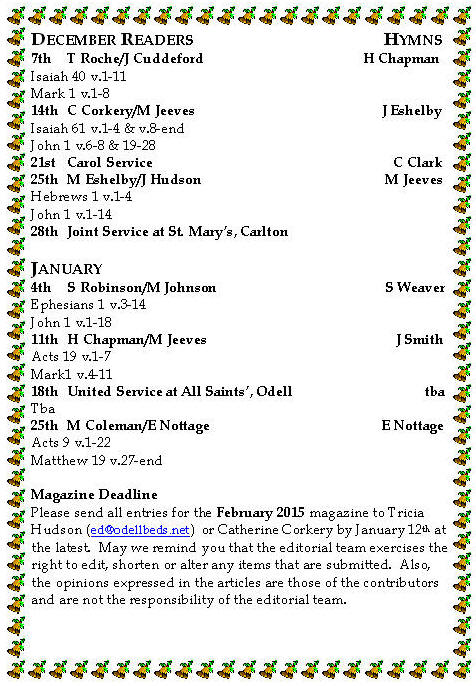 Letter from Reverend Jane Fox
I was recently reading a book telling the story of Christmas through the eyes of a child as he opened the windows of a traditional Advent calendar. Each day, more of the story unfolded, as different characters were revealed in the windows: sheep and shepherds, angels, wise men, Quirinius, the Emperor Augustus, the innkeeper. The characters travelled in space and time to be part of the scene on Christmas Eve. It was a 'magical' story: very imaginative and informative, but varying in parts from the accounts given in the Bible and a bit confusing.
I expect by now, most of us have bought our Christmas cards. What do those showing the Christmas story depict? - throngs of angels and cherubs, clean and tidy shepherds, immaculate kings and holy family. Jesus is usually portrayed as the largest new born baby ever seen! What was the reality? Mary and Joseph were effectively homeless – without shelter – they had to 'make do' in what was little better than a cave used as shelter for cattle: not hygienically clean for a birth! I always remember a group of children drawing the nativity story and one picture showed Mary lying down. I asked why and the child responded 'she's just had a baby, of course she's lying down!' I had a shock the first time I saw a new born baby – how tiny, how frail, how vulnerable a new born baby is.
Have we lost something of the original message of Christmas: that Jesus came as a real historical person, experiencing human life in all its fullness – vulnerability, weakness, homelessness, being a refugee? God is mystery. We can never fully grasp or understand him in this life. But in the incarnation of Jesus Christ we can grasp the overwhelming love and compassion of God.
Christmas is a very busy time. The weeks leading up to it, Advent, are a time of preparation for the coming of Jesus. Let us try and give ourselves some space to reflect on all that this means to us in our lives. We plan to show the DVDs of 'The Nativity' in the United Reformed Church in two parts on Monday 1st and 15th December from 7.30 to 9.00pm – this may be a good opportunity. An alternative idea may be to find an Advent candle or tea-light and give yourself five minutes each day during Advent, to sit quietly with your candle burning and prepare for the coming of Jesus at Christmas. Jane Fox
Celebrating Christmas at All Saints' Church
Sat 13th December
10.00am Putting up the Christmas Tree and decorating the church for Christmas.
Sun 21st December
6.00pm 'Carols by Candlelight '– a service of traditional readings and carols, followed by mulled wine, soft drinks & mince pies.
(you may find it helpful to bring a small torch)
NB There will be no morning service on this day.
Christmas Day
10.30am A service of Communion for all ages.
Sunday 28th December
10.00am A 'Churches Together' service for the 1st Sunday of Christmas at St. Mary's, Carlton.
Churches Together in Harrold and Carlton
Special Events for Advent and Christmas
December
Monday 1st 7.30pm The Nativity, The Movie. Part 1, URC
Saturday 6th 4.30pm Carols on Harrold Green,
Sunday 7th 4.00pm Christingle Service, Chellington Centre
Monday 15th 7.30pm The Nativity, The Movie. Part 2, URC
Christmas Eve 11.30pm Midnight Communion Service, St Peter's
All Saints' Church Charitable Giving for the month of December will be to the following Charities:
The National Society for the Prevention of Cruelty to Children, Places for People – a Bedfordshire charity providing support and care for vulnerable women and children, and
The Bedford Area Schools Christian Support Trust which is affiliated to Scripture Union and provides schools workers offering teaching and support to children, teachers and parents.
Charitable Giving for January and February will be to:
Mission Aviation Fellowship – a Christian airborne mission serving remote and inaccessible places, transporting Christian workers and medical supplies.
The Nativity – The Movie
The four episodes of this popular BBC production will be screened in the URC over two evenings on Monday December 1st and 15th in the URC from 7.30 to 9.00pm. All are welcome, including children and young people.
First shown by the BBC in Dec 2010, The Nativity tells the familiar story in a fresh and contemporary way. In four 30 minute episodes Tony Jordan, writer of Hustle and Life on Mars, explores the troubled times of turn-of-the-Millennium Judea bringing his trademark humour and humanity to the biblical story. The production brings legend to vibrant life, but roots action in a world we can all recognise and understand.
DAILY TELEGRAPH: 'There are no gimmicks – simply a gentle, compassionate retelling of a very familiar story.'
Refreshments will be available after the showing for those wishing to stay to discuss the film.
There will be no charge but - please let John Sunderland know on 720184 or via john@sundrlnd.freeserve.co.uk if you plan to come.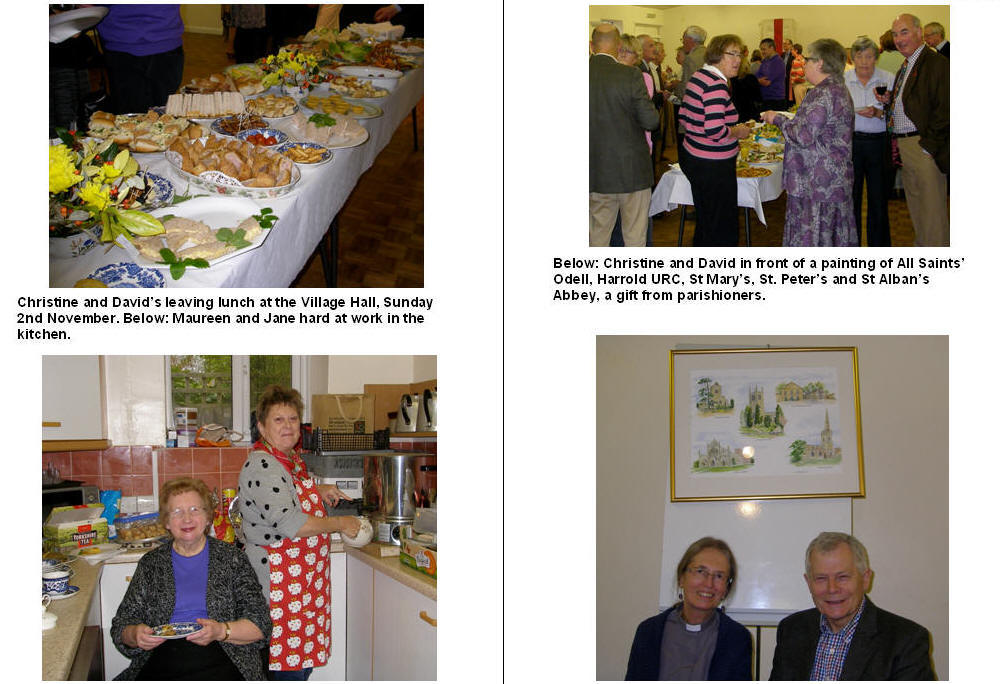 Week of Prayer for Christian Unity January 2015
Theme: The well is deep
A hot and dusty day, a stranger stops at a well for a drink. A meeting with an inquisitive woman becomes a turning point and a transformative one. It is a meeting where old suspicions, hurts and hatreds are never far away: a Jew and a Samaritan discuss what divides them. It is a meeting where ancient conventions around gender inequality are unexpectedly challenged.
Could this have been avoided? No, for Jesus was compelled to go through Samaria and in that journey he encountered a woman by a well where he asked her for a drink.
Conversations such as these have the potential to change people and how they view one another. One of the most important things we can say about our ecumenical life together is how our pilgrimage together has transformed and deepened our faith and also changed how we view our Christian sisters and brothers from other churches and traditions. Can this journey be avoided?
No, because we too are called by God to travel in this direction.
The churches of Brazil have given us a powerful image for this year's Week of Prayer for Christian Unity, one that reminds us of what we have learnt on our ecumenical journey, but one that challenges us to go deeper in our understanding of one another as we pray for unity of all Christians as Christ himself prayed. Rev'd Bob Fyffe, General Secretary, Churches Together in Britain and Ireland
On Sunday 18th January there will be a United Service at 10.00am at All Saints' Church, Odell. The preacher will be the Rev'd Dr. John Weaver.
We shall be holding short meditative services on the theme on the following days:
Wednesday 14 January 9.30am at St Mary's, Carlton.
Thursday 15 January tbc
Monday 19 January 9.15am at Church House, 3 The Moor.
Tuesday 20 January 7.00pm at the URC, Harrold.
Wednesday 21 January 9.30am at St Peter's Church, Harold.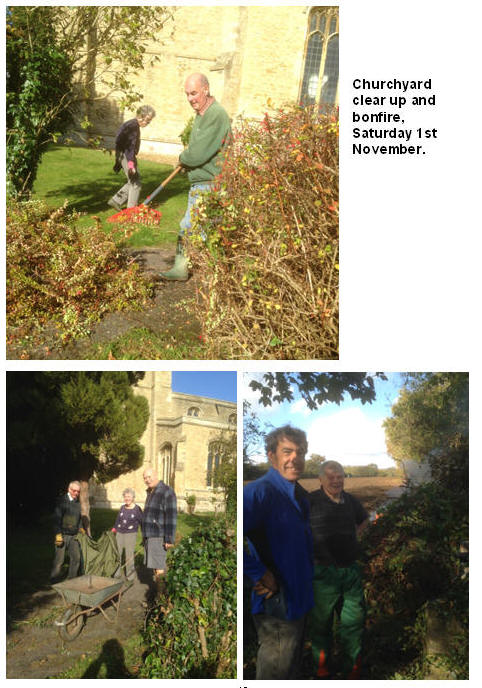 Coffee Morning at Hobbs Green Farm
Christmas Hamper coffee morning
On 5th December
At Hobbs Green Farm
From 10.30am – noon
In aid of Bedford Women's Refuge (Places for People)
Admission free Please bring Christmas Fayre
Meeting Point
December—17th 12 o'clock, Bring and Share Lunch at Madeline's, Rivendell, Horsefair Lane
January
7th 10.30am at Eileen Nottage's, Heydown, High St.
21st 10.30am at Jill's, Rectory Farm.
February -4th 10.30am, at Jane Smith's, Horsefair Lane
Messy Church (Fusion)
Last month's Messy Church theme was Remembrance Day. We did a lot of things with rosemary as it is a symbol of remembering people who have died. We did decorating rosemary biscuits and made a pretty poppy and rosemary decoration. We also wrote down the name of a special person who we remember and put it in a bowl.
Another interesting moment was when Lavendon's Remembrance Sunday flag holder came in with his flag and his uniform on. He read us some poems and showed us the meanings of the different parts of the Legion flag.
After all of the excitement we had a delicious group meal and ate our rosemary biscuits. It was a really nice evening and I enjoyed it a lot. Josie Bailey.
The next session is 19th January and families are welcome to come along to Harrold United Reformed Church from 3.30 to 6.00pm. Just email John Sunderland john@sundrlnd.freeserve.co.uk or ring 720184 a few days before to let us know you are coming.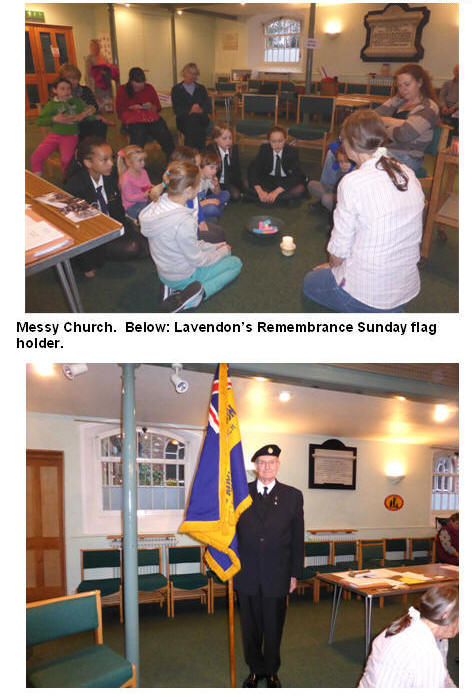 Senior Citizens' Christmas Lunch
The Senior Citizens' Christmas Lunch will take place on Wednesday 10th December at 12.30 in the Village Hall.
Please let Jill know (720261) by 1st December if attending.
Christmas at Emmaus Village Carlton
Christmas Raffle will be drawn on Friday 12 December at 12.30pm In the Bric-a-brac Shop. Christmas Lunches now being served in the Bistro - Turkey and all the trimmings! Come and join us for the Christmas Carol Service Tuesday 23 December at 3 pm in the Bistro.
Christmas period opening hours: As normal up to Tuesday 23 December, then open on Saturday 27 Open again Tuesday 30 and Wednesday 31, Back to normal Friday 2 January.
Come and see for yourself -
Opening hours are Tuesday – Saturday 10 am – 4.30pm
For further information visit http://www.emmaus.org.uk/village_carlton
All Saints' Flower Rota
December
6th Wedding
13th Church Decorating
21st Carol Service
28th Joint Service at St. Mary's, Carlton
January 2015
3rd All help to clear
Happy birthday to
Charlotte Lloyd, 12 on 24th January and to everyone else with a birthday in December or January.
WELCOME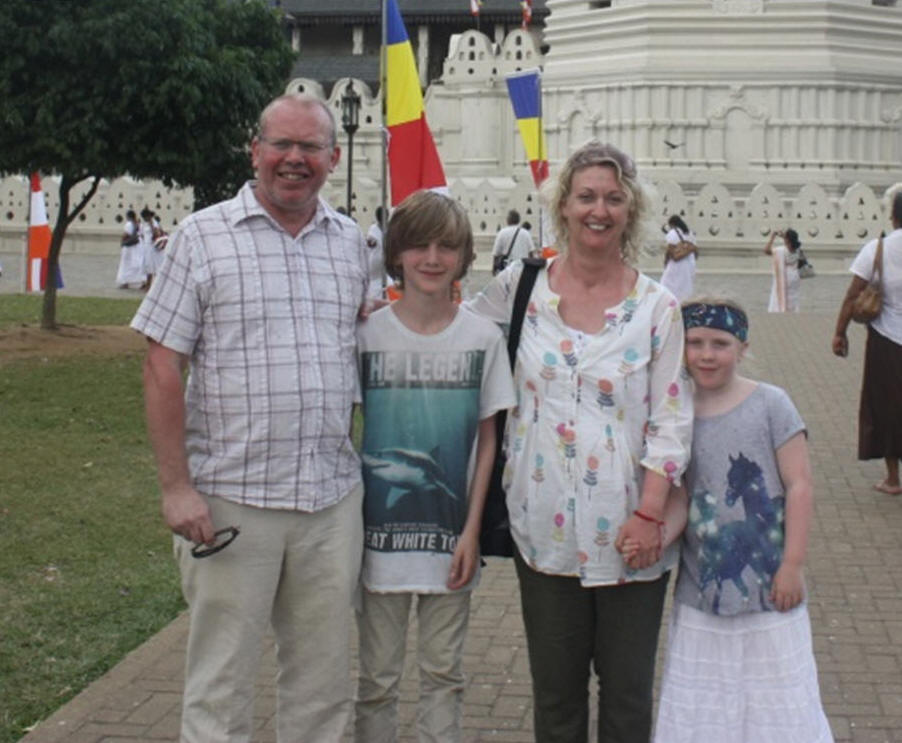 We give a warm welcome to Lesley and Andrew Thomas, and children Owen, Elin and Jasmine, who have recently moved to Odell from Hertfordshire.
Daphne Jaquest, (1923-2014)
We are sad to report the death of Daphne Jaquest, a resident of Odell for very many years. Her daughter Kay Dicks has written some words in her memory:
Mum was born in Pavenham but moved to Odell when she was very young and spent her entire life there. She went into service after school at the Lodge, before starting work at Odell Leathers in 1940. While there she met my father who was always known as Barb and who came from Bletsoe. They were married by special licence during the war as he was on active service. Sadly my dad died in 1963 when Mum was only 39 and she spent the next 51 years sorely missing him.
She worked at various jobs at the leather factory and ended her working days at Odell Components at the age of 66. Mum managed to stay in her flat near The Bell until she was 89, but after she suffered a series of falls and was diagnosed with cancer she moved to Avenue Road Nursing Home in Rushden to be nearer to me.
She celebrated her 90th birthday there with a visit by friends from Odell.
Kay Dicks
Diary
December
1st 7.30pm The Nativity, the Movie Part 1, URC
4th 10.30am Health Walk HOCP
5th 10.30am Christmas Hamper Coffee Morning, Hobbs Green Farm
6th 4.30pm Carols on Harrold Green
7th 4.00pm Christingle Service, Chellington Centre
9th 7.30pm W.I. Bring and Share Christmas meal at Jill's, Rectory Farm
10th 12.30pm Senior Citizens' Christmas Lunch, Village Hall
13th 10.00am Decorating All Saints' Church for Christmas
15th 7.30pm The Nativity, The Movie Part 2, URC
17th 12 o'clock Meeting Point Bring and Share Lunch at Madeline's, Rivendell, Horsefair Lane
18th 10.30am Health Walk, HOCP – pre-registered walkers only
21st 6.00pm Carols by Candlelight, All Saints'
24th 11.30pm Midnight Communion Service, St Peter's
25th 10.30am Service of Communion for All Ages, All Saints'
January
1st 10.30am Health Walk, HOCP
7th 10.30am Meeting Point at Eileen Nottage's, Heydown, High St.
13th 7.30pm W.I. in Village Hall
14th 9.30am Meditative service on Christian Unity at St Mary's
15th 10.30am Health Walk, HOCP
19th 9.15am Meditative service on Christian Unity at Church House, 3 The Moor
19th 3.30pm Messy Church, URC
19th 7.30pm Parish Council Meeting, Village Hall
20th 7.00pm Meditative service on Christian Unity at URC, Harrold
21st 9.30am Meditative service on Christian Unity at St Peter's Church, Harold
21st 10.30am Meeting Point at Jill's, Rectory Farm
29th 10.30am Health Walk, HOCP
The editorial team would like to wish all our readers a very Merry Christmas and a Happy New Year.
---
Last revised: December 01, 2014.