ALL SAINTS' ODELL CHURCH NEWS - April 2014
Click here to see our church brochure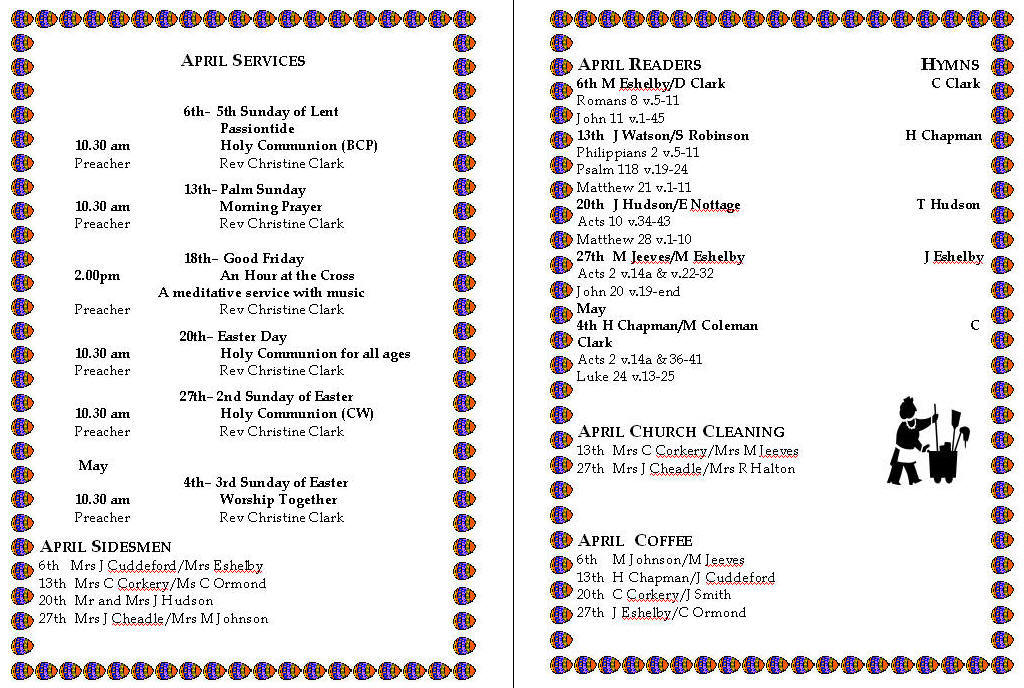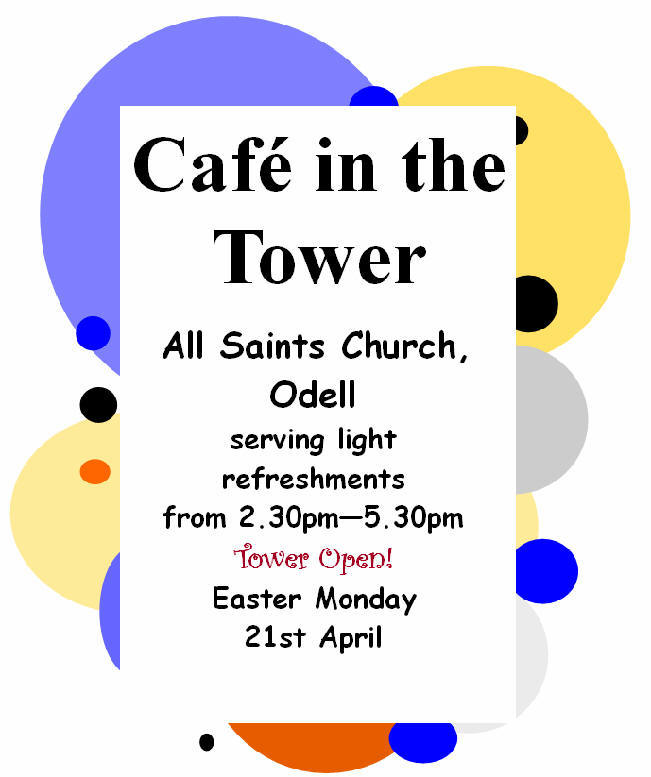 Dear Friends,
Easter … bunnies, eggs, daffodils, bonnets, sunshine, time-off, chocolate, lambs (or roast lamb with mint sauce) … lots to look forward to with anticipation of much pleasure!
It seems a far cry from a rubbish dump outside the old walls of Jerusalem. And yet, all that we celebrate with joy - new birth, new hope, resurrection, the power of life over death - springs from a shameful and violent death that took place there over 2,000 years ago.
The ancient Jews looked for a king, who would lead them in victorious battle against their enemies, and restore true worship to God – but Jesus didn't fit their image, so they crucified him. People are still looking for a God who will bring an end to war, feed the hungry, heal the sick, free the oppressed and right all the wrongs …. but God's ways are not our ways. All those things are promised in the Scriptures, but for a future time. Meanwhile, God himself, taking human form, came to suffer and die, identifying with us in our weakness so we might know his risen power at work in us. Jesus overcame death and urges us not to be afraid, for one day we shall be with him where he is. For now, he is with us where we are, enabling us to overcome through his love and power.
This poem written by Edward Shillito* speaks of the honest and naked longing for meaning in the face of indescribable suffering and horror, a meaning that the author can only find in the sufferings of Christ.
If we have never sought, we seek Thee now;
Thine eyes burn through the dark, our only stars;
We must have sight of thorn-pricks on Thy brow,
We must have Thee, O Jesus of the Scars.
The heavens frighten us; they are too calm;
In all the universe we have no place.
Our wounds are hurting us; where is the balm?
Lord Jesus, by Thy Scars, we claim Thy grace.

If, when the doors are shut, Thou drawest near,
Only reveal those hands, that side of Thine;
We know to-day what wounds are, have no fear,
Show us Thy Scars, we know the countersign.

The other gods were strong; but Thou wast weak;
They rode, but Thou didst stumble to a throne;
But to our wounds only God's wounds can speak,
And not a god has wounds, but Thou alone.
I pray that you and yours may rejoice in all the blessings, promises and hope of Easter, made all the richer because of that unfathomable, mysterious love that through death, opened the door to life, transformed and eternal. Christine.
* Edward Shillito (1872-1948) was an English minister who survived the horrors of artillery, machine guns, and trench warfare during WW1.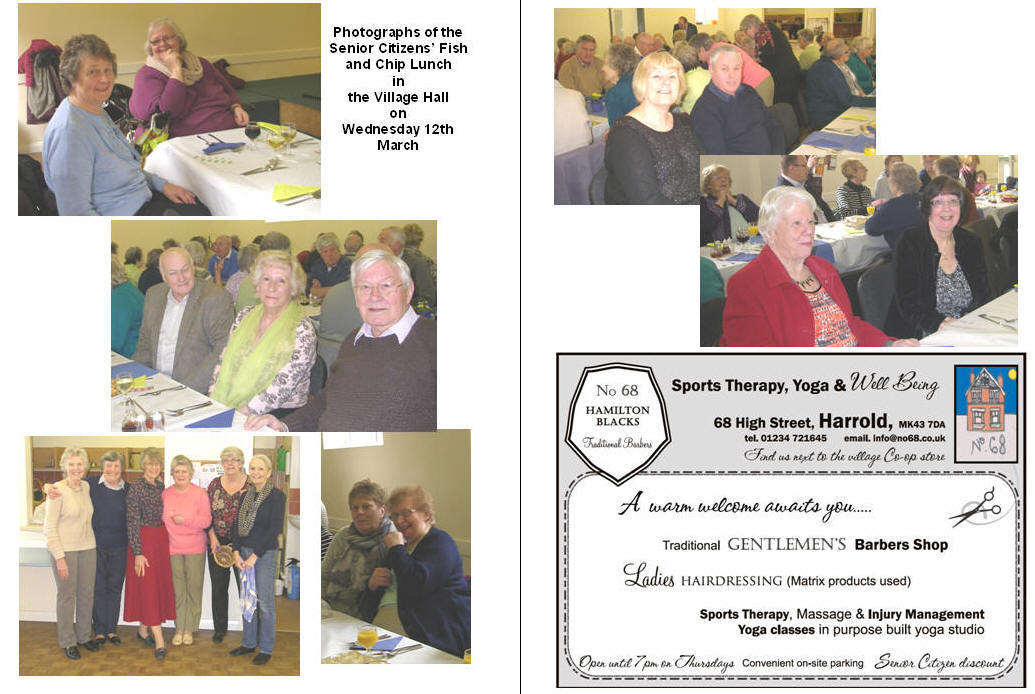 Prayer Group
What is the Prayer Group? It is made up of members of All Saints' Church who undertake to pray regularly, on an individual basis, for people who ask us for prayer support.
Who do we pray for? Anyone whom we are asked to remember; these might be people from our church, from our local community or others known to us.
What do we pray about? Anything which you would like brought before God; maybe anxiety due to illness, stress or loneliness. You can also tell us of a special day you wish to be remembered – perhaps for an interview or an exam. Any information will be treated in strictest confidence.
How can you let us know if you would like us to pray for you? You can telephone Christine (720234), drop a note through the Rectory door or send an e-mail to cmclark99@uwclub.net
The Parish Church of All Saints', Odell
Annual Vestry Meeting – Wednesday 23rd April 2014
in the Parish Church at 7.30pm
Agenda:
Apologies for absence
Minutes of the previous annual vestry meeting
Matters arising
Election of Churchwardens
Annual Parochial Church Meeting – Wednesday 23rd April 2014
in the Parish Church at 7.45pm
Agenda:
Apologies for absence
Minutes of the previous APCM
Matters arising
Reports
Treasurer
Vicar
Church Wardens
Election of Lay Representative to Deanery Synod (for 3 years)
Election of PCC members
Election of sidesmen
Appointment of auditor
Any Other Buisness
Close
Inaugural Meeting of the PCC – Wednesday 23rd April 2014
in the Parish Church following the APCM
Agenda:
Election of lay vice-chair
Election of treasurer
Date of next meeting
Meeting Point
23rd April at Jane Eshelby's.
All Saints' Church Charitable Giving for the month of April is to FEBA,
(Far Eastern Broadcasting Associates) - a radio station which began in 1959 and makes and broadcasts Christian programmes in dozens of different languages, reaching Christians who would otherwise have little contact with the outside world. Today FEBA broadcasts on FM and medium wave radio, the internet, text messaging and social media – each has its own use and own target audience.
The message FEBA delivers is that "The love of Christ addresses all areas of people's lives: emotional, spiritual and physical…There are programmes on health education and disease-prevention; young believers gain strength through online discipleship courses; locals speak out against corruption…Everywhere people turn to God. Lives are changed; communities transformed. Love in action."
For more information about the work of FEBA see the notice board in All Saints' Church.
Church Electoral Roll
At this time of year and before we hold our annual meeting on 23rd April we have to update the Church Electoral Roll for All Saints' Church, Odell. If you are on the Electoral Roll of your local church you are a voting member of the Church of England and can nominate and vote for Parochial Church Council members. If you are currently on the roll and wish to stay on it, you do not have to do anything. If however you would like your name added to the roll, you can qualify if:-
you live in the parish of Odell, and
regularly attend worship, and
are 16 years of age or over, and
have been baptised.
You can also qualify if:-
you live elsewhere, but have regularly worshipped at All Saints' Church for at least six months.
If you would like to be on the Electoral Roll please contact me for an application form.
Catherine Corkery
Tel: 720348
COLIN FOSTER 1932-2014
Colin was born in the village of Westfield in East Sussex, the youngest of three brothers. Colin was 18 when the family came to live in Odell, in a cottage opposite the church as his father was working for Lord Luke. Colin went to work on Mr Gibson's farm, where he developed a skilled mechanical knowledge, repairing cars and commercial vehicles. In his spare time he was a member of the choir, and a bell-ringer, as well as enjoying playing skittles, darts and going to whist drives. He also went to motorbike rally cross meetings, and particularly loved watching football and formula 1 motor racing.
At age 22, Colin began working for Lord Luke as a handyman and chauffeur – and continued in that job for the next 25 years. One day, driving Lady Luke to the shops in his smart chauffeur's hat and uniform, he met Myra – who thought the big shiny car was his! So began a long courtship leading up to their marriage in 1969. Because a cottage went with the job, Colin became caretaker for the Odell Leather Company for 25 years, until it closed in 1993. The family, now including Graham and Alison moved to Bletsoe in 1993. Colin continued to work for John May, delivering leather products all over the country until he retired at age 68, and for many years enjoyed driving whenever he had the opportunity, until latterly, when deteriorating health meant he had to stop..
Colin and Myra became great friends with their neighbours in Bletsoe, Bill and Edna Rowlands, enjoying many good times together, helping each other out, sharing gardening equipment, caring for each other's chickens and even Christmas lights! As a tribute to his friend, Bill wrote this poem in his memory …
Within my book of memories
Are special treasured thoughts of you
And all the evidence of glorious things
Which, because of you, came true.
As I turn back the pages of memories
And recall each happy thought
I realize the happiness and pleasure
That knowing you has brought.
There are memories of the times
We've shared both bright and gloomy days
There are memories of your kindness
And your friendly thoughtful ways.
There are memories of your laughter,
Your gay and cheerful smile
That added a bright note to each of us
And made life more worthwhile.
There are memories of the things
We shared each friendly little chat
When we would get together
And just talk of this and that.
And when I recall these memories
As we all move along life's way
They grow more precious and blessed
With every passing day.
Odell Fete 2014: Saturday 14th June
Do keep the date free for this wonderful chance to celebrate our community.

Theme
This year we are going to remember the Odell of 1914, to commemorate the men who left for war and not just those who gave the ultimate sacrifice, but also those that returned changed for life by the horrendous experiences that they had been through.
If you have any historical details, pictures, photos or paper cuttings of the men who went to war, or anything to do with the village at that time, would you share them with us? The fete committee would like to have a display at this year's fete to show what Odell was like as a village and as a community. We want to tell the story of people living in the village as a well as trying to tell the story of the men who left for war.

If you do have anything that you would like included please contact The Rev'd Christine Clark, The Rectory, Church Lane, Odell, 01234 720234 cmclark99@uwclub.net or Mandy Hinds, 7 Horsefair lane, Odell, 01234 720414 alsodell@plus.com

We want to give a view of the village in 1914 using research and village histories as well as personal stories, and to remember the men who left for war and experiences so far from what they had known. We would like to take this opportunity to " Remember" them.

ODELL FETE AND DOG SHOW: Getting involved
It is hard to imagine a summer without the annual Fete and Family Dog Show, but if it is to continue we do need HELP with getting it ready.
The first date to put in your diary is Fete Preparation morning at 10.00am on Monday, 5th May hosted by Jim and Doreen at Linden House, when we clean and repaint the signs for the stalls and side shows and prepare the roadside boards. Then we reward ourselves with a tasty BBQ. Please bring your own meat and wine. Please let Doreen (720358) or Jane Eshelby (01933 410959) know if you wish to stay for lunch and what you would like to provide in the way of salads or puddings
The big preparation will be in the afternoon of Friday, 13th June. If you can manage to come anytime between 2.00 and 7.30pm to lend a hand, you will be most welcome. We shall need to collect tents, tables, chairs and stall signs and set these all up in the Scout Field down Horsefair Lane ready for the big day. We need muscle, a good sense of humour, wheels and trailers and tea and cake will be provided.
Mandy (720414) or Christine (720234) await your call.
Deanery Ascension Service
A Deanery Service will be held to celebrate the Ascension, on Thursday 29th May at 7.30pm, at St Mary's Church, Carlton. This will feature members of choirs from across the Sharnbrook Deanery. The preacher will be the Venerable Paul Hughes, Archdeacon of Bedford.
Summer Holiday Club
Advance notice that Summer Holiday Club for 5 – 11 year olds will be held from Monday 4th to Friday 8th August 2014, each morning at the United Reformed Church, Harrold. Details and application forms will be available nearer the time, but do put the dates in your diary so that you are free for this very popular event!
If you would be willing to help as an adult or teenage helper and have not done so before, please contact Church House Office 368564 – we shall be delighted to hear from you.
CHURCHES TOGETHER IN HARROLD AND CARLTON
Fusion
'At Fusion we do crafts
We do drama and we learn God's way...'
These are the two first verses of the welcoming hymn at Messy Church and describe some of the things that we do every third Monday of the month in the URC in Harrold. It is a place to play, meet friends and learn about God but also share a lovingly prepared meal and sometimes even play snooker!
In January, we built Noah's ark with Jonathan Fox's help. We made animals with fabrics and put them inside. The theme coincided with the floods that we had in the country. My favourite moment of that session was helping with pudding (rainbow jelly) and eating it at meal time.
In February, we talked about love and hate and children and adults made beautiful love hearts (hanging in my bedroom) and yummy meringues also shaped into hearts. They were absolutely delicious.
Every Fusion is special and different. I love making puddings, crafting and drama but the best bit is being with my friends.
By Jimmy Holt year 4 at Harrold Lower School
Decorating the Church for Easter
Come along to All Saints' Church on Saturday 19th April and join in with the merry band of volunteers decorating the church with flowers and foliage and all things seasonal. Offers of flowers are always very welcome, but do feel free just to turn up and help with the decorating. 10am onwards, coffee supplied!
Holy Week and Easter Services
Taize Services with reading, and meditations on:
Mon 14th April 8.00pm St Peter's Church, Harrold
Tue 15th April 8.00pm St Mary's Church, Carlton
Wed 16th April 8.00pm United Reformed Church, Harrold
Taize is a small village in Burgundy in France, where there is a community founded by Brother Roger in 1940 as a place of reconciliation. Thousands of people, many of them young people, visit Taize each year and gather with the Brothers to pray. People come from all over the world and speak many different languages.
Taize songs consist of simple tunes with only a few words, sometimes in Latin, that are repeated.
Thursday 17th April Maundy Thursday
8.00pm Communion Service at St Peter's
Friday 18th April Good Friday.
11.00am: there will be a short service on the Green at Harrold for all ages, with hymns. We shall be erecting the cross and distributing hot cross buns.
2.00pm there will be an Hour at the Cross: a meditative service with music, at All Saints', Odell
Sunday 20th April Easter Day
5.30am There will be a Dawn Service at the United Reformed Church, Harrold. Come and join us to celebrate the resurrection at this special service when we light the Easter candle from a fire. The service will be followed by breakfast. You are welcome to bring a bell to this service and all services on Easter Day.
On Easter Day the Cross on Harrold Green will be covered with netting so that flowers can be placed on the cross. They can be in memory of someone, a thanksgiving, or to celebrate Easter. It will transform the cross into a symbol of new life and hope, of the Resurrection.
Easter Day services
9.30am Communion at St Mary's Church
10.30am Service of Holy Communion for all ages at All Saints' Church, Odell
11.00am Joint Communion Service at St Peter's
The Children's Society
Thank you to all boxholders. Between us we have been able to send off £296.42 this year to the Society who are always very grateful for all donations. Thank you too that you have all agreed to continue with a box for this coming year.
Should anyone else like to have a Children's Society box, please let me know. Catherine Corkery. Tel: 720348
Why not join the
CHURCHES TOGETHER BOOK GROUP
Anybody interested is cordially invited to join this new group currently being formed. We plan to read a book about every six weeks before meeting to discuss it in a member's home. Books will be inspired by Christian thought or deal with moral or ethical issues. The first three books, to be read over the summer, have been selected by a small start-up team. Thereafter members will be involved in choosing the books.
Our first book will be THE SHACK by W. M. Paul Young
Mack Philip's daughter has been abducted during a family vacation and evidence that she may have been brutally murdered is found in an abandoned shack deep in the Oregon wilderness. Four years later, in the midst of his continuing sadness, Mack receives a suspicious note, apparently from God, inviting him back to that shack for a weekend. The Shack wrestles with the timeless question, 'Where is God in a world so filled with unspeakable pain?' The answers Mack gets will astound you and perhaps transform you as much as it did him.
The meeting to discuss the book will take place at 7.30pm on Monday June 2nd at Church House, 3 The Moor, Carlton hosted by Jane and Jonathan Fox.
For planning purposes it would be helpful to know if you have decided to read the book and plan to attend the meeting. Please let Sally Bailey know via email at churchestogether@btinternet.com or phone 368564 as soon as possible and by 12.00 Friday May 30th at the latest.
The chosen book (Hodder ISBN 978 0 340 97949 5) is in print, available online, and can be bought or ordered from most book shops. It may also be reserved and borrowed from Bedford Library which has five copies. Leaflets on Bedford Borough Library Services and new website are available from Church House Office.
John Sunderland Tel 720184
An Invitation to view "The Passion"
April 2nd and April 9th
This BBC film starring James Nesbitt and Penelope Wilton had a big impact when released in 2008. For many its timeless story of Christ's last week makes compelling viewing.
"There's a vitality and realness about the whole thing that you rarely find with this story" The Guardian.
The film will be shown in the URC in two parts on Wednesday April 2nd and 9th between 7.30 and 9 pm. There will be a short 5 minute break around 8.30 and time to discuss and chat over a coffee or glass of wine after the screening.
You are cordially invited to join us in this new venture of Churches Together and the URC. There will be no charge.
John Sunderland – Churches Together
Holiday at Home—Advance notice
This will be held from Monday 18th to Friday 22nd August and will be a variety of events for people of retirement age. We shall be grateful to hear from people who would like to help with planning this event – please phone Jane Fox (720262) or Sally Bailey (368564)
Are you a Carer?
The Churches Together Pastoral Group has held several tea parties for carers living in the villages. These have been appreciated by those who came. We plan to hold similar events in future – if you are a carer and would like to come, but have not received an invitation, please let us know by contacting Jean Saul (01234 720407) or Sally Bailey (368564).
Bedding Plants for Sale
Geraniums, begonias, salvias, petunias, lobelias, busy lizzies, tobacco plants and cosmos flower plants for sale along with tomato plants, cucumber plants and other vegetable plants.
Proceeds to All Saints' Church. Orders welcome Jill Cheadle 720261
Commemorating World War 1
As a nation we will be remembering this war and all its consequences from now until the 100th anniversary of the Armistice in 2018. The announcement that this country was at war came on the 4th August 1914, and in memory of that occasion I shall be holding a vigil service in All Saints' Church on 3rd August, using material that has been specially written for the occasion.
On looking at the list of men from Odell who lost their lives in WW1, I realise how little we know about them now. So, if you know anything at all about these men, or about other people in Odell who were affected by WW1 in different ways, both those who remained at home as well as those who served away, please do get in contact me. I hope that together we can piece together a fuller picture of that time, and the people who experienced those years, and perhaps put together a display for public viewing.
The names of the fallen in WW1 who were from Odell are:
William Barker
Crewe Alston Coles
Rowland Humphrey Coles
William Darlow
Albert Headland
Frederick Hunt
Kenneth Stewart
Clarke Wesley
All Saints' Flower Rota
April
6th Margaret Jones
19th Decorate for Easter
26th Clear the Church
May
4th Rachel Halton
Jill Cheadle
Birthdays in April
Special 18th birthday wishes to
Tania Fulford on the 5th ! - And happy birthday to everyone with a birthday in April.
Diary
April
1st 7.30pm Macbeth workshop, Mill Theatre
2nd 7.30pm "The Passion" Part 1, URC
3rd 7.30pm Macbeth workshop, Mill Theatre
6th Auditions for Macbeth, Mill Theatre
8th 7.30pm W.I., Village Hall
9th 7.30pm "The Passion", Part 2, URC
10th 10.30am HOCP Health Walk
14th 8pm Taize Service, St. Peter's, Harrold
15th 8pm Taize Service, St. Mary's, Carlton
16th 8pm Taize Service, URC, Harrold
17th 8pm Communion Service, St. Peter's, Harrold
18th 11am Good Friday Service, Harrold Green
2pm Service of meditation and music, All Saints', Odell
19th 10am Church decorating for Easter, All Saints' Odell
20th 5.30am Dawn Service for Easter Sunday, URC
9.30am Communion, St. Mary's, Carlton
10.30am Communion, All Saints', Odell
11am Joint Service for Easter, St. Peter's, Harrold
21st Easter Egg Hunt, HOCP
21st 2.30pm Café in the Tower, All Saints' Church
23rd 10.30am Meeting Point at Jane Eshelby's.
23rd 7.30pm Annual Vestry Meeting, All Saints' Church, Odell
7.45pm Annual Parochial Church Meeting followed by Inaugural Meeting of PCC
24th 10.30am HOCP Health Walk
26th Harrold Pit Run
26th 7.30pm St. George's Theme Night, Village Hall.
28th 10am Friends' Task Day HOCP
28th 7.30pm Village Hall Committee AGM
May
5th 10am Fete Preparation Day
Magazine Deadline
Please send all entries for the May 2014 magazine to Tricia Hudson (ed at odellbeds.net) or Catherine Corkery by April 12th at the latest. May we remind you that the editorial team exercises the right to edit, shorten or alter any items that are submitted. Also, the opinions expressed in the articles are those of the contributors and are not the responsibility of the editorial team.
---
Last revised: March 23, 2014.