ALL SAINTS' ODELL CHURCH NEWS - May 2013
Click here to see our church brochure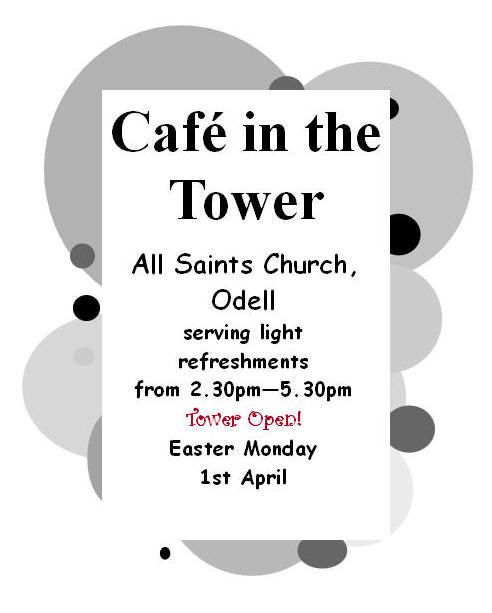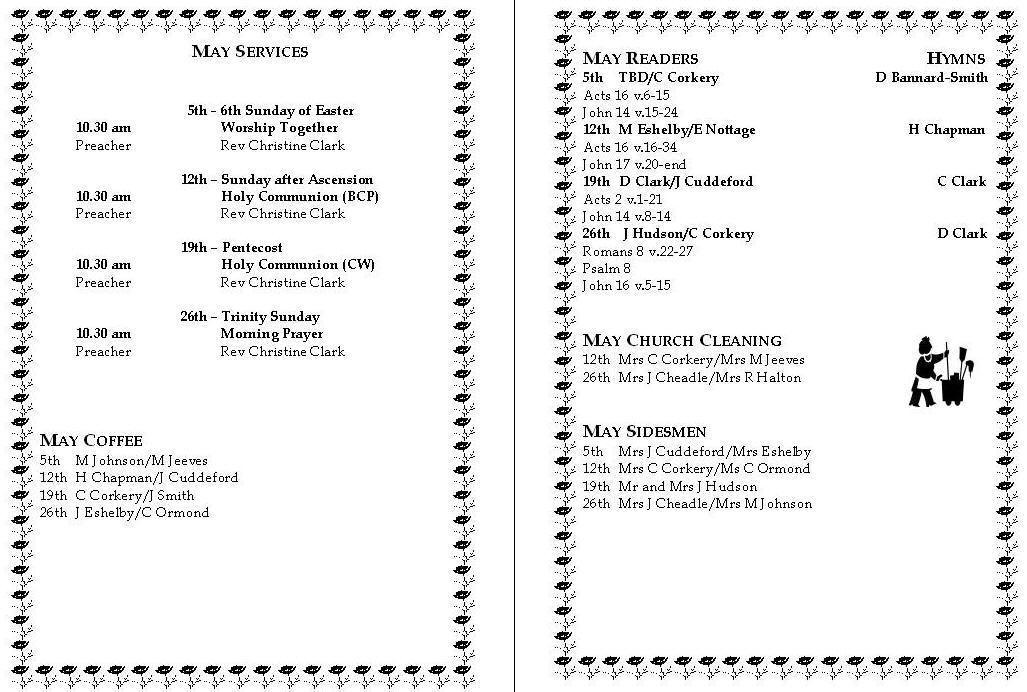 Dear Friends,
Well, it can't be said that the Christian Church is stuck in a rut. This year has already been an interesting one from the church's point of view. A new Archbishop of Canterbury has been appointed and installed as the head of the Anglican Church worldwide. At the same time, the resignation of Pope Benedict precipitated the election of his successor, Pope Francis, as head of the Catholic Church worldwide. More locally, a new Bishop of Bedford was installed last autumn. On top of all that, the Sharnbrook Deanery has just proposed a substantial re-structuring of the parishes that will take place over the next few years as clergy retire. A shake-up is happening; much is about to change around us, near and far, and we are going to feel the effects. As a small rural parish the fear is expressed that we shall not be noticed and simply absorbed into the amorphous mass. That will only happen if we are apathetic and do nothing to help ourselves; we need to take action, now.
The Parish Church is the property of the Parish. It is the responsibility of the whole Parish to maintain the church, not just the congregation that attend on Sundays, so everyone is involved. But the church is not just a building; it is a community support system. The clergy are not there just to conduct the Sunday services; their wider responsibility is to help anyone in the Parish who has any form of problem, or just needs to talk something over, irrespective of whether or not they are churchgoers. This often happens quietly, behind the scenes, and is often unknown to anyone - except the Parish priest in total confidence. If you knew how much Christine does to help people with their problems as she goes about her duties, you would be amazed. Unlike a social worker, she does not have to fill in forms with personal information and report to a local authority about her work, there is no overseeing body that will require a written report to justify the expense of a visit; it is all part of the wider service that the church provides to the community.
The church is, therefore, a vital part of a community and must be retained if Parish life, as we know it, is to continue. That means that we must all be aware of the changes that are being planned and their likely effect on the Parish of Odell. The only way we can ensure that Odell takes a prominent place in any restructuring is to show that we are an active Parish with an active church at its heart. In the well-known Monty Python film, The Life of Brian, the question is asked, "What have the Romans ever done for us?" After some discussion the sceptic questioner says, "Well, apart from roads, viaducts, water systems, toilets, medicine…..What have they done for us?" Perhaps we need to think about the things we take for granted that church does for all of us, those unnoticed things that we would miss if they were not there.
Best wishes, Dr Martin Eshelby, Churchwarden.
Prayer Group
What is the Prayer Group? It is made up of members of All Saints' Church who undertake to pray regularly, on an individual basis, for people who ask us for prayer support.
Who do we pray for? Anyone whom we are asked to remember; these might be people from our church, from our local community or others known to us.
What do we pray about? Anything which you would like brought before God; maybe anxiety due to illness, stress or loneliness. You can also tell us of a special day you wish to be remembered – perhaps for an interview or an exam. Any information will be treated in strictest confidence.
How can you let us know if you would like us to pray for you? You can either telephone Christine (720234), or drop a note through the Rectory door. Christine
Passover Supper
Churches Together in Harrold and Carlton with Odell celebrated Maundy Thursday this year with a re-enactment of a Passover Supper in Odell Village Hall. We ate the various ceremonial foods, learning what each of them symbolised, and drank from four 'cups' of wine, and, whilst leaning on our left elbows to remind ourselves of the ten plagues visited upon the proud Egyptians, we dropped ten drops of wine (blood) onto our plates as a reminder that the struggle to overcome tyranny is not without casualties which diminishes our joy. During the main meal, the mysterious 'Afkikomen' was hidden for the children to find later and claim their prize. As well as gaining insights into this ancient festival deeply rooted in the Old Testament, we were reminded of the many Christian links with Passover, especially as it was the last meal that Jesus shared with his friends just before he was arrested, tried and condemned to die. Each time we receive Holy Communion we celebrate the new significance Jesus has given to the breaking of bread and sharing of a cup of wine.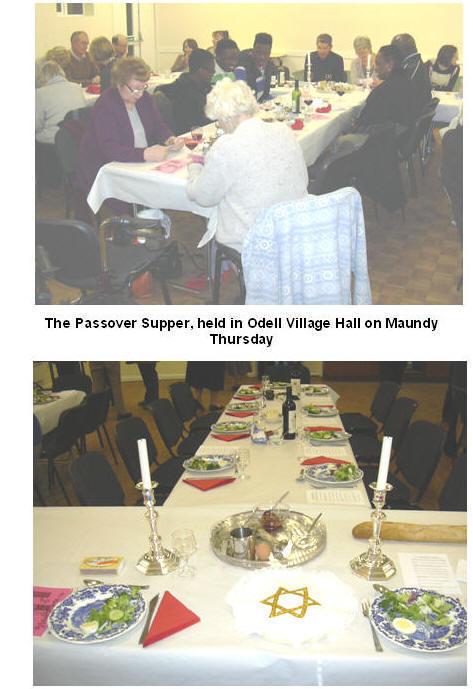 The Children's Society
A big thank you to all Children's Society box holders. This year I have been able to pay in £297.37, about £20 more than last time, and looking back over the years it appears to be a record for us, so thank you all very much. Catherine Corkery - 720348
Meeting Point
May
1st 10.30am at Jill's, Rectory Farm, Odell
15th 10.30am at Madeline's, 15 Horsefair Lane
29th 10.30am at Sarah's, 9 Horsefair Lane
All Saints' Amblers meet outside The Bell, 9.45am on Saturday 25th May for a walk in the country followed by a pub lunch. Children and dogs on leads welcome to join us.
All Saints' Church Charitable Giving for the month of May is to The Church Pastoral Aid Society, which offers valuable training and a wide range of resources for clergy and lay people, in evangelism, youth work, mission and ministry, runs Young Peoples' holiday clubs and offers Parish Consultations. See the notice board in the church for more information.
Odell Fete and Family Dog Show, Saturday 8th June
Programme of Events
2.00 PM Grand Opening
2.00-4.00PM Dog Show
4.00 PM Raffle Draw and Prize Giving
Attractions
Bedford Brass Band Boys Brigade Bouncy Castle
Teas Children's Tombola Ice Creams
Cakes Books Refreshments
Coconut Shy Children's Sports
White Elephant/ Vintage stall
Produce Gifts Many Side Shows
Raffle Bottle Stall Cup Cake Competition
New for Odell Fete in 2013
'Best Decorated' Cup Cake competition - free entry!
3 classes - Class One for 5-10 years, Class Two for 11-17 years, Class Three for 18 years and over - no upper limit!
Be as inventive as you like - please bring 3 cupcakes on a plate plus a small card with your name, age/over 18, and telephone number. If you do not wish your cakes to be sold afterwards please mark your card with a red star.
Also: watch out for Mandy's vintage stall .... items of bric-a-brac, decorative buttons, lace, etc. and nearly new clothing welcome. Please bring along on the morning of the Fete, before 11.30am.
Family Dog Show - (Entry Fee £1.50 Per Dog Per Class)
CLASSES
1. Children's Handling (14 years and under)
2. Puppies under 1 year
3. Best Rescue or Re-homed Dog or Bitch
4. Country Sporting Dog
5. Country Sporting Bitch
6. Best Condition Dog or Bitch
7. Best Cross-Bred Dog or Bitch
8. Most Handsome Dog
9. Prettiest Bitch
10. Championship (winners of each class)
Can you come along to the Fete Preparation Day at 10.00am on Bank Holiday Monday 6th May? This will take place at Jim and Doreen Wheeler's, Linden House, High Street, Odell. This is always a fun morning, when we clean and, re paint the banners, the signs for the stalls and side shows and prepare the roadside boards. Then there will be a B-B-Q for helpers; please bring your own meat and drink. Please let Doreen (720358) or Jane Smith (721214) know if you wish to stay for lunch and what you would like to provide in the way of salads and puddings.
We need your HELP to make the Fete and Dog show a great success. We need people to man stalls and side shows, run the raffle and sell tickets. We can always find a job for willing volunteers. This is a fun day and a great village event to which people come from all over to enjoy a family day out in our lovely village and surrounding North Bedfordshire countryside; BUT we do need your help.
We also ask for your help with setting up the Fete on the afternoon or evening of Friday, 7th June. If you can manage to come anytime between 2.00 and 7.30pm to lend a hand, you will be most welcome. We shall need to collect tents, tables, chairs and stall signs and set up the field for the big day. We need muscle, a good sense of humour, wheels and trailers and tea and cake will be provided.
Mandy (720414), Christine (720234) or Karen (720952) await your call
Festival Weekend Family Service, Sunday, 9th June
11.00am in the Main Tent at the Fete Field Everybody Welcome
TEMPUS FUGIT, ONCE AGAIN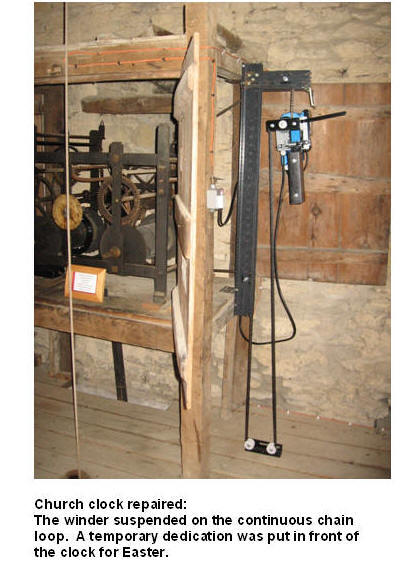 Back in February, I said that we were planning to get the church clock working again. Well, it has happened. On March 26th 2013 the new automatic winding mechanism was installed and the clock began to tick again.
It was not an easy job; each installation is different and so the system had to be a bespoke fit to both the clock and the tower. With the cooperation of Dorcas Engineering Ltd, of Eaton Socon, a chain system and winder was designed. The new weight incorporates an electric motor that drives the weight up the continuous chain loop at regular intervals so that the clock is always wound up. Once the Faculty giving us to permission to go ahead was received from the Diocese we could build and install the system. It was nice to get it finished just before Easter and in time for the Café-in-the-Tower on Easter Monday, when many visitors who braved the cold and ascended the tower saw the new system in action.
We are most grateful to Eileen Nottage who has given the winding system as a memorial to Walter. We shall be installing a plaque on the clock to commemorate Walter, and in recognition of Eileen's gift, in the near future. Martin Eshelby
Café in the Tower April 1st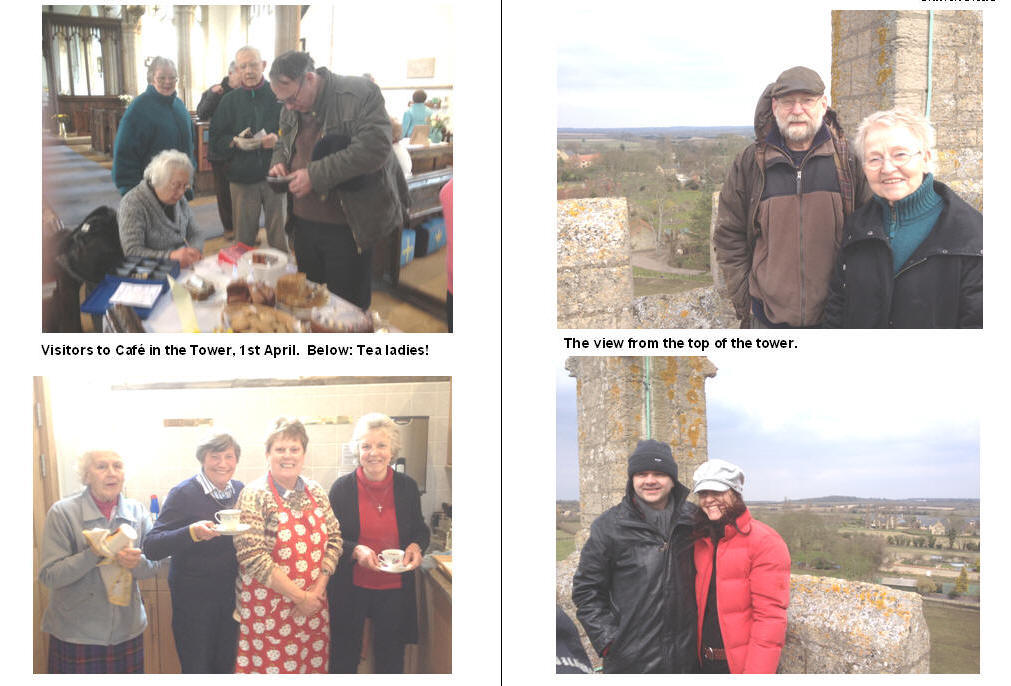 Thank you to everyone who attended or helped at or contributed in any way to the Café in the Tower in All Saints' Church Monday 1st April. A very good profit of £294.76 was made, which will boost church funds.
Christian Aid Week
12th – 18th May 2013
Everyone deserves a decent life.
Christian Aid has a vision – an end to poverty – and we believe that vision can become a reality.
Our Purpose:
To expose the scandal of poverty
To help in practical ways to root it out from the world
To challenge and change structures and systems that favour the rich and powerful over the poor and marginalised.
Christian Aid exists to help those in need – regardless of religion, ethnicity or nationality.
In these poor communities Christian Aid invests in projects that provide benefits for years to come.
Envelopes for donations are included with the magazine. Please return to Jill by May 25th at Rectory Farm.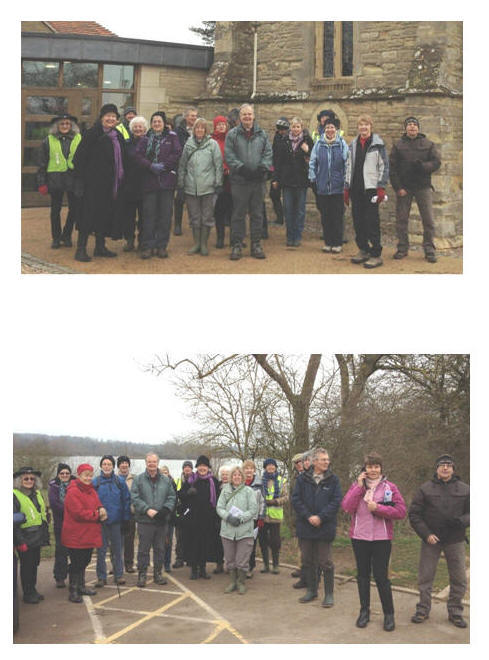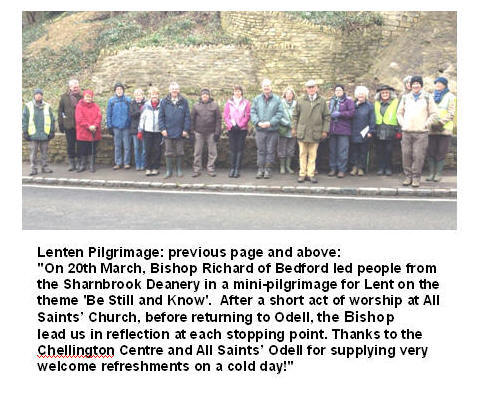 Saturday 11th May, 10.30am – 2.30pm at the Village Hall, Pavenham, MK43 7PH
Nursery Plant Sale:
At least 10 nurseries: Alpines, Bedding, Clematis, Geraniums, Herbs, Lilies, Perennials and Shrubs, Sundries. Buy from the growers; high quality, unusual plants, keen prices & good advice!
Entrance £1.20, plenty of free parking, plant crèche, refreshments, tombola, children's playground.
(In aid of the Friends of St Peter's – keeping our church building in good repair – Charity no 802696)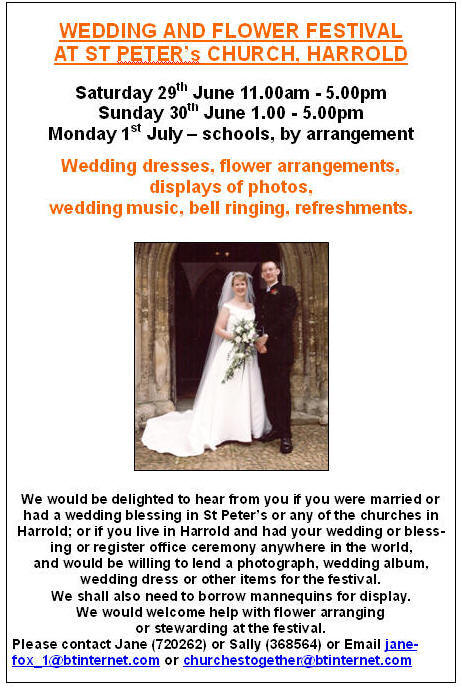 All Saints' Flower Rota
May
12th R Halton
J Cheadle
18th Wedding
26th C Ormond
Diary
May
1st 10.30am Meeting Point at Jill's, Rectory Farm, Odell.
6th 10.00am Fete Preparation Day, Doreen's, Linden House, High St.
9th 10.30am Health Walk HOCP.
11th 10.30am Nursery Plant Sale, Pavenham Village Hall.
7.30pm Bring and Share BBQ, Village Hall.
14th 7.30pm W.I., Village Hall.
15th 10.30am Meeting Point at Madeline's House, 15 Horsefair Lane.
20th 10.00am Friends' Task Day HOCP.
23rd 10.30am Health Walk, HOCP.
25th 9.45am All Saints' Amblers meet at The Bell.
26th 12-3pm Waste Skip on Village Green.
27th 10am-5pm Art Exhibition, HOCP.
27th 2.30-5.30pmCafe in The Tower, All Saints' Church.
29th 10.30am Meeting Point at Sarah's, 9 Horsefair Lane.
June
7th 2-7.30pm Set up Fete.
8th 2.00pm Village fete.
9th 11.00am Festival Weekend Family Service in Fete field.
Magazine Deadline
Please send all entries for the June 2013 magazine to Tricia Hudson (ed at odellbeds.net) or Catherine Corkery by May 12th at the latest. May we remind you that the editorial team exercises the right to edit, shorten or alter any items that are submitted. Also, the opinions expressed in the articles are those of the contributors and are not the responsibility of the editorial team.
---
Last revised: April 27, 2013.