CHURCH NEWS - March 2013
Click here to see our church brochure
Please note that our normal Sunday Services start at 10.30am for the winter months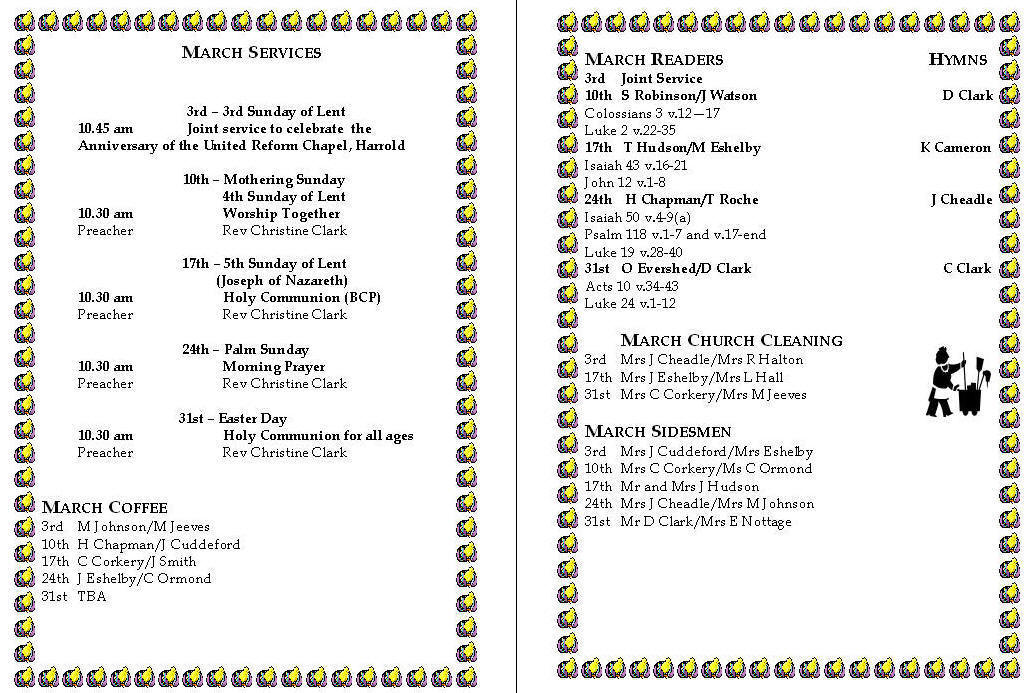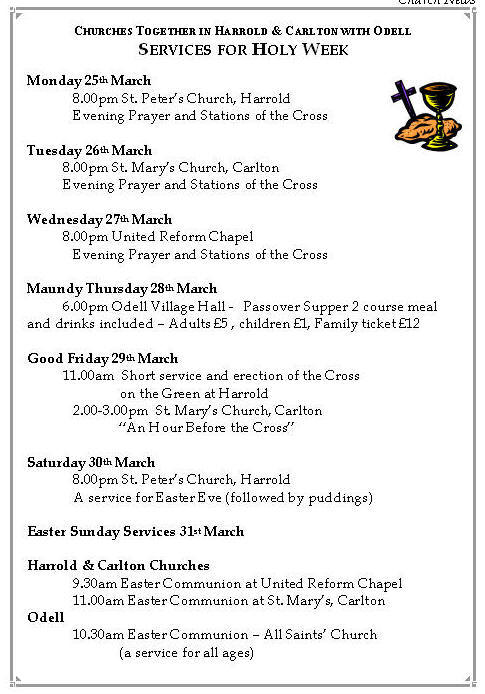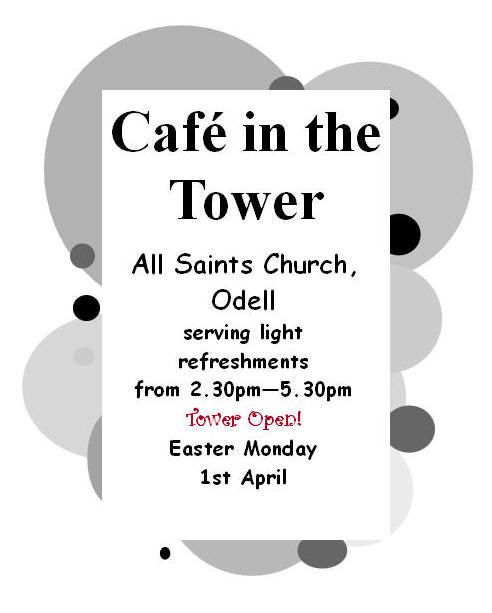 Dear Friends,
I am writing this on Ash Wednesday, the traditional start of Lent, a 40 day period before Easter which the church observes as a time of penitence and self-denial. We begin by remembering Jesus' temptations in the wilderness, looking to him to help us overcome our own. As Easter draws nearer we reflect on his suffering and death, through which we seek forgiveness. Traditionally, Lent has also become a time for giving to others in need, as well as going without ourselves, reminding us there is more to life than our own instant gratification.
It is surprising how many people who would not regard themselves as regular churchgoers still like to observe Lent by giving something up or by doing something extra to help others. Some of the children who came to Fusion in February thought about what Lent might mean for them Imaginatively, they came up with things like 'try to eat everything that is put in front of me' and 'be more friendly' as well as the practical 'help with the washing up' and 'tidy my bedroom'. In a recent survey of over 2,000 people carried out by the Church Times, only 10% said they did not know what Lent was – one suggestion (tongue in cheek?) was "How the EU is keeping Greece afloat"!
In a society that has grown disillusioned and weary of the self interest and deceit that has permeated so many areas of national, economical and political life, it is heartening to know that there are still many who see the self-imposed discipline of keeping Lent as meaningful and of personal value. Stuck for suggestions? Try out …
www.christianaid.org.uk/getinvolved/lent-2013, or, www.livethechallenge.co.uk
As we move from Lent into Holy Week, the churches in Harrold, Carlton and Odell join together for short services of reflection and prayer. This year on Maundy Thursday (28th March) Odell is hosting a re-enactment of a Passover Supper in the Village Hall, which will include a 2-course meal plus wine or soft drink. This promises to be an interesting and informative evening – tickets: Adults £5, Children £1, Family £12, available from myself or any church member. Christine
Prayer Group
What is the Prayer Group? It is made up of members of All Saints' Church who undertake to pray regularly, on an individual basis, for people who ask us for prayer support.
Who do we pray for? Anyone whom we are asked to remember; these might be people from our church, from our local community or others known to us.
What do we pray about? Anything which you would like brought before God; maybe anxiety due to illness, stress or loneliness. You can also tell us of a special day you wish to be remembered – perhaps for an interview or an exam. Any information will be treated in strictest confidence.
How can you let us know if you would like us to pray for you? You can either telephone Christine (720234), or drop a note through the Rectory door, or complete a card (anonymously if you wish) and place it in a box kept near the church door. Prayer requests will be collected from the box each Sunday morning after the 10.00am service. Christine
Odell – Chellington – Harrold
A Lenten Pilgrimage led by the Bishop of Bedford on Wednesday 20th March
The Rt. Rev'd Richard Atkinson, Bishop of Bedford, is visiting each Deanery in Bedfordshire during Lent. On Wednesday 20th March he is spending the day in the Sharnbrook Deanery. From 2.00 – 5.00pm there will be an opportunity to join him in a 'mini pilgrimage' of about 5 miles, starting and ending at All Saints' Church, Odell. There will be stops for prayer and worship along the way, at the Chellington Centre, St.Peter's Church Harrold, and the Harrold and Odell Country Park before returning to All Saints' for our closing worship and refreshments. It will be possible to travel by car to each or all of the venues as an alternative to walking. Everyone is welcome to come and join this time of companionship and spiritual refreshment.
Odell Fete and Dog Show
Hard to imagine a summer without the annual Fete and Dog Show in the Scout Field in Horsefair Lane, but if it is to continue we do need HELP with getting it ready.
So, can you come along to ….the Fete Preparation morning 10.00am on May 6th when we clean and repaint the signs for the stalls and prepare the roadside boards … then reward ourselves with a tasty BBQ, gorgeous puds and a glass of wine
the big preparation on Friday afternoon 7th June when we need muscle, good sense of humour, wheels and anyone who is willing ….to collect tents, tables, chairs and stall signs, and to set up the field for the big day. (Tea & Cake supplied to keep you going!) Mandy (720414) or Christine (720234) await your call!
All Saints' Amblers meet outside the Bell, 9.45am on Saturday 23rd March for a walk in the country followed by a pub lunch. Children and dogs on leads welcome to join us.
Churches Together in Harrold & Carlton with Odell
Services for Holy Week
Monday 25th March
8.00pm St. Peter's Church, Harrold
Evening Prayer and Stations of the Cross
Tuesday 26th March
8.00pm St. Mary's Church, Carlton
Evening Prayer and Stations of the Cross
Wednesday 27th March
8.00pm United Reform Chapel
Evening Prayer and Stations of the Cross
Maundy Thursday 28th March
6.00pm Odell Village Hall - Passover Supper 2 course meal and drinks included – Adults £5 , children £1, Family ticket £12
Good Friday 29th March
11.00am Short service and erection of the Cross
on the Green at Harrold
2.00-3.00pm St. Mary's Church, Carlton
"An Hour Before the Cross"
Saturday 30th March
8.00pm St. Peter's Church, Harrold
A service for Easter Eve (followed by puddings)
Easter Sunday Services 31st March
Harrold & Carlton Churches
9.30am Easter Communion at United Reform Chapel
11.00am Easter Communion at St. Mary's, Carlton
Odell
10.30am Easter Communion – All Saints' Church
(a service for all ages)
Women's World Day of Prayer
(Interdenominational)
Friday, 1st March, 10.30am, All Saints', Milton Ernest
Speaker: Reverend Wendy Wood
This service has been prepared by the Christian Women of France
The theme is"I was a stranger and you welcomed me"
More than 170 countries participate in an annual day of celebration, which bring together people of various races, cultures and traditions sharing together in God's word and worship. Men, women and young people worldwide will be worshipping together on Friday, March 1st. They will be using an order of service prepared by Christian women from France, which has a strongly French feel and flavour. It is envisaged that this great annual wave of prayer will rise with the sun over the island of Samoa, across Asia, Africa, the Middle East, Europe, the Americas and finally American Samoa. By then services will have taken place in all of the many countries involved.
All Saints' Church Charitable Giving for the month of March is to FEBA,
(Far Eastern Broadcasting Associates) - a radio station which began in 1959 and makes and broadcasts Christian programmes in dozens of different languages, reaching Christians who would otherwise have little contact with the outside world. Today FEBA broadcasts on FM and medium wave radio, the internet, text messaging and social media – each has its own use and own target audience.
The message FEBA delivers is that "The love of Christ addresses all areas of people's lives: emotional, spiritual and physical…There are programmes on health education and disease-prevention; young believers gain strength through online discipleship courses; locals speak out against corruption…Everywhere people turn to God. Lives are changed; communities transformed. Love in action."
For more information about the work of FEBA see the notice board in All Saints' Church.
The Children's Society
March is the month when Children's Society boxes should be emptied. I would therefore be very grateful if box holders could let me have their boxes as soon as possible. Many thanks. Catherine Corkery, 720348
Senior Citizens' Fish and Chip Lunch
Wednesday 13th March
12.30 for 1 o'clock
Village Hall
Let Jill (720261) know by 3rd March
All Saints' Flower Rota
March
10th Mothering Sunday
Jane Smith
Madeline Jeeves
24th Eileen Shakespeare
Jane Eshelby
30th Decorate for Easter
April
6th All help to clear
Sarah Bennett has sent us this lovely poem for inclusion in the magazine:
Diary
March
1st 10.30am Women's World Day of Prayer, All Saints' Milton Ernest
8th 7.30pm Indoor Carpet Bowls, Village Hall
12th 7.30pm W.I., Village Hall
13th 12.30 Senior Citizens' Fish and Chip Lunch, Village Hall
14th 10.30am Health Walk, HOCP
16th St. Patrick's Day celebration, The Bell
20th 2.00pm Lenten Pilgrimage from All Saints' Church
23rd 9.45am All Saints' Amblers meet at The Bell
25th 10.00am Friends Task Day, HOCP
25th 8.00pm Evening prayer, St. Peter's, Harrold
26th 8.00pm " " St. Mary's, Carlton
27th 8.00pm " " United Reform Chapel
28th 10.30am Health Walk, HOCP
28th 6.00pm Passover Supper, Village Hall
29th 11.00am Good Friday Service, Harrold Green
2.00pm " " " St. Mary's, Carlton
30th 8.00pm Easter Eve Service, St. Peter's, Harrold
31st 9.30am Easter Communion, United Reform Chapel
10.30am " " " All Saints' Church, Odell
11.00am " " " St. Mary's, Carlton
April
1st 10-12noon Easter Egg Hunt, HOCP
1-3pm " " " "
1st 2.30pm Café in the Tower, All Saints' Church
3rd 10.30am Meeting Point, Jane Smith's, Horsefair Lane
Magazine Deadline
Please send all entries for the April 2013 magazine to Tricia Hudson (ed at odellbeds.net) or Catherine Corkery by March 12th at the latest. May we remind you that the editorial team exercises the right to edit, shorten or alter any items that are submitted. Also, the opinions expressed in the articles are those of the contributors and are not the responsibility of the editorial team.
---
Last revised: March 06, 2013.