ALL SAINTS' ODELL CHURCH NEWS - July - August 2013
Click here to see our church brochure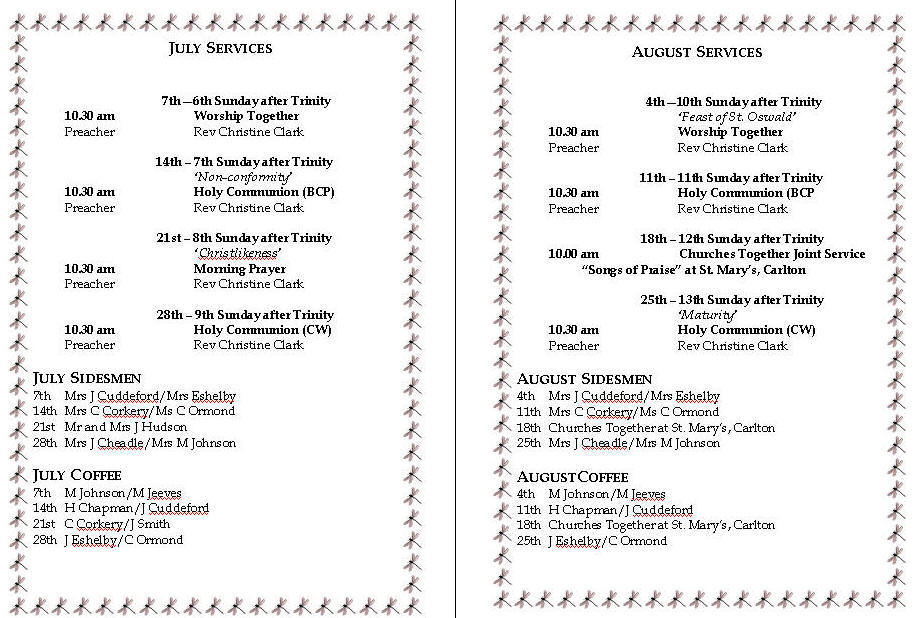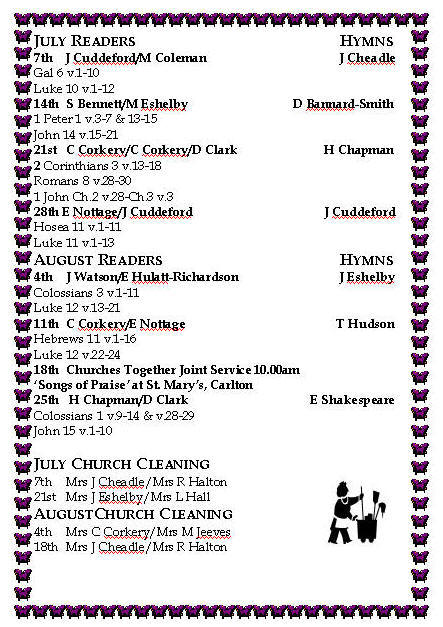 July 2013
Dear Friends,
Were you born and bred in the village, or did you move here – and if the latter, what brought you to Odell? Was it work, family, or simply choice? If you chose to come and live here was it the image of a rural idyll that attracted you to this lovely part of the Ouse Valley? One of the reasons people choose to live in a village is their desire to be part of a vibrant local community.
Older village residents often tell me about 'the good old days' when everyone knew everyone, with many working on the Luke estate or in the leather factory. Their children played in Horsefair Lane, went to the village school and were regularly in and out of each other's houses. Some remember the opening of the Village Hall, the dances and other events which nearly everyone came to. The community spirit was alive and well, happening naturally and taken for granted.
Nowadays the scenario is very different. People no longer work in the village, they commute or work from home. Children attend a variety of schools and we are socially mobile, seeking entertainment from a wide area. If we meet up with people outside our normal social circle it's likely to be in The Bell pub, in Harrold surgery or the Co-op, at WI or church, or at a Village Hall event.
It is indeed a privilege to live in such a lovely place, but sad to see the old community spirit dwindling for a number of reasons, some beyond our control, and to hear that more than one planned event at the Village Hall had to be cancelled because of lack of support.
While some have been kind enough to say that the annual Fete and Dog Show brings people together (and All Saints' Church is enormously grateful for all the help and support from so many of you once again this year) it takes more than a single annual event to create a sense of active community.
The Christian faith teaches us to love God and to love our neighbour as ourselves. This is not something that just happens without any effort on our part - it has to be worked at, and at times can be tough. But it's worth persevering as the benefits to be gained are boundless.
My prayer is that everyone who lives in this village will feel valued, by God and by one another, and want to share in village activities and events as far as they are able, to keep that community spirit alive and well. Christine
Lost and Found
A soft camera case has been found in the church following one of our open day/ tea in the tower events. If you know of someone who has lost this or if you think it may be yours, please phone Jill Cheadle on 01234 720261.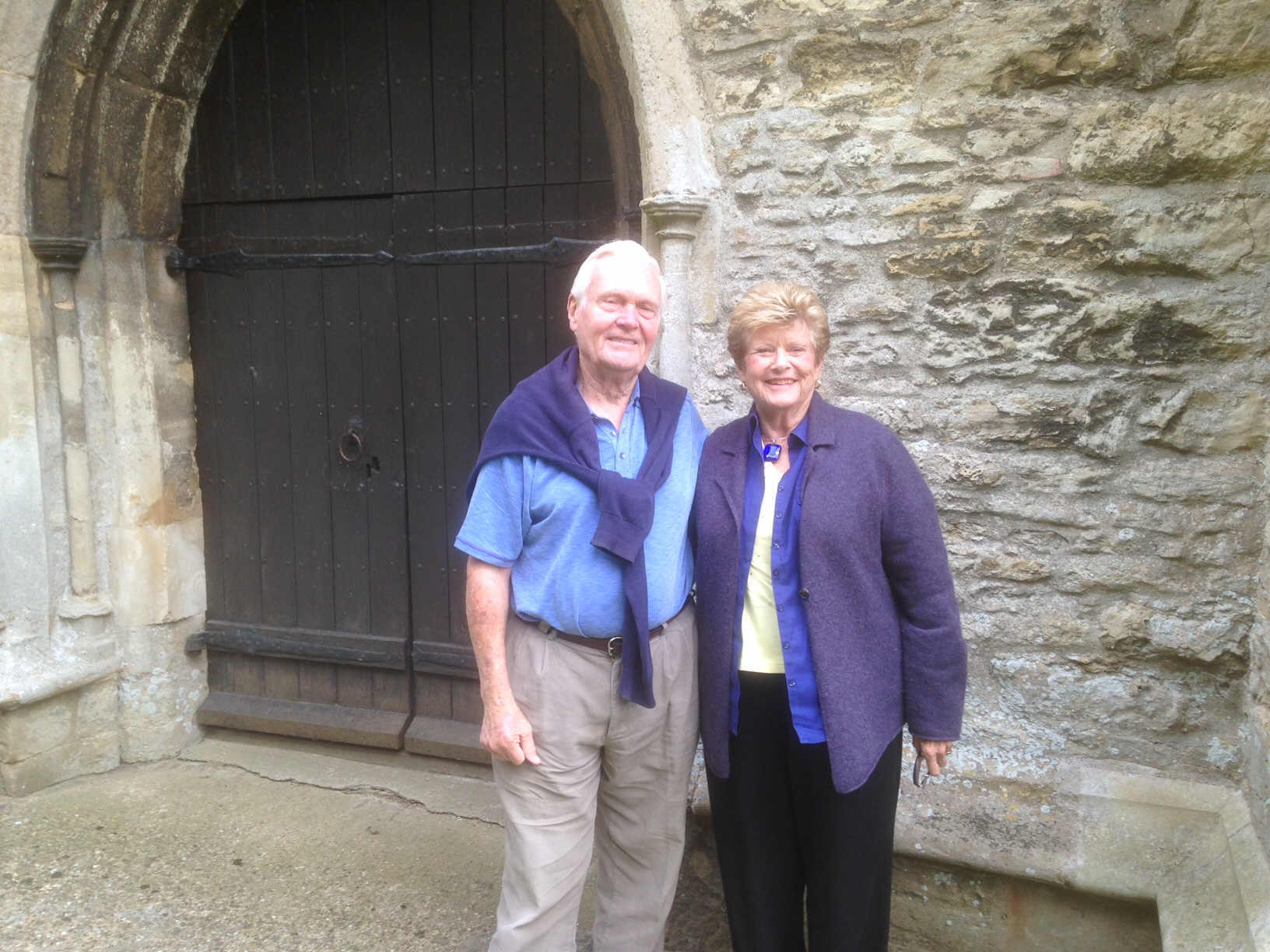 Prayer Group
What is the Prayer Group? It is made up of members of All Saints' Church who undertake to pray regularly, on an individual basis, for people who ask us for prayer support.
Who do we pray for? Anyone whom we are asked to remember; these might be people from our church, from our local community or others known to us.
What do we pray about? Anything which you would like brought before God; maybe anxiety due to illness, stress or loneliness. You can also tell us of a special day you wish to be remembered – perhaps for an interview or an exam. Any information will be treated in strictest confidence.
How can you let us know if you would like us to pray for you? You can either telephone Christine (720234), or drop a note through the Rectory door.
Odell Fete and Family Dog Show Saturday 8th June 2013
The fete was once again a great success and, judging from feedback, was thoroughly enjoyed by many. Once again the dog show was a star attraction and brought many visitors and a huge variety of dogs! The final figure for the profit has not been calculated yet, but it is likely to be in the region of £3,300. Thank you to everyone who helped to make it happen
Click here to see pictures from the fete
Dog Show Results
The championship was won by 'Buddy' (owner: Michele Dadd from Ampthill).
The trophy was donated by Chris Coffey.
Runner up was 'Miss lola' (owner: Mollie Jackson from Stevington).
The plaque was bought by the Boys Brigade in memory of Roma Garon.
The Dog Show raised £217.50, which was a record amount for the show.
The results of the Cup Cake Competition
Class 1 Aged 5-10
First: Saskia Cutts
Second: Benjamin Cutts
Class 2 Aged 11-17
First: Lottie Robinson (aged 12) - Flowers
Second: Elizabeth Hulatt-Richardson - Reptiles
Third: Lottie Robinson (aged 12) - 99 ice cream cakes
Class 3 Aged 18 and over
First: Steve Robinson - Strawberries
Second: Ellie Lee - Sea Creatures
Third: Denise Gower- Flowers
The Judge particularly commended the entries from Will and Katie from 'The Bell'.
Lost and Found
A mobile phone has been found in the car park for the fete. If you know of someone who has lost their phone, or if you think it may be yours, please phone Jill Cheadle on 01234 720261.
All Saints' Church Charitable Giving for the months of July and August is to Open Doors.
This Evangelical organisation supports the persecuted church and Christians worldwide – providing Bibles and teaching materials, training for church leaders, practical and financial help, literacy programmes and community development projects. See the notice board in the church for more information.
ART EXHIBITION & SALE
All Saints ' Church – Odell, Beds MK43 7AA
Bank Holiday Weekend
24th, 25th, & 26th August – 12 noon until 5pm
Entrance to Exhibition £2.00 per person (16yrs & under free)
Tea & Cakes served at The Rectory 2.00pm-4.30pm
Now is the time to reveal your hidden talents!
If you would like to exhibit your paintings or photographs, please contact Catherine Corkery for an application form.
Tel: 01234 720348 e-mail: catherinelcorkery@yahoo.co.uk.
Closing date for applications: Friday 9th August.
Light refreshments available each day
Hanging fee - £2.00 per painting
(fees waived for artwork by children under 16)
Proceeds in aid of Church funds, and in support of our link missionaries, Dick and Caroline Seed in Kenya.
Stitches of Hope
For many years Meg Clark and one or two others from All Saints' Church have knitted blankets and children's clothes for 'Stitches of Hope' - a project run by Christian Hope International, delivering aid for children in Africa and Romania. Jane Smith, who has been knitting and crocheting for the project many months now, decided to ask the ladies she works with on a Friday afternoon at the Day Resource Centre in Bedford, if they would like to help ... here they are with Jane, displaying their work. This means we are now able to send off a large parcel of woolly warmers every 2 months - thank you girls, and keep at it!.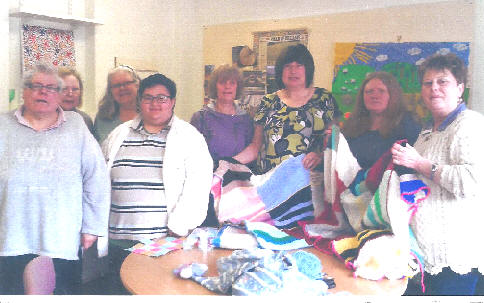 Above: Jane (far right) with ladies from the Day Resource Centre.
Below: Meg Clark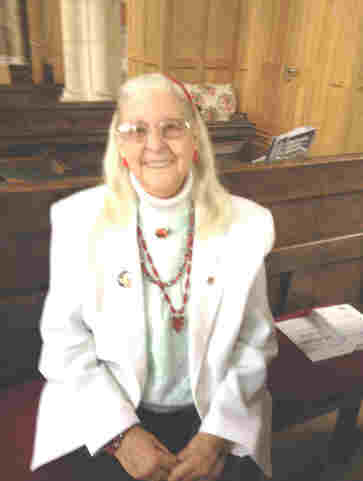 SERVICE OF CHORAL EVENSONG IN
ALL SAINTS' CHURCH
ODELL, BEDFORDSHIRE MK44 7AA
Sunday 7th July 5.30pm
With the Choir of St. Oswalds' Church,
Croxley Green, Herts
WITH CAFÉ IN THE TOWER 2.30-5.00PM THE SAME DAY
All Saints' Flower Rota
July
7th Jill Cheadle
21st Jilly Watson
August
4th Georgina Harrison
18th United Songs of Praise St. Mary's, Carlton
25th Eileen Shakespeare
Jen Cuddeford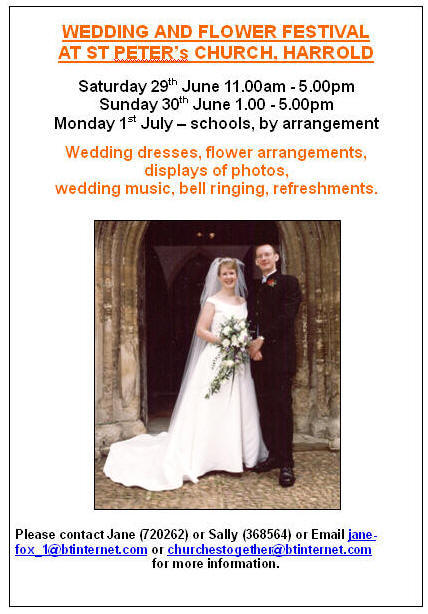 Meeting Point
July
Wed 10th 10.30am at Catherine's, Manor Cottage, Harrold
Wed 24th 10.30am at Jill's, Rectory Farm.
August – no meetings
September
Wed 11th 10.30am at Eileen Nottage's, Heydown Cottage, High St.
Diary
July
4th 10.30am Health Walk HOCP
6th 2pm & 7pm Much Ado About Nothing, Tofte Manor
7th 2.30 pm Café in the Tower, All Saints' Church
7th 5.30pm Evensong, All Saints' Church, with choir from Croxley Green
9th W.I. trip to Lavendar Fields near Hitchin
10th 10.30am Meeting Point at Madeline's, 15 Horsefair Lane
13th 2pm & 7pm Much Ado About Nothing, Castle Mound, Bedford
18th 10.30am Health Walk, HOCP
18th 8.55pm Bat Walk, HOCP
21st 2pm & 7pm Much Ado About Nothing, Stanwick Lakes
24th 10.30am Meeting Point at Jill's
24th 7pm Guided walk, HOCP
25th 7.30pm Much Ado About Nothing, Harpur Square
29th Conservation Tasks Day, HOCP
August
1st 10.30am Health Walk, HOCP
13th 7.00pm W.I. BBQ, Linden House
15th 10.30am Health Walk, HOCP
18th 10am Craft Fair, HOCP
19th Conservation Tasks Day, HOCP
24th 12 noon till 5pm Art Exhibition and Sale, All Saints' Church
25th " " " " " " " " "
26th " " " " " " " " " "
29th 10.30am Health Walk, HOCP
September
11th 10.30am Meeting Point at Eileen Nottage's, High Street
12th 10.30am Health Walk at HOCP
Magazine Deadline
Please send all entries for the September 2013 magazine to Tricia Hudson (ed at odellbeds.net) or Catherine Corkery by August 12th at the latest. May we remind you that the editorial team exercises the right to edit, shorten or alter any items that are submitted. Also, the opinions expressed in the articles are those of the contributors and are not the responsibility of the editorial team. .
---
Last revised: July 28, 2013.