CHURCH NEWS - September 2012
Click here to see our church brochure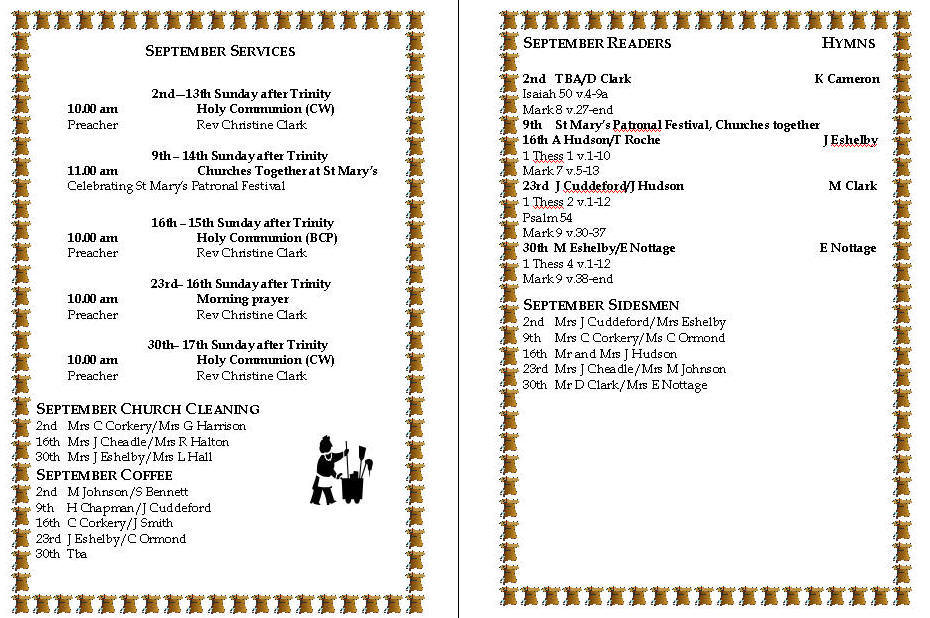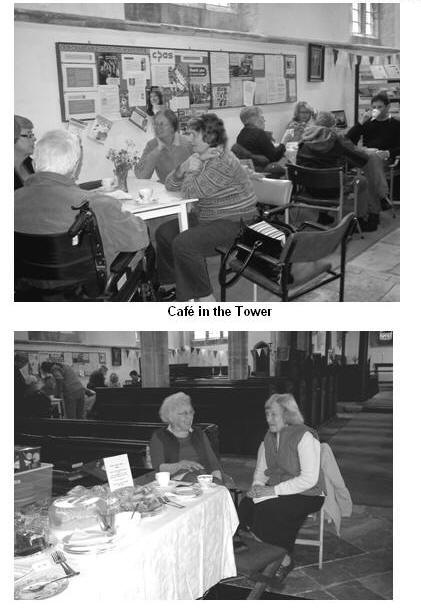 Dear Friends,
What an inspirational couple of weeks the Olympic Games gave us – the spectacular opening and closing ceremonies, the extraordinary achievements of the athletes from all walks of life, the trains that ran on time, the sunshine, the superb organisation and perhaps most surprising of all, the memorable input from 80,000 happy and willing volunteers. Within the space of a few days the mood of the nation was transformed from sceptical stiff-upper-lipped, 'used-to-failing' gloom, into smiling euphoria, as bursting with pride and goodwill we enthusiastically cheered every achievement
Suddenly we caught a glimpse of what we could be, a nation sharing in the Team GB spirit of commitment, friendship and a willingness to give something back as thousands more people enlist as local volunteers. There is a new awareness, a new energy of wanting to inspire and enable our children to achieve their potential, a desire to keep the flame alive, to make a difference to our communities and the people who live in them.
How wonderful it would be if this can be sustained - if as a nation we become more open to what can be achieved when people commit to a cause and work together to achieve change for the good. And there's no reason why it cannot happen. In fact, in many ways it is already happening. In church last month we heard from Joanna Steer about the remarkable support and services provided by Deaf Connect, a local charity enabling people with hearing loss and impairment achieve their full potential.
Towards the end of this month we shall be highlighting the Bishop's Harvest Appeal, which this year focuses on the Dominican Republic in the Caribbean. Despite being classed as a middle-income country, 40% of the population in DR live in poverty – 20% in extreme poverty. Many are small scale growers contending with drought conditions and devastating hurricanes of increased frequency brought about by climate change. The Appeal aims to support a number of projects teaching farmers about drought-resistant crops and helping communities work together to cope better when the hurricanes come.
Can our support make a difference? – it most certainly can!
I hope and pray that it will. Christine
Prayer Group
What is the Prayer Group? It is made up of members of All Saints' Church who undertake to pray regularly, on an individual basis, for people who ask us for prayer support.
Who do we pray for? Anyone whom we are asked to remember; these might be people from our church, from our local community or others known to us.
What do we pray about? Anything which you would like brought before God; maybe anxiety due to illness, stress or loneliness. You can also tell us of a special day you wish to be remembered – perhaps for an interview or an exam. Any information will be treated in strictest confidence.
How can you let us know if you would like us to pray for you? You can either telephone Christine (720234), or drop a note through the Rectory door, or complete a card (anonymously if you wish) and place it in a box kept near the church door. Prayer requests will be collected from the box each Sunday morning after the 10.00am service. Christine
All Saints' Amblers
All Saints Amblers meet outside the Bell, 9.45am on Saturday 15th September for a walk in the country followed by a pub lunch. Children and dogs on leads welcome to join us.
'Pilgrims' is an informal and mixed group of people meeting every 2-3 weeks to explore aspects of the Christian faith. This autumn we begin 'Just 10' a short course for small groups devised by J. John, a nationally known speaker.
'Just 10' takes a fresh look at the Ten Commandments, seeking to show that far from being a set of rules to restrict us, they are the key to finding a framework for life.
First meeting is on 10th September, 8pm at The Rectory - - with light refreshments
For more information, contact Christine on 720234 or e-mail: cmclark9@btconnect.com.
Historic Churches Bike n Hike
Saturday 8th September 10am to 6pm
The Bike 'n Hike is a fund-raising event organized by Beds and Herts Historic Churches Trust. The aim is to raise money both for the Trust and for the participating churches. Half of every cyclist's and walker's sponsor money goes to the Trust and half goes to the church of their choice. Consequently, the more cyclists or walkers who take part then the greater the direct benefit to that church.
All Saints' Church in Odell is taking part in the Bike 'n Hike. The church will be open to visitors throughout the day. If you would like a sponsor form or to know more about the event contact Marion, tel. 720542.
ALL SAINTS' HARVEST SUPPER
Saturday 6th October
7pm in the Village Hall – with licensed bar
followed by entertainment from
Bozeat Windmill Singers!
Supper is 'bring & share'
Tickets £3 to cover expenses - (children free of charge)
Donations to the Bishop's Harvest Appeal welcomed
Please ring Jill on 720261 for tickets and to say
what food you can bring along to share
Come and join ….
Odell Monday Club
5.30pm – 6.30pm
restarts September 10th
at The Rectory, 3, Church Lane, Odell
Games, Activities, Crafts, Bible stories,
Music, Drama for children 5-8 years old
Encouraging children to think about the world they live in, their
contribution to it
and where faith fits in - while having fun!
Fete 2012
We are pleased to report that this year's fete made a profit of £2,730.55 which will go into the fabric fund of our beautiful church.
*** Fusion ***
offering you & your children time & space to
come together
make things together
eat together
celebrate God together
re-starts on Monday September 17th – all ages welcome!
FUSION happens monthly at Harrold URC 3.30-6.00pm
and includes a 2 course cooked meal (donations welcome)
Children need to be accompanied by an adult
To register please e-mail John at john@sundrlnd.freeserve.co.uk (tel:720184) or Carol at carol.ormond@btinternet.com (tel: 720409) by Thursday 13th September, letting us know of any dietary needs.
Christian Aid week
The North Beds villages CA Group raised a grand total of £6,772.88.
Many thanks to the people of Odell for their support.
Meeting Point
September
5th 10.30am at Jane Smith's, Horsefair Lane.
19th 10.30 am at Jill's, Rectory Farm.
October
3rd 10.30am at Jane Eshelby's, Newton House, Avenue Rd., Newton Bromswold, Rushden.
Wanted - local artist requires small room to use as a studio. If you can help please contact Christine (720234 or e-mail: cmclark9@btconnect.com)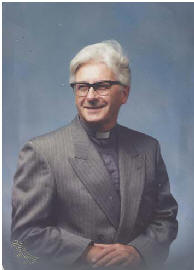 Dennis Bannard-Smith 1922 – 2012
Gill Byrne, daughter of Dennis, gave a moving tribute to her father at his funeral in All Saints' Church on July 2nd. What follows is a remembrance of Dennis from the point of view of an Odell parishioner. Some of the information has been taken from Gill's eulogy, with her kind permission.
There are few members of the congregation of All Saints' Church, Odell, who can remember All Saints' before Dennis and Doris arrived. It was back in 1974, in the days when All Saints' was partnered with St Peter's in Pavenham. The two churches shared a Patron, Lord Luke, and a minister. Since then many changes have come about and All Saints' is no longer joined with St Peter's, but throughout the changes Dennis and Doris remained faithful to All Saints'. Their support has been unfailing, and indeed, Doris still gives her support today, often playing the church organ for services.
Dennis grew up in a Christian environment. His family members were all Christians, active in brethren churches, Sunday schools and Crusader groups, early influences which clearly had a strong impact on Dennis. It is recorded that Dennis proclaimed his faith in Christ at the age of seven, a faith which he kept all his life. For Dennis's was a shining example of a Christian life in which faith permeated everything he did. After the war (in which he acted as a Civil Defence messenger and also joined a fire-fighting squad whilst still studying), Dennis pursued a career as a Civil Engineer in local government, having read Civil Engineering at Birmingham University. In this work he specialized in research on drainage and water supply, work which fuelled his interest in TEAR Fund, a Christian charity which supports projects in countries without clean water supplies. Outside work he was involved in many activities which enabled him to teach and share his faith – in brethren churches, hospital ward services and Crusader classes, which by all accounts involved tremendous fun for all who took part.
When Dennis came to Bedfordshire he continued to show this delight in sharing his faith with the younger generation, at home, along with Doris, hosting a Sunday School. Dennis and Doris also held 'Tea and Talk' meetings and, over the years, many discussion groups. Finally, in 1983, Dennis engaged in a whole new career change and became ordained as a non-stipendary minister in the Church of England, serving in Pavenham, other local parishes and working for the Intercontinental Church Society in chaplaincies around Europe – Majorca, Cyprus, France and Morocco.
This is when Dennis's long association with All Saints' Church really began. Typically, Dennis not only gave support in the pulpit and ministering in church services, but also gave a lot of time to the younger members of the church, and took a great interest in their lives and development. The depth and sincerity of that interest was illustrated very touchingly in the tribute given by Gill:
"Throughout his life he (Dennis) gave time to reading the Bible and prayer. The prayer lists he used till very recently contained names of each family member, friends, missionaries he'd supported and youngsters he'd taught in Crusaders – some now in their 60s. Only God knows the value of that prayer."
Dennis endeared himself to so many because he had time for everyone, and was genuinely interested in everyone. He wrote stimulating articles for the local church magazines and delivered thought-provoking
sermons, but at the same time joined in with all the youth activities and encouraged everyone to have fun. An abiding memory is that of eating Dennis's home-made hot cross buns after a combined Pavenham and Odell Easter morning service. Dennis had not been put off by the prospect of having to bake an enormous quantity of buns to satisfy the congregations of two sizeable churches and put in a lot of work to deliver a very sincere and personal touch to our joint celebration.
This fun side of Dennis was illustrated by Gill Byrne, Dennis's daughter, at Dennis's funeral when she recounted an episode when a grand-daughter had see Dennis "passing the dining room window on a pogo stick" and when she spoke of how much fun the grandchildren had enjoyed with Dennis, in "his tree house,… making catapults…" and "riding pillion with him on his tractor mower…".
Right up until illness made it impossible for Dennis to get out and about, it would be a common occurrence to meet Dennis while doing the weekly grocery shop, and to always be greeted by his cheerful smile. He would always engage in lively conversation and lift spirits with his infectious zest for life.
Dennis will be remembered with much love and fondness by all his friends in Odell. We send our love to Doris and all his family: children Tony, Gill and Lindsay and their spouses; ten grandchildren and eight great grandchildren – and thank God for Dennis, an inspirational man. Tricia Hudson
Our Charitable Giving for the Months of September and October is to Mercy Ships, .....an American Christian charity working in impoverished African countries providing free operations, sending teams of dentists to local hospitals, talks for local villages about aids, teaching projects and projects to help women help themselves, building new schools/orphanages, and follow-up nursing for ex-patients. All who work on the ships contribute financially. See the notice board in the church for more information on the amazing work done by this charity.
Senior Citizens' Autumn Lunch
Tuesday 16th October
Village Hall
12.30 –for 1.00pm
St Mary's Patronal Festival Weekend
8th and 9th September
FLOWER FESTIVAL
"A Year in St Mary's"
Saturday 8th September 10am – 5pm
Sunday 9th September 2pm – 5 pm
Tea and Cakes
***********
Saturday 8th September 7.30 pm
A Choral Concert
by
"OCTAD"
Tickets available from PCC members and on the door
Refreshments
************
Sunday 9th September 11 am
Patronal Festival Eucharist
Preacher: The Venerable Paul Hughes, Archdeacon of Bedford
Birthdays
Happy Birthday to:
Christy Vyvyan – who will be 13 on 13th September
Sarah Jane Holden-Postles , 9 on 19th September, and
Daniel Bridgman whose birthday is on 25th September
And to everyone else with a birthday in September!
All Saints' Flower Rota
September
9th St. Mary's Patronal Festival
16th Jill Cheadle
23rd Nikki Freeman
October
6th Decorate for Harvest
Diary
September
5th 10.30am Meeting Point at Jane Smith's, Horsefair Lane
7th 6.30pm Beer Festival in Village Hall
8th 6.30pm Beer and Sausage Festival in Village Hall
8th 10am Flower Festival in St. Mary's, Carlton
8th 10am Historic Churches Trust Bike n' Hike
8th 7.30pm Choral concert in St. Mary's, Carlton
9th 2.00pm Flower Festival in St. Mary's, Carlton
10th 5.30pm Monday Club at Rectory
10th 8pm Pilgrims meet at Rectory
11th 7.30pm W.I. meets at HOCP
13th 10.30am Health Walk, HOCP
15th 9.45am All Saints' Amblers meet at The Bell
17th 3.30pm Fusion meets at Harrold URC
19th 10.30am Meeting Point at Jill's, Rectory Farm
24th 10am HOCP Conservation Tasks Day
27th 10am Health Walk, HOCP
October
3rd 10.30am Meeting Point at Jane Eshelby's, Newton House, Avenue Rd., Newton Bromswold.
6th 10am Decorate All Saints' for Harvest Festival
6th 7pm Harvest Supper, Village Hall
Magazine Deadline
Please send all entries for the October magazine to Tricia Hudson (mag1 at odellbeds.net) or Catherine Corkery by September 12th at the latest. May we remind you that the editorial team exercises the right to edit, shorten or alter any items that are submitted. Also, the opinions expressed in the articles are those of the contributors and are not the responsibility of the editorial team.
Walk the Woof Dog walking service
House visits to let your dog out
Please call Natalia on
01234 721018 or 07545 305643
Covering Harrold, Carlton & Odell
---
Last revised: August 28, 2012.