CHURCH NEWS - October 2012
Click here to see our church brochure
Please note that beginning on 28th October, and continuing until the end of March, our normal Sunday Services will start at 10.30am instead of 10.00am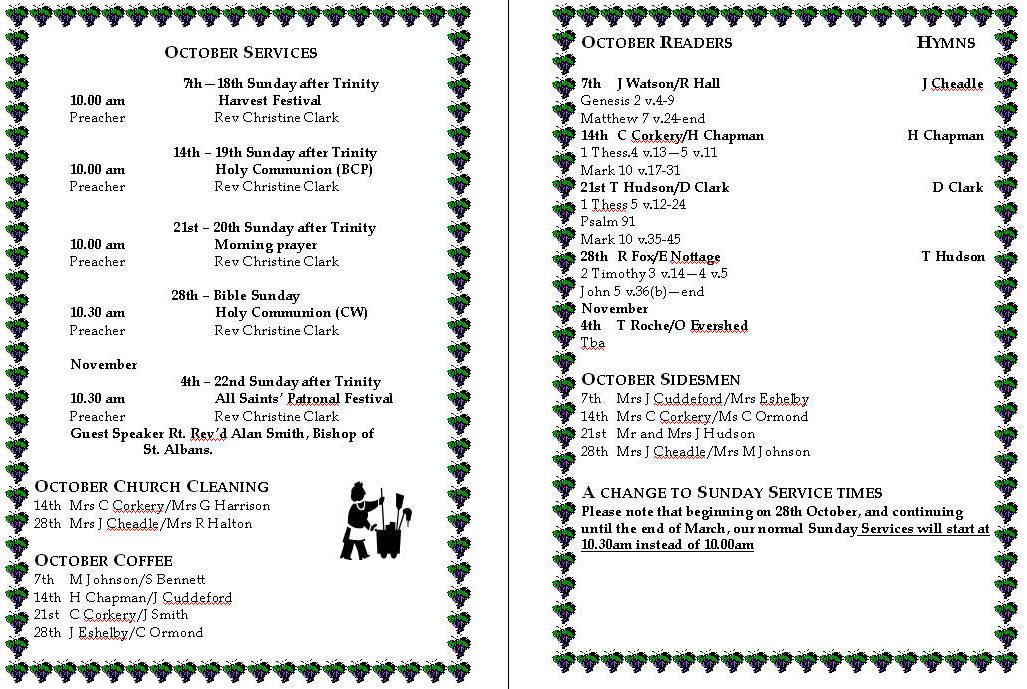 Dear Friends,
There are many things that are not covered in the training for ordination – one of them being the care of churchyards.
Appointed as priest-in-charge of All Saints' Odell in 2006, I found myself responsible for the care and maintenance of a large and beautiful churchyard, frequently having to refer to the Diocesan Guide to Churchyard Regulations.
I find the many facets of the churchyard fascinating. After much research and some GPS mapping provided by my son, I am just about to complete a comprehensive list of the graves that are still legible, plus most of the unmarked graves in the newer part of the churchyard. But as well as a final resting place for the remains of our loved ones, the churchyard is a peaceful place to wander, rest or pray.
With its ancient pasture largely undisturbed for centuries it is also a unique and rare wildlife site. Visits from the Beds Wildlife Trust confirmed the rich diversity of flora and fauna, and a survey carried out by two lichenologists identified over a hundred different species on the building, the gravestones and encompassing walls. Now All Saints' Churchyard is a registered County Wildlife Site, and holder of a silver award from the Council for the Preservation of Rural England for the management of a historic site.
While we were sad to see the old horse chestnut trees (badly diseased) go from the south bank this summer, we have been very encouraged by donations from local people which will enable us to replant with 4 native wild cherry trees. We aim to do this on the morning of November 3rd during one of our Churchyard Work party mornings.
To responsibly maintain the churchyard in a way that protects and promotes this amazingly varied habitat that we have inherited is a challenge we want to meet, but we do need more help. If you would be willing to offer an hour a month, or to adopt an older grave to care for we'd love to hear from you! Or just come along on 3rd November between 10am – 12 noon and join in with the Work party for an hour or two – sustaining refreshments provided. Christine
All Saints' Church congregation honoured a very special birthday when Doris Bannard-Smith, organist and member of All Saints' Church for many years, celebrated her 90th birthday in the last week of August.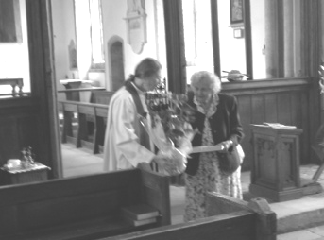 Above: Reverend Christine Clark presenting Doris with birthday gifts at the end of the service on 26th August
Prayer Group
What is the Prayer Group? It is made up of members of All Saints' Church who undertake to pray regularly, on an individual basis, for people who ask us for prayer support.
Who do we pray for? Anyone whom we are asked to remember; these might be people from our church, from our local community or others known to us.
What do we pray about? Anything which you would like brought before God; maybe anxiety due to illness, stress or loneliness. You can also tell us of a special day you wish to be remembered – perhaps for an interview or an exam. Any information will be treated in strictest confidence.
How can you let us know if you would like us to pray for you? You can either telephone Christine (720234), or drop a note through the Rectory door, or complete a card (anonymously if you wish) and place it in a box kept near the church door. Prayer requests will be collected from the box each Sunday morning after the 10.00am service. Christine
All Saints' Amblers
All Saints' Amblers meet outside The Bell, 9.45am on Saturday 20th October for a walk in the country followed by a pub lunch. Children and dogs on leads welcome to join us.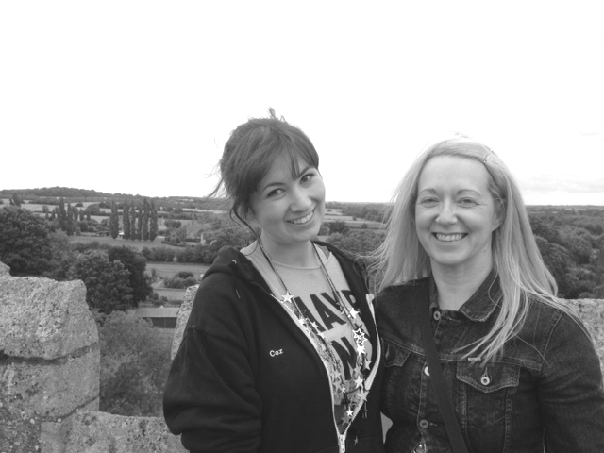 Above:Café in the Tower, August 27th: Two visitors to All Saints' enjoying the panoramic view from the top of the church tower.
Celebrating Harvest Festival in Odell
Harvest Gifts Welcome in Church
Friday 5th or Saturday 6th between 10.30-11.30am
or at the Thanksgiving Service on Sunday 7th
(for distribution to older residents on Monday 8th)
Decorating the Church
Friday 5th from 10.00am
Create autumn displays with flowers and fruit
All Saints' Harvest Supper
Saturday 6th October
7pm in the Village Hall – with licensed bar
followed by entertainment from
Bozeat Windmill Singers!
Supper is 'bring and share'
Tickets £3 to cover expenses - (children free of charge)
Donations to the Bishop's Harvest Appeal welcomed
Please ring Jill on 720261 for tickets and to say
what food you can bring along to share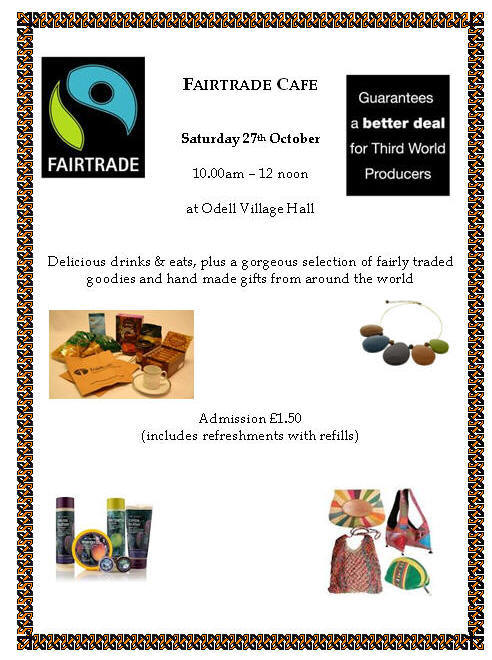 Senior Citizens' Autumn Lunch
Tuesday 16th October
Village Hall
12.30 –for 1.00pm
Please send replies to Jill Cheadle (720261) by October 7th.
N.B. The lunch this time is on a Tuesday
A Change to Sunday Service Times
Please note that beginning on 28th October, and continuing until the end of March, our normal Sunday Services will start at 10.30am instead of 10.00am
Meeting Point
October
3rd 10.30am at Catherine's, Manor Cottage, Harrold.
17th 10.30am at Sarah's, 9 Horsefair Lane.
31st 10.30am at Jane Eshelby's, Newton House, Avenue Rd., Newton Bromswold, Rushden
'Pilgrims' is an informal and mixed group of people meeting every 2-3 weeks to explore aspects of the Christian faith.
This autumn we begin 'Just 10', a short course for small groups devised by J. John, a nationally known speaker.
'Just 10' takes a fresh look at the Ten Commandments, seeking to show that far from being a set of rules to restrict us, they are the key to finding a framework for life.
8pm at The Rectory - - with light refreshments
For details of the next meeting contact Christine on 720234
or e-mail: cmclark9@btconnect.com.

Our Charitable Giving for the Month of October is to Mercy Ships, .....an American Christian charity working in impoverished African countries providing free operations, sending teams of dentists to local hospitals, talks for local villages about aids, teaching projects and projects to help women help themselves, building new schools/orphanages, and follow-up nursing for ex-patients. All who work on the ships contribute financially.
Birthdays
Happy birthday to Lottie Robinson on 18th October and to everyone else with a birthday in October.
All Saints' Flower Rota
5th Decorate for Harvest
20th All help to clear
28th Kathy Dunn
Diary
October
3rd 10.30am Meeting Point at Catherine's, Manor Cottage, Harrold.
5th 10.00am Decorate All Saints' Church for Harvest.
6th 7.00pm Harvest Supper, Village Hall.
9th 7.30pm W.I. Village Hall.
11th 10.30am HOCP Health Walk.
13th 2.00pm W.I. Jumble Sale, Village Hall.
13th 7.30pm Village Quiz, Village Hall.
16th 12.30pm Senior Citizens' Autumn Lunch, Village Hall.
17th 10.30am Meeting Point at Sarah's, 9 Horsefair Lane.
20th 9.45am All Saints' Amblers meet at The Bell.
25th 10.30am HOCP Health Walk.
26th 8.00pm Charity Race Night, The Bell.
27th 10.00am Fairtrade Café, Village Hall.
29th 10.00am HOCP Conservation Tasks Day.
31st 10.30am Meeting Point at Jane Eshelby's, Newton House, Avenue Rd., Newton Bromswold, Rushden.
November
4th 10.30am Patronal Festival, All Saints' Church.
8th 10.30am HOCP Health Walk.
19th 7.30pm Parish Council Meeting, Village Hall.
Magazine Deadline
Please send all entries for the November magazine to Tricia Hudson (ed at odellbeds.net) or Catherine Corkery by October 12th at the latest. May we remind you that the editorial team exercises the right to edit, shorten or alter any items that are submitted. Also, the opinions expressed in the articles are those of the contributors and are not the responsibility of the editorial team. Pictures welcome by email.
---
Last revised: October 02, 2012.