CHURCH NEWS - November 2012
Click here to see our church brochure
Please note that our normal Sunday Services now start at 10.30am instead of 10.00am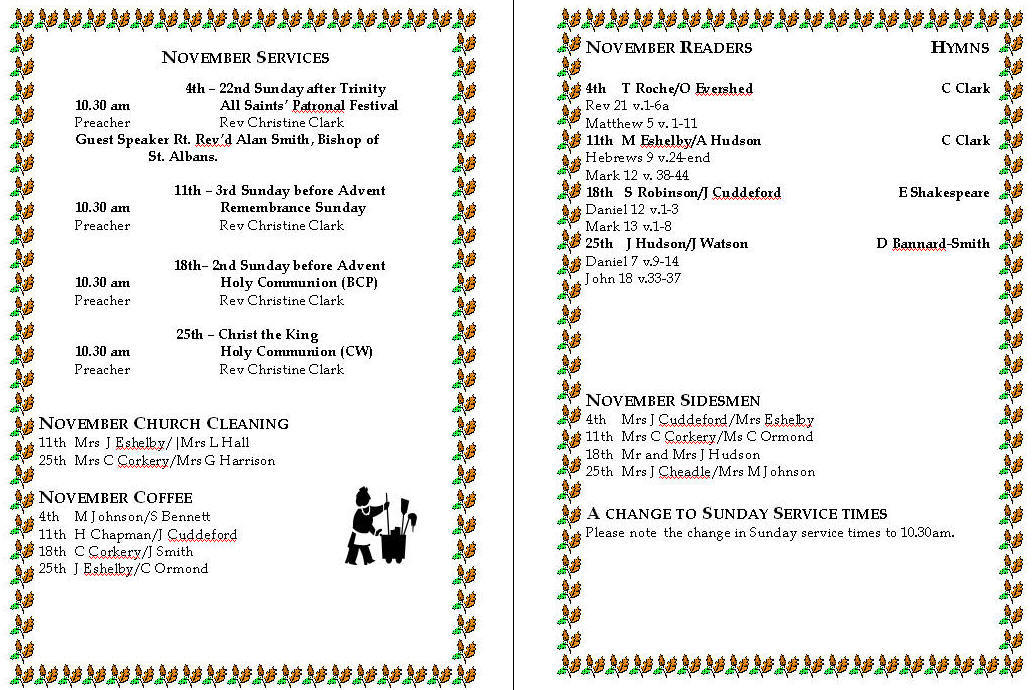 Dear Friends,
I remember being taken by my stepfather, at the tender age of 5 or 6 years old, to a Remembrance service at the local war memorial. Wounded and captured at Dunkirk, Dad was a prisoner of war for the duration, despite three escape attempts, the last of which nearly cost him his life. For him that Remembrance Service would have been a very poignant time, remembering those he knew who had died, especially perhaps a close friend who perished on the long forced march from Poland to Berlin in icy conditions, much of it through deep snow, scrounging for what food they could find along the way. Blissfully unaware of these dark experiences I held his hand and trotted along beside him, my bright red poppy firmly pinned to my blue raincoat.
Over the many years since, I have learned and come to appreciate the deep significance of Armistice Day, and why we must never, never forget the enormous sacrifice of those whose lives are lost in defending the freedom of others. Dad survived, but a deep scar across the bridge of his nose was an ever present reminder of the pain of those years.
When the risen Jesus appeared to his disciples on that first Easter evening, (John Ch.20 v.19-20) he showed them his hands and his feet – deeply scarred by the nails that pinned him to the cross. Those crucifixion scars are evidence of his deep love for us and his willingness to lay down his life for our sakes. The presence of the scars in his risen body are a powerful reminder that Jesus came, not only to teach us about God, but through his death and resurrection to make it possible for us to be fully reconciled with Him, to know his forgiveness and blessing, and to be set free from all darkness, to live as his children.
As we mark Armistice Day in 2012, you will have your own memories and thoughts – but can I encourage you also to take a few moments to ponder Jesus' sacrifice of pure love, pouring himself out for our sakes so that we might experience the freedom of new life in Him. Christine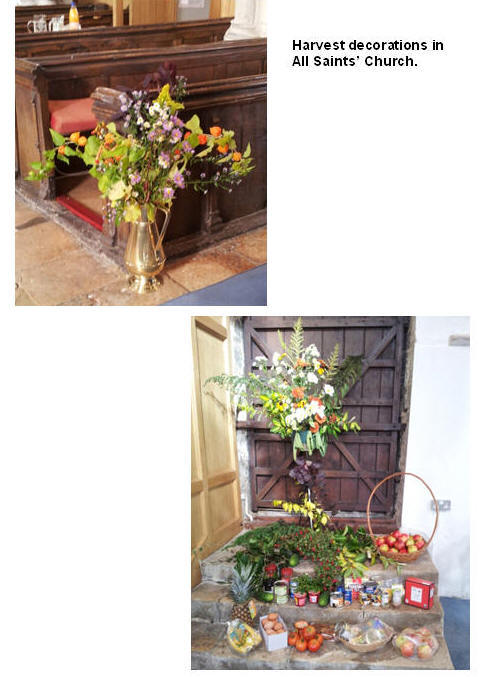 Prayer Group
What is the Prayer Group? It is made up of members of All Saints' Church who undertake to pray regularly, on an individual basis, for people who ask us for prayer support.
Who do we pray for? Anyone whom we are asked to remember; these might be people from our church, from our local community or others known to us.
What do we pray about? Anything which you would like brought before God; maybe anxiety due to illness, stress or loneliness. You can also tell us of a special day you wish to be remembered – perhaps for an interview or an exam. Any information will be treated in strictest confidence.
How can you let us know if you would like us to pray for you? You can either telephone Christine (720234), or drop a note through the Rectory door, or complete a card (anonymously if you wish) and place it in a box kept near the church door. Prayer requests will be collected from the box each Sunday morning after the 10.00am service. Christine
All Saints' Amblers
All Saints Amblers meet outside The Bell, 9.45am on Saturday 17th November, for a walk in the country followed by a pub lunch. Children and dogs on leads welcome to join us.
Meeting Point
November
Wed. 14th 10.30am at Catherine's, Manor Cottage, Harrold.
Wed. 28th 10.30am at Jill's, Rectory Farm, Odell.
All Saints' Charitable Giving for the Month of November
Our giving in November will be shared between the British Legion Poppy Appeal and the Ex-Services Mental Welfare Society (Combat Stress). Many still depend on these two organisations for all kinds of help including medical care and your generous giving enables continuous support for those damaged in body, mind and spirit by the ravages of war.
'An Evening of Seasonal Music' presented by the Bedford Eagle Choir
Thursday 13th December
7.30pm All Saints' Church, Odell
Tickets £5 to include light refreshments
(Children up to 16 years free).
Contact Jilly Watson (01234 720600)
or Christine Clark (01234 720234).
Proceeds to DeafConnect, who provide services locally for people who are deaf, deafened, hard of hearing or deaf-blind. For more information see www.deafconnect.org.uk
Remembrance Day Service
Sunday 11th November – 10.30am
We hope to welcome some members of the 58th
London Boys Brigade Old Boys Association to the
service, where their colours will be presented.
The 58th London Boys Brigade and the Old Boys Association have very long connections with the villages of Odell and Harrold where they held summer camps for almost a century, broken only by the two world wars. For many of those years we have enjoyed their presence at Odell's annual Fete, where we have been able to look at their photographs and memorabilia. For two of the Old Boys this year was a first re-union, with one of them travelling all the way from Northumberland. Another Old Boy, Tom Ellingham, has been capturing the most important photos and memorabilia digitally, and is currently updating 'The 58 Story' (which originally covered the period 1892 to 1967). If any of you have stories, anecdotes or photographs of those summer camps, please contact Tom at ellingham@gmail.com or write to him at New Bells House, New Bells Lane, Haughley Green, Stowmarket, Suffolk IP14 3RN – but please do so quickly as the updating is almost complete.
Senior Citizens' Christmas Dinner
The Senior Citizens' Christmas Dinner will take place on
Wed 12th December
At 12.30
In the Village Hall
Please let Jill know (720261) by 3rd December if attending
Coffee Morning at Hobbs Green Farm
Christmas Hamper coffee morning
On 7th December
At Hobbs Green Farm
From 10.30am – noon
In aid of Bedford Women's Refuge
Admission free Please bring Christmas Fayre
Festival of Angels
Friday 7th December and Saturday 8th December 2012
St Peter's Church Sharnbrook
The Angel Festival will replace our Christmas Tree Festival which we have enjoyed for five years.
This is St. Peter's first Angel Festival and we would like you to join us in making it an event to remember. It is a great opportunity for you to join in the Christmas celebrations while at the same time bringing your organisation to the forefront of thousands of visitors that walk through our church door to join us at such a special time of year.
If you need to be inspired with some great ideas visit our website at www.stpeterssharnbrook.org.uk - Your angels can be of any size, suspended or free standing on a table or on the floor. A member of the Angel Committee will contact you nearer the date to discuss your requirements for setting up your angels. You can set your angel up on either Wednesday 5th or Thursday 6th December and remove them on either Tuesday 11th or Wednesday 12th December.
There will be prizes awarded to the Angels in specific categories as voted for by our visitors.
There is no entry charge but entry requests must be submitted to Rev Robert Evens, The Rectory, 81 High Street, Sharnbrook. (tel. no. 01234 782000) by 16th November 2012.
With every blessing, Robert Evens
For entry forms contact Rev. Evens
St. Mary's Church, Carlton, is holding a Victorian Bazaar
Village Hall, Carlton 24th November
11am-3pm
Boodles Doodles will be running a pottery painting session all day
£3.50/item/child. Staff CRB checked.
Leave the children to create their own decoration whilst you browse the craft stalls in the main hall for your Christmas presents.
Lunches from 12 noon
Grand draw at 2.30pm £100 first prize
Entry £1/adult - children free
Birthdays
Happy birthday to:
Georgina Ardley on the 29th November, and to anyone else with a birthday in November.
All Saints' Flower Rota
November
11th Remembrance Sunday, Carol Ormond
25th Faith Hartwell
Diary
November
5th Darts Night at The Bell.
8th 10.30am Health Walk HOCP.
9th 'Wedding Crashers' perform at The Bell.
10th 10.00am Putnoe Art Group Exhibition.
11th 10.30am Remembrance Day Service at All Saints'.
13th 7.30pm W.I. meets in Village Hall.
14th 10.30am Meeting Point at Catherine's, Manor Cottage, Harrold.
16th 7.30pm Ladies' Night, Pavenham Village Hall.
17th 9.45am All Saints' Amblers meet at The Bell.
19th Darts Night at The Bell.
22nd 10.30am Health Walk HOCP.
24th 11.00am Victorian Bazaar, Village Hall, Carlton.
24th Out-Take perform at Village Hall.
25th 11.00am Sharnbrook Upper School Christmas Fair.
26th 10.00am Conservation Tasks Day, HOCP.
28th 10.30am Meeting Point at Jill's, Rectory Farm.
December
3rd Darts Night at The Bell.
7th 10.30am Christmas Hamper Coffee Morning, Hobbs Green Farm.
12th 12.30pm Senior Citizens' Christmas Dinner, Village Hall.
13th 7.30pm Evening of Seasonal Music, All Saints' Church.
Magazine Deadline
Please send all entries for the joint December/January 2013 magazine to Tricia Hudson (ed at odellbeds.net - please note this is quite new and is not a hyperlink - simply retype it as an email address - the old address which was mag1@odellbeds.net is dead due to spam problems!) or to Catherine Corkery by November 12th at the latest. May we remind you that the editorial team exercises the right to edit, shorten or alter any items that are submitted. Also, the opinions expressed in the articles are those of the contributors and are not the responsibility of the editorial team. Pictures welcome by email.
---
Last revised: October 27, 2012.