CHURCH NEWS - May 2012
Click here to see our church brochure
Please note that from Sunday 6th May – Sunday 28th October 2012, services at All Saints' Church will start at 10.00am.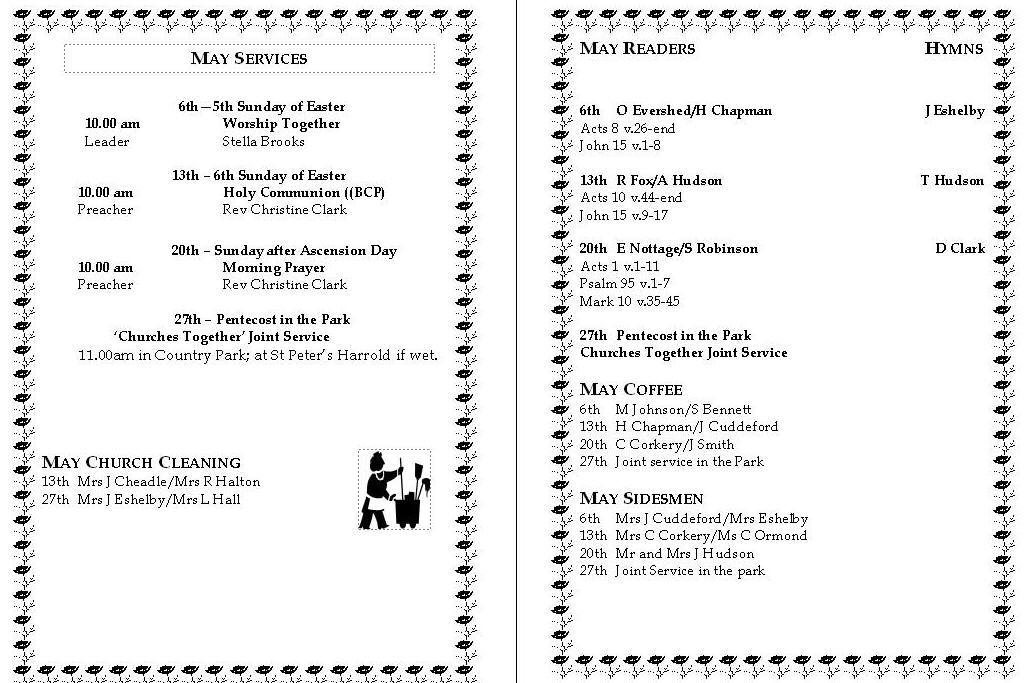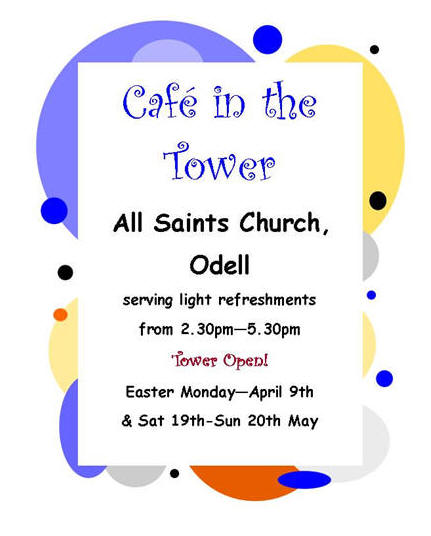 Dear Friends,
I love and appreciate all the seasons of the year, but if I have a favourite month, it has to be May, with its exuberant horse chestnut candles, lush green hedgerows and verges decorated with 'Queen Ann's Lace' and fragrant elderflower heads. The first wild harvest of the year, I enjoy gathering them to make the delicious cordial, part of the God-ordained fruitfulness of the earth to sustain us and provide for our needs.
May is also the time when, in the Church, we remember two Christian festivals – Ascension with its promise of future hope, and Pentecost, recalling the first dramatic, exuberant outpouring of the Holy Spirit, given to sustain and provide for us spiritually.
Ascension, celebrated on the 40th day after Easter, marks the return of Jesus, in resurrected human bodily form, to heaven "until the time comes for God to restore everything, as he promised long ago through his holy prophets". Saying goodbye, especially for the last time, can often be difficult, leaving us with a great sense of loss. But before he was removed from their sight, Jesus commissioned his disciples as witnesses of all he had said and done, telling them to continue his teaching 'to the ends of the earth' and promising to be with them for ever.
He also promised they would receive 'power from on high' to help them in this task, and it is at Pentecost, seven weeks after Easter, that we celebrate the gift of the Holy Spirit - that promised presence and power of Jesus which is now with us for ever. Filled with his power, and love, the previously sad and confused disciples, now bursting with praise, joy and renewed hope, burst out onto the streets to share the good news – that Jesus, crucified for the sins of the world, has been raised from the dead, exalted to the right hand of God, and has now sent his Holy Spirit into all the world. The promise of forgiveness and eternal life is for all who repent and put their trust in Jesus Christ as Saviour and Lord. And the rest, as they say …. is history!
Except that the story doesn't end there. It continues through every season, in every age and throughout the world, as men, women and children respond to Jesus' invitation to follow him, and to know his presence with them. Just as Peter proclaimed on the day of Pentecost, "the promise is for you and your children and for all who are far off" until the time that Jesus will return, just as he promised - the time when the whole created order will be freed from sin and restored. Christine
Prayer Group
What is the Prayer Group? It is made up of members of All Saints' Church who undertake to pray regularly, on an individual basis, for people who ask us for prayer support.
Who do we pray for? Anyone whom we are asked to remember; these might be people from our church, from our local community or others known to us.
What do we pray about? Anything which you would like brought before God; maybe anxiety due to illness, stress or loneliness. You can also tell us of a special day you wish to be remembered – perhaps for an interview or an exam. Any information will be treated in strictest confidence.
How can you let us know if you would like us to pray for you? You can either telephone Christine (720234), or drop a note through the Rectory door, or complete a card (anonymously if you wish) and place it in a box kept near the church door. Prayer requests will be collected from the box each Sunday morning after the 10.00am service. Christine
Change to Sunday Service times
Please note that from Sunday 6th May – Sunday 28th October 2012, services at All Saints' Church will start at 10.00am.
Pentecost in the Park
Pentecost in the Park is being held on Sunday 27th May at 11.00 in the Country Park (at St Peter's Church, Harrold, if wet).
The speaker is Richard Ledger and Bedford Brass band will be playing. It would be helpful to have a group to lead the singing of well known Pentecost hymns and songs. There will be one rehearsal during the week before. If you would like to help in this way, please let Sally know as soon as possible (368564 or churchestogether@btinternet.com) and she will let you know the rehearsal time.
Special Church Services in May/June
Thursday 17th May
Celebrating Ascension Day 7.30pm at St.Peter's Church, Sharnbrook – a joint service for all the parishes of the Sharnbrook Deanery.
Sunday 27th May
11.00am 'Pentecost in the Park' with Bedford Brass, and guest speaker Richard Ledger – followed by a picnic in the Harrold & Odell Country Park (will be held at St.Peter's Church, Harrold if wet weather)
Sunday 3rd June
A Service to celebrate the Diamond Jubilee of Her Majesty Queen
Elizabeth II – 10.00am All Saints' Church.
Sunday 10th June
'After the Fete' – 11.00am Informal service in the Fete field followed by a BBQ and children's games. Bring your own plates, cutlery etc. and a salad or pud to share with others.
(Please let Mandy 720414 or Jane 01933 410959 know if you are coming to the BBQ so we know how many to cook for)
Odell Fete & Dog Show - 9Th June 2012
Help needed!
Preparations are going well … We would be very grateful for the temporary loan of party tents, gazebos etc on the day, also, for help on Friday 8th June to set up the field, from 2pm onwards and then dismantle everything after the fete has ended on Saturday 9th. Please phone us!
The Fete will be held in the Scout field, Horsefair Lane, Odell.
Programme of Events
2.00 PM Grand Opening
2.00-4.00PM Dog Show
4.00 PM Raffle Draw and Prize Giving
Attractions
Bedford Brass Band Boys Brigade Bouncy Castle
Teas Children's Tombola Ice Creams
Cakes Books Refreshments
Bottle Stall
Coconut Shy Children's Sports White Elephant
Produce Gifts Many Side Shows
Raffle
Family Dog Show
(entry fee - £1 per dog per class)
Classes:
1. Children's Handling (14 years and under)
2. Puppies under 1 year
3. Country Sporting Dog or Bitch
4. Best Rescue or Re-home Dog or Bitch
5. Best Condition Dog or Bitch
6. Dog or Bitch with Most Appealing Eyes
7. Best Cross-bred Dog or Bitch
8. Most Handsome Dog
9. Prettiest Bitch
Car park attendants will be on duty at the field opposite The Bell public house.
There will be disabled parking next to the Scout field.
Festival Weekend Family Service Sunday June 10th
11.00am in the Main Tent at the Fete Field. Everybody Welcome.
Fete Painting Day
Painting of signs etc. for the fete will take place at Jim and Doreen Wheeler's, Linden House, High Street, Odell, on Monday 7th May from 10.00am - if you would like to come along please let Mandy Hinds (formerly Sharpe) or Jane Eshelby know. Our telephone numbers are 720414, and 01933 410959. This is always a fun morning and ends with a bring and share BBQ for all helpers – please let Doreen know (720358) or Jane (01933 410959) if you wish to stay for this. Bring your own meat. Salad and puddings will be provided.
Cafe-in-the-Tower
Thank you to everyone who helped out or contributed in any way at the Café in the Tower on Easter Monday. A lot of visitors came along and we are happy to say that nearly £300 was made, in aid of the All Saints' fabric fund. The next Café in the Tower will be held on Saturday 19th and Sunday 20th May, – 2.00pm to 5.30pm both days. Take a trip up the tower for fantastic views across the Ouse valley – browse around the various displays, including material from the archives – enjoy a refreshing cuppa and a slice of home-made cake – wander round our lovely churchyard and see how many wild flowers you can find. Did you know we had over a 100 different varieties of lichens? – best viewed with a magnifying glass.
Plant Sale
Jill is not holding a coffee morning this year but will have the following plants for sale:
Geraniums Tomato plants Cosmos Runner Beans
Proceeds to All Saints' Fabric Fund
Christian Aid Week - 13th - 19th May
Everyone deserves a decent life.
Christian Aid has a vision – an end to poverty – and we believe that vision can become a reality.
Our Purpose:
To expose the scandal of poverty
To help in practical ways to root it out from the world
To challenge and change structures and systems that favour the rich and powerful over the poor and marginalised.
Christian Aid exists to help those in need – regardless of religion, ethnicity or nationality.
In these poor communities Christian Aid invests in projects that provide benefits for years to come,
Envelopes for donations are included with the magazine. Please return to Jill by May 26th at Rectory Farm.
All Saints' Church Charitable Giving for the month of May is to The Church Pastoral Aid Society, which offers valuable training and a wide range of resources for clergy and lay people, in evangelism, youth work, mission and ministry. Runs Young Peoples' holiday clubs and offers Parish Consultations. See the notice board in the church for more information.
Meeting Point
May
2nd 10.30am at Catherine's, Manor Cottage, High Street, Harrold.
16th 10.30am at Jane Smith's, Horsefair Lane.
30th 10.30am at Jane Eshelby's, Newton House, Avenue Rd., Newton Bromswold, Rushden.
All Saints' Amblers meet outside the Bell, 9.45am on Saturday 26th May for a walk in the country followed by a pub lunch. Children and dogs on leads welcome to join us.
Nursery Plant Sale
Saturday 12th May,
10.30am – 2.30pm
Village Hall, Pavenham, MK43 7PH
Alpines, Bedding, Clematis, Geraniums, Herbs, Perennials and Shrubs, Sundries, Vegetables.
Buy from the growers; high quality, unusual plants, keen prices and good advice!
Entrance £1.20, free parking, plant crèche, refreshments, tombola,
children's playground
(in aid of the Friends of St Peter's – keeping our church building in good repair :Charity no 802696)
Cover Designs
For many years now the Odell magazine has had the same cover design – that of a sketch of All Saints' Church. It has recently been suggested that we could vary the picture from month to month, and with this in mind we would like to invite readers to send possible pictures, preferably photographs of local scenes. Simple photographs with not too much detail would be most appropriate. Please send any pictures, as attachments, by email to the magazine email address: mag1 at odellbeds.net
Churches Together in Harrold and Carlton with Odell
Sunday 27th May at 11.00am
Pentecost in the Park
An all-age open-air celebration
Speaker: Richard Ledger
Music: Bedford Brass
Followed by bring your own picnic.
Please bring a garden chair
If wet – at St Peter's Church, Harrold
Everyone welcome to this fun event
All Saints' Flower Rota
May
13th Rachel Halton
Jill Cheadle
27th Pentecost in the Park
June
3rd Carol Ormond
Diary
May
2nd 10.30am Meeting Point at Catherine's, Manor Cottage, High St., Harrold.
7th 10.00am Fete Painting Day and BBQ, Linden House.
8th 7.30pm W.I. AGM, Odell Village Hall.
10th 10.30am Health Walk, HOCP.
12th 10.30am Nursery Plant Sale, Pavenham Village Hall.
12th 7pm Country Wear Fashion Show, Odell Village Hall.
16th 10.30am Meeting Point at Jane Smith's, 4a Horsefair Lane.
17th 7.30pm Ascension Day Celebratory Service, St. Peter's, Sharnbrook.
19th 2.00pm Café in the Tower, All Saints' Church.
19th 7.30pm Funktionality, Odell Village Hall.
20th 2.00pm Café in the Tower, All Saints' Church.
24th 10.30am Health Walk, HOCP.
26th 9.45am All Saints' Amblers meet at The Bell.
27th 11.00am Pentecost in the Park (St Peter's, Harrold, if wet).
28th 10.00am Conservation Day tasks, HOCP.
30th 10.30am Meeting Point, Jane Eshelby's, Newton Bromswold.
June
3rd 10.00am Diamond Jubilee Celebratory Service, All Saints'.
7th 10.30am Health Walk, HOCP.
9th 2.00pm Odell Fete.
10th 11.00am Service in Fete field.
Magazine Deadline
Please send all entries for the June magazine to Tricia Hudson (mag1 at odellbeds.net) or Catherine Corkery by May 12th at the latest. May we remind you that the editorial team exercises the right to edit, shorten or alter any items that are submitted. Also, the opinions expressed in the articles are those of the contributors and are not the responsibility of the editorial team.
---
Last revised: April 29, 2012.