CHURCH NEWS - March 2012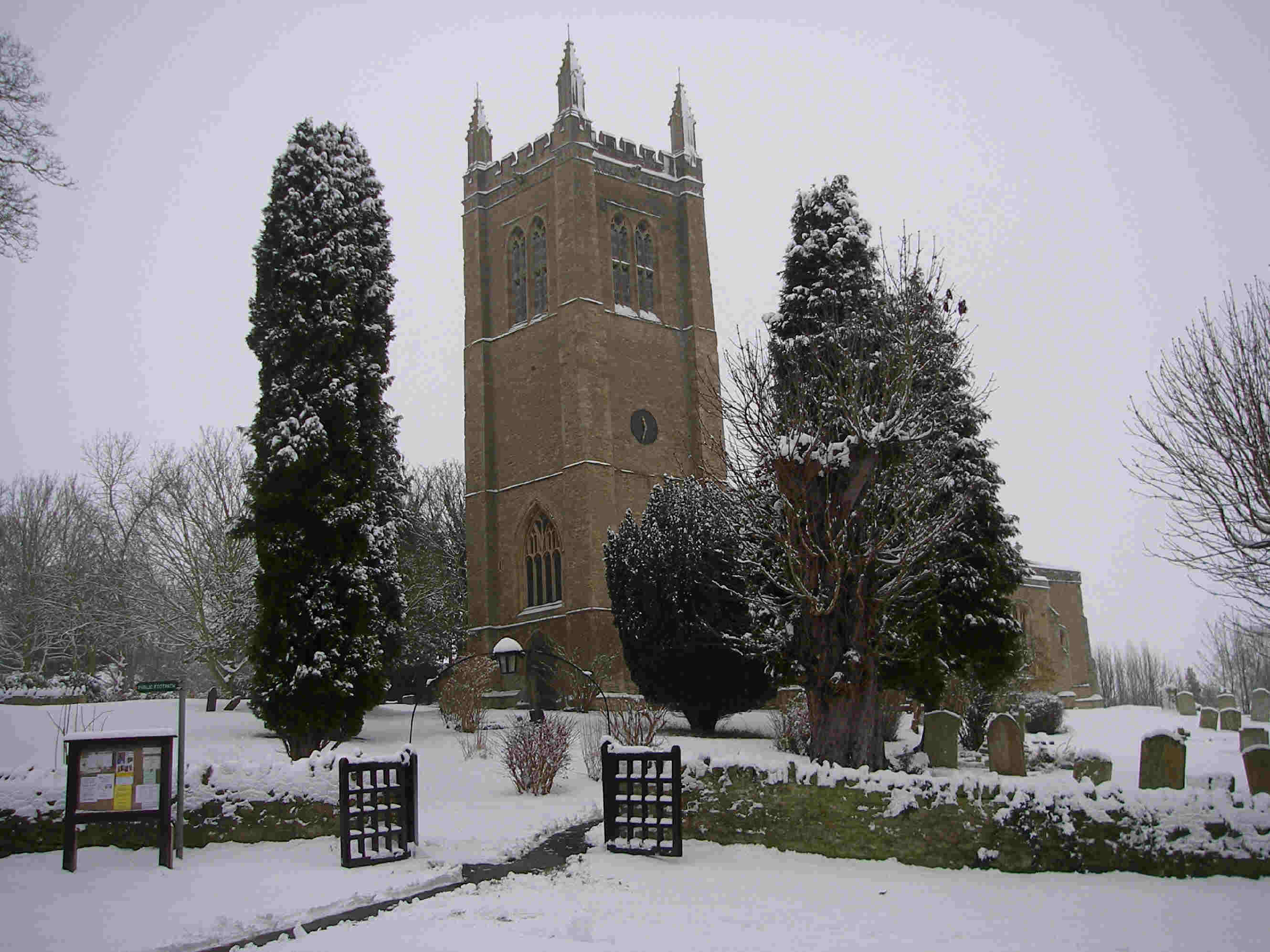 Above: February Snow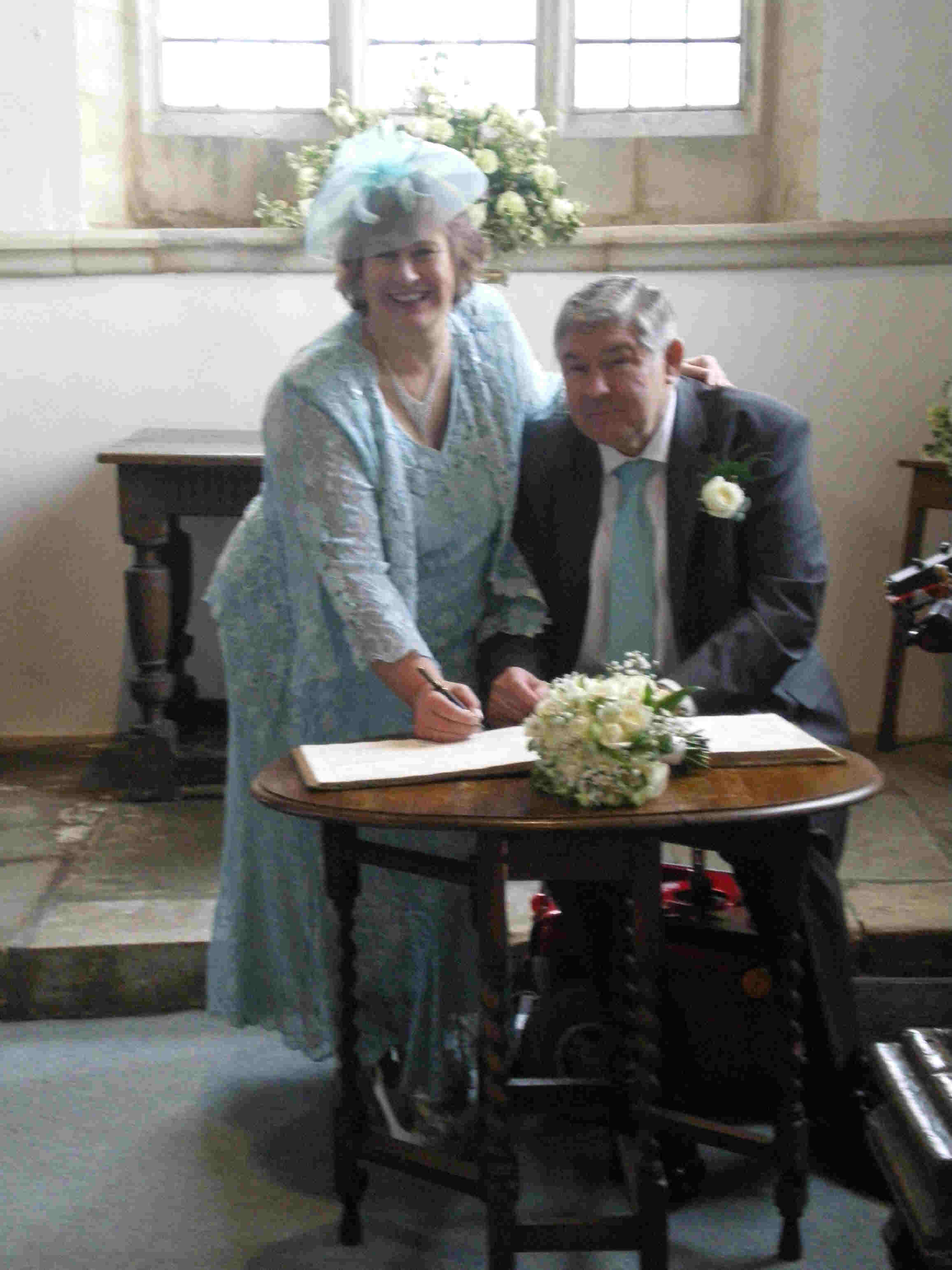 THE Marriage of Amanda Sharpe and Robert Hinds on 10th February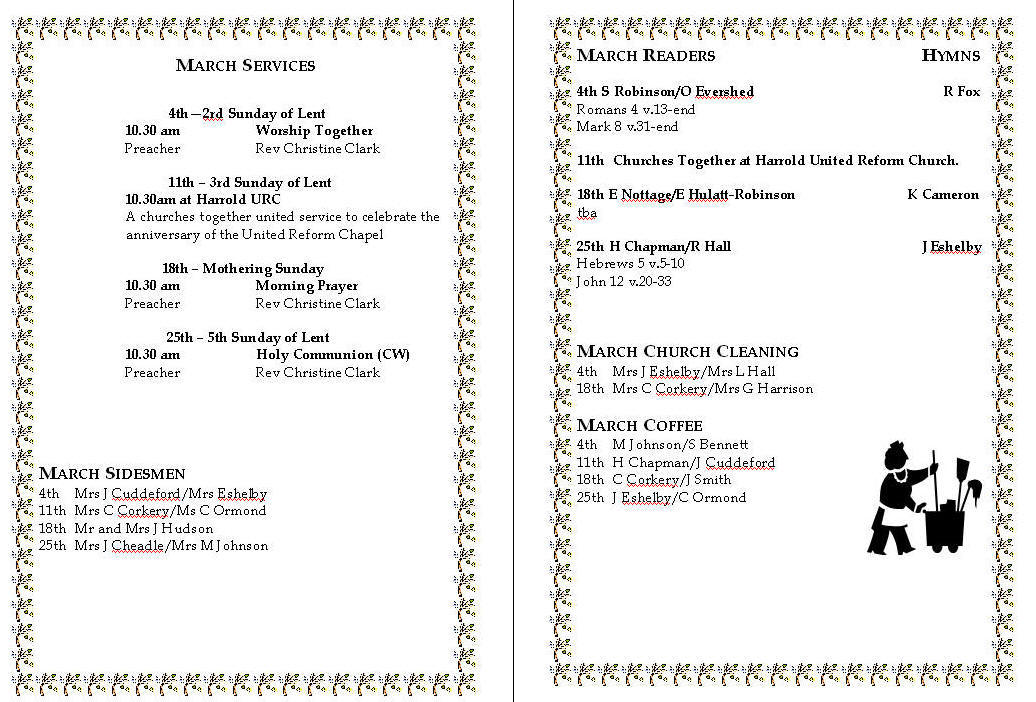 Dear Friends,
Fairtrade Fortnight this year is from February 27th – March 11th, when supermarkets will be promoting their range of fairly traded goods – look out for special offers!
Supported by the actions of thousands of individuals who choose to shop ethically, the Fairtrade movement has achieved a great deal. On a recent visit to churches in the West Indies (linked to our Diocese of St. Albans) Bishop Alan heard first-hand how the Fairtrade movement has made a huge difference. In the 1990's a World Trade Organisation ruling which favoured the USA, hit the banana trade in the West Indies hard – the number of banana farmers fell from 23,000 to 4,000 and was in danger of total collapse. Most of the remaining banana producers now work with Fairtrade, enabling them to get a fair price, a proportion of which directly benefits their local schools, medical clinics and transport.
In our Sunday services we have recently been hearing about the growing gap between rich and poor in this country, higher now than at any time in the last 30 years. It was shocking to learn that this 'poverty gap' in the UK is greater than any other developed country apart from Portugal and the USA. Government statistics published for 2009/10 show that 3.8 million children in the UK live in households classed as poor (ie. 29% of the total child population) and of this group 58% live in households where at least one adult is working..
On February 15th, Professor Sir Michael Marmot, a foremost public health expert and advisor to the Government who released updated figures for his 2010 report Fair Society, Healthy Lives, said this:
"We've got these huge inequalities which means that we are failing our children on a grand scale. It matters to their health; it matters to their wellbeing; it matters to the productivity of the country and it matters to the sort of society we want."
The report identifies areas of public policy which need to be prioritised In order to reduce inequalities in our society. It's a huge problem, but there are things which all of us can do to help (see below). Let's be encouraged that just as our individual actions to support the Fairtrade movement have benefited thousands of people in the third world, so actions we take can play a part in closing this terrible gap.
The Bible exhorts us to "Act justly, love mercy, and walk humbly with your God" Throughout the Old Testament the people of Israel are instructed to provide for those in need, and in the New Testament, James the brother of Jesus says "If you know someone who doesn't have any clothes or food, you shouldn't just say 'I hope all goes well for you. I hope you will be warm and have plenty to eat.' What good is it to say this, unless you do something to help? Faith that doesn't lead us to do good deeds is all alone and dead!" Jesus put it most simply of all: "Love the Lord your God … and love your neighbour as yourself" In this period of Lent, there is much to reflect on here, and in particular how we work it out in practice in our daily lives. Christine
It's time to Close the Gap!
The UK is one of the unfairest countries in the developed world. This is neither sustainable nor just – and is bad for everyone, not just those who live in poverty.
Together, we can Close the Gap
Church Action on Poverty is running a major campaign on this issue, with support from partners in all the UK's major Christian denominations. They aim to achieve four key things:
Fair Taxes – pressing for a system where wealthy individuals and corporations pay their fair share, rather than avoiding tax and leaving poorer people to suffer the effects of spending cuts
Fair Pay – calling on all employers to pay a Living Wage, and to curb excessive pay for high earners
Fair Prices – challenging the exploitative energy companies and legal loan sharks who prey on people in poverty, charging them a 'poverty premium' which can cost families £1,300 a year
A Fair Say – giving poorer communities a stronger voice, holding politicians to account, and challenging the excessive power which corporations have over decision-making.
Give, Act and Pray
To make a real difference, Church Action on Poverty needs the active support of as many churches and individuals as possible. You could commit to join in campaign actions, to make a regular donation (just £2 a month would make a real difference) or to hold the campaign in your prayers. Find out more about the issues and the campaign by visiting www.church-poverty.org.uk/closethegap - or call 0161 236 9321.
Prayer Group
What is the Prayer Group? It is made up of members of All Saints' Church who undertake to pray regularly, on an individual basis, for people who ask us for prayer support.
Who do we pray for? Anyone whom we are asked to remember; these might be people from our church, from our local community or others known to us.
What do we pray about? Anything which you would like brought before God; maybe anxiety due to illness, stress or loneliness. You can also tell us of a special day you wish to be remembered – perhaps for an interview or an exam. Any information will be treated in strictest confidence.
How can you let us know if you would like us to pray for you? You can either telephone Christine (720234), or drop a note through the Rectory door, or complete a card (anonymously if you wish) and place it in a box kept near the church door. Prayer requests will be collected from the box each Sunday morning after the 10.30am service. Christine
Meeting Point
March
14th 10.30am at Sarah's, 9 Horsefair Lane.
28th 10.30am at Jane Eshelby's, Newton House, Avenue Rd., Newton Bromswold, Rushden
All Saints' Church Charitable Giving for the months of March and Aprilis to FEBA -
(Far Eastern Broadcasting Associates) - a radio station which began in 1959 and makes and broadcasts Christian programmes in dozens of different languages, reaching Christians who would otherwise have little contact with the outside world. Today FEBA broadcasts on FM and medium wave radio, the internet, text messaging and social media – each has its own use and own target audience.
The message FEBA delivers is that "The love of Christ addresses all areas of people's lives: emotional, spiritual and physical…There are programmes on health education and disease-prevention; young believers gain strength through online discipleship courses; locals speak out against corruption…Everywhere people turn to God. Lives are changed; communities transformed. Love in action."
For more information about the work of FEBA see the notice board in All Saints' Church.
A Meeting of Parishioners - to elect church-wardens, and the Annual Parochial Church Meeting to elect PCC members, will take place in All Saints' Church at 7.30pm and 7.45pm consecutively, on Wednesday 28th March. Everyone who resides in the village is welcome to attend. Annual reports on the various activities of the church will be presented, along with the church accounts and an updated copy of the church electoral roll. Light refreshments will be served at the end of the meeting.
'Patches' – a new group for those who sew, knit or whatever.
Creative urges are stirring …. a few of us who like to sew and chat are meeting monthly at The Rectory. Next gathering is on Friday 30th March at 2.30pm.
Contact Jane Smith (721214) or Christine Clark (720234) for more details.
All Saints' Amblers meet outside the Bell, 9.45am on Saturday 17th March for a walk in the country followed by a pub lunch. Children and dogs on leads welcome to join us.
Lent Course 2012
Churches Together will be running a Lent Course again this year. As in previous years we will be using the York Courses material, the subject being "Handing on the Torch".
The course will run for 5 weeks leading up to Holy Week, starting week commencing 27th February. We have 4 house groups this year at the following times and places:
Monday evening 7.30, at 3 Copper Beeches, Emmaus
Wednesday afternoon 1.30, at 32 Rectory Close, Carlton
Wednesday evening 7.30 at 30 Orchard Lane, Harrold
Thursday morning 10.30 at 40 High St. Harrold
The cost for the whole course will be £5.00 .
If you have any questions please contact either Jane Fox or Christine Clark.
Odell Fete and Dog Show – 9th June 2012
Preparations are going well … if you would like to come along to the Fete preparation day on 7th May (Bank Holiday Monday) please let Mandy Hinds (formerly Sharpe) or Christine know.
Our telephone numbers are 720414, and 720234. This is always a fun morning and ends with a bring and share BBQ for all helpers.
We would be very grateful for the temporary loan of party tents, gazebos etc on the day, also, for help on Friday 8th June to set up the field, from 2pm onwards. Please phone us!
THE Marriage of Amanda Sharpe and Robert Hinds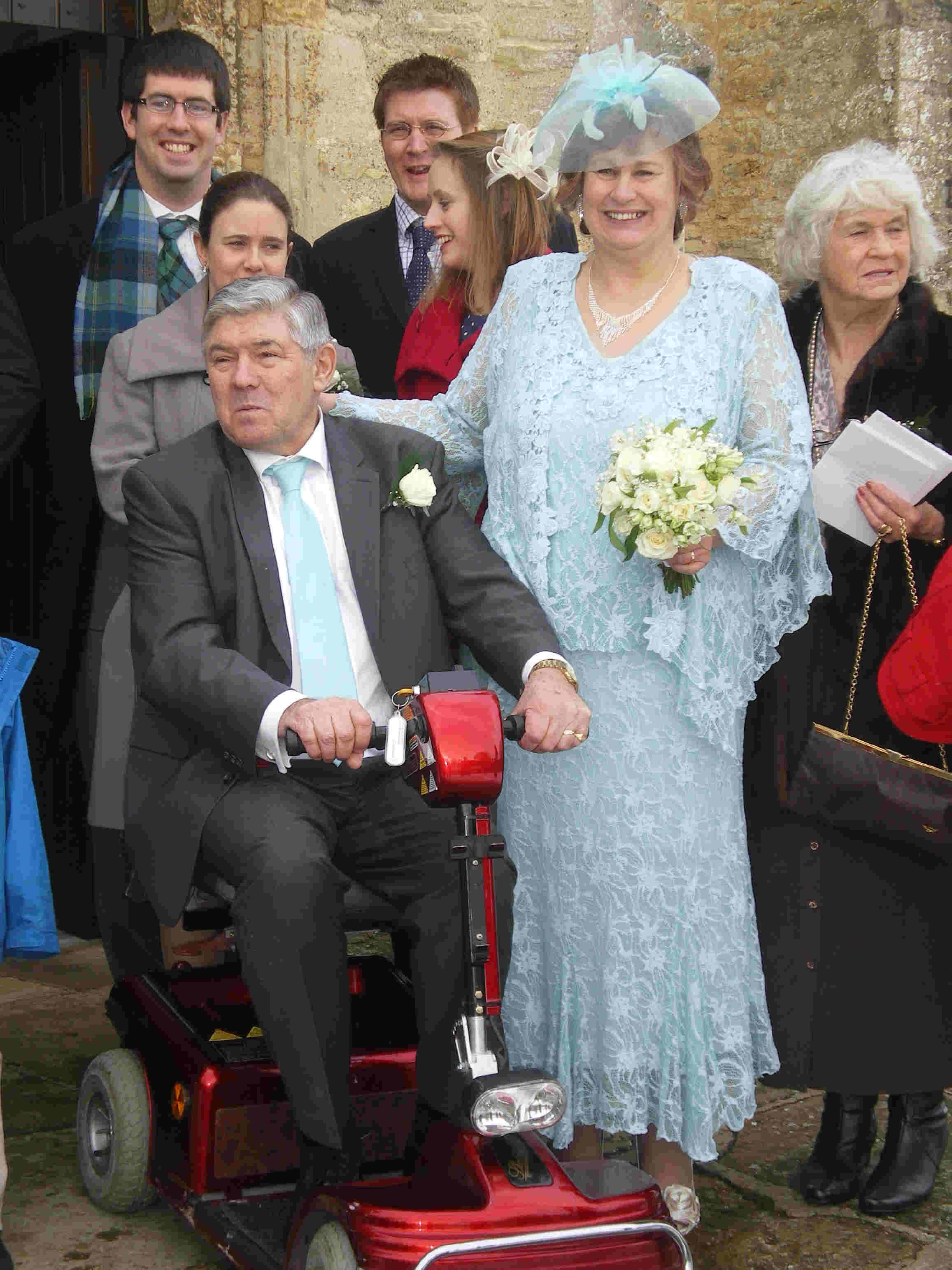 The marriage of Amanda (Mandy) and Robert (Robbie) took place on Friday 10th February in All Saints' Church, Odell. Mandy and Robbie were joined by a small group of relatives, friends and villagers for this very happy occasion on the cold but beautiful snowy February day.
During the service Mandy's daughters gave moving readings: "The One",(Author unknown), was read by Victoria, "My love" by Jane Graham, was read by Georgina and the Scripture Reading from Colossians 3 was read by Samantha.
The Reverend Christine Clark conducted the service, and the beautiful flowers which adorned the church were arranged by Jill.
We send our love and best wishes for the future to the bride and groom, Mandy and Robbie.
THE CHILDREN'S SOCIETY
Children's Society boxes are due to be opened again in March, so I would be grateful if box holders could let me have their boxes as soon as possible. If there is anyone else who would like one, please let me know. Catherine Corkery, 720348
Obituary: Mr Eric Green 1923-2012
The funeral of Eric Green was held at Bedford Crematorium on 6th February 2012. He died in Bedford Hospital where he had been for many weeks.
Eric was born in Cold Brayfield on the 22nd April 1923. His father Alfred was a gamekeeper in the area, and in 1934 become keeper to Lord Luke with a house in Odell.
Eric joined the 51st Odell Scouts for many years and also played for Odell Rovers football club after the war. In the 2nd World War he joined the Royal Army Service Corps as a driver and served in the Middle East, India and later in Germany, returning to Odell in 1947. He worked in the boot and shoe leather industry in Rushden and Wollaston.
As a younger man he would help older people with lifts to the doctor's etc. and helped to keep the village tidy. His real love was as a Hatters supporter of Luton Town football club, and he would attend most games.
Eric was Old Odell Village - a private man who will be missed by his sister Joan, also by his best friends Basil and Enid Horn, and myself and all his friends.. Peter Coleman
Women's World Day of Prayer (Interdenominational)
Friday, 2nd March, 10.30am, St Peter's Church, Harrold
This service has been prepared by the Christian Women of Malaysia
The theme is
LET JUSTICE PREVAIL
The Speaker is Geraldine Skinner
More than 170 countries participate in an annual day of celebration, which brings together people of various races, cultures and traditions sharing together in God's word and worship. Men, women and young people worldwide will be worshipping together on Friday, March 2nd. They will be using an order of service prepared by Christian women from Malaysia.
Malaysia is a country of contrasts – modern yet with traditional ways; with diverse cultures, religions and ethnic backgrounds. North of the Equator in SE Asia, it consists of two parts: West or Peninsular Malaysia and East Malaysia. Rich in endangered rainforests and an astonishing collection of flora and fauna, the country attracts both business and tourism. Tea, timber, rubber palm oils, fruits, petroleum, cars, electrical and electronic goods are major exports and contribute to the country's economy. The theme LET JUSTICE PREVAIL echoes concerns of the unjust actions endured by women who are discriminated against particularly in education and employment. Voices of truth and justice are silenced and there is greed and corruption. As we share in this service, the women of Malaysia ask for mercy, forgiveness and justice as they consider many complex issues.
Senior Citizens' Fish and Chip Lunch
The annual Senior Citizens' Fish and Chip lunch will take place on:
Wednesday 7th March at 12.30 for 1.00pm in the Village Hall.
All Saints' Flower Rota
4th Sarah Bennett
Jane Smith
18th Mothering Sunday
Catherine Corkery
Jane Eshelby
Welcome TO: Sarah, Jav, Jaiden and Jacob, who moved into Mill Lane Lane in January.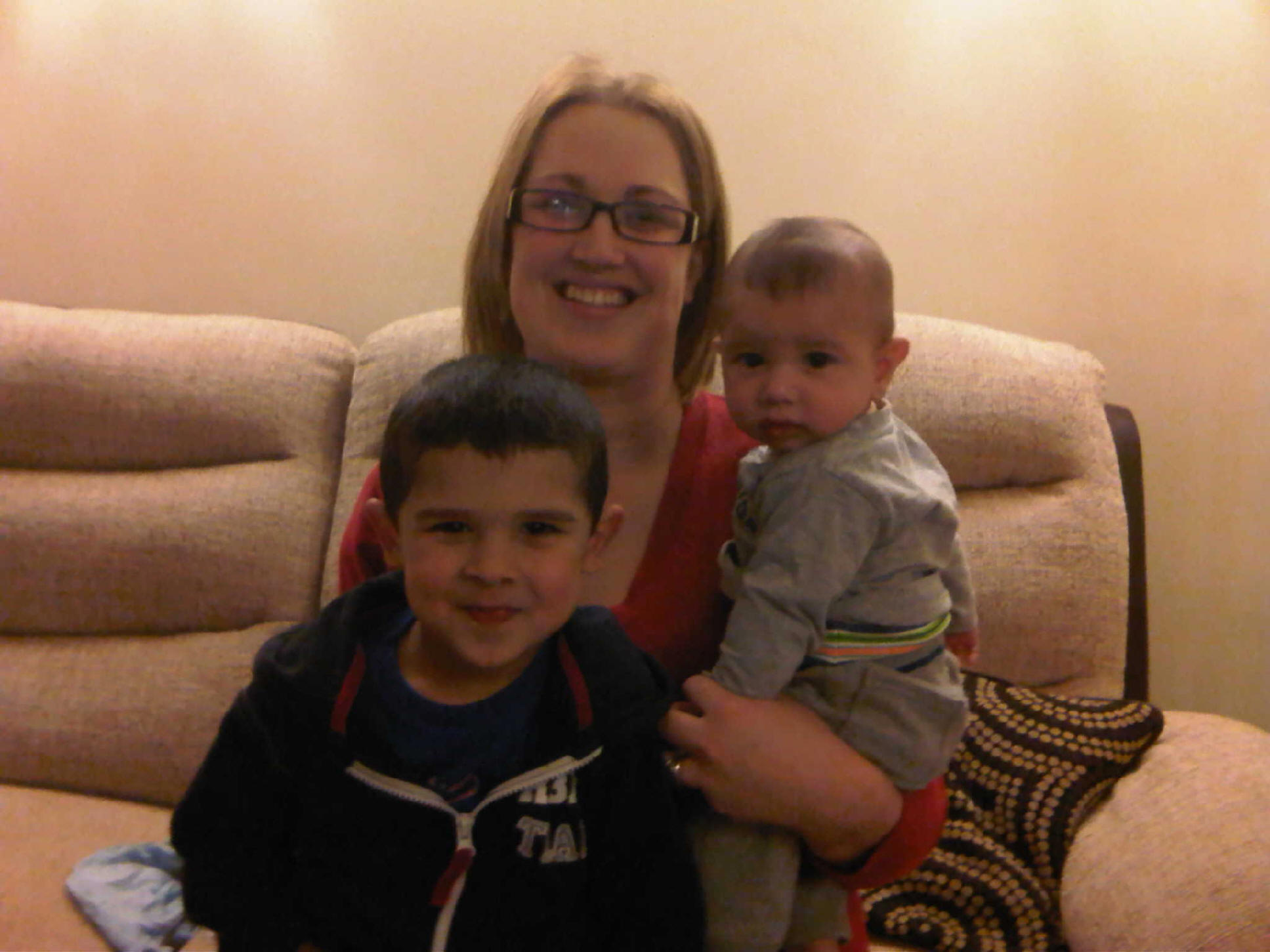 Pictured above : Sarah, Jaiden and Jacob
Diary
March
1st 10.30am Lent Course, 40 High Street, Harrold
1st 10.30am HOCP Health walk
2nd 10.30am Women's World Day of Prayer, St. Peter's, Harrold
5th 7.30pm Lent Course, 3 Copper Beeches, Emmaus
7th 12.30pm Senior Citizens' Fish and Chip Lunch, Village Hall
7th 1.30pm Lent Course, 32 Rectory Close, Carlton
7th 7.30pm " " 30 Orchard Lane, Harrold
8th 10.30am Lent Course, 40 High Street, Harrold
12th 7.30pm Lent Course, 3 Copper Beeches, Emmaus
13th 7.30pm W.I. Village Hall
14th 10.30am Meeting Point at Sarah's, 9 Horsefair Lane
14th 1.30pm Lent Course, 32 Rectory Close, Carlton
14th 7.30pm " " 30 Orchard Lane, Harrold
15th 10.30am Lent Course, 40 High Street, Harrold
15th 10.30am HOCP Health walk
17th 9.45am All Saints' Amblers meet at The Bell
17th 7.30pm A Charity Race Night in aid of the charity 'Dreams Come True'
19th 7.30pm Lent Course, 3 Copper Beeches, Emmaus
19th 7.30pm Parish Council meeting Village Hall
21st 1.30pm Lent Course, 32 Rectory Close, Carlton
21st 7.30pm " " 30 Orchard Lane, Harrold
22nd 10.30am Lent Course, 40 High Street, Harrold
26th 10am HOCP Conservation tasks day
26th 7.30pm Lent Course, 3 Copper Beeches, Emmaus
28th 10.30am Meeting Point at Jane Eshelby's, Newton House, Avenue Rd., Newton Bromswold, Rushden
28th 1.30pm Lent Course, 32 Rectory Close, Carlton
28th 7.30pm " " 30 Orchard Lane, Harrold
28th 7.30pm Meeting of Parishioners, All Saints' Church
28th 7.45pm Annual PCC Meeting, All Saints' Church
29th 10.30am Lent Course, 40 High Street, Harrold
29th 10.30am HOCP Health walk
30th 2.30pm 'Patches' meet at the Rectory
Magazine Deadline
Please send all entries for the April magazine to Tricia Hudson (mag1 at odellbeds.net) or Catherine Corkery by March 12th at the latest. May we remind you that the editorial team exercises the right to edit, shorten or alter any items that are submitted. Also, the opinions expressed in the articles are those of the contributors and are not the responsibility of the editorial team.
---
Last revised: March 07, 2012.