CHURCH NEWS - June 2012
Click here to see our church brochure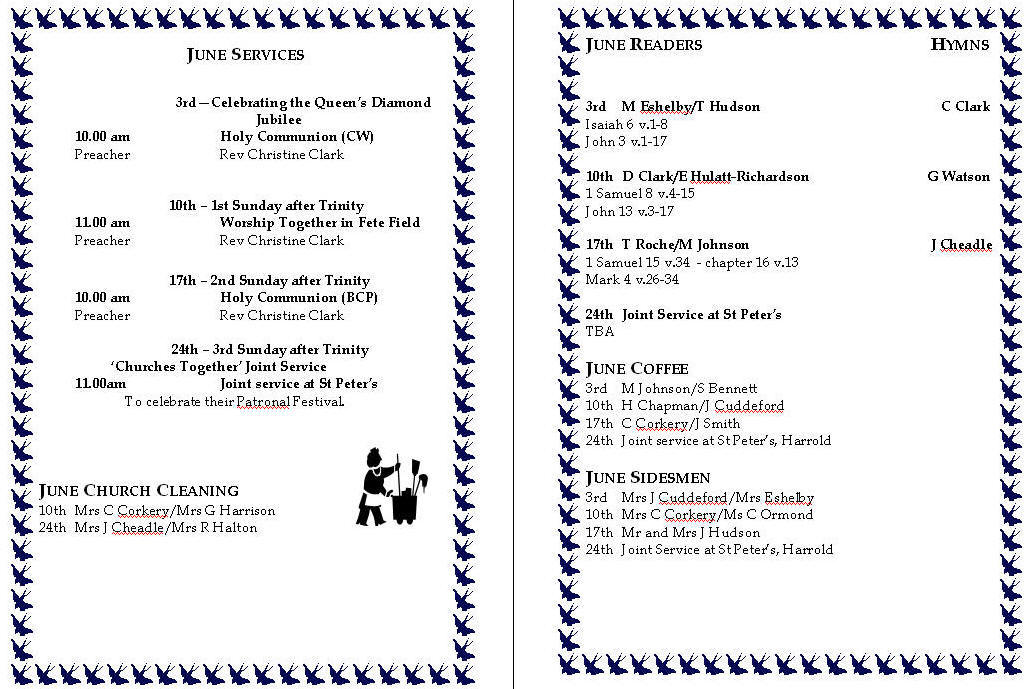 Dear All,
[As Christine and David are in France with the Harrold twinning group, Christine has asked me to do the letter for June.]
I well remember the Coronation back in 1953 that formalised the accession of a new monarch and heralded a new era for Great Britain. I was fortunate enough to be there in the celebrations watching the parade from the window of an office overlooking Piccadilly Circus where the parade passed by twice on its route round the capital. As a small boy it was an exciting experience to come down by car from Yorkshire for my first visit to London. The capital was crowded so we left the car with friends in North London and went by underground to Piccadilly and up to the company office for the night to await the Coronation the next day. There was a television in the office so we were able to watch the ceremony, in black and white, and hear the commentary by Richard Dimbleby. The parade that followed brought colour to the hitherto monochrome event. It took over an hour for the parade to pass once through Piccadilly and it was a great show of patriotism and spectacle coming only a few years after the end of the Second World War from which we were still recovering; some goods were still rationed and there remained much evidence of war damage in and around the city. Despite the weather, it rained for most of the day and it was cold, there was a true British spirit that came through and everybody made the most of the day. At that time, everyone wanted something to celebrate, and what could be better than the Coronation of a young Queen after so many years of real austerity.
There are interesting comparisons between then and now. We are again in a period of austerity, although nothing like as severe as it was 60 years ago; then there were few goods in the shops, no supermarkets offering cut prices, it was still a mend-and-make-do society although D-I-Y hardly existed. On the other hand we had much more freedom as children, and we were expected to take responsibility. We were not taken to school in the car – even if we had one – we were sent alone on the public bus and walked the last half-mile. Child protection did not condemn us to a life of restrictions on everything we did, neither did we sit in front of a screen for our entertainment, we were out and about with our friends and learning about real life. They were good days, although times were not easy, and, as children, we had a lot of fun.
Well, June 2012 promises to be another month of celebration. Almost 60 years on, those of us who were around to remember the Coronation will remind ourselves of that great time; whilst those who are too young will celebrate a remarkable reign that has, for them, lasted a lifetime. The Jubilee weekend that has been organised in Odell will be followed by the annual Village Fête, which will enable us to extend the celebrations right through the week. This is a great opportunity for us all to get together as a village community and to recreate the spirit of the 1950's in which the fun of a family day out was so much a part of our lives. We should switch off our mobile phones and put away the i-pads so that, without the distractions and stresses of present-day living that puts so much pressure on us, we can put the simple fun back into our time of celebration. So everyone is invited to a simple service at Church at 10.00am on Sunday 3rd June to commemorate the service that the Queen and her family has given to this country over the past 60 years before going on to the Village Hall for the BBQ followed by the River Pageant and our own home-made entertainment.
Best wishes for a great time of celebration – whatever the weather! Martin Eshelby.
Prayer Group
What is the Prayer Group? It is made up of members of All Saints' Church who undertake to pray regularly, on an individual basis, for people who ask us for prayer support.
Who do we pray for? Anyone whom we are asked to remember; these might be people from our church, from our local community or others known to us.
What do we pray about? Anything which you would like brought before God; maybe anxiety due to illness, stress or loneliness. You can also tell us of a special day you wish to be remembered – perhaps for aninterview or an exam. Any information will be treated in strictest confidence.
How can you let us know if you would like us to pray for you? You can either telephone Christine (720234), or drop a note through the Rectory door, or complete a card (anonymously if you wish) and place it in a box kept near the church door. Prayer requests will be collected from the box each Sunday morning after the 10.00am service. Christine
Special Church Services in May/June
Sunday 3rd June
A Service to celebrate the Diamond Jubilee of Her Majesty Queen Elizabeth II – 10.00am All Saints' Church.
Sunday 10th June
'After the Fete' – 11.00am Informal service in the Fete field
followed by a BBQ and children's games. Bring your own plates, cutlery etc. and a salad or pudding to share with others.
(Please let Mandy 720414 or Jane 01933 410959 know if you are coming to the BBQ so we know how many to cook for).
All Saints' Church Charitable Giving for the month of June is to The Church Pastoral Aid Society (CPAS), which offers valuable training and a wide range of resources for clergy and lay people, in evangelism, youth work, mission and ministry. CPAS also runs Young Peoples' holiday clubs and offers Parish Consultations. See the notice board in the church for more information.
Odell Fete & Dog Show 9th June 2012
Help needed!
Preparations are going well … We would be very grateful for the temporary loan of party tents, gazebos etc on the day, also, for help on Friday 8th June to set up the field, from 2pm onwards and then dismantle everything after the fete has ended on Saturday 9th. Please phone us! - Mandy 720414,
The Fete will be held in the Scout field, Horsefair Lane, Odell.
Programme of Events
2.00 PM Grand Opening
2.00-4.00PM Dog Show
4.00 PM Raffle Draw and Prize Giving
Attractions
Bedford Brass Band Boys Brigade Bouncy Castle
Teas Children's Tombola Ice Creams
Cakes Books Refreshments
Bottle Stall Face Painting
Coconut Shy Children's Sports White Elephant
Produce Gifts Many Side Shows
Raffle
Family Dog Show
(entry fee - £1 per dog per class)
Classes: (please note the slight change in classes from last year)
1. Children's Handling (14 years and under)
2. Puppies under 1 year
3. Country Sporting Dog
4. Country Sporting Bitch
5. Best Rescue or Re-homed Dog or Bitch
6. Best Condition Dog or Bitch
7. Best Cross-bred Dog or Bitch
8. Most Handsome Dog
9. Prettiest Bitch
10. Championship ( winners of each class)
Car park attendants will be on duty at the field opposite The Bell public house.
There will be disabled parking next to the Scout field.
Festival Weekend Family Service Sunday June 10th
11.00am in the Main Tent at the Fete Field,
Followed by BBQ and games (see page 9).
Everybody Welcome.
Thank you
Thank you to everyone who attended the Fete Preparation Day, particularly Noel and Huma Allen - Noel brought tools and wood to repair boards - thank you to Richard Hall for making new boards, and thank you to Doreen and Jim for hosting the BBQ and for Martin who did the cooking. The weather was wet and dull but as usual every body got on with the job and enjoyed the bring and share lunch.
Jane Eshelby
Senior Citizens Summer Garden Party
Odell Luncheon Club invites you to a
Strawberry Tea
in Doreen and Jim Wheeler's garden,
at Linden House, High St., Odell,
on Wednesday 11th July
at 3pm.
All senior citizens are invited.
Please let Jill Cheadle (720261) know by Sunday 1st July if you wish to attend
Churches Together in Harrold and CarltonHarrold Open Gardens
Sunday 24th June 1.30-5.00pm
Proceeds to local charities
Start at Harrold Village Green
Programmes Cream teas
Plant sales Raffle
Adults £3 Concessions £2.50
Under 12's free 12-18 yrs £1
Free car park (follow the signs)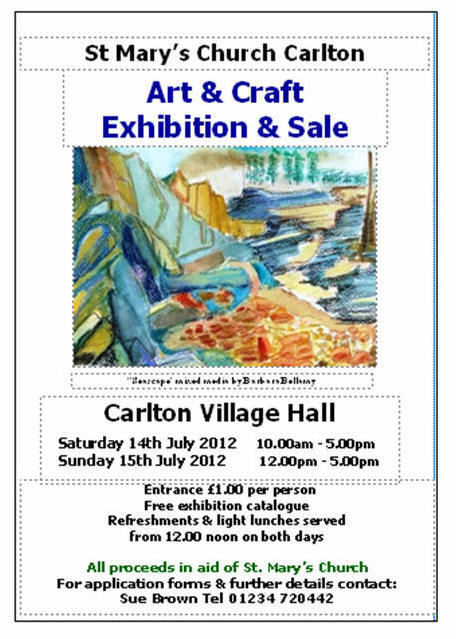 All Saints' Amblers meet outside the Bell, 9.45am on Saturday 16th June. for a walk in the country followed by a pub lunch. Children and dogs on leads welcome to join us.
Meeting Point
June
13th 10.30am at Sarah's, 9 Horsefair Lane.
27th TBA
Christening of Edie Margaret Clark - Sunday 29th April 2012
Gary and Gillian Clark would like to thank all those who attended their daughter Edie's Christening ceremony on 29th April. Particular thanks to Christine and the other members of the Church who helped with the lovely service. Thanks also to Will and Katie at the Bell who did us proud with the wonderful buffet, to Gill's Mum for the gorgeous cake and to Barry Halton for photographing the occasion so beautifully for us.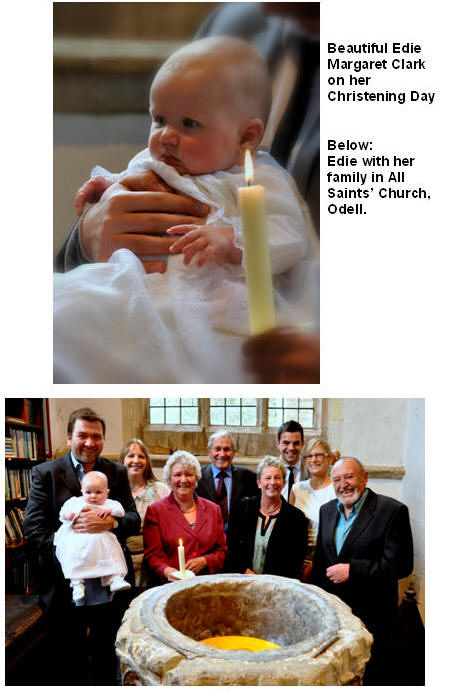 Pit Run -Stall
In spite of atrocious weather, Jill Cheadle bravely set up stall at the Pit Run on Saturday 28th April and raised £105 from the sale of plants in aid of All Saints' Church. Very many thanks go to Jill for this superb effort, and also to Mark Cheadle for raising £45, after event deductions, for the same cause.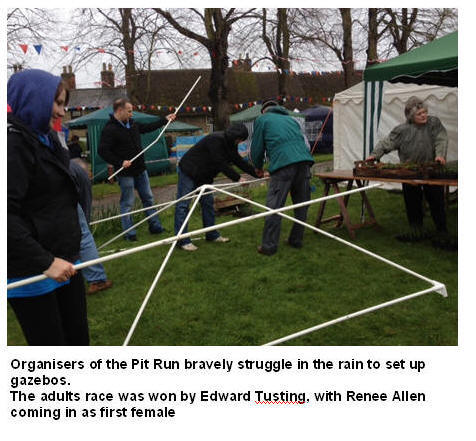 Plant Sale
Jill is not holding a coffee morning this year but will have the following plants for sale:
Geraniums Tomato plants Cosmos Runner Beans
Proceeds to All Saints' Fabric Fund
For Sale: RMA Shoprider Sovereign
Mobility scooter in very good condition Hardly used
£400 ONO
Tel.: J Cheadle 720261
Birthdays
Happy Birthday to:
Mia Vyvyan who will be 11 on 2nd
Eleanor Robinson on 17th
Elliot Swift who will be 16 on 19th
and Alex Tringham on 18th June
…and to everyone else with a birthday in June!
All Saints' Flower Rota
June
3rd Carol Ormond
10th Fete Weekend
17th Tricia Hudson/ Ann Hudson
24th St Peter's Patronal Festival
Diary
May
26th 9.45am All Saints' Amblers meet at The Bell.
27th 11.00am Pentecost in the Park (St Peter's, Harrold, if wet).
28th 10.00am Conservation Day tasks, HOCP.
30th 10.30am Meeting Point, Jane Eshelby's, Newton Bromswold.
June
3rd 10.00am Diamond Jubilee Celebratory Service, All Saints'.
3rd 12.30 Jubilee Flotilla on screen in Village Hall and BBQ on Patio area.
4th TBA Jubilee Concert on screen, Village Hall.
7th 10.30am Health Walk, HOCP.
8th –10th 6.00pm Beer Festival at The Bell.
9th 2.00pm Odell Fete, Scout Field.
10th 11.00am Service in Fete field.
10th 12 noon Village BBQ in fete field, following service.
13th 10.30am Meeting Point at Sarah's, 9 Horsefair Lane.
16th 9.45am All Saints' Amblers meet at The Bell.
16th 11.00am Fossil Fun Day at HOCP.
17th 12 noon Bulky Skip, Odell Village Green.
21st 10.30am Health Walk, HOCP.
22nd 10.30am RSPB activities, HOCP.
23rd, 24th " " " " " "
24th 1.30pm Harrold Open Gardens.
25th 10.00am Conservation Tasks, HOCP.
27th 10.30am Meeting Point: TBA
July
5th 10.30am Health Walk, HOCP.
10th 7.30pm W.I. Village Hall.
11th 3.00pm Senior Citizens' Strawberry Tea, Linden House.
12th 9.00pm Bat Walk, HOCP.
Magazine Deadline
Please send all entries for the joint July/August magazine to Tricia Hudson (mag1 at odellbeds.net) or Catherine Corkery by June 12th at the latest. May we remind you that the editorial team exercises the right to edit, shorten or alter any items that are submitted. Also, the opinions expressed in the articles are those of the contributors and are not the responsibility of the editorial team.
Walk the Woof Dog walking service
House visits to let your dog out
Please call Natalia on
01234 721018 or 07545 305643
Covering Harrold, Carlton & Odell
---
Last revised: May 21, 2012.