CHURCH NEWS - July/August 2012
Click here to see our church brochure
Click here to download the talk from July 15th (John The Baptist, persecution)
Click here to download the talk from July 29th (The Consequences of giving in to Temptation)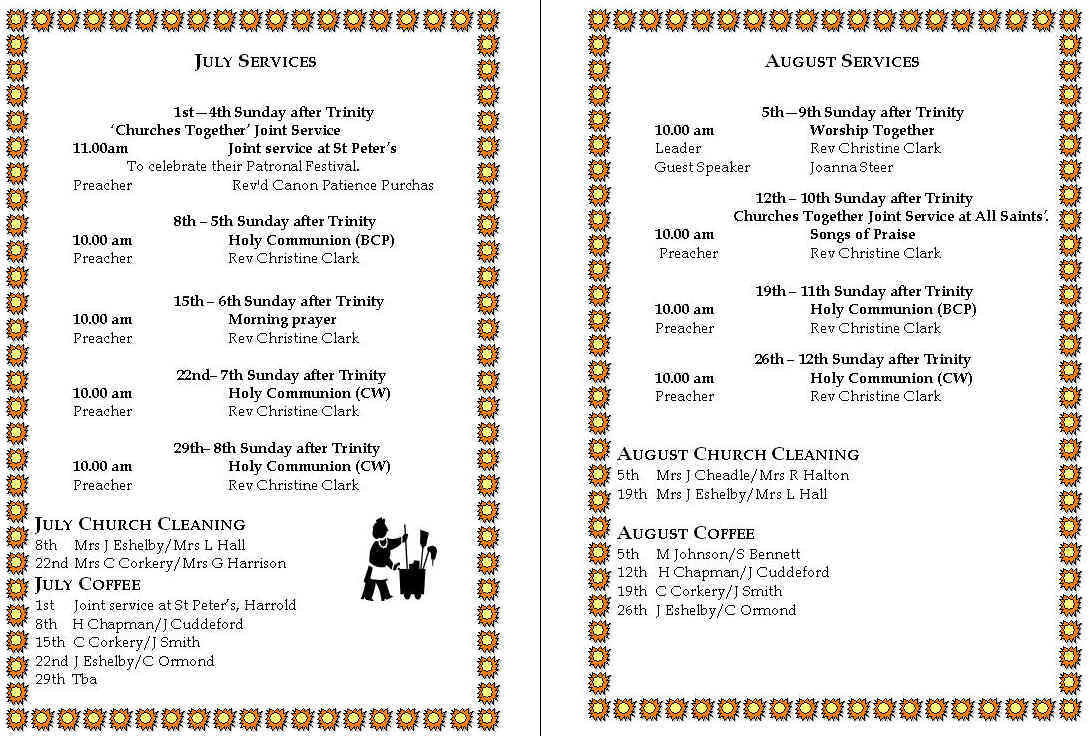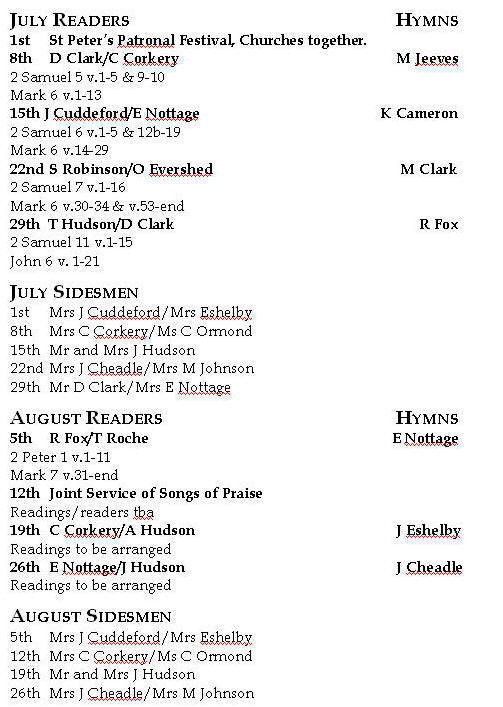 July 2012
Dear Friends,
We are so thankful that in this cold, wet and windy summer we were able to go ahead with the annual Fete and Dog-Show. We certainly had some very anxious moments just beforehand, especially when gusty winds prevented us from putting up the tents the day before. We are very grateful to those who came along on Saturday morning to ensure everything was finally ready on time. In the end we had a really good turn-out, with record entries to the Dog Show classes and everyone enjoying themselves.
Good to know that the community spirit is alive and well in Odell and that people care enough to turn out and help, also that people want to be actively involved in village events. It's lovely to see people from all parts of the village willing to run the stalls and helping to clear up afterwards. At the 'thank you' lunch on the Sunday, lots of you came up with suggestions for how next year's Fete can be even better – and how encouraging to see that the children, as well as adults, were eager to contribute their ideas - all of which the Fete Committee will consider at the 'wash up' meeting.
And well done and Thank You! to those who worked so hard to bring us together to celebrate the Queen's Diamond Jubilee. In true British fashion they cheerfully carried on despite the wet, cold conditions – if there is an award for BBQ-ing in the rain, Richard Cross certainly deserves it.
One of the ways our Bishops encourage us to be 'Living God's Love' in the world is by helping to transform communities, both locally and further afield. Events like the Fete and the Jubilee celebrations are part of that 'glue' that helps to keep our community active and involved, along with the various Village Hall events, Café-in-the-Tower (watch out for the next one August Bank Holiday weekend), and occasional concerts.
Other ideas recently mooted are an occasional Men's Breakfast (Steve Robinson has promised a full fry-up) and a 'Tiddlywinks' group for parents with pre-school children. Could these be possible runners? Would anyone out there be willing to help with either of these? Let me know what you think!
We are constantly reminded by the media of so many places where any sense of community has disintegrated. In some places people live isolated lives, self-absorbed in their own interests, with no care or thought for their neighbour, or worse, separated from their neighbours by fear or mistrust. In this village, where we still enjoy being a connected community, surely it's worth a little effort on our part to keep it that way. Christine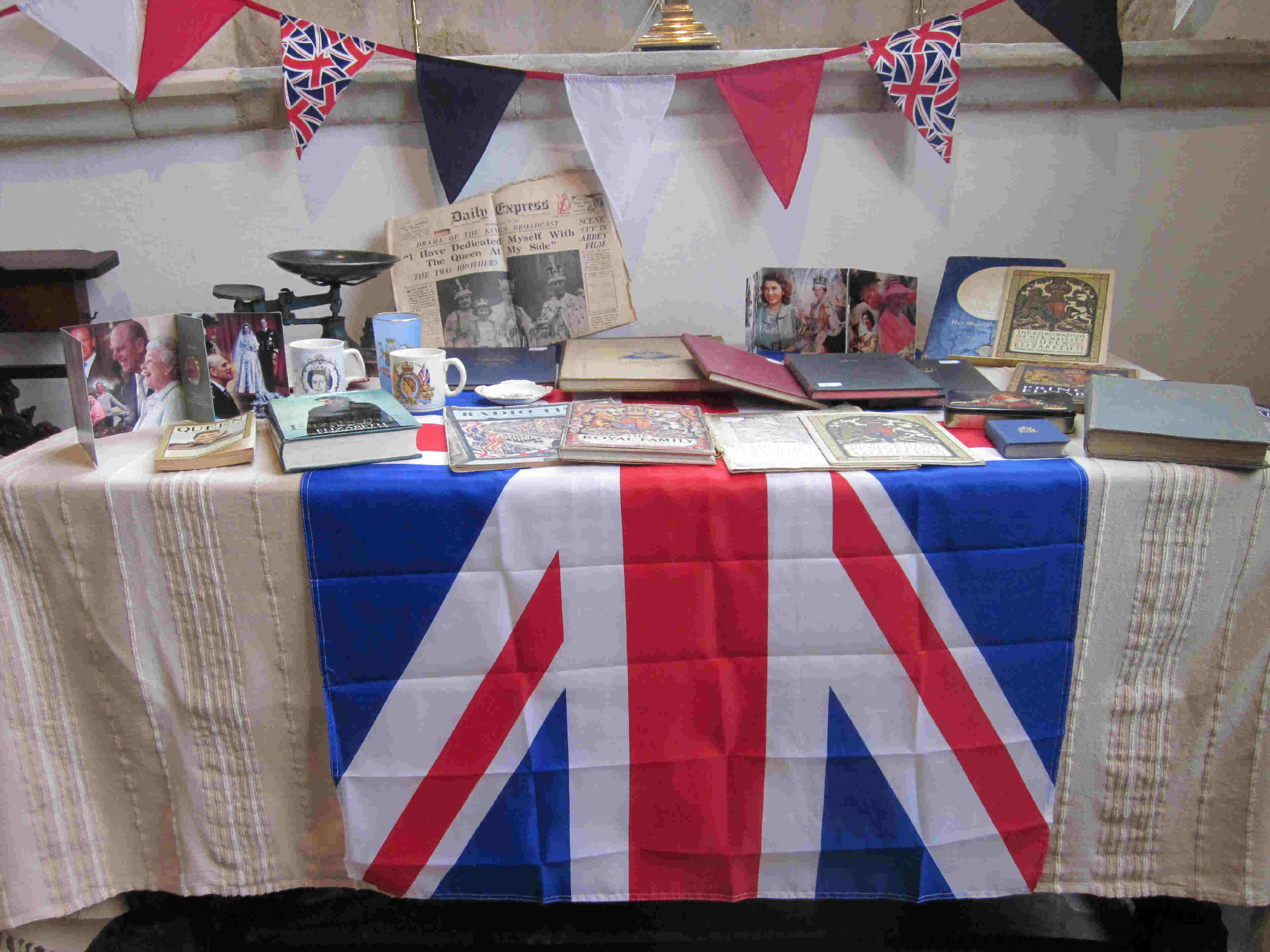 Above: Stepping back in time:
The Jubilee display in All Saints' Church captured the spirit of the coronation of our Queen, Elizabeth 11, with memorabilia from 1953.
PRAYER GROUP
What is the Prayer Group? It is made up of members of All Saints' Church who undertake to pray regularly, on an individual basis, for people who ask us for prayer support.
Who do we pray for? Anyone whom we are asked to remember; these might be people from our church, from our local community or others known to us.
What do we pray about? Anything which you would like brought before God; maybe anxiety due to illness, stress or loneliness. You can also tell us of a special day you wish to be remembered – perhaps for an interview or an exam. Any information will be treated in strictest confidence.
How can you let us know if you would like us to pray for you? You can either telephone Christine (720234), or drop a note through the Rectory door, or complete a card (anonymously if you wish) and place it in a box kept near the church door. Prayer requests will be collected from the box each Sunday morning after the 10.00am service. Christine
PCC – the next meeting will take place on Wednesday 1st August at 7.45pm at the Rectory.
ALL SAINTS' CHURCH CHARITABLE GIVING FOR THE MONTHS OF JULY AND AUGUST IS TO OPEN DOORS.
This Evangelical organisation supports the persecuted church and Christians worldwide – providing Bibles and teaching materials, training for church leaders, practical and financial help, literacy programmes and community development projects. See the notice board in the church for more information.
SONGS OF PRAISE ALL SAINTS' ODELL, 12TH AUGUST
On Sunday 12th August All Saints' Church, Odell, will host a "Churches Together with Harrold and Carlton" service of 'Songs of Praise'. Everybody is welcome to join us as our various communities meet to sing and worship – even if you are not a regular church-goer, please come along and enjoy a warm welcome and full-hearted singing of favourite hymns. If you would like your all-time favourite hymn(s) to be included, please send your request to Christine by 20th July.
MEETING POINT
July 18th 10.30am at Madeline's, Rivendell, 15 Horsefair Lane, Odell.
August 1st 10.30am at Catherine's, Manor Cottage, High St., Harrold.
ALL SAINTS' AMBLERS
All Saints' Amblers meet outside the Bell, 9.45am on Saturday 21st July for a walk in the country followed by a pub lunch. Children and dogs on leads welcome to join us. (please note, no organised walk during August)
HEROES OF HOPE AND FAITH is happening at Carlton Village Hall 6th – 10th August, 10.00am – midday for children aged 5-12 years (arranged by Churches Together in Harrold & Carlton with Odell)
For more information and application forms contact Christine on 720234 or Carol on 720409
COMING IN SEPTEMBER …. A NEW COURSE FOR 'PILGRIMS',
We shall be starting 'Just 10' a short course by J.John, a nationally known creative speaker. 'Pilgrims' is an informal and mixed group meeting fortnightly at The Rectory to explore aspects of the Christian faith. 'Just 10,' which includes DVD presentations and a participant's guide, takes a fresh look at the Commandments, showing that, far from being a set of rules to restrict us, they are the key to finding a framework for life. Dates to be announced in next issue, but meantime, if you would like more information, please contact Christine on 720234 or e-mail: cmclark9@btconnect.com.
SENIOR CITIZENS SUMMER GARDEN PARTY
Odell Luncheon Club invites you to a Strawberry Tea in Doreen and Jim Wheeler's garden, at Linden House, High St., Odell, on Wednesday 11th July at 3pm. All senior citizens are invited.
Please let Jill Cheadle (720261) know by Sunday 1st July if you wish to attend ST. PETER'S, HARROLD, PATRONAL FESTIVAL WEEKEND: 30TH JUNE – 1ST JULY Saturday 30th June Come and enjoy an Activity Afternoon at St. Peter's 1.30pm Bell ringing demonstration 2.00pm Flower arranging demonstration 3.00pm Learn about the history of the church by coming on a tour 2.45pm Hand-bell demonstration - have a go! 3.00-4.30pm Craft 3.00-5.00pm Cream teas 4.00pm Introduction to Organ playing and demonstration All afternoon - Quiz. Winner to be announced at 4.30pm Sunday 1st July 11.00am Patronal Festival Service Preacher: Rev'd Canon Patience Purchas
CHURCHYARD CLEAN UP
Saturday 4th August – please come along from 10am to help prune, trim and tidy our award-winning churchyard. It's fun, great exercise and ensures that the churchyard looks lovely for all the community events that take place in our church. Sarah Bennett has sent the magazine the following two poems.
RULES FOR DAILY LIFE
Begin the day with God; Kneel down to Him in prayer; Lift up thy heart to His abode, And seek His love to share.
Open the Book of God, And read a portion there; That it may hallow all thy thoughts, And sweeten all thy care.
Go through the day with God, Whate'er thy work may be; Where'er thou art - at home, abroad, He still is near to thee.
Converse in mind with God, Thy spirit heavenward raise: Acknowledge every good bestowed, And offer grateful praise.
Conclude the day with God, Thy sins to Him confess; Trust in the Lord's atoning blood, And plead His righteousness.
Lie down at night with God, Who gives His servants sleep; And when thou tread'st the vale of death, He will thee guard and keep.
Taken from "Life Management for Busy Women", by Elisabeth George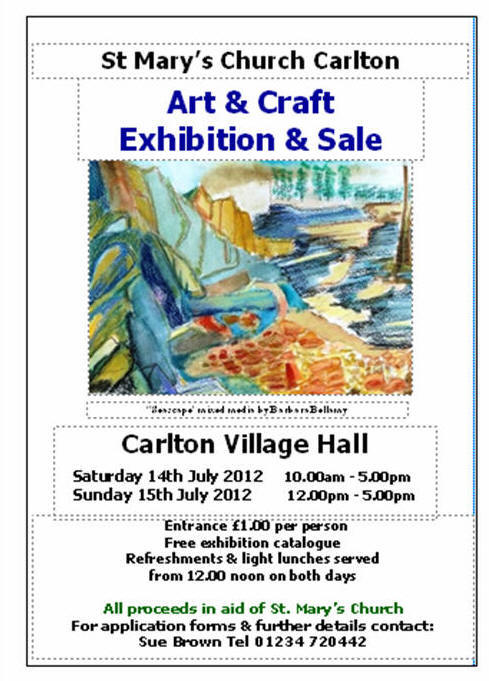 BIRTHDAYS
Happy Birthday to Miles Tringham on 24th August And to everybody with a birthday in July or August.
ALL SAINTS' FLOWER ROTA
July 1st Madeline Jeeves
15th Jilly Watson
29th Margaret Jones August
12th Georgina Harrison
26th Eileen Shakespeare & Jenny Cuddeford
DIARY
July
1st 11.00am St. Peter's Patronal Festival Service, Harrold.
2nd 3.00pm Funeral at All Saints' of Dennis Bannard- Smith
5th 10.30am Health Walk, HOCP.
7th 6.30pm Quiz night and Bar-b-q, Village Hall.
10th 7.30pm W.I. Village Hall.
11th 3.00pm Senior Citizens' Strawberry Tea, Linden House.
12th 9.00pm Bat Walk, HOCP.
14th 10.00am Art and Craft Exhibition, St Mary's, Carlton.
15th 12.00pm " " " "
18th 10.30am Meeting Point at Madeline's, Rivendell, 15 Horsefair Lane.
19th 10.30am Health Walk, HOCP.
21st 9.45am All Saints' Amblers meet at The Bell.
22nd 10.00am Craft Fair, HOCP.
28th 2.00pm Guided walk around HOCP.
30th 10.00am Conservation tasks day, HOCP.
August
1st 10.30am Meeting Point at Catherine's, Manor Cottage, Harrold.
1st 7.45pm PCC meeting at the Rectory.
2nd 10.30am Health Walk, HOCP.
4th 10.00am Churchyard clean-up.
6th – 10th 10.00am 'Heroes' at Carlton Village Hall.
12th 10.00am Churches together Songs of Praise in All Saints' church.
16th 10.30am Health walk, HOCP.
25th 10.00am Get Out and Explore Activity Day, HOCP.
30th 10.30am Health Walk, HOCP.
Magazine Deadline
Please send all entries for the September magazine to Tricia Hudson (mag1 at odellbeds.net) or Catherine Corkery by August12th at the latest. May we remind you that the editorial team exercises the right to edit, shorten or alter any items that are submitted. Also, the opinions expressed in the articles are those of the contributors and are not the responsibility of the editorial team.
Walk the Woof Dog walking service
House visits to let your dog out
Please call Natalia on
01234 721018 or 07545 305643
Covering Harrold, Carlton & Odell
---
Last revised: July 29, 2012.