CHURCH NEWS - February 2012
Sunday Services start at 10.30am in the winter months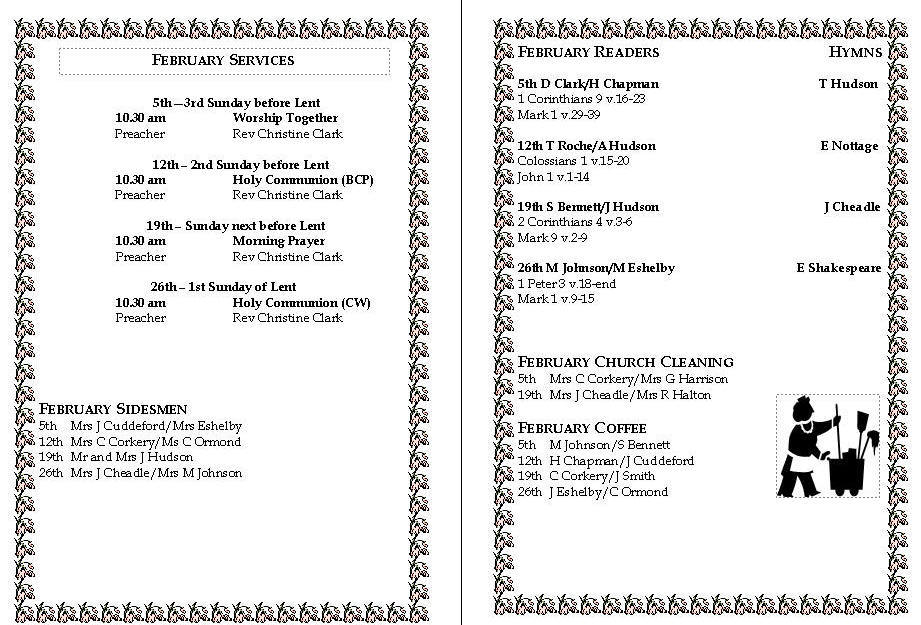 February 2012
Dear Friends,
As I write this, it's still early January, a time when we wonder what 2012 has in store for us. Yesterday, our Monday Club children ate apple slices dipped in honey, a traditional Middle Eastern new year treat, symbolizing the hope that the coming year will be a sweet one.
Looking at the present national and international situation, sweetness is something that seems to be in short supply, with many people understandably apprehensive about their prospects in the immediate
future. Falling incomes, diminishing pensions, rising unemployment, civil unrest, a struggling health service etc. etc. can cast long shadows over our lives, and in some cases lead to despair.
Dr. Karl Menninger, an eminent psychiatrist with non-traditional views was once asked what he would advocate for a person who felt they were heading for a nervous breakdown. Instead of the expected "Consult a psychiatrist" his response was "Lock up your house, go across the railway tracks, find someone in need and do something to help that person."
Jesus put it like this "Love your neighbour" and St. Paul advised "Bear one another's burdens". There is great truth, and great solace in putting this into practice. However gloomy we might feel, it's good to remember there are always other people in greater need. Realising that helps us put our own concerns into a proper perspective and sharpens our focus on the true priorities of life. Doing something practical to relieve the needs of others carries a double blessing – it blesses the receiver, and the giver, and draws them together in a common bond of mutual understanding. This becomes even more meaningful if we have the courage to 'cross the tracks' and reach out to help someone who is outside our normal social circle.
The Church remembers February 5th as Poverty Sunday, and the season of Lent begins on 22nd, continuing until Easter Day on April 8th. Both are opportunities for us to reflect on what really matters in our lives, and perhaps to think about what life-clutter we can actually do without.
Traditionally Lent is not only a time for giving something up, but also a time for thinking about what we can do to relieve the suffering and needs of others, near or far.
Next time you eat an apple, try dipping it in honey and think about what you might do to bring a little sweetness to someone else! Christine
All Saints Amblers
All Saints Amblers meet at the Rose and Crown pub in Ridgmont, 9.45am on Saturday 4th February. We will be walking in the Ridgmont area.
Prayer Group
What is the Prayer Group? It is made up of members of All Saints' Church who undertake to pray regularly, on an individual basis, for people who ask us for prayer support.
Who do we pray for? Anyone whom we are asked to remember; these might be people from our church, from our local community or others known to us.
What do we pray about? Anything which you would like brought before God; maybe anxiety due to illness, stress or loneliness. You can also tell us of a special day you wish to be remembered – perhaps for an interview or an exam. Any information will be treated in strictest confidence.
How can you let us know if you would like us to pray for you? You can either telephone Christine (720234), or drop a note through the Rectory door, or complete a card (anonymously if you wish) and place it in a box kept near the church door. Prayer requests will be collected from the box each Sunday morning after the 10.00am service.
Christine
All Saints' Church Charitable Giving for the month of February is to Mission Aviation Fellowship – a Christian airborne mission serving remote and inaccessible places, transporting Christian workers and medical supplies.
Susan Knowles 8 July 1962 – 31 December 2011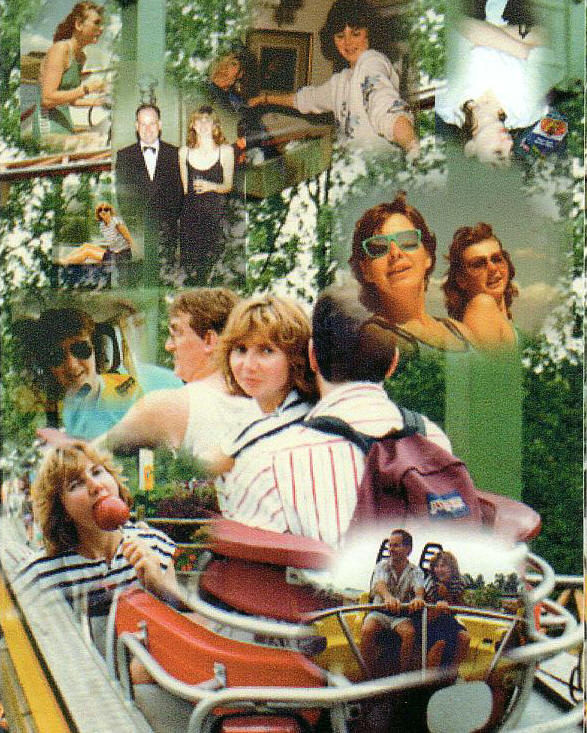 It is with great sadness that we write of the death of Su on 31st December, due to a road accident.
Su's funeral took place on Saturday, January 21st, when the church of All Saints', Odell, was packed with Su's family and friends and very many villagers who wished to pay their last respects to Su and remember this vivacious woman who lived life to the full and contributed so much to the world.
At the service moving tributes were made to Su by a school friend, Miss Philippa Newland, and by her university teacher, Dr. James Bolton, who both gave vivid accounts of their friendship with Su. Their recollections of the spirited antics that were initiated by Su were at times so amusing that moments of laughter mixed with the great sadness of the occasion, a fitting accolade to a lady who brought so much fun to the lives of those around her.
Recognition of the significant part that Music played in Su's life was given by Nathalie Green-Buckley who performed the 1st movement of Bach's Cello Suite, on violin, and also by some members of the
Northampton Symphony Orchestra, to which Su had belonged, who gave a beautiful rendering of Pie Jesu from Faure's Requiem. Many villagers remember the times when Su would join in on her violin at
musical events in the Village Hall, and remembered, too, just how encouraging Su had been to any young people who had shown an interest in music or playing an instrument.
Su will be much missed in Odell. We shall miss meeting her out walking her dog, Poppy, or just bumping into her at village occasions, and we shall of course miss her support and contribution to village life. We send our deepest sympathy to husband Nick.
Thank You.
Words are hard to find to describe the generosity and support shown by all of Odell for Nick Elliott over this difficult time. Thank you to Jill Cheadle for doing all the flower arrangements in the church and to the Village Hall Committee for all their support and help on the day and for making the Hall nice and welcoming. The rest of the money that was collected has been delivered to Michael Abbott's of Rushden, to split between Su Knowles' favourite charities. Many thanks. Susanna Swift
Meeting Point
February
8th 10.30am at Jane Smith's, 4a Horsefair Lane.
22nd` 10.30am at Catherine's, Manor Cottage, Harrold.
March
7th 10.30am at Sarah's, 9 Horsefair Lane.
Lent Course 2012
Churches Together will be running a Lent Course again this year. As in previous years we will be using the York Courses material, the subject being "Handing on the Torch"
The course will run for 5 weeks leading up to Holy Week starting week commencing 27th February. We have 4 house groups this year at the following times and places:
Monday evening 7.30, at 3 Copper Beeches, Emmaus
Wednesday afternoon 1.30, at 32 Rectory Close, Carlton
Wednesday evening 7.30 at 30 Orchard Lane, Harrold
Thursday morning 10.30 at 40 High St. Harrold
The cost for the whole course will be £5.00
Sheets will be available at each church until 12th Feb for you to put your name against which group you wish to attend.
If you have any questions please contact either Jane Fox or Christine Clark
Churchyard Chestnuts
Following advice from the Bedford Borough Council arborculturalist, the PCC has decided to fell the four horse chestnut pollards on the High Street side of the churchyard on grounds of conservation and safety. Unfortunately, the trees are diseased with bleeding canker and leaf miner, which can spread to other trees in the vicinity. It was further noted that there is considerable decay in the trunks that may cause branches to fall onto the road. The remaining tree at the East corner is still sound and will not be affected. We expect to carry out the work in the next couple of months before the nesting season starts.
We have not formally decided on replacement of the trees, but will be considering something a little smaller that will make an attractive display as well as being low maintenance and disease resistant. It was also thought that this might be an opportunity for villagers, past or present, to make a donation towards the cost of the replacement trees, which could be dedicated as a memorial or simply a gift to the village. The PCC would value your comments and opinions – please contact Martin Eshelby (01933 410959), Jill Cheadle (720261), Carol Ormond (720409) or Christine Clark (720234).
Senior Citizens' Fish and Chip Lunch
The annual Senior Citizens' Fish and Chip lunch will take place on:
Wednesday 7th March
at 12.30 for 1.00pm
in the Village Hall.
Please let Jill Cheadle know by Sunday 26th February if you wish to join us -01234 720261.
An Angel for You
Eileen Shakespeare read out this poem recently at Meeting Point. It is appearing in this month's magazine by popular request.
It can be found on page thirteen of 'Rainbow of Love '. Other books in the Rainbow series are: 'Rainbow of Life, (purple') 'Rainbow of The Heart', (green) 'Rainbow of Love', (red) 'Rainbow Magic' (blue) and 'Rainbow Promise' (yellow). Each contain very special and meaningful poems and are beautifully illustrated.
For more poems by this author go to www.chrissygreenslade.co.uk
An Angel for You
There's an angel for you and an angel for me,
For angels are everywhere though we don't see,
And although our vision is clouded with doubt,
There are myriads and myriads of angels about.
They are there with the people who stand in the queue,
Who give up their seats on the buses for you.
They'll carry your shopping when you are in pain,
So look out for your angels, they'll be there again.
For an angel is present in friends who are kind,
An angel can touch you when troubled in mind,
A chat with your angel will ease your despair,
So be comforted, someone who loves you is there.
You are never alone for they come in disguise,
But they are real angels whatever their size,
They don't need great wings, though these too can appear,
If for you that's your angel, the one you hold dear.
But some angels are feelings, a form, shape or light,
For many you sense but aren't meant for our sight,
God's angels protect you, arrive on the scene,
Just at that precise moment where despair had been.
Also strangers are often an angel God sent,
To stop something happening, a mishap prevent,
They surround, enfold you when you are asleep,
And if you're feeling lonely, your vigil they keep.
Now when you're sad and down, turn your face to the light,
And know that your angel's aware of your plight,
How cared for and calm now that you understand,
There is always your angel – just hold out your hand!
From 'Rainbow of Love' by Chrissy Greenslade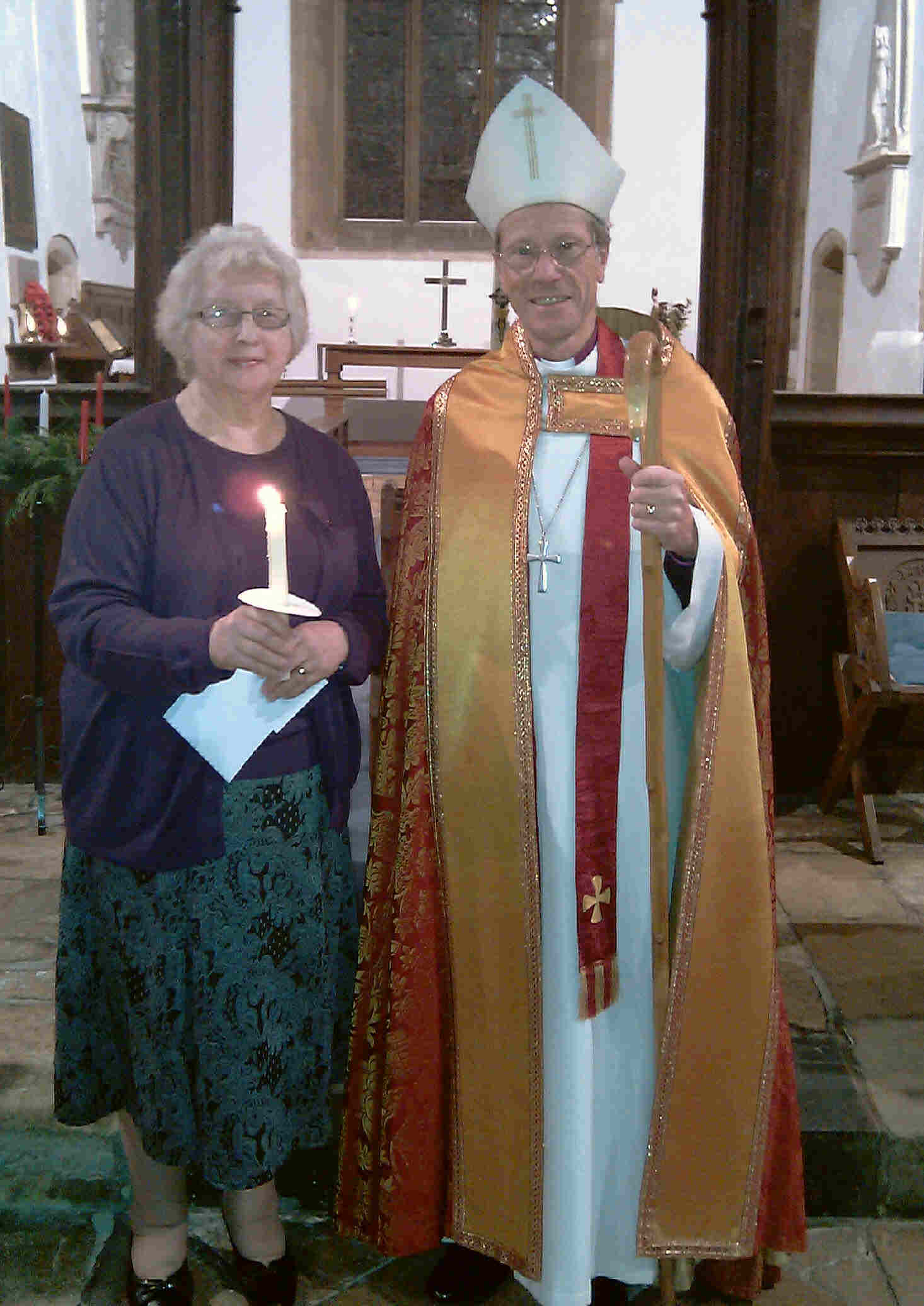 Confirmation. Maureen Clarkson (pictured) and Elizabeth Hulatt-Richardson were confirmed in All Saints' Church by Bishop Richard Inwood, Bishop of Bedford, on 29th November 2011.
Birthdays
Happy birthday to:
Jack Holden Postles who will be 11 on the 10th , and to Victoria Beardow who will be 16 on the 22nd .
Diary
2nd 10.30am Health Walk HOCP
4th 9.45am All Saints' Amblers meet at the Rose and Crown in Ridgmont
8th 10.30am Meeting Point at Jane Smith's, 4a Horsefair Lane
14th 7.30pm W.I. at Village Hall
14th 11am HOCP Valentine's Day Event
16th 10.30am HOCP Health Walk
22nd 10.30am Meeting Point at Catherine's, Manor Cottage, Harrold
25th 7.30pm Village Hall Quiz
27th 10am HOCP Conservation Tasks Day
27th 7.30pm Lent Course, 3 Copper Beeches, Emmaus
29th 1.30pm " " 32 Rectory Close, Carlton
29th 7.30pm " " 30 Orchard lane, Harrold
March
1st 10.30am Lent Course, 40 High Street, Harrold
7th 12.30pm Senior Citizens' Fish and Chip Lunch, Village Hall
Magazine Deadline
Please send all entries for the March magazine to Tricia Hudson (mag1@odellbeds.net) or Catherine Corkery by February 12th at the latest. May we remind you that the editorial team exercises the right to edit, shorten or alter any items that are submitted. Also, the opinions expressed in the articles are those of the contributors and are not the responsibility of the editorial team.
---
Last revised: February 03, 2012.