CHURCH NEWS - December 2012/ January 2013
Click here to hear a carol from our Churches Together service over Christmas
Click here to see our church brochure
Please note that our normal Sunday Services start at 10.30am for the winter months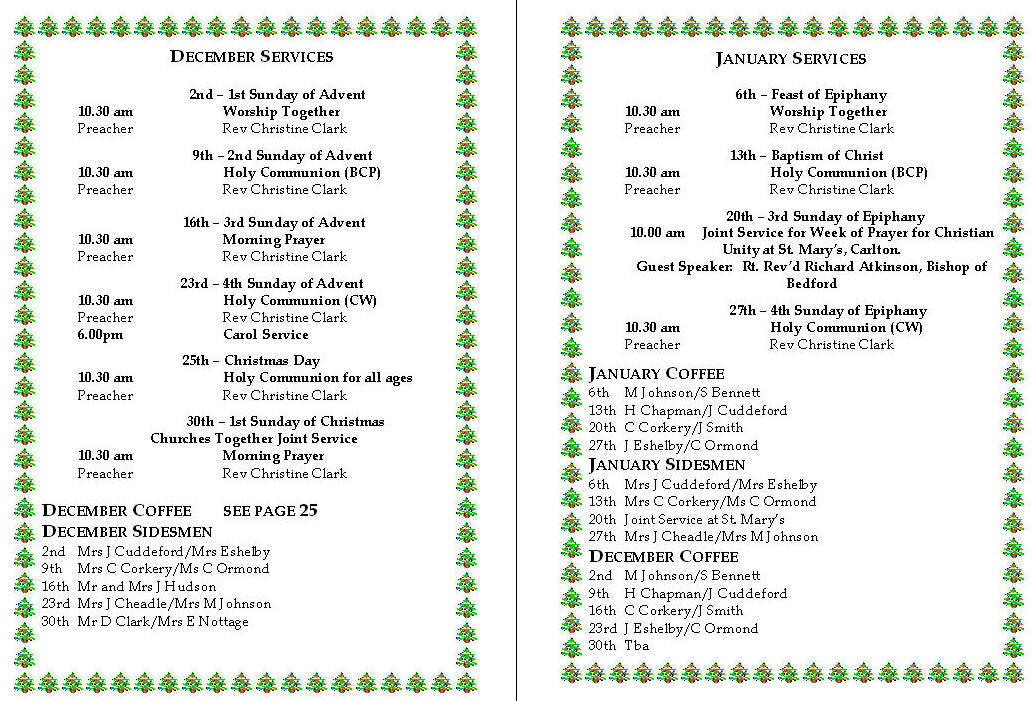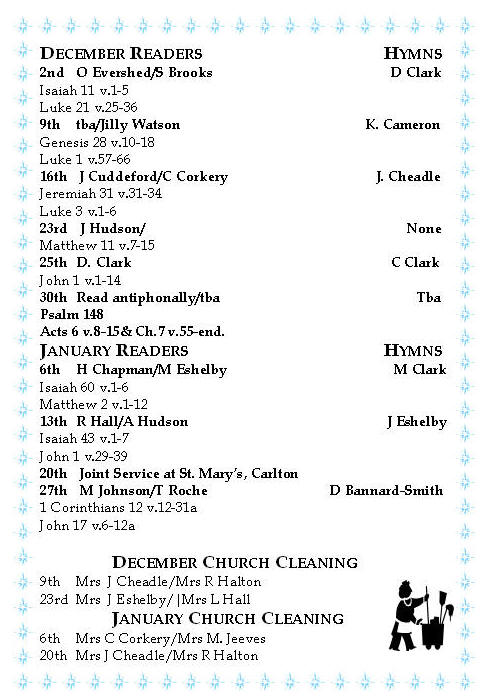 A great opportunity to make a difference. Can you help?
Corner Club needs a volunteer leader to run a well established social club for people with learning disabilities meeting at Harrold Institute on Fridays from 3.00 to 4.30pm
Enthusiasm and common sense more important than previous experience.
For more information ring Jane Eshelby 01933 410959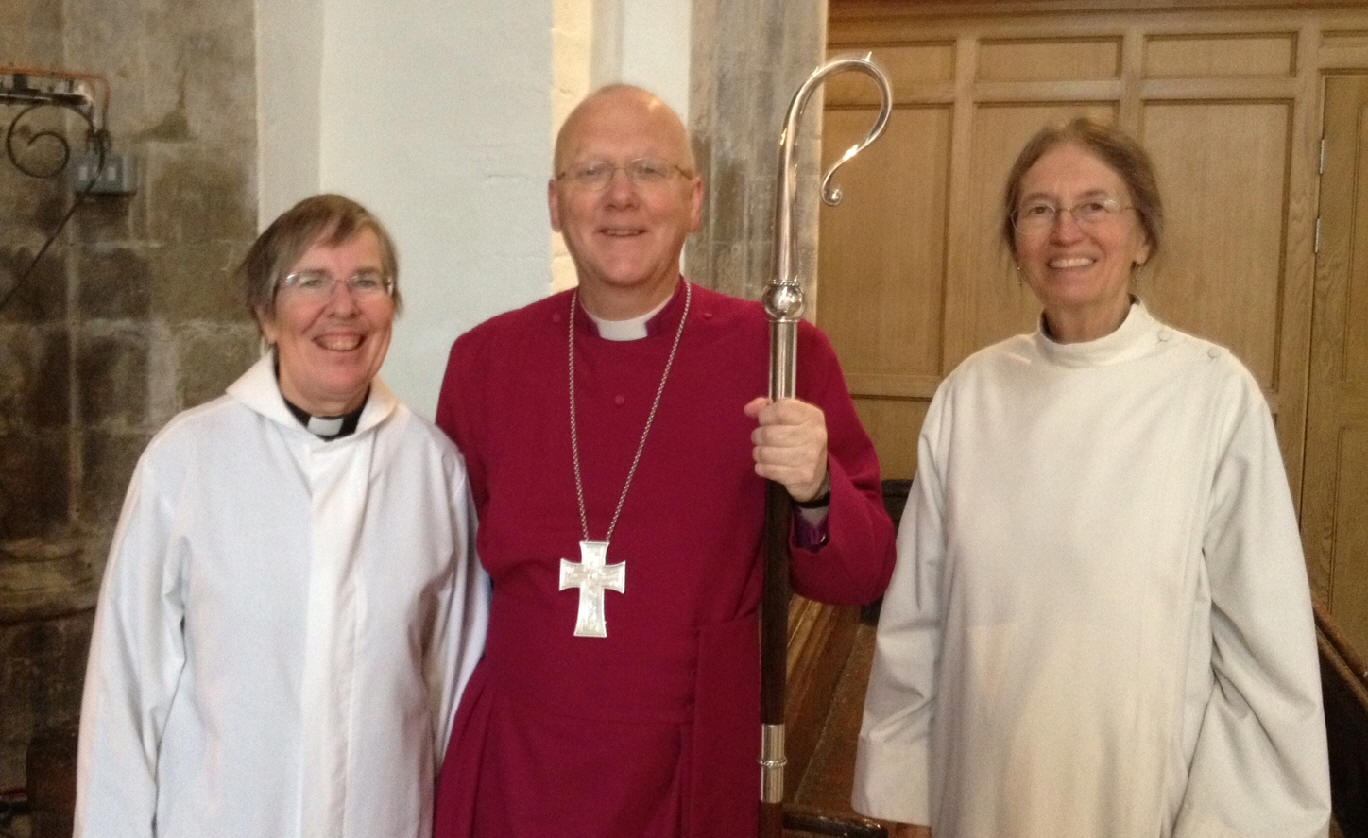 Bishop Alan of St Albans in All Saints' Church on 4th November along with Rev. Jane Fox of Harrold and Carlton
and Rev. Christine Clark of Odell, to celebrate the Patronal Festival - All Saints' Day November 1st 2012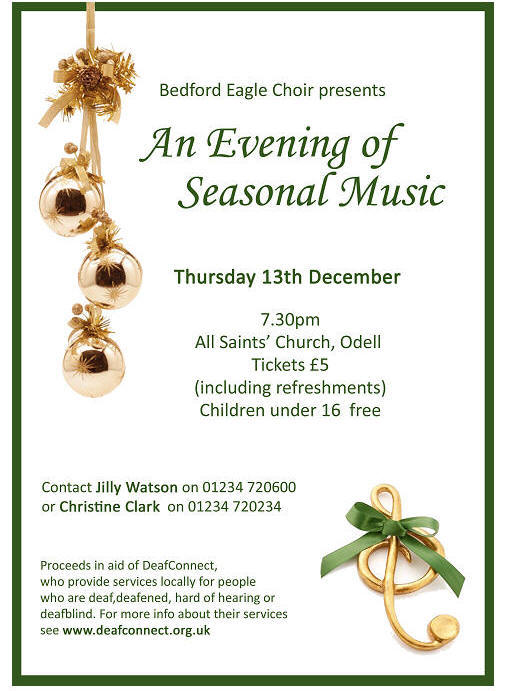 Dear Friends,
It's a busy time of year for the postmen, not made any easier by the increasing amount of junk mail that seems to come pouring through our letterboxes daily. Much of it in our house goes straight into the bin, but on a shelf in my kitchen is a growing pile of 'worthy causes' all asking me to make a special donation at Christmas time. I don't like to throw them away (because they are worthy causes) but there is no way I can donate to them all, so a choice has to be made.
The custom of giving something at Christmas to those in need has a long and honourable tradition, and reflects the great gift God has given to us in his Son, Jesus Christ our Saviour. Remember Saint Nicholas (whose feast day is December 6th) a 4th Century bishop in what is now Turkey, who gave gold coins to three girls to provide them with a dowry so they could marry. Then there's good King Wenceslas (actually a 9th Century Duke from what is now the Czech Republic) going out on a bitterly cold and snowy St. Stephen's Day (26th December) to take food, wine and winter fuel to a poor labourer who was gathering wood for his fire. And of course we have the British tradition of Boxing Day (also on 26th) when it is customary to reward our postmen, dustbin men, and other regular delivery men, although perhaps not so widely practiced as it once was.
Charities have become much more inventive in persuading us to give, inviting us to fund specific gifts in kind, such as seeds and livestock for small farmers abroad struggling to feed their families, financial 'hugs' for street children, protection for an endangered species, or a Christmas lunch and a night's shelter for someone who is homeless.
I am sure that many of you have your own charities that you like to remember at Christmas – we like to give to the Hydrocephalus Association to help fund research for the condition which affects our eldest grandson, and in part this reflects our thankfulness for his successful treatment.
Let's encourage one another to be generous givers this Christmas, and to do so willingly with a renewed sense of deep thankfulness for all that God has given us, richly to enjoy.
Christine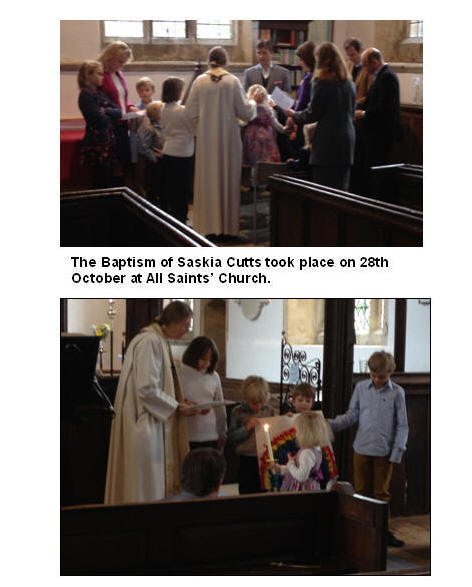 Prayer Group
What is the Prayer Group? It is made up of members of All Saints' Church who undertake to pray regularly, on an individual basis, for people who ask us for prayer support.
Who do we pray for? Anyone whom we are asked to remember; these might be people from our church, from our local community or others known to us.
What do we pray about? Anything which you would like brought before God; maybe anxiety due to illness, stress or loneliness. You can also tell us of a special day you wish to be remembered – perhaps for an interview or an exam. Any information will be treated in strictest confidence.
How can you let us know if you would like us to pray for you? You can either telephone Christine (720234), or drop a note through the Rectory door, or complete a card (anonymously if you wish) and place it in a box kept near the church door. Prayer requests will be collected from the box each Sunday morning after the 10.30am service. Christine
All Saints' Amblers
Get some healthy exercise in after the Christmas excesses, and enjoy the company of others – join us on December 15th and Bank Holiday Tuesday, January 1st for a walk in the country followed by a pub lunch. Meet outside The Bell at 9.45am – transport provided to start of walk if needed. Everyone welcome, including children and dogs on leads!
Celebrating Christmas at All Saints Church
Sat 8th Dec. 10.00-12 noon
Putting up the Christmas Tree and decorating the church for Christmas – with hot apple toddy and mince pies to keep you in the festive mood (coffee & fruit juice also available).
Sun 23rd Dec. 10.30am
Holy Communion with short reflection
and at 6.00pm
Carols by Candlelight – a service of traditional readings and carols, followed by mulled wine, soft drinks & mince pies.
(you may find it helpful to bring a small torch)
Christmas Day 10.30am
Worship Together for all ages - including a shortened Holy Communion
Sun 30th Dec 10.30am
A 'Churches Together' service for the 1st Sunday of Christmas when we will be joined by the congregations of Harrold & Carlton churches.
….. and in Harrold & Carlton
Sunday 2nd December
4.00pm Christingle Service at St Peter's
Sunday 9th December
10.45am Toy Service at the URC
Monday 10th December
4.00pm Christingle Service at Chellington followed by refreshments
Saturday 15th December
5pm Carols on the Green at Harrold
Sunday 16th December
6.30pm Carol Service at the URC
January 14th - 20th Week of Prayer for Christian Unity
Short daily reflections on the 2013 theme: What does God require of us?
Mon 14th 9.15am Church House, Carlton
Tue 15th 8.00pm Harrold United Reform Chapel
Wed 16th 9.30am St. Peter's, Harrold
Thu 17th 8.00pm All Saints', Odell
Sun 20th 10.00am United service at St. Mary's, Carlton
Harrold Chapel Christmas Coffee Morning
Saturday 8th December
10 – 12 noon
Cake stall, tombola, raffle, cards and more
Come and buy your Christmas goodies
All are very welcome, so why not "Come on down!"
Harrold Twinning Association is having a Christmas Decorations Demonstration given by Ivy Lodge Nursery on Wednesday 5th December, 7.30pm at Harrold United Reform Church. Tickets are £5 and include a glass of wine and a mince pie. Ring Catherine Corkery on 01234 720348 if you would like to come.
Senior Citizens' Christmas Lunch
The Senior Citizens' Christmas Lunch will take place on
Wed 12th December
At 12.30
In the Village Hall
Please let Jill know (720261) by 3rd December if attending
Coffee Morning at Hobbs Green Farm
Christmas Hamper coffee morning
On 7th December
At Hobbs Green Farm
From 10.30am – noon
In aid of Bedford Women's Refuge
Admission free Please bring Christmas Fayre
Birthdays
Happy birthday to:
Charlotte Lloyd 10 on 24th January
And to everyone else with a birthday in December or January.
All Saints' Flower Rota
December
8th Church decorating from 10am.
January
5th All help to clear.
Meeting Point
December
Wed 19th 11.30am Christmas lunch at Madeline Jeeves's, Rivendell, 15 Horsefair Lane.
January
Wed 9th 10.30am at Jane Smith's, Horsefair Lane.
Wed 23rd 10.30am at Jane Eshelby's, Newton House, Avenue Rd.
February
Wed 6th 10.30am at Sarah's, 9 Horsefair Lane.
Festival of Angels, St Peter's Church Sharnbrook
Friday 7th December and Saturday 8th December 2012
The Angel Festival will replace our Christmas Tree Festival which we have enjoyed for five years.
This is St. Peter's first Angel Festival and we would like you to join us in making it an event to remember.
It is a great opportunity for you to join in the Christmas celebrations while at the same time bringing your organisation to the forefront of thousands of visitors who walk through our church door to join us at such a special time of year. If you need to be inspired with some great ideas visit our website at www.stpeterssharnbrook.org.uk
Your angels can be of any size, suspended or free standing on a table or on the floor. A member of the Angel Committee will contact you nearer the date to discuss your requirements for setting up your angels. You can set your angel up on either Wednesday 5th or Thursday 6th December and remove them on either Tuesday 11th or Wednesday 12th December.
There will be prizes awarded to the Angels in specific categories as voted for by our visitors.
There is no entry charge but entry requests must be submitted to Rev Robert Evens, The Rectory, 81 High Street, Sharnbrook. (tel. no. 01234 782000) by 16th November 2012.
With every blessing, Robert Evens
All Saints' Church Charitable Giving for the month of December
will be to the following Charities:
The National Society for the Prevention of Cruelty to Children,
Christian Family Care – a Bedfordshire charity providing support and care for vulnerable children, and
The Bedford Area Schools Christian Support Trust which is affiliated to Scripture Union and provides schools workers offering teaching and support to children, teachers and parents.
Charitable Giving for January and February will be to:
Mission Aviation Fellowship – a Christian airborne mission serving remote and inaccessible places, transporting Christian workers and medical supplies.
Diary
December
2nd 4pm Christingle Service at St. Peter's, Harrold.
5th 7.30pm Christmas Decorations Demonstration at URC.
6th 10.30am Health Walk, HOCP.
7th 10.30am Charity Coffee Morning, Hobbs Green Farm.
8th 10am Church Decorating, All Saints'.
8th 10am Christmas Coffee Morning, Harrold Chapel.
9th 10.45am Toy Service, URC.
10th 10am Conservation Tasks Day, HOCP.
10th 4pm Christingle Service, Chellington.
11th 7.30pm W.I. Christmas meal, Rectory Farm.
12th 12.30 Senior Citizens' Christmas Lunch, Village Hall.
13th 7.30pm An evening of Seasonal Music, All Saints' Church.
15th 9.45am All Saints' Amblers meet at The Bell.
15th 5pm Carols on the Green, Harrold.
16th 6.30pm Carol Service, URC.
19th 11.30am Meeting Point Christmas Lunch at Madeline's, 15 Horsefair Lane.
20th 10.30am Health Walk, HOCP.
23rd 10.30am Holy Communion, All Saints'.
6pm Carols by Candlelight, All Saints'.
25th 10.30am Worship Together and Holy Communion, All Saints'.
30th 10.30am Churches Together, All Saints'.
31st 10am Conservation Tasks Day, HOCP.
January
1st 9.45am All Saints' Amblers meet at The Bell.
3rd 10.30am Health Walk, HOCP.
8th 7.30pm W.I. Village Hall.
9th 10.30am Meeting Point at Jane Smith's, Horsefair Lane.
14th 9.15am Reflecting on Christian Unity, Church House, Carlton.
15th 8pm " " " Harrold URC.
16th 9.30am " " "St. Peter's, Harrold.
17th 10.30am Health Walk, HOCP.
17th 8pm Reflecting on Christian Unity, All Saints', Odell.
19th Burns Night Celebration, Village Hall.
20th 10am United Service for Christian Unity, St. Mary's, Carlton.
23rd 10.30 Meeting Point at Jane Eshelby's, Newton House, Avenue Rd.
28th 10am Conservation Tasks Day, HOCP.
February
6th 10.30am Meeting Point at Sarah's, 9 Horsefair Lane.
Magazine Deadline
Please send all entries for the joint February 2013 magazine to Tricia Hudson (ed at odellbeds.net) or Catherine Corkery by January 12th at the latest. May we remind you that the editorial team exercises the right to edit, shorten or alter any items that are submitted. Also, the opinions expressed in the articles are those of the contributors and are not the responsibility of the editorial team.
---
Last revised: December 31, 2012.