CHURCH NEWS - September 2011
Harvest Festival, All Saints' Church, Odell
Saturday 1st October : Church Decorating from 10am.
Sunday 2nd October: Harvest Thanksgiving Service
All Saints' Church, 10.30am
followed by
a Harvest Lunch 12.30pm in the Village Hall
with demonstration of Cambodian cookery!
Everyone Welcome!
but please ring Jill Cheadle (720261) or Christine Clark (720234) if you are coming to the lunch.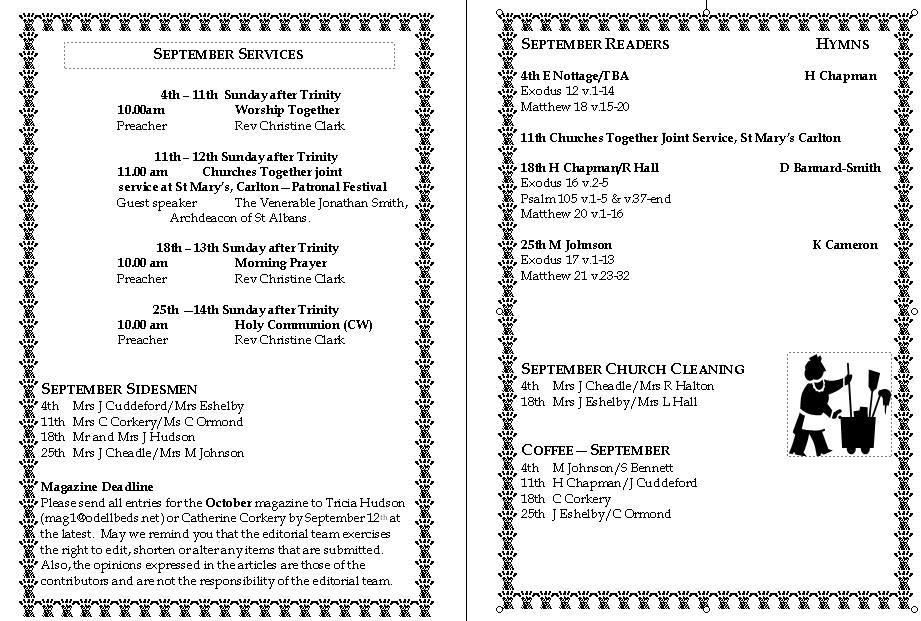 Dear Friends,
When our eldest son was around 10 years old, he fell in love with pigs. Every day, on his way back from school he would hang over the allotment gate and watch the family of pigs kept there. When his
grandfather gave him some money to buy and rear a calf, he asked if he could buy eight piglets instead.
So – just as were about to go out to a BBQ – the piglets duly arrived and were lovingly housed in the barn, much to the delight of the family dog who treated them as new playmates. Inevitably the day came when having grown into handsome, best quality porkers, the pigs left the farm. On no account was I permitted to buy pork, bacon, ham, sausages …. and indeed, eldest son eventually turned vegetarian.
At a family gathering recently, a nephew told us how his family were enjoying rearing their recently acquired chickens – apparently keeping chickens is the new 'cool' for middle-class families.
For poor families in Cambodia owning a pig or a few chickens can make a huge difference to the family fortunes, enabling parents to feed their children and send them to school, and we can help make that difference happen!
Elsewhere in this issue of the magazine you will find a rather fetching photo of Bishop Alan holding a 3-day old piglet as the Bedfordshire schoolchildren helped him launch his annual Harvest Appeal in aid of Cambodian Hope Organisation.
If you would like to donate to the appeal, please call me on 720234 or e-mail me at cmclark9@btconnect.com and come along to the Harvest Thanksgiving service at 10.30am on Sunday 2nd October to find out more about the difference pigs and chickens are making in Cambodia.
Whether or not you can make it to the service, you are most welcome to join us afterwards for
a Harvest Lunch at 12.30pm
in Odell Village Hall,
to include a Cambodian cookery demonstration.
Please ring 720261 (Jill) or 720234 (me) if you are coming to the lunch so we can ensure there is enough food for everyone. Christine
Prayer Group
What is the Prayer Group? It is made up of members of All Saints' Church who undertake to pray regularly, on an individual basis, for people who ask us for prayer support.
Who do we pray for? Anyone whom we are asked to remember; these might be people from our church, from our local community or others known to us.
What do we pray about? Anything which you would like brought before God; maybe anxiety due to illness, stress or loneliness. You can also tell us of a special day you wish to be remembered – perhaps for an interview or an exam. Any information will be treated in strictest confidence.
How can you let us know if you would like us to pray for you? You can either telephone Christine (720234), or drop a note through the Rectory door, or complete a card (anonymously if you wish) and place it in a box kept near the church door. Prayer requests will be collected from the box each Sunday morning after the 10.00am service. Christine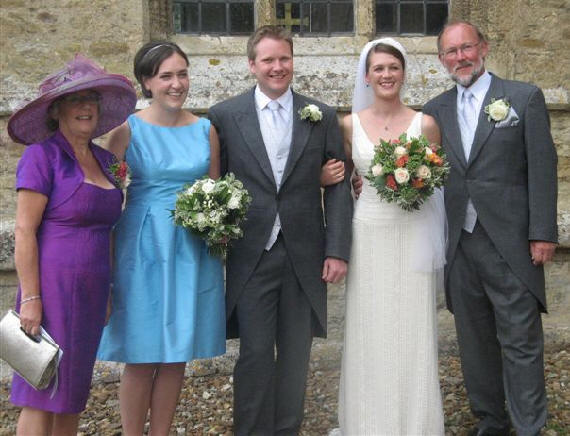 On 2nd July Kate Halton married Marc Balcon at All Saints' Church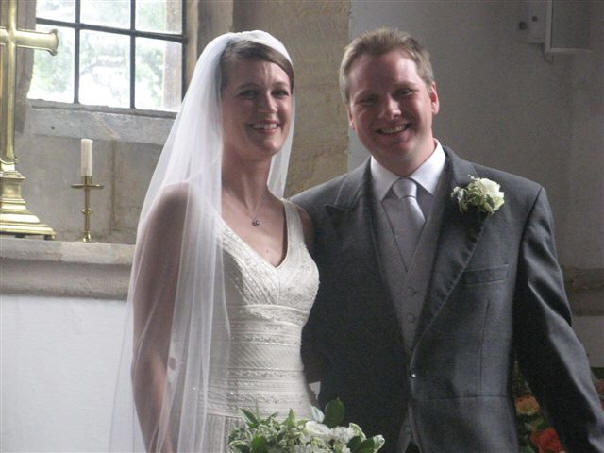 Christian Aid Week 2011
The North Beds Villages Christian Aid Group raised a grand total of £5852.81. Many thanks to the people of Odell for their support!
*** Fusion ***
offering you & your children time & space to come together , make things together, eat together, celebrate God together
re-starts on Monday September 19th – all ages welcome!
FUSION happens monthly at Harrold URC 3.30-6.00pm
and includes a 2 course cooked meal (donations welcome)
Children need to be accompanied by an adult
To register please e-mail John at john@sundrlnd.freeserve.co.uk (tel:720184) or Christine at cmclark9@btconnect.com (tel.720234)
by Thursday 15th September, letting us know of any dietary needs.
All Saints' Church
Dedication of the New Garden of Remembrance
Join us on Saturday 8th October for any or all of the following:
10am – 12 noon Churchyard Work party
12 noon Dedication of New Garden
12.30pm Bring and Share Lunch
Donations of spring bulbs would be appreciated!
Bike and Hike
The annual 'Bike & Hike' in aid of the Beds & Herts Historic Churches Trust will take place on Saturday September 10th . All Saints', Odell, and other local churches will be participating. If you would like to take part, sponsor forms are available from Mrs Marion Johnson, 7 Odell Road, Harrold (tel: 720542). More info at www.bedshertshtc.org.uk
Afternoon Teas
Come and enjoy afternoon tea at
United Reformed Church,
120 High Street, Harrold,
on
Sundays 4th, 11th, 18th, 25th September
from
2.30-4.30pm
All Saints Amblers meet outside the Bell, 9.45am on Saturday 17th September for a walk in the country followed by a pub lunch. Children and dogs on leads welcome to join us.
BISHOP'S HARVEST APPEAL 2011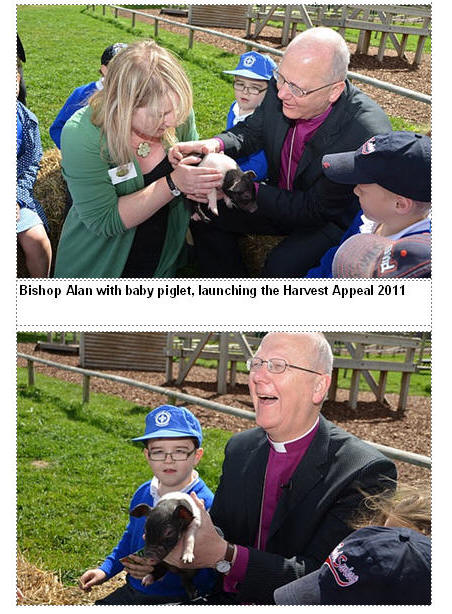 Q: Why is the Bishop holding a piglet?
A: He's launching this year's Harvest Appeal to help poor families in Cambodia.
In the Poipet region of Northwest Cambodia, on the border with
Thailand, many families are desperately poor - earning less than £1 a day. They face a daily struggle to put food on the table, and pay for essentials like schooling, and healthcare is out of the question.
Cambodian Hope Organisation is the Bishop's chosen charity for 2011. CHO set up in 2002, helps families to run profitable home-based agricultural businesses, rearing pigs and chickens.
Here's how our donations can help:
£10 will train a family to raise animals and grow vegetables,
£20 will supply a family with a home garden start-up kit of hoe, seeds, seedlings and fertiliser – to feed them and earn them a living
£60 will provide a family with a loan of pigs to breed for food and
income.
Find out more at All Saints' Harvest Thanksgiving & Lunch
on Sunday 2nd October.
Churches Together Harrold and Carlton with Odell
supporting registered charity -
Drop Inn Ministries (Isle of Man)
Belarus/Ukraine Christmas Shoe Box Appeal 2011
Yes, it really is that time of year again when we think of the poorest children in Belarus and Ukraine, still suffering from the effects of the Chernobyl nuclear explosion in their countries, economically and
physically. When you read this we will still, hopefully, be basking in summer sunshine, having holidays, and eating too much good food at beautiful luscious garden barbeques. Now is the time when we can start thinking of what you can put in a shoe box for delivery to the orphans and destitute children in Belarus and Ukraine who have no such life. You don't have to feel guilty about all you have, you can make a start right now by buying something to add to a box each time you do the weekly shop. Perhaps a toothpaste or toothbrush, a note pad and colouring pencils, a little hand-held toy, an extra bar of soap or a flannel.
Door leaflets will be arriving at your home from church or school, towards the end of August, giving you more details on what is required, and importantly what cannot be included, with the dates and places to which you can take your Christmas box, or gifts of items we can include in other boxes.
I will be collecting boxes in from the schools towards the end of September, and from all four of our churches at the end of September, or early October, so start preparing now for our annual appeal – a very little of your time and money is required to make a HUGE difference to a child out there. Everyone here working on the boxes is a volunteer, and if you would like to help please contact me – many hands make light work. Thank you. Sue Brown. Co-ordinator (01234 720442)
Odell readers: please would you deliver all boxes to either the Church or the Rectory by October 15th.
The wedding of Debra Garon and Michael Radford, Saturday July 30th.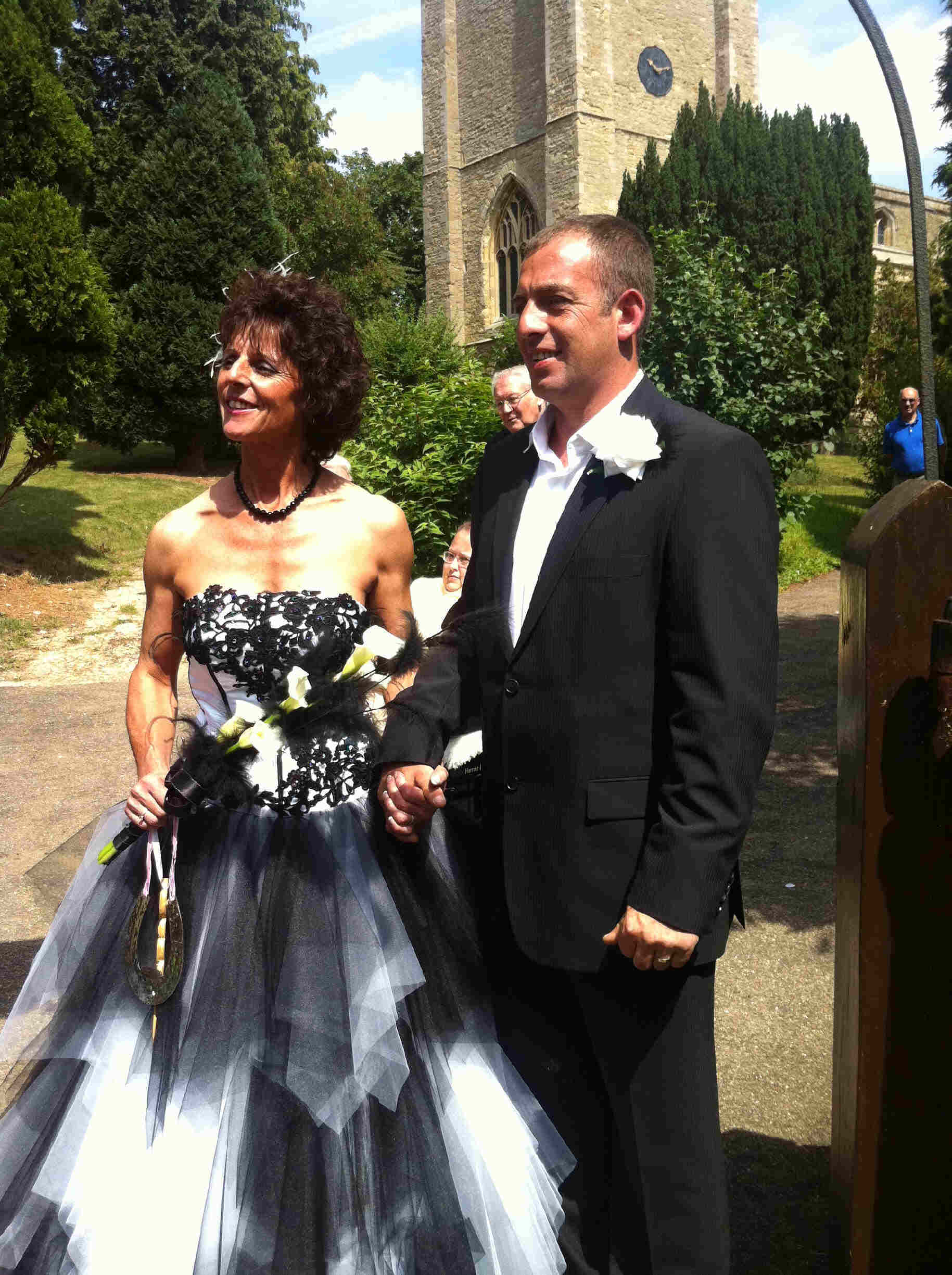 Firstly the weekend started after we had finished decorating Roma's Cottage around 2.30 Friday the 29th July. Flowers in place, Food tents ready. Marquees all decorated, grass cut and much more,
We had our rehearsal where around 20 friends and family attended. We all went to the Bell at Odell afterwards; Kate and Will are fantastic in there, they were very accommodating when I continued to call them to say would it be possible for 10 then 15 then 20 odd to eat after the wedding rehearsal. Yes of course, I was told, no problem. The food was extremely good and every guest that was there with us will definitely be taking their family and friends back.
On the morning of the wedding I came from Thrapston and Michael from home in Rushden, Michael popped in The Bell for a quick Dutch courage drink before the wedding. Again we had requested more from Kate and Will, they offered to open up the pub at 10am as we had quite a few friends and family that travelled; I believe there were around 40 people who popped in before the wedding.
The church and grounds looked so pretty for our special Wedding day.
I would just like to say a massive thank you to Christine for such a perfect service; we had many, many compliments regarding Christine. It was so nice to work together with Christine who allowed us to tailor the wedding to ourselves and lifestyle.
The church looked beautiful, the flowers were arranged by the ladies in the village, and all I asked for was multiple colours and wild oats and barley. They were just perfect.
When I got to the church it was stunning inside as it was so full of flowers. The sun was shining so the stained glass window was shining - so many colours all the way down the church. I always have and always will love Odell Church; Michael thought it the perfect place for our wedding. Christine did mention that it was so lovely to see the church so full, extra chairs were needed at the back of the church
The reception was enjoyed by all, very relaxing and so perfect for Michael and me to see everyone taking in the view of such a perfect wedding venue.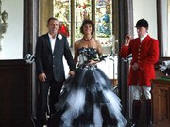 Debbie and Michael wish to thank the village for all their lovely cards and support, Mother would have been very proud. Debra Radford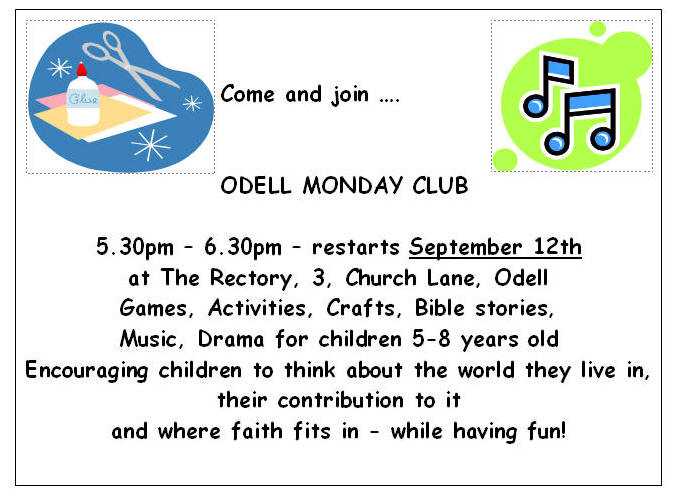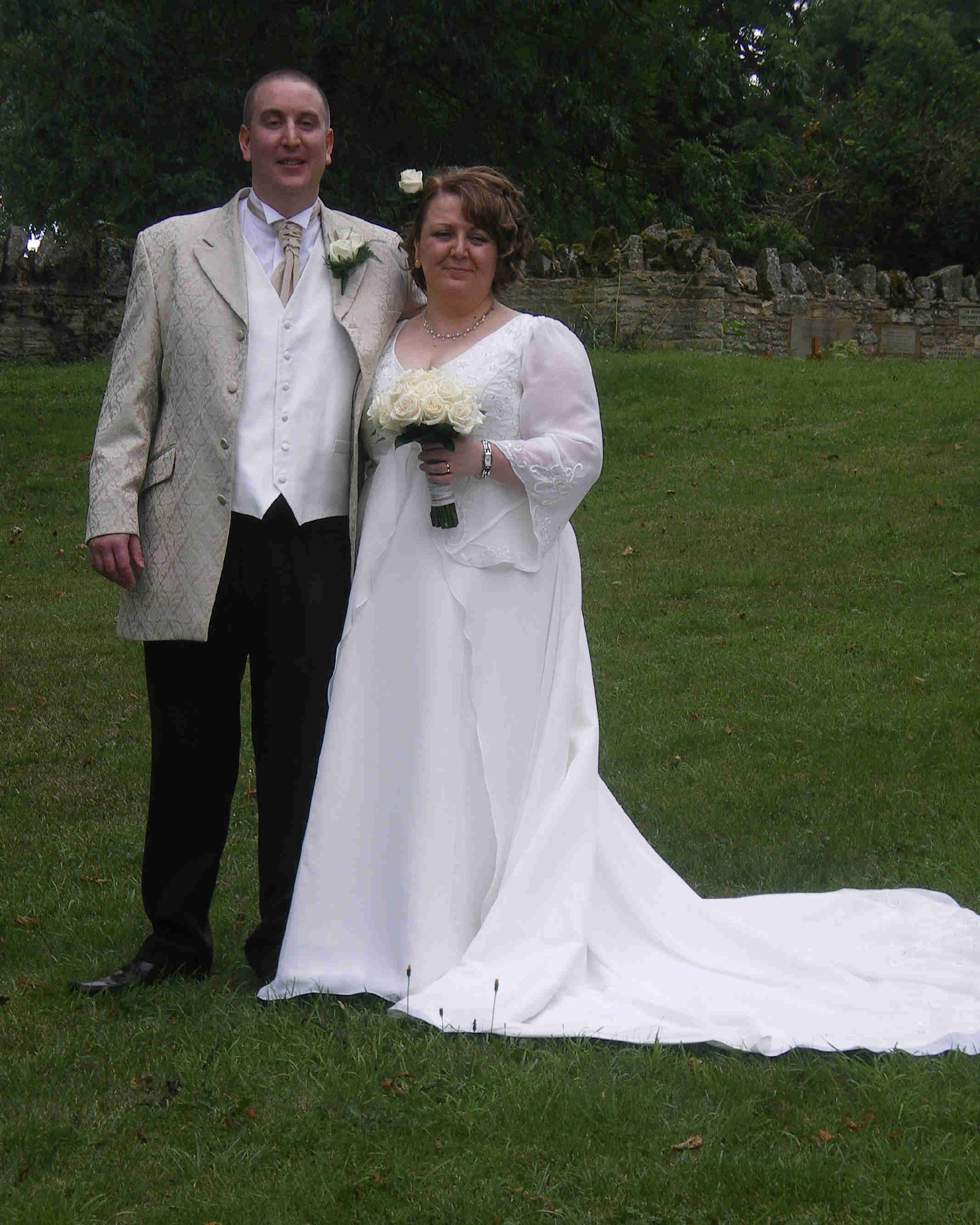 The marriage of Ben Colley and Tina Clarke took place at
All Saints' Church on Saturday, August 20th.
Meeting Point
September
7th 10.30am at Jill's, Rectory Farm, Odell.
21st 10.30am at Jane Smith's, 4a Horsefair lane.
Felmersham Rural Deanery Parish Magazine – 1941
Recently, All Saints' Church was given some copies of the Parish Magazine from 1941 by the family of the late Edie Surridge. At that time the magazine covered all 17 parishes in the Deanery and so the
contributions from each parish were considerably smaller than they are today and did not include general items of village news.
In common with our magazine today they did contain a letter – but from the Bishop of St Albans rather than the local incumbent. Interesting differences include the addition of a serialised story and, in these
particular war time issues, 'Weekday Pages for Women with Homes' comprising useful housekeeping tips, many with war –time rationing in mind. For example, this tip shows how to make eggs go further when in short supply:
If you have a large family to provide for, it is often impossible for mother to get enough to go round. I have found the following way makes one egg go as far as two. Take a cold potato (left over from yesterday's dinner), mash it, beat up an egg and stir into the potato. Fry as you would an egg and serve. This makes enough for two people and is tasty and nourishing. (No name).
The magazines are interesting items of social history (and if our recession gets much worse, the thrifty tips may come in useful!). They will be on view in All Saints' Church if anyone is interested in reading more.
All Saints' Church Charitable Giving for the months of September and October is to Mercy Ships,
an American Christian charity providing free operations, sending teams of dentists to local hospitals, talks for local villages about aids, teaching projects and projects to help women help themselves, building new schools/orphanages, and follow-up nursing for ex-patients. All who work on the ships contribute financially.
All Saints' Church Flower Rota
September
11th Nikki Freeman
24th Jane Eshelby
October
1st Church decorating for Harvest Festival
3rd All help clear
Birthdays in September
Happy birthday to :
Christy Vyvyan who will be 12 on the 13th, and to
Sarah Jane Holden-Postles who will be 8 on the 19th
And to everyone else with a birthday in September!
Diary
1st 10.30am Health walk, HOCP.
4th 2.30pm Afternoon tea, Harrold URC.
5th 1-2pm PCSO walkabout.
7th 10.30am Meeting Point at Jill's, Rectory Farm.
9th 7pm Village Hall Beer Festival.
10th 4pm Hog roast and entertainment, Village Hall.
10th Beds and Herts Historic Churches Trust Bike 'n Hike.
11th 2.30pm Afternoon Tea, Harrold URC.
13th 7.30pm W.I. Village Hall.
15th 10.30am Health Walk, HOCP.
17th 9.45am All Saints' Amblers meet at The Bell.
18th 2.30pm Afternoon tea at Harrold URC.
19th 7.30pm Parish Council meeting, Village Hall.
21st 10.30am Meeting Point at Jane Smith's, 4a Horsefair Lane.
23rd 10am Macmillan Coffee Morning, Bridgman's Bowls Club, Harrold.
25th 2.30pm Afternoon tea at Harrold URC.
26th 10am Conservation Tasks Day, HOCP.
29th 10.30am Health Walk, HOCP.
October
1st 10am Church decorating for harvest.
2nd 10.30am Harvest Festival service, All Saints' Church.
2nd 12.30 Harvest Lunch, Village Hall.
---
Last revised: August 22, 2011.