CHURCH NEWS - November 2011
Sunday Services start at 10.30am in the winter months
Remembrance Sunday - All Saints' Church, Odell
Morning:
There will be a special Remembrance Sunday Service in All Saints' Church on Sunday 13th November, beginning at 10.30am. During the service a two minute silence will be observed.
Evening:
Requiem by Gabriel Faure
The Eagle Choir – directed by Charles Martin
All Saints' Church, Odell 6pm Sunday 13th November 2011
Proceeds to Odell Senior Citizens' Luncheon Club
The Eagle Choir was formed in 1998 and is made up of parents, staff and friends from Bedford Prep School. The choir has performed many works including Carmina Burana , Rutter's Mass of the Children, Britten's Ceremony of Carols, Karl Jenkins' The Armed Man, Vivaldi's Gloria, Handel's Messiah and Brahms' Requiem as well as more light-hearted pieces by The Beatles, Abba and Cole Porter.
The choir has performed in the churches of St Peter and St Paul in Bedford, The Corn Exchange, Bedford School Chapel and St Mary's in Buckden. In 2003 they performed the Mozart Requiem in Odell Church and are delighted to have been invited back to sing Faure's Requiem on Remembrance Sunday.
Tickets are £5. The proceeds will be donated to the Odell Senior Citizens' Luncheon Club which gathers two or three times a year to enjoy a meal together.
For more information and for tickets contact Jilly Watson on 01234 720600 or Christine on 01234 720234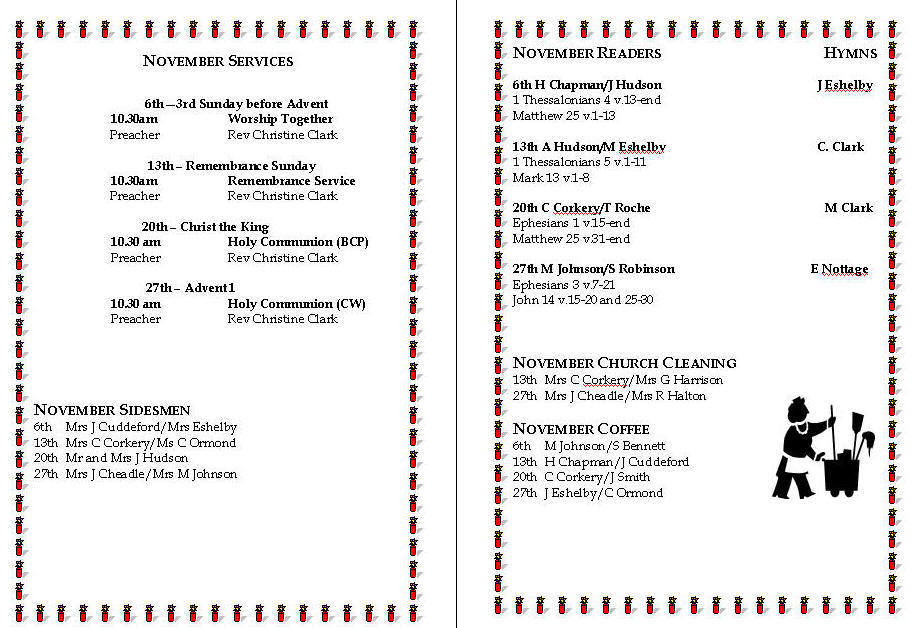 Dear Friends,
November …. what's good about it?
Well – it is the month in which I celebrate my birthday, but I can't expect many to be swayed by that. It's a month when darkness steadily encroaches, along with foggy mornings, and colder nights. In October we can fool ourselves that some echo of summer lives on in the Autumn sunshine (especially this year), but in November we have to accept the inevitable – winter is upon us.
Either side of my birthday, fall two annual events – bonfire night with all the fun of fireworks and enjoying soup and hot dogs around a good blaze, then Remembrance Day with the British Legion poppy appeal, the solemn service at the Cenotaph replicated at every war memorial across the land.
I wonder how many children today are aware of the dark origins of bonfire night, or how many will be burning the 'guy' - a grim reminder that the threat of terrorism to our national security is nothing new. More will be aware of our service men and women still engaged in Afghanistan and elsewhere in the attempt to reduce that threat. It wasn't that long ago that some voiced the opinion that Remembrance Day had served its purpose and should be abolished, but since 9/11 opinions have changed. So we continue to keep the silence, to stop in the midst of our busy lives for a short while, and reflect on the uncertain and vulnerable world in which we live.
It is in November that Christians begin to observe the season of Advent, with its twofold purpose. Advent also invites us to stop and reflect on life, to recognise the darkness which we know is present in the world and in our own hearts too. But Advent is also the season of hope, that looks for the dawning of the light that overcomes the darkness, anticipating the joy-filled birth of the Christ-child and all the delights of Christmas. The Advent hope goes further, pointing us to that future time when God's kingdom will come in all its glorious fullness and grace, and evil in all its malevolent forms will finally be banished for ever. May that light shine upon you this November. Christine.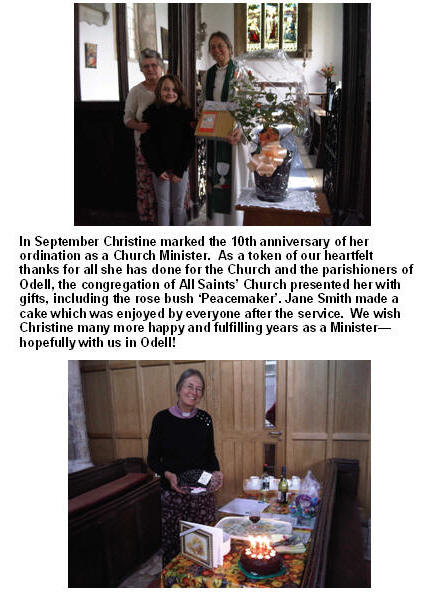 Prayer Group
What is the Prayer Group? It is made up of members of All Saints' Church who undertake to pray regularly, on an individual basis, for people who ask us for prayer support.
Who do we pray for? Anyone whom we are asked to remember; these might be people from our church, from our local community or others known to us.
What do we pray about? Anything which you would like brought before God; maybe anxiety due to illness, stress or loneliness. You can also tell us of a special day you wish to be remembered – perhaps for an interview or an exam. Any information will be treated in strictest confidence.
How can you let us know if you would like us to pray for you? You can either telephone Christine (720234), or drop a note through the Rectory door, or complete a card (anonymously if you wish) and place it in a box kept near the church door. Prayer requests will be collected from the box each Sunday morning after the 10.00am service. Christine
All Saints Amblers meet outside the Bell, 9.45am on Saturday 19th November for a walk in the country followed by a pub lunch. Children and dogs on leads welcome to join us.
Pcc Meeting
The next meeting of the PCC will take place on 9th November in the Rectory at 7.45pm.
Belarus shoe-boxes
Many thanks to those of you who have delivered your shoe-boxes filled with goodies, to the church or Rectory. These have now been taken to Emmaus for final checking before being collected by the lorry for direct transporting to Belarus.
A change to Sunday Service times
Please note that our normal Sunday Services now start at 10.30am instead of 10.00am. Following a 6 month trial period, ending in March 2012, the PCC will review this arrangement before deciding the time for regular services in the Summer months.
Confirmation Service at All Saints' Church
7.30pm – Tuesday 29th November 2011
Bishop Richard of Bedford will be visiting us to confirm candidates from the congregation of All Saints' and other churches in the Sharnbrook Deanery. If you would like to know more about confirmation and/or are interested in attending preparation classes, please let Christine know as soon as possible (720234).
'Patches' – a new group for those who sew, knit or whatever
Creative urges are stirring …. a few of us who like to sew and chat are meeting monthly at The Rectory. Next gathering is on Friday 25th
November at 2.30pm. Contact Jane Smith (721214) or Christine Clark (720234) for more details.
Christine Clark
Meeting Point
November
2nd 10.30am at Jane Smith's, Horsefair Lane.
16th 10.30am at Catherine's, Manor Cottage, High St., Harrold.
30th 10.30am at Sarah Bennett's, 9 Horsefair Lane.
Senior Citizens' Christmas Dinner
The Senior Citizens' Christmas Dinner will take place on Wed 14th December At 12.30 In the village hall
Please let Jill know (720261) by 5th December if attending
All Saints' Church Charitable Giving for the month of November
Our Giving in November will be shared between the British Legion Poppy Appeal and the Ex-Services Mental Welfare Society (Combat Stress). Many still depend on these two organisations for all kinds of help including medical care and your generous giving enables continuous support for those damaged in body, mind and spirit by the ravages of war.
Coffee Morning at Hobbs Green Farm
Christmas Hamper Coffee Morning on 9th December at Hobbs Green Farm, Church Lane, Odell from 10am – 12 noon
Admission free Please bring Christmas fayre
Dedication of the new Garden of Remembrance
Saturday October 8th
Following the churchyard tidy during the morning of the 8th a short service to dedicate the new Garden of Remembrance took place. In the peaceful setting of All Saints' churchyard a group gathered around the Remembrance wall to join Christine in prayers and a reading of Psalm 103 then listened in the still air of the autumn morning as she read this Act of Dedication:
We remember that God planted a garden in Eden in the East,
and there he put the human being, whom he had formed,
to till it and to keep it…and the Lord God walked in the garden at
the time of the evening breeze.
We thank you, heavenly Father, for this beautiful churchyard,
and for all the loving work that has made it so.
Bless this garden we pray, that through its peace and beauty,
those who mourn the loss of their loved ones
may be comforted and reassured by your presence with them..
We pray for all who visit here, for whatever reason,
That each may find it a place of refreshment in a busy world,
And guided by your Holy Spirit, may be drawn closer to you,
through Jesus Christ our Lord. Amen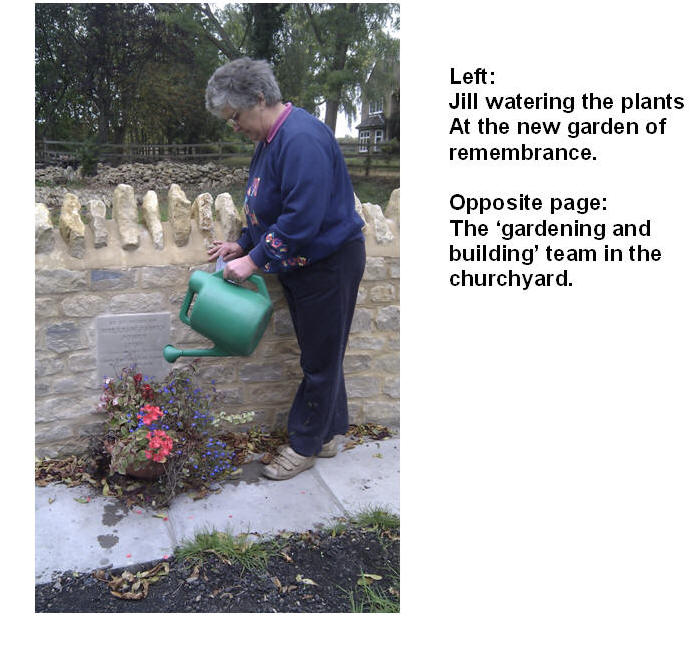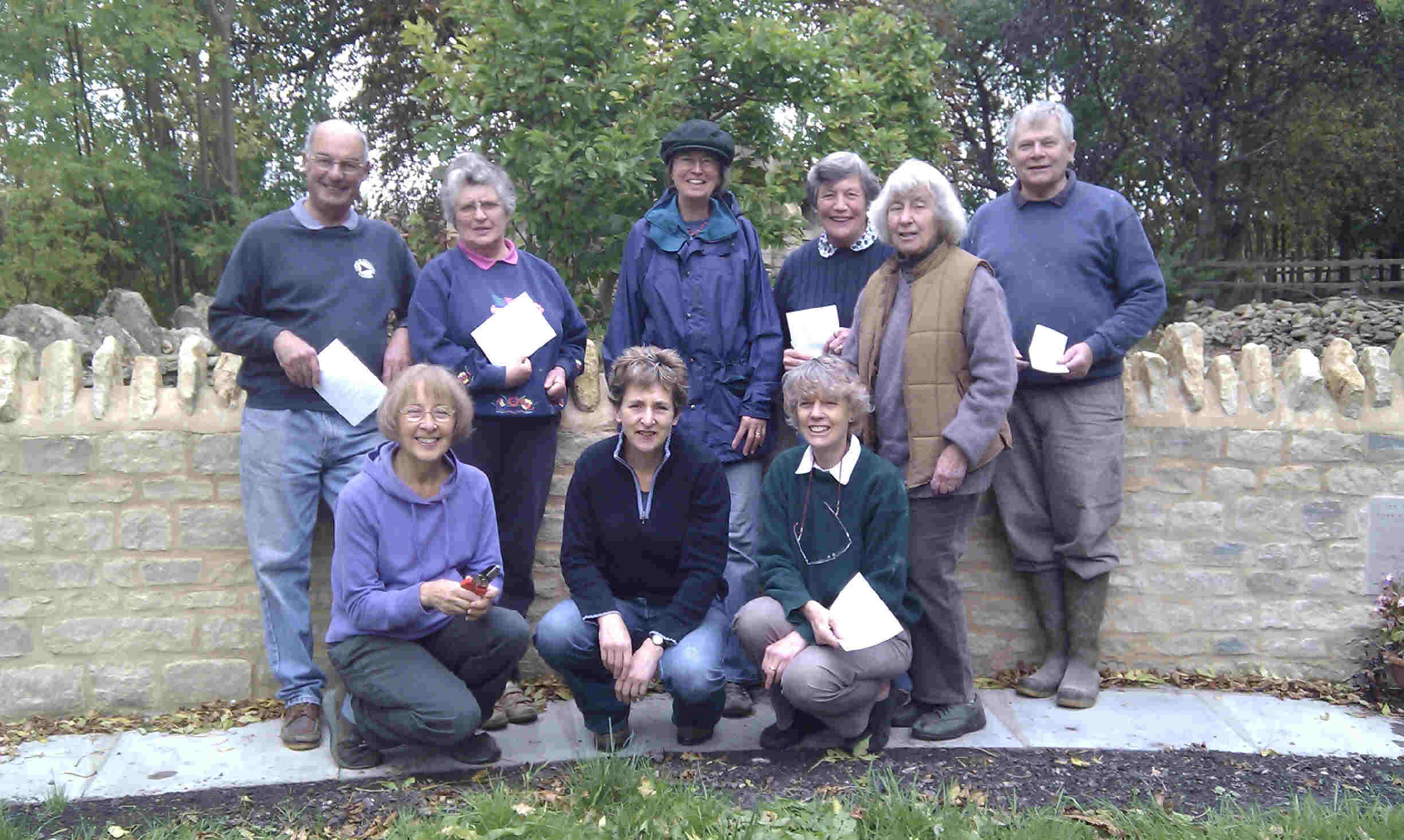 Churchyard Wall Repairs: Request for a cement mixer
Work on the building of the churchyard wall near to the Rectory is progressing well but the cost of the hire of a cement mixer is prohibitive. If anyone in the village has a mixer they could lend to Barry, David and Brian for a few days would they please ring Barry (Halton) on 720572.
There is also a shortage of limestone for finishing the wall, so again if anyone has some limestone not being used and that they are willing to donate to the wall please let Barry know, it will be most gratefully
received.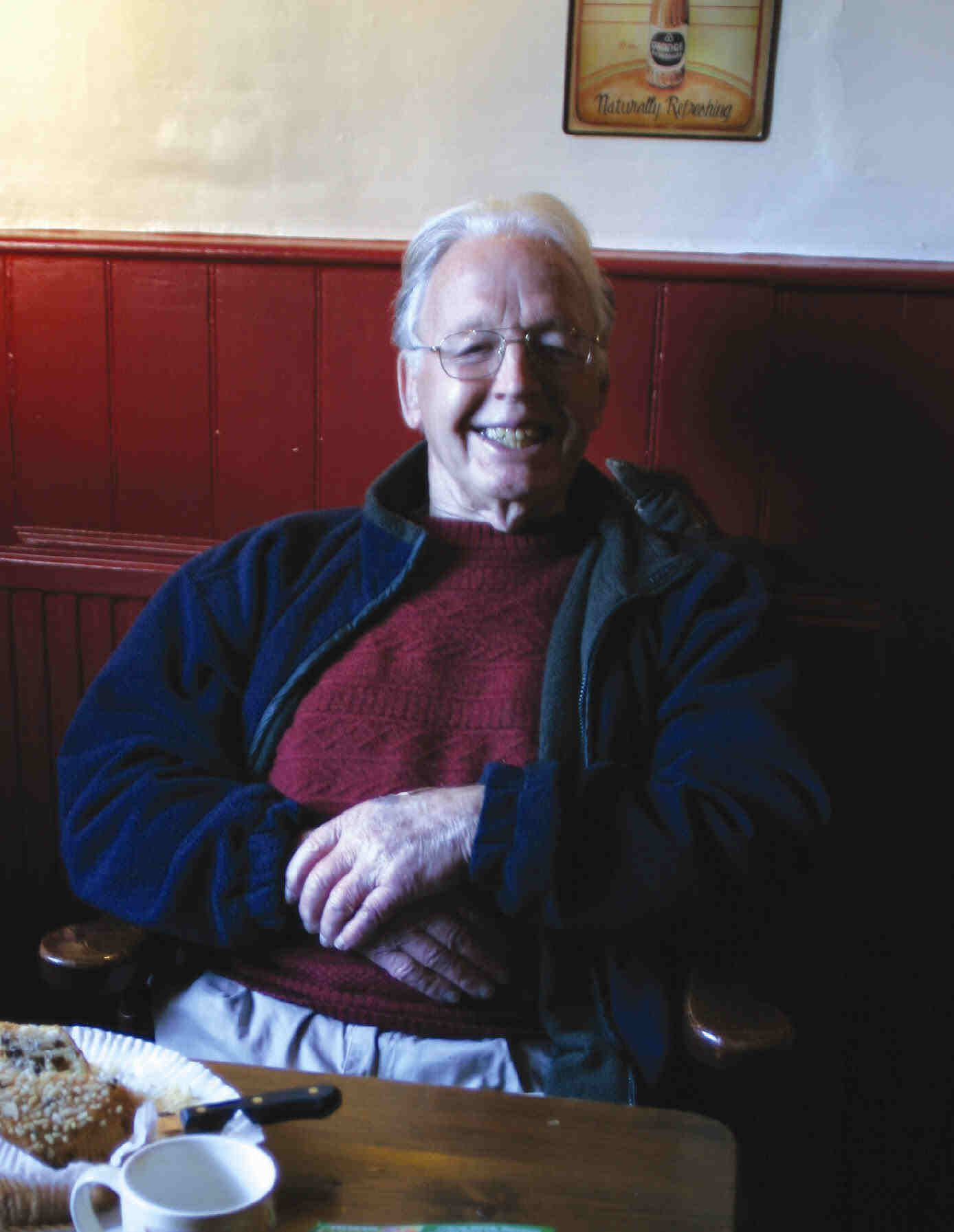 Harry Smith 19th October 1923-16th October 2011
In the early hours of Sunday 16th October, Odell lost one of its oldest and most popular residents. Harry Smith died at home, aged 87 years, after several months of illness.
Harry lived in Odell for 41 years. He had always been at home in the countryside. Before the War, as a teenager, Harry was employed on the Althorp estate doing forestry work. His father was a gamekeeper there.
After the war Harry became involved with milking cows and then showing cattle, first Aberdeen Angus and then Galloway cattle. His work took him all over the country: Eddlesborough, Hatley St. George, Waddesdon, Suffolk, Oxfordshire and Gloucestershire and Chippenham until he finally arrived in Odell with his wife Irene and children Carol and Richard in August 1970. He was
employed by Lord Luke as a cattle man, a job at which he was, by then, very experienced. Both Harry and Irene were very happy in Odell, and put down roots. They celebrated their Ruby Wedding Anniversary in 1984. Sadly, Irene died of cancer just four years later.
After retirement Harry felt at a loose end and was only too pleased to help out in The Bell with washing up and any other odd jobs, including keeping the garden tidy and tending the fires in winter.
Harry was always amazing everyone in Odell with his vitality and love of life. If there was ever an event held in the Village Hall Harry was there – he was always the first to be up on the dance floor, right up until his last illness.
Harry once said of Odell: "Odell is beautiful, the village and the people. There's nowhere else like it". To the people of Odell, there is no-one else like Harry. He will be very much missed.
Information given by kind permission of OVL.
Handel's Messiah
On Saturday November 26th 2011 at 7:30 pm
in Bunyan Meeting, Mill Street, Bedford.
Soloists from the Guildhall School of Music and Drama
Admission by programme from:
Anne Hudson 720587
Barbara Fowler 720481
Bedford Central Box Office - 01234 269519
Adults £8.50 Concessions £7.50
including seasonal refreshments
Proceeds in aid of
Leukaemia & Lymphoma Research
Registered Charity Number 216032
Birthdays in November
Happy Birthday to Georgina Ardley whose birthday is on the 29th
And to everyone else with a birthday in November!
All Saints' Church Flower Rota
6th Carol Ormond
13th Remembrance Sunday
20th Catherine Corkery
Jane Eshelby
St. Mary's Church, Carlton, is holding a
Victorian Bazaar
Carlton Village Hall
Saturday 19th November
11am – 3pm
Hot jacket potatoes from 12.
Grand draw at 2.30pm
£100 first prize
Entry £1/adult – children free
Diary
November
2nd 10.30am Meeting Point at Jane Smith's, Horsefair Lane.
5th 10am Bulb planting. Meet outside The Bell.
5th 8.30pm Bonfire Night Party, The Bell.
8th 7.30pm W.I. meet in Village Hall.
9th 7.45pm PCC Meeting at Rectory.
10th 10.30am Health Walk, HOCP.
13th 10.30am Remembrance Sunday Service, All Saints'.
13th 6.00pm Eagle Choir sing Faure's Requiem, All Saints.
16th 10.30am Meeting Point at Catherine's, Manor Cottage, Harrold.
19th 9.45am All Saints' Amblers meet at The Bell.
19th 11am Victorian Bazaar, Carlton Village Hall.
19th 7.30pm Melvis in Village Hall.
21st 7.30pm Parish Council Meeting, Village Hall.
24th 10.30am Health Walk, HOCP.
25th 2.30pm 'Patches' meet at the Rectory.
26th 7.30pm Handel's Messiah at Bunyan Meeting, Mill St.
28th 10am Conservation Tasks Day, HOCP.
29th 7.30pm Confirmation Service at All Saints'.
30th 10.30am Meeting Point at Sarah's, 9 Horsefair Lane.
Magazine Deadline
Please send all entries for the joint December/January 2012 magazine to Tricia Hudson (mag1 at odellbeds.net) or Catherine Corkery by November 12th at the latest. May we remind you that the editorial team exercises the right to edit, shorten or alter any items that are submitted. Also, the opinions expressed in the articles are those of the contributors and are not the responsibility of the editorial team.
---
Last revised: November 05, 2011.