CHURCH NEWS - May 2011
We shall be celebrating ROGATIONTIDE
on Sunday May 8th 2011
Join us for a special service in church at 10.00am,
then a walk to the Community Orchard for a prayer of blessing at 11.15am.
Afterwards we shall walk through the Harrold and Odell Country Park to join our friends at the United Reform Chapel for the 12 noon Annual Meeting of Churches Together in Harrold and Carlton with Odell, followed by a shared lunch. If you would like to come to the lunch please phone Christine (720234) asap.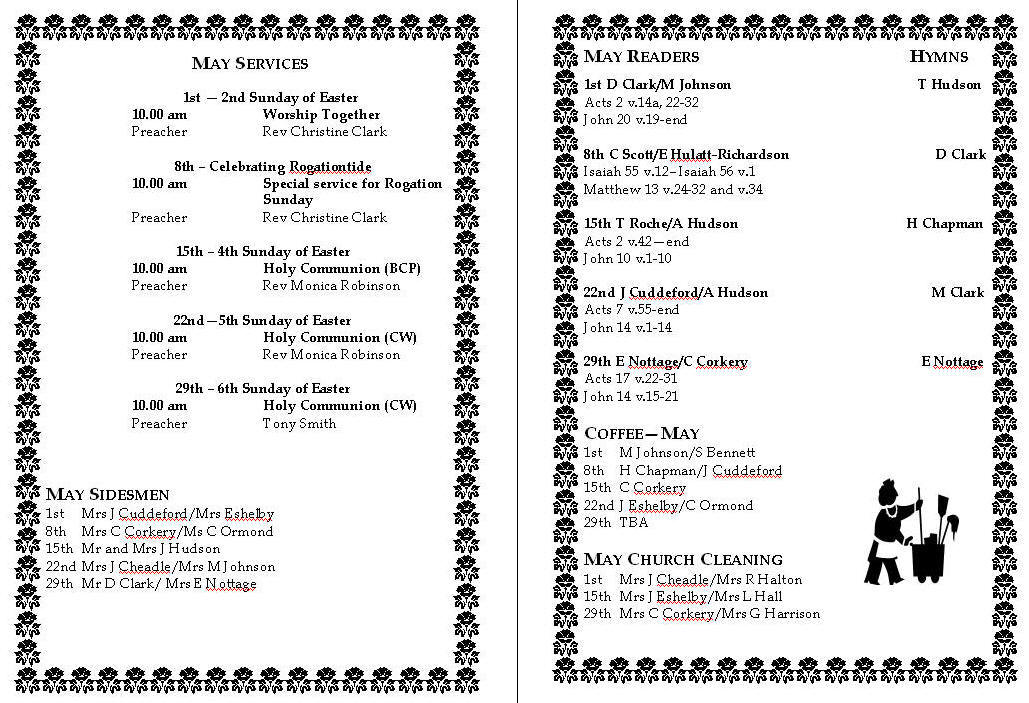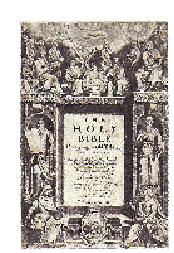 "...those Immortal Fires.."
By kind permission of the syndics of Cambridge University Library
An exhibition to celebrate the 400th
Anniversary of the King James
Bible and the life of Francis
Dillingham of Dean.
All Hallows Church,
Upper Dean, PE28 0ND,
Sat/Sun 14/15 May 1000—1700hrs
Francis House garden open
Teas in the church
Dear Friends,
This month at All Saints' Church we shall be celebrating Rogationtide, an ancient festival dating back to 5th century France. (see notice on page 9) After a series of natural disasters, the church called on the faithful to fast and pray, before processing around the fields, asking for God's protection and blessing on the land and the newly sown crops. The idea quickly caught on, and in England became closely linked with the annual 'beating of the bounds'. Often young lads were thrown in the river, hung upside down or beaten at boundary fences to impress upon their young minds exactly where the bounds of the parish lay – they were not likely to forget!
In the 17th century, George Herbert, the priest, poet and hymn-writer recommended rather more Christ-like reasons to celebrate Rogationtide:
1) a blessing of God for the fruits of the field;
2) Justice in the preservation of the bounds;
3) Charitie, in living, walking and neighbourliy accompanying one another, with reconciling of differences at that time, if they be any;
4) Mercie, in relieving the poor by a liberal distribution of largess which at that time is or oght be made.
So on Sunday 8th May, after a special Rogationtide service, we shall walk down Horsefair Lane to pray for and bless the Community Orchard and those who tend it, before continuing through the park to the United Reform Chapel in Harrold. After the Churches Together AGM at 12 noon, we shall be sharing in a fellowship lunch together, hopefully with any differences reconciled and resolving to remember those less well off than ourselves.
Rogationtide is celebrated between Easter and Ascension, which more or less coincides with Christian Aid's special annual appeal. Let's follow George Herbert's example of 'mercie' and liberal giving, so that lands and crops in places which have suffered natural and man-made disasters may also be blessed, along with the people who tend them and depend upon them for survival.
If you need a Christian Aid envelope, please ring Jill Cheadle on 720261 and she will get one to you.
Christine.
The Prayer Group
What is the Prayer Group? It is made up of members of All Saints' Church who undertake to pray regularly, on an individual basis, for people who ask us for prayer support.
Who do we pray for? Anyone whom we are asked to remember; these might be people from our church, from our local community or others known to us.
What do we pray about? Anything which you would like brought before God; maybe anxiety due to illness, stress or loneliness. You can also tell us of a special day you wish to be remembered – perhaps for an interview or an exam. Any information will be treated in strictest confidence.
How can you let us know if you would like us to pray for you? You can either telephone Christine (720234), or drop a note through the Rectory door, or complete a card (anonymously if you wish) and place it in a box kept near the church door. Prayer requests will be collected from the box each Sunday morning after the 10.00am service. Christine
New Garden of Remembrance in the Churchyard
Many of you will have noticed the new stone wall at the top end of the churchyard, built last Autumn. This new 'Wall of Remembrance' has become necessary as there is little room left on the older wall for memorial tablets to be added. Later this month a path is due to be laid in front of the wall, to be followed by the planting of some suitable shrubs. We have already received some generous gifts to help finance all this, but still need to raise around £2,000 to complete the work. If you are interested in making a donation towards this, please contact Christine(tel:720234 or e-mail: cmclark9@btconnect.com)
… and if anyone is interested in our 'adopt-a-grave' scheme, please let me know, as we still have a few older graves which would benefit from a bit of care and attention.
Annual Parochial Church Meeting
At the Annual Parochial Church Meeting held in church on 5th April, the following were elected to serve on the PCC: Mrs J Cheadle and Dr M E Eshelby (church-wardens); Miss H Chapman (Treasurer); Mr J Hudson (Secretary); Mrs C Ormond; Mrs C Corkery; Mrs E Nottage and Mr S Robinson. There is a copy of the church's annual reports, including the accounts for 2010 on display in church, or if anyone would like to have their own copy, please contact Rev'd Christine Clark (Tel: 720234).
Meeting Point
May
4th 10.30am at Eileen's, 24 Church Hall Road, Rushden.
18th 10.30am at Jane Smith's, 4a Horsefair Lane.
Odell Fete Saturday, 11th June 2011, 2pm
HELP will be needed to set up fete stalls on the afternoon of Friday 10th June, and then dismantle everything after the fete has ended on Saturday 11th. Please come and join in!
The Fete will be held in the Scout field, Horsefair Lane, Odell.
ENTRY Adults £1.50, Children Free
PROGRAMME OF EVENTS
2.00 PM Grand Opening
2.00-4.00PM Dog Show
4.00 PM Raffle Draw and Prize Giving
Attractions
Wode-Hill Jazz Band Boys Brigade Bouncy Castle
Teas Children's Tombola Ice Creams
Cakes Books Refreshments
Bottle Stall
Coconut Shy Children's Sports White Elephant
Produce Gifts Many Side Shows
Raffle
Family Dog Show

(entry fee - £1 per dog per class)

Classes:

1. Children's Handling (14 years and under)

2. Puppies under 1 year

3. Country Sporting Dog or Bitch

4. Best Rescue or Re-home Dog or Bitch

5. Best Condition Dog or Bitch

6. Dog or Bitch with Most Appealing Eyes

7. Best Cross-bred Dog or Bitch

8. Most Handsome Dog

9. Prettiest Bitch

Car park attendants will be on duty at the field opposite The Bell public house.

There will be disabled parking next to the Scout field.

Festival Weekend Family Service Sunday June 12th

11.00am in the Main Tent at the Fete Field
Everybody Welcome.
Fete Painting Day
Painting of signs etc. for the fete will take place at Jim and Doreen Wheeler's, Linden House, High Street, Odell, on Monday 2nd May from 10.00am.
There will be a lunch time bar-b-q for helpers – please let Doreen know (720358) or Jane (01933 410959) if you wish to stay for this. Bring your own meat. Salad and puddings will be provided.
Gazebos and tables Needed
Gazebos, trestle tables and garden tables are needed for the fete – if you have any you can loan please call Jill on 720261.
Coffee Morning at Rectory Farm
Saturday 21st May
10.30am – 12.30pm
In aid of Places for People (Women's Refuge)
Sale of bedding, tomato and geranium plants
Raffle and Bring and Buy
Entrance Fee £1.
Orders taken for the plants.
Jill Cheadle 720261
People willing to supply lifts to and from surgeries.
Below is a list of the people currently willing to give lifts, to and from surgeries, to people who can't otherwise get there:
Kim Beardow 721246
Jill Cheadle 720261
Steve Robinson 720113
Marion Senn 721176
Linda Tringham 720120
Madeline Jeeves 720803
If anyone else is willing to be a volunteer please contact Jill on 720261.
Christian Aid Week
15th - 21st May
Everyone deserves a decent life.
Christian Aid works with the world's poorest communities in 49 countries, exposing the scandal of poverty, helping in practical ways to root it out, and challenging and changing the systems that favour the rich and powerful over the poor and marginalised.
In these poor communities Christian Aid invests in projects that provide benefits for years to come,
A donation of:
£33 could provide ten blankets and mosquito nets for families with nothing.
£48 could provide an entire month of specialist medical assistance to injured and sick women and children.
£125 could pay for nutritious, cooked meals for ten families for a week.
Envelopes for donations are included with the magazine. Please return to Jill by end of May at Rectory Farm.
All Saints' Church Flower Rota
May
15th Rachel Halton
Jill Cheadle
29th Carol Ormond
Diary
2nd 10.00am Fete Sign Painting day at Linden House, High St.
4th 10.30am Meeting Point at Eileen's, 24 Church Hall Road, Rushden.
8th 10.00am Rogationtide service at All Saints' followed by blessing of Community Orchard.
8th 12 noon Churches Together AGM, URC Harrold
10th 7.30pm W.I. AGM, Village Hall.
12th 10.30am Health Walk, HOCP.
12th 6.00pm Health and wellbeing Roadshow, Village Hall.
18th 10.30am Meeting Point at Jane Smith's, 4a Horsefair Lane.
21st 10.30am Coffee Morning, Rectory Farm.
21st 7.00pm Ruby Ball, Village Hall.
23rd 10.00am Conservation Tasks Day, HOCP.
24th 7.30pm Annual Parish Council Meeting, Village Hall.
26th 10.30am Health Walk, HOCP.
30th 11.00am HOCP Open Day.
Magazine Deadline
Please send all entries for the June 2011 magazine to Tricia Hudson (mag1 at odellbeds.net) or Catherine Corkery by May 12th at the latest. May we remind you that the editorial team exercises the right to edit, shorten or alter any items that are submitted. Also, the opinions expressed in the articles are those of the contributors and are not the responsibility of the editorial team.
---
Last revised: May 06, 2011.