CHURCH NEWS - December 2011/ January 2012
Sunday Services start at 10.30am in the winter months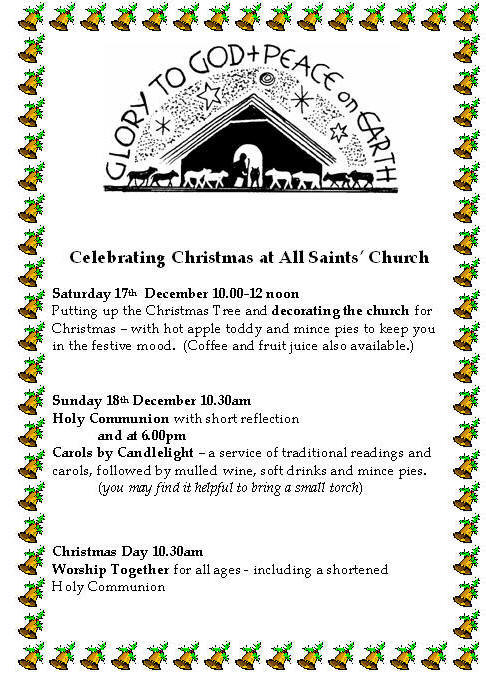 ….. and in Harrold & Carlton
Saturday 10th December 12 noon-5.00pm
and Sunday 11th 1.00pm-5.00pm
Christmas Crib Festival at St. Peter's, Harrold with music and refreshments
Saturday 17th December 5.00pm
Carols on the Green, Harrold, followed by refreshments
Saturday 24th December 11.30pm
Midnight Communion Service at St. Mary's, Carlton
(see the Bridge magazine for details of other Christmas services and events in Harrold & Carlton)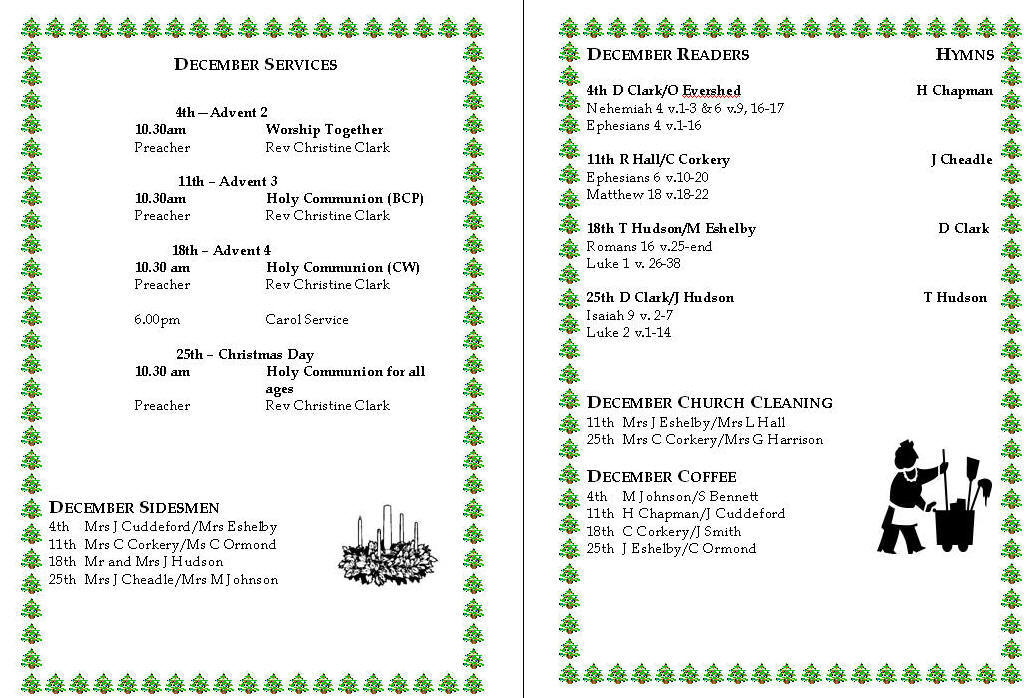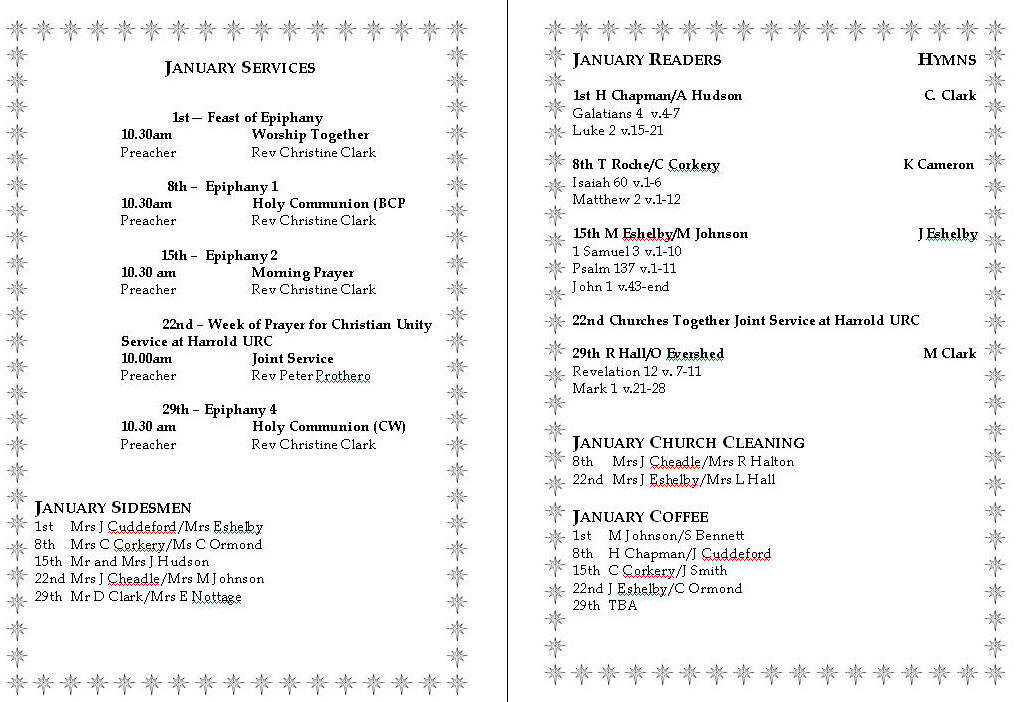 Dear Friends,
In October I met up with some of the friends I trained with to celebrate our 10th anniversary since ordination. We had many funny stories to share about the things that happen in the everyday life of a vicar. One friend shared a story that wasn't so funny - a couple came to see her about being married in church, which she was pleased to agree, but saddened that they had absolutely no idea what church was about, or who Jesus was. This is not uncommon - a recent survey identified that young parents today have little or no knowledge of the Christian faith - so what chance do their children have of finding out who Jesus is, and what he has done for us?
Sundays are busy times for most families, especially where parents are both working during the week, which is why we started after-school Monday Club 5 years ago. It is such a joy to be able to teach the children, and we have great fun together doing all sorts of things. Often the children tell us the Bible stories they have learned from the 'Open the Book' team that regularly visit our local schools. Recently we planted a time capsule in the repaired boundary wall, and tried to imagine who might find it when the wall eventually falls down again in 100, 200 years (see article in this issue).
Will children still be celebrating Christmas with all its deep meaning and beauty, or will it have degenerated into a Winter Festival? Will there still be tea-towel clad shepherds and wise-men solemnly bearing their gifts, and countless angels and stars re-living the story in our primary schools? Will others gather in church by candlelight to sing the old carols, and hear again the story of the Saviour who came from heaven to become one of us, to lead us from darkness to light, and help us to live as children of our Heavenly Father?
This is not just sentimental fancy, but the truth that all of us so desperately need to hear and heed, if our lives are not to lose that purpose and meaning for which we were created.
My hope and prayer is that each one of you, young, old and those in the middle, may discover for yourselves, the wonder and joy that can be ours at Christmas. Christine.
We would like to thank you all for the affection and kindness shown to us throughout this past year, and wish you a very happy Christmas and peaceful new year.
With love from Christine & David
Prayer Group
What is the Prayer Group? It is made up of members of All Saints' Church who undertake to pray regularly, on an individual basis, for people who ask us for prayer support.
Who do we pray for? Anyone whom we are asked to remember; these might be people from our church, from our local community or others known to us.
What do we pray about? Anything which you would like brought before God; maybe anxiety due to illness, stress or loneliness. You can also tell us of a special day you wish to be remembered – perhaps for an interview or an exam. Any information will be treated in strictest confidence.
How can you let us know if you would like us to pray for you? You can either telephone Christine (720234), or drop a note through the Rectory door, or complete a card (anonymously if you wish) and place it in a box kept near the church door. Prayer requests will be collected from the box each Sunday morning after the 10.30am service.
Meeting Point
January
Wed 11th 10.30am at Madeline Jeeves', 15 Horsefair Lane.
Wed 25th 10.30am at Jane Eshelby's, Newton House, Avenue Rd., Newton Bromswold, Rushden.
All Saints Amblers
Get some healthy exercise in after the Christmas excesses, and enjoy the company of others – join us on Bank Holiday Monday, January 2nd for a walk in the country followed by a pub lunch. Meet outside The Bell at 9.45am – transport provided to start of walk if needed. Everyone welcome, including children and dogs on leads!
Christine
Week of Prayer for Christian Unity Churches Together in Harrold and Carlton, with Odell
January 16th – 22nd 2012
"We will be changed
by the victory of our Lord Jesus Christ".
The 'Week' provides opportunities to meet together each day for a short time of prayer and meditation:
Mon 16th 9.15am Church House, Carlton
Tue 17th 8.00pm 'The Rectory', Odell
Wed 18th 9.30am St.Peter's, Harrold
Thu 19th 8.00pm St.Mary's Carlton
Fri 20th 6.30pm The Parlour, Harrold URC culminating in a 10.00am Joint Service on Sunday 22nd January at Harrold United Reform Chapel – with guest speaker the Rev'd Peter Prothero. The collection on this occasion will be donated to Christian Aid.
Churches Together in Harrold and Carlton
Christmas Crib Festival
Saturday 10 December 12 noon – 5.00pm
Sunday 11 December 1.00 pm – 5.00pm
St Peter's Church, Harrold
Crib figures and nativity scenes from around the world will be on display.
Accompanying music
Seasonal refreshments available
Donations in aid of Vision Africa and St Peter's Church, Harrold
Everyone welcome
Good Planning and Hard Work lead to Prosperity
In this age of austerity, we are learning to cope with the effects of the onset of this! I don't need to explain any more about this as we are all very aware of its effects. The heading of this article for the Parish Magazine is very much implicated in our lives every day.
People who set goals accomplish much more than people of equal educational ability who don't. Writing your goals down gives them a sense of permanency. The plus side is, it energises you to go on, come what may, to continue to accomplish your goal. Don't be "wishy washy" about your objectives. Establish a deadline and complete; we can't carry everything around in our heads.
Be wise, make the best of every opportunity to move forward. It is important to engage in physical activities, having always your goal in mind.
"Teach us to number our days aright that we may gain a heart of wisdom". (Psalm 90 verse 12, NIV).
This may be fitting for a New Year's Resolution. Merry Christmas! Sarah Bennett
Monday Club Time Capsule
We are very grateful to Barry Halton and Richard Hall for rebuilding the churchyard boundary wall up by the Luke Memorial. At Barry's suggestion, the children who come to All Saints' Monday Club prepared a time capsule, and at 6.20pm on 7th November we made our way by torchlight to 'plant' the capsule in the prepared hole in the wall. The children included some small toys, photos of themselves and messages, one of which read:In 100 year's time I hope you are peaceful and calm. I hope there are lots of flowers here in this churchyard. We added copies of the magazine, some newspaper pages, information about the church, stickers and a palm cross and the wrappers from the biscuits we enjoyed earlier. Christine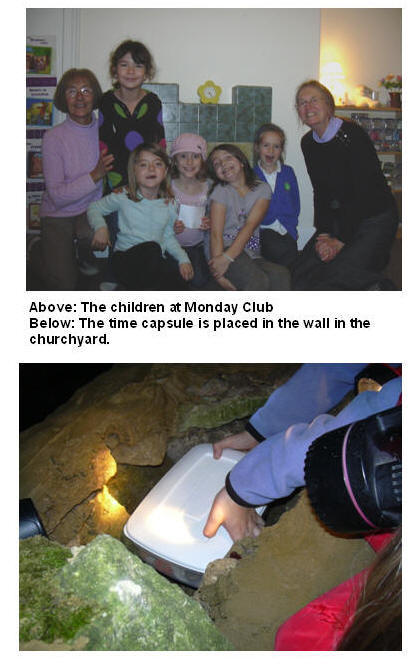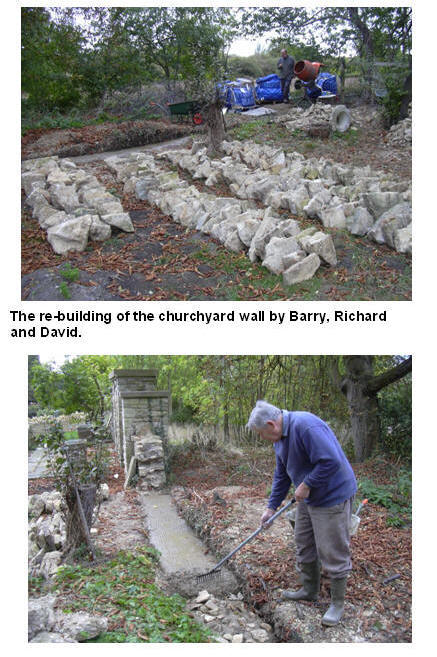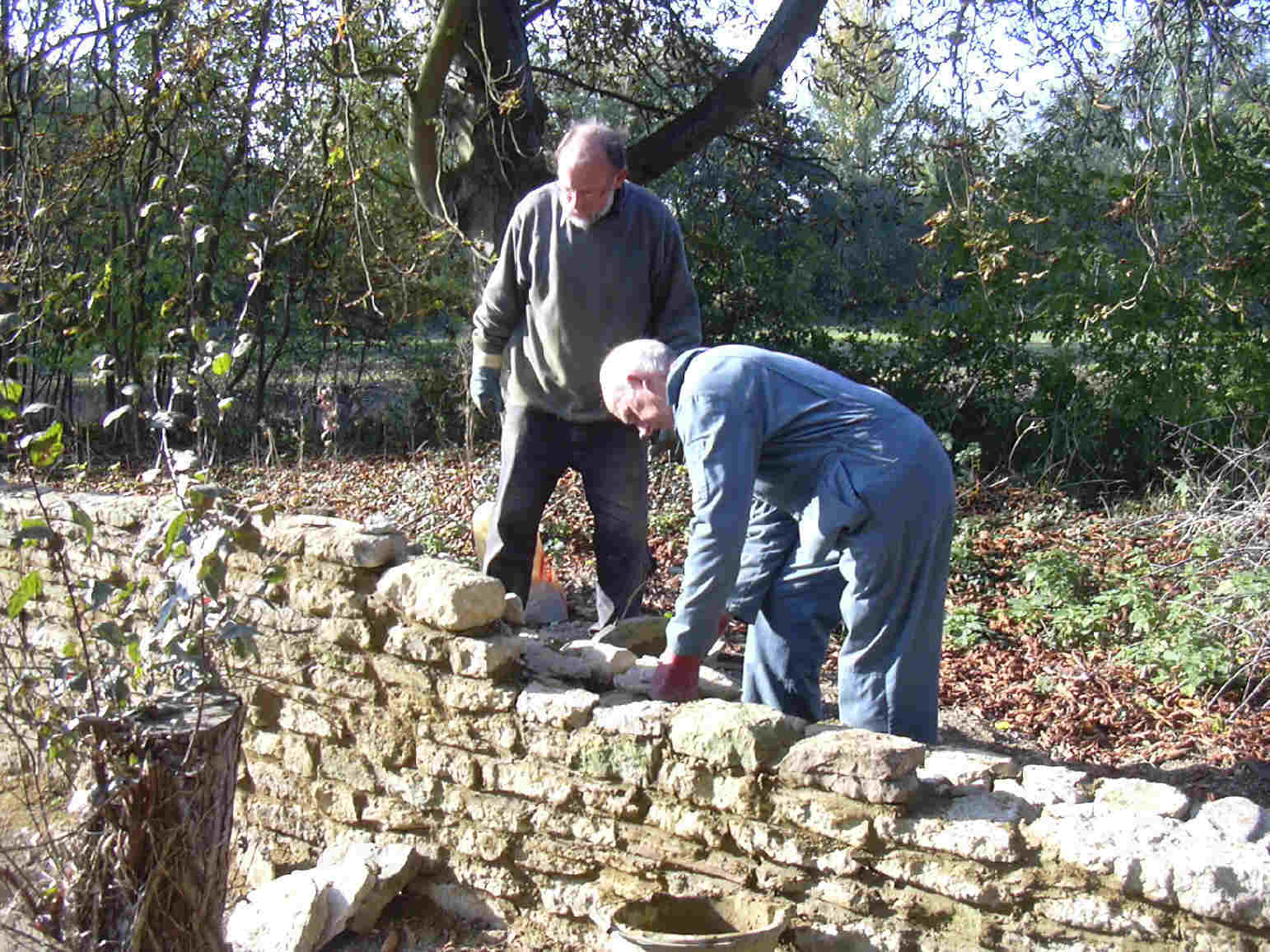 Senior Citizens' Christmas Lunch
The Senior Citizens' Christmas Lunch will take place on Wed 14th December at 12.30 in the Village Hall - Please let Jill know (720261) by 5th December if attending
Coffee Morning at Hobbs Green Farm
Christmas Hamper Coffee Morning
on 9th December
at Hobbs Green Farm, Church Lane, Odell
from 10am – 12 noon
Admission free Please bring Christmas fayre
Faure's Requiem, All Saints' Church, Sunday - November 13th
On Sunday 13th November, Remembrance Sunday, The Eagle Choir gave a moving performance of 'Faure's Requiem in All Saints' Church, to a large audience. A particularly stunning and poignant rendering of 'Pie Jesu' was given by soprano soloist, Rosie Wright , while baritone soloists Patrick Allen and Peter Chase gave no less compelling performances. Before the Requiem the choir sang Faure's 'Cantique de Jean Racine', a favourite with the members. They were accompanied on the organ by Peter Foggitt, and directed by Charles Martin.
Proceeds from the performance were donated to the fund enabling the provision for Senior Citizens' Lunches in Odell.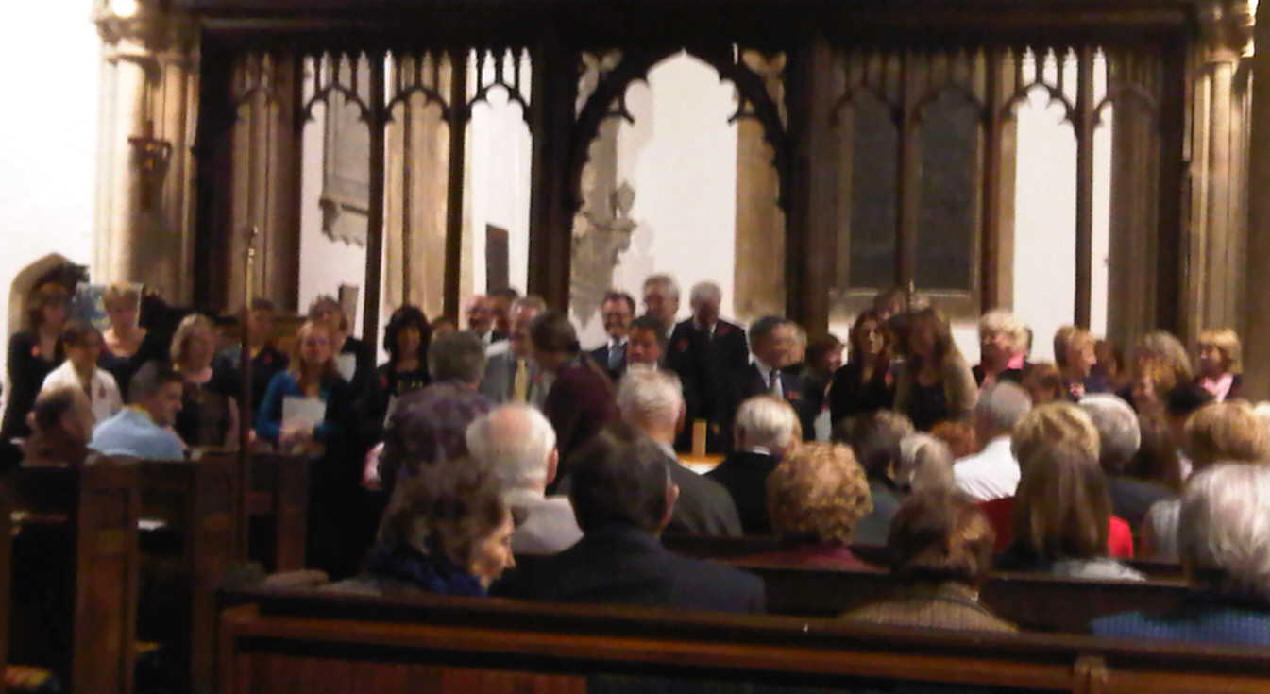 Birthdays
Happy birthday to Charlotte Lloyd on the 24th January
And to everyone else with a birthday in December or January.
Obituary: Temperance Alston-Payne
29th July 1920 - 8th November 2011
We recently received an email from Susan Perrett in Queensland,
Australia, informing us of the death of Temperance Alston-Payne.
Temperance died peacefully in her sleep on November 8th 2011, at the Wesley Hospital in Brisbane, Queensland, Australia. She was 91.
Some people in Odell will remember Temperance, who had a long association with Odell and was in fact the last person to be born in Odell Castle, in 1920. In spite of living in far-away Australia Temperance had stayed in touch with many people in England and had kept a keen interest in Odell, reading the magazine and often sending letters shedding light on life in Odell in days gone by.
Temperance was always spoken of with great fondness by those who knew her in Odell and Australia.
All Saints' Church Flower Rota
December
5th Tricia Hudson
Ann Hudson
10th Church decorating for Christmas
January
7th All help to clear
All Saints' Church Charitable Giving for the month of December will be to the following Charities:
The National Society for the Prevention of Cruelty to Children,
Christian Family Care – a Bedfordshire charity providing support and care for vulnerable families and The Bedford Area Schools Christian Support Trust which is affiliated to Scripture Union and provides schools workers offering teaching and support to children, teachers and parents.
Charitable Giving for January (and February) will be to:
Mission Aviation Fellowship – a Christian airborne mission serving remote and inaccessible places, transporting Christian workers and medical supplies.
Diary
December
8th 10.30am Health walk HOCP.
9th 10am Christmas Hamper Coffee Morning, Hobbs Green Farm.
10th 12noon Christmas Crib Festival, St Peter's, Harrold.
11th 1pm " " " "
13th 7.30pm W.I. Christmas meal at Jill's, Rectory Farm.
14th 12.30pm Senior Citizens' Christmas Lunch, Village Hall.
17th 10am Church Decorating. (note this is a new date!)
17th 5pm Carols on the Green, Harrold.
18th 10.30am Holy Communion and Reflection, All Saints'.
6.00pm Carols by Candlelight, All Saints'.
19th 10am Conservation Tasks Day, HOCP.
22nd 10.30am Health walk, HOCP.
24th 11.30pm Midnight Service, St Mary's, Carlton.
25th 10.30am Worship Together and Shortened Holy Communion, All Saints'.
January
2nd 9.45am Amblers meet outside The Bell.
5th 10.30am Health Walk, HOCP.
11th 10.30am Meeting Point at Madeline Jeeves', 15 Horsefair Lane.
16th 9.15am Week of Prayer for Christian Unity, meet at Church House, Carlton.
16th 7.30pm Parish Council Meeting, Village Hall.
17th 8pm Week of Prayer for Christian Unity, meet at The Rectory, Odell.
18th 9.30am " " " "St. Peter's, Harrold.
19th 10.30am Health Walk, HOCP.
19th 8pm Week of Prayer for Christian Unity, meet at St. Mary's, Carlton.
20th 6.30pm " " The Parlour, Harrold URC.
22nd 10am " " Service at Harrold URC.
25th 10.30am Meeting Point at Jane Eshelby's, Newton House,
Avenue Rd., Newton Bromswold, Rushden.
30th 10am Conservation Tasks Day, HOCP.
Magazine Deadline
Please send all entries for the February magazine to Tricia Hudson (mag1 at odellbeds.net) or Catherine Corkery by January 12th at the latest. May we remind you that the editorial team exercises the right to edit, shorten or alter any items that are submitted. Also, the opinions expressed in the articles are those of the contributors and are not the responsibility of the editorial team.
The editorial team of the Odell Magazine would like to wish all our readers a very Merry Christmas and a Happy New Year.
---
Last revised: December 03, 2011.