CHURCH NEWS - April 2011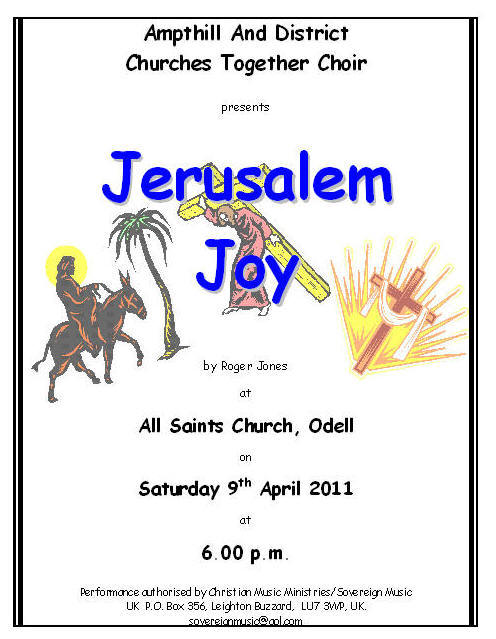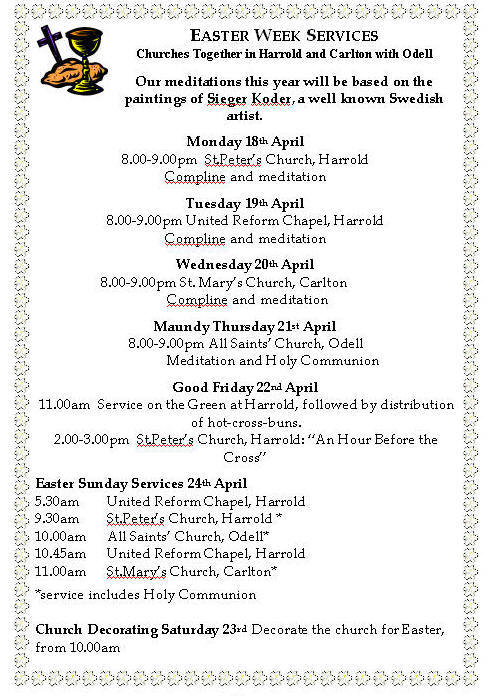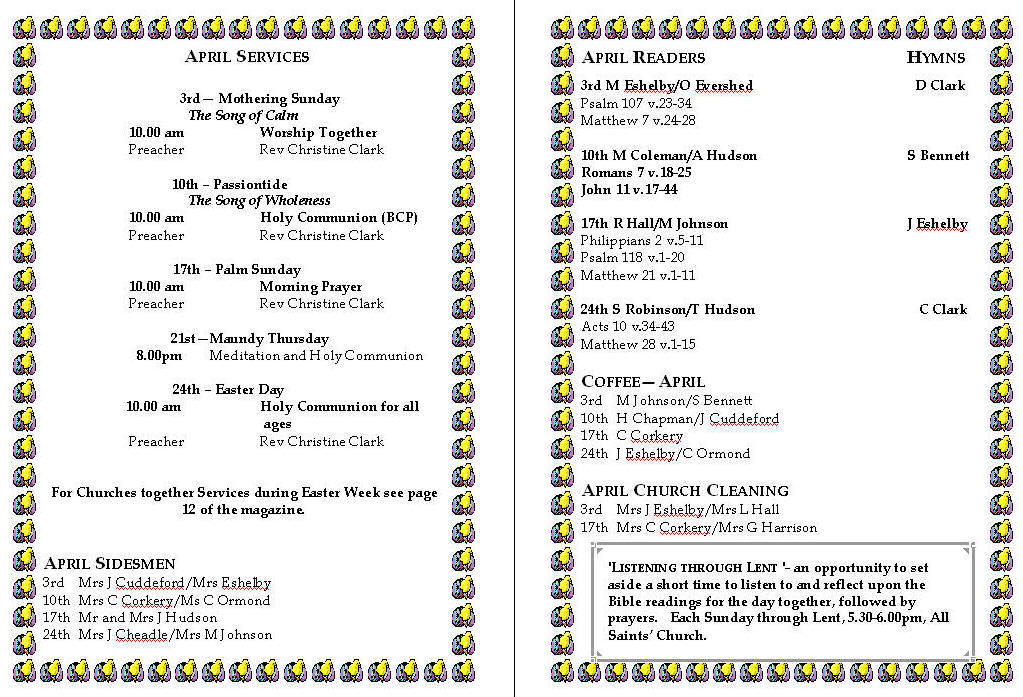 Dear Friends,
"O to be in England, now that April's there" – so wrote Robert Browning in his poem 'Home Thoughts from Abroad', as he longed to hear the birdsong and see the spring flowers of his native country. As I write this letter on a dreary afternoon in March, the April sunshine is certainly something I'm longing to feel again.
What do you long for in April? – getting out in the garden again … time off from work …catching up with the DIY … or perhaps a holiday away from it all? Maybe you're looking forward to celebrating the Royal Wedding with others – something to be cheerful about for a change - or successfully obtaining one of those precious tickets for the Olympic Games? Somehow the blossoming and blooming of spring and the warmer days encourage us to be hopeful, to dream a little, and look forward with anticipation.
The irrepressible new life we see emerging all around us in the natural world in April seems to be at one with the joyous Easter message of new life and new hope that God holds out to us in Jesus. 'Life in all it's fullness' is the promise from the One who, out of his deep love for us, lived our human life, died for us, and then overcame death by rising again. Easter reminds us that evil, however powerful and invincible it seems, does not have the last word, but that pure love without limit, as shown to us in Jesus, is the true source and meaning of life.
One of the reasons I continue to believe in the resurrection, is the extraordinary transformation I have seen in the lives of people who have taken Jesus at his word and believed his promise for themselves. The difference that makes is truly life-changing, and I'm longing to see more of it, not only in April, but all through the year. My prayer is that you will too - Happy Easter!
Christine.
The Prayer Group
What is the Prayer Group? It is made up of members of All Saints' Church who undertake to pray regularly, on an individual basis, for people who ask us for prayer support.
Who do we pray for? Anyone whom we are asked to remember; these might be people from our church, from our local community or others known to us.
What do we pray about? Anything which you would like brought before God; maybe anxiety due to illness, stress or loneliness. You can also tell us of a special day you wish to be remembered – perhaps for an interview or an exam. Any information will be treated in strictest confidence.
How can you let us know if you would like us to pray for you? You can either telephone Christine (720234), or drop a note through the Rectory door, or complete a card (anonymously if you wish) and place it in a box kept near the church door. Prayer requests will be collected from the box each Sunday morning after the 10.00am service. Christine
JAPAN & NEW ZEALAND - a response
All Saints 'Church is making a special appeal for donations throughout Lent and Easter - to help the peoples of Japan and New Zealand who have experienced such terrible devastation in recent weeks. Money raised will be forwarded to USPG/Anglicans in Mission, who through their direct links with churches in Japan and New Zealand have already sent emergency funds, and will continue to forward funds to help with ongoing practical help and rebuilding. If you would like to contribute please contact Christine or a church member.
A Prayer for those affected
O God of consolation, bring healing and hope to our struggling brothers and sisters.
We pray for all affected by the earthquake and tsunami in Japan who grieve, suffer pain, or have lost their homes.
In your compassion and mercy, O God, comfort troubled hearts and calm anxious souls.
Move the hearts of your people to give generously that the destitute might find warmth, sustenance and shelter, and those who despair might glimpse hope.
And for the people of Christchurch, New Zealand, we ask that you grant them faith and courage to rebuild their lives with steadfastness and patience.
Trusting in your goodness and love, we pray in the name of our Saviour Christ, who is the resurrection and the life.
All Saints Amblers meet outside The Bell, 9.45am on Saturday 16th April for a walk in the country followed by a pub lunch. Children and dogs on leads welcome to join us.
New Garden of Remembrance in the Churchyard
Many of you will have noticed the new stone wall at the top end of the churchyard, built last autumn. This new 'Wall of Remembrance' has become necessary as there is little room left on the older wall for memorial tablets to be added. Later this month a path is due to be laid in front of the wall, to be followed by the planting of some suitable shrubs. We have already received some generous gifts to help finance all this, but still need to raise around £2,000 to complete the work. If you are interested in making a donation towards this, please contact Christine (tel:720234 or e-mail: cmclark9 at btconnect.com)
… and if anyone is interested in our 'adopt-a-grave' scheme, please let me know, as we still have a few older graves which would benefit from a bit of care and attention.
Coffee Morning at Rectory Farm
Saturday 21st May, 10.30am – 12.30pm
In aid of Places for People (Women's Refuge)
Sale of bedding, tomato and geranium plants
Raffle and Bring and Buy
Entrance Fee £1.
Orders taken for the plants. Jill Cheadle 720261
'Jerusalem Joy' a musical by Roger Jones, will be performed by the Ampthill Churches Together Choir at All Saints' Church Odell, on Saturday 9th April at 6.00pm. The musical - suitable for all the family - tells the story of the first Holy Week, beginning with Palm Sunday and recounting the events through to Easter Day and the Resurrection.
Light refreshments will be served after the performance. Entrance by ticket available from Jill Cheadle (tel:720261) or Catherine Corkery (tel:720348) There is no charge for tickets, but there will be a retiring collection for a charity to be nominated by the Ampthill Churches Together Choir.
Odell Fete Saturday, 11th June 2011
HELP will be needed to set up fete stalls in the afternoon of Friday 10th June, and then dismantle everything after the fete has ended on Saturday 11th. Please come and join in!
Festival Weekend Family Service Sunday June 12th
11.00am in the Main Tent at the Fete Field
Everybody Welcome.
Fete Painting Day
Painting of signs etc. for the fete will take place at Jim and Doreen Wheeler's, Linden House, High Street, Odell, on Monday 2nd May from 10.00am.
There will be a lunch time bar-b-q for helpers – please let Doreen know (720358) or Jane (01933 410959) if you wish to stay for this. Bring your own meat. Salad and puddings will be provided.
Easter Week Services
Churches Together in Harrold and Carlton with Odell
Our meditations this year will be based on the paintings of Sieger Koder, a well known Swedish artist.
Monday 18th April
8.00-9.00pm St.Peter's Church, Harrold
Compline and meditation
Tuesday 19th April
8.00-9.00pm United Reform Chapel, Harrold
Compline and meditation
Wednesday 20th April
8.00-9.00pm St. Mary's Church, Carlton
Compline and meditation
Maundy Thursday 21st April
8.00-9.00pm All Saints' Church, Odell
Meditation and Holy Communion
Good Friday 22nd April
11.00am Service on the Green at Harrold, followed by distribution of hot-cross-buns.
2.00-3.00pm St.Peter's Church, Harrold: "An Hour Before the Cross"
Easter Sunday Services 24th April
5.30am United Reform Chapel, Harrold
9.30am St.Peter's Church, Harrold *
10.00am All Saints' Church, Odell*
10.45am United Reform Chapel, Harrold
11.00am St.Mary's Church, Carlton*
*service includes Holy Communion
Church Decorating Saturday 23rd Decorate the church for Easter, from 10.00am
A Meeting of parishioners - to elect church-wardens, and the Annual Parochial Church Meeting to elect PCC members, will take place in All Saints' Church at 7.30pm and 7.45pm consecutively on Tuesday 5th April. Everyone who resides in the village is welcome to attend. Annual reports on the various activities of the church will be presented, along with the church accounts and an updated copy of the church electoral roll. Light refreshments will be served at the end of the meeting.
Meeting Point
April
6th April 10.30am at Sarah Bennett's, 9 Horsefair Lane,
20th April 10.30am at Jill Cheadle's, Rectory Farm, High St.
Birthdays
Happy birthday to…
Rebecca Causton who will be 6 on the 3rd , and to
Tania Fulford who will be 15 on the 5th
and to everyone else with a birthday in April.
The Children's Society
Thank you to all Children's Society box holders and other donors who contributed to the total of £236.56. I have paid this into the bank and I know that the Children's Society will be very grateful. Many thanks. Catherine Corkery.
All Saints' Church Flower Rota
3rd Mothering Sunday
17th Doreen Wheeler
Lynette Hall
23rd Decorate for Easter
30th All help to clear
Derek Charles James Spencer 1923-2011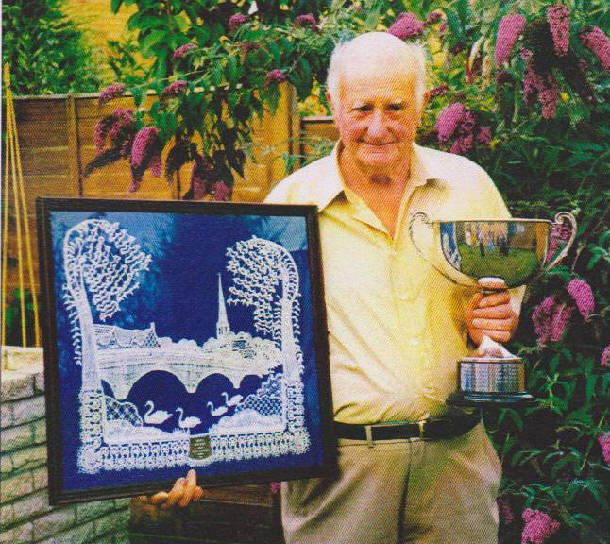 Above: Derek holding some of his award-winning lace
Derek was born in Odell on 11th May 1923, the only son of Edith nee Cooper and James Spencer. James served in the 1st World War in the Royal West Kent Regiment and when he returned home he was in very poor health and died when Derek was 3 years old.
Derek attended Odell and Sharnbrook schools, he was a member of Odell Scouts and a bellringer at All Saints' Church. The family lived at number 3 Council Cottages in Horsefair Lane, next door to Derek's best friend, Ken Shellard.
Edith remarried in 1930 to Alfred Luck from Wollaston and in 1937 the family moved to Number 38 Irchester Road Wollaston and Derek finished his education at Wollaston School.
Although living in Wollaston, Derek still kept in touch with Odell, still walking the lanes, woods and meadows and fishing from his schooldays to late in his life. He enjoyed meeting his friends for a game of cards or dominoes in The Mad Dog.
Derek served in the Royal Engineers at Clitheroe, Lancashire, during the 2nd World War. Derek was a painter and decorator and his customers often remained friends for life. Derek married Jennifer in
September 1981 at Bozeat Methodist Church with Reverend Anthony Wells taking part in the service. Their son James was born in 1985 and Derek, Jennifer and James moved to Bozeat in 1989.
Derek enjoyed gardening. He grew flowers, fruit and vegetables and he grew tomatoes, cucumbers and sweet peas especially to give away to friends. He enjoyed his two greenhouses.
Derek bought a 1950 Ford V8 Pilot in 1982 and attended many local events. He enjoyed recording the history of Odell in three pictorial books with Florrie, Edie, Ernie and Peter who were known as 'the mystery five'.
Derek enjoyed making pillow lace, a family tradition as both grandmothers and great-grandmothers made lace in Odell and Harrold.
Derek enjoyed weekends out with their lace displays, especially at Woburn Abbey where they would take great-granny's (Louise Cooper's) lacemaking equipment to show to visitors.
Derek was a wood turner and made bobbins from local woods.
Derek loved Odell and was often seen in the churchyard tending family graves. He began to learn how to 'clip the grass' when aged 7, under the supervision of his beloved gramp, and continued to do this throughout his life.
Derek will be sadly missed by all who knew and loved him. Jennifer Spencer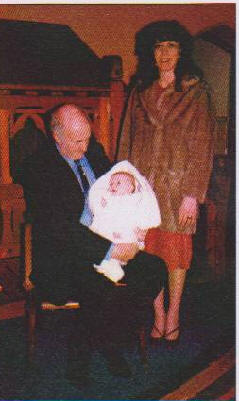 Left: Derek, Jennifer and baby James
Diary
2nd 7.30pm Village Quiz, Village Hall.
4th 7.30pm Lent Course, 3 Copper Beeches, Emmaus Village.
5th 7.30pm Meeting of Parishioners, All Saints' Church.
5th 7.45pm APCM, All Saints' Church.
5th 8.15pm Lent Course, 46 Harewell Way, Harrold.
6th 10.30am Meeting Point at Sarah's, 9 Horsefair lane.
6th 1.30pm Lent Course, 32 Rectory Close, Carlton.
6th 7.30pm Lent Course, 30 Orchard Lane, Harrold.
7th 10.30am Lent Course, 40 High Street, Harrold.
9th 6.00pm Jerusalem Joy, All Saints' Church, Odell.
11th 7.30pm Lent Course, 3 Copper Beeches, Emmaus Village.
12th 7.30pm W.I., Village Hall.
12th 8.15pm Lent Course, 46 Harewell Way, Harrold.
13th 1.30pm Lent Course, 32 Rectory Close, Carlton.
13th 7.30pm Lent Course, 30 Orchard Lane, Harrold.
14th 10.30am Lent Course, 40 High Street, Harrold.
14th 10.30am HOCP Health Walk.
16th 9.45am All Saints' Amblers meet at The Bell.
18th 10.00am HOCP Conservation Tasks Day.
18th 8.00pm Compline and Meditation, St. Peter's, Harrold.
19th 8.00pm " " URC, Harrold.
20th 10.30am Meeting Point at Jill's, Rectory Farm.
20th 8.00pm Compline and Meditation, St. Mary's, Carlton.
21st 8.00pm Meditation and Holy Communion, All Saints', Odell.
22nd 11.00am Service on the Green, Harrold.
22nd 2.00pm An Hour Before the Cross, St. Peter's, Harrold.
23rd 10.00am Decorate the Church for Easter.
24th 5.30am Easter Sunday Service, United Reform Chapel, Harrold 9.30am " " St. Peter's Church, Harrold
10.00am " " All Saints' Church, Odell
10.45am " " United Reform Chapel, Harrold
11.00am " " St. Mary's Church, Carlton*
28th 10.30am HOCP Health Walk.
Magazine Deadline
Please send all entries for the May 2011 magazine to Tricia Hudson (mag1 at odellbeds.net) or Catherine Corkery by March 12th at the latest. May we remind you that the editorial team exercises the right to edit, shorten or alter any items that are submitted. Also, the opinions expressed in the articles are those of the contributors and are not the responsibility of the editorial team.
---
Last revised: April 03, 2011.