CHURCH NEWS - October 2010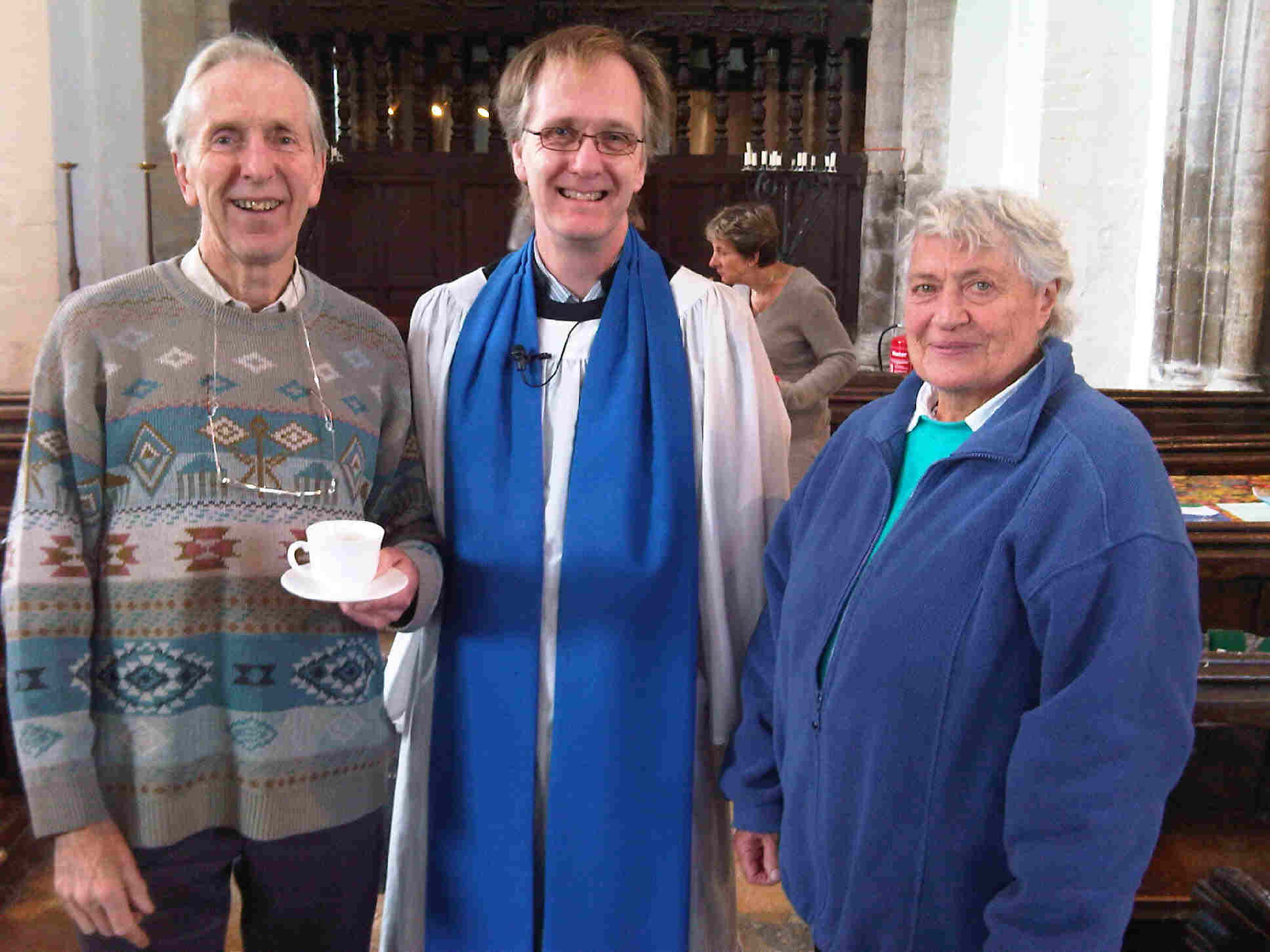 The congregation of All Saints' was delighted to welcome back Graham and Daphne Cansdale on September 19th.
Graham and Daphne, who now live in Yorkshire, are pictured here with Richard White, Reader from All Saints' Riseley,
who led the service in Christine's absence.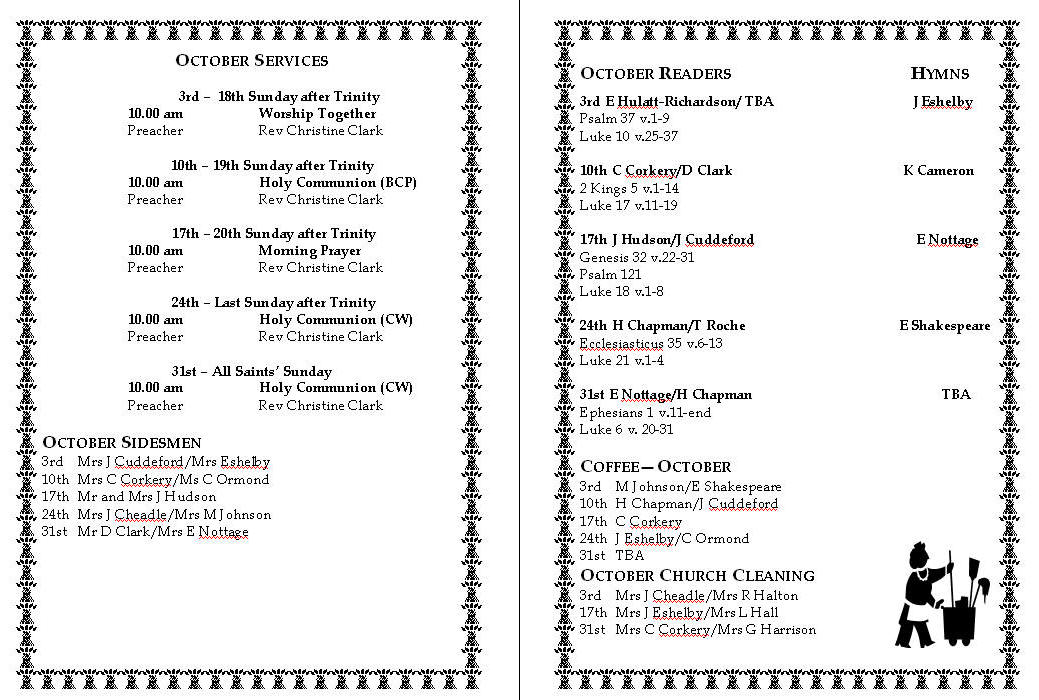 Dear Friends,
It is not widely known that the Church of England offers parents a Service of Thanksgiving for the birth of a child. The arrival of a new baby is always a special event, and one that affects the lives not only of his or her parents, but also the wider family and circle of friend. It is a sign of new life and hope, the creation of a totally new and unique human being, and something to be celebrated.
As we gaze in wonder at a new baby we are reminded of the deep mystery of life and being. We instinctively feel there is something – someone - other than ourselves and that we are caught up in something marvellous that is beyond us and bigger than us. The Thanksgiving Service gives parents the opportunity to give public expression to this sense of awe and delight, and to celebrate with others, particularly their family and friends, as they seek God's blessing for their child, and for themselves as new parents.
This is different from a Baptism Service, in which the focus is on making a solemn commitment to turn to Christ and to bring the child up in the faith of the Church. In a Baptism Service, the godparents must themselves be baptised members of the Church of England. In a Thanksgiving Service this is not required. The parents choose 'supporting friends' who commit themselves to help and support the family, without being required to express any commitment to the Church or the Christian faith. If and when the family feel ready to make such a commitment, a Service of Baptism can follow later. This allows for a more relaxed time of preparation when the family are not under pressure because of sleepless nights and adjusting to the demands of a new routine.
If you would be interested in a Service of Thanksgiving for your child – or a Service of Baptism – I would be very happy to talk with you about this in more detail. Christine.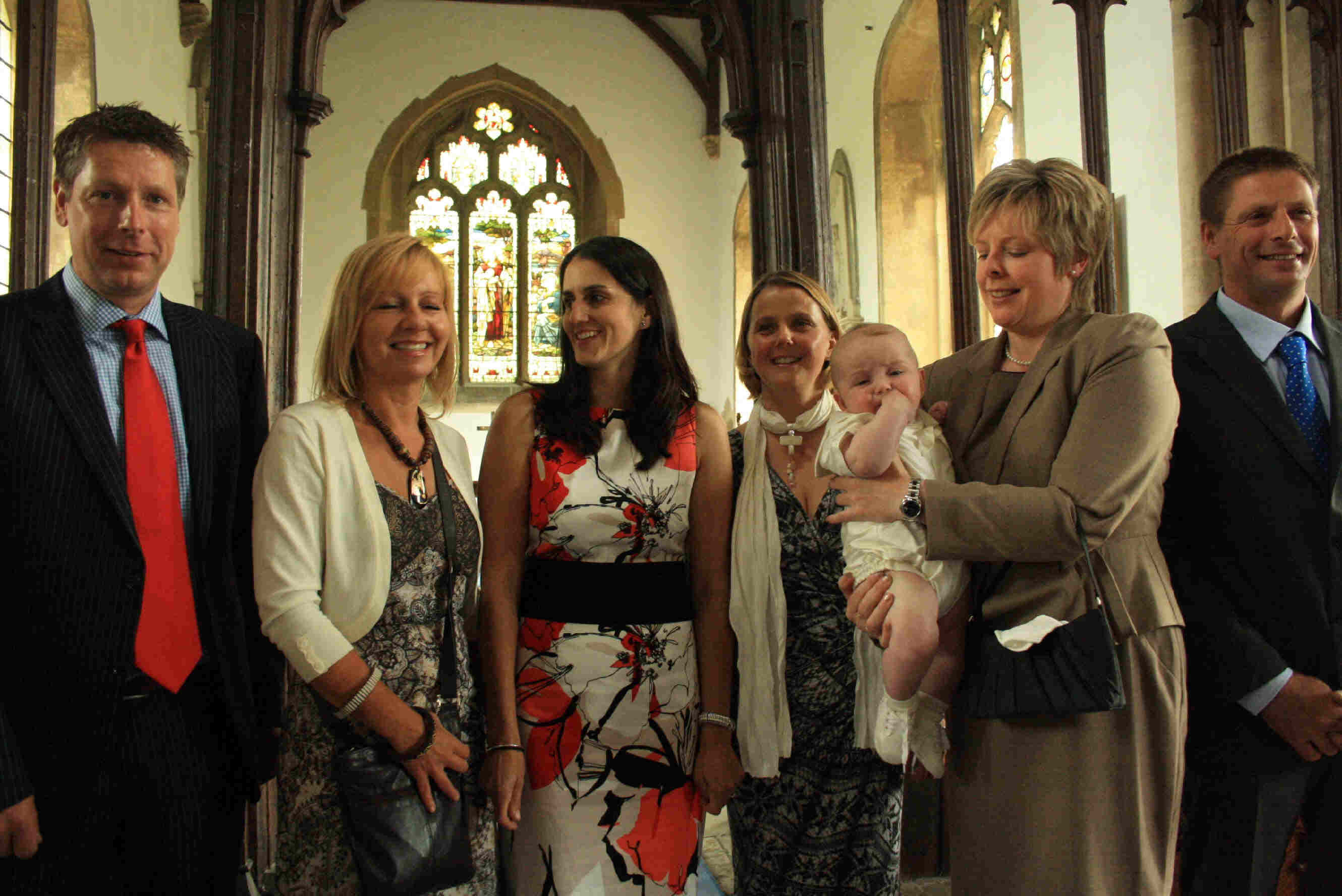 Benjamin Saunders, his parents Neil and Louise and their Supporting Friends at his
Thanksgiving Service in All Saints' Church, Odell, on 5th September 2010
Fairtrade Cafe
Saturday 30th October
10.00am – 12 noon
at Odell Village Hall, High Street, Odell
Delicious drinks and eats,
plus wide selection of Fairtrade Christmas goodies and gifts for sale
Admission £1.50 - includes refreshments

The Prayer Group
What is the Prayer Group? It is made up of members of All Saints' Church who undertake to pray regularly, on an individual basis, for people who ask us for prayer support.
Who do we pray for? Anyone whom we are asked to remember; these might be people from our church, from our local community or others known to us.
What do we pray about? Anything which you would like brought before God; maybe anxiety due to illness, stress or loneliness. You can also tell us of a special day you wish to be remembered – perhaps for an interview or an exam. Any information will be treated in strictest confidence.
How can you let us know if you would like us to pray for you? You can either telephone Christine (720234), or drop a note through the Rectory door, or complete a card (anonymously if you wish) and place it in a box kept near the church door. Prayer requests will be collected from the box each Sunday morning after the 10.00am service. Christine
All Saints' Amblers meet outside the Bell, 9.45am on Saturday 16th October for a walk in the country followed by a pub lunch. Children and dogs on leads welcome to join us.
Belarus Shoebox Appeal – filled shoeboxes will be received and blessed at a service for all ages, 10.00am on Sunday 3rd October at All Saints' Church. If you are not able to come to the service they can be dropped at The Rectory, 3, Church Lane. Thank you for supporting this children's appeal.
All Saints' Tea-Point and Toilet Fund – amazingly, we have almost completed the enormous task of raising sufficient funds to pay for our new facilities, with around £1,500 still to be found. A full breakdown of where the money has come from will be published in the December magazine, meanwhile thank you so much for all your support and help.
Churchyard - new Wall of Remembrance – some of you may have noticed a beautiful new stone wall at the top end of the churchyard, where we will also be creating a new garden.. This was necessary because our present Wall is just about full. If you would like to make a donation towards this, please contact Christine (720234) or a church member.
Also in the churchyard …. following a visit by Laura Downton of the Beds Wildlife Trust, the record of flora and fauna inhabiting the churchyard has been updated, with new species added. If you would like to see the list, please let Christine know (720234 or e-mail cmclark9@btconnect.com)
We have also received a kind gift of bird boxes so we look forward to seeing who comes to make their home in them!
Meeting Point
October
6th 10.30am at Christine's, The Rectory, Church Lane.
27th 10.30am at Catherine's, Manor Cottage, Harrold.
Senior Citizens' Autumn Lunch
Odell Senior Citizens Lunch Club invites you to the
Autumn Lunch on
Wednesday October 20th
From 12.30
In Odell Village Hall
RSVP to Jill Cheadle - 720261 - by Sunday October 10th
The Importance of Attitude in our Response to God's Word
Following on from last months' magazine input based on 1 Peter 1, v.25 NIV ."But the word of the Lord stands forever", I have thought more on the subject of the Lord's word, and our attitude towards it. Psalm 32 v.10 says "the Lord's unfailing love surrounds the man who trusts in Him", and I want to consider both the 'trust' that we should have and the impact of the Lord's 'unfailing love' on our lives and attitudes.
An attitude of trust is a good choice and only comes from feeding on God's word. God's word gives us confidence and it is the discovery of God's word that fills Satan with fear. Therefore, the neglect of God's word is the most effective weapon that Satan can use against you.
If we trust in the Lord, we are told, He will surround us with love: He wants our joy to be full. Love says I accept you as you are and care when you hurt. Love wants only the best for us and stamps out all offences. Love does not run away from problems but tries to work things out. Moreover, love is resilient – it stands firm in the face of opposing attitudes in the world. It is this attitude of love, shown to us, that the Lord wants us to embrace: we are commanded: "love one another, even as I have loved you", John 13, v.34.
Every attitude we choose each day is important, whatever our circumstances. In 1 Thessalonians, 5 v.18, Paul wrote: "Give thanks, for this is the will of God for you," yet he was in prison at the time! Paul shows us how we can free our spirits from all the burdens and restrictions life tries to place upon us: namely, by adopting attitudes of trust, love and thanks in the Lord. Sarah Bennett
Dick Robinson 27/05/24 – 04/09/10
Reginald Leonard Robinson, who everyone knew as Dick, was born at Hinwick, the youngest of 13 children. Like his father, he worked on the land, continuing to work for Sanders at Snelson, Lavendon, well into his 80's.
His sister May, a land-army girl worked for Lord Luke as dairy maid, and when she later became unable to work because of arthritis, Dick cared for her – a commitment which was to last for many years. Without complaining, he became sole cook, cleaner and carer as well as continuing his full-time job on the farm.
Content to live a simple life, in the countryside he loved, Dick was a familiar sight, cycling between local villages in all weathers, never without his cap. Dick loved his garden, and every year would send to Holland for the best new bulbs. Saving most of the money he earned, he was able to buy the bungalow in Horsefair Lane, outright. He cycled to Olney with the money in a carrier bag, much to the amazement of the estate agent.
Dick knew everyone in the village, and everyone knew him. He loved to talk with the children - always finding a few sweets for them. On Valentine's day, all the young ladies of his acquaintance received a card, sent in affectionate and innocent fun.
Looking at Dick's long life (86 years), his many acts of kindness and selfless generosity to others, we know these sprang from a good and true heart, from someone who gave much, asking for little in return.
Thank you
To all the friends and neighbours of Dick Robinson, 'Ruth and family' and 'Irene and family' would like to thank everybody who helped him. We know he thought a lot of all of you, and Odell has lost a real character.
Lavendon Royal British Legion
will hold the Annual Buffet Dance on 9th October at Lavendon Village Hall. Tickets £12. Please call Fiona Youlton on 01234 711963 if you would like tickets.
Our Giving in October is to The Church Missionary Society
CMS is committed to proclaiming the gospel through a wide range of ministries and care. Their fundamental
motivation for proclaiming the gospel is to bring glory to God. Please support CMS in their mission of love throughout the world.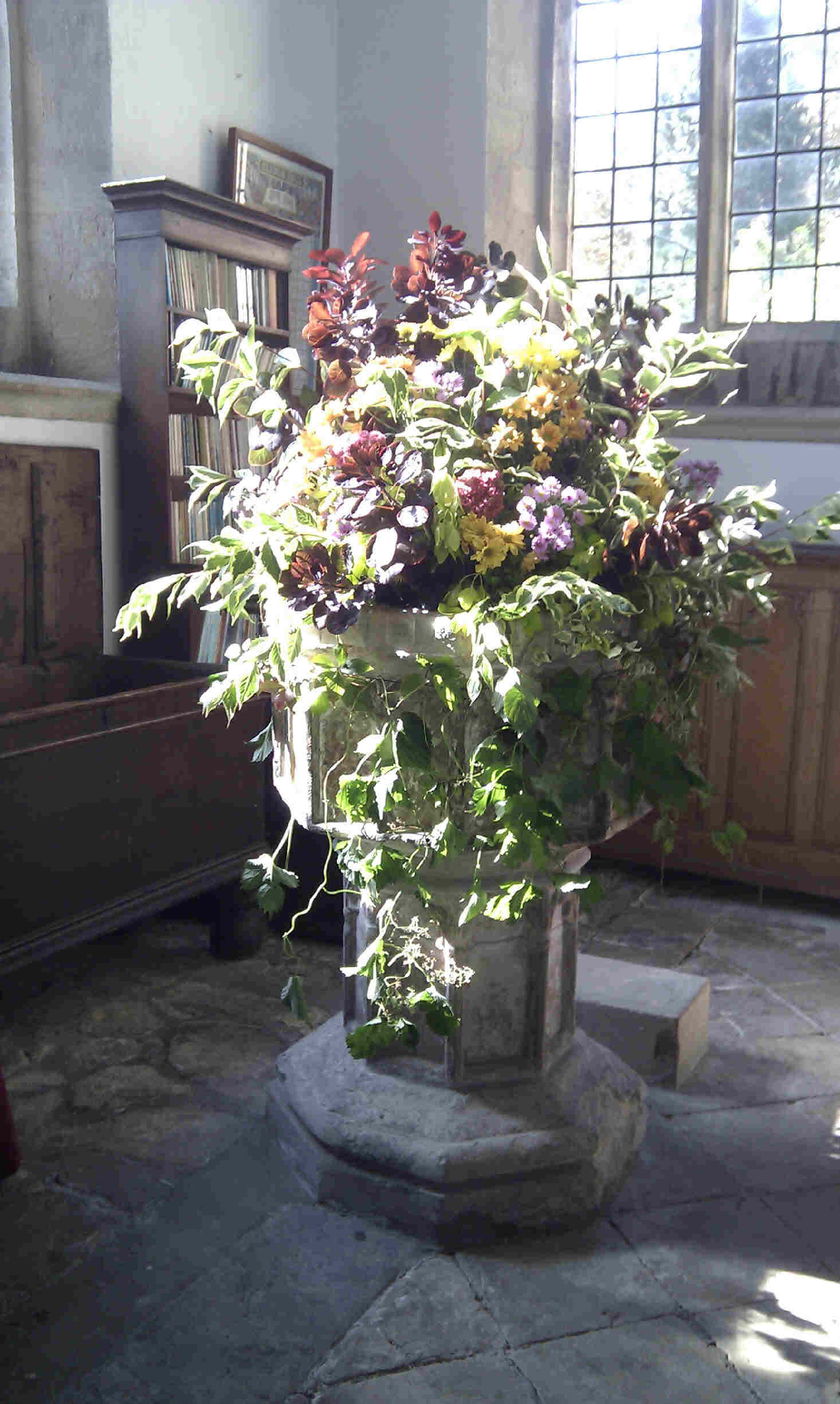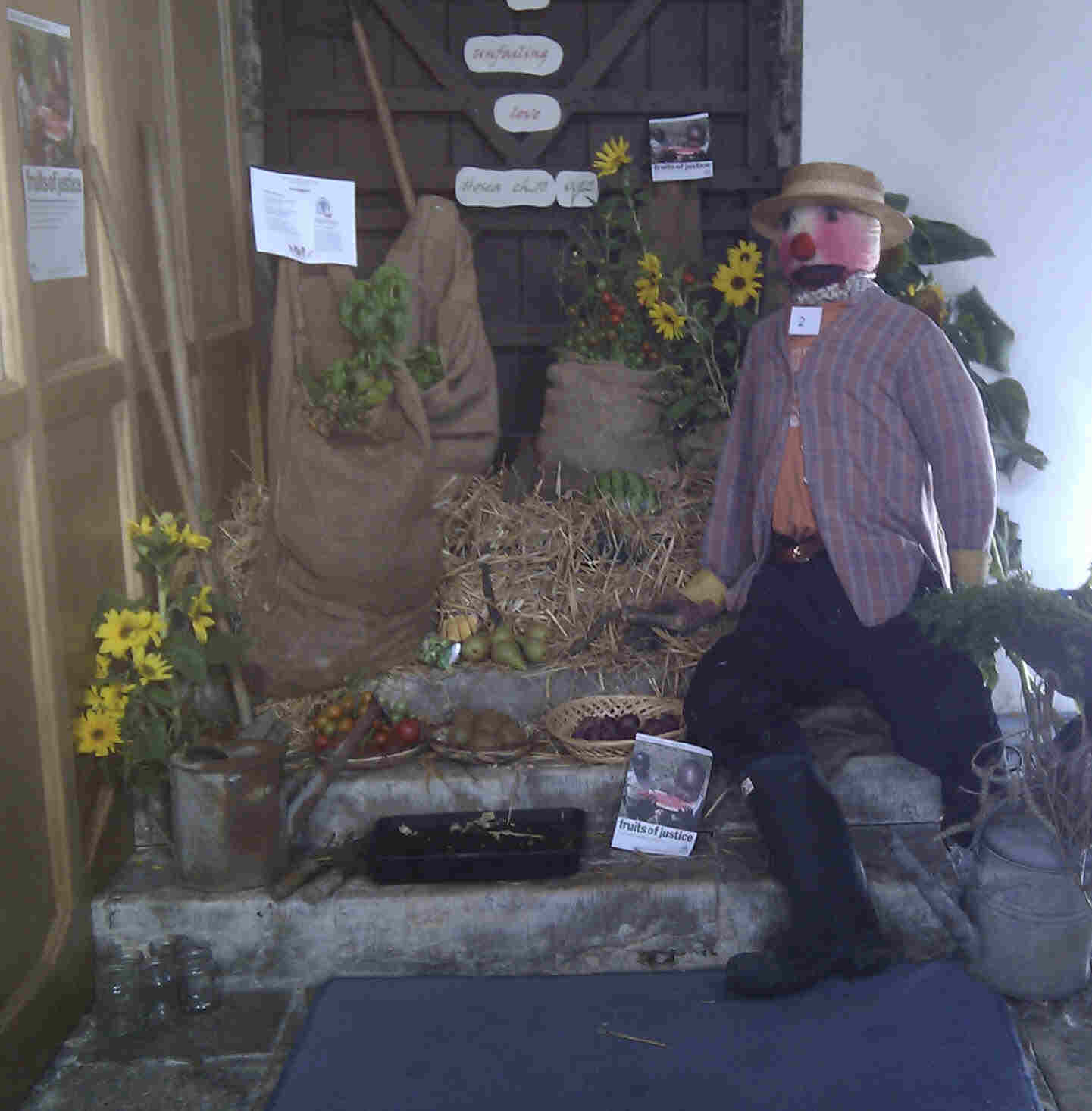 Above: Some of the harvest decorations in All Saints' Church - Harvest Thanksgiving was held on September 26th
All Saints' Flower Rota
2nd All help to clear
10th Doreen Wheeler
17th Rachel Halton
24th Kathy Dunn
31st Georgina Harrison

Diary
3rd 10.00am Service of Blessing of Belarus boxes.
6th 10.30am Meeting Point at Christine's.
11th 6.00pm Gift Sale, Village Farmhouse.
12th 9.30am " " " "
12th 7.30pm WI Village Hall.
14th 10.30am HOCP Health Walk.
16th 9.45am All Saints' Amblers meet at The Bell.
16th 7.30pm Quiz Night, Village Hall.
20th 12.30 Senior Citizens' Autumn Lunch, Village Hall.
23rd 2.00pm W.I. Jumble Sale, Village Hall.
24rd 11.00am Living in The Landscape, HOCP.
25th 10.00am HOCP Conservation Tasks Day.
26th 7.15pm Mayor to visit The Bell.
27th 10.30am Meeting Point at Catherine's, Manor Cottage, Harrold.
28th 10.30am HOCP Health Walk.
30th 10.00am Fairtrade Café, Village Hall.
Magazine Deadline
Please send all entries for the November 2010 magazine to Tricia Hudson (mag1 at odellbeds.net) or Catherine Corkery by October 12th at the latest. May we remind you that the editorial team exercises the right to edit, shorten or alter any items that are submitted. Also, the opinions expressed in the articles are those of the contributors and are not the responsibility of the editorial team.
---
Last revised: September 27, 2010.