CHURCH NEWS - November 2010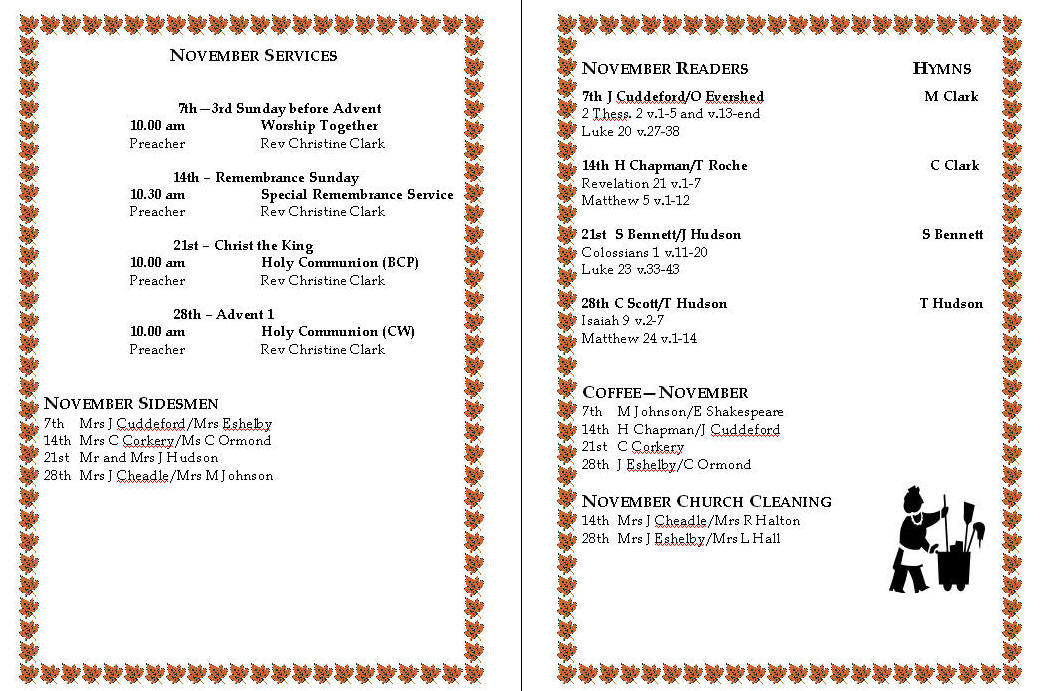 November 2010
Dear Friends,
I wonder what you think of when you hear the word 'Advent' – if you are young, you might think of calendars bearing daily chocolates! If you are older you might remember lighting advent candles in church, counting off the weeks leading up to Christmas.
The dictionary definition of advent is the arrival of an important person or event. Traditionally the Church observes a season of 'Advent' as a time of preparation and anticipation lasting for four weeks, and culminating in the celebration of the birth of Christ on 25th December. It is also a time when we remember Jesus' promise, that one day he will come again, this time not as a baby born in a stable, but as the Sovereign Lord of all, coming in glory and power to set the world free from every destructive and evil force. So for Christians Advent is a time of waiting with expectancy and hope, waiting for the One who has been promised to appear.
Waiting is not something we find easy. It can be a time of uncertainty and vulnerability as we worry that what we were looking forward to may not materialize. It can be a time of longing, to be free from all that obstructs or oppresses us, and it can be a time of excitement as we glimpse what could be possible. A time of waiting can also be a time of change, changes in our circumstances or a change of attitude, a time when things can seem fluid and unpredictable as we wait – caught between the old and certain, and the new and unknown.
This waiting time can also be a fruitful time of preparation, reflecting and taking stock, discarding the worthless baggage and preparing to embrace the new. As we enter the season of Advent on 28th November, our bishops are inviting us to take time each day to stop, to reflect on our relationships with others, with the world and with God, and then to pray. They have selected verses from the Bible, which over the four weeks cover the creation to the birth of Christ, one for each day, as a starting point for our own reflections.
If you would like details of how to receive the daily verses, ring 720234 or e-mail me at cmclark9@btconnect.com.
Christine
The Prayer Group
What is the Prayer Group? It is made up of members of All Saints' Church who undertake to pray regularly, on an individual basis, for people who ask us for prayer support.
Who do we pray for? Anyone whom we are asked to remember; these might be people from our church, from our local community or others known to us.
What do we pray about? Anything which you would like brought before God; maybe anxiety due to illness, stress or loneliness. You can also tell us of a special day you wish to be remembered – perhaps for an interview or an exam. Any information will be treated in strictest confidence.
How can you let us know if you would like us to pray for you? You can either telephone Christine (720234), or drop a note through the Rectory door, or complete a card (anonymously if you wish) and place it in a box kept near the church door. Prayer requests will be collected from the box each Sunday morning after the 10.00am service.
Christine
All Saints' Amblers
All Saints' Amblers meet outside The Bell, 9.45am on Saturday 20th November for a walk in the country followed by a pub lunch. Children and dogs on leads welcome to join us.
Bishop's Harvest Appeal – thank you to all of you who generously supported this year's 'Fruits of Justice' Harvest Appeal aimed at helping poorer families in the Teso region of Uganda to be self-supporting. The total amount collected came to £275.94. This is enough to buy a set of tools to set up a tree nursery, and to pay for 5 young people to go on a five-day workshop to develop entrepreneurial skills, and to supply more than 50 families with a year's supply of drought-resistant seeds. A very worthwhile contribution!
Fairtrade Café
If this magazine reaches you before Saturday 30th October, don't forget to visit the Fairtrade Café in the Village Hall from 10-12 noon, with Brenda's usual array of fantastic fairly traded gifts and Christmas goodies.
Churchyard Tidy
We shall be having another Churchyard Tidy-Up day at 2.30pm on Saturday 6th November, followed by soup & sausages around the bonfire.
If you can spare an hour or two to help we'd love to see you.
Also …. we still have a few older graves waiting to be 'adopted'. If you could spare a little time to tend one of these, please do get in touch with Christine (720234).
Our Giving in November will be shared between the British Legion Poppy Appeal and the Ex-Services Mental Welfare Society. Many still depend on these two organisations for all kinds of help including medical care and your generous giving enables continuous support for those damaged in body, mind and spirit by the ravages of war.
Coffee Morning at Hobbs Green Farm
In August 2010, 'Places for People' took over the running of the Christian Family Care Women's refuge in Bedford. Although no longer part of CFC, the client base is still the same and Christmas
hampers will still be provided to these needy families.
Christmas Hamper Coffee Morning
on 3rd December
at Hobbs Green Farm, Church Lane, Odell
from 10.30am – 12 noon
Admission free Please bring Christmas fayre
Meeting Point November
10th 10.30am at Jill's, Rectory Farm, Odell
24th 10.30am at Jane's, Newton House, Avenue Rd., Newton Bromswold.
The Goal of your Faith
Recently I was very impressed by a reading from The Daily Light, which referred to several passages from The Bible. I would like to share those passages with those who love the Lord, as they reveal to us the goal of our faith.
Psalm 89:16 "They rejoice in your name all day long; they exalt in your righteousness."
Isaiah 45:24 "In the Lord have I righteousness and strength: even to him shall men come, and all that are incensed against him shall be ashamed."
Psalm 32:11 "Be glad in the Lord, and rejoice, ye righteous: and shout for joy, all ye that are upright in heart."
Romans 3:21, 22 and 26 "The righteousness of God without the law is manifested, being witnessed by the law and the prophets; even the righteousness of God which is by faith of Jesus Christ unto all and upon all them that believe. …To declare ... at this time his righteousness: that he might be just, and the justifier of him which believeth in Jesus."
Philippians 4:4 "Rejoice in the Lord always. I will say it again: Rejoice!"
1 Peter 1:1,2,8 "To God's elect…who have been chosen according to the fore-knowledge of God the Father, through the sanctifying work of the Spirit, for obedience to Jesus Christ and sprinkling by his blood:
Grace and peace be yours in abundance.
Though you have not seen him you love him; and even though you do not see him now, you believe in him and are filled with an inexpressible and glorious joy, for you are receiving the goal of your faith, the salvation of your souls."
Sarah Bennett
St Mary's Church Carlton
Christmas Bazaar
Carlton Village Hall
Saturday 20th November
11-3
Warming soup lunches 12-2
Grand Draw at 2.30pm
Entrance £1
All Saints' Flower Rota
7th Carol Ormond
14th Remembrance Sunday
21st Tricia Hudson
28th Margaret Jones
Birthdays in November
Happy birthday to:
Georgina Ardley whose birthday is on the 29th
And everyone else with a birthday in November!
Diary
6th 2.30pm Churchyard Tidy
9th 7.30pm W.I. Village Hall
10th 10.30am Meeting Point at Jill's, Rectory Farm.
11th 10.30am HOCP Health Walk
20th 9.45am All Saints' Amblers meet at The Bell
20th 11.00am Christmas Bazaar, Carlton Village Hall
24th 10.30am Meeting Point at Jane's, Newton House, Avenue Rd., Newton Bromswold.
25th 10.30am HOCP Health Walk
27th 7.30pm Handel's Messiah, Bunyan Meeting, Bedford
27th 8.00pm Hair of the Dog, Village Hall
28th 1.00pm Sharnbrook Upper School Christmas Fair
29th 10.00am Conservation Tasks Day, HOCP
December
3rd 10.30am Christmas Hamper Coffee Morning, Hobbs Green Farm
Magazine Deadline
Please send all entries for the joint December 2010/January 2011
magazine to Tricia Hudson (mag1 at odellbeds.net) or Catherine Corkery by November 12th at the latest. May we remind you that the editorial team exercises the right to edit, shorten or alter any items that are submitted. Also, the opinions expressed in the articles are those of the contributors and are not the responsibility of the editorial team.
---
Last revised: November 03, 2010.